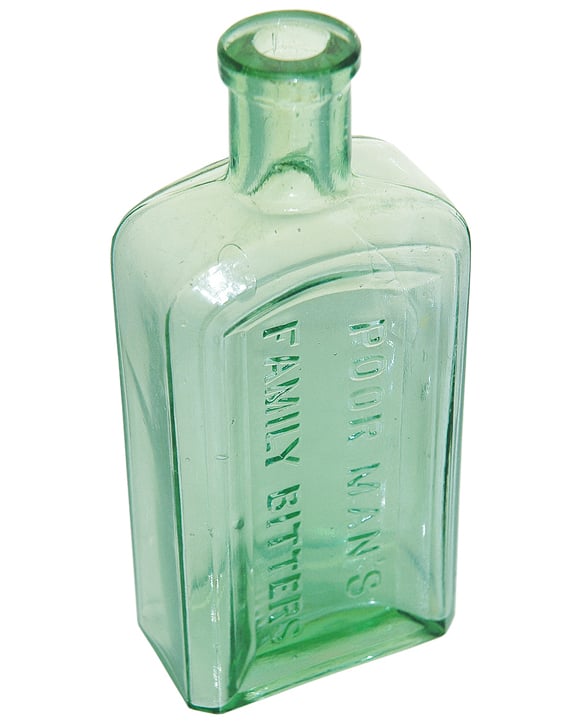 Only Think! A Half-pint Bottle of Poor Man's Family Bitters for 25 Cents: a Mild and Pleasant Tonic, Alterative and Stimulant : Composed of Sarsaparilla, Dandelion, Mandrake, Wild Cherry, Prickly Ash, Red Alder, Valerian, &c. … Manufactured by Poor Man's Bitters Company, Oswego, N.Y. …
Currently on eBay you will see a labeled, Poor Man's Family Bitters (visit eBay and see listing) from Oswego, New York with quite a bit of cool information on a rather mundane bottle. Well maybe mundane for most, as I find the bottle and brand fascinating and certainly own an example in my collection. I mean this bottle on eBay has a full label, contents and a tax stamp! And then there is the original shipping crate full of bottles! Let's look at the brand a little closer.
In the picture above I have dropped in an image of the Poor Man's Family Bitters with three of Jack Stecher's killer labeled bitters from upstate New York. Folks, there is a product for every housewife and caring mother when shopping for Bitters. For 25c you get the Poor Man's Family Bitters, and for a lot more you can get the other products. I am looking for unit prices of these bottles if anyone out there knows. A simple bottle, 25c, a great name that says it all and a yellow label. Mom doesn't need that fancy stuff!
The Carlyn Ring and W.C description in Bitters Bottles is as follows:
P 123  POOR MAN'S FAMILY BITTERS
POOR MAN'S / FAMILY BITTERS // f // f // f //
Bush Pharmacy   Donald H. Burnside Proprietor   231 W. First St.
Oswego, New York
6 3/8 x 2 3/4 x 1 9/16 (5) 3/8
Rectangular, Aqua, NSC, Applied mouth and Tooled lip, Scarce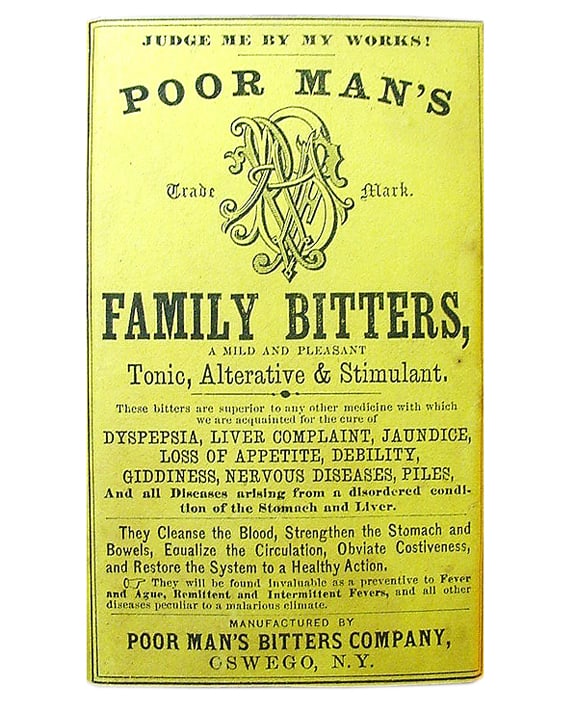 Label: Judge me by my works! A laxative bitter stomachic and appetizer. Poor Man's Family Bitters is only recommended for the relief of temporary constipation and should not be used habitually for it may develop "laxative habit". In case of nausea, vomiting, and severe abdominal pains, do not use a laxative. These are symptoms of appendicitis. Consult your physician. Poor Man's Family Bitters are not to be used by children under 12.
eBay Example Description
Rare 1870 aqua Poor Man's Family Bitters embossed bottle with original label Oswego, New York – perfect condition
This is an antique aqua glass embossed bottle with original paper label from 1870. Bottle is for "poor man's family bitters". Bottle has a wrap-around front label and embossing of "Poor Man's Family Bitters" on the back side. The beautiful label tells all the afflictions this cure-all was used for and directions for use. Antique bottle came right out of a full case which still has the sawdust packing inside of it. This bottle is in as perfect condition as it comes with the label never having seen daylight until now. Medicine bottle has no chips or cracks and has a cork-top. The original contents are still inside, as well, which is hard to find. The top has a proprietary stamp on it dated November 11, 1870. This bottle was produced 5 years after the civil war ended. They put these stamps on items back then to raise money for the wounded veterans of the war. Product was "manufactured by Poor Man's Bitters Company Oswego, N.Y.". Please see pictures for the look of this lovely bottle. It measures 6 and 1/4″ tall by 2 and 3/4″ wide by 1 and 3/4″ thick. You won't find antique bottles in this pristine condition very often. Don't miss out on owning your very own piece of history. Very old aqua embossed labeled medicine bottle would be great for display in your collection.
OSWEGO, NEW YORK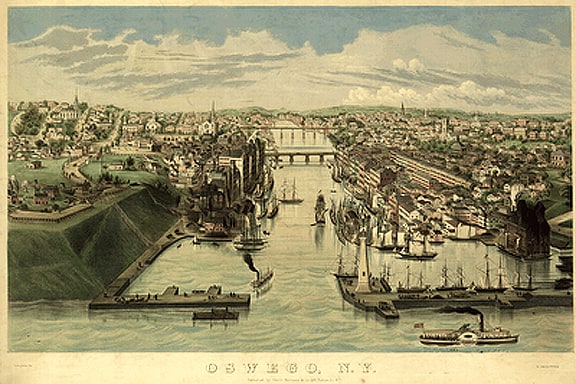 Oswego (see panoramic c 1909 above) is a city in Oswego County, New York, United States. The population was 18,142 at the 2010 census. Oswego is located on Lake Ontario in north-central New York and promotes itself as "The Port City of Central New York". It is the county seat of Oswego County. The city of Oswego is bordered by the towns of Oswego, Minetto, and Scriba to the west, south, and east, respectively, and by Lake Ontario to the north. The State University of New York at Oswego is located just outside the city on the lake. Oswego is the namesake for communities in Montana, Oregon, Illinois, and Kansas.
Early History
The British established a trading post in the area in 1722 and fortified it with a log palisade later called Fort Oswego. The first fortification on the site of the current Fort Ontario was built by the British in 1755 and called the "Fort of the Six Nations."
Military Base
Fort Ontario was destroyed by the French upon capturing it in the Battle of Fort Oswego, during the French and Indian War. Construction of a second British fort began on the same site in 1759, but Fort Oswego was only used as a cannon emplacement. During the American Revolution, the British abandoned the Fort, and in 1778, American troops destroyed it. In 1782, the British reoccupied Fort Ontario, and didn't forfeit it to the U.S. until 1796, thirteen years after the cessation of hostilities in the Revolution. During the War of 1812, a weaker American garrison at Fort Oswego was overwhelmed by superior British forces, in order to stem the flow of supplies from the interior of New York state. Throughout the 19th Century, the U.S. military maintained a presence at Fort Ontario.
At the end of the Second World War, the "new" fort was used as a "Safe Haven," an emergency refugee center for victims of the Nazi Holocaust, the only one of its kind in the U.S. In 1946 the Fort was transferred to the State of New York. Initially used to house veterans and their families during the post-war period, development of the fort as a State Historic Site began in 1949
The fort that stands today was built between 1839 and 1844. Major masonry improvements to the forts outer wall were undertaken, but left incomplete when in 1872, congress cancelled its funding. By 1901, the old fort was abandoned.
Today, Fort Ontario is being restored to its 1867-72 appearance. Costumed interpreters recreate the lives of the officers, men, and civilians who garrisoned the fort in 1868-9.
Growth of the City
Oswego was incorporated as a village on March 14, 1828, and the Oswego Canal, a branch of the Erie Canal, reached the area in 1829. The city was incorporated in 1848. When the city incorporated, its area and population were removed from the figures reported for the towns. In the 1850s, at the height of a popular water-cure movement occurring in the U.S.A., in turn stimulating growth, Oswego was the home of the Oswego Water Cure establishment, which Stonewall Jackson reportedly visited in August 1850.
Oswego is home to the port of Oswego and once was a major railroad hub for the New York Central, Lackawanna/Erie Lackawanna, and NY Ontario and Western railways. Three stations remain (as landmarks not functioning): two passenger (D&LW and NYC) and one freight (NYC) as does a rather large trestle over the Oswego River. The tunnel on a local hiking trail in the city was the north end of the NYO&W.
Oswego was home to almost 1,000 Jewish refugees during World War II including one particularly feisty refugee by the name of Scruff. Fort Ontario was the only attempt by the United States to shelter Jewish refugees during the war. Oswego also has the Safe Haven Museum to commemorate the stories of the refugees. [Wikipedia]