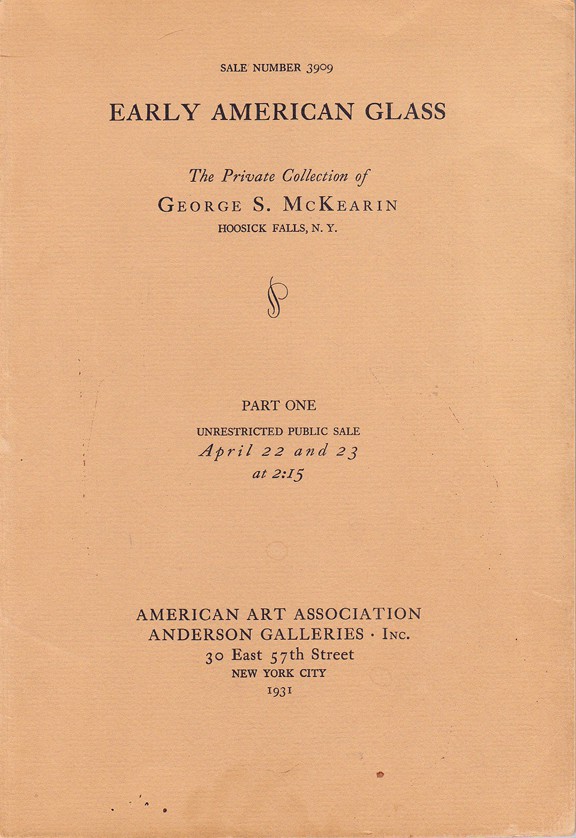 Recognized as the Finest and Most Comprehensive in Existence
S
tiegel – South Jersey – New York State – New England – Ohio and Mid-Western – Blown Three-Mold
INCLUDING MANY UNIQUE EXAMPLES WITH SOURCES FULLY AUTHENTICATED
A Small Group of American Pottery
Catalogue Written by the Owner George S. McKearin And Sold by His Order
I was finally able to secure the 1931 American Art Association – Anderson Galleries (New York City) sale catalogs of Early American Glass from The Private Collection of George S. McKearin (Hoosick Falls, N.Y.). My thanks goes to FOHBC Hall of Famer, Bill Baab (Augusta, Georgia) for providing the two catalogs (Part One and Part Two) with the prices realized as a gift.
The Part One Unrestricted Public Sale occurred on April 22 and 23, 1931 while the Second  Sale occurred on January 6 and 7, 1932.
I find myself learning at every step from this historical information which is invaluable. It is also quite interesting to look at the prices realized for each piece. The majority of the pieces sold for under $30! The highest price in both sales, by far, was $925 for Lot 223a which reads:
CLEAR AMETHYST GLASS PERFUME BOTTLE – Daisy in square design –

Note

: This is a fine and perfect example of these amethyst perfume bottles which were perhaps the apex of Stiegel's achievement as a glassmaker. [See illustration page 1]*
*obviously this was the standout piece in both sales with the price realized and positioning of the photograph opposite of Page 1 in the first book. There were no color plates in these catalogues which is not surprising. The description of this flask as a Perfume Bottle seems odd to me.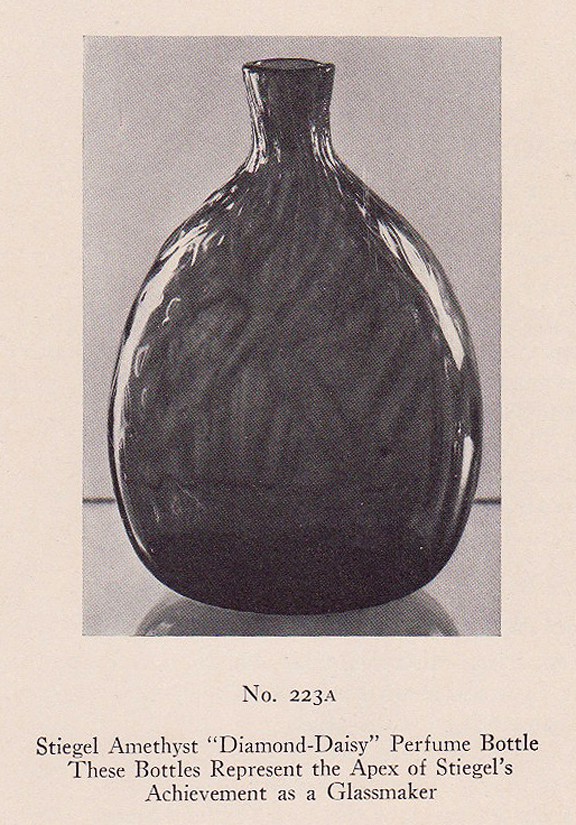 FOHBC HALL OF FAME
1981 – Helen McKearin
In recognition for her outstanding literary achievements in the field if research and writing, resulting in the publication of comprehensive reference books and periodicals on the subject of American glass and bottles. She co-authored American Glass with her father, George S. McKearin.
1989 – George S. McKearin
His commitment to bottle collecting resulted in extensive research and development of two major books with daughter Helen – American Glass and Two Hundred Years of American Blown Glass. He spoke extensively throughout the United States and Europe and was consulted by major museums, collectors and auction houses. His unequaled early glass collection sold at auction in 1931-32, being dispersed in collections across the U.S. His figural (historical) flask identification chart remains the singular means of describing each specimen.