STEELE'S NIAGARA STAR BITTERS

The Jack Stecher picture of the three great labeled Upstate New York Bitters bottles (see top-most picture) on Peachridge Glass recently prompted me to go back and look at further information for each bottle in the picture. In this post we will specifically be looking at the great semi-cabin form for the Steele's Niagara Star Bitters from Lockport, New York.
This is a great bottle that has a wonderful name and embossed date, embossed motif of an eagle in flight and an embossed  5 pointed star. The product was made at the well known Lockport Glass Works. It was rather interesting to search and gather the information available of the various persons involved with the production, marketing and sales of the brand. It was also disheartening to learn of all their financial woes.
Read More: Some of Jacks labeled Upstate New York Bitters
Read More: Dr. Walkinshaw's Curative Bitters from Batavia, NY
The characters:
John W. Steele, Wallace W. Steele, George A. Torrance, the Hon. Richard B. Hoag and Benjamin Fletcher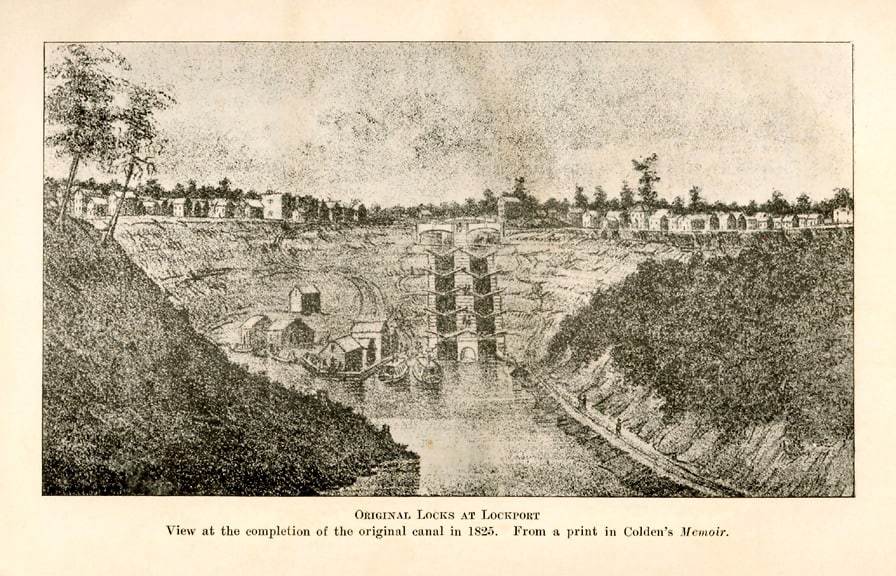 The Location:
Lockport, New York
Read More: History of Lockport, NY
Wallace W. Steele was one of Lockport's leading wholesale liquor men. He was born in Lockport, N.Y. on September 10, 1849, and has always resided in that city. He attended the Lockport public schools and afterwards took a thorough course at the Rochester Business College. His first business experience was with the wholesale liquor firm of John W. Steele & Co., in which he remained as a partner until 1878, and upon the organization of the succeeding company, became the senior member of the firm of Steele, Torrance & Co., which continued until 1883, when Mr. Torrance and Hon. R. B. Hoag retired, and since that date he has conducted the business alone under the name of L.L. Steele. In November, 1872, he was married to Lydia L. Freeman, daughter of Benjamin F. Freeman of Middleport, N.Y. He is a prominent member of Genesee Commandery No. 10, Ames Chapter No. 88, Bruce Council No. 15, Red Jacket Lodge F. & A. M., No. 646. He served his ward on the Board of Supervisors for Niagara county for the years 1876 and 1877 to the full satisfaction of his constituents. He is also a member of the Exempt Firemen, having served a full term with Protection Hook and Laddcr Co. No. 1, and is at present an active member of the Sons of St. John and Malta. Under many business difficulties in former years, he has always shown that indomitable business energy which has enabled him to laugh at misfortune and to place himself in the front ranks with the successful men at the present time. - From: Landmarks of Niagara County, New York. Edited by William Pool. D. Mason & Company, Publishers, 1897
The Carlyn Ring and W.C. Ham listing in Bitters Bottles is as follows:
S 183  STEELE'S NIAGARA STAR BITTERS, Circa 1864 – 1870
JOHN. W. STEELE'S / NIAGARA motif 5 pointed star BITTERS // sp // JOHN. W. STEELE'S / NIAGARA. STAR. BITTERS // motif eagle in flight to the left // // s // motif 5 pointed star // 1864 // motif 5 pointed star // motif 5 pointed star // // b // backwards 1
Steele, Torrance & Co.  Lockport, New York
10 x 2 7/8 (6 7/8)
Square, ARM and LTCR, Applied mouth, 4 sp, Amber – Scarce
Green and Yellow olive – Rare
Star on shoulder over third panel is upside down
Read more on Peachridge Glass: A Great Sunday Dig in Saginaw unearths a Steele's Niagara Star Bitters
The Company:
Steele, Torrance & Co., wholesale and retail liquor dealers on Lock Street
The Gallery –
Stecher and Meyer Examples
Lockport Glass Bottles Held Patent Medicines –
Clarence O. Lewis
A Great Sunday Dig –
Nic Meyer
Glass – Lancaster and Lockport, New York –
by Jean W. Dunn