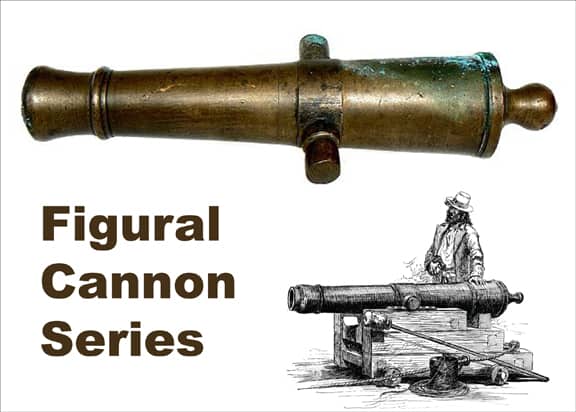 The next Figural Cannon, and in my opinion, the greatest example in rarity is the General Scotts Artillery Bitters. As recorded in Carlyn Ring and W. C. Ham in Bitters Bottles:
S 78   GENERAL SCOTTS ARTILLERY BITTERS
GENL SCOTTS ( au ) / NEW YORK / ARTILLERY / BITTERS // c //
12 3/8 x 2 1/2 (10)
Cannon, Amber, SM, Ground lip, Extremely rare
First a little background on General Winfield Scott from Wikipedia.
Winfield Scott (June 13, 1786 – May 29, 1866) was a United States Army general, and unsuccessful presidential candidate of the Whig Party in 1852.
Known as "Old Fuss and Feathers" and the "Grand Old Man of the Army," he served on active duty as a general longer than any other man in American history and many historians rate him the best American commander of his time. Over the course of his forty-seven-year career, he commanded forces in the War of 1812, the Mexican-American War, the Black Hawk War, the Second Seminole War, and, briefly, the American Civil War, conceiving the Union strategy known as the Anaconda Plan that would be used to defeat the Confederacy. He served as Commanding General of the United States Army for twenty years, longer than any other holder of the office.
A national hero after the Mexican-American War, he served as military governor of Mexico City. Such was his stature that, in 1852, the United States Whig Party passed over its own incumbent President of the United States, Millard Fillmore, to nominate Scott in the United States presidential election. Scott lost to Democrat Franklin Pierce in the general election, but remained a popular national figure, receiving a brevet promotion in 1856 to the rank of lieutenant general, becoming the first American since George Washington to hold that rank.
---
I believe that there are at least four (4) examples (revised 24 June 2012) of the General Scotts Artillery Bitters out in collections with the signature example residing in the Sandor Fuss collection in Denver, Colorado. This example is perfect and is ex: Charles Gardner, Robert Skinner, Jim Hagenbuch and Don Keating. The exact bottle is pictured in numerous books including American Bottles & Flasks by McKearin and Wilson and Bitters Bottles by Carlyn Ring and W.C. Ham. It is also the same bottle in the famous Carlyn Ring Collection: First Offering Sale in 1995 conducted by Jim Hagenbuch of Glass Works.
---
The second example resides with Bitters collector Dave Kyle in Thousands Oaks, California. Dave states in a recent email "I do have an example I got from Ed Herrold, it has a bad epoxy repair on  top but still certainly recognizable as an example, given its extreme rarity" (see picture of 4 Dave Kyle Cannon's below). Dave Kyle also adds a follow up note: "Scott earned the nickname, "Old Fuss and Feathers" because of his attention to detail and fondness for flashy uniforms" also, "Scott was forced from command by President Abraham Lincoln at the dawn of the Civil War. His views on how to fight the confederacy were derided but ultimately prophetic"
"I dug my best bottle, a Gen. Scott's Artillery Bitters (in the shape of a cannon)."
Read: Digging adventures in Savannah (Savannah Diggin's) in the FOHBC March | April 2011 issue of Bottles and Extras.
---
The third example was found in 2010 I believe and is the example noted above. It was badly stained and was purchased in a partnership by Bitters Collectors Jim Mitchell (Tampa, Florida) and Bill Taylor (Oregon). Bill eventually bought out Jim's share in the bottle and took possession. I had the opportunity of seeing this bottle at Jim Mitchell's sales table in Keene, New Hampshire at the Yankee Bottle Show that year and was impressed that it was found but concerned with its condition. Bill Taylor elected to have Bill Ham professionally clean the bottle and from what I understand, Bill (Ham) cleaned it and did a great job and the Bill (Taylor) that now owns it, is happy.
---
The fourth example, was recently confirmed and resides in the collection of Jane and Charles Aprill in New Orleans, Louisiana. This example is also ex: Carlyn Ring. According to Charles, when Carlyn Ring obtained her better example (now Fuss collection) she called him to dispose of her "old one".  He said he was glad to pick up her "used bottle".
---
Pictured on the left is nicest known example of a General Scotts Artillery Bitters. This is the Carlyn Ring example that was sold in a Glass Works sale in 1995. The primary 'keeper',  and that is all we really are, of this bottle for the next decade or so was Don Keating. The bottle now resides in the collection of Sandor Fuss in Denver, Colorado.
Read further: Carlyn Ring Collection: First Offering of 143 Bottles – Part 1
Read Further: Figural Cannon Bottles – J T GAYEN / ALTONA
Read Further: A. M. Bininger & Co. Figural Cannon