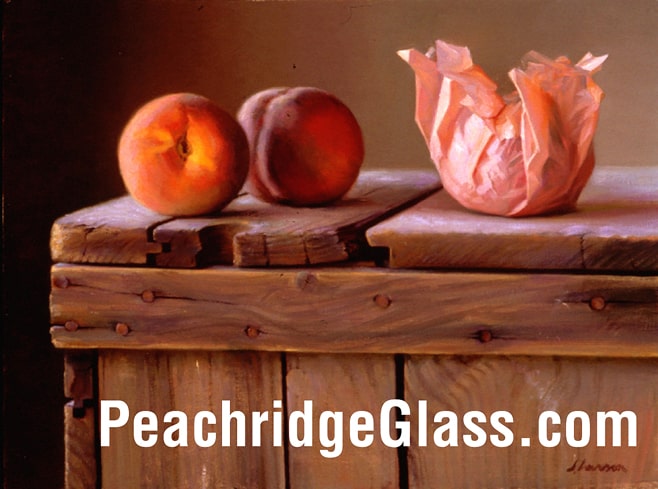 This site is presented and hosted by Ferdinand and Elizabeth Meyer. We hope to share our passion for collecting and dealing in Early American Antique Bottles and Glass. Please contact us for any information and or bottle and glass news for post consideration. I am also looking for guest authors as I shift to the Virtual Museum project. Thanks!
---

---
Tilley's Summum Bonum Bitters – West Haverstraw, N.Y.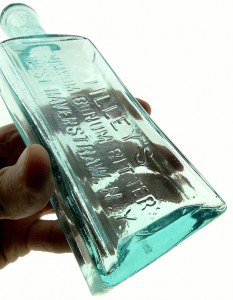 The first thing I wondered here was why "Summum bonum" would be embossed on the Tilley's Sunnum Bonum Bitters bottle from West Haverstraw, New York. Actually this was not my first thought. My first thought was being amazed that this bottle even showed up on Jeff Wichmann's…

---
Dr. B. L. Bull's Vegetable Bitters – Racine, Wisconsin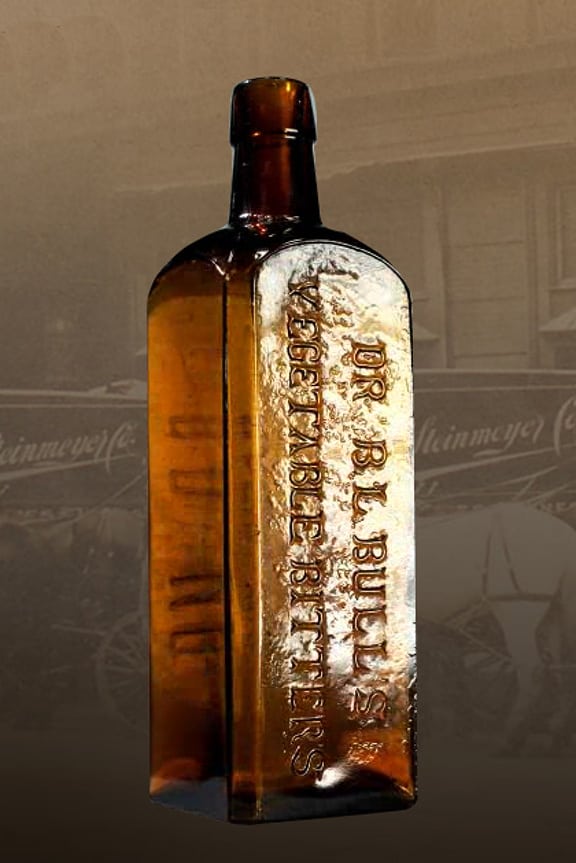 Here is another tough-to-find bitters that showed up and was snapped-up in moments on Jeff Wichmann's American Bottle Auctions Sale Page. The Dr. B. L. Bull's Vegetable Bitters is from Racine, Wisconsin and is embossed, "D.B.V.M.C." which means, "Dr. Bull's Vegetable Medicine Company". Take a look at the typography as the gothic typestyle is very odd for a bitters.

---
Museum of Connecticut Glass seeks collaboration with historical societies, schools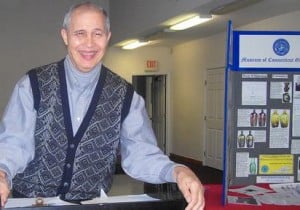 America's first industry was neither textiles, nor iron, nor arms, but rather glassmaking. Early manufacturing attempts met with hardships and often failure, but in time the business of glassmaking… READ ARTICLE
---
This Chestnut Grove applied seal whiskey is a personal favorite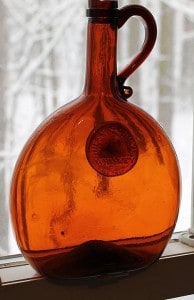 Folks, I have been known to take some good pics of bottles and glass. Vicki got me a new Canon EOS Rebel T3 and I love it. Earlier today after the snow stopped, I started taking some pics in my office, no sun, no flash, natural light. This Chestnut Grove applied seal whiskey is a personal favorite. I took a shot of the seal…

---
Frederick's Great Remedy – The American Star Bitters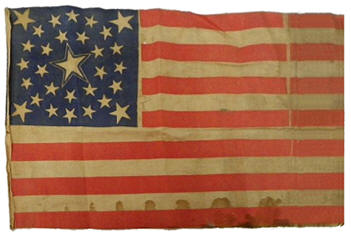 On February 23, 1866, George P. Frederick may have opened his morning newspaper with coffee and a biscuit only to read with interest the following lines titled "The American Star". So moved, he may have decided to name his new great remedy, the American Star Bitters.

---
Belmont Tonic Herb Bitters – Philadelphia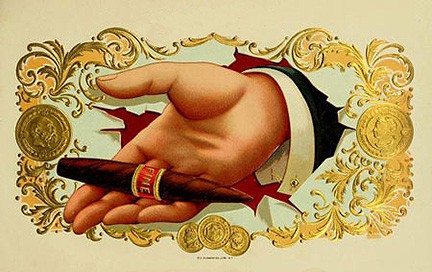 If you are wondering why I have used cigar label art above when I am writing about the Belmont Tonic Herb Bitters, it is because Benjamin Labe was primarily a tobacco dealer in Philadelphia who took up a very brief moment in time to put out a bitters product. The Carlyn Ring and W.C. Ham listing…

---
Safe Pills Abroad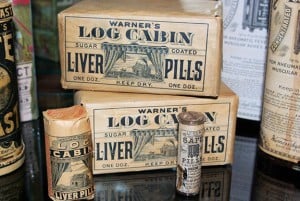 When I first wrote about Warner's Safe Pills over six years ago, I had assumed that the marketing of Safe Pills was limited to the United States from the Rochester Office. Indeed, Safe Pills were one of Warner's original line of products along with his Safe Kidney & Liver Cure, Safe Bitters, Safe Nervine and Safe Diabetes Cure. Turns out, I was wrong. READ at Steve Jackson's Warner's Safe Cure Blog
---
Cannon's Indian Vegetable and Blood Purifying Bitters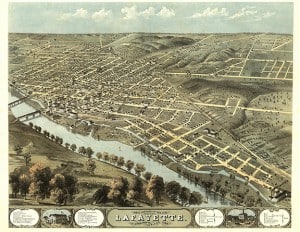 I found this advertisement below for Cannon's Indian Vegetable and Blood Purifying Bitters from an 1878 Fort Wayne, Indiana newspaper. Avery & Tyler in Lafayette, Indiana were the wholesale agents. The map above is from Lafayette in 1868. Lafayette is a city in Tippecanoe…

---
Knoefel's Orolo Bitters – New Albany, Indiana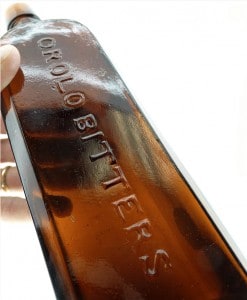 I did not win some bottles yesterday but it was not for "Hard drinking and fast women" which affected one of our characters in todays story. Jeff Wichmann over at the new Sales Page at American Bottle Auctions posted another grouping of fine bottles at noon Pacific time yesterday. The posting was so anticipated that his web site crashed. Oh well. It is refreshing to see these exciting bottles in this format…

---
Official FOHBC Show Photographer Announced! – Mallory Boyle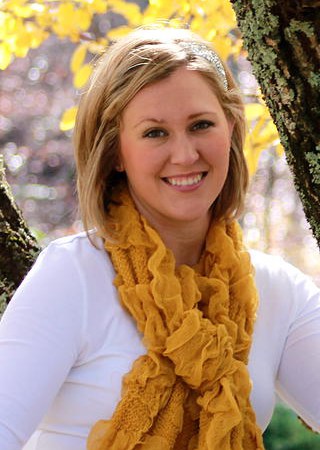 Mallory Boyle, daughter of Jack Hewitt, 2015 Chattanooga National Antique Bottle Show Co-Chair has graciously agreed to be our official show photographer. As you might imagine, she has been around bottles most of her life. You can see her work and read about her at this link: MLB Photography
---
ABCR Auctions #19 Catalogue Now Online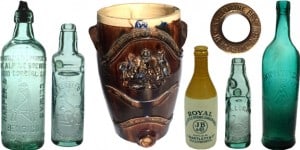 Hi, Ferdinand, the Auction 19 catalogue is now ready to view. 882 lots including some exceptional Pot Lids, one of the best water filters we've seen and numerous great bottles in most fields. Plus the usual array of cheapies and some interesting non-bottle collectables round out a really diverse offering. The most important detail! Online bidding begins: Wednesday 21st January 2015, 8 pm (Melbourne Time). Click here to view the catalogue.
---
Heckler Select Auction 116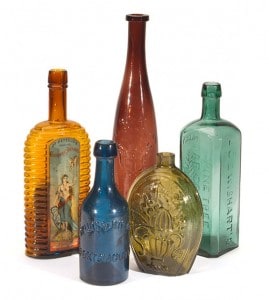 An Absentee Internet Auction Including: Early Glass, Historical Flasks, Bitters, Whiskeys, Art Glass, Colognes, Sodas, Inks, Medicines and More. A DIGITAL ONLINE AUCTION. Hecklers will not be mailing a catalog for this auction; however, a catalog will be available for you to print. While the auction will occur online, you may still place bids by telephone, US mail, fax or email. Please feel free to call our offices for more information. VISIT AUCTION
---
A question about French 'Canteen Like' Bottles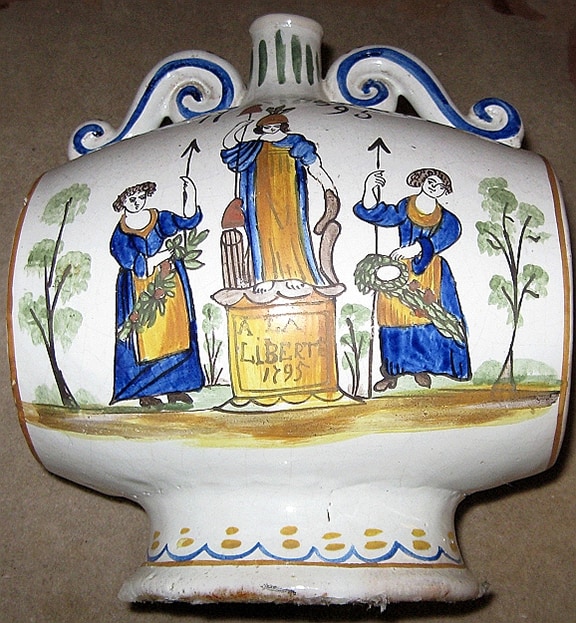 Dear Mr. Meyer: My name is Jean T. I am writing to you today with the hope that you could possibly help me to identify two bottles (jugs) that I have in my possession. I accidentally stumbled upon your website trying to research the bottles myself, I clicked on an image of a military water or wine canteen and saw that you had all kinds of images of different ones on your site.

---
Dr. Mackenzie's or Dr. McKenzie Wild Cherry Bitters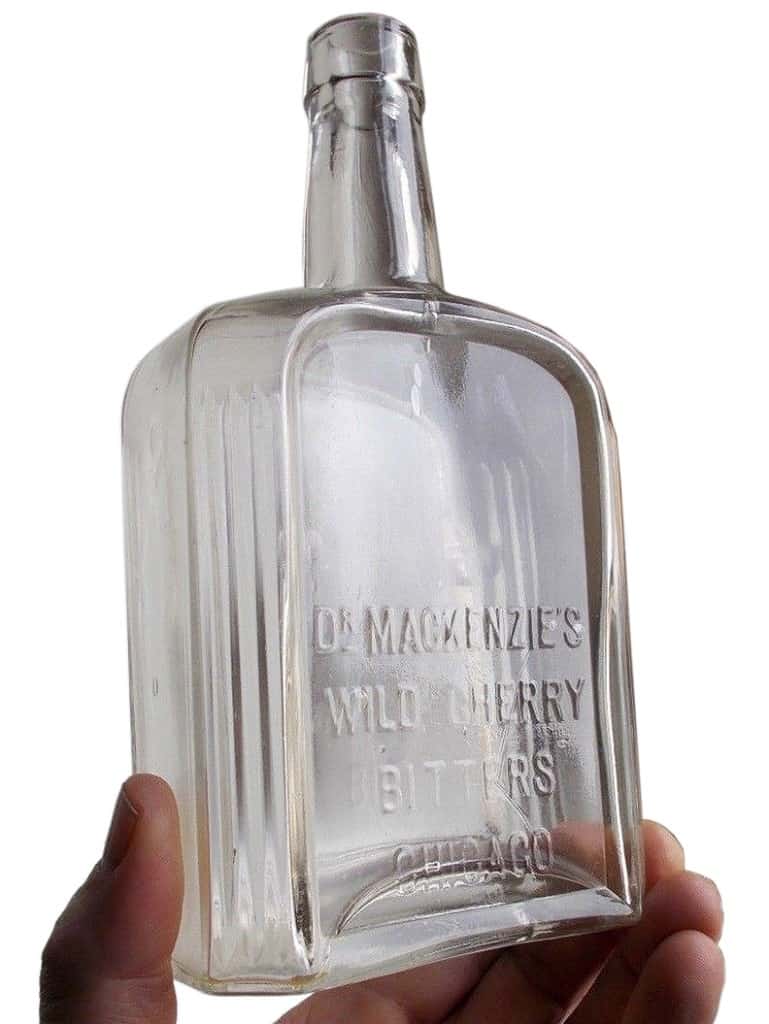 Hi Ferd: I find this bottle very interesting that I just picked up. In the Ring and Ham Bitters Bottles book, it is listed twice as M-5 (Dr. Mackenzie) and also M-60 (Dr. McKinzie) which is the one I have spelled Mackenzie's. The M-60 is spelled McKinzie. Not many bitters have two separate listings of almost the same bottle and same company. Looked for it on your site but found nothing. Lots of Wild Cherry Bitters bottles there but not this one. Thanks and Happy New Year – Lou Holis

---
Dr. Carey's Original Mandrake Bitters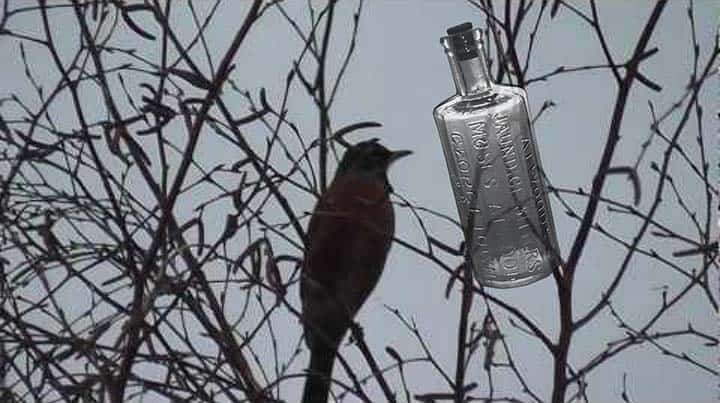 Though I am not a birdwatcher, I guess I kind of feel like one sometimes because I am always on the search for rare bitters that I don't have. Maybe I catch one, or maybe it is just a sighting. That is exciting too. OK, this specimen is certainly not a Bald Eagle, it is probably a scarce Sparrow, that may cost just about as much. None-the-less, I do not have an example in my collection.

---
Fleckenstein & Mayer, Damiana Bitters & Persian Sherbet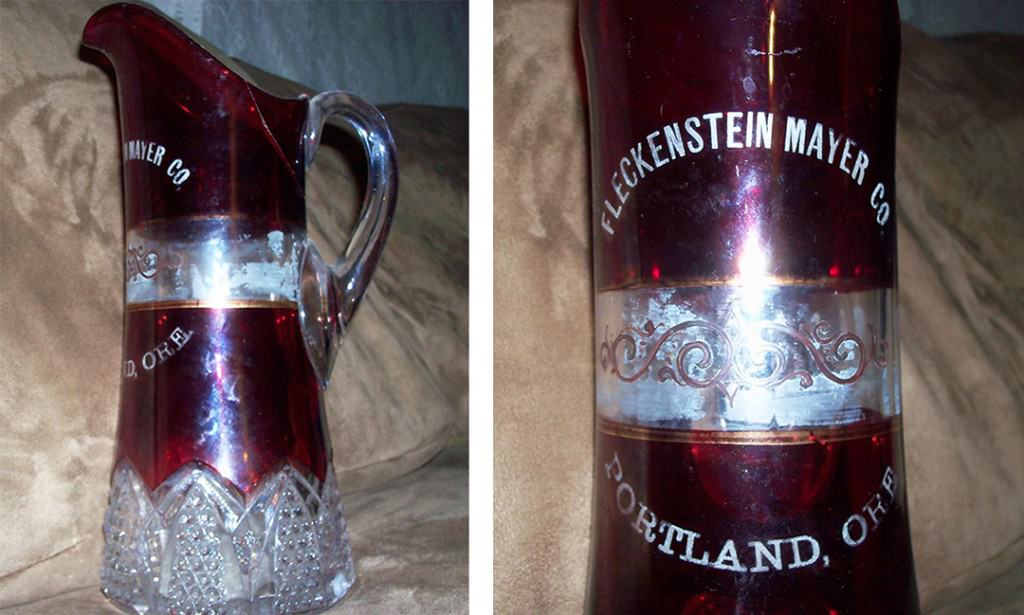 Ben Cameron sent me the two pictures at the top of the post showing some type of a decorative pitcher with FLECKENSTEIN MAYER CO. and PORTLAND, ORE. writing. We have talked and written about Henry Fleckenstein and S. Julius Mayer before. Read: Incredible and Rare Western Flask – "Fleckenstein & Mayer, (monogram), Portland, O."

---
Mills' Bitters – A. M. Gilman – Sole Proprietor

Jeff Wichmann recently sold an excellent example of a Mill's Bitters lady's leg figural over at his newly formed American Bottle Auctions For Sale page. You don't see or read about these too often. I wonder why? The top picture is from a past Glass Works Auctions event. Jeff Wichmann his bottle up as follows…

---
Labeled Towle's Crown of Canada Brand Syrup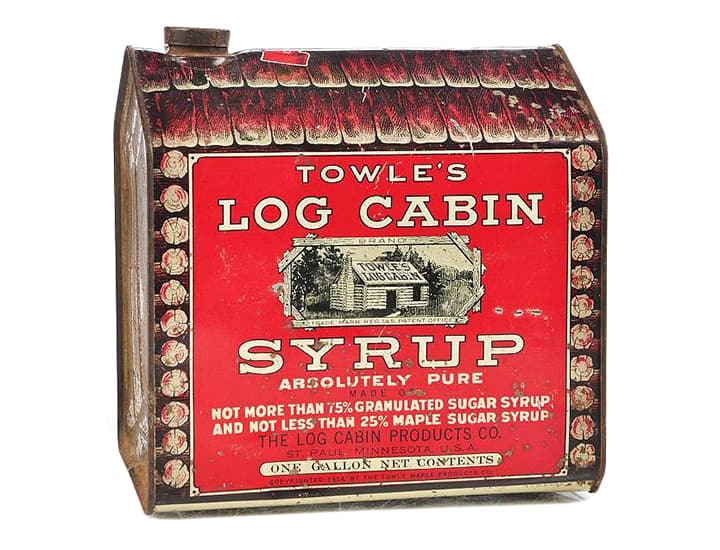 It never fails, I always seem to learn something when I see a piece of unfamiliar glass. In today's case, it was this fully labeled Towle's Crown of Canada Brand Syrup jar, circa 1906 or so. Pretty cool. Who would have thought that this brand was made by the same person who invented Log Cabin Syrup? The top picture and following e-mail is from John Antonez.

---
Demas S. Barnes – Medicine Man to Politician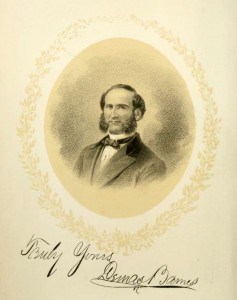 Periodically I come across the Demas Barnes name and have wondered about the man. There is quite a bit of information online, much of it repetitive. I was able to pull some of this information together in one post. Finding a few obituaries helps as you figure family members are providing the information.

---
H. H. Warner – A Retrospective – The Rochester Democrat & Chronicle (3 Nov. 1929)

It was barely a week after "Black Tuesday" and the initial crash of the Stock Market that signaled America's descent into the Great Depression. The Rochester Democrat & Chronicle published a full page spread entitled "Odd Business Adventurer Recalled" by John P. Guttenberg. The article was a retrospective of the success and downfall of one of Rochester's most prominent business figures – Hulbert Harrington Warner. READ MORE
---
Manhattan Medicine Company v. Wood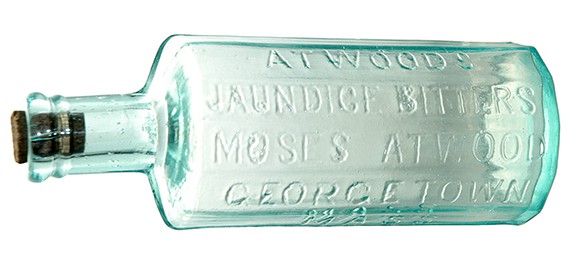 Working on the Johnson's Calisaya Bitters post yesterday led me to understand the Henry & Johnson had an interest in Manhattan Medicine Company in New York to distribute their brands. When researching this company I came across the United States Supreme Court case, Manhattan Medicine Company v. Wood. My Atwood's Jaundice Bitters is pictured. The label would have read Atwood's Vegetable Physical Bitters.

---
Johnson's Calisaya Bitters – Burlington, Vermont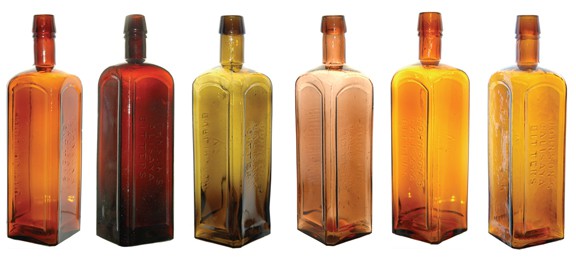 I can not believe that I have not posted about Johnson's Calisaya Bitters from Burlington, Vermont before. This is one of my favorite squares as it comes in so many exciting colors. This purple example that just showed up on Jeff Wichmann's American Bottle Auctions "For Sale" page is something else. It is pictured at the top of the post. Can this color be true?

---
Brazilian Soda Bitters – Indianapolis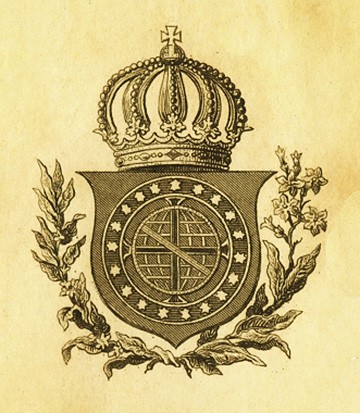 Nathaniel S. Driggs went to Indianapolis as a boy in 1862 from Madison, Indiana and clerked with Winfield S. Lynn at the drug store of Robert Browning. Browning was was Driggs' Uncle. He continued with the house of Browning & Sloan during almost its entire existence, with the exception of three months service in the 132nd Indiana Regiment, in which he served as a hospital steward.

---
One 'Hellofa' Night…Always Has Been…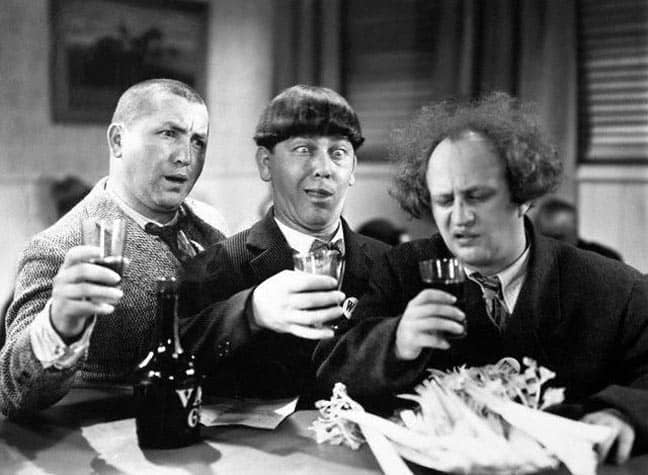 Reposting One 'Hellofa' Night…Always Has Been… from two years ago. Some cool pictures that match the day. Hope everyone had fun last night. Took in a Houston Rockets game with my grandson Nicolas. Feel quite a bit better than some of these pictures. Happy New Year all!
---
Dr. Kaufmann's Sulphur Bitters etc. etc. etc.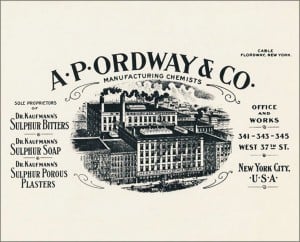 Now that we have completed posts for the Dr. B. H. Kauffman Stomach Bitters and Kaufman's Celebrated Blue Jacket Bitters, it seems reasonable to look at the range of Dr. Kaufmann's Sulphur Bitters. They are all related but split up in the Ring & Ham Bitters Bottles books. Some information may need to be revised.

---
Breaking News – Dick Watson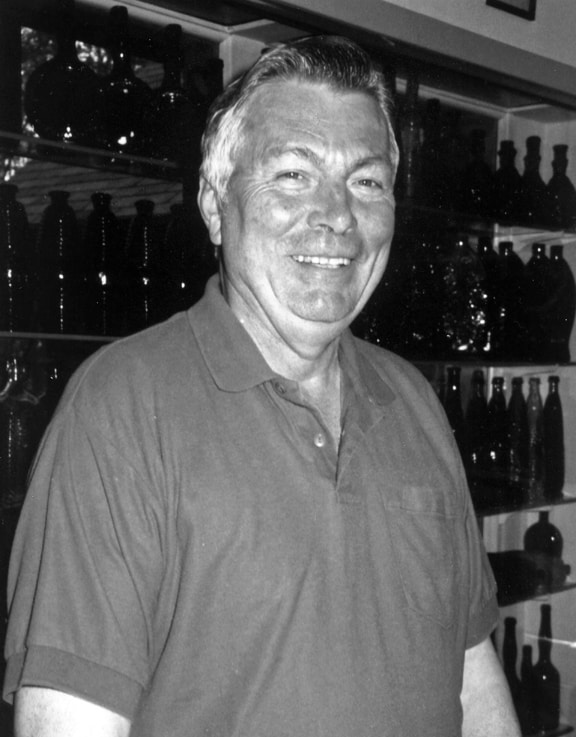 Legendary bottle man and Force Majeure passes…. Stay tuned for details. Richard Watson, FOHBC Historian for the past 23 years, is a Federation Life Member and was elected to the FOHBC Hall Of Fame in 1968. Dick has been collecting since 1959 was fortunate to know a number of the early collectors. He collects bottles of many types plus three mould decanters, patent models, fruit jars etc. He is also a longtime board member of Wheaton Arts, formerly Wheaton Village and he is a Board rep for the Museum Of American Glass where he is the Museum coordinator for annual FOHBC displays. He is the author of Bitters Bottles in 1965 and Bitters Bottle Supplement, 1968.
---
Kaufman's Celebrated Blue Jacket Bitters – Indianapolis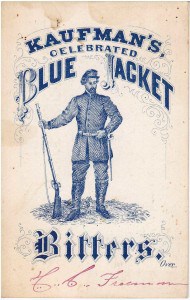 Looking at the back of the Kaufman's Celebrated Blue Jacket Bitters advertising trade card above, we see the names Moses Kaufman and Charles Kaufman doing business as M. Kaufman & Brother at 42 Louisiana Street in Indianapolis, Indiana. Seems like we were in Indianapolis earlier in the week. The front of the card has a great illustration…

---
Dr. B. H. Kauffman Stomach Bitters – Lancaster, Pennsylvania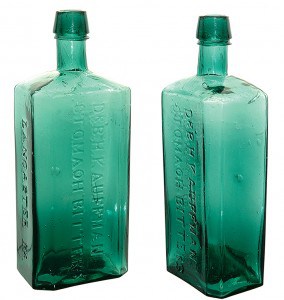 Robert Cohen posted a picture of a Dr. Kauffman Stomach Bitters from Lancaster, Pennsylvania over on the Bottle Colletors Facebook page (pictured at top of post) and I immediately recognized my baby. The picture must have come from the American Bottle Auctions site. Their picture is a bit greener than the actual bottle. The bubble across the letters…

---
Rushton's Cod Liver Oil – New York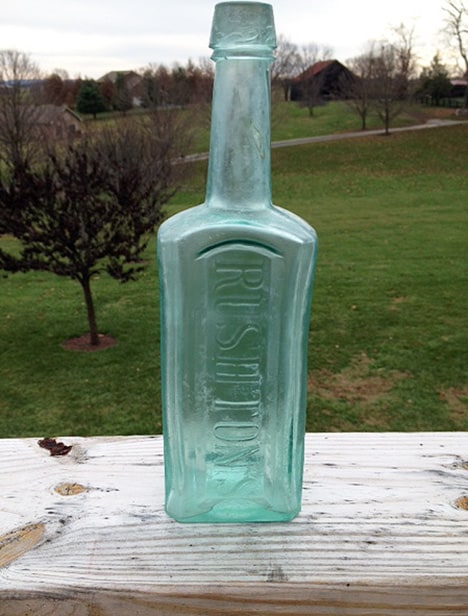 Ferdinand: I am a new member of FOHBC, joining at the Lexington, Kentucky National Antique Bottle Show in August. I just purchased (see attached pictures) this wonderfully heavy F V Rushton Cod Liver Oil New York bottle with hinge mold base. I have exhausted my research, including finding an on line article (attached) that you recently authored…

---
With and without the words Monopole Bitters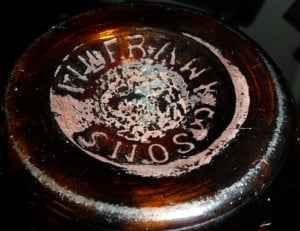 Hi Ferdinand. Have you ever seen one of these? Embossed on base" WM FRANK
& SONS". It is 11 inches tall with a strange iron pontil. There is iron even on
the lettering. This bottle is listed in Digger Odell's 2010 Bitters Price Guide on page 65. It is just like the bottle in the Ring & Ham Bitters Bottles book on page 390 except it is not embossed Monopole Bitters.

---
Stadiger's Aurantii Stomach Bitters – Philadelphia
Charles F. Stadiger was born in February 1833 in Pennsylvania and spent the first part of his business career (1862-1887) as a liquor merchant in Philadelphia, Pennsylvania. His shop was at 407 Arch Street and he boarded at the Union Hotel in the early years. In 1886 he announced and sold his Stadiger's Aurantii Stomach Bitters from 140 South…

---
What was peened out of the Apple Brandy Bitters?

In a previous post we have looked at Pure Apple Brandy Bitters made by Sanford, Chamberlain & Albers in Knoxville, Tennessee. This interesting figural barrel is pictured above. I believe we are talking about another brand here as the advertisements from The Indianapolis News (Indianapolis, Indiana) local section suggest below. Notice that they reference a W. W. Elliott on 66 South Pennsylvania Street.

---
Not much known about the Acorn Bitters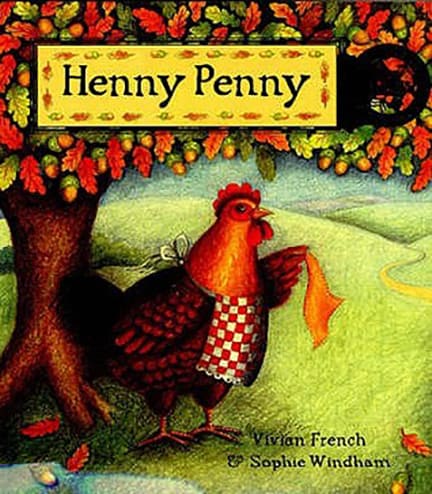 Jeff is right. There is virtually no information on this bottle. I did find this interesting article on how the Yosemite indians in California took the bitter acorns to make gruel. Kind of interesting. Maybe the foundation for this bitters. Always wondered why white men don't eat acorns.

---
Rose Hill Stomach Bitters – New York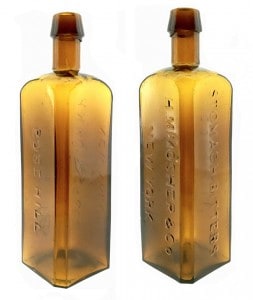 Rose Hill Stomach Bitters from New York made by H. M. Mosher & Company. That is pretty much all we really have on this one. The actual bottle, the name, some bottle pictures by Jeff Wichmann and a listing in Carlyn Ring and W.C. Ham's Bitters Bottles book that does not match. I suspect the listing has a typographical error. Bill Ham may want to track down the original notes for the listing.

---
Hathaway's Celebrated Stomachic Bitters – Wilkes-Barre, PA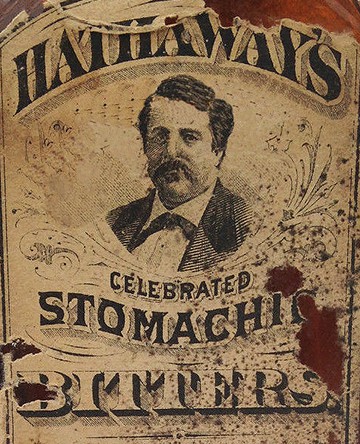 An unlisted Hathaway's Celebrated Stomachic Bitters from Wilkes-Barre, Pennsylvania sold on eBay yesterday. Coincidently, I was in Reading, Pennsylvania yesterday, home of the H.P. Herb Wild Cherry Bitters. Mark Warne reminded me of this. The extremely rare Bloch's German Bitters also just sold on eBay. In Dallas now for business. Headed home to Houston midday. Lots of rain.

---
Koopmann's Bitters, for use in Marshy and Swampy Districts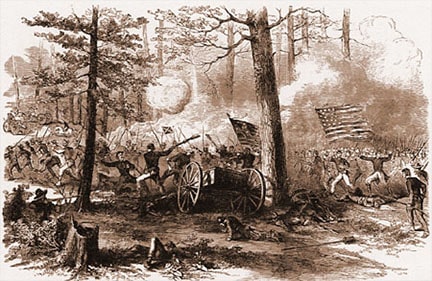 After the The Battle of Bentonville, the southern Civil War wounded were moved to Koopmann & Phelps along with many other locations in Charlotte. Bentonville produced 2,500 or so Confederate casualties. Koopmann's Bitters are reduced in price to a $1 dollar a bottle in 1968 indicating either an abundance…

---
Is there really a Burton's Bitters?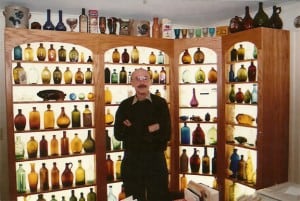 I quite innocently posted the above picture on PRG and Facebook earlier in the week and said, "Anybody ever heard of a Burton's Compound Vegetable Bitters?" New to me. Can anyone guess who this legendary bitters collector is? This picture is from a 1966 Mardi Gras masquerade party. I am adding 1960s issues of the ABCA newsletters to the FOHBC web site.

---
Dr. White's Compound Golden Seal Bitters

The bottle pictures at the top of the post are darn right poor like pictures of the Loch Ness Monster, the Abominable Snowman and merfolk but none-the-less, we've got some pictures of the extremely rare Dr. White's Compound Golden Seal Bitters from Bill Ham…

---
Old Dr. Bone's Bitters and Pills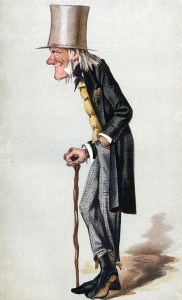 Dr. Lewis H. Bone was the son of Dr. Christian Bone. He was one of the pioneering physicians of New York. Lewis was born in New Jersey about 1831. His father was from Germany and his mother was born in New York. The Bone family were one of the original members of the Eclectic Medicine Movement. Dr. Lewis Bone said that his bitters…

---
That'sa $10k Bottle there Bubba!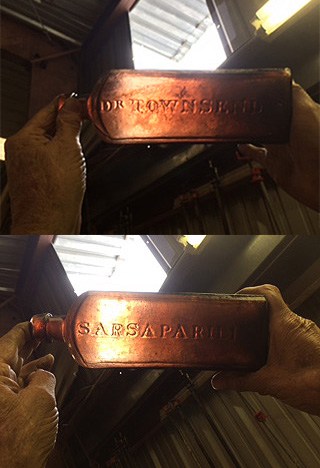 I think the word "awesome" has been overused lately, but after you view these pictures and video, see how you feel. This bottle was dug last Saturday in New Orleans, LA. I just received the ok from the lucky fellow who pulled it out of the New Orleans muck to send it out. Let me know what ya'll think? Enjoy! Richard Kramerichm Pensacola, Florida ** SEE VIDEO
---