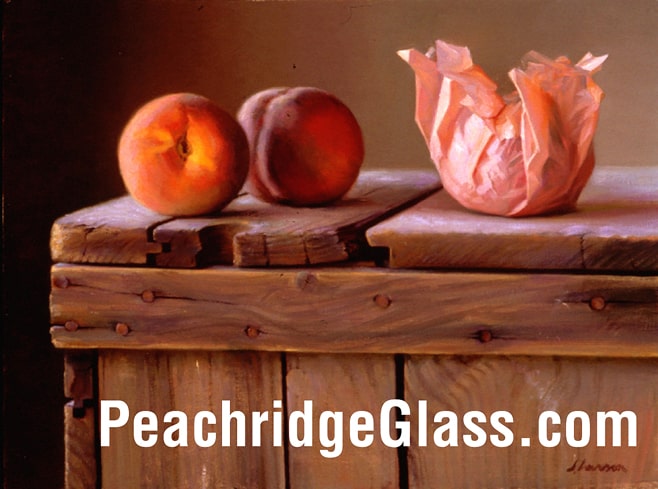 This site is presented and hosted by Ferdinand and Elizabeth Meyer. We hope to share our passion for collecting and dealing in Early American Antique Bottles and Glass. Please contact us for any information and or bottle and glass news for post consideration. I am also looking for guest authors as I shift to the Virtual Museum project. Thanks!
---

---
Heckler Live Auction – Friday May 26th at Noon
Items Include: Early American Glass, Bottles, Rare Historical Flasks from the collections of Charles Gardner, Roy Brown, William Pollard, Edmund & Jayne Blaske and others, Veterinary Medicines & Related Items including Cabinets, Advertising, Powders, Liniments, Ointments, Oils, Remedies, Tins, Boxes and more, Blown Glass, Bitters, Ink Bottles, Utilities, Mineral Waters, Figural Bottles, Medicines, Whiskeys, Demijohns, Stoneware, Pressed Glass, Blown Three Mold, Black Glass, Soda Water Bottles, Colognes & More. tems to be sold individually, in small groupings & table lots. No ReservesA large sale, wide variety, good quality. Join us for our exciting May live auction and pre-auction tailgate in front of the barn. A large and interesting group featuring items from the collection of Tim & Christine Hill and others.Included in this auction is an extremely rare Masonic flask: A majestic GIV-16, aqua, pint! As well as, rare embossed veterinary bottles with labels and contents! Preview: Wednesday, May 24th & Thursday, May 25th (10:00 AM – 4:00 PM), and Friday, May 26th (11:00 AM-Noon) Auction Location The Heckler Offices,79 Bradford Corner Road, Woodstock Valley, CT 06282. More Info
---
Holabird Americana is proud to host the 53rd Annual Reno Bottle Auction ~ Now Online
Holabird Americana is proud to host the 53rd Annual Reno Bottle Auction in conjunction with the 53rd Annual Reno Bottle Show on Friday, June 16th Includes (among others) the Ralph Van Brocklin Western Whiskey Flask Collection and The Rod Stock American Hutch Collection ~ Now Online
---
ABCR Auctions #28 Catalogue Ready to View

Auction 28 Now Online. 847 Lots of quality bottles and more. Hi, Ferdinand, The Auction 28 catalogue is now ready to view and bidding begins next Wednesday (24th May). This time as well as the usual wide array of bottles we have a nice selection of advertising signs, some great early pottery plus numerous unusual odds and ends. The most important detail! Online bidding begins: Wednesday 24th May 2017, 8 pm (Melbourne, Australian Time).

Click here to view the catalogue.
---
Mansfield holds its 39th Annual Show
This past Saturday, Linda and I made our yearly trip to the Ohio Bottle Clubs 39th annual Mansfield show. The Ohio Bottle Club is a great group of people headed by Alan DeMasion, acting president. Alan is also heading up the FOHBC Virtual Museum imaging and fundraising efforts. You should see his 3-D spinners that he is working on. I am told some examples will be available at the FOHBC 2017 Springfield National Antique Bottle Convention & Expo. Stop by and check them out. Alan will have a Virtual Museum filming set-up in the display area.

---
Past Tyme Pleasures Auction
Visit Past Tyme Pleasures and look at their current offering of super target balls. Presenting an absentee antique advertising auction. Target balls galore! Closing 27 May 2017. VISIT AUCTION
---
American Glass Gallery Auction #18, opening this Wednesday!
The Auction will include 336 Lots of great items including a fantastic grouping of Bitters, Flasks, Fruit Jars, Pattern Molded and Blown items, Medicines, Mineral Waters, Sodas, Inks, and much more. Catalogs are still available and can be ordered from our website. VISIT AUCTION
---
Mohawk Valley Antique Bottle Club has a Great Two Days
I am running a bit behind with my show reports because the past three weeks has been filled with bottle activities. I have been to the Rochester bottle show, the Mohawk Valley Bottle Clubs show and just returned from the Mansfield show. I set up at all three shows and also went to Norm Hecklers barn sale in between. So, I am playing catch up at this point!

---
2017 Springfield National Seminars – Seminar Schedule, Topics & Presenters
The FOHBC is proud to present a variety of fascinating educational seminars at the 2017 Springfield National Bottle Convention and Expo. This distinguished group of presenters was organized by seminar coordinator, Michael George. In the past, because two seminars were presented simultaneously, you were forced to choose one and miss another. We have partially remedied this situation by arranging the videotaping of our seminars which will be made available to all on the FOHBC web site. Details concerning obtaining those videos will be announced at the time of the seminar presentations.

---
Watson One Auction News
For immediate release: I explained once that some good things are worth the wait. And now the wait is over. Springfield 2017 is going to long be remembered for many reasons. Great show, great seminars, great banquet, superb auction. We are extremely grateful to the Watson family who in their parent's footsteps have made this contribution to the FOHBC and the hobby possible. Team Springfield is excited to announce that Glass Works Auctions, under the leadership of Jim Hagenbuch, will conduct an auction of approximately 115 carefully selected lots from the Elma & Dick Watson collection of extraordinary bottles and glass on Saturday, August 5th, 2017. Watson One, the first ever offering from the Watson collection, will take place in the MassMutual Center, adjacent to the Springfield showroom floor, on Saturday morning, August 5th 2017. Previews (subject to change) will take place on Friday August 4th from 3:30 to 5:30 P.M. and from 7 to 9 A.M. on the morning of the auction. Auction action will commence promptly at 9 A.M. and conclude in time for showroom floor activities to beginning at noon. Bidding procedures, catalogues and specific items in the auction will be made public shortly. Stay tuned!!!!! There will be something for everyone and this, my friends, will be an event not to be missed. A splendid time is guaranteed for all! Bob Strickhart (Springfield C0-Chair)
---
Greeley's Bourbon Bitters being Raffled at the Springfield National
Through a generous donation from a friend on the west coast, the National Bottle Museum now has a wonderful Greeley's Bourbon Whiskey Bitters in aqua to raffle at the FOHBC 2017 Springfield National Antique Bottle Convention & Expo. Info —>>> More Info
---
Left Coast Lines Presents: The 2017 Rohde Ranch BBQ & Tailgater
Hello fellow hobbyists and welcome collectors of all ages and interests. Here is the latest chapter in the insulator collecting hobby phenomenon called The Rohde Ranch BBQ and Tailgater. This year's event, hosted by Bill and Kat, was held on Saturday, April 22nd, 2017 at the Rohde Ranch, just east of the San Joaquin River near Fresno, California.

---
2017 Reno Antique Bottle Show Brings Longstanding Collecting, Class & Art
[Posted by Fred Holabird] The world of antique bottle collecting has taken a full turn from collecting pretty old purple and blue bottles in the desert to investment quality pieces envious of any art museum.With key rarities often trading in the tens of thousands of dollars, a new breed of collector has developed. "We are seeing many more new collectors who are collecting for the beauty of the product. The investment angle has also taken a toll, with some collectors heading straight for the rarities," said national auction house seller Fred Holabird of Holabird's Western Americana Collections based in Reno. "The spectacular shapes and colors rival anything else I can imagine" says Ferdinand Meyer V, a major collector of colored bottles and president of the Federation of Historical Bottle Collectors, a national collecting organization formed for historical education about antique bottles.
Other collectors love the history. And what's not to love – the aura of collecting bottles from Wyatt Earp's saloon. "Antique Bottle Bible" author Mike Polak (Krause Publications) maintains the bottles found behind Earp's old Northern Saloon in Tonopah have added value, and if nothing else "bring home incredible history to the bottle field itself." Holabird's new book "Ghost Towns and Medicines" highlights the Nevada collecting genre, with stories rich in history and local lore. Holabird has planned an auction of one of the top collections of western whiskey flasks and Hutchinson soda bottles from all over America on Friday night of the show.
The Reno Bottle Show this year will be June 16-17 at the Reno Convention Center on South Virginia. It is a return to their old haunts after a number of years of having shows around town in various venues. The Reno-Sparks Antique Bottle Club has been going for 55 years strong, one of the oldest clubs in America. "The hobby remains strong and vibrant. People are still fascinated with this art form" said club president Marty Hall of Reno. "Over the years we've had shows with hundreds of dealers. This year we hope to pull in dealers and collectors alike from all over the Western United States. There will be historical and topical displays of antique bottles, as well as vendors from all over the West." Hall invites all interested collectors who may wish to display, sell or acquire special pieces for their collections. For more information, please call Marty Hall (775-355-9467) or reach him thru email, rosemuley@att.net.
---
Another Jim Healy Creation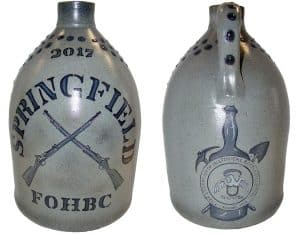 Here is an image of the first of two stoneware jugs being made to raffle at the Springfield National. Jim Healy is making them. The one shown in the photo is similar to the style we had at the 2015 Chattanooga National. The second will be an older looking jug. My plan is to sell tickets for $2 each or 3 for $5. – Jim Bender (Springfield National Chair)
---
48th Rochester Show and Sale was Great
This past weekend, April 30th, I was able to make my yearly trip to Rochester for their 48th annual show and sale. Aaron and Pam Weber once again served as the show chairs. They do a great job with this show and always have a packed show room. They will be the first to tell you they don't do it alone. The club is run by a great board which includes John DeVolder (president), Chris Davis (vice president),..

---
Bob Ferraro 
It is with great sadness that we hear of the passing of Bob Ferraro in Boulder City, Nevada. Bob was many things including a great bottle collector, politician, business man, human being and most important, a friend to many and an inspiration. Read: Former Mayor Bob Ferraro dies at 81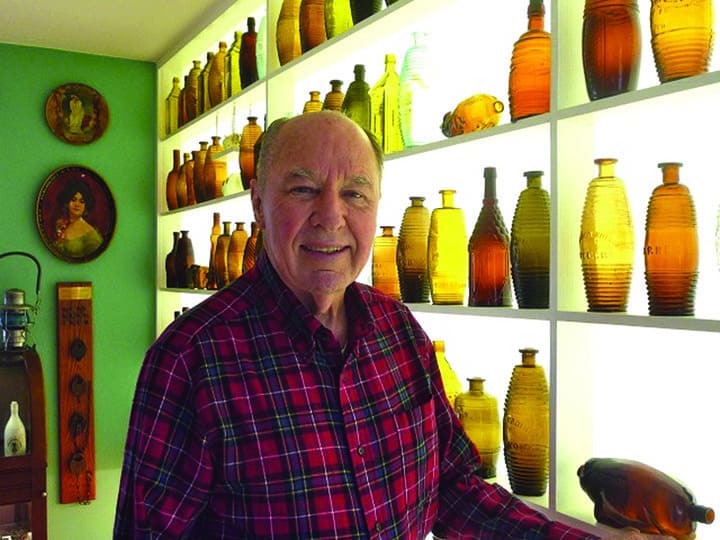 ---
Mobile Bottle Collector's Club 43rd Annual Show Report
The Mobile Bottle Collector's Club 43rd Annual Show was on the 25th of March, 2017 in Daphne, Alabama, and my friends and I were in attendance. This year was a fun year because we came armed with Barq's Hutch sodas from Biloxi and Gulfport and had a few rarities to sell from New Orleans as well. Jason Case and Rick Soldini joined my expedition into one of the best shows in the South. Jason had his Gulfport Barq's Hutch sodas to sell, I had my double Biloxi Barq's and some New Orleans relics to sell, and Rick had a 1915 Bay St. Louis hobble-skirt Coke to sell.

---
The New England Antique Bottle Collectors Club 51st Show
This past Sunday I attended the New England Antique Bottle Collectors Clubs 51st annual show and sale. This was my first time to this show as it normally runs the same day as the Empire State Show and I attend that show every year. This just goes to show you with a little work between clubs, collectors can attend more shows and not have to make a choice.

---
The May June 2017 issue of BOTTLES and EXTRAS
The May June 2017 issue of BOTTLES and EXTRAS is at the printer! Looks who has the feature article space "On the Cover of the Rolling Stone"! Inside this issue.. Bottles and Extras, Vol. 28 No. 3 | May – June 2017 | No. 231 Features: Historical Look at Springfield Jim Bender 14 Maddox Park: Diggers' Delight Down in Dixie Bill Baab 22 He dug in the park for 51 weekends Dave Swetmon 25 Jack Ryan, His Flask, and "The Wild Bunch" Jack Sullivan 29 Warner's Safe Cure "No City"Michael Seeliger 34 Collecting Club Bottles: Glimpses into the Past of Our Great HobbyBill Baab 38 My Visit to the Philadelphia Museum of Art to see its cross-swirled PitkinDana Charlton-Zarro 52 Vignettes: Shards of Wisdom 4 History's Corner 5 Lost & Found 61 Member Photo Gallery 64 Departments: FOHBC Officer Listing 2014-2016 2 President's Message 3 FOHBC News, From and For Our Members 6 Classified Ads & Ad Rate Info 66 Membership Directory 67 FOHBC Show-Biz, Show Calendar Listings 68 Membership Application 72
---
46th annual Minnesota Antique Bottle, Advertising, and Stoneware Show and Sale

A very successful 46th annual Minnesota Antique Bottle, Advertising, and Stoneware Show and Sale was held on April 2, 2017. The Saturday night before the show, dealers were treated to an open house where food, beverages, show and tell, and good conversation were in generous supply. Strong show attendance on Sunday brought good sales for the 50-plus dealers who occupied nearly 80 tables.

---
2017 Golden Gate Show & Sale
Friday, April 8, was the opening day of the Golden Gate Historical Bottle Club's 51st annual show and sale at the Contra Costa County Fairgrounds in Antioch, California. Amidst some substantial downpours the show opened to its usual crowd of dedicated followers.

---
Empire State Bottle Collectors Association has its 47th Annual Spring Show
This past Sunday, April 2nd, I attended the 47th Annual Empire State Bottle Collectors Association spring show. The show once again was held at the Cicero American Legion located at 5575 Legionnaire Drive in Cicero NY. This year the weather was beautiful. Last year a snow storm hit hard the morning of the show at it clearly slowed things down but the show went on. With the great weather there also was a great turn out in both dealers and attendees. The show room was crowded all day and everyone seemed to be having a great time.

---
The Baltimore Antique Bottle Clubs 37th Annual Show and Sale
Last weekend I made the annual trip to Baltimore for their antique bottle clubs 37th Annual Show and Sale. Visit Club Site. This is always one of my favorite shows not just for the show, but it is also the first of two semiannual FOHBC board meetings. The second will be held in Springfield in August at the FOHBC 2017 Springfield National Antique Bottle Convention & Expo.

---
Ferd Meyer Memorial Received Well at Baltimore Bottle Show – Ferdinand Meyer V Interview
Was interviewed any Scott Collier at Dundalk TV. Gave me an opportunity to talk about my dad and how he was one of the first in the Balto Bottle Club. Got me started in this great hobby too. Enjoy. WATCH
---
Best Pit ever dug in Mississippi
Hi Ferdinand! Just checking in to say hello and to send you some pics from the best pit of Hutch sodas ever dug in Mississippi. We found a brick lined cistern in Gulfport and when we got into it, it was full of hutch sodas! The list of sodas were amazing. Double Biloxi Barq's, Gulfport Barq's, CH Hudson Scranton Miss, F Frank Smith Gulfport, Hattiesburg Bottling Works, just to name a few. There were over 300 hutch sodas in this four-foot deep cistern. I've dug many cisterns and never have I found one like this. It has to be some kind of record. It was a great day and all of us were elated. We will be bringing some of the sodas that we haven't sold yet to the Daphne Bottle Show on the 25th. Hope you enjoy the pics! Your Friend, Mike Burkett, Long Beach, Mississippi

---
A labeled Gordon's Dry Gin, Gordon's Pale Orange Bitters and a Tanqueray Fine Gin bottle
I really like to see complete packages when it comes to antique bottles. This means a great looking original label attached to old glass with character. In this case, we will look at a labeled Gordon's Dry Gin, Gordon's Pale Orange Bitters and a Tanqueray Fine Gin bottle. All were bottled in New York and are London, England products.

---
X-Rare Backwards 'N' Peruvian Bark Bitters
I came across your article, "Could this be the same Dr. M. Perl from New Orleans?" while trying to find info on my Dr. M. Perl bitters which I acquired in New Orleans about 20 years ago. Mine is similar to the one in the referenced article, center image with indented panels. Mine is clear (light aqua) and the interesting thing about my bottle is that the "N" in PERUVIAN is backwards/reversed. The few references I have found do not show a backwards "N". Is this anomaly unusual or rare?

---
Battle of Springfield Bottle Competition News
The "Battle of Springfield" Bottle Competition will be held Thursday, August 3rd, 2017 from 7:00 to 10:00 pm at the FOHBC 2017 Springfield National Antique Bottle Convention & Expo. The event will occur in the Mahogany Room on the 2nd Floor of the Sheraton Springfield Monarch Place hotel. Bottle registration will be at 6:00 pm in the same room.

---
Springfield National Room Hopping Announced!
For those who would like an old fashioned treat, this coming year at the 2017 Springfield National, we are bringing back a rendition of an old favorite. We're going to have some old fashioned "Room Hopping" at the Sheraton Springfield Monarch Place hotel just like we did before cell phones and late night auctions.

---
Springfield Armory Reception – New Event added to the 2017 Springfield National
The FOHBC is working with the Events Coordinator at the Springfield Armory Museum and the Campus Events Coordinator at the adjacent Springfield Technical Community College. Both are in historic buildings on the National Historic Site (National Park Service) grounds and hold events. The FOHBC and Springfield Co-Chairs will be holding an afternoon reception on the 7th floor, "Top of the City" conference room at the Education Center which has large windows that overlook the historic grounds.

---
Mt Vernon Glassworks Project
Hi Ferdinand, Mark Yates and I were excavating behind the factory site of the Mt. Vernon glassworks with Brian Wolff for several years prior to his death. Brian's dream was to excavate the actual factory site. Brian's longtime friend, turns out, had recently inherited a house, its yard being the factory site. Last October we got permission to excavate on the factory mound in the backyard and Brian was able to be with me on the first day there. Mark and I continued until December 31st when the frost did us in.

---
Stage Actress Beauties – Looking at some Damiana Bitters Advertising Trade Cards
Ferd, Here are the images you requested. Glad to help out. I thought that we had used a number of them previously but I could not find them in any of your posts. All of these ladies were stage stars in the late 19th century. They lent their celebrity to the promotion of these bitters much as celebrities are doing today. Each are worthy of separate posts in their own right. I have done some research and have limited biographies on each of them. I look forward to reading your Damiana Bitters post. Regards, Joe"

---
Early Damiana Bitters or is something wrong here?
Gary Beatty snagged this interesting Baja California Damiana Bitters with a label (pictured above) and wonders if it is a variant of the more common Damiana Bitters most of us are familiar with (pictured below). He also wonders about the authenticity of the label. His email to me is represented below.

---
The Hull Brothers barrel from Detroit, Michigan
Here is a new barrel post for the extremely rare Hull Bros. from Detroit, Michigan. In fact, this is the only example I have ever seen. The amber bottle was offered in the recent Glass Works Auctions Session 1 from the great Bob Ferraro Collection. Bob is known as Mayor Ferraro and the "Barrel King". Many times I would come across an obscure barrel only to find that Bob would have an example. Like I said, the Barrel King.

---
The James A. Clark barrel from Louisville
I have put out many barrel posts before but I missed the Clark barrel from Louisville, Kentucky. You see, there are only two examples, the last coming from the recent Glass Works Auctions Session 1 of the Bab Ferraro Collection. Bob is known as Mayor Ferraro and the "Barrel King".

---