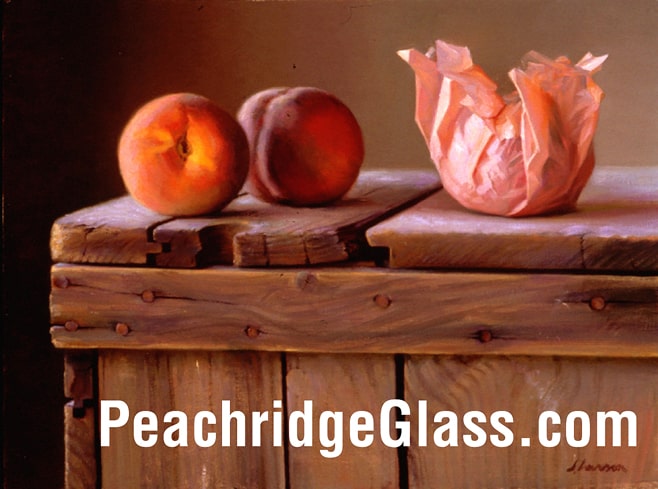 This site is presented and hosted by Ferdinand and Elizabeth Meyer. We hope to share our passion for collecting and dealing in Early American Antique Bottles and Glass. Please contact us for any information and or bottle and glass news for post consideration. I am also looking for guest authors as I shift to the Virtual Museum project. Thanks!
---

---
Pole Top Discoveries' Insulator Auction has started
Look at this cool CD 737 , Unmarked "Pilgrim Hat" in Dark olive amber. Just in time for Thanksgiving. Attributed to a Stoddard, New Hampshire glass house, as an example was found by a bottle collector who excavated Stoddard glass factory sites. Visit Auction
---
Dr. Truman Stillman's Temperance Bitters – NOLA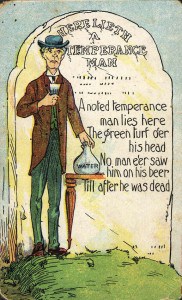 In 1846 Dr. Stillman is listed as a doctor, surgeon and proprietor of the Louisiana Lock Hospital Institution at 37 Bourbon st. He must have moved on from his Southern Chemical Laboratory business. You went to the Lock Hospital for the "most speedy and permanent cure for Gonorrhoea, Gleets, Strictures, Affections of the Kidneys, Diseases of the Bladder, Gravel, Seminal Weakness, Involuntary Seminal Emissions…

---
Sarsaparilla & Tomato Bitters – Boston

Here is a bitters bottle that could be the most underrated and undervalued bottle in our hobby. The Sarsaparilla & Tomato Bitters from Boston rarely sell for more than a few hundred dollars which is surprising. First of all, look at the form and beauty of the bottle. It sums up what bottle collecting is all about. Crude, aqua, applied top, rough pontil, ample embossing and in this case the words Bitters and Sarsaparilla on the same bottle. It also dates from 1844 to 1847. Shut the door!

---
I wish someone would find me a Newfoundland Bitters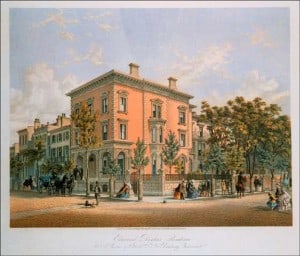 Newfoundland Bitters was made from 1869 to 1874, at least that is when the product was advertised in newspapers and places like The Times-Picayune (New Orleans, Louisiana), The Ouachita Telegraph (Monroe, Louisiana), The Galveston Daily News (Galveston, Texas) and Mississippi. The 1872 advertisements say, "It is now but two years since The Newfoundland Bitters has been offered to the public".

---
The Beggs' and their Dandelion Bitters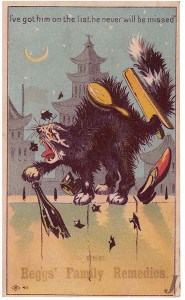 "One name stands out as worthy of more than mere mention in early Elk Point business enterprise. Charles W. Beggs established a general mercantile business in 1868. He was a man of unexcelled energy, probity and executive ability. Promoters of any plan that seemed to be in the interest of Elk Point, Union County or Dakota Territory always found a sympathetic ally in Mr. Beggs."

---
An Unknown Millionaire Found In New York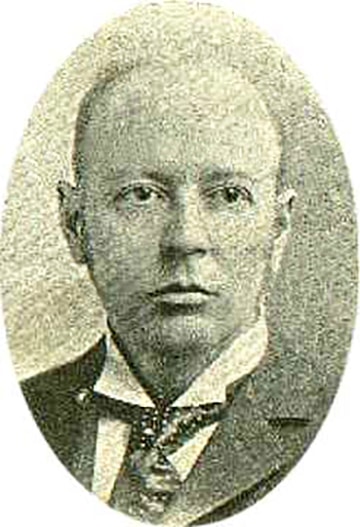 That in the United States, where the newspapers chronicle every action of persons of wealth, a man would acquire a fortune of $17,000,000 without the public being aware of the extent of his riches is disclosed by the death of Mr. Elden C. Dewitt.

---
HISTORY REVEALED IN DEMOLITION: The Elixer and Granny Metcalfe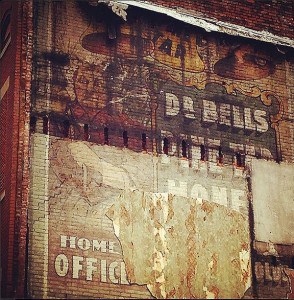 The demolition of the Ethan Allen Carriage House building on North Third Street has shed unexpected light on some forgotten Paducah history. As the layers of brick and mortar have been removed, a painting has revealed itself, an advertisement which spans the outside wall of the building and features a string of bells and an old woman in a white cap. READ MORE
---
K.S.S.B = Kagy's Superior Stomach Bitters – Ottawa, Illinois

Aaron Kagy was born April 2, 1826. He married Eliza Mauk, of Walnut township; they now reside at McCool Junction, Nebraska. For five years, beginning in 1850, Aaron Kagy was the largest and busiest stock buyer in Ohio; he drove his cattle in lots of 100 to Baltimore, Maryland. He failed in 1854 and involved many of his friends.

---
Brown's Aromatic Bitters – Hannibal, Missouri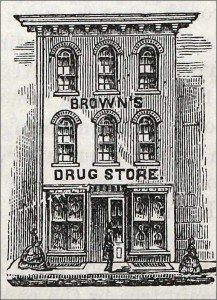 Jim Hagenbuch with Glass Works Auctions sure knows how to tug at the heart-strings (and pull at the purse strings) as when he auctioned off the extremely rare, Brown's Aromatic Bitters from Hannibal, Missouri in Auction #87 back in October 2009. He wrote under the bottle description, "From the Mississippi River town of Hannibal, Missouri, birthplace of Samuel…

---
"In Hoc Vinces" – Romaine's Crimean Bitters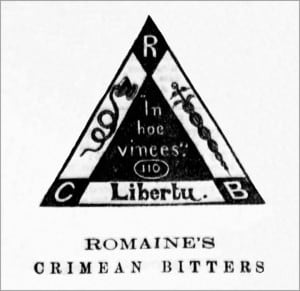 A few days since Newbern was dreadfully alarmed at poster's placed in conspicuous places over the city, in these mysterious characters: R C B. The Mayor called upon his officials to tear the incendiary document down, which could mean no less, he supposed, than "Rise, Colored Brethren".

---
McManman's Celebrated Stomach Bitters – Milwaukee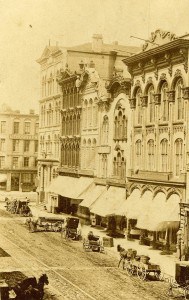 He was described as "a generous, good fellow as ever lived, but as full of wind as a bushel of beans, and very conceited about his own ability as a military man. He once made the remark that the world had never produced but three really great military men. The first was Hannibal the Carthagenian, the second was Napoleon Bonaparte, but the name of the third…

---
Isham's Stomach Bitters – Chicago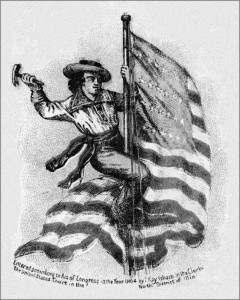 The Isham's Stomach Bitters is an extremely rare bitters that some say may be a western bitters. Even in Ring & Ham is says, "Thought by some to be from San Diego, California. No proof." I have found some information that puts this brand in Chicago with P. Ray Isham. My example is pictured in this post. It came from….

---
Reference to an unlisted Mormon Tonic Bitters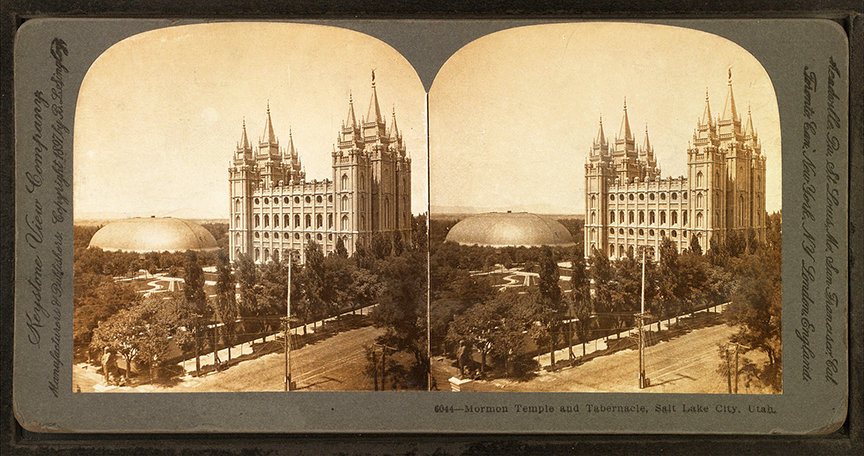 The other day, while patrolling the internet, I came across this listing for Mormon Tonic Bitters from the St. Paul Daily Globe on April 9, 1893. To my knowledge, this is the first bitters with the word "Mormon" that I am aware of. This brand was sold up in St. Paul, Minnesota as confirmed by the second advertisement.

---
So who is Dr. Buzzell?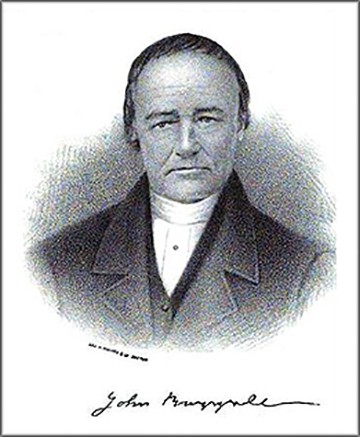 So who is Dr. Buzzell? At first when I found a Dr. Buzzell's bitters advertisement while working on the Globe Tonic Bitters (Portland, Maine) post, I thought we might have an unlisted bitters. That is not so. Dr. John D. Buzzell's Vegetable Bilious Bitters was advertised in 1844 and 1845 in Maine and later we have a patent in 1895. What is going on here? Why the big time gap? Why does the Ring & Ham B 279 reference in Bitters Bottles…

---
Globe Tonic Bitters – Portland, Maine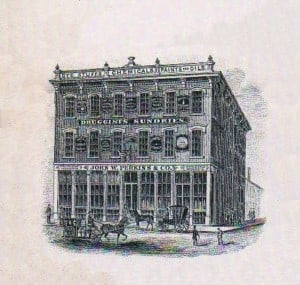 John W. Perkins moved to Portland, Maine in 1853 and opened a wholesale drug, paint, and oil establishment in partnership with L.H. Titcomb. The following year, Titcomb retired, and John Perkins's brother, Benjamin A. Perkins, who had been a member of the firm of Curtis & Perkins of New York, joined the firm which was now called J. W. Perkins & Co. There is quite a bit of material for this druggist but I could find no direct…

---
Glass Works Auctions | The 'Christmas Comes Early' Catalog Auction #105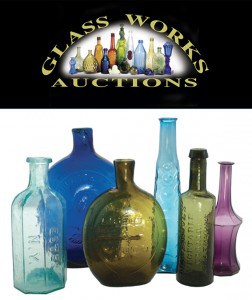 Glass Works Auctions, The 'Christmas Comes Early' Catalog Auction #105 is now online for viewing. Closing Date: November 24th, 2014 at 10:00 pm! Opens for bidding on November 10th. Over 250 lots in this auction! Click here to view the auction, register and bid!
---
Fully labeled Dr. A. S. Hopkins Union Stomach Bitters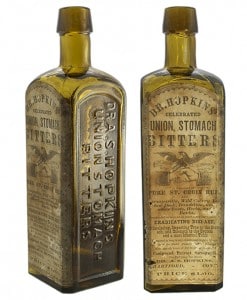 What I find interesting here is comparing the label for an H 179 example to a H 180 example. Read: A labeled Dr. Hopkins Union Stomach Bitters. The H 180 variant has HARTFORD CONN. embossed on the bottle (bottom sketch below) along with the DR. A. S. HOPKIN'S UNION STOMACH BITTERS. The H 178 and H 179 variants (top sketch below) do not have HARTFORD CONN. embossed on the bottle.

---
Heckler Auction 188 Online for Viewing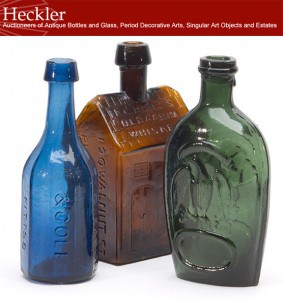 A Select Absentee Auction including Early Glass, Whiskeys, Historical Flasks, Bitters, Utilities, Mineral Waters, Inks, Medicines & More. View Auction 118 Online Today. Bidding Begins: November 10, 2014.
---
ABCR Auction 18 Online Now for Viewing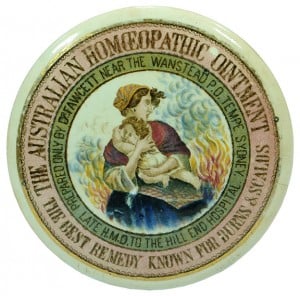 Some call this the world's most famous pot lid! The Australian Homoeopathic Ointment / Prepared only by Dr Fawcett near the Wanstead P.O. Tempe Sydney, / (Lady holding baby amongst flames) / Late H.M.D. to the Hill End Hospital. / The best remedy known for burns & scalds. (New South Wales). VIEW AUCTION
---
BBR Auctions presents Winter Wonders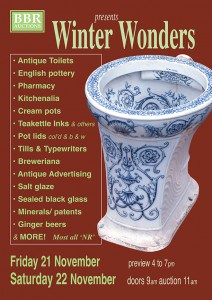 Ey up Ferdinand, In case you wanted the upcoming catalogue cover…. a couple of interesting bits (especially for Ralph Finch)….Cheers, Alan Blakeman, BBR. Just waiting to post out the bumper fun filled Sat November 22nd catalogue….. baaaaaaaargain @ £5, or £3 for the pdf off: www.onlinebbr.com
---
Herzberg's Bitters

&

Botanic Bitters

by Herzberg Brothers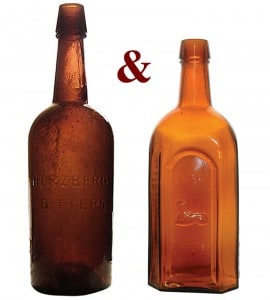 My name is Harry and I am a novice antique bottle collector. If you could be so kind, I would like to know some information on this 11.5 in tall, amber fifth whiskey style bottle embossed Herzberg's Bitters. I have been trying to find information on this bottle for some time but have not had any luck. The only thing that I can come up with this that a there is another bottle embossed Botanic Bitters…

---
Deutenhoff's Swiss Bitters – Savannah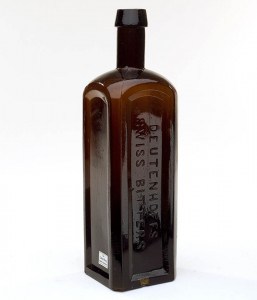 George owned a drug store called G.M. Heidt Company located at 145 Congress at the corner of Whitaker Street in Savannah, Georgia. He resided in Marietta, Georgia, just north of Atlanta. Heidt apparently designed an early model of a soda jerk machine for his drug store, and one report said that he invented the original formula for Coca-Cola, which was stolen at an expo some time later. I can not validate this information and doubt it.

---
A pair of

S. Rosenthal & Co.

NYC bottles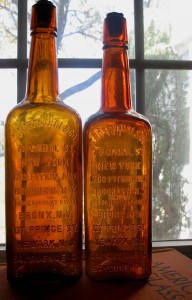 "Perhaps you can see what you can come up with on the two S. ROSENTHAL & CO. square whiskies in that last picture. The larger one is a 30 oz. and the other, a 24 oz. The Corning Museum of Glass has one in their collection which was donated, but other than that, I've never come across any others. Your resources are MUCH better than mine and I have faith that you'll be able to come up with a little information on these bottles. Thanks Ferdinand. Take care and have a good night."

---
Leadville Colorado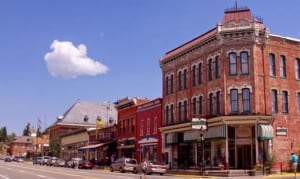 "Leadville has played an important role in Colorado history for more than 150 years. Leadville's mining history began in 1860 with the discovery of gold south of town, which made 2010 the 150th anniversary of the Gold Rush. Roughly 8,000 prospectors arrived in "Oro City," their name for the makeshift town of tents and cabins. During the next five years, more than $4 million worth of gold was… Read at Western Whiskey Gazette
---
Did you see that Schrader's Highland Bitters?

[Updated]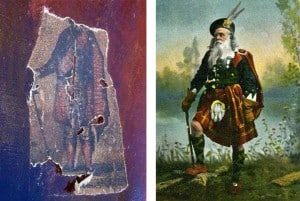 Gawd…I missed this one on eBay… hook, line and sinker, closing on Saturday, 22 October at 10:35 am. Well maybe that is part of the reason. This unlisted Schrader's Highland Bitters closed on eBay last week with 20 bids and a closing price of $1,125. SunshineAntiques from Browning, Missouri was the seller.

---
Looking at a

Burdock's Blood Bitters

Rebus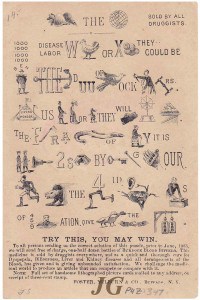 Ferd, Sorry, nothing for the Chicago Hunki Dori. I do have something for your Bath, Maine, Hunk (hairy eye) Dori post. Using the eye in place of the letter "i" is a form of a Rebus puzzle. I have seen them on a number of trade cards. Attached is one on the back of a Burdocks Blood Bitters card…

---
November

|

December

issue of Bottles and Extras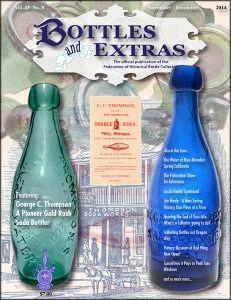 The November-December issue of the FOHBC Bottles and Extras is in the mail. 72 pages, plus covers including Pottery Museum of Red Wing – Now Open, Jim Healy – A Man Saving History One Piece at a Time, The Federation Show – An Adventure, Sometimes it Pays to Peek into Windows, George C. Thompson – A Pioneer Gold Rush Soda Bottler, The Water of New Almaden Spring, California, Nearing the End of Your Life: What's a Collector Going To Do?, Jacob Hoehn – Continued, Collecting Bottles Out Oregon Way, There's Gold in Them Thar Hills and so much more. Become a member of the FOHBC
---
An unlisted

Anderson's Wine Restorative Bitters

reference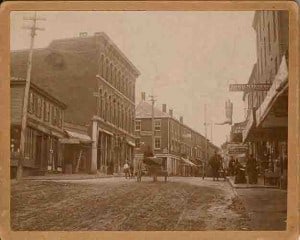 While visiting some of the Bath, Maine city directories the other day for the Hunk Dori Bitters post, I came across an advertisement below for Anderson's Wine Restorative Bitters. The proprietor was S. Anderson & Son who were druggists and apothecaries at the corner of Front and Arch Streets in Bath, Maine. The old photograph above, from the Maine Historical Society, shows Front and Arch streets in 1892. If you look closely, on the right side of the street…

---
Hunki Dori Bitters – H.B. Matthews – Chicago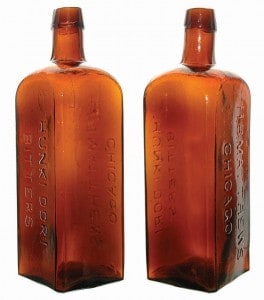 It seems fitting, as a follow-up to the recent Hunk Dori Bitters post, to develop a post for another Hunki Dori Bitters. This brand was made by H.B. Matthews in Chicago, Illinois. The Carlyn Ring and W.C. Ham listing in Bitters Bottles is as follows…

---
Hyde & Gay – Hunk Dori Bitters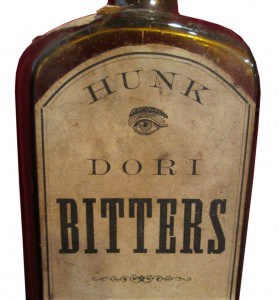 Here is another surprise that is up on eBay now. Another unlisted bitters! The pictures have been cleaned up a bit and have been taken from the eBay listing. Alerted by Frank Wicker and Bill Ham, the Hunk Dori Bitters by Hyde & Gay in Bath, Maine is labeled and oddly enough, is missing the "I" in "HUNKI" compared to another HUNKI DORI BITTERS from Chicago (see below). Hunki Dori means "everything is fine" or "satisfied" or something like that…

---
FOHBC 2016 Sacramento Town Hall Meeting

[NOTICE] The FOHBC is planning to conduct a WebEx Town Hall Meeting for all interested parties with the next two weeks for the 2016 Sacramento National Antique Bottle Convention. It will most likely occur at 8:00 or 9:00 pm CST to accommodate west coast participants. Please RSVP when the date is given. Comments now can be…

---
Coleman's Tonic Bitters – Portsmouth, New Hampshire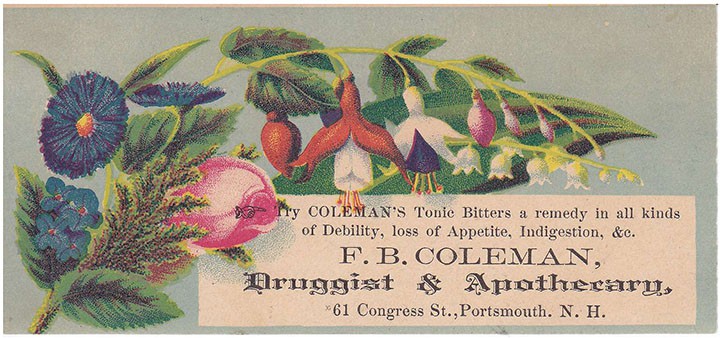 Enjoyed your post on Coleman's Bitters. While I don't have a trade card for these bitters, I might have something you could possibly tie in. It is a trade card for an unlisted Coleman's Tonic Bitters. These bitters were prepared by F.B. Coleman, Druggist, 61 Congress St., Portsmouth, New Hampshire. Perhaps a family member? In your post, you mentioned an historical connection…

---
Announcing Daniel Auction Company as the auctioneer for the 2015 Chattanooga National Antique Bottle Show

The Federation of Historical Bottle Collectors (FOHBC) is proud to announce that the Federation Auction for the 2015 National Antique Bottle Show in Chattanooga, Tennessee has been awarded to the Daniel Auction Company of Sylvester, Georgia. Owner's Jim and Pattey Daniel have been antique bottle, glass and pottery collectors for 30 plus years. They have also…

---
Alexander SaVille and his famous Delaware Bitters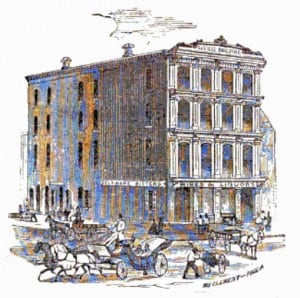 I like the illustration of the SaVille Building in Wilmington, Delaware. Could there be a bitters story here? You bettcha! Look carefully at one of the storefront sign panels and you will see "DELAWARE BITTERS" on one side of the building. Alexander SaVille was the owner of this building at 512 Market Street where he sold wine and liquor. He was also the sole proprietor of the famous "Delaware Bitters". Someone please find me an example!

---
Dr. A. W. Coleman's Anti-Dyspeptic and Tonic Bitters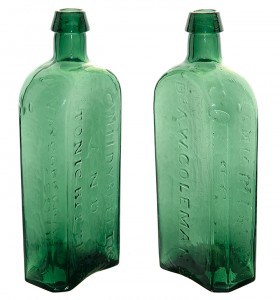 As a follow-up to the J. W. Hutchinson's Tonic Bitters from Mobile, Alabama post, I thought it would be nice visit the Dr. A. W. Coleman's Anti-Dyspeptic and Tonic Bitters, also from Mobile. Actually it is thought to be the oldest embossed bitters from this city. My example is pictured to the left and is from the American Bottle Auctions – Grapentine I sale in April 2007.

---
J. W. Hutchinson's Tonic Bitters – Mobile, Alabama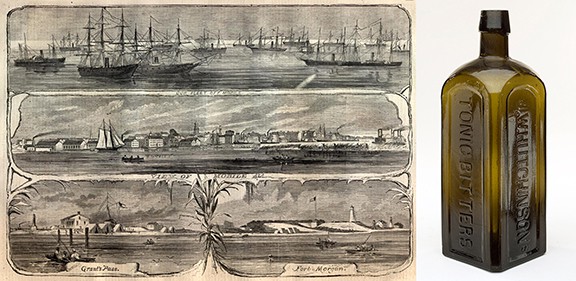 I suspect many bitters collectors have noticed that spectacular example of a Hutchinson's Tonic Bitters from Mobile, Alabama in the current American Glass Gallery Auction #13. No sense hiding it. The right people know. I used the nice full-page Civil War illustration above from March 26, 1864 in Harper's Weekly to set the tone for this piece.

---
Plan Your FOHBC 2015 Chattanooga National Antique Bottle Show Vacation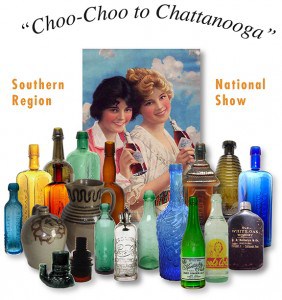 Start planning your vacation now and make the most of your trip to the 2015 FOHBC National Antique Bottle Show in Chattanooga, Tennessee. If you are flying into the Atlanta Hartsfield Airport, here are some suggestions. If you're interested in aviation, visit the newly renovated Delta Heritage Transportation Museum. It houses one of Delta's first DC-3'S, the Boeing 767 purchased by Delta employees and given to Delta, and a Boeing 737…

---
Figaro, Figaro – Griffith's Opera Bitters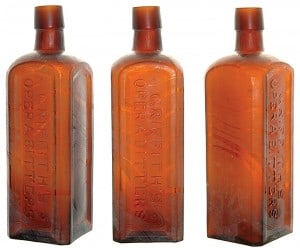 Wait to you see the gorgeous example of a Griffith's Opera Bitters that John Pastor has in his American Glass Gallery Auction #13, now open for bidding. No, that is not it at the top of the post. That is my homely (to some) example of this very rare bitters that is a raw as the day it was found. I left it alone as it was the only one …

---
A labeled Mett (or Alett) Stomach Bitters from Joliet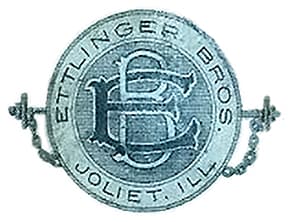 Aaron Ellinger (1840-1884) was a cattle dealer in Joliet, Illinois. He had two sons, Benjamin S. Ettlinger and Ralph Carl Ettlinger who first worked together in a liquor store. Eventually the wholesale liquor business was called Alexander and Ettlinger (Robert Alexander and Benjamin Ettlinger) from 1902-1908.

---
Dr. Forest's Tonic Bitters – Harrisburg, Pennsylvania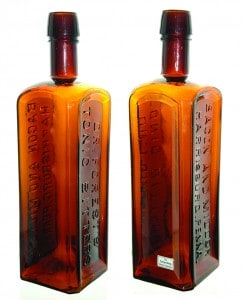 The Dr. Forest's Tonic Bitters from Harrisburg, Pennsylvania is one tough brand to figure out. I mean, who is Dr. Forest and why is Bacon and Miller embossed on the bottle? I picked up my example (pictured below) in the Glass Works Auction #83 and it was ex: Dr. James Carter. Mr. Carter apparently specialized in "Dr" embossed bottles. I have many top examples from his collection. What brought this extremely rare brand to life…

---
2016 Sacramento National Antique Bottle Convention Logo Designs

|

Part 3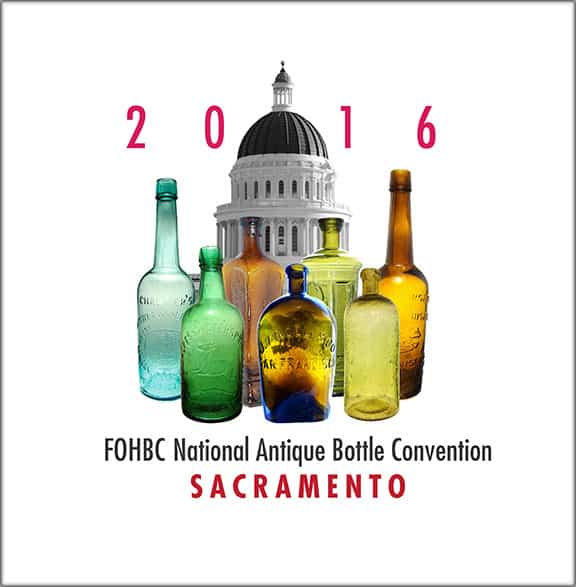 The third part of these logo exploration series using Sacramento icons capitalizes on the California State Capitol. This work is in preparation of marketing material for the 2016 Sacramento National Antique Bottle Convention. Located in Sacramento, the Neoclassical structure was completed between 1861 and 1874 at the west end of Capitol Park, which is framed by L Street to the north, N Street…

---
Ask for Winter's Stomach Bitters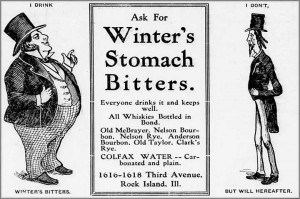 I love this advertisement above for Winter's Stomach Bitters. I suppose if you drink the bitters you get a big stomach! This month, Greg Spurgeon has the very rare, Winter's Stomach Bitters in his current North American Glass auction. I really have not thought very much about my example in some time so I thought we needed to find out about the brand.

---
Try Uncle Tom's Bitters! – Trevorton, Pennsylvania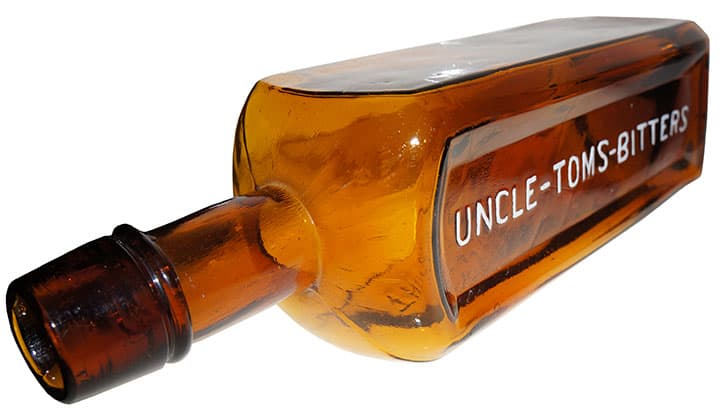 Uncle Tom has been popping up in bitters news lately with two examples of the bitters appearing in the current North American Glass auction. I was also able to pick up an example (pictured above) from the great John Feldmann collection…

---
Meet Chef Johnny Pol "The Foodman"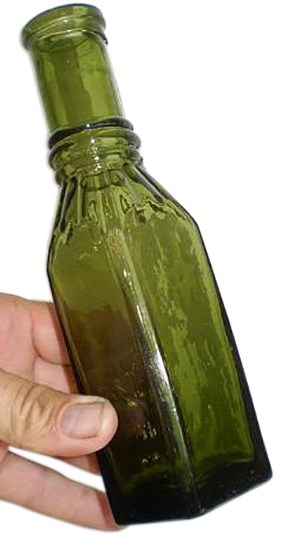 I was very fortunate to know some diggers and we did some research and found this site on the Sacramento river north of Old Sacramento, California. This was an early stagecoach stop and turn-around for flat bottom boats from 1853 to 1878 when it burned down, and was never rebuilt. There were dozens of great western whiskeys found along with sodas, medicines, pot lids, and many foods from the restaurant and hotel on the site. We dug over a 3-year period as to keep it on the low. We sold off many good bottles from that site, and I will share some of the finds that I dug myself over that time.

---
Dr. Whitney's Bitters – Olean, New York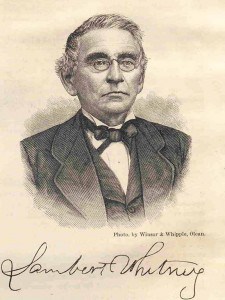 New York collector, Mark Warne contacted me about a bitters bottle I was unfamiliar with. I just may add it to my collection! Mark was kind enough to send a few pictures. To this bitters collector, this is exciting news. The Dr. Whitney's Bitters from Olean, New York is obviously a later bottle but how late? Were there earlier versions?

---
Drakes Plantation Bitters on 1874 Stereoview Mock Medical Scene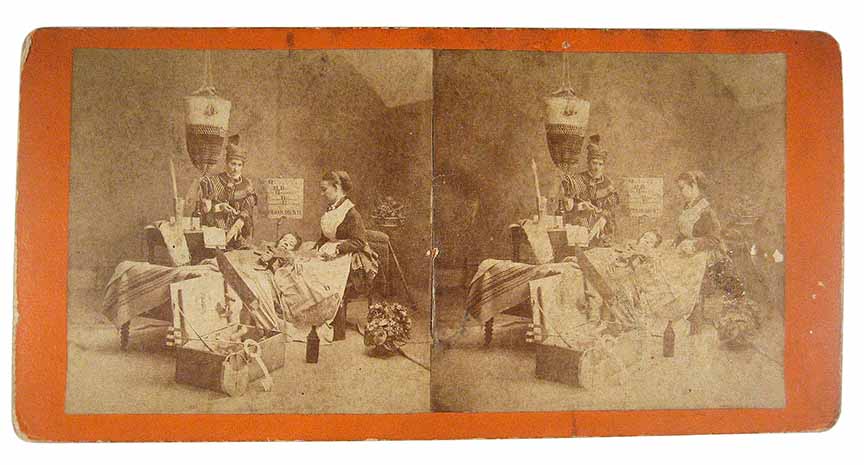 Frank Wicker over at BottlePickers.com tipped me off to this wonderful, yet bizarre stereoview card on eBay with a mock medical scene, a wizard of some sort, some poor sick lad and a Clara Barton wanna-bee. Take a moment and really look at all the props and symbology used in the image. This all takes place at "She Bang Hospital".

---
The Great Aqua Trio – Russian Imperial Tonic Bitters, National Tonic Bitters & Dunbar & Co. Worm Wood Cordial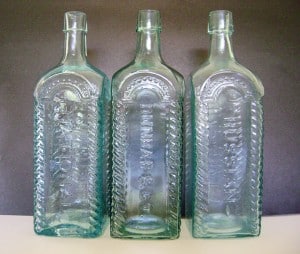 I think you all know how much I like aqua bottles. Though not a color, they certainly can add depth to a collection. I even dedicate one room to aqua bitters. When the sun hits them at a certain time, they project a rainbow on my walls and bed spread. Now that's color! Check out these super pictures that just came in from California collector, Dave Kyle and his son Brad. Great job guys!

---
2016 Sacramento National Antique Bottle Convention Logo Designs | Part 2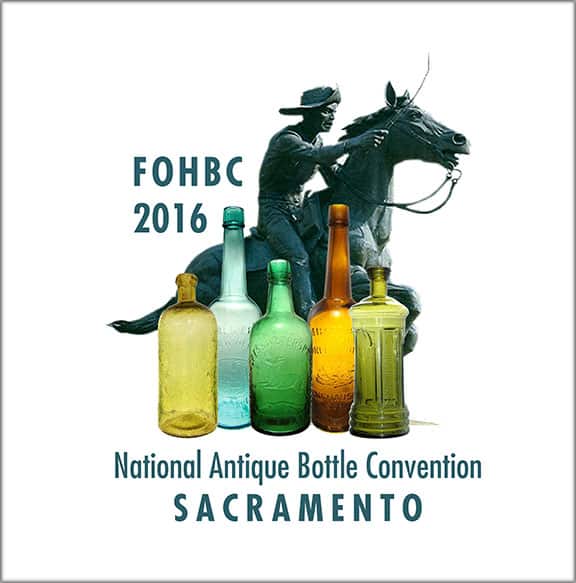 The concept of using a Sacramento sculpture to anchor the design is the theme here. Here are some new, rough, low-res, round 2 logo concepts for the 2016 Sacramento National Antique Bottle Convention. These concepts revolve around a well-known Sacramento Pony Express sculpture. The last stop for the Pony Express was Sacramento. See Part 1 Logo Concepts. Let me know what you think.

---
Cobalt bottle embossed W. S. Merrell & Co. – Cincinnati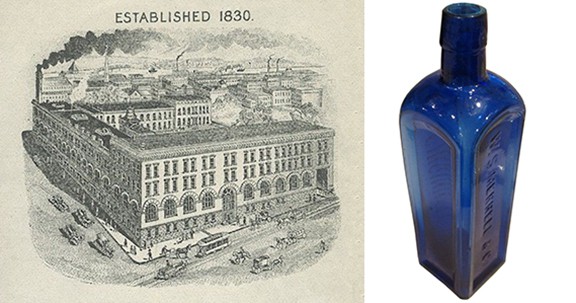 Ferdinand, I have sent photos of a bottle unknown to me. It is typical Bitters shape, deep cobalt blue but is only embossed W S Merrell & Co and Cincinnati on the reverse panel. He was a druggist from the 1850s through the 80s. I am trying to figure out if it is a Bitters or a Medicine. Thanks for any help you can give. Dennis Huey

---
2016 Sacramento National Antique Bottle Convention Logo Designs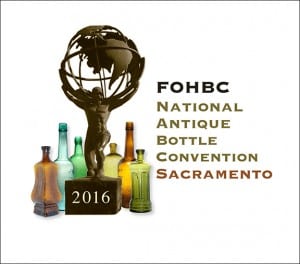 I have used a Sacramento sculpture image of Atlas Holding up the World. This is symbolic of the FOHBC unifying the collecting hobby and clubs. This is also a "going back to our roots' convention as the Federation originated in Sacramento. Please review the art and let me know your favorite. Send to fmeyer@fohbc.org. Gracias! PS: Do not be fearful that there is no FOHBC logo or lots of bottles.This can be added as support imagery.

---
Chief Two Moon Meridas and his Bitter Oil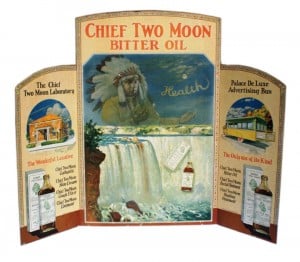 In 1921 Meridas moved to a larger house and established an extensive and prosperous herb business in a storefront at 1898 East Main Street. He built his own laboratory at 1864 East Main Street in 1925. His business increased to such an extent that he had a fleet of buses for his salesmen and an airplane. He took money only for his products, not his advice. He spent lavishly but also surreptitiously donated to charities and to the poor.

---
Anti-Malarial Bitters, D. T. Everts & Company – Petersburg, Virginia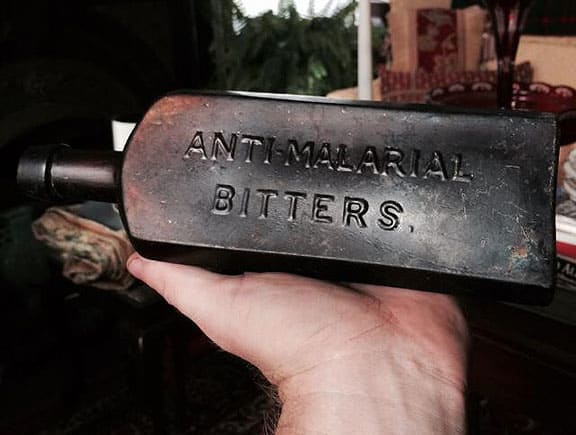 Tom Leveille sent me pictures of the only known example of the open pontil and triangular Anti-Malarial Bitters in a private Facebook message yesterday. The bottle is in the Hunter Cox collection. Boy this is an exciting bottle. Put out by D. T. Everts & Company in Petersburg, Virginia, this bottle is not even pictured

---