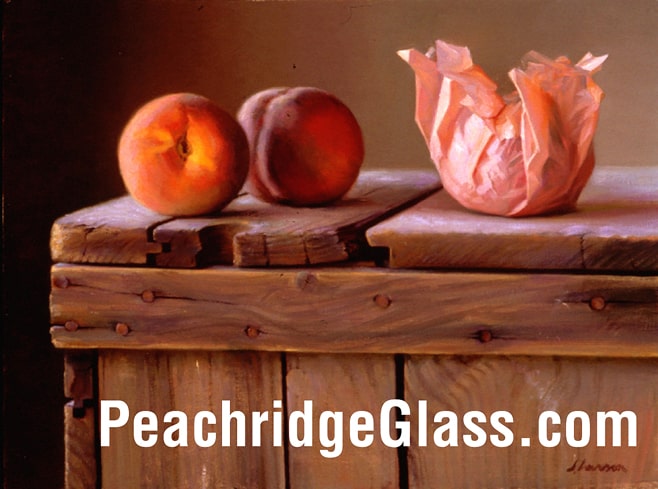 This site is presented and hosted by Ferdinand and Elizabeth Meyer. We hope to share our passion for collecting and dealing in Early American Antique Bottles and Glass. Please contact us for any information and or bottle and glass news for post consideration. I am also looking for guest authors as I shift to the Virtual Museum project. Thanks!
---
Mrs. S. A. Allen's Worlds Hair Restorer Display…and some more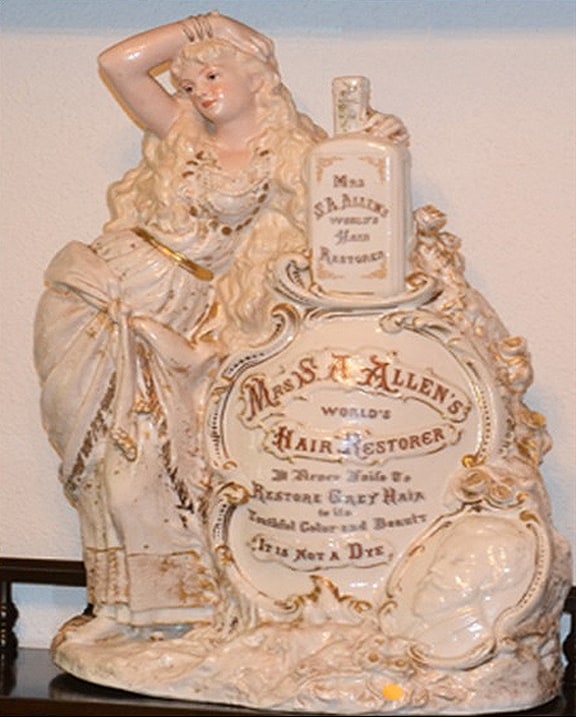 Mrs. Susan A. Allen, the wife of a New York City dentist, first introduced her product in 1840, and by 1854, was selling the formula from her husband's Broome Street practice, which served as the "Manufactory and Depot." An 1876 advertisement declared …

---
Kroger Bros, Butte, M.T. the only true Territory marked hutch found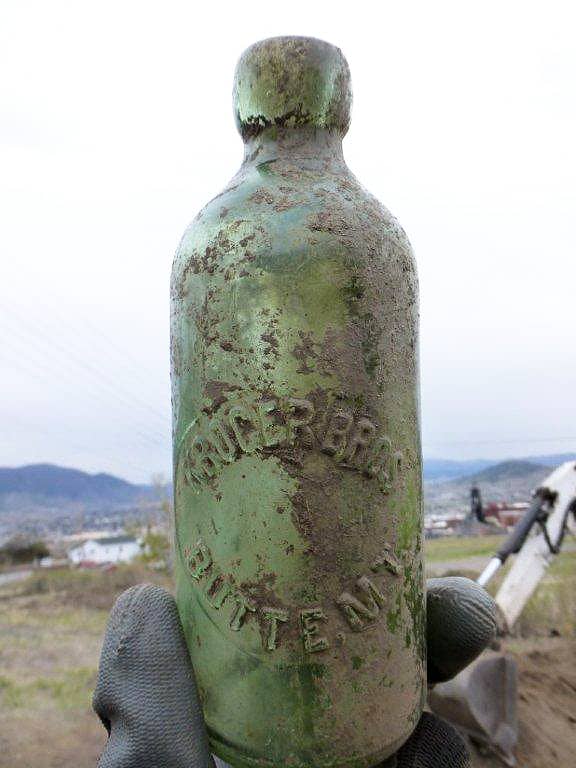 Hello Ferd, Dug many days the last two weeks in the Butte area. But the last two days were great. Found 18 hutches! Including this very rare, apple green Kroger Bros, Butte, M.T. The only true Territory marked hutch. Found hutches from seven different companies, including variants, so seven different total and some nice dupes to sell. Most of the bottles were unused and had nice stoppers in them still. More to dig after a quick trip but should resume next week, then Friday the 31st starts our bottle club show. I stopped in TV channel KXLF in Butte today, and they put me on the news to air a day before the show. I got a 3 minute spot and showed off some of the hutches that I just happened to have in the truck from the previous days digs. I was only dropping off a poster and mentioned if they wanted to come cover the show, when suddenly there I was with my big cheezy smile on the news! Regards, James (Campiglia) See: Pic 2 Pic 3
---
Color Measurement – Latest from Michael Seeliger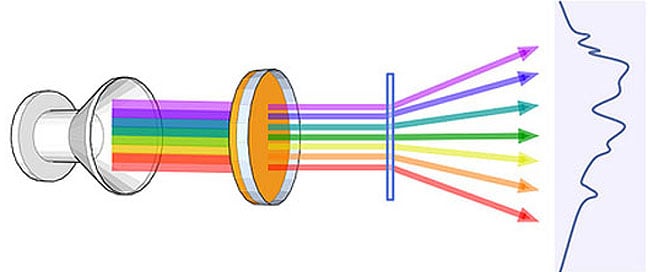 Michael Seeliger (Brooklyn, Wisconsin) has been periodically updating me with his progress on his work for a color spectrophotometer for use in determining the color for a particular bottle. This is really cutting edge work for our hobby…

---
The Grecian Bend and Carey's Grecian Bend Bitters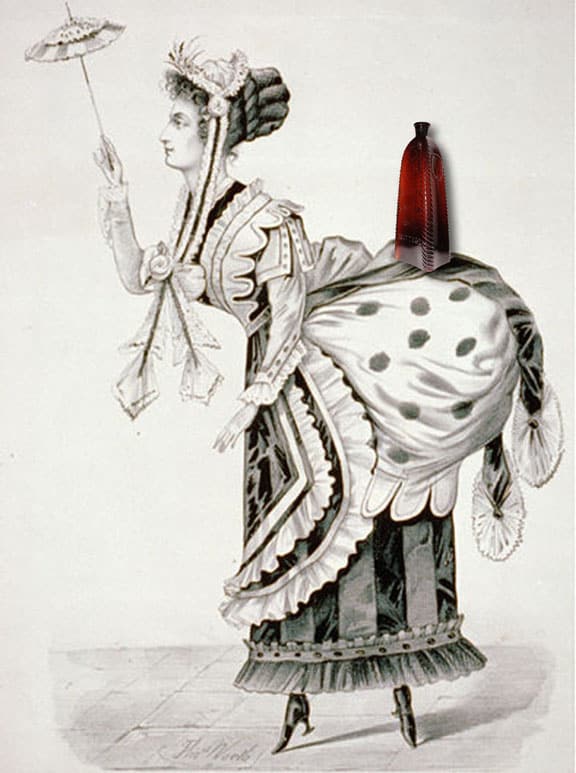 Have you ever wondered why the famous and extremely rare, Carey's Grecian Bend Bitters was named so….

---
ABCR Auction 12 Begins Today!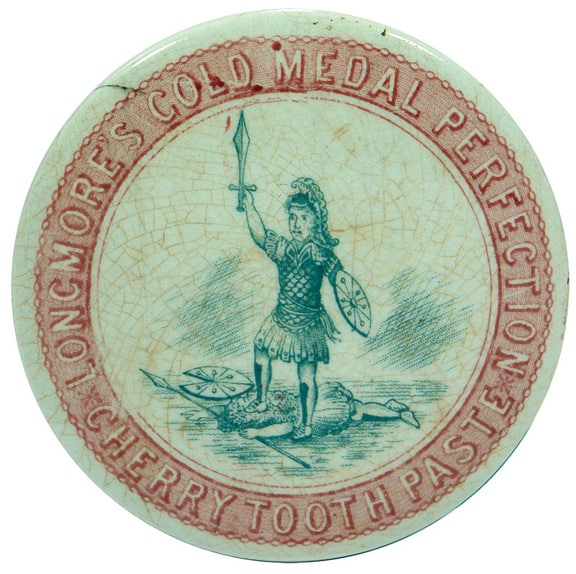 ABCR Auction 12 begins today, 22 May 2013 at 8:00 pm Australian Eastern Standard Time. Should be a great auction with loads of interesting lots, the vast majority of which are offered with no reserve. A great opportunity for all collectors to add some nice items. Visit Auction
---
Royal Italian Bitters by A.M.F. Gianelli – Montreal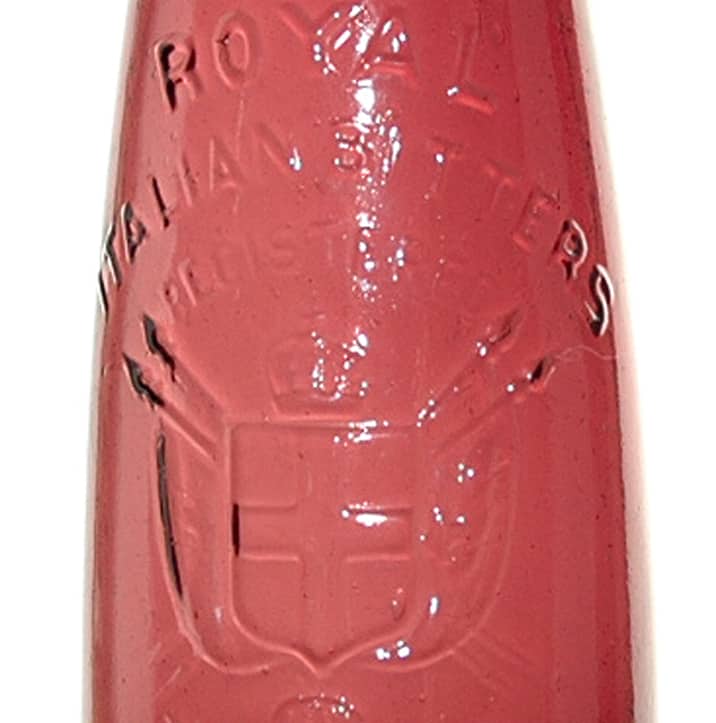 Tonight I wanted to spend a little time looking at a great Canadian brand called the Royal Italian Bitters put out by A.M.F. Gianelli in Montreal. Mr. Gianelli was the proprietor of The Cosmopolitan, a first class hotel restaurant. He once catered a Supper at the Hall for the Prince of Wales.

---
Fine American Glass Whimsey Hats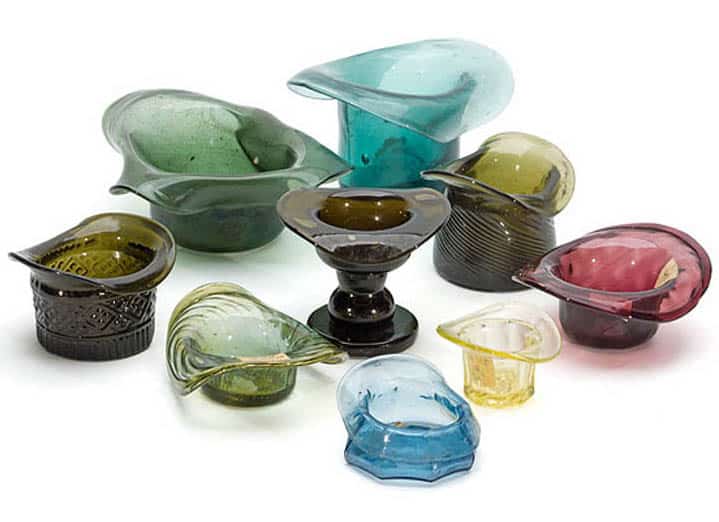 Good Morning Ferdinand, While looking at Peachridge Glass the other day, we saw your piece on a New River Wards History Museum. The hat and your Toppin' it off with a few Glasshouse Hat Whimsies article reminded us of an amazing collection of hats which was recently consigned to us. The first pieces from the Dr. Paul Andreson Collection are in Opportunity Auction 104 and our live auction this Friday. If you're interested in more information, we have a page up about the hats: Fine American Glass Whimsey Hats. This page also has some pictures showing the 400+ collection laid out in our barn. Needless to say, that's a lot of hats. Kind Regards, Nicole – Norman C. Heckler & Company
---
An amazing yard sale find!!!!!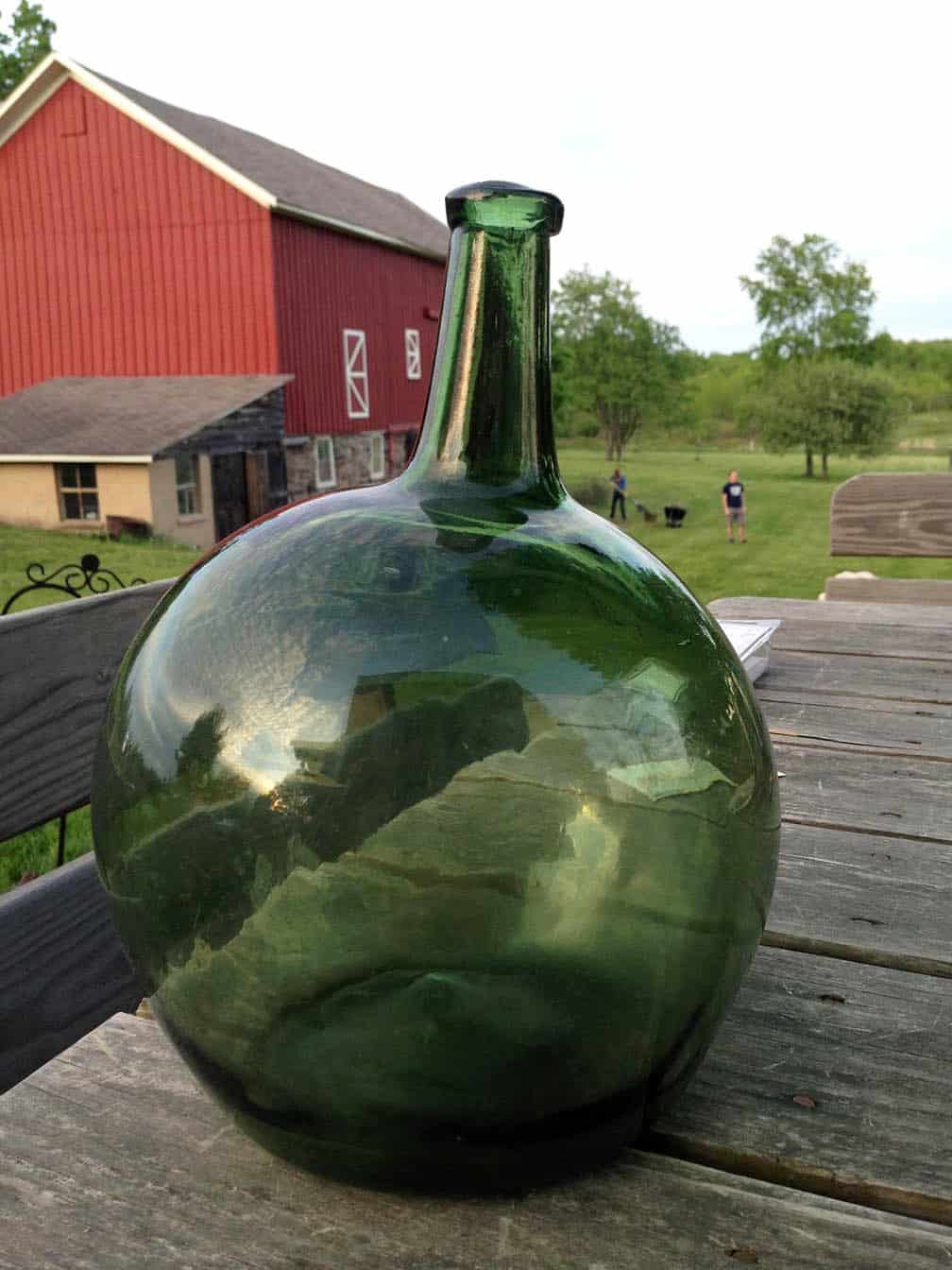 Hi Ferdinand, This is Matt Lacy from Austinburg, Ohio. A buddy of mine just found a monster Wistarberg Chestnut flask at a yard sale for $15. How a 1700s piece from New Jersey made it to Ohio in a yard sale eludes me. What an awesome find. It goes to show that quality finds are is still out there. Here are some pics… Best Regards. See Pic 2 Pic 3
---
Looking at some J.T. Gayen Bottles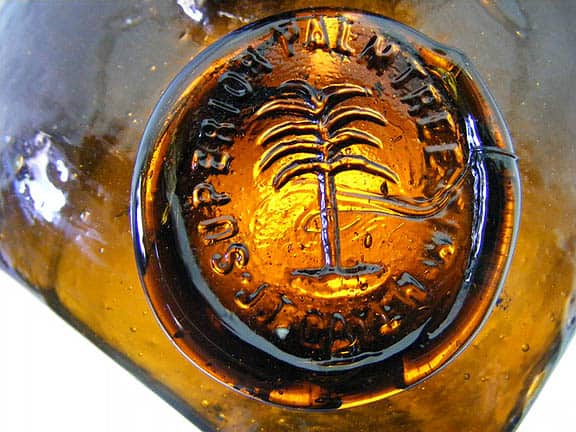 There is an interesting J.T. Gayen bottle on ebay (see listing) with a title: Caribbean Sea Old J T Gayen Bottle Intl' waters off Costa Rica 1800s Case Gin. It is nice see this name again. Many of us figural collectors are aware of the J. T. Gayen Altona figural cannon. Let's looks at a few other Gayen bottles. Super embossings, form and history, all in your hand…

---
William's Royal Crown Remedy and Bitters – Isaac Williams Company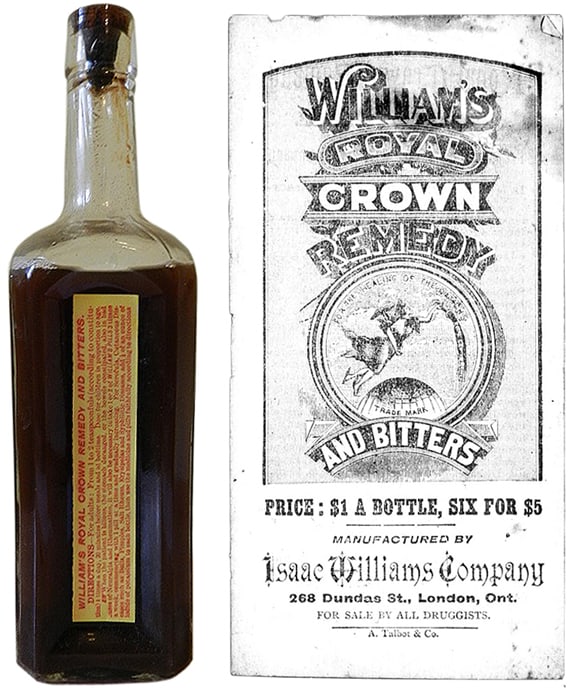 In pursuit of more information regarding Duncan Edwards Crown Bitters, I came across a Canadian labeled Bitters called William's Royal Crown Remedy and Bitters. Furthermore, do not see a designated number for this brand in Bitters Bottles or Bitters Bottle Supplement. I was quickly able to find an pretty cool advertising pamphlet which touted the benefits of this vile looking concoction.

---
Alfred Speer and his Raised Sidewalk & Standard Wine Bitters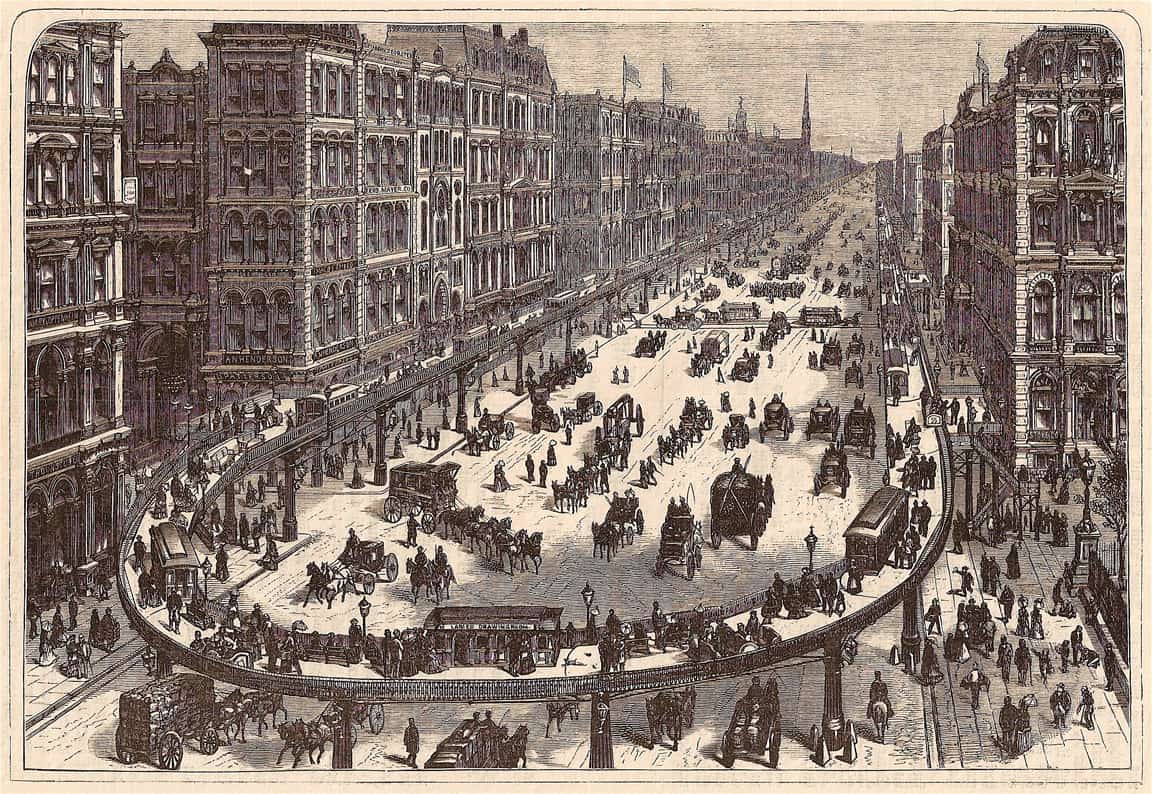 Speer's vineyard and wine business started on a small scale, with the vineyard expanding until it was "the largest in the State, containing over five miles of driveways, and over five hundred miles of wire." The business operated as two separate companies…

---
Duncan Edwards Crown Bitters – English or American?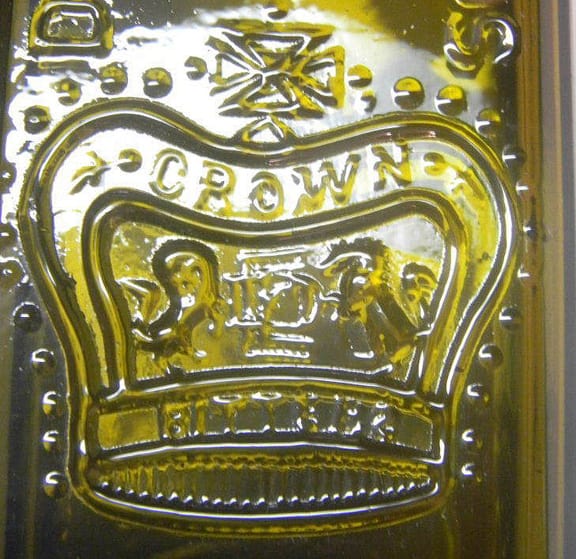 There are only two of these 9 1/4″ bottles known. I spoke with Bill Ham and he consulted Carlyn Ring's notes– she wrote that the only example known (at that time) was dug in Grand Rapids, Michigan, in 1974, and repaired. I dug this bottle in Flint, Michigan in 2007…

---
Heckler Live Auction – Friday, May 24th at Noon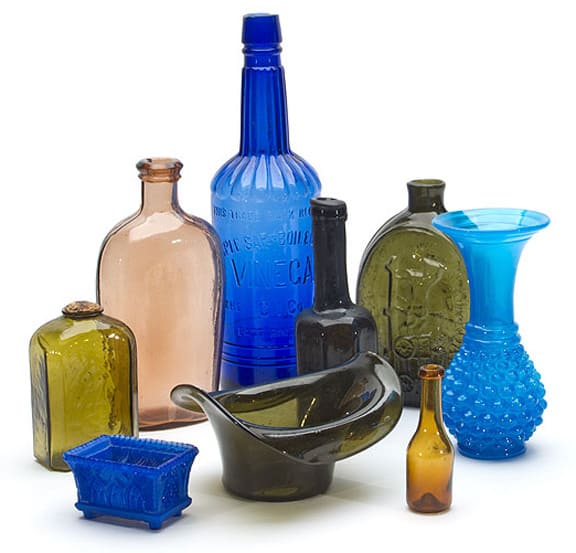 Whiskeys, Demijohns, Fruit Jars, Early Glass, Historical Flasks, Inks, Hat Whimsies, Mineral Waters, Bitters, Black Glass, Sodas, Medicines, Utilities & More. Information
---
An advertisement for an unlisted Clayton's Celebrated Rheumatic Bitters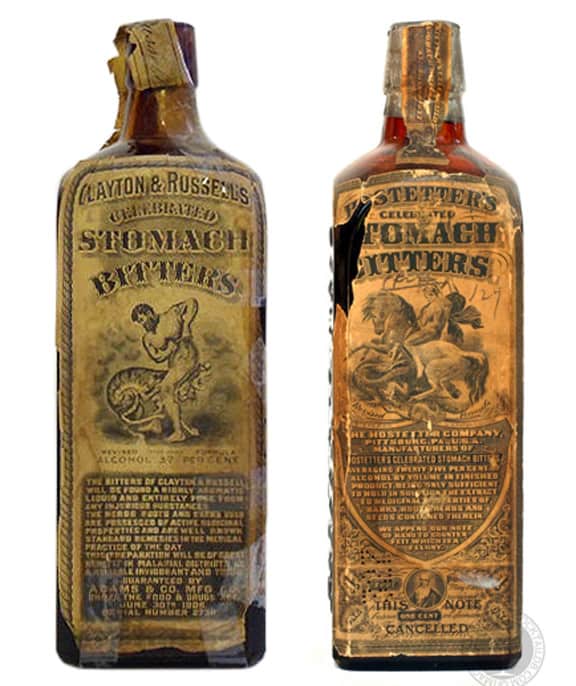 While perusing Pittsburgh Directories in the late 1850s and 1860s for Zingari Bitters, I can across an advertisement (on the same page as the Zingari's ad) for Clayton's Celebrated Rheumatic Bitters and Liniment put out by William Clayton & Son (William Clayton & C. E. Clayton).

---
Planning Underway for a New River Wards History Museum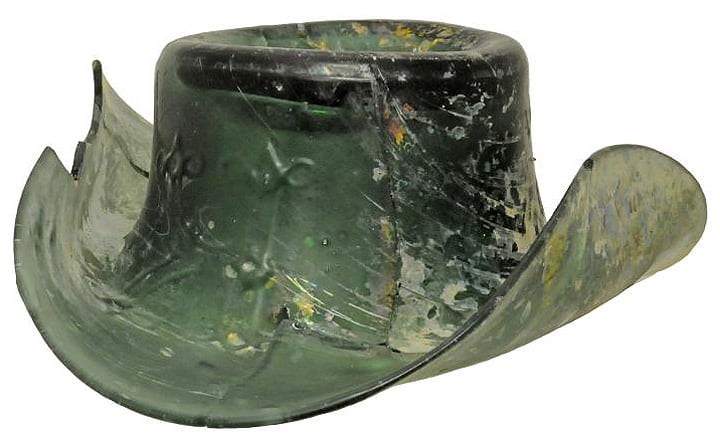 The Native American, colonial and industrial artifacts discovered during I-95 construction through the river wards and a collection of documents and objects commemorating the Treaty of Friendship signed between William Penn and Lenni-Lenape Chief Tamanend in Fishtown may together share a permanent home…READ MORE Read: Toppin' it off with a few Glasshouse Hat Whimsies
---
ATTIC FIND! Summer – Winter flask with a poison label!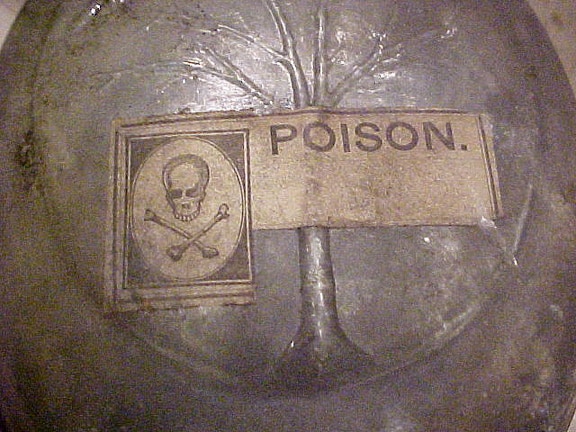 [Neat Post] I recently received permisson to hunt the attic of an old building in town. This brick building was built as a church in 1828 and used until 1845 when a new building was built. It was turned into a duplex pretty early on. The upstairs bedrooms have a curve in the ceiling on one side. This curve area in the attic was a natural collecting… Read More
---
Summer Tree – Winter Tree Historical Flasks
What a wonderful day here in Augusta, Georgia as I have my morning coffee on the porch of the historic Partridge Inn. As I look out, I see all the trees are already full of leaves, the big Magnolias are blooming and the birds are singing. What a nice time to look at the popular Summer Tree | Winter Tree pictorial historical flasks…

---
Lady's Leg Series – Zingari Bitters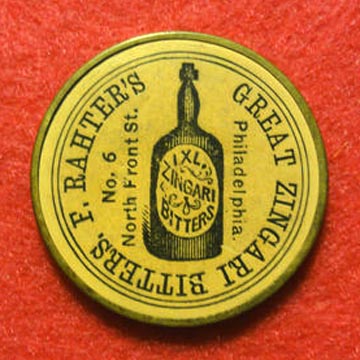 The Viceroy of Egypt placed the name of Dr. Cheopsus upon the "Roll of Nobles" and presented to him a medal bearing the following inscription: "Dr. Cheopsus, the Public Benefactor." This bitters is now offered to the Public of America with the full assurance that it wil be found, upon a fair trial, to act as a specific for the cure of…

---
S. A. Foutz & Bro. – Baltimore…What Happened?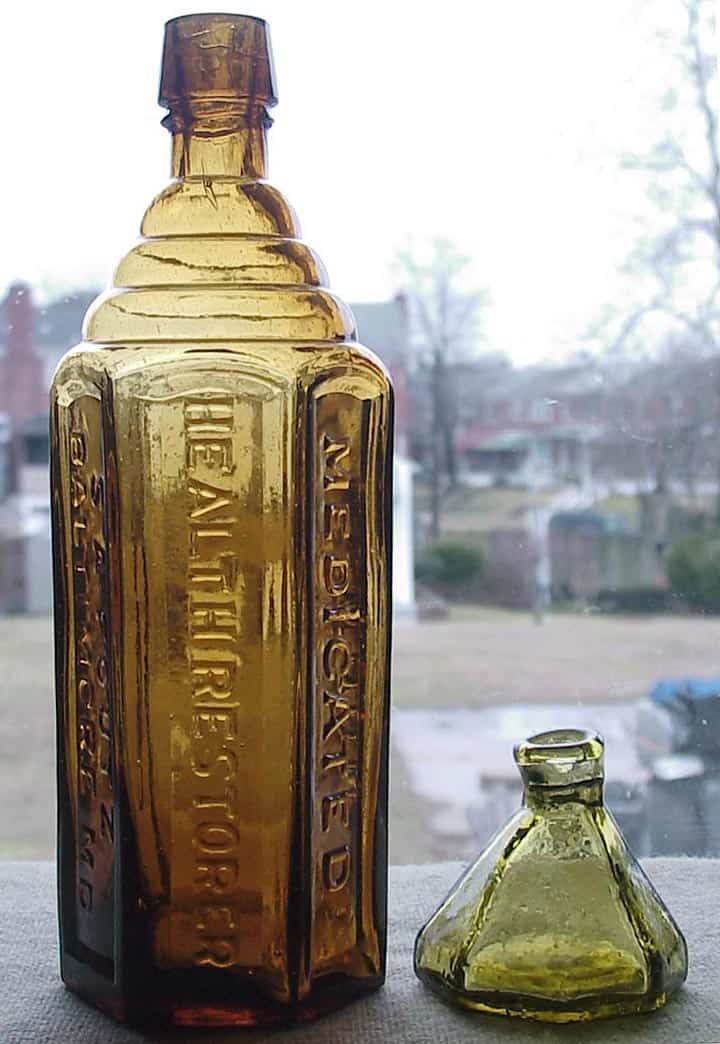 The bill alleges that about 50 years ago, two brothers, David E. Foutz and Solomon A. Foutz, partners trading as S. A. Foutz & Bro., manufactured and extensively sold certain remedies known as "Foutz's Horse and Cattle Powders" and "Foutz Liniment," which became well known articles of commerce. In 1867, about 40 years ago, Solomon A. Foutz sold out…

---
A Great Find at an Estate Auction in Southern Michigan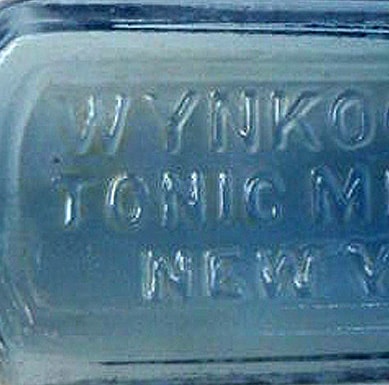 A childhood bottle digging friend and fellow bottle collector stopped by my shop today to show me his latest finds from this weekend. He went to an estate auction in southern Michigan last Saturday and purchased a box of bottles. Inside this box….

---
The Constitution Bitters from Buffalo, NY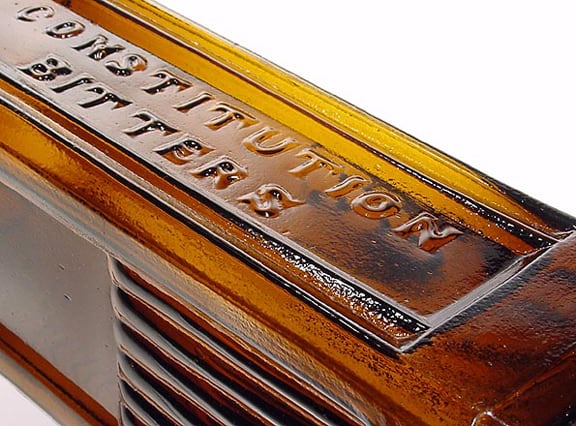 For the sake of this Constitution Bitters, we are dealing with Stephen B. Seward and Burr S. Bentley of Seward & Bentley, Buffalo, New York. There are also listings for Seward, Bentley & Cheney, Ward & Bentley and Daniel Seward & Co., that show obvious changes in partnership and ownership…

---
Blue Pig Makes for an Ebay Bargain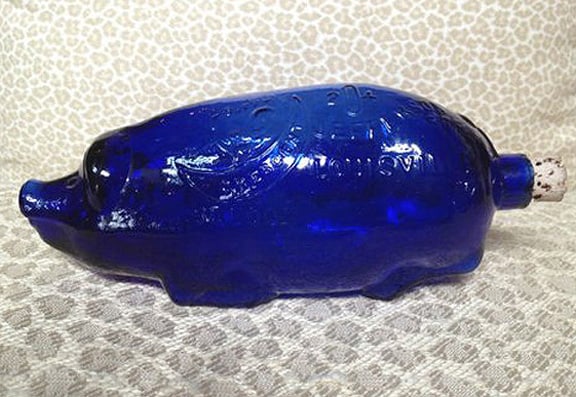 Just an amazing story written about by Jeff Wichmann over at American Bottle Auctions. Read: Blue Pig Makes for an Ebay Bargain. This is the 2nd example to surface. I've written about this figural pig begore. Read: Figural Pig Series | Duffy Crescent Saloon Figural Pig Bottle.
---
Interesting Swain's Bourbon Bitters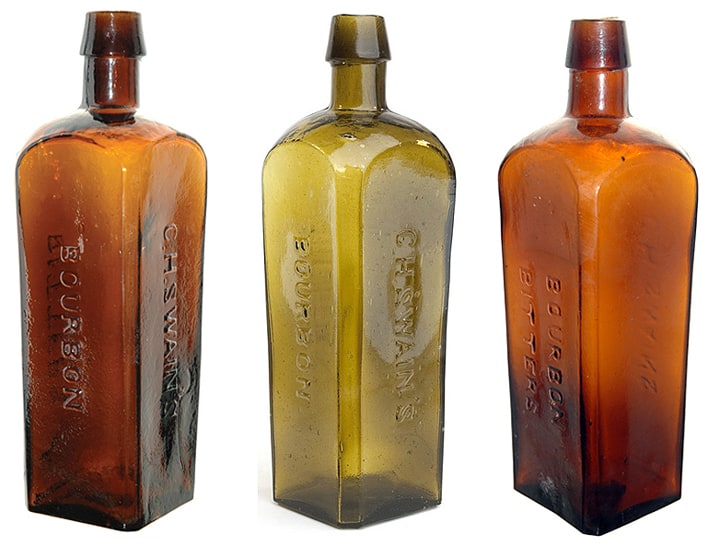 The town council are hereby expressly and forever prohibited from granting license to and person or persons in said town of Odell, to sell, traffic exchange, barter or give away any strong beer, ale, lager beer, wine, rum, gin, brandy, whisky, or intoxicating liquors, drinks or beverages of any kind whatever…

---
A labeled Flora Temple bottle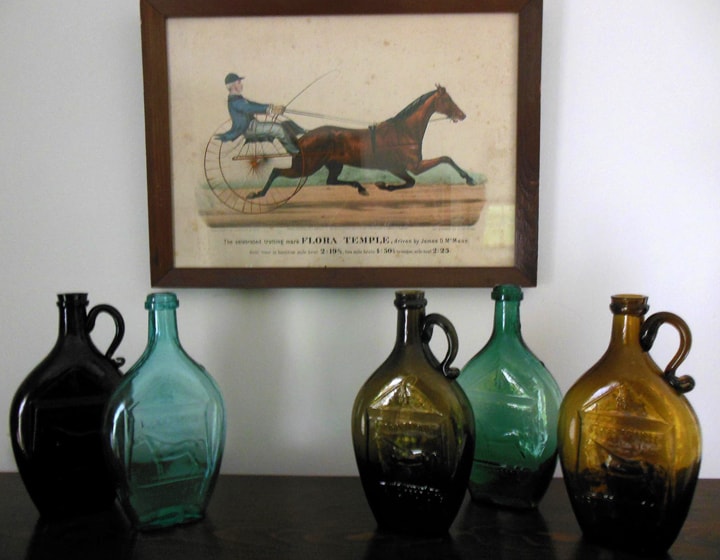 James Becker pleasantly surprised quite a few of us with pictures of a labeled Flora Temple bottle over on the Bottle Collectors facebook page. Folks this is one of Elizabeth's favorite bottles having the horse embossing. As James puts it, "One of two known original Flora Temple whiskey labels…

---
More Caloundra National Show Pictures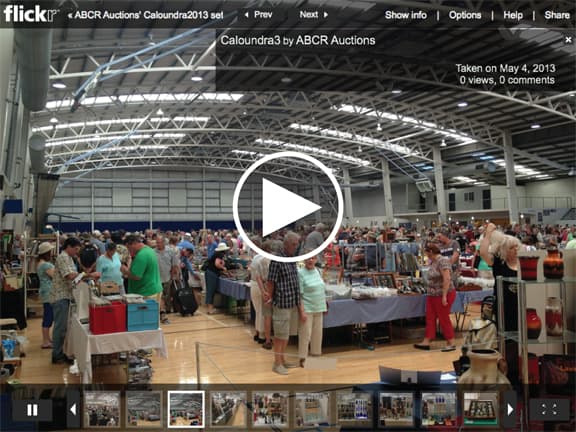 [from Travis Dunn and ABCR Auctions] Just amazing to see the queue to get in on Saturday morning stretching away down North Street for several hundred metres. The Sunshine Coast Club did a great job. One of the biggest and best Nationals ever with lots of stories of great deals being done over the weekend. See below for a few photos from the show, mainly of some of the fabulous displays (and let me add this was just a fraction of what was shown). Not sure how the last picture got in there mind you?! The show was quite thirst inducing however… See Pics
---
The puce London Medicated Health Restorer circles back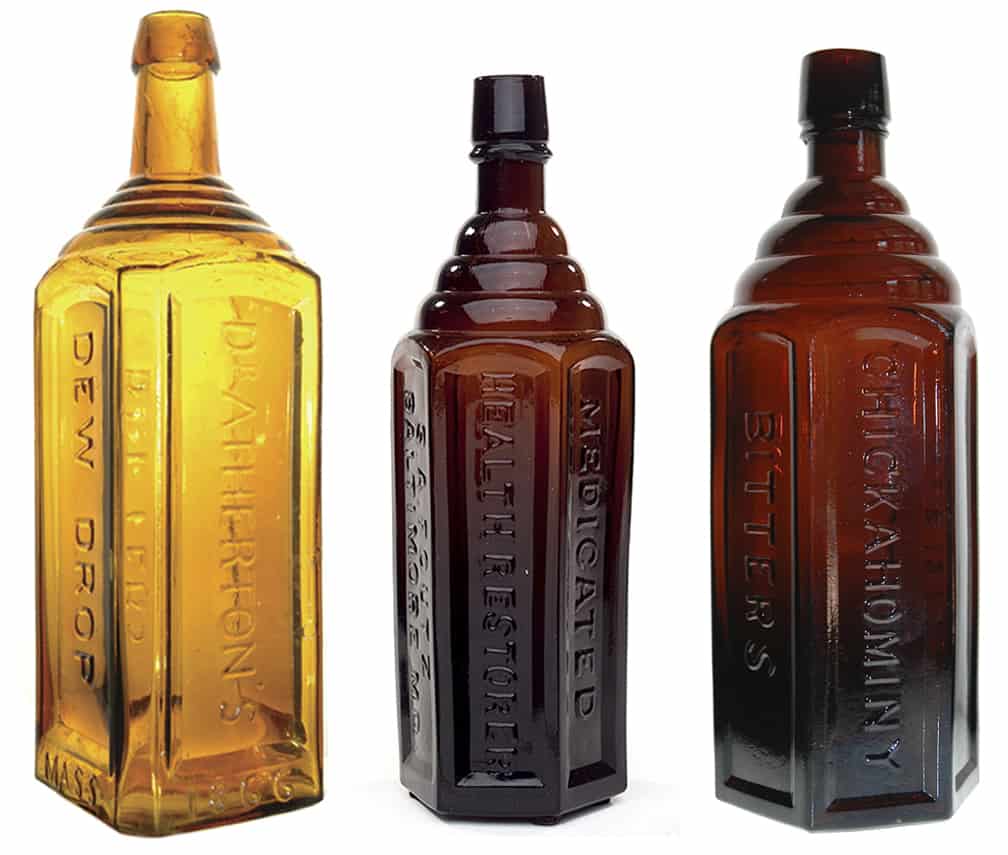 The same medium strawberry puce, London Medicated Health Restorer bottle is making an encore appearance as Lot #161 in American Glass Gallery Auction #10. This bottle first made an appearance, not to long ago, in American Glass Gallery Auction #2 in November 2009. I even referenced it before in a post titled…

---
Thomas W. Dyott Portraits…painted, printed and embossed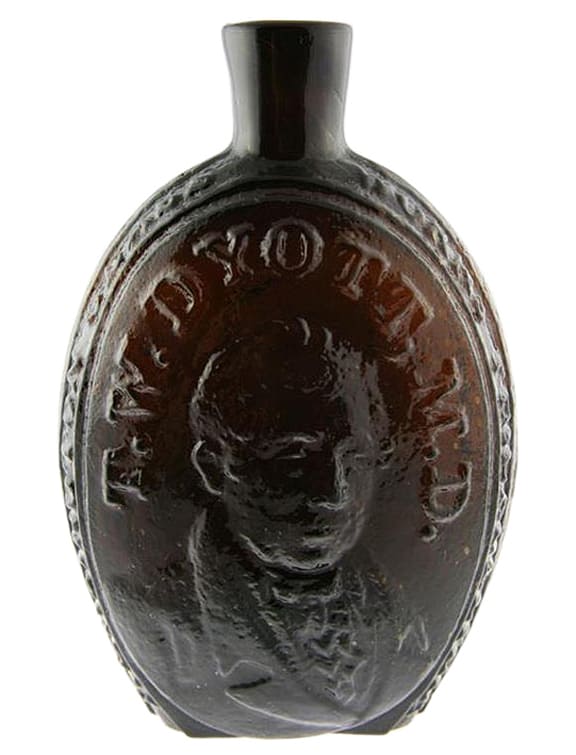 After the Singing along at Dyottville Glass Works post I was really pleased to see a number of follow-up posts by Eric Richter and Paul Joseph Goodwin sharing bottles with the embossed T. W. Dyott portrait. Eric even provided the image of the wonderful portrait painting above. I find it quite remarkable that Dr. Dyott would put his portrait on the opposite side of Benjamin Franklin.

---
Collecting American Pot Lids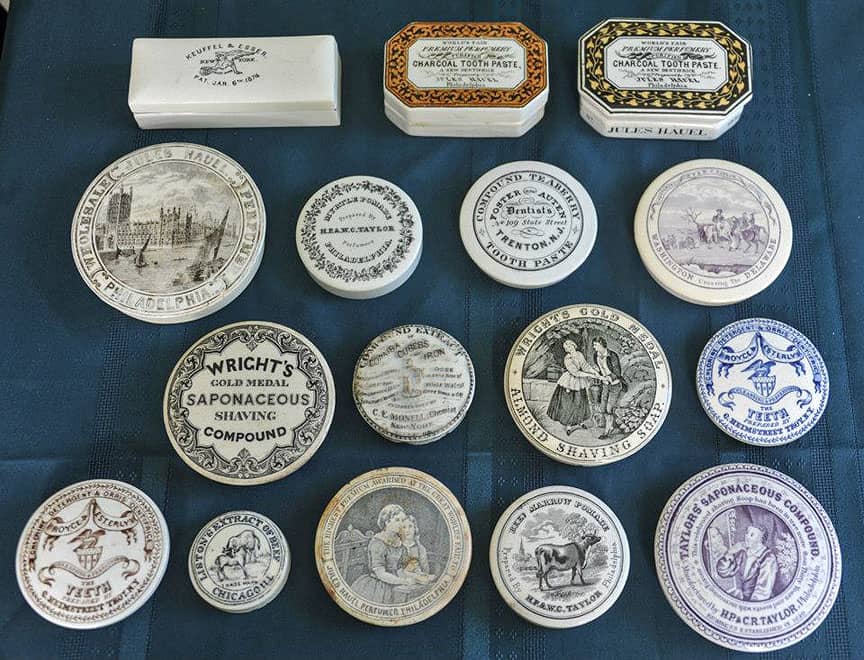 From Greg Dean: A small group of lids that are either unlisted or variations in the Jackson book. Visit and 'Like' Collecting American Pot Lids on facebook.
---
Singing along at Dyottville Glass Works

"Almost all learn to sing, and you may hear the various companies of laborers-singing most delightedly, while busy at their work, sometimes twenty of thirty times a day."

---
National Bitters – Schlichter & Zug – Philadelphia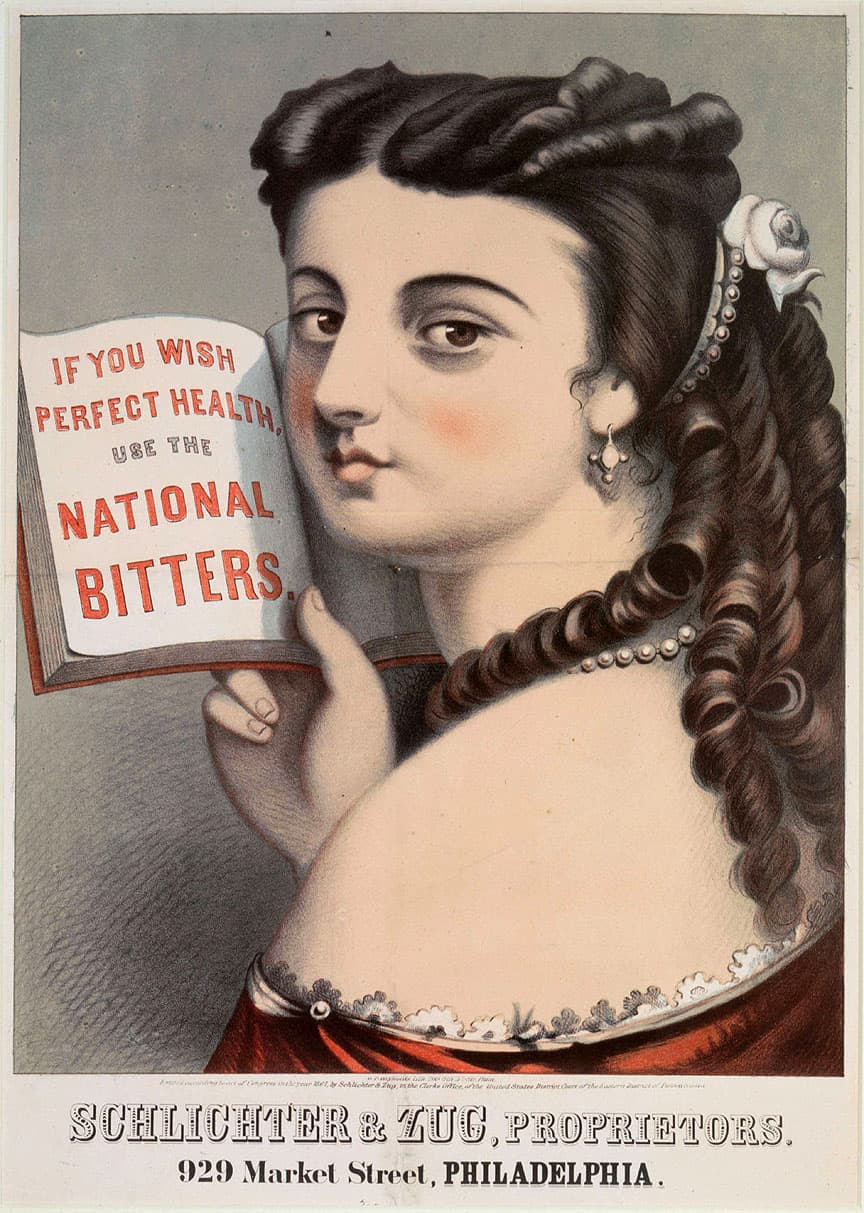 Just finished perusing the bottles in American Glass Gallery Auction #10 that opens today. Some real fine glass. One of the corn bitters examples jumped out to me. I really like this example because of the label (see above). You hardly ever see this complete and readable of an example on a National Bitters "ear of corn" figural bottle.

---
Heckler 2013 Columbus Day Weekend Event Cancelled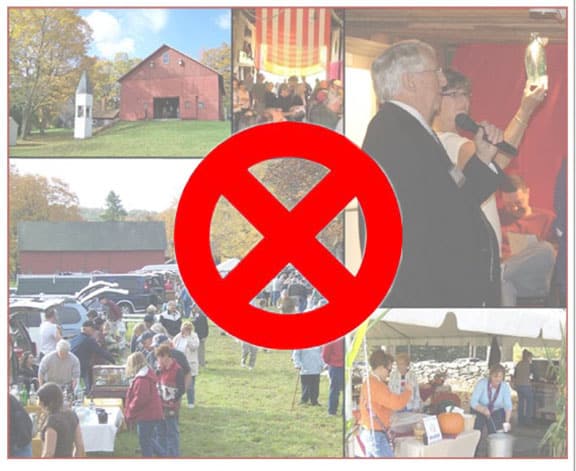 Hi Ferdinand, We wanted to let the Federation and your readers know that we will not be hosting a Columbus Day Weekend Event this year. Over the last month or so we have carefully considered the mutual impact of the (FOHBC) Manchester N.H. National Show in July and the Heckler event in October and have decided that it would be best to put our collective energy toward the national event. We couldn't be more excited and pleased that the National show is in New England this year, but after speaking with a number of collectors from other regions we determined that it would be difficult for many to travel and attend both events. We will be reaching out to Maureen and Mike to see how we can further assist an already fantastic team in their efforts to prepare for the show. Speak to you soon. See you in July! Best Regards, Jason (Heckler)
---
Australian National Bottle Show pictures in…
Hope all is well state side. The Aussie Bottle National has come and gone this past weekend. Just over 3,500 folks came for a look which is a new record for the Sunshine Coast Club and unprecedented in this country at any previous National Bottle Show. Another first is for members of Federal Parliament…

---
L. Deloche, Pharmacien Encoignure Dumain & Bourbon, Nouvelle Orleans – Pot Lid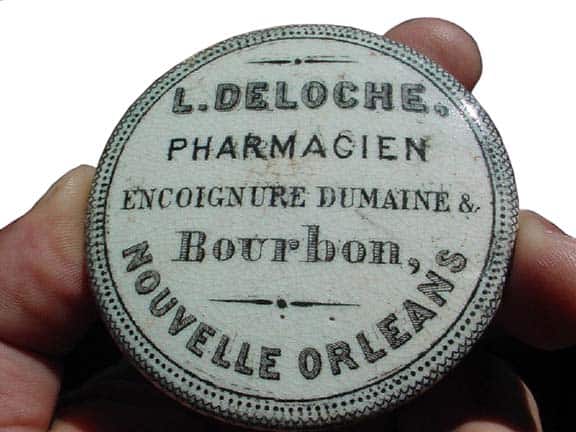 I was looking at this pretty cool New Orleans pot lid on ebay last night wondering if Greg Dean or Rex Barbour knew anything about it. Also Dr. Charles Aprill, had he any information on this pot lid or pharmacy?

---
Buffalo Bayou, Buffalo Beer Tour & Buffalo Brewing Company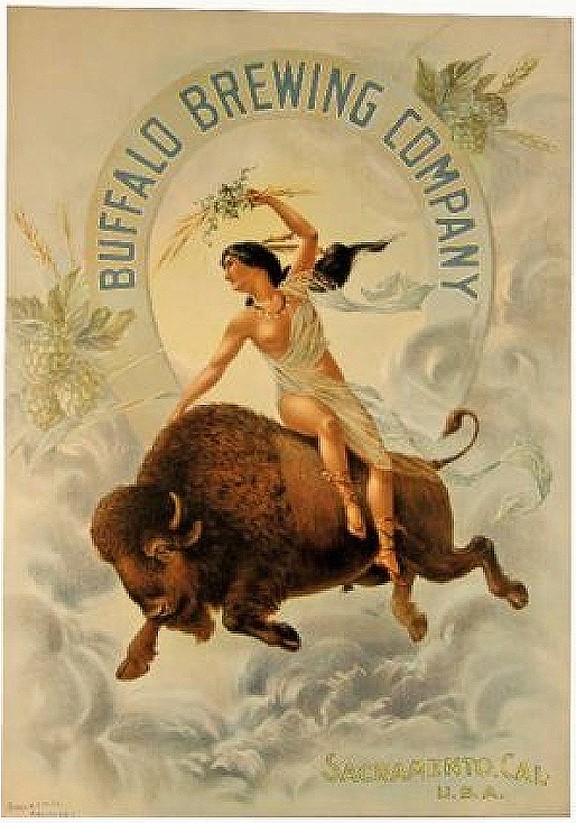 Certainly the most notable of the brewery men of Sacramento were the German-born Herman H. Grau (1846-1915) and William E. Gerber (1852-1928). Herman, a former East Coast brewer who came to Sacramento from Buffalo, N.Y. in about 1886, was the man who organized the Buffalo Brewery, which would eventually become the largest brewery west of the Mississippi.

---
Fantasy Jug Raffle and Saratoga Bottles to be featured at the 2013 Saratoga Show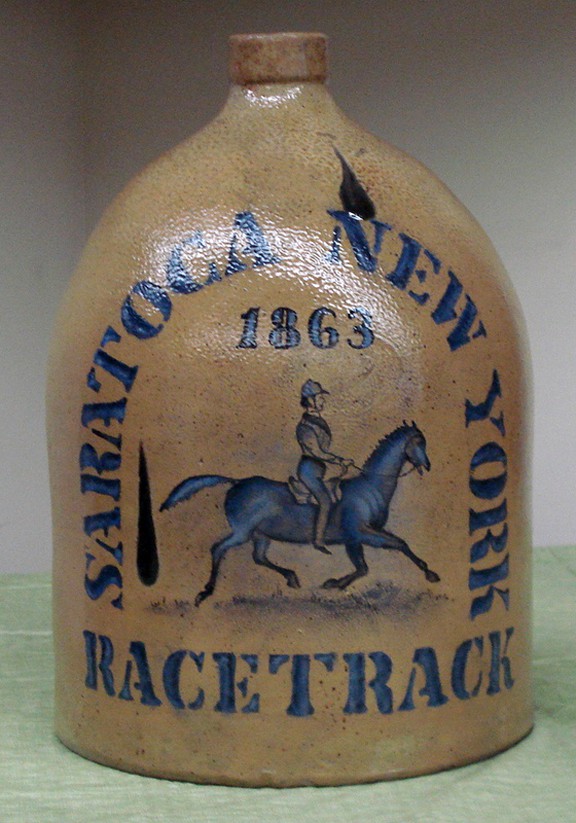 Roy Topka with the Bottle Museum in Ballston Spa here. Local collector and artisan Jim Healy (he was tickled pink by the mention of his good work in the current Bottles and Extras) created the attached Fantasy Jug for the Museum and donated it to be raffled…

---
Is it just a Duffy's Pure Malt Whiskey bottle?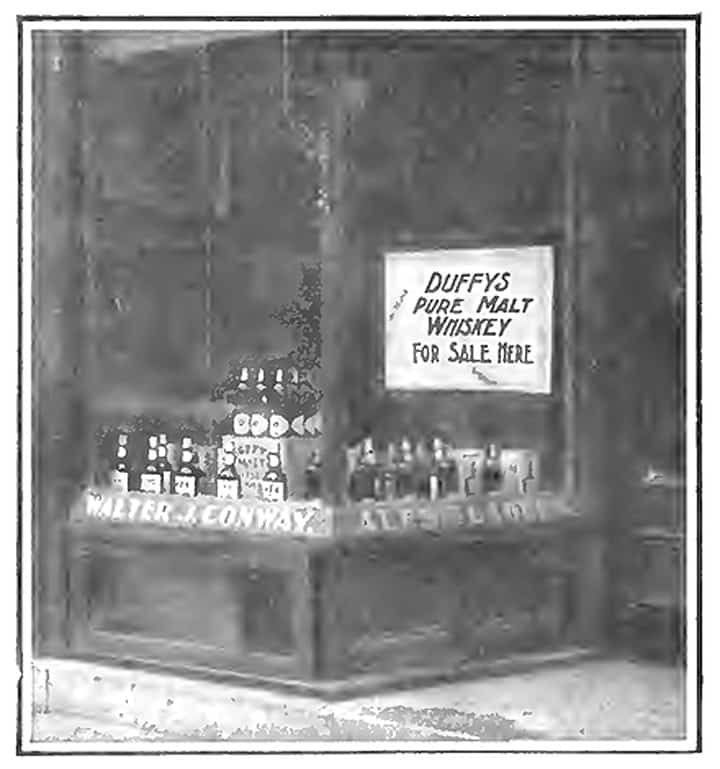 I realize that Duffy's Pure Malt Whiskey is probably one of the most common bottles out there. I once received a requested 'care box' of bottles from my father sometime in the middle 1990s that contained a Duffy's. You see, I had asked him for some of his 'extra bottles' to put in my windows. Obviously my pop was not going to give me a…

---
Burnham's Timber Bitters or just Timber Bitters?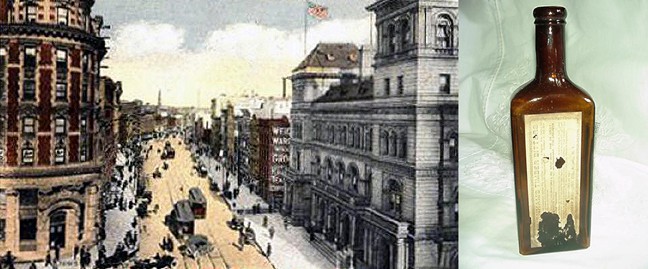 Here is another oddball Bitters that surfaced yesterday when Brian Wolff was doing some online research for M.S. James' Family Bitters. He came across the labeled Burnham's Timber Bitters on an antique web site in New Jersey. Unfortunately the label is in pretty bad shape. A quick look around, provided for quite a few large rectangle…

---
Chattanooga announced for 2015 National Antique Bottle Show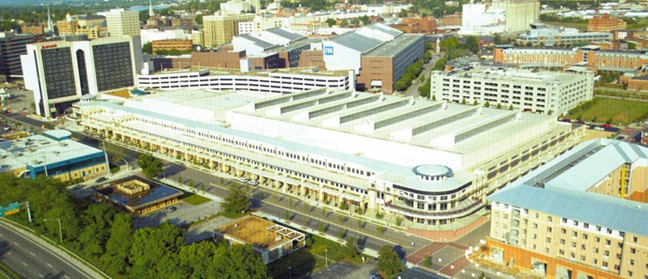 31 July -02 August 2015 – Chattanooga has been selected for the 2015 FOHBC Southern Region National Antique Bottle Show. The show will be held at the Chattanooga Convention Center, Sunday August 2, with dealer set-up and early buyers on Saturday. The Chattanooga Marriott Downtown will be the host hotel and is connected to the convention center. The banquet/bottle competition, seminars, auction, and membership meetings will be held at the Marriott. Jack Hewitt and John Joiner will be serving as show co-chairpersons. READ MORE
---
Manchester Banquet Talk – Education and Sharing are the Keys to Great Collecting!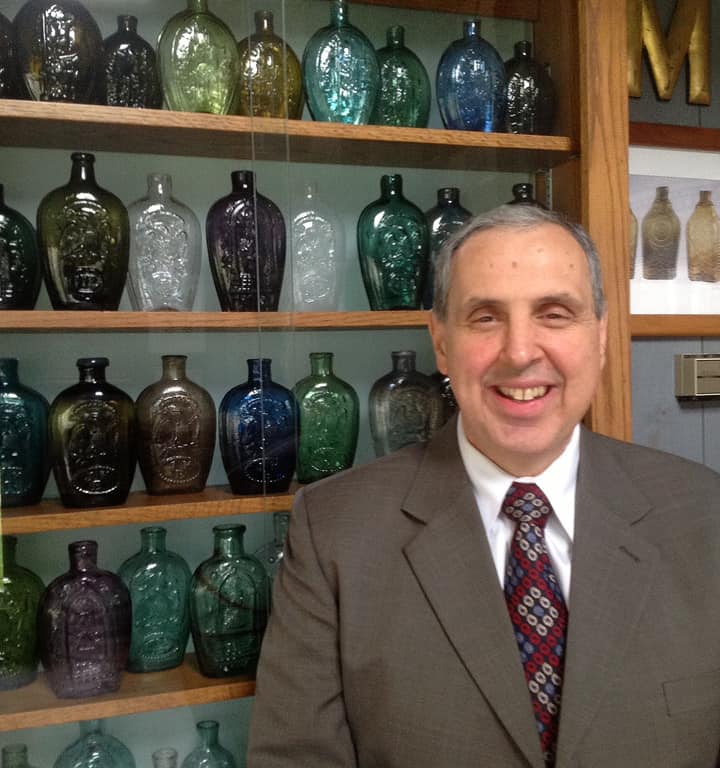 Mark Vuono was born and raised in Stamford, Connecticut where he still resides with his lovely and gracious wife Annie. They have two sons, Andrew and David. Mark was subjected to bottle collecting at the early age of nine as his father was the legendary pioneer flask collector Charles Vuono. Mark recalls the first two flasks his dad purchased were a quart Stoddard double eagle and… READ MORE
---
Unlisted M. S. James Family Bitters – a Flea Market Find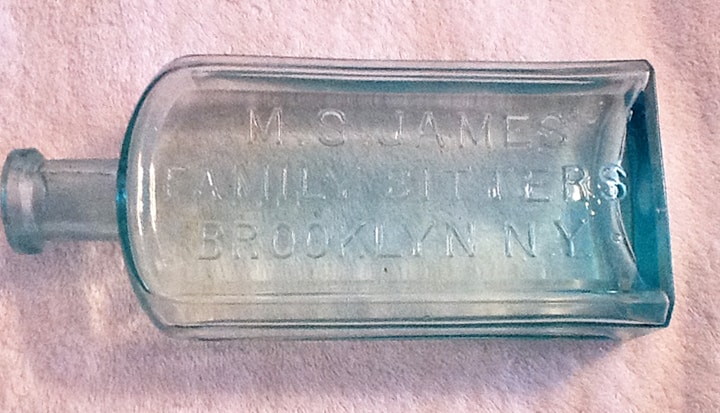 I'm writing to let you know of an unlisted bitters I just found at a local flea market. I've never seen nor heard of this one in all 46 years I've been in the hobby, nor has anyone else I've asked. It's aqua, rectangular, 7 1/4″ by 1 3/4″, indented panels all around…

---
The XR Dr. Kreitzer's German Stomach Bitters – Philadelphia

Dr. Kreitzer was educated at Myerstown Academy and at Yale University. He graduated from Jefferson Medical College (as in Thomas Jefferson) in 1848-1849. The same year he established himself in business as a druggist and physician at 1536 North 4th Street (embossed on bottle), and continued in active practice at that address until his death.

---
What's the Attraction for You at National Federation Shows?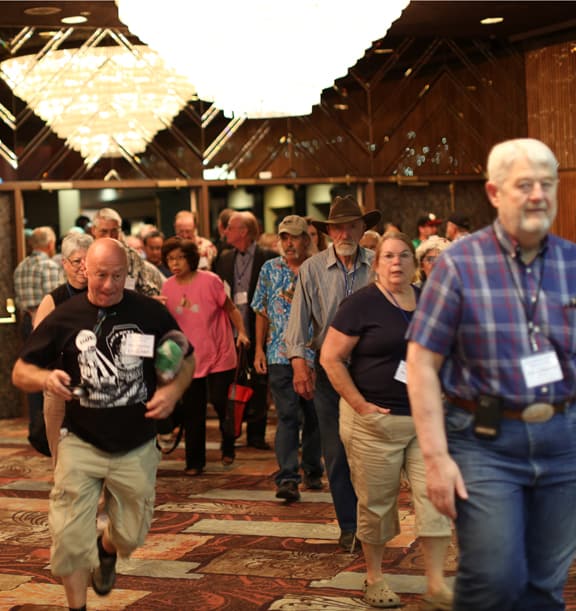 Why are you here? That's an easy question, but the answer may not be. You might be here because of a chance to buy quality bottles for your collection. Or you might be here to visit with friends. Or it may be a combination of both answers, with a few personal reasons thrown in. Whatever the reason, the facts remain that you are happy to be here, and you plan to make the most of it.

---
L.E. Jung Bottles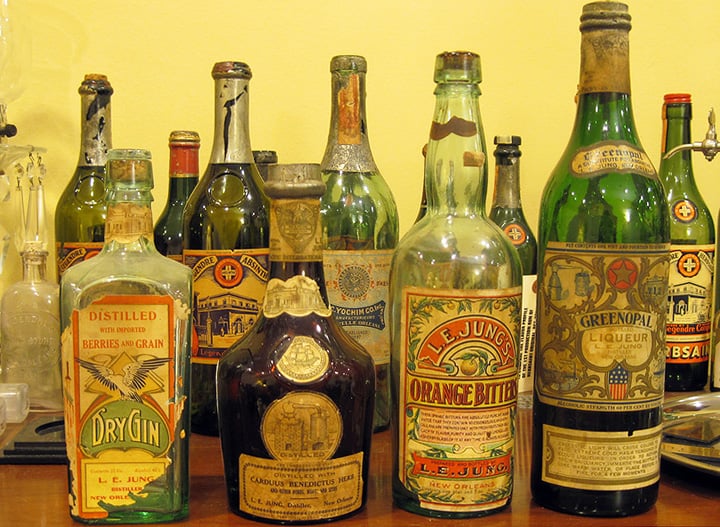 Hi Ferdinand, I wanted to send a shot of the L.E. Jung bottles. I just obtained an extremely rare "Greenopal" absinthe substitute that L.E. Jung made after the USA absinthe ban. The Greenopal bottle dates from 1915, and is the only example to surface in the absinthe collecting world. The Carduus Benedictus Liqueur was Jung's copy of Benedictine, which lead Jung to be sued by the makes of Benedictine. All of the L. E. Jung bottles date from the early 1900s to the 'teens. Regards – Jay  - Read More: The New Orleans Absinthe Makers
---
Elusive Brent, Warder & Co. barrel found in Antique Mall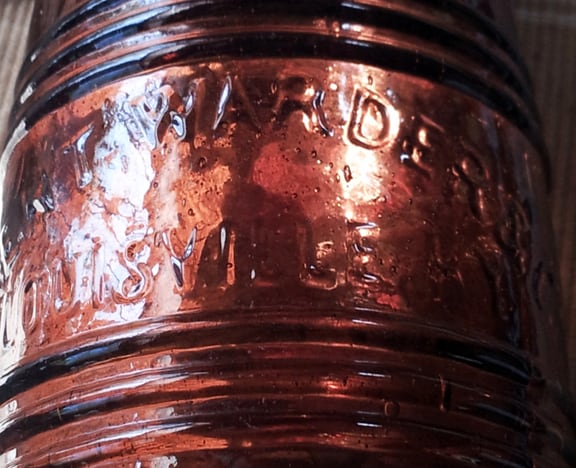 My wife and I are RVing thru the states and are now in Horse Cave, KY. We were at an antique mall and I noticed a small barrel in a case marked Louisville bottles. I have collected many bottles and have had unembossed barrels but never ones with company names. This is in mint condition, filled with bubbles and has a nice drippy applied top. It was marked $35 dollars. I got back to the KOA and to my amazement…

---
Dr. A.C. Daniels' Veterinary Medicines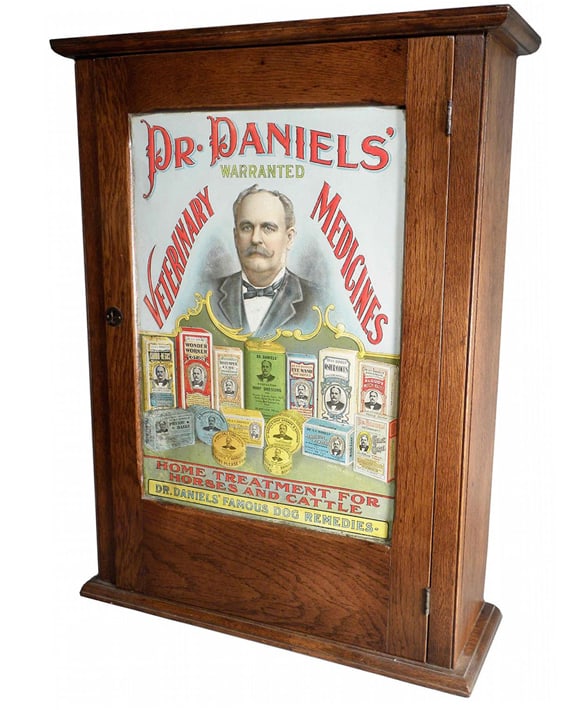 David Olson over at Bottle Collectors on facebook posted this wonderful Dr. Daniels' Veterinary Medicines cabinet from the Jack Stecher collection. This cabinet really rocked my socks which prompted me to find out a little more about Dr. A.C. Daniel. Maybe even find myself a cabinet. The graphics are just spectacular. I also like…

---
Kreinbrook Bitters from Mt. Pleasant, Pennsylvania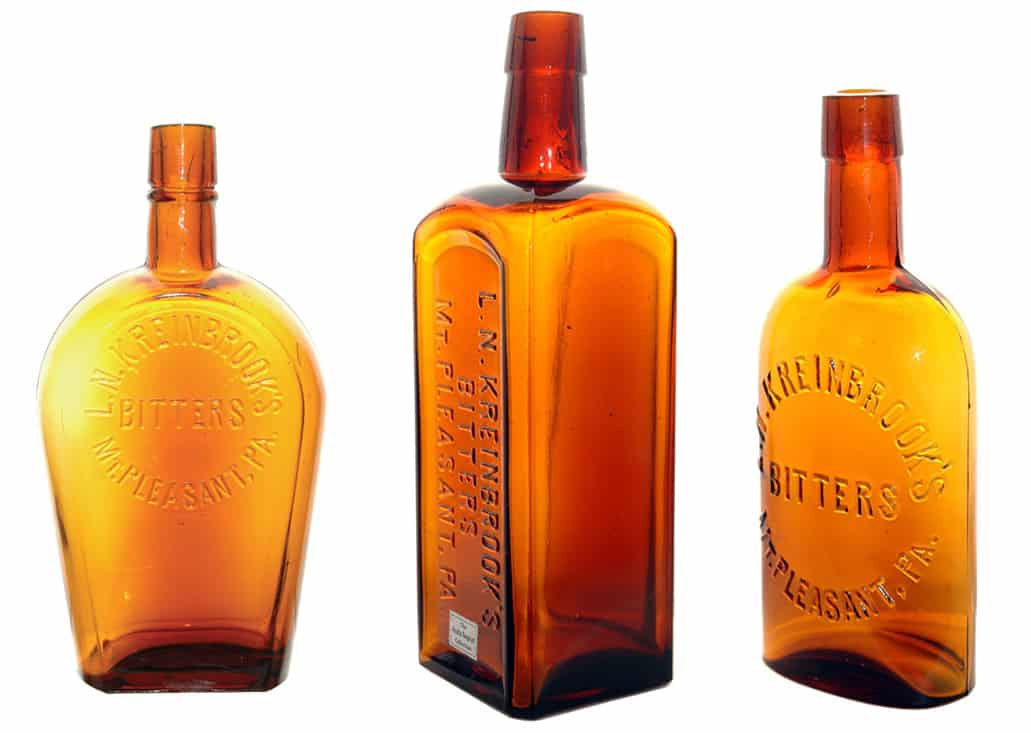 In the past, Mount Pleasant was a center of an extensive coke-making industry. Other products included flour, lumber, iron, glass, foundry products, etc.

---
J. Hayes & Co. – Manchester, New Hampshire

Pam Selenak sent me an email link from ebay for a neat little J. HAYES & CO. | WHOLESALE DEALERS | MANCHESTER, NH flask. Pam is the FOHBC Public Relations Director, and of course she is referencing our 2013 FOHBC National Antique Bottle Show this coming July in Manchester.

---
1935-1939 – Pictures of the United States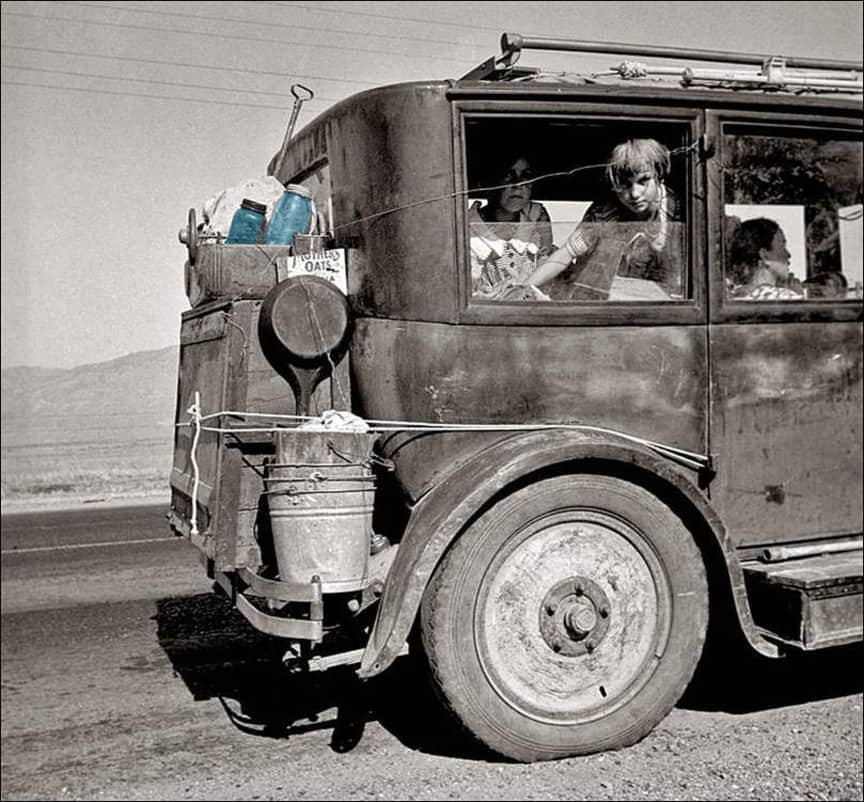 This was a mere 75 years ago or so….Makes complaining about no cell service, high gasoline prices, not enough cable channels, seem a bit ludicrous. No credit cards to buy what you want, but don't need! "Use it up, wear it out, make it do or do without"

---
A Glimpse at Providence Advertising in 1861-2
I have to admit, I get side tracked real easily when looking up information on Bitters brands. In this case it was looking for information on Barber's Indian Vegetable Jaundice Bitters put out by Oliver Johnson & Company in Providence, Rhode Island. Looking for advertising for the product in the 1860s, I was captured…

---
Barber's Indian Vegetable Jaundice Bitters – Rhode Island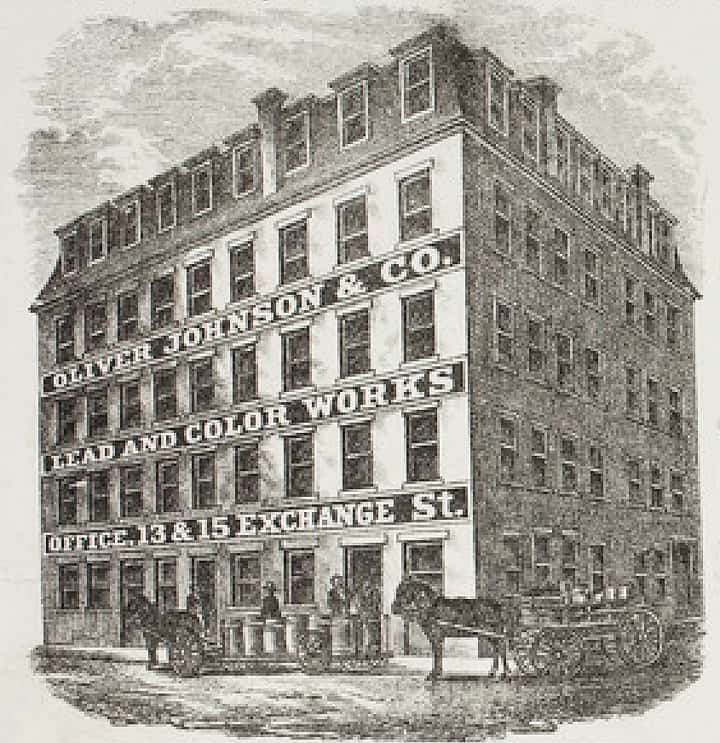 The year of his removal to Providence Oliver Johnson and Doctor Knight opened a wholesale drug store on Weybosset street, where they continued until the death of Doctor Knight in 1841.

---
FOHBC 2,000 Member Campaign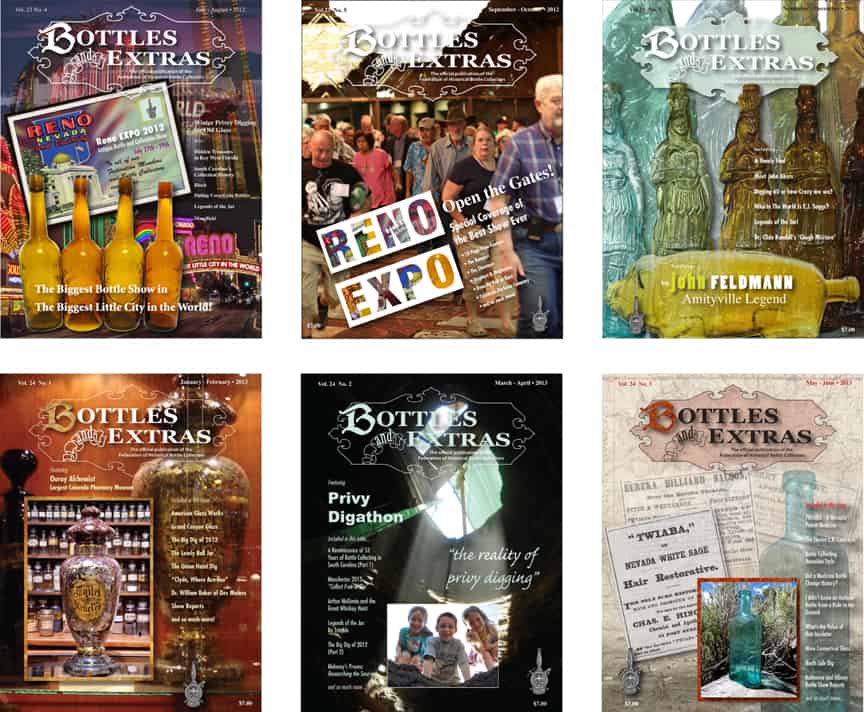 If you haven't already, please support our hobby and become a member of the FOHBC. We are at our highest membership level EVER. Thank you all so much for your support. JOIN *** See Sample Issue featuring last years EXPO in Reno.
---
Mexican Bitters – Henry C. Weaver – Lancaster, O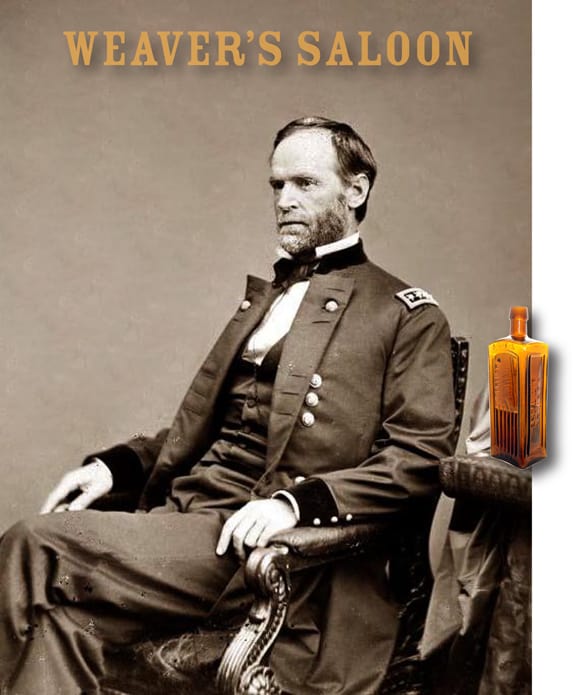 Here is a side bar to that? Lancaster is also the birthplace, and home of a famous Civil War General, "Gen. William Tecumseh Sherman." Just think he probably visited Henry Weavers bar and possible drank his bitters? Think about that Bitters for a minute!

---
Unlisted Diamond "M" Bitters? – Saint Louis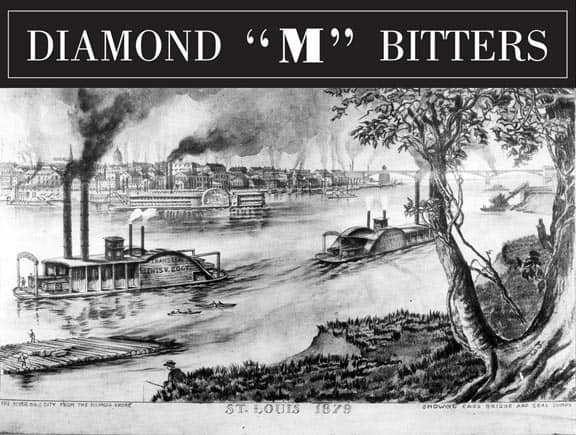 Westward The Star of Empire Wends Its Way. Established in New York, September 1828, Buffalo, N.Y. October 1843 and St. Louis, Mo. August 1867. An Experience of forty-five Years. A Bitters mystery.

---
$5 thousand dollar anonymous donation for the Manchester National!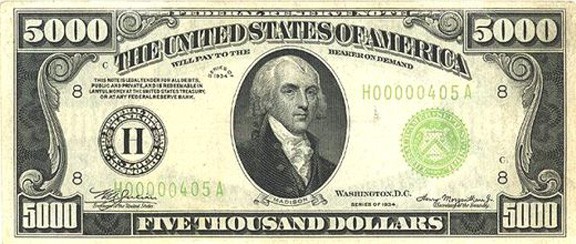 Great news! A $5 thousand dollar anonymous donation has been given to the FOHBC Manchester Show to conduct a raffle or raffles during the show (both early admission and general admission). The FOHBC thanks this well known west coast auctioneer for this generous gift. Another GREAT reason to attend the show! Visit the Show Page
---
Dr. J.R.B. McClintock's Dandelion Bitters – Philadelphia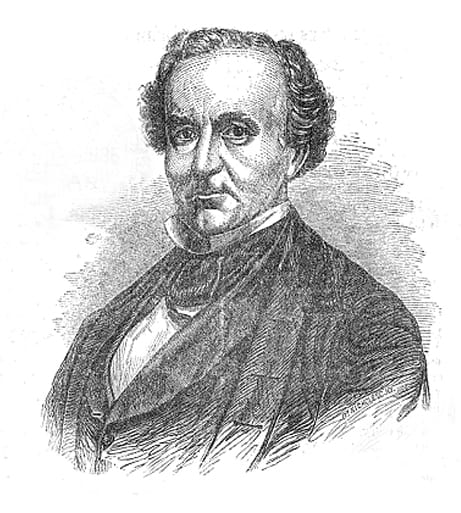 Closing on ebay last night (for the 2nd time) was an extremely rare aqua bitters put out by Dr. J. R. B. McClintock of Philadelphia. It took me a little while, as I almost settled on James R. McClintock as the namesake, until I discovered he had a son. Jesse R. B. McClintock.

---
Very Scarce Clear 9″ Tall Royal Pepsin Bitters Bottle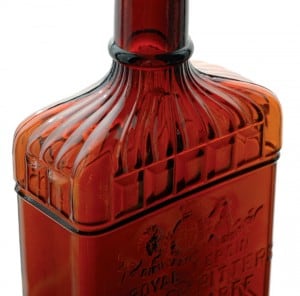 Lazarus and Adolph Scharff tried hard to promote the medicinal values of their product and even sold it in drug stores but make no mistake, this is a spirit that should have been and probably was sold at liquor stores. The label does try hard to say the medical powers of the product, but if it looks like a duck, swims like a duck, and quacks like a duck…

---
Highlands Bitters and Scotch Tonic

– 1990 Federation Glass Works Article

Gene Bradberry mailed me this super article from the Federation Glass Works in 1990. The Highlands Bitters and Scotch Tonic came from Memphis. This was the monthly publication of the Federation of Historical Bottle Collectors (FOHBC). We've come a long way baby.

---
Heminger Figural Bitters Collection – All Top Shelf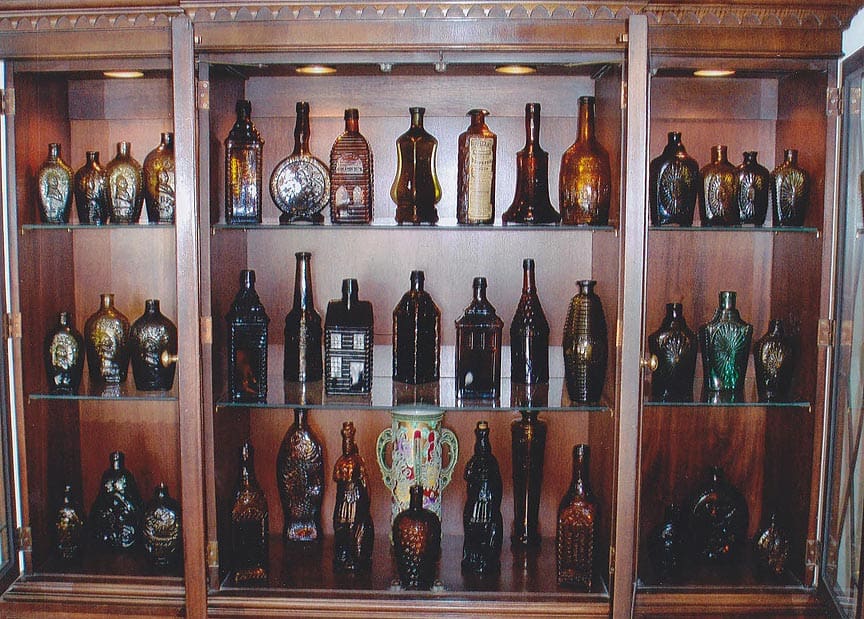 "I grouped my bitters and flasks in my upstairs collection on the basis of how they grouped symmetrically. I'm very A-type about such things. Condition of my collection here, as well as downstairs (the man cave) is the best examples for each mold type, bitters as well as flasks."

---
Elvin Moody Bottle Collection pictures surface!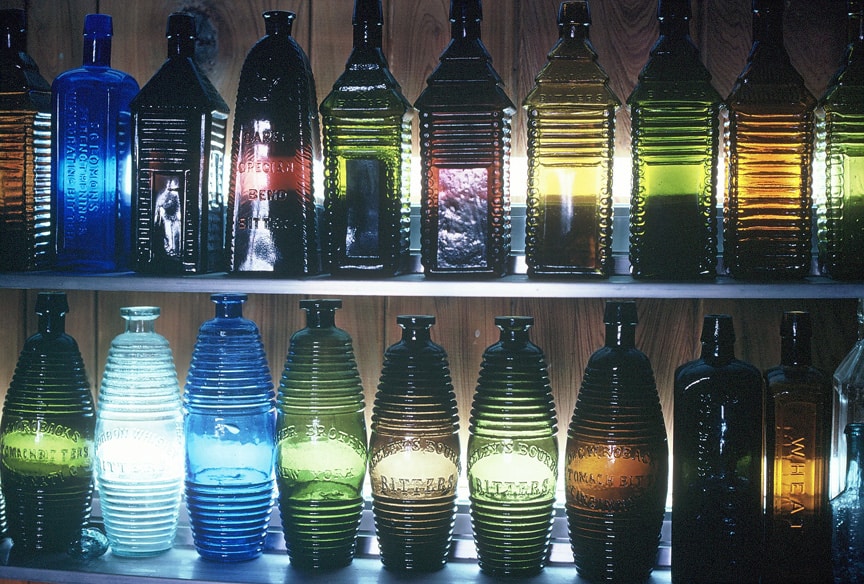 Back in 1982, when I was pretty new to bottle collecting, I had the priviledge to visit Elvin Moody and see his fantastic bottle collection. What a pleasure it was to visit with Elvin and his wife Cherie. Seeing his amazing collection is something that I will never forget. He was very gracious and let me take as many pictures…

---
Old Dr. Townsend's Daisy Vases, more common than you think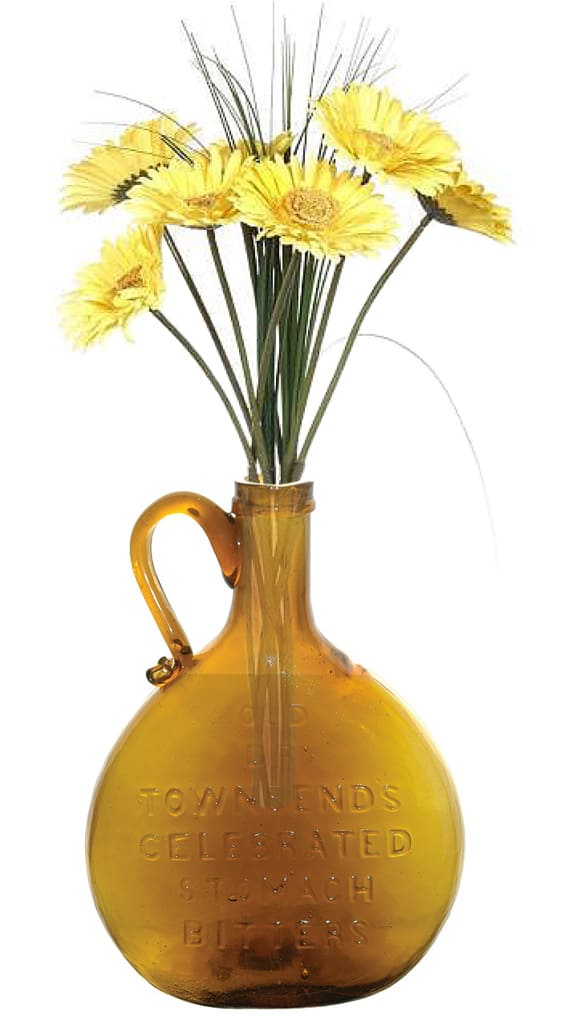 We made arrangements for her to bring the bottle to my office. She was a no show and didn't call to cancel. This wasn't surprising to me, since I wasn't convinced she had this extremely rare bottle. She called back a couple of weeks later and told me she had had car trouble and had lost my number. She made a new appointment to come the next day.

---
Jacob's Cholera Dysentery and Diarrhea Cordial ensemble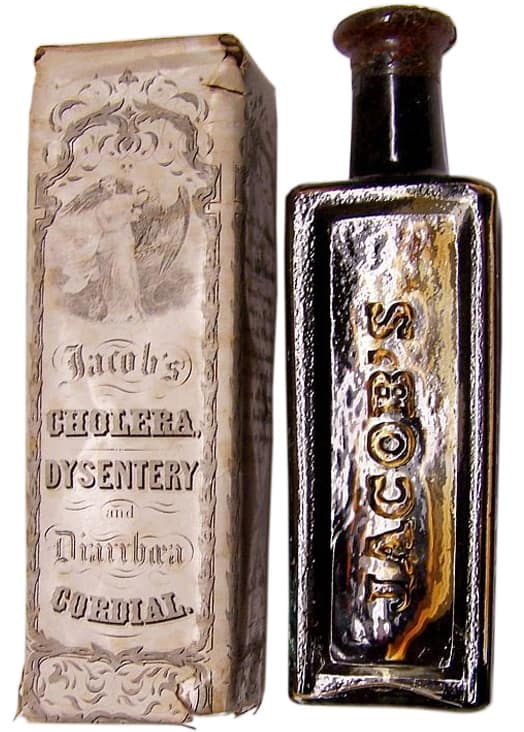 "recommended to females, children, travelers, ships captains and voyagers, laborers, planters as well as the general public."

---
Could this be the Nathan's Celebrated Union Bitters?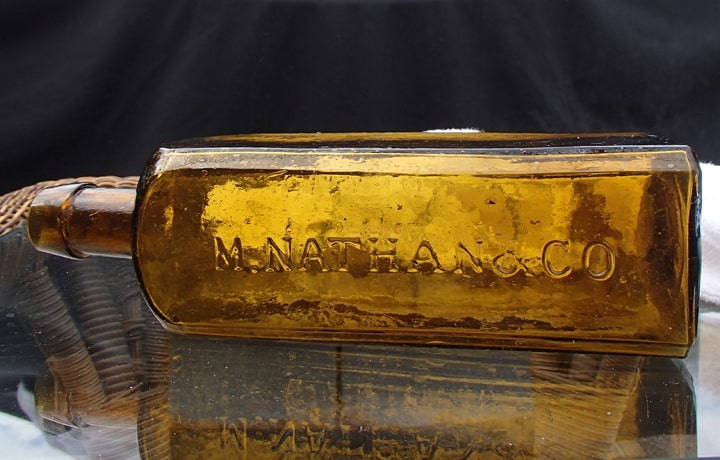 I bought it at Mansfield, Ohio 20 years ago. I have never seen nor heard of another. I bought it off of a privy digger who dug it in Cincinnati. Here's what I think? On page 83 of "Bitters Bottles Supplement" there is a very small note that reads this, 'NATHAN'S CELEBRATED UNION BITTERS…

---
Who is I & L. M. Hellman of St. Louis, Missouri?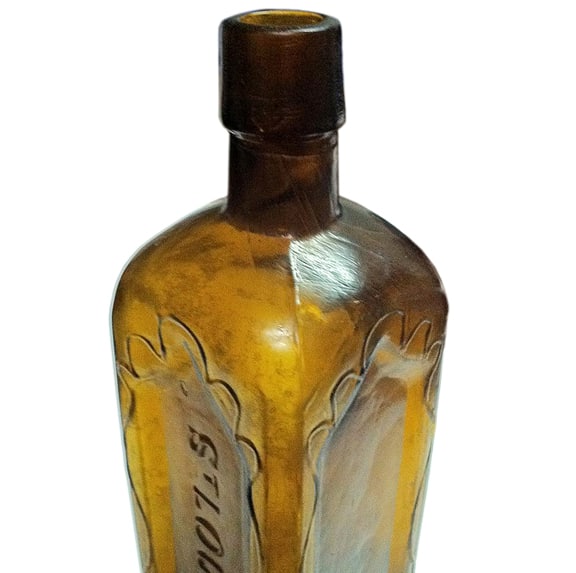 Examples found during the excavation of the riverboat Twilight which sank near Orrick, Missouri in 1865…

---
Arabian Bitters – One Thousand and One Nights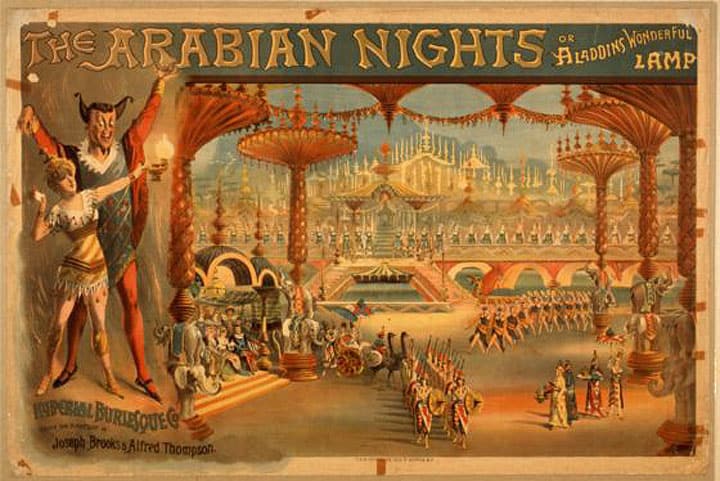 Did you know that there is an Arabian Bitters from Savannah? I wonder what the product name was inspired from? Arabian Nights? Or maybe from a horse or some mystical place? Maybe from a dance or Aladdin's Lamp? Let's see if we can find out?

---
Argyle Bitters – Adapted for a warm climate!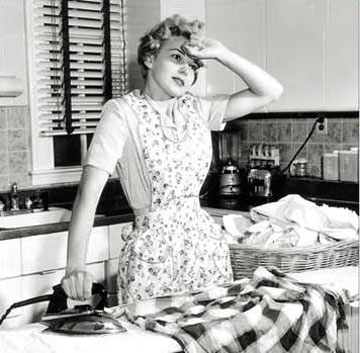 It a well-established fact, that fully one-half of the female portion of our population are seldom in the enjoyment of good health, or, to use their own expression, "never feel well". They are languid, devoid of all energy, extremely nervous, and have no appetite. To this class of invalids, these Bitters are especially recommended.

---
What was here, Early Houston Advertisements – Part IIA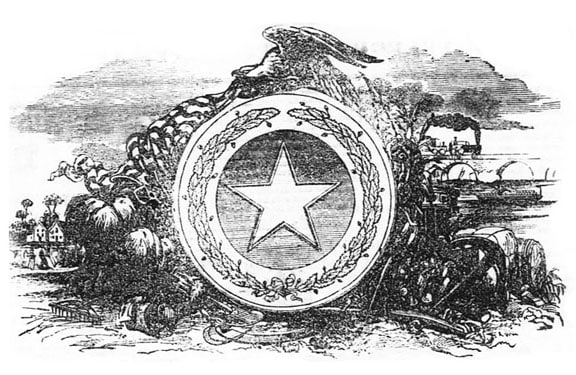 I was able to locate another issue of The Weekly Telegraph in Houston. The day was Tuesday, 20 April 1860. This is nine years prior to the previous issue of The Houston Telegraph that contained the abundant Edward Wilder, Dr. John Bull and others advertisements. I tell you, Houston was swimming in product. It still is.

---
What was here, Early Houston Advertisements – Part II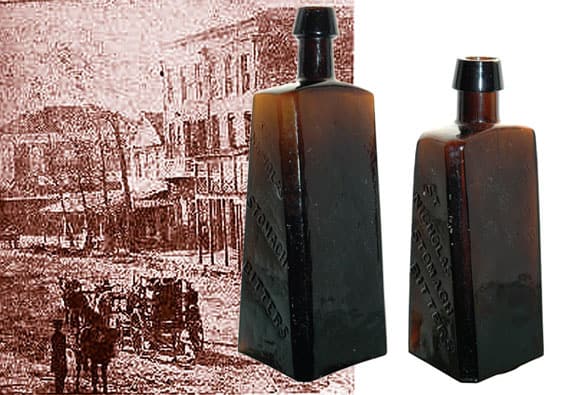 I know I am not going to discover a Houston Glass Works or rows of houses and privies from the late 18th or early to mid 19th century but I want to see what is, in reality, under my feet. I mean, somewhere here downtown there had to have been recycling…

---
Allen's Landing – Houston (not everything is new here) – Part I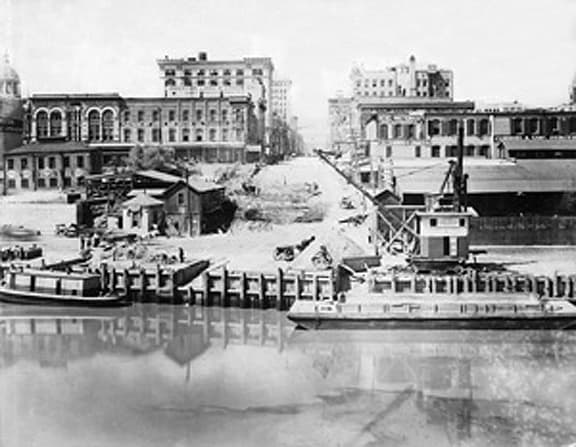 What they found there became more of a joke than anything else. The town, which was difficult to locate among the pine woods, "consisted of one dugout canoe, a bottle gourd of whisky and a surveyor's chain and compass, and was inhabited by four men with an ordinary camping outfit."

---
The Color Yellow – A wide range of shades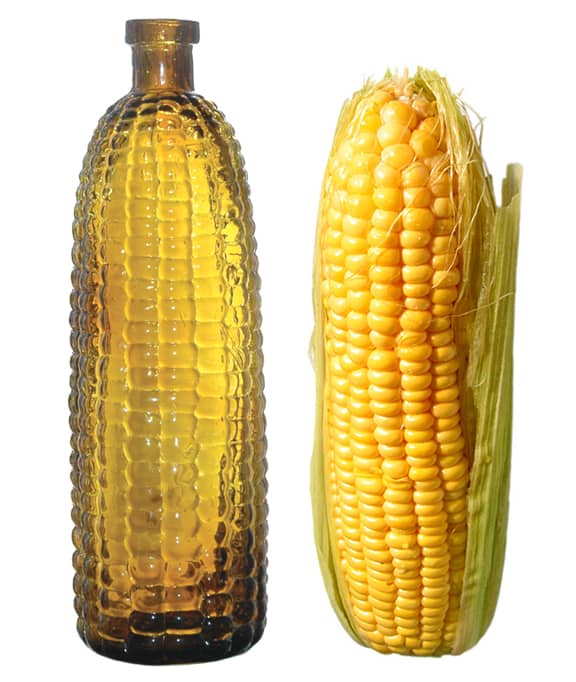 Yellow is an important color in bottle collecting but is usually, for some odd reason to some, less desirable than the 'prettier' blues and greens. It is actually a very tough color to obtain in many bottle areas such as bitters, medicines, flasks and ink bottles. When I walk my rooms and look at my shelves, many of the yellows…

---
Carlyn Ring – An Interview with Martha Stewart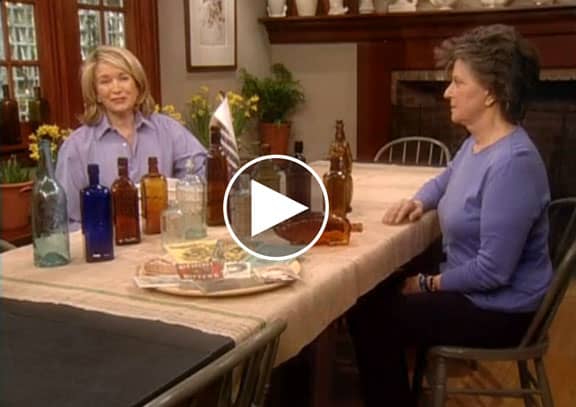 Great Video. "A Complete Collection of Antique Bitters Bottles" – Martha Stewart and Carlyn Ring looks at Carlyn Rings antique bitter bottles collection. The rare and unusual styles in the collection showcase a history of American glass making and early medical remedies containing alcohol. A big shout-out and thanks to Jeff Burkhardt who says "I just stumbled across this video, Martha Steward interviewing Carlyn Ring on collecting Bitters…done after she sold out to Hagenbuch & Ham. Well done and she mentions the FEDERATION.
---