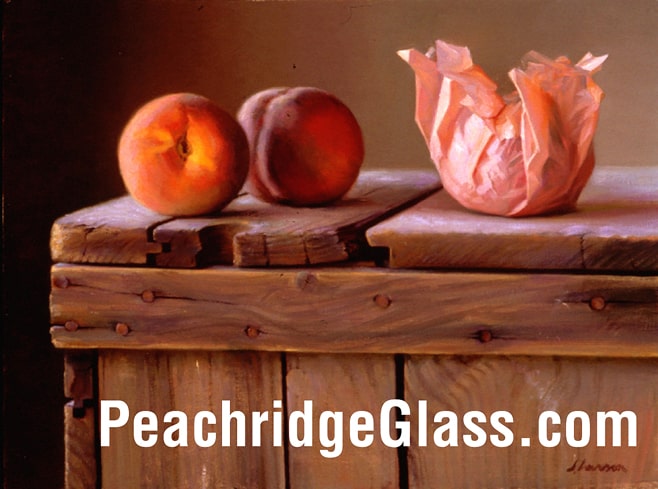 This site is presented and hosted by Ferdinand and Elizabeth Meyer. We hope to share our passion for collecting and dealing in Early American Antique Bottles and Glass. Please contact us for any information and or bottle and glass news for post consideration. I am also looking for guest authors as I shift to the Virtual Museum project. Thanks!
---

---
Dr. S. Griggs' Aromatic Bitters – Detroit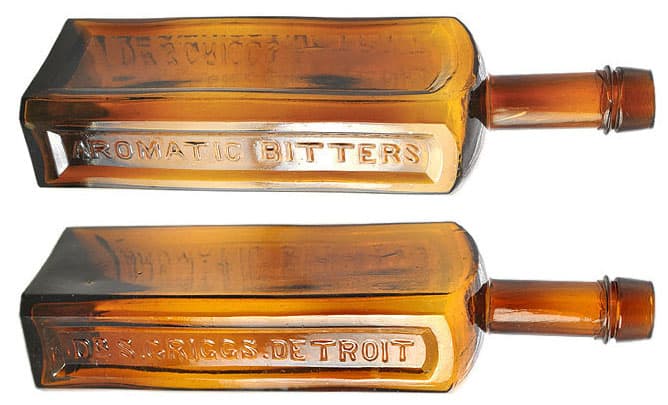 While searching for information on the Prof. H.P. Lorman Tonic Bitters and Appetizer, I came across this cool advertisement below for Dr. S. Griggs' Aromatic Bitters from Detroit, Michigan. I knew I had a recent bottle picture from Glass Works Auctions (pictured above) to create this post.

---
Professor H.P. Lorman and his Tonic Bitters and Appetizer

Bill Ham sent me a picture of a bottle shard that Bob Strickhart had sent to him for an unlisted bitters. I clipped the image in Photoshop and positioned it above. So who is Professor H. P. Lorman and where is this bottle from? I also wonder if there is a relationship with the H.P. Herb Wild Cherry Bitters?

---
Salutes to the 2015 San Luis Obispo Antique Bottle Show – Morro Bay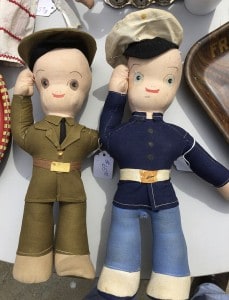 Well…I salute… another San Luis Obispo Antique Bottle Show in Morro Bay, California has come and gone but the adventure continues as Jerry and Helen Forbes, and my wife Elizabeth and I, head up to Monterey after breakfast here at Dorn's which was the original Breakers Cafe. We come here each morning to regroup and recharge. Fresh orange juice and every kind of great breakfast imaginable. Nice way to start the day, just across the street from our inn.

---
Beriaults Hair Bitters – Hair Bitters Manufacturing Company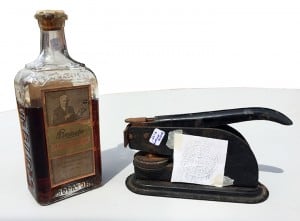 Bill Ham recently purchased a collection of primarily labeled bitters that he put on a table for the first time yesterday at the Morro Bay Bottle Show. The Beriault's Hair Bitters caught my attention for a number of reasons such as the use of the bitters for a hair tonic, the label with a man holding a hair piece, the bottle contents and the accompanying…

---
Set of Three Skull Poisons and Trade Cards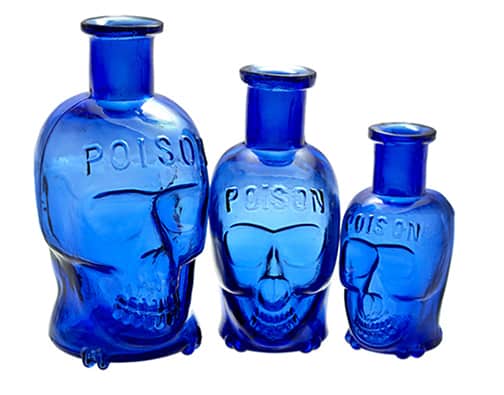 Sometimes I just feel like Charlie Brown because I have to say "Good Grief". This time, Jim Hagenbuch has a set of three Skull Poisons….plus…are you ready…. three corresponding trade cards. Wow-oh-wow. Lot 244 is currently online at Glass Works Auctions "Winter Classic" Auction 106. The write-up and pictures from Glass Works are included in this post.

---
Looking closer at 1876 United States Internal Revenue Special Tax Stamps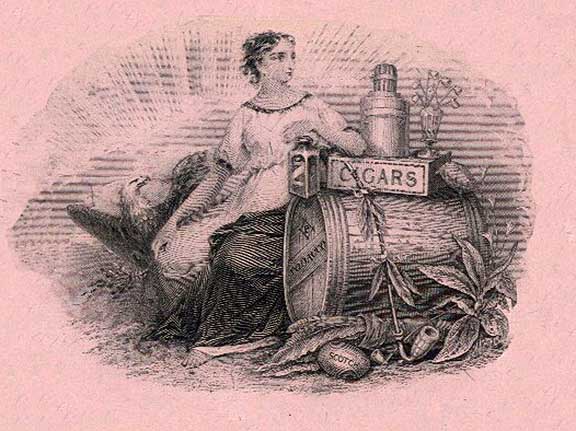 While working on the Dr. James H. McLean & Ferd Meyer, the Tax Agent post, I had the opportunity to look more closely at the 1876 United States Internal Revenue Special Tax Stamps or Certificates for Wholesale Liquor Dealers, Tobacco Peddlers and Beer Brewers. The art is quite spectacular…

---
Dr. James H. McLean & Ferd Meyer, the Tax Agent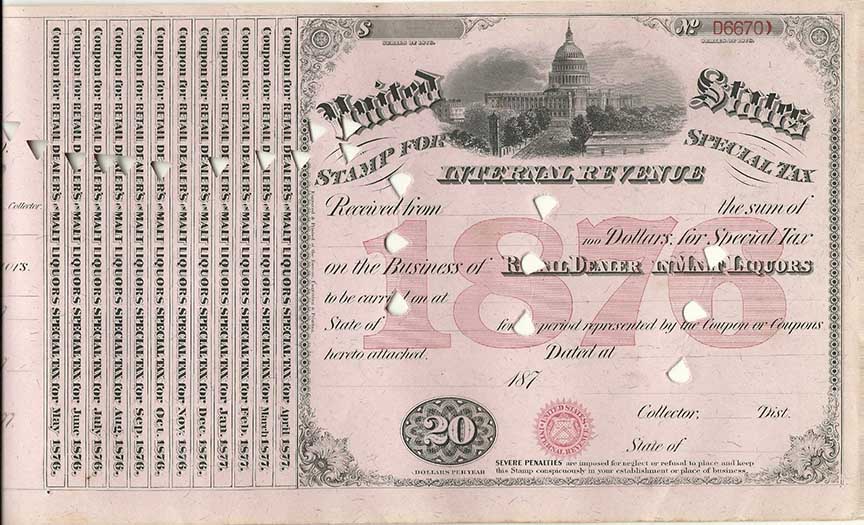 Tom Phillips sent me a packet of FOHBC convention information and with it was this Commission Bill below for Dr. J. H. McLean's Family Medicines at 314 Chestnut Street in St. Louis, Missouri. That is Dr. McLean pictured above. OK, so far, that is pretty cool. Neat graphics including an illustration of Dr. McLean's Grand Tower Block

---
Adolph Christian Ferdinand Moll and his Mexican Pulque Bitters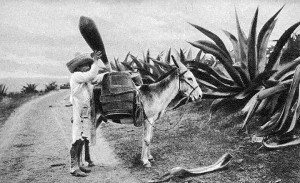 I picked up a small medicine style aqua bitters recently that was embossed "Mexican Bitters". That's all, just Mexican Bitters. Apparently one was dug in Buffalo, New York many years ago. Of course this is not the rather well-known Mexican Bitters put out by Henry C. Weaver in Lancaster, Ohio.

---
W. A. Carlton's Anti-Dyspeptic Tonic Bitters – Athens, Georgia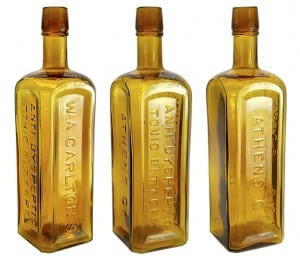 Jim Hagenbuch with Glass Works Auctions has this really neat and extremely rare Carlton's Anti-Dyspeptic Tonic Bitters square from Athens, Georgia in his "Winter Classic" Auction #106 that closes on March 23rd. I've heard about this bottle but have never seen an example before.

---
The best Outhouse cake I have ever seen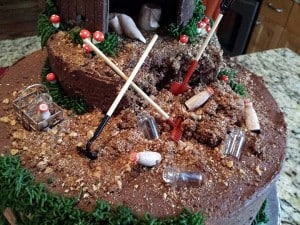 Wanted to send this in for some time. Local cake maker friend of our daughters Michelle Smith does cakes on the side and made me the best Outhouse cake I have ever seen. Not that there are many outhouse cakes. This cake has amazing detail. Even toilet paper! And the whole thing was edible. And delicious! Actually the digging tools, and mini milk bottles… See Pics!
---
2015 FOHBC Chattanooga National Seminar News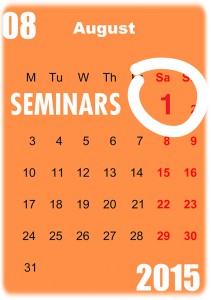 Jack Hewitt and John Joiner, Chattanooga National Show Co-Chairs, have a great line-up of presentations and seminars at the 2015 FOHBC National Antique Bottle Show in Chattanooga, Tennessee. Six seminars are planned and will be given by prominent collectors on various topics in the Chattanooga Marriott Downtown Hotel. The seminars will take place on Saturday morning, August 1st from 9:00 am until 12:00 noon. Seminars are open to any member of the FOHBC or person attending the show. Please mark your calendar now! SEE SEMINAR INFORMATION
---
Get Your Chattanooga National Hotel Rooms Now!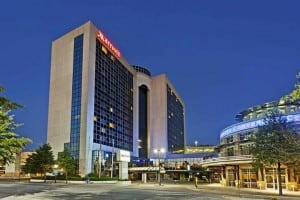 The first block of FOHBC reserved rooms at the Chattanooga Marriott Downtown Convention Center have been sold out at the $110 rate. We have a second block at the same rate but in limited numbers and time availability. It is critical to book rooms soon, to maintain the FOHBC cost, otherwise it goes up to $169 a night. NATIONAL SHOW INFO
---
Looking at some Universal Bitters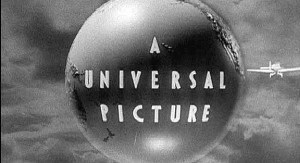 If you play word association with me and you say Universal, I think of Universal Pictures first, especially their older logos which were fantastic. One is pictured at the top of the post. Of course I know what the word means.

---
Dr. Marcus' Universal Bitters – Philadelphia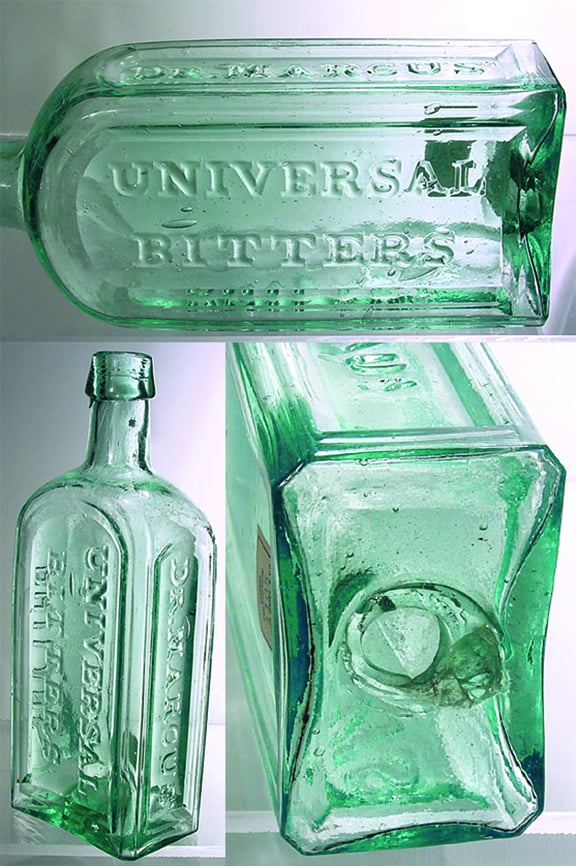 Jim Hagenbuch with Glass Works Auctions has a nice example of an extremely rare Dr. Marcus' Universal Bitters from Philadelphia in their "Winter Classic" Auction #106 that closes on March 23rd. Initially, I was kind of excited because I thought I did not have an example, but it looks like I have a super example that I have also pictured in this post.

---
Selling Tippecanoe in the Newspapers

If you could point to only one quality of H. H. Warner that accounts for his phenomenal success in the fireproof safe business and then, most notably, in the patent medicine business, it would have to be his ability to market his products. He was, perhaps, decades ahead of his competitors in understanding the power of branding and establishing a product as a household favorite. READ at Warner Safe Cure Blog
---
2015 Baltimore Bottle Experience – Snow, Cold Weather and a Warm Time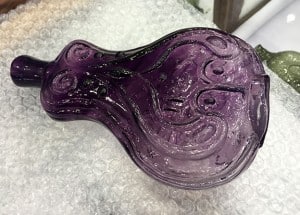 Towards the middle of last week, Elizabeth and I started getting alerts from the airlines that our scheduled flight from Houston to Baltimore might be delayed. Well, I guess so, as there was a 100% chance of snow in Baltimore this past Thursday. Trying to outsmart the weatherman, we changed our flight to Friday morning, after the front. My bottle bud…

---
D. Owen Grove Auctions Now Online!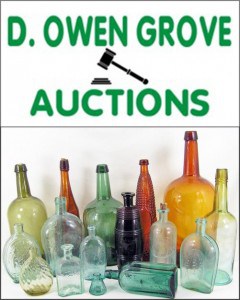 I had the opportunity to meet Dan Owen with D. Owen Grove Auctions this past weekend at the Baltimore Antique Bottle Show. He presently has an auction up online. Check it out. Antique bottles are their specialty. Pictured are examples from their current auction scheduled for March 15th at 30 East Canal Street in  Dover Pennsylvania. VISIT AUCTION
---
2015 Baltimore Antique Bottle Show Report – by Jim Bender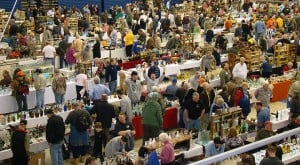 My weekend started off on Friday night with Linda and I having dinner with friends Ferdinand and Elizabeth Meyer, Jim and Val Berry and my newest friend Jerry Forbes from Carmel, California. Ferdinand led the way, taking us to Aldo's in Little Italy. Ferdinand was raised in Baltimore and knows the city. This is a good thing because other than Val Berry who also was raised in Baltimore, none of us had a clue where to go. The meal was a great place to visit… More pictures added

---
Everything's better with bitterquelle. . .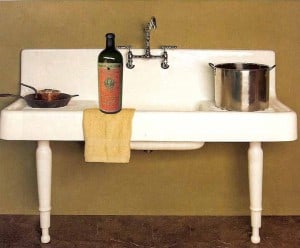 Reading the recent post on Hunyadi Janos reminded me of how the details of what we might consider commonplace can be intriguing. What could be more commonplace than water? Translated from German, bitterquelle means "bitter spring." Water containing sulfates of magnesium and sodium tastes slightly bitter, and thus Andreas Saxlehner named his Budapest water aptly.

---
Reference to an unlisted De Havens Wild Cherry Bitters – Chicago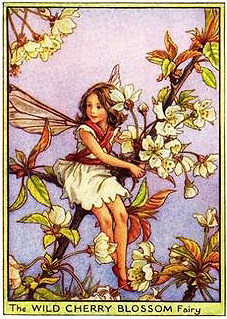 Many of the old-time druggists make up bitters by putting wild cherries, together with the inner bark of the wild-cherry tree, into whiskey. This is a fine spring tonic, and some prefer it to sassafras tea. It is good for almost any ailment, in a pinch, and even families who are notoriously dry keep a quart …

---
What about this Tilton's Dandelion Bitters?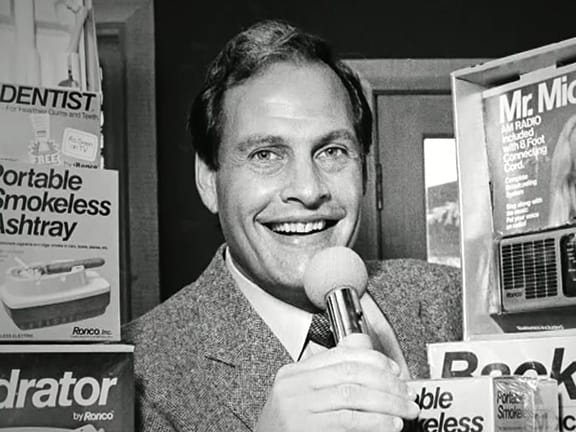 Some of you may be aware of a series of Dandelion Bitters posts that have occurred on Peachridge Glass in the past. A complete listing is at the bottom of this post. This wonderful "label under glass" Tilton's Dandelion Bitters is one that has stumped me as I initially could not find any information. I am going to try again today.

---
Henry Ferris Porter Bottle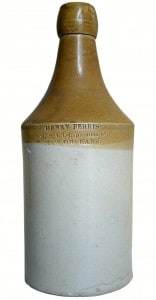 The following e-mail was in my in-box from last month and I haven't had a chance to pursue until now. It is represented below from a fellow in Florida. Pretty neat old beer bottle of some sort. So who is Henry Ferris? Was this a beer, porter, ginger beer?

---
Looking at Boerhave's Holland Bitters – Pittsburgh
Jeff Wichmann currently has a Boerhave's Holland Bitters up on his American Bottle Auctions "For Sale" page that prompted me to pull my example out of a digital folder. The top two pictures represent my bottle. Another rather exciting aqua bitters that can rock your socks or at least mine. I am surprised it still available on Jeff's site. This bitters collector suggests "Buy". The price is right too.

---
Dr. C. G. Garrison's Bitters for Dyspepsia – Philadelphia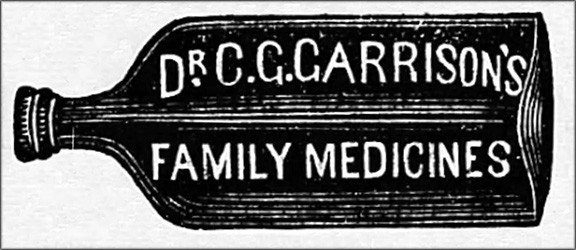 Here is another great aqua bitters that sold last week on Jeff Wichmann's American Bottle Auctions Sale Page. I have not seen an example of a Dr. C. G. Garrison's Bitters for Dyspepsia from Philadelphia, so this was pretty darn exciting to this bitters collector. Jeff's write-up on the bottle is as follows…

---
"Battle of Chattanooga"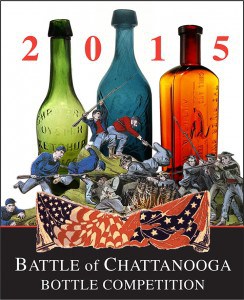 The "Battle of Chattanooga" bottle competition will be held at the Marriott on Friday, July 31st after the banquet in Plaza Room C. There will be three categories. Each category will have three judges. The categories are: Colored Sodas, Sauces (peppersauce, ketchup, durkees, oyster, etc.) Best Bottle South of the Mason Dixon Line. Security will be provided. For additional information contact: Mike Newman, phone: 706.829.8060, e-mail: theNewm@aol.com. VISIT SHOW PAGE
---
Dr. Sperry's Rheumatic Bitters – Hartford, Connecticut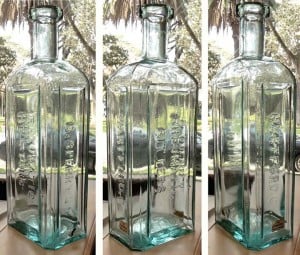 Selling for a song last week at Jeff Wichmann's American Bottle Auctions Sale Page was this rare, actually I think extremely rare, Dr. Sperry's Rheumatic Bitters from Hartford, Connecticut. At this point, just about any bitters I don't have now is either because it is extremely rare, an oddball variant or would require global financial backing to purchase.

---
March | April Issue of Bottles and Extras Mails Today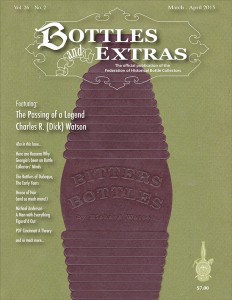 Look for an in-depth tribute to legendary bottle collector Dick Watson and other stories like Part 2 of Georgia Antique Bottle Collecting History: Here are Reasons Why Georgia's Been on Bottle Collectors Minds, PDF Cincinnati – A Theory, House of Hair (and so much more), The Passing of a Legend – Charles R. (Dick) Watson by some of his many friends, The Bottlers of Dubuque, The Early Years 1854-1863 and Michael Anderson – A Man with Everything Figural'd Out and so much more! Become a member of the FOHBC and get Bottles and Extras
---
The Importance of Labels – Part 2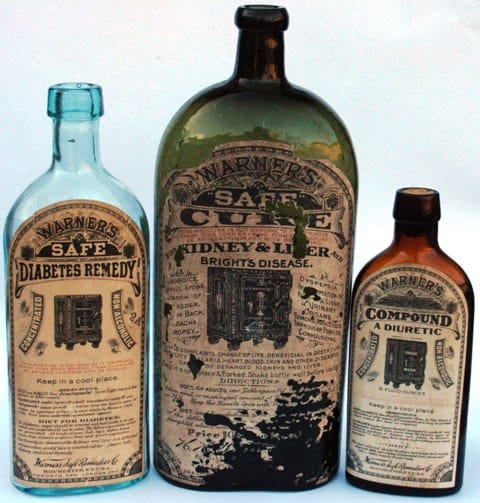 In most cases, labels add to the aesthetic value of bottles as well as to their monetary value. Labels give you a sense of seeing the product as it might have appeared to a potential buyer in the 19th Century. This is particularly true of Warner's Safe Remedies, because they provide such great detail about the ailments the product was designed to alleviate. Read at Warner's Safe Cure Blog
---
Dr. Trowbridge's Dandelion Bitters – Stamford, Connecticut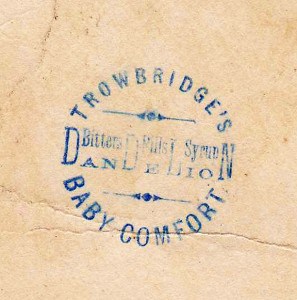 Sitting lonely on page 540 of the Carlyn Ring and W.C. Ham Bitters Bottles book is a listing for Trowbridge's Dandelion Bitters. It might have been forgotten until bitters ephemera collector Joe Gourd submitted the advertising trade card used in this post for consideration in the "Dandelion Bitters" series. This is a stock trade card…

---
McKelvy's Stomach Bitters – Pittsburgh, Pennsylvania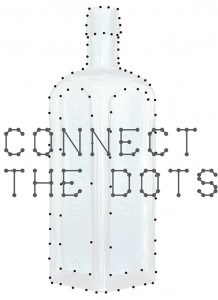 Sometimes there is just so little information available to help identify a bottle that you just have to connect the dots and make assumptions. In today's case it is the McKelvy's Stomach Bitters from Pittsburgh, Pennsylvania. We also have WM. MCC&CO. embossed on the base as clue.

---
Beautiful Minerals with a Selection of Exquisite Barber Bottles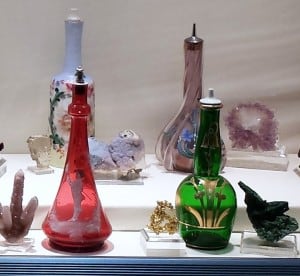 Now here is a display that you don't come across too often at antique bottle shows. Check out this email from Sandor P. Fuss reporting from the Tucson Gem & Mineral Show. Make sure you check out the pairing of the specific minerals with the barber bottle.

---
I recently picked up a Summer/Winter GX-15 Pontil Pint Aquamarine Flask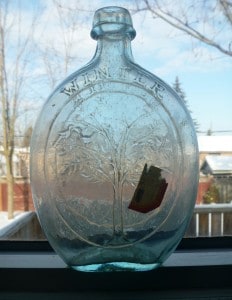 It seemed like a nice day to do a post on a Summer Winter flask and put the Winter side on the top of the page. I've received some e-mails from folks up North where the temperature is approaching zero degrees. Yes it is winter. This e-mail is from Abel Araujo Gouveia Da Silva, up Canada way.

---
Peters & Smith – Drugs & Medicines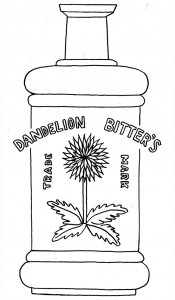 Collecting bitters bottles is just too much fun. I realize to some, or probably many, that there is monotony in looking at all of the various dandelion bitters. My apologies, I am just consumed with all of this. I think this is the tenth dandelion bitters brand we have looked at lately. This one is exciting because there is …

---
Lucius W. Bissell and his Dandelion Bitters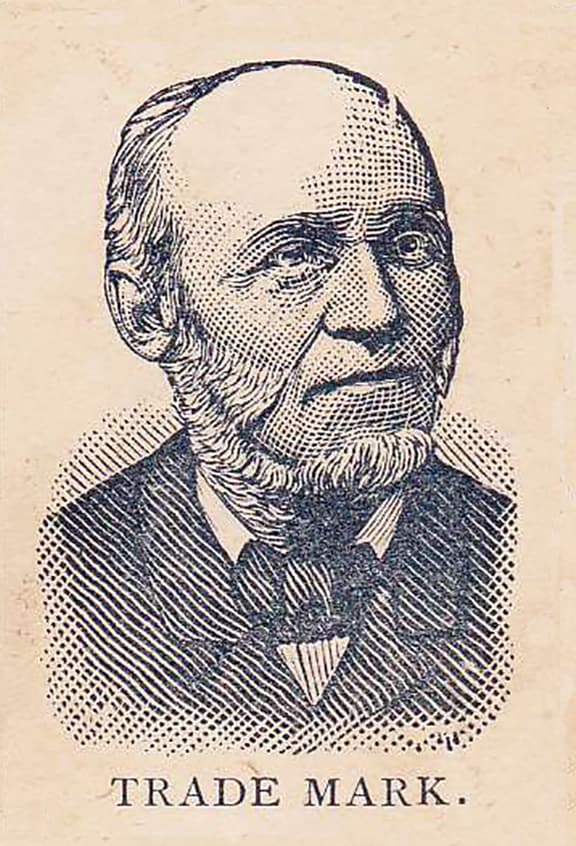 Wow, another in the Dandelion Bitters series inspired by bitters ephemera authority, Joe Gourd. The two advertising trade cards used in this post are Joe's. Sometimes these cards are the only clue we have of a bitters brand. This time it is Bissell's Dandelion Bitters put out by Bissell's Manufacturing Company in Keene, New Hampshire.

---
Abbott's Bitters Web Site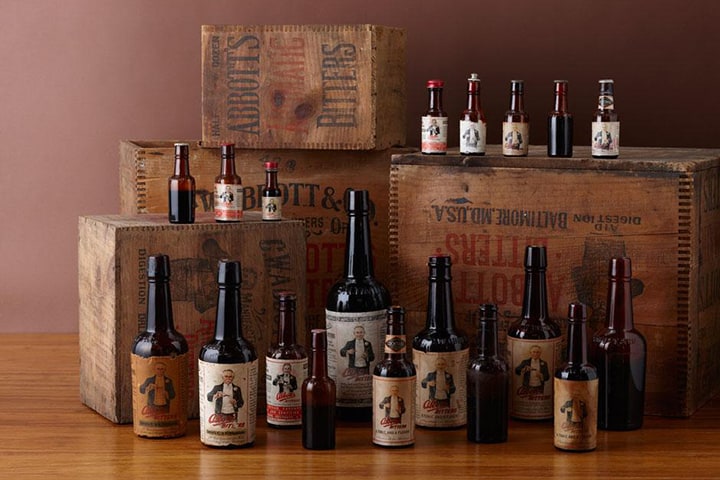 Received the following very interesting e-mail from Peter Schaf who allowed me to share. This guy really has it covered for Abbott's Bitters. "My passion for bottles finally brought me to the spirits industry, where I partnered with an old friend (who is also a bottle collector), to create a company dedicated to finding or recreating lost liqueurs, bitters and vermouths for craft bartenders and enthusiasts, originally specializing in absinthe." Read at DAILY DOSE
---
Smith's Gentian, Dandelion and Yellow Dock Bitters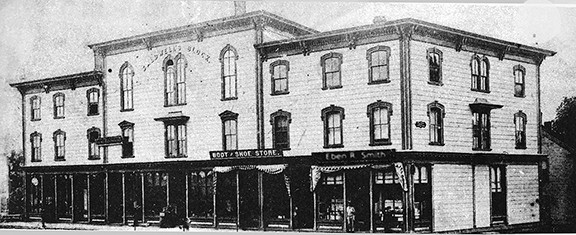 The Smith's Gentian, Dandelion and Yellow Dock Bitters appears to be unlisted in Bitters Bottles. You have to look carefully as there are about 15 brands of Smith's bitters of one sort or local or another. This brand was put out by Ebin R. Smith practicing as a druggist out of Ipswich, Massachusetts.

---
The Importance of Labels – Part 1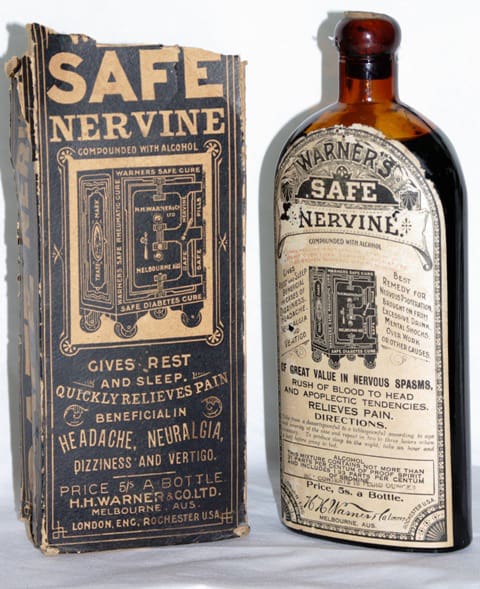 One of the perennial questions that comes up among bottle collectors, especially those of us who collect cures and remedies is "does a label on a bottle increase its value?" The answer to that is most often "yes," but there are some qualifications to that answer. It is not an absolute truth. It's important to understand why labels are valuable. In my mind… Read At Warner's Safe Cure Blog
---
Outlandish Fellow Dressed in a Suit with Top Hat and Umbrella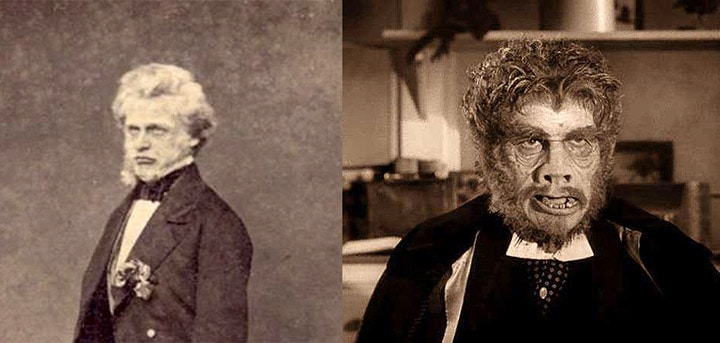 Joe Gourd e-mailed the following, "Good morning Ferd, came across this photo of an early snake oil salesman in an eBay auction today. Not quite a "Bitters" item for my collection but a really cool card. Wonder who he was? Have a great day………Joe". I too, thought it was a neat picture and posted it on Facebook and Daily Dose hoping to circle back later, which is now.

---
Lyman's Dandelion Bitters – Bangor, Maine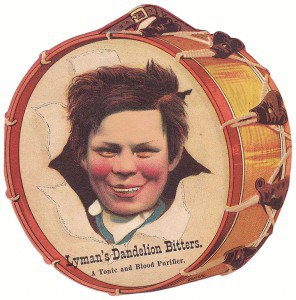 Caldwell Sweet seemed destined to be druggist. He initially clerked in a drug store in Bangor at B.F. Bradbury in 1869 and then moved to J.F. Patten in the same capacity. Sweet was prosperous in business from the beginning…

---
Dandelion & Wild Cherry Bitters – Iowa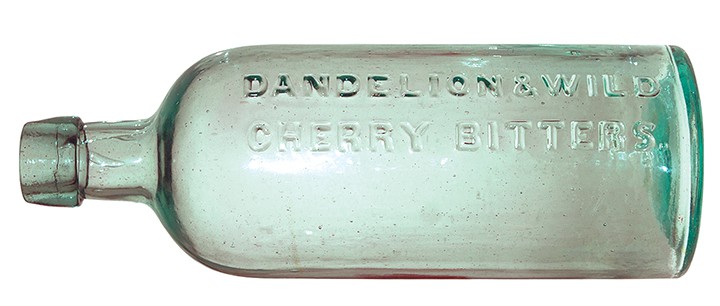 The Dandelion & Wild Cherry Bitters has been sitting on a shelf in my aqua bitters room since 2004 when I secured it in a Glass Works Auction. A plain but really neat bottle that is rather old. This is another installment in our Dandelion Bitters series.

---
Bond's Dandelion Bitters – Fort Wayne, Indiana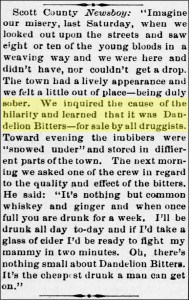 A short post this morning looking at yet another unlisted bitters. This time it is the Bond's Dandelion Bitters from Fort Wayne, Indiana. The bitters is dated 1868 along with the support advertising. There is scant material and information available and certainly no surviving bottle examples, at least that I am aware of.

---