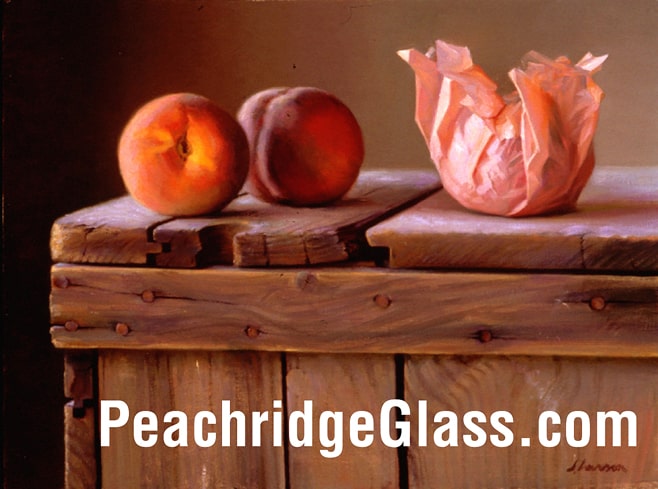 This site is presented and hosted by Ferdinand and Elizabeth Meyer. We hope to share our passion for collecting and dealing in Early American Antique Bottles and Glass. Please contact us for any information and or bottle and glass news for post consideration. I am also looking for guest authors as I shift to the Virtual Museum project. Thanks!
---

---
A spooky Halloween Greetings from Peachridge Glass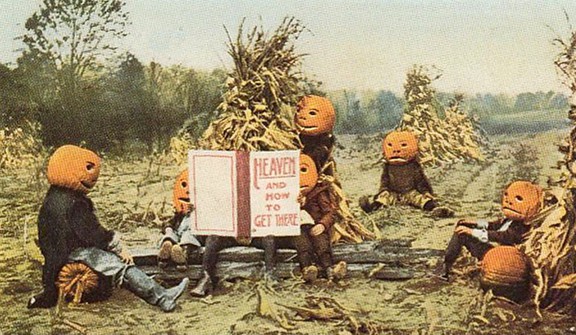 ---
Deutenhoff's Swiss Bitters – Savannah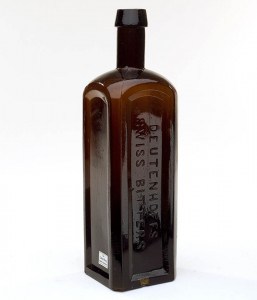 George owned a drug store called G.M. Heidt Company located at 145 Congress at the corner of Whitaker Street in Savannah, Georgia. He resided in Marietta, Georgia, just north of Atlanta. Heidt apparently designed an early model of a soda jerk machine for his drug store, and one report said that he invented the original formula for Coca-Cola, which was stolen at an expo some time later. I can not validate this information and doubt it.

---
A pair of

S. Rosenthal & Co.

NYC bottles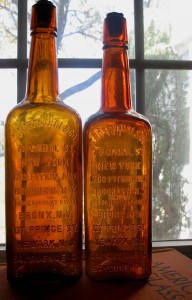 "Perhaps you can see what you can come up with on the two S. ROSENTHAL & CO. square whiskies in that last picture. The larger one is a 30 oz. and the other, a 24 oz. The Corning Museum of Glass has one in their collection which was donated, but other than that, I've never come across any others. Your resources are MUCH better than mine and I have faith that you'll be able to come up with a little information on these bottles. Thanks Ferdinand. Take care and have a good night."

---
Leadville Colorado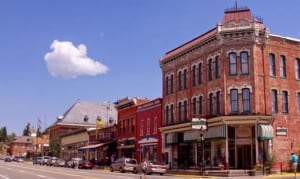 "Leadville has played an important role in Colorado history for more than 150 years. Leadville's mining history began in 1860 with the discovery of gold south of town, which made 2010 the 150th anniversary of the Gold Rush. Roughly 8,000 prospectors arrived in "Oro City," their name for the makeshift town of tents and cabins. During the next five years, more than $4 million worth of gold was… Read at Western Whiskey Gazette
---
Did you see that Schrader's Highland Bitters?

[Updated]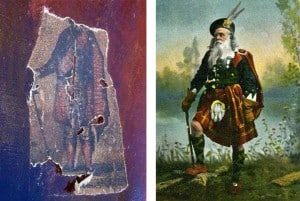 Gawd…I missed this one on eBay… hook, line and sinker, closing on Saturday, 22 October at 10:35 am. Well maybe that is part of the reason. This unlisted Schrader's Highland Bitters closed on eBay last week with 20 bids and a closing price of $1,125. SunshineAntiques from Browning, Missouri was the seller.

---
Looking at a

Burdock's Blood Bitters

Rebus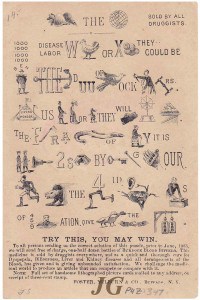 Ferd, Sorry, nothing for the Chicago Hunki Dori. I do have something for your Bath, Maine, Hunk (hairy eye) Dori post. Using the eye in place of the letter "i" is a form of a Rebus puzzle. I have seen them on a number of trade cards. Attached is one on the back of a Burdocks Blood Bitters card…

---
November

|

December

issue of Bottles and Extras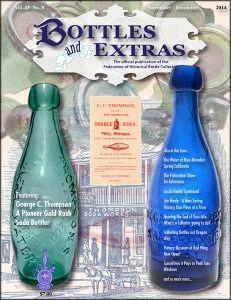 The November-December issue of the FOHBC Bottles and Extras is in the mail. 72 pages, plus covers including Pottery Museum of Red Wing – Now Open, Jim Healy – A Man Saving History One Piece at a Time, The Federation Show – An Adventure, Sometimes it Pays to Peek into Windows, George C. Thompson – A Pioneer Gold Rush Soda Bottler, The Water of New Almaden Spring, California, Nearing the End of Your Life: What's a Collector Going To Do?, Jacob Hoehn – Continued, Collecting Bottles Out Oregon Way, There's Gold in Them Thar Hills and so much more. Become a member of the FOHBC
---
An unlisted

Anderson's Wine Restorative Bitters

reference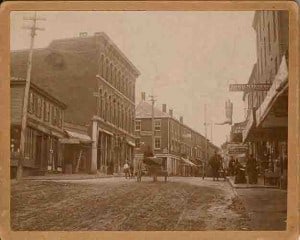 While visiting some of the Bath, Maine city directories the other day for the Hunk Dori Bitters post, I came across an advertisement below for Anderson's Wine Restorative Bitters. The proprietor was S. Anderson & Son who were druggists and apothecaries at the corner of Front and Arch Streets in Bath, Maine. The old photograph above, from the Maine Historical Society, shows Front and Arch streets in 1892. If you look closely, on the right side of the street…

---
Hunki Dori Bitters – H.B. Matthews – Chicago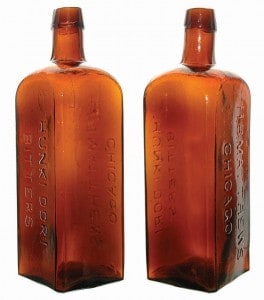 It seems fitting, as a follow-up to the recent Hunk Dori Bitters post, to develop a post for another Hunki Dori Bitters. This brand was made by H.B. Matthews in Chicago, Illinois. The Carlyn Ring and W.C. Ham listing in Bitters Bottles is as follows…

---
Hyde & Gay – Hunk Dori Bitters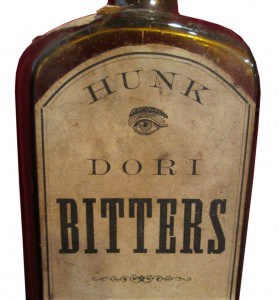 Here is another surprise that is up on eBay now. Another unlisted bitters! The pictures have been cleaned up a bit and have been taken from the eBay listing. Alerted by Frank Wicker and Bill Ham, the Hunk Dori Bitters by Hyde & Gay in Bath, Maine is labeled and oddly enough, is missing the "I" in "HUNKI" compared to another HUNKI DORI BITTERS from Chicago (see below). Hunki Dori means "everything is fine" or "satisfied" or something like that…

---
FOHBC 2016 Sacramento Town Hall Meeting

[NOTICE] The FOHBC is planning to conduct a WebEx Town Hall Meeting for all interested parties with the next two weeks for the 2016 Sacramento National Antique Bottle Convention. It will most likely occur at 8:00 or 9:00 pm CST to accommodate west coast participants. Please RSVP when the date is given. Comments now can be…

---
Coleman's Tonic Bitters – Portsmouth, New Hampshire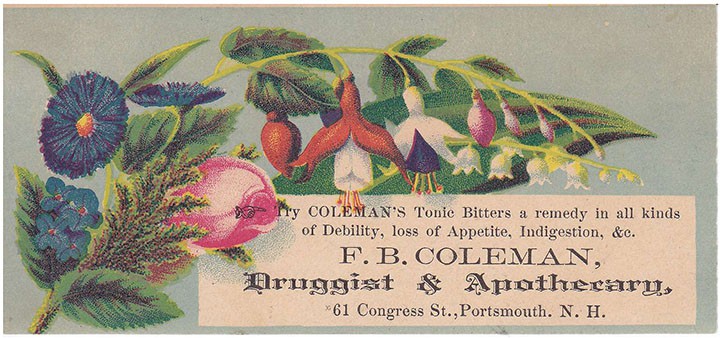 Enjoyed your post on Coleman's Bitters. While I don't have a trade card for these bitters, I might have something you could possibly tie in. It is a trade card for an unlisted Coleman's Tonic Bitters. These bitters were prepared by F.B. Coleman, Druggist, 61 Congress St., Portsmouth, New Hampshire. Perhaps a family member? In your post, you mentioned an historical connection…

---
Announcing Daniel Auction Company as the auctioneer for the 2015 Chattanooga National Antique Bottle Show

The Federation of Historical Bottle Collectors (FOHBC) is proud to announce that the Federation Auction for the 2015 National Antique Bottle Show in Chattanooga, Tennessee has been awarded to the Daniel Auction Company of Sylvester, Georgia. Owner's Jim and Pattey Daniel have been antique bottle, glass and pottery collectors for 30 plus years. They have also…

---
Alexander SaVille and his famous Delaware Bitters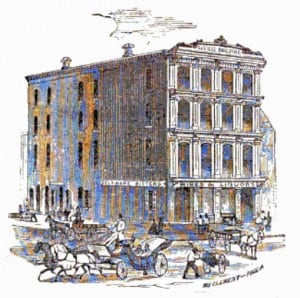 I like the illustration of the SaVille Building in Wilmington, Delaware. Could there be a bitters story here? You bettcha! Look carefully at one of the storefront sign panels and you will see "DELAWARE BITTERS" on one side of the building. Alexander SaVille was the owner of this building at 512 Market Street where he sold wine and liquor. He was also the sole proprietor of the famous "Delaware Bitters". Someone please find me an example!

---
Live Auction At Hecklers Friday, October 24th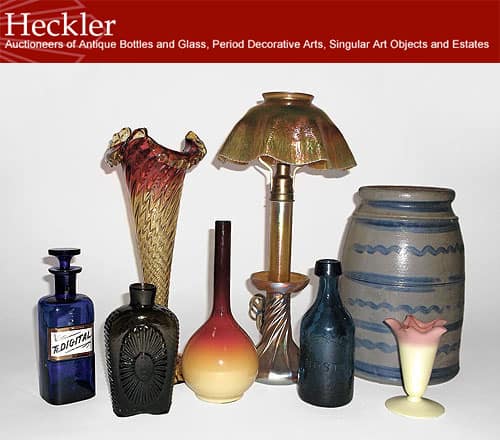 Live Auction – Friday, October 24th at Noon. Items Include: Early Glass, Art Glass, Stoneware, Demijohns, Historical Flasks, Bitters, Hat Whimsies, Utilities, Soda Water Bottles, Medicines, Whiskeys, Inks, Bottle & Antique Book Library, Pitkins, Food Bottles, Mineral Water Bottles, Pickles & More. INFO
---
Dr. A. W. Coleman's Anti-Dyspeptic and Tonic Bitters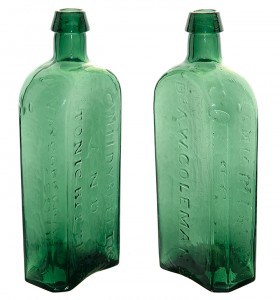 As a follow-up to the J. W. Hutchinson's Tonic Bitters from Mobile, Alabama post, I thought it would be nice visit the Dr. A. W. Coleman's Anti-Dyspeptic and Tonic Bitters, also from Mobile. Actually it is thought to be the oldest embossed bitters from this city. My example is pictured to the left and is from the American Bottle Auctions – Grapentine I sale in April 2007.

---
J. W. Hutchinson's Tonic Bitters – Mobile, Alabama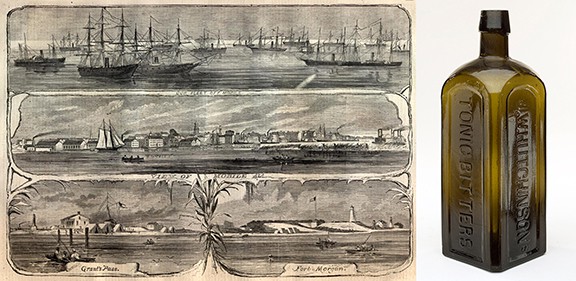 I suspect many bitters collectors have noticed that spectacular example of a Hutchinson's Tonic Bitters from Mobile, Alabama in the current American Glass Gallery Auction #13. No sense hiding it. The right people know. I used the nice full-page Civil War illustration above from March 26, 1864 in Harper's Weekly to set the tone for this piece.

---
Plan Your FOHBC 2015 Chattanooga National Antique Bottle Show Vacation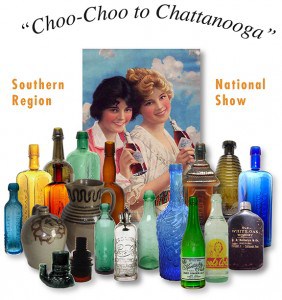 Start planning your vacation now and make the most of your trip to the 2015 FOHBC National Antique Bottle Show in Chattanooga, Tennessee. If you are flying into the Atlanta Hartsfield Airport, here are some suggestions. If you're interested in aviation, visit the newly renovated Delta Heritage Transportation Museum. It houses one of Delta's first DC-3'S, the Boeing 767 purchased by Delta employees and given to Delta, and a Boeing 737…

---
Figaro, Figaro – Griffith's Opera Bitters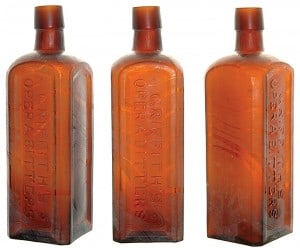 Wait to you see the gorgeous example of a Griffith's Opera Bitters that John Pastor has in his American Glass Gallery Auction #13, now open for bidding. No, that is not it at the top of the post. That is my homely (to some) example of this very rare bitters that is a raw as the day it was found. I left it alone as it was the only one …

---
A labeled Mett (or Alett) Stomach Bitters from Joliet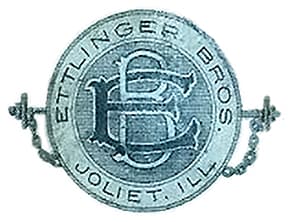 Aaron Ellinger (1840-1884) was a cattle dealer in Joliet, Illinois. He had two sons, Benjamin S. Ettlinger and Ralph Carl Ettlinger who first worked together in a liquor store. Eventually the wholesale liquor business was called Alexander and Ettlinger (Robert Alexander and Benjamin Ettlinger) from 1902-1908.

---
Dr. Forest's Tonic Bitters – Harrisburg, Pennsylvania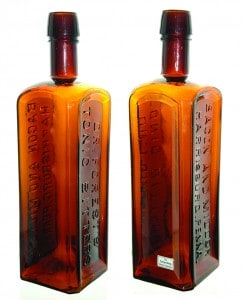 The Dr. Forest's Tonic Bitters from Harrisburg, Pennsylvania is one tough brand to figure out. I mean, who is Dr. Forest and why is Bacon and Miller embossed on the bottle? I picked up my example (pictured below) in the Glass Works Auction #83 and it was ex: Dr. James Carter. Mr. Carter apparently specialized in "Dr" embossed bottles. I have many top examples from his collection. What brought this extremely rare brand to life…

---
2016 Sacramento National Antique Bottle Convention Logo Designs

|

Part 3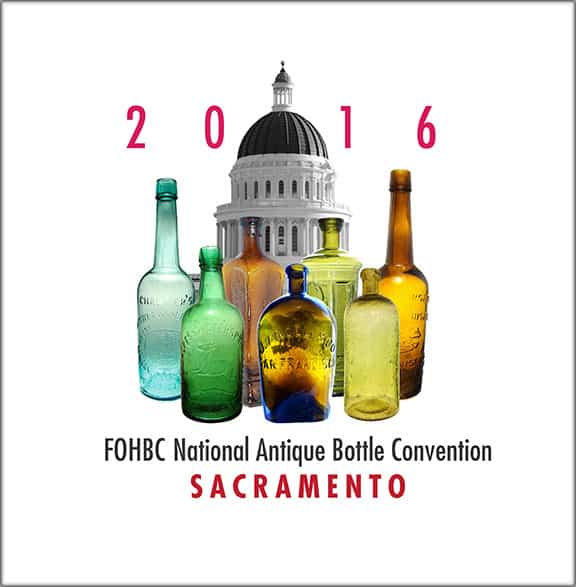 The third part of these logo exploration series using Sacramento icons capitalizes on the California State Capitol. This work is in preparation of marketing material for the 2016 Sacramento National Antique Bottle Convention. Located in Sacramento, the Neoclassical structure was completed between 1861 and 1874 at the west end of Capitol Park, which is framed by L Street to the north, N Street…

---
Ask for Winter's Stomach Bitters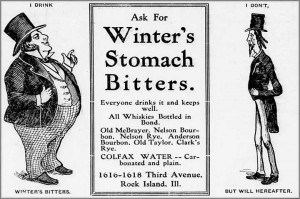 I love this advertisement above for Winter's Stomach Bitters. I suppose if you drink the bitters you get a big stomach! This month, Greg Spurgeon has the very rare, Winter's Stomach Bitters in his current North American Glass auction. I really have not thought very much about my example in some time so I thought we needed to find out about the brand.

---
Try Uncle Tom's Bitters! – Trevorton, Pennsylvania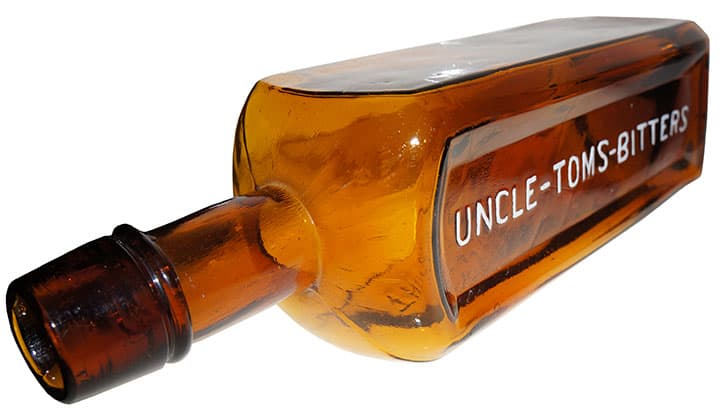 Uncle Tom has been popping up in bitters news lately with two examples of the bitters appearing in the current North American Glass auction. I was also able to pick up an example (pictured above) from the great John Feldmann collection…

---
Meet Chef Johnny Pol "The Foodman"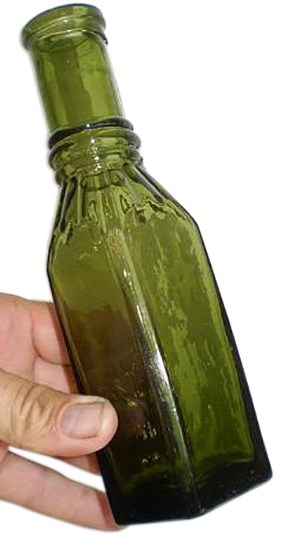 I was very fortunate to know some diggers and we did some research and found this site on the Sacramento river north of Old Sacramento, California. This was an early stagecoach stop and turn-around for flat bottom boats from 1853 to 1878 when it burned down, and was never rebuilt. There were dozens of great western whiskeys found along with sodas, medicines, pot lids, and many foods from the restaurant and hotel on the site. We dug over a 3-year period as to keep it on the low. We sold off many good bottles from that site, and I will share some of the finds that I dug myself over that time.

---
Fine, Fancy Figural Bitters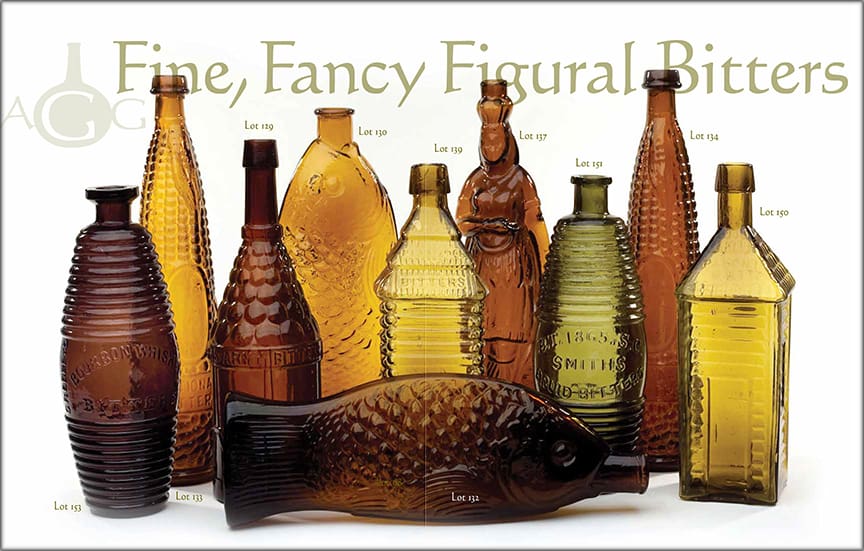 Fine, Fancy Figural Bitters in the upcoming American Glass Gallery Auction 13. Catalogs have been mailed according to John Pastor. I pulled this full-page spread from within. Auction #13 opens Wednesday, October, 15, 2014.
---
Dr. Whitney's Bitters – Olean, New York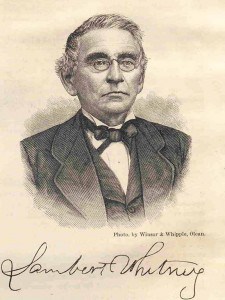 New York collector, Mark Warne contacted me about a bitters bottle I was unfamiliar with. I just may add it to my collection! Mark was kind enough to send a few pictures. To this bitters collector, this is exciting news. The Dr. Whitney's Bitters from Olean, New York is obviously a later bottle but how late? Were there earlier versions?

---
Drakes Plantation Bitters on 1874 Stereoview Mock Medical Scene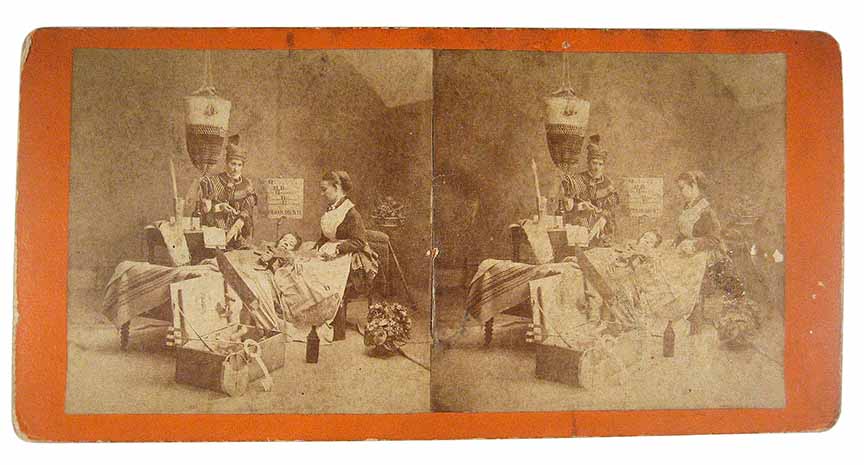 Frank Wicker over at BottlePickers.com tipped me off to this wonderful, yet bizarre stereoview card on eBay with a mock medical scene, a wizard of some sort, some poor sick lad and a Clara Barton wanna-bee. Take a moment and really look at all the props and symbology used in the image. This all takes place at "She Bang Hospital".

---
The Auction is Open – North American Glass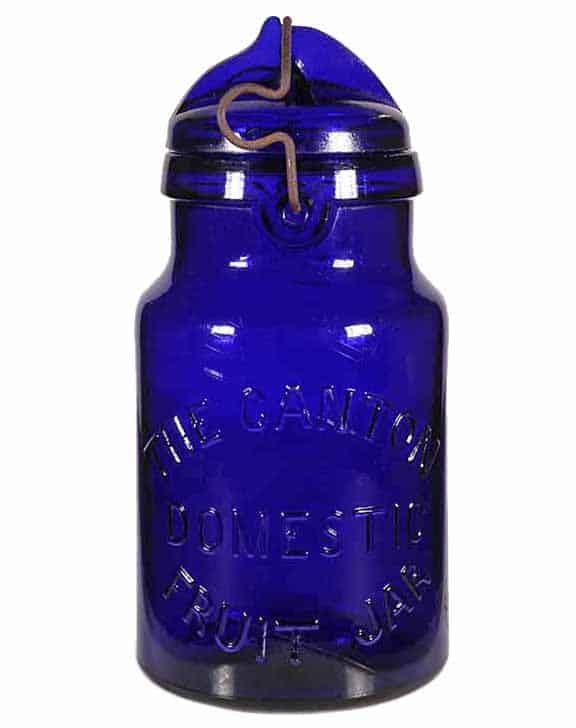 Dear Collector: Our Fall collector's auction is now open for on-line bidding. This sale includes something for everyone, featuring 515 quality lots in eleven different categories, with jars, bottles, flasks, stoneware, and more. Click here to browse pictures & listings, and to place your bids: www.gregspurgeon.com/auction If you have any questions about registration or have forgotten your password or username, please feel free to contact us. Best regards, Greg Spurgeon NORTH AMERICAN GLASS xx78@msn.com 812.466.6521 Read: Canton Domestic Fruit Jar – circa 1889 – Red Book #565, valued at $10,000+ in cobalt – in depth article -http://www.sha.org/bottle/pdffiles/Canton.pdf
---
The Great Aqua Trio – Russian Imperial Tonic Bitters, National Tonic Bitters & Dunbar & Co. Worm Wood Cordial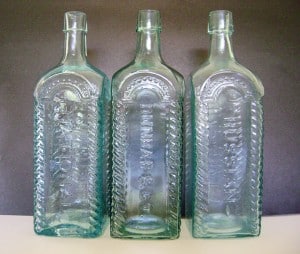 I think you all know how much I like aqua bottles. Though not a color, they certainly can add depth to a collection. I even dedicate one room to aqua bitters. When the sun hits them at a certain time, they project a rainbow on my walls and bed spread. Now that's color! Check out these super pictures that just came in from California collector, Dave Kyle and his son Brad. Great job guys!

---
2016 Sacramento National Antique Bottle Convention Logo Designs | Part 2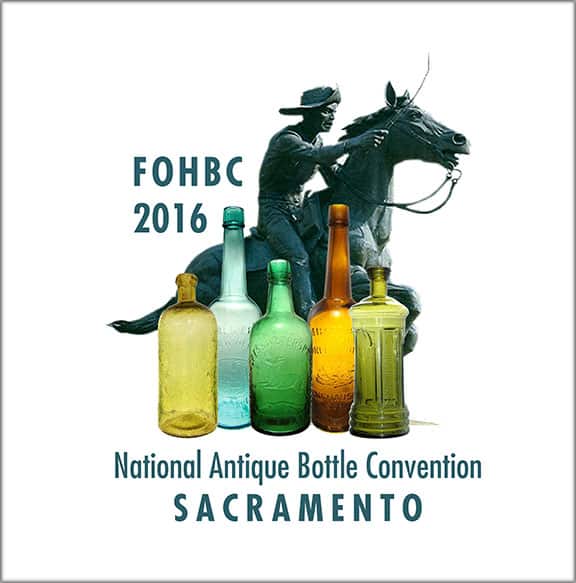 The concept of using a Sacramento sculpture to anchor the design is the theme here. Here are some new, rough, low-res, round 2 logo concepts for the 2016 Sacramento National Antique Bottle Convention. These concepts revolve around a well-known Sacramento Pony Express sculpture. The last stop for the Pony Express was Sacramento. See Part 1 Logo Concepts. Let me know what you think.

---
Cobalt bottle embossed W. S. Merrell & Co. – Cincinnati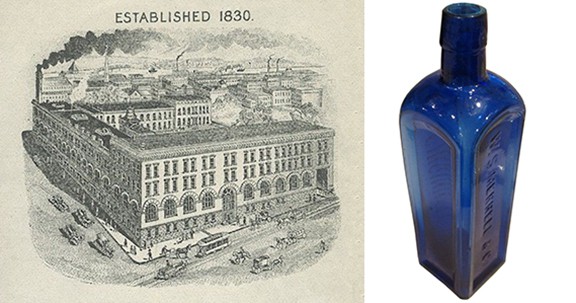 Ferdinand, I have sent photos of a bottle unknown to me. It is typical Bitters shape, deep cobalt blue but is only embossed W S Merrell & Co and Cincinnati on the reverse panel. He was a druggist from the 1850s through the 80s. I am trying to figure out if it is a Bitters or a Medicine. Thanks for any help you can give. Dennis Huey

---
2016 Sacramento National Antique Bottle Convention Logo Designs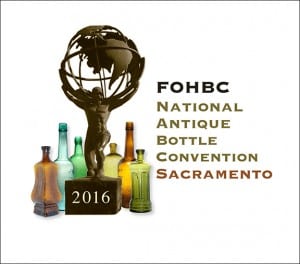 I have used a Sacramento sculpture image of Atlas Holding up the World. This is symbolic of the FOHBC unifying the collecting hobby and clubs. This is also a "going back to our roots' convention as the Federation originated in Sacramento. Please review the art and let me know your favorite. Send to fmeyer@fohbc.org. Gracias! PS: Do not be fearful that there is no FOHBC logo or lots of bottles.This can be added as support imagery.

---
Chief Two Moon Meridas and his Bitter Oil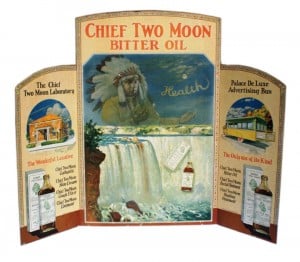 In 1921 Meridas moved to a larger house and established an extensive and prosperous herb business in a storefront at 1898 East Main Street. He built his own laboratory at 1864 East Main Street in 1925. His business increased to such an extent that he had a fleet of buses for his salesmen and an airplane. He took money only for his products, not his advice. He spent lavishly but also surreptitiously donated to charities and to the poor.

---
Anti-Malarial Bitters, D. T. Everts & Company – Petersburg, Virginia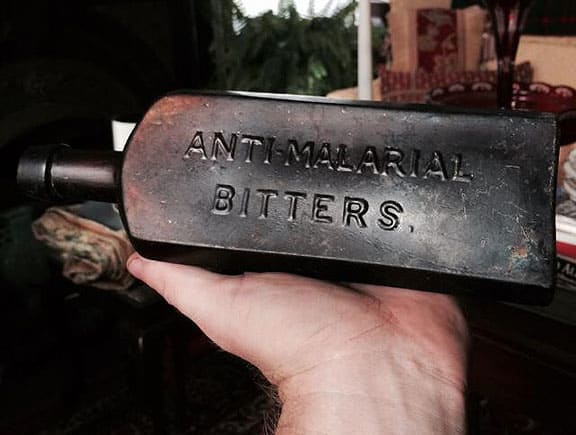 Tom Leveille sent me pictures of the only known example of the open pontil and triangular Anti-Malarial Bitters in a private Facebook message yesterday. The bottle is in the Hunter Cox collection. Boy this is an exciting bottle. Put out by D. T. Everts & Company in Petersburg, Virginia, this bottle is not even pictured

---
Herman Rosswinkle's Crown Bitters – Cincinnati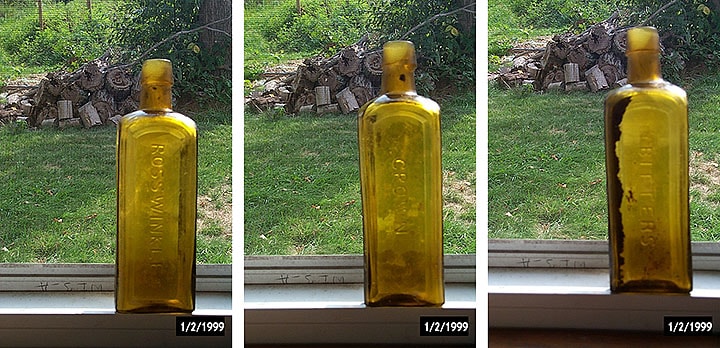 Here is another great bitters that I picked up as a floor sale at the 2014 Lexington National Antique Bottle Show. The Rosswinkle's Crown Bitters. I had been tracking this example and was glad to bring it home. Highly whittled and a great color, it will proudly join my collection.

---
So who made Burkhart's Homestead Bitters?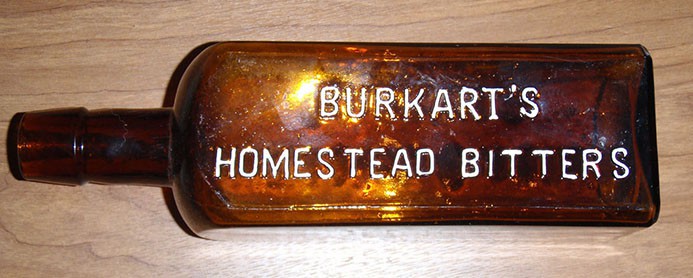 Sometimes you just have to throw something at the wall and see if it sticks. I picked up the extremely rare Burkhart's Homestead Bitters back in June on eBay. Both pictures are from the seller. The bottle is from Fond du Lac, Wisconsin. Just today I opened the box to look at the bottle. I am not kidding, I am so backed up with work, travel and Federation business, that I have not opened or inspected some incoming bottles. I feel a bit foolish but it is what it is.

---
The Federation Show – An Adventure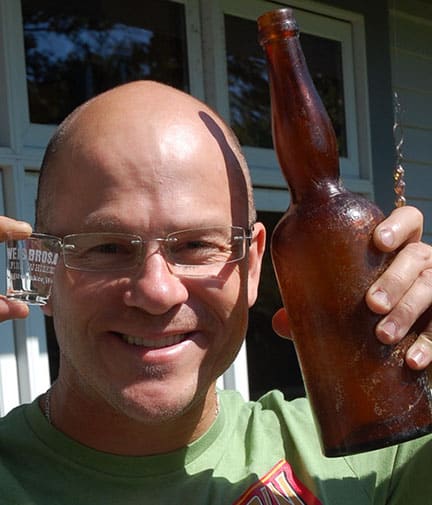 I love going treasure hunting adventures with my children. We go up the river looking for arrowheads and whatever else we can turn up. Driving to Lexington with two cameramen from iNET made me appreciate how truly gracious, responsible and mature my four, six and eight year old are. The trip reminded me how much I really love and appreciate my new and old bottle friends as well.

---
My "Fall" grouping of 1/2 pint Union Clasped Hands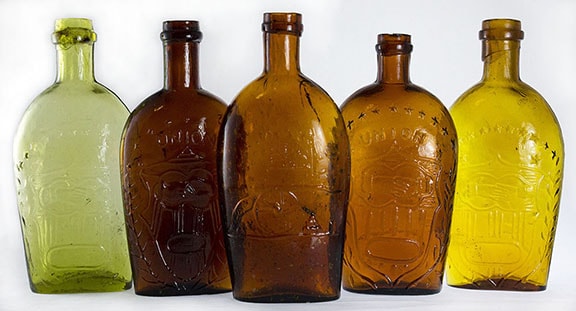 As I returned to Houston yesterday, I noticed the temperature was a good 15 degrees cooler than when I left earlier in the week. Here at Peach Ridge there are even some early leaves on the ground from our Pecan trees. Yes Autumn is finally here, my favorite time of the year. What a nice way to usher it in with some spectacular Union Clasped Hands historical flasks from Troy Scafuro.

---
Woodgate & Company – Club House Gin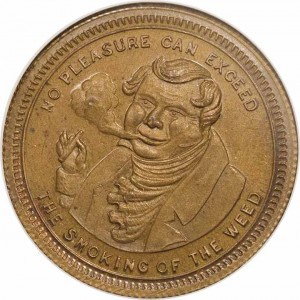 NO PLEASURE CAN EXCEED THE SMOKING OF THE WEED. Ken Edward had this cool Woodgate & Co., Club House Gin bottle at the Downieville Bottle Show this past weekend. Ken let me photograph it (see above) while I said I would try to track down some information. Apparently some shards and a few complete examples have been found on the west coast while another example, and maybe more, were found in the New York area.

---
The Great Comet of 1811 & Comet Wine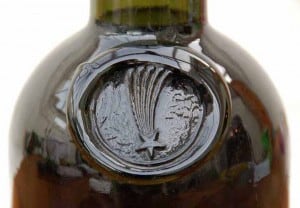 Ken Edward pulled me aside at the Downieville Bottle Show this past weekend and showed me what he called a "Halley's Comet bottle" with an embossed comet seal and the date 1811 on a portion of the label. Ken was close but this is not Halley's comet but rather the "Great Comet of 1811″.

---
California Wine Bitters – From the vineyard of Kohler & Frohling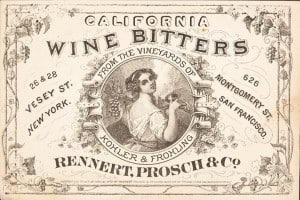 Here, everything is not as it should be. The first example of the California Wine Bitters lady's leg pictured below was spotted on a table at the Downieville Bottle Show and was recognized as a potential label applied to a bottle, meaning not an original application. The label was just too fresh and clean. The dealer noted this. The bottle stayed on the table though I was intrigued by the graphics.

---
An unlisted Dr. Abbott's Bitters by C. A. Richards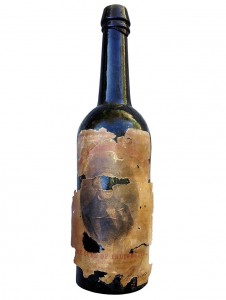 Here is another labeled bitters that was presented to me by Jerry Forbes at the Downieville Bottle Show. With a label in rather poor shape, it is still exciting none-the-less because we have an unlisted Dr. Abbott's Bitters. The bottle was found in Sacramento in an attic in 1999, off of J Street, by a contractor who sold the bottle to Jerry.

---
Hufeland Swiss Stomach Bitters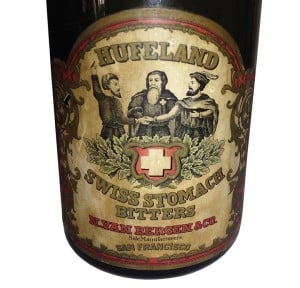 Christoph Wilhelm Friedrich Hufeland was a German physician. He is famous as the most eminent practical physician of his time in Germany and as the author of numerous works displaying extensive reading and a cultivated critical faculty. Hufeland was born at Langensalza, Saxony and educated at Weimar, where his father held the office of court physician to the grand duchess.

---
Can the coloring effects of irradiated glass be reversed?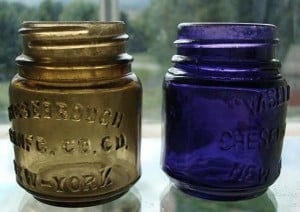 We know that the color of glass can be changed by exposing it to high energy radiation. Clear glass containing manganese will turn purple and clear glass containing selenium will turn a grey/amber. A number of sources have reported that this coloring effect can be reversed by exposing the glass to high temperature. Is this truth or myth? READ
---
Cool Embossings 3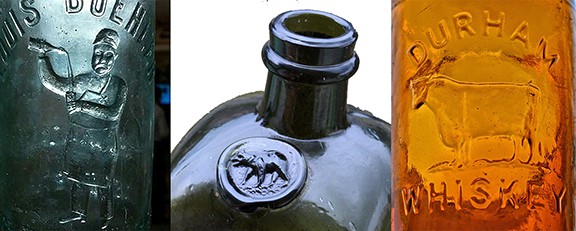 Lions, Bears and Bulls oh my. This is the third post in the series titled "Cool Embossings". See Cool Bottle Embossings and Cool Bottle Embossings 2. I carry these images around in my digital purse, and periodically want to post. Please send me any pictures you have of cool embossings.

---
The extremely rare

Maynard's Star Bitters

from Pittsburgh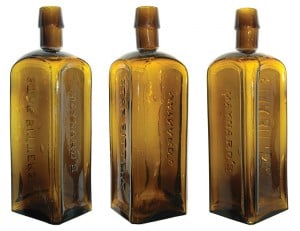 What is exciting is that five of these bottles were found in a dig in Beaver Falls, Pennsylvania. At that time, the bottle was a new find and unlisted. Two were broken and two had some damage. Four were in amber. My example came out in great condition and in unique coloration with olive amber tones. You can read about the dig and discovery in the July/August 2008 issue of the FOHBC Bottles and Extras.

---
Two California collections at Holabird's Western Americana Collections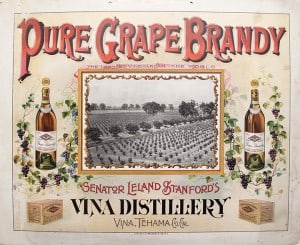 Fred was very excited to hear from you. He says 'hi.' I attached a list of items for sale in the major wine, whiskey, and brewery related ephemera, paper label bottles, California wine menus, etc in the next e-mail. I have also included a couple of photographs that might be useful. The descriptions for those photographs are below…

---
Was there really a Dr. Robertson?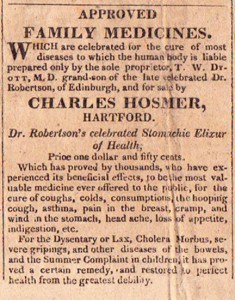 As Thomas Dyott, early in his career, had expanded from blacking to nostrums, so later he enlarged his enterprises again and again. Living in the day of a barter economy, the shrewd merchandiser accepted produce for patent medicines. Soon he was dealing in such things as tobacco and turpentine, peach brandy and rum, candles and castor oil. The scope of his nostrum sales required thousands of bottles, an article he had first required while vending blacking…

---
See a Bryant's Stomach Bitters "Spinner"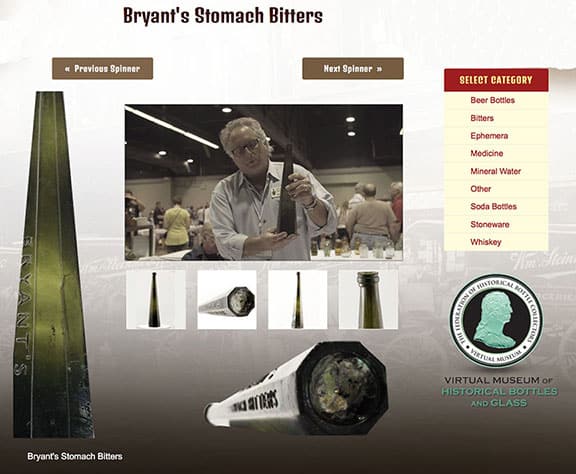 'In work' progress from Steven Libbey and his teams 'test' work on developing models and spinners for the virtual museum. The cone was filmed at the recent Lexington National. Edit work was done in the studio. This model would be how a typical bottle might be displayed in the FOHBC Virtual Museum. This includes a write-up, pictures, video and spinner. Pretty exciting. SEE CONE
---
Amazing 8-Sided Utility Bottle…Is It Baltimore?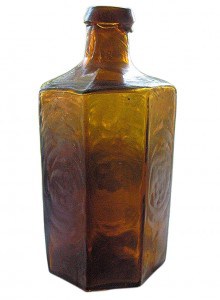 Hi Ferdinand, Here is an amazing eight sided medicine (ink?) found in an early 1960s dig in San Francisco. While it has no embossing, it is crude with a tubular pontil and trails of black slag throughout. The whittle effect is amazing. It is 6 1/2″ tall. I have been told that it may be Baltimore blown? Any thoughts? Thanks, Dale Mlasko

---
The Lash's Gentleman in a Hat –

Mystery Solved!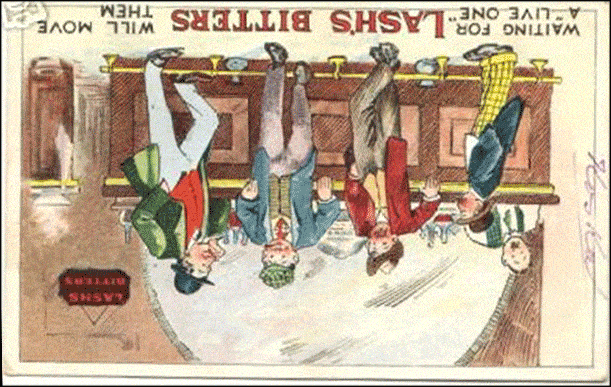 Why am I interested in the Lash Bitters? A collector found 12 of these T206 cards that appeared to be from an original test sheet used at the ALC factory. The cards are all hand cut and are missing a few layers of ink and oddly have several unfinished Lash Bitter's post card fronts and backs printed on them. We are thinking this unfinished T206 sheet was used to test the printing of the Lash Bitters post cards.

---
Bertinguiot… French or American Inks?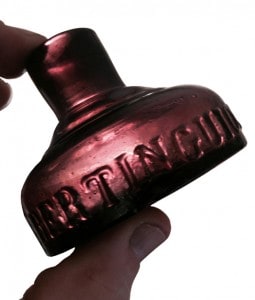 Hi Ferdinand, I recently came across this light purple puce Bertinguout ink. It has an open pontil and was dug in San Francisco in the 1960s. I have seen these in many shades of olive and green and one in cobalt blue. Never in this color. I believe these were originally thought to be French in origin but now I believe they are known to be American? I would appreciate knowing if this color variant is unique or if there are more out there. Regards Dale

---
Catawba Bitters labeled lady's leg from New Haven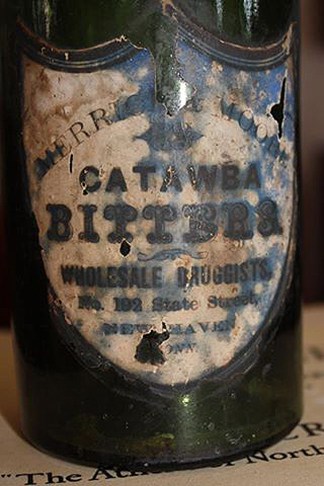 David Jackson posted these three pretty nice pictures of a Catawba Bitters green lady's leg figural bottle with a label from Merrick & Moore Wholesale Druggists at 192 State Street, New Haven Connecticut. Not familiar with this one. What is interesting here is that noted bottle authority, Dr. Richard Cannon once said in an article called…

---
2013 Manchester National Educational Display Videos
Alan DeMaison (past FOHBC Business Manager) has been working hard of late adding videos of the educational displays from the great 2013 National Antique Bottle Show in Manchester, New Hampshire. These selections will join the group of 2012 FOHBC Reno Expo and 2009 National in Pomona, California. We hope you enjoy his work. We have all learned so much from each of them! Where else will you get the displayer talking about their prized collection. We hope you enjoy! SEE VIDEOS
---
Salmon's Perfect Stomach Bitters – Manhattan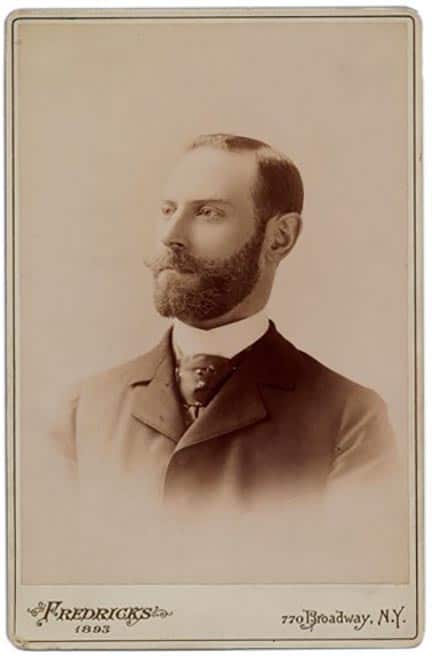 Not much to go on here but I look at New York as the example was dug there. Bingo! I quickly figure out that we are talking about Maximillian or Max Salmon. Max was Canadian born and spent time in his early 20′s as a liquor store clerk in Baltimore. Finding a wife in New York City leads him to move to Manhattan and become a wine and liquor merchant in the early 1890s.

---
The E. Julin – ABO football sized torpedo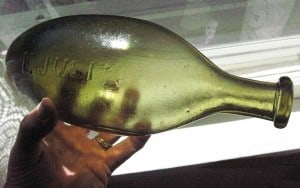 Hi Ferd, I recently picked up this huge torpedo and have been unable to find anything about it. It is Jurassic looking in age, and is a gigantic 10″ tall and as large as a football. It looks 1840-ish to me but I honestly have no clue. None of the collectors I have asked had ever seen one before. The embossing reads " E. Julin" Reverse reads "ABO." Any thoughts?

---
Pawnee Bitters and the Pawnee Indian Medicine Co. – San Francisco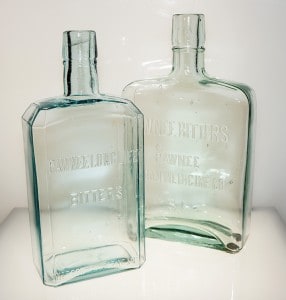 I was able to add a second Pawnee Indian Medicine Company bottle to my collection at the Lexington National. I already had a very rare Pawnee Bitters from the Feldmann collection. This new bottle is also aqua and is a different rectangular shape. It is embossed Pawnee Long Life Bitters and is rated extremely rare. Both are from San Francisco and are pictured above. Was this just another example of using an Indian reference in a bitters product name or is there a real Indian story here? You bet there is!

---