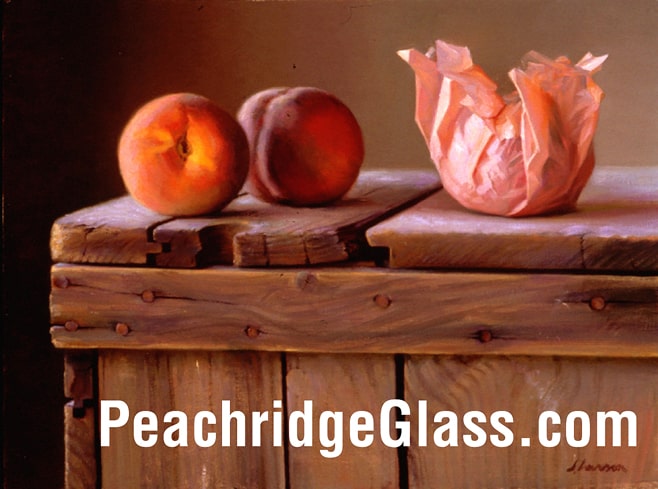 This site is presented and hosted by Ferdinand and Elizabeth Meyer. We hope to share our passion for collecting and dealing in Early American Antique Bottles and Glass. Please contact us for any information and or bottle and glass news for post consideration. I am also looking for guest authors as I shift to the Virtual Museum project. Thanks!
---

---
An unlisted Old Hickory Celebrated Stomach Bitters – New Orleans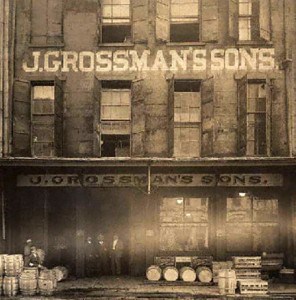 It was real nice running into and jawing with Courtney Frioux from New Orleans this past weekend at the Houston Antique Bottle Show. These days, this is one of the main reasons I like going to shows as I tend to find fewer and fewer new bitters to fit in my collection while wandering the aisles. What I do find is dialog and stories that might lead to pictures of rare birds and who knows what else?

---
Workin' the 2014 Houston Antique Bottle Show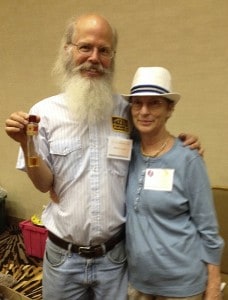 This years Houston Antique Bottles, Advertising & Collectibles Show and Sale served as a warm-up for me as the FOHBC Lexington National is in less than two weeks. This past Saturday, I had my two tables in the corner of the Crown Plaza Hotel ballroom and was hooked up to power my lap top and light table.

---
June Findlay Bottle Club Newsletter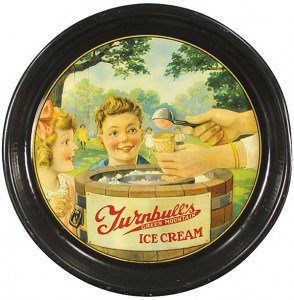 From Marianne Dow: Please note that this newsletter is pretty long, chock full of lots of great photographs. Feel free to share this email with your friends. READ
---
Lash's Pineapple-Ade Delicious & Refreshing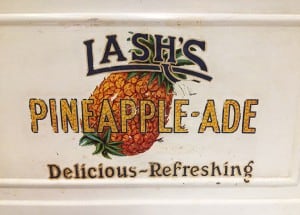 I suppose it would be nice to report that I picked up a super nice bitters at the Houston Antique Bottle Show yesterday but I did not. I ended up playing with my bottles and taking pictures to pass the time between talking bottles, selling FOHBC memberships and working on my lap top.

---
Corn n' Fish at the 2014 Houston Antique Bottle Show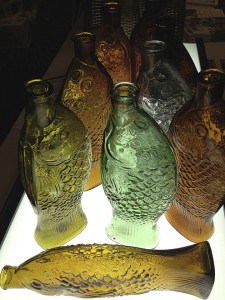 Some of you may remember that the past few years I have set up at the smallish Houston Antique Bottle Show and used the opportunity to bring some bottles and show off. I admit it. Not many figural collectors here so I use the opportunity to create a few bottle settings on a light box and play with my iPhone. This year was I was roaring with Rohrer's, fishing for FOHBC memberships and knee-deep in corn.

---
Lexington National Show Souvenir Program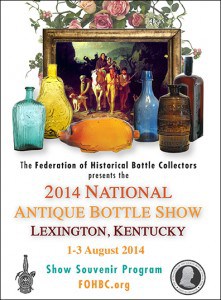 The FOHBC 2014 Lexington, Kentucky National Antique Bottle Show Souvenir Program is at the printer. Here is a digital version of the program. Click to Read. It is not too late to get a table, get banquet tickets or make plans to attend. Tons of fun and unique opportunities that you will not see at any other bottle show.
---
Electric Bitters and Electrified Ginger Ale: Were they really "zapped" or was it just more quackery?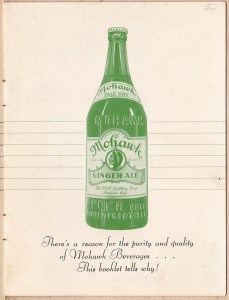 Reading the most recent Electric Bitters post on PRG got me thinking about this "zapping" thing. With the hundreds of 19th-century patent medicine concoctions that were ineffective and perhaps injurious, why might H.E. Bucklen's Electric Bitters be any different? And what's this about an "Electrified Ginger Ale"? Let's look at Bucklen's label first…

---
ABCR Auctions #17 Opens Today!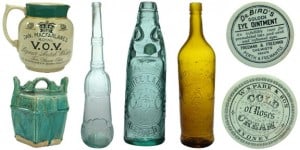 Auction 17 Online. 983 lots covering all bottle collecting fields plus some interesting other collectables, ceramics and ephemera. The most important detail! Online bidding begins: Wednesday 16th July 2014, 8 pm (Melbourne Time). View Catalogue
---
Genuine Black Walnut Bitters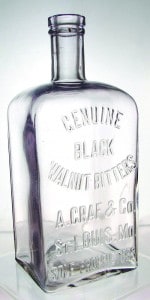 A business existence of more than thirty-four years is in itself a proof of the reliability and excellent standing of a firm and Mr. August Graf can look back over such a long period, spent in active business life at the head of its own establishment, founded by him in 1867 and ever since conducted under his personal management and at the same place.

---
Bottle Great Elvin C. Moody Passes On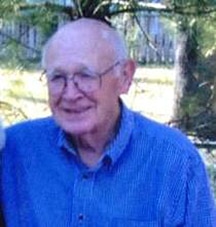 Just found out that long time collector Elvin Moody passed away. See obituary. Read: Elvin Moody Bottle Collection pictures surface!
---
A Quite Different Un-embossed Drakes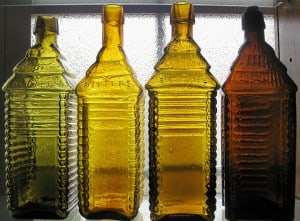 So, I was reading one of the articles on an un-embossed Drake's that I also would like to comment on. I have one of these rare beauties, BUT with mine, there are a few differences (which you'll see in the pictures) that I feel places mine in a class by itself. This one has one full panel for the label. The others have logs. All four corners are chamfered. AND, now for the icing on the cake. A nice big red iron pontil. How many of those do you think might be out there?

---
That's a Bunch of Bull!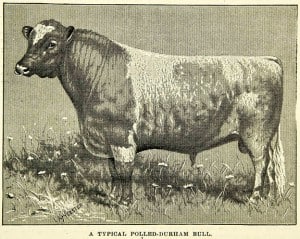 The Durham is an old breed, dating back to late 18th century England. They were initially prized for both dairy and beef production. Later, they were bred specifically for meat production. The Durham ultimately became what we now know as shorthorn cattle. But we're not talking about steaks here, although a good bourbon and a good steak do go hand in hand around my place. Read at Western Whiskey Gazette.
---
Heckler Live Auction This Friday!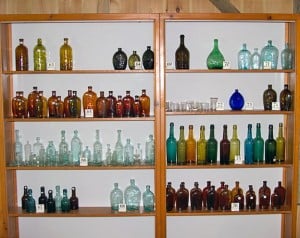 Live Auction – Friday, July 18th at Noon. Preview: July 14th – 17th from 9:00 am to 5:00 pm and July 18th at 11:00 am. Early American Glass, Bottles, Historical Flasks, Bitters, Utilities, Soda Water Bottles, Medicines, Whiskeys, Inks, Whimsies, Demijohns & More.
---
Glass Works Auctions "Thoroughbred" Auction now online!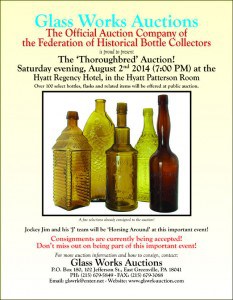 NOW ONLINE! The FOHBC 2014 National Antique Bottle Show 'Thoroughbred' Auction #103. A live auction of over 100 items! Opens for bidding Monday, July 14th. On-line bidding closes July 29th at 10:00 pm. Live bidding begins Saturday evening, August 2nd at 7:00pm at the Hyatt Regency Hotel in the Hyatt Patterson Room, Lexington, Kentucky
---
American Bottle Auctions | Auction 60 Now Online!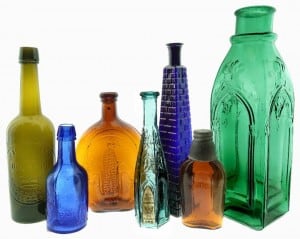 Jeff Wichmann has a super nice assortment of antique bottles in his American Bottle Auctions | Auction 60 which opened earlier this morning. Click for Catalog for Auction #60. Closing Sunday July 20th, 2014 at 7:00 pm PDT / 10:00 pm EST. Each Lot Closes separately when a bid is not entered for 10 minutes
---
Jackson's Aromatic Life Bitters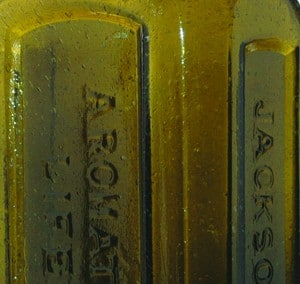 Earlier today, I put up a post on the (Thuringer) Aromatic Stomach Bitters. It got me thinking of the great, Jackson's Aromatic Life Bitters. Somewhat similar, I though I would sequence them up and look at some Jackson examples today. My dark yellow olive example (pictured above) has a smooth base, applied sloping collar mouth and is crude glass that is full of seed bubbles. It is somewhat lighter than other examples…

---
The pontiled Thuringer Aromatic Stomach Bitters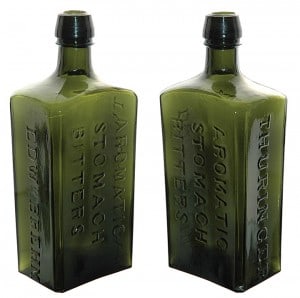 "Sometime in the late 1970s, Jim Hagenbuch visited the home of John Watson, a lawyer living in Oxford, Pennsylvania. He remembered the bottle in the collection and noted that he had never seen another example. Today it is still the only known example."

---
Jenkins' Stomach Bitters crosses my airwaves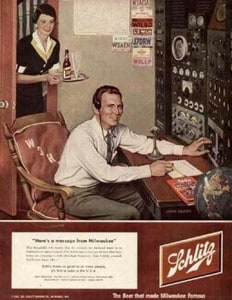 I like this retro Schlitz Beer advertisement of an amateur radio operator. My father used to be a Ham radio operator. I remember his odd equipment with all these illuminated dials and a funny microphone in the basement and how excited he was after making contact with someone in some far off place. This usually happened in the deep hours of the night.

---
Looking at Severa's Stomach Bitters from Cedar Rapids, Iowa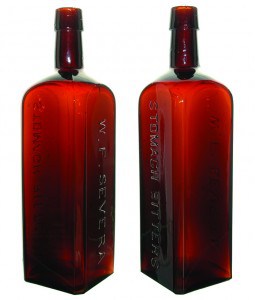 He was born at Doubravice, near Chrudim, Bohemia, September 3, 1853. He acquired a common-school education in his native village and in 1868, when a youth of fifteen years, came to the United States, making his way to Racine, Wisconsin. He was influenced in his choice of a location by the fact that he had relatives living in that city. During the winter months he attended the public schools, while in the summer…

---
Dr. John Bull and Louisville at that time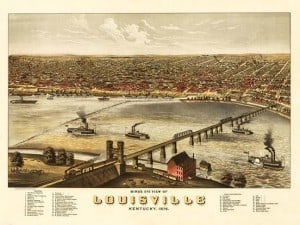 Coffee houses were all over the city and advertised in the local newspapers. The following advertisement appeared in the 1828 Louisville Public Advertiser: "Western Coffee House - With all kinds of liquors - Hot punch Lemonade - Hot Toddies - Fresh beer from Cincinnati - also on hand - pigs feet - pickled Tripe and soused Sturgeon." Most said nothing about coffee.

---
New Website CollectorsBlueBook.com

Been corresponding with Will Wilson on a new web site project. Check it out! CollectorsBluebook.com
---
Looking Closely at an Electric Bitters Label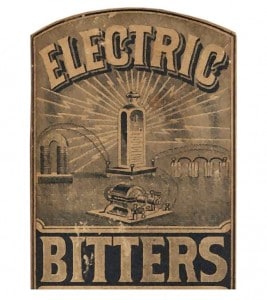 Looking back, I can see that I have posted about the lowly Electric Bitters at least three times before. Did I say lowly and three times? How can that be? The Electric Bitters has to be one of the most common bitters bottles and is so common, you might find ten or twenty amber examples, should you magically sweep down and hit all of the bottle shows any given weekend or look at ebay. So what makes them so exciting?

---
A Dump Cake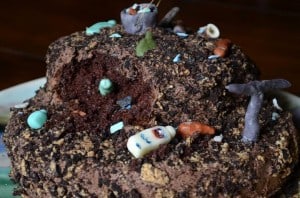 I missed this post over on Facebook on Fathers Day and just saw it today. What a great idea and effort! Posted by Ricky Weiner and captioned "A member from my web site posted this. His 12 year old daughter made this for him for Fathers day. The DUMP CAKE. Now that's funny, depending on who you are that is".

---
June 2014 – Antique Bottle & Glass Photo Gallery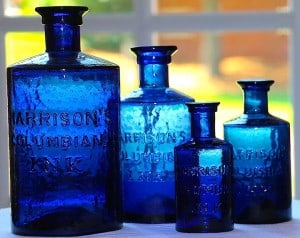 Here we go with the June 2014 group of pictures (my favorites) culled from a few of the web and Facebook sites. Top honor is from Mike Newman Mike captions it, "Harrison Ink – Just added the smallest size to my grouping that now stands at four sizes. Wondering what sizes I am missing." What a powerful picture!

---
Look What I Found!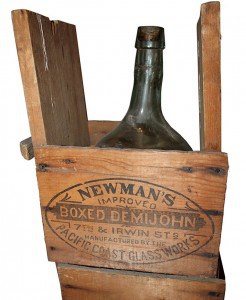 So we stopped at an antique shop on the way to the Reno Antique Bottle show and Randy and I saw this demijohn case. Although it had Pacific Coast Glass Works on it, we passed. So after the show, we were talking to a friend that also was at the show, and he had bought a case similar to the one we saw in the antique store. He asked what was on the side of the case….

---
Napoleon Sarony Photographic Hotel Art Album
I am researching (and I use the term loosely – it's my first attempt) a Photographic Art Album of Mr. Napoleon Sarony and I found an article where you had mentioned Mr. Sarony's photographic art. I was wondering if you could give me any information as to where I might get the album appraised or find out if it's worth it to research further. The album has been in a friend of mine's possession for at least 80 years and she wanted me to check it for her. Any advice would be appreciated.

---
Ebay Scam Alert!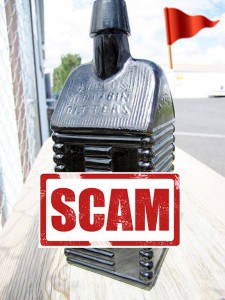 Jim Eifler reporting this as as scam on eBay. This Kelly's Cabin Bitters was sold 3 years ago!!!! Seller is a scam artist using the same exact pics from 2011 to try and scam another buyer out of $6-7,000, alert your friends and retract your bids, YOU'VE BEEN WARNED!!! – Jim SEE EBAY LISTING
Update: Item removed from eBay thanks to Jim Eifler. Suspect this is ole' Velma Craft again.
---
An XR, Dr. Paetz's Stomach Bitters makes an appearance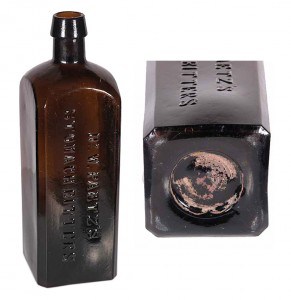 I was a little stunned when I received an auction announcement from Greg Spurgeon and North American Glass earlier in the month. The surprise was not another fine auction of fruit jars which I have come to expect, because Greg is the "fruit jar auction man". The surprise, and the part about being stunned, was seeing an example of a Dr. W. Paetz's Stomach Bitters included in his auction lots.

---
Jeff Wichmann makes Major Contribution to Lexington National Raffle Pot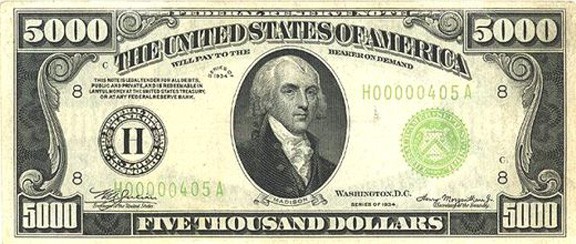 Great news! A $5 thousand dollar donation has been given to the FOHBC Lexington National Show to conduct a series of raffles during the show (both early admission and general admission*). The FOHBC thanks this well known west coast auctioneer and bottle giant for this generous gift. Another GREAT reason to attend the show! SHOW INFO
---
Harrison's Columbian Ink Cylinders in the News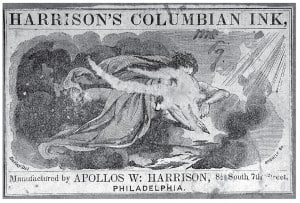 Two southern gentlemen, Mike Newman (Augusta) and Charles Aprill (New Orleans) have been posting some outstanding photographs of cylinder form, Harrison's Columbian Ink bottles from Apollos W. Harrison in Philadelphia. That is Mike's picture at the top of the post. Stunning! Charles followed up with the following outstanding five (5) pictures. Read more on Apollos W. Harrison… 

---
Hostetters Base Markings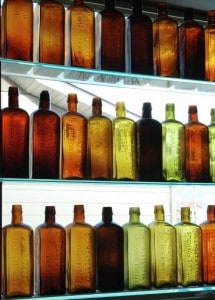 I have been consumed lately with digitally archiving past issues of Bottles and Extras for the FOHBC membership and came across this pretty cool article from Hostetters Bitters master, Richard Siri, from the Summer issue of 2005. Back then the magazine came out four times a year. Now it is six or bi-monthly.

---
Where is the Bitter Puyastier from?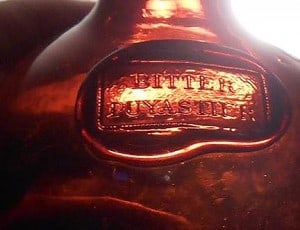 David Jackson sent me a picture of him holding a Bitter Puyastier and said, "Hi Ferdinand, Do you have any info on this bottle? I have one in amber and have seen it in green. Not much info on the web. Best Regards and will see you in Lexington, David Jackson". David has a collection of really great seal bottles so I can see why this bottle might interest him.

---
Looking at some George Ohr Inkwell Examples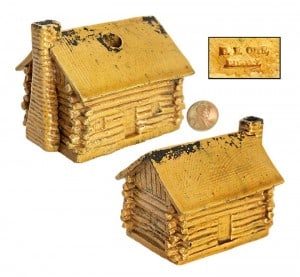 George Ohr has been on my radar since attending the Kansas City Art Institute art history classes and hanging out with many ceramic artists in my college days. Pictured at the top of this post, George Edgar Ohr (July 12, 1857 – April 7, 1918) was an American ceramic artist and the self-proclaimed "Mad Potter of Biloxi."

---
The Union Spring Bottle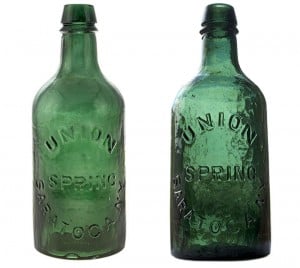 In a 1973 publication by the Federation of Historical Bottle Clubs, the late Bernhard Puckhaber listed the 'Ten Most Wanted Saratogas'. The Union Spring was number nine on that list. This example was in the collection of the late Stu Elman, which we auctioned in 1999. Since then, no other Union Spring bottle has come to auction. 

---
Lead-off Hitters in the Glass Works "Festival of Color' Auction #102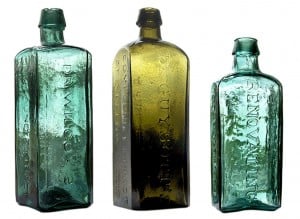 Jim Hagenbuch, Glass Works Auctions chief, wisely led off with three spectacular pontiled medicine bottles in his Glass Works "Festival of Color' Auction #102 that closed this past Monday evening. Lot #1 was a Dr. Wilcox's Compound Extract of Sarsaparilla from Albany Glass Works in Albany, New York, Lot #2 was a Dr. Guysott's …

---
My Visit to the Sandwich Glass Museum | Part 2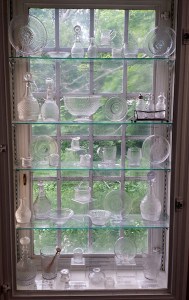 My photos illustrate the bulk of the display collection and I tried to represent everything, although I am bias towards color and I probably should have taken more pictures of the extraordinary clear cut glass. I also had trouble photographing the lacy salts so I did not include them. Please feel free to post all or a selection of these photos on both Peachridge and Facebook…

---
Dr. John S. Sappington – Part I – Sappington's Anti-Fever Pills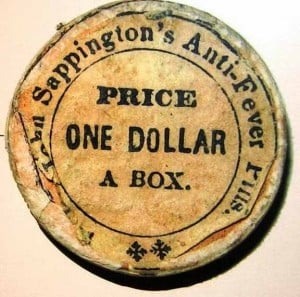 "He prescribed blue pills, oil and other nauseating doses, and though they relieved me some, the chief cure was "Dctr. Sappington's Pills," which I must ever eulogize as a medicine of fine qualities. One box of them administered by mi alma cured me or at least broke the fever. After great prostration of body I am again creeping out." Read at Jim Schmidts, Civil War Medicine (and Writing)
---
My Visit to the Sandwich Glass Museum | Part 1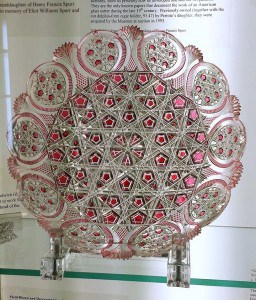 I am going to send you 70 pictures that I took during my visit to the Sandwich Glass Museum when I was on Cape Cod last week. My visit was the culmination of an epic sixty day bottle viewing extravaganza that included me visiting the collections of Jeff Burkhardt, Bill Taylor, Jim Hall and Peachridge!

---
July August issue of Bottles and Extras prints Monday!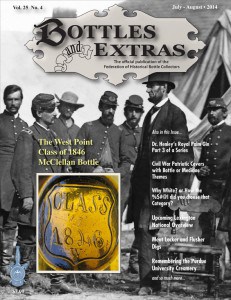 Look for articles on The West Point Class of 1846 McClellan Bottle, Dr. Henley's Royal Palm Gin – Part 3 of a Series, Civil War Patriotic Covers with Bottle or Medicine Themes, Why White? or How the %$#@! did you choose that Category?, Upcoming Lexington National Overview, Meat Locker and Flusher Digs, Remembering the Purdue University Creamery and so much more… Become of FOHBC Member
---
Dr. Crittenden's Dyspepsia and Cocktail Bitters – Philadelphia
Erastus Henry Crittenden was born in New York around 1838 and grew up in Titusville, Pennsylvania. Little is known about his family. Titusville was the epicenter of the Pennsylvania oil rush and boom in petroleum production which occurred in northwestern Pennsylvania from 1859 to the early 1870s. It was the first oil boom in the United States.

---
Dr. Rufus F. Hibbard's Celebrated Wild Cherry Bitters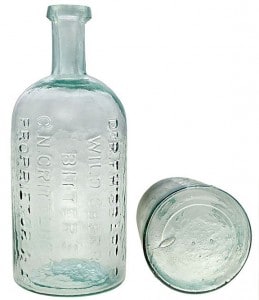 I had long forgotten about my example of the extremely rare, Dr. R. F. Hibbard's Wild Cherry Bitters until I came across and 1850 New York advertisement the other day. Time to give this bottle a little personality. I have to say, this little fellow really does have a story and again adds just a little more excitement to collecting antique bottles.

---
Tracking Hodges' Bitters back to London?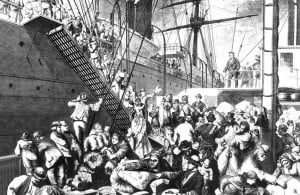 Many great men, with bitters formulas, came with the The Forty-Eighters who were Europeans who participated in or supported the revolutions of 1848 that swept Europe. In Germany, the Forty-Eighters favored unification of the German people, a more democratic government, and guarantees of human rights. Disappointed at the failure of the revolution to bring about the reform…

---
Opening of Circa 1900 Drugstore Museum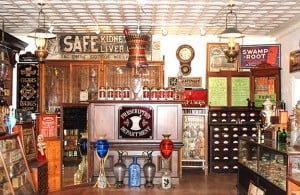 I was able to work with Terry McMurray on his full-page, inside back cover, advertisement within the FOHBC 2014 National Antique Bottle Show Souvenir Program. I didn't know about his new drug store museum and thought it would be nice to post his advertisement and a few of his pictures of the new museum. As I told Terry, every time I see his table at the Baltimore Antique Bottle Show, I feel like I am at a museum.

---
Lukach's Hungarian Bitters - Truth is Stronger than Fiction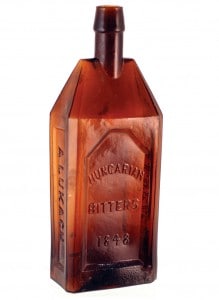 Another idea ties directly back too the 1848 embossing on the bottle. Apparently, the first large wave of Hungarian emigration to the United States occurred in 1849-1850 when the so-called "Forty-Eighters" fled from retribution by Austrian authorities after the defeat of the Hungarian Revolution of 1848. Lajos Kossuth gave a seven-month speaking tour of the U.S. in 1851-52 to great acclaim as a champion of liberty…

---
The missing link
Universal Bitters
by Nicholas Kieffer
I have been monitoring some e-mails this past week or so between Frank Wicker and a person who had contacted him regarding a possible unlisted bitters. This person was seeking information on the bottle. Frank forwarded the pictures to me an I immediately recognized the bottle as a missing link related to Nicholas Kieffer in New Orleans. The initial email…

---
Could the Doctor John Russ Wormwood Stomach Bitters be from Iowa?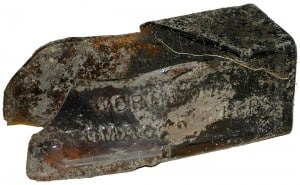 The semi-cabin form, Doctor John Russ Wormwood Stomach Bitters is back in the news again today as the Outhouse Patrol has found shards in Belle Plaine, Iowa while they were on a dig yesterday. You may remember that an example of this unheard-of bitters showed up on ebay early last month (see ebay listing). That bottle was also found in Iowa…

---
Dr. Sawens Life Invigorating Bitters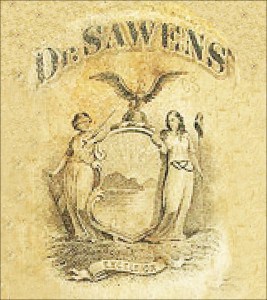 Dr. Willis Sawens was born on August 17, 1824 in northern New York and for a number of years kept a drug store and practiced his profession in Watertown, New York. In 1864 he moved to Utica with his brother, Gilbert S. Sawens, of Antwerp, and Edward Anderson, and purchased tbe drug business of Dr. J. B. Marshall, of Utica, which he conducted until ten years ago. He was a well-known and respected resident of Utica. He died at 70 years old on 16 August 1894 at the residence of his nephew in Detroit.

---
Dr. Mampe's Herb Stomach Bitters from Oshkosh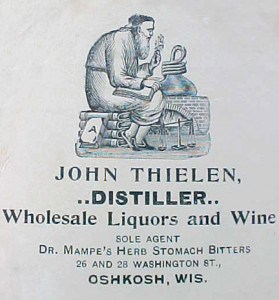 My example of the Dr. Mampe's Herb Stomach Bitters has been sitting alone for almost a decade on a shelf in my aqua room since it joined my collection, as I won it in the FOHBC live auction at the 2004 Memphis Expo. Let's put a little light on this portly guy. The Carlyn Ring and W. C. Ham listing in Bitters Bottles is as follows…

---
The two

Julien's Imperial Aromatic Bitters

Variants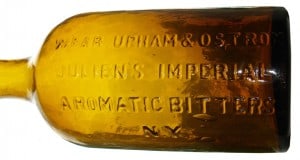 I realize it is a stretch to tie Eugene L. Wear, Edward M. Upham, Edward Ostrom and Alexis A. Julien together. It is possible that these fellows could have gone to school together, met in chemistry class while making essences and said, "lets make a buck" so they created Julien's Imperial Aromatic Bitters while using bat guano as the main essence.

---
The extremely rare Shurtleff's Bitters from Bennington, Vermont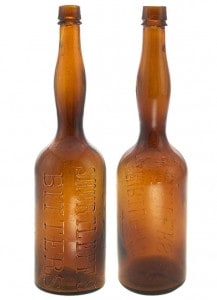 While in New York he heard of a drug store for sale in Bennington. He bought the store about the time of the Civil War. He made all of his own medicines including cough medicines, headache powders, etc. After his death in 1904, the new owner of the store destroyed all of the medicines and prescriptions, which were worth a great deal of money.

---
The best Lady's Leg in the Galaxy – Universe Bitters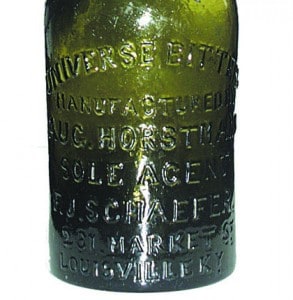 It was nice seeing the lady's leg figural, Universe Bitters, from Louisville, Kentucky, at the top of the Top 25 Kentucky's Rarest Bitter Bottles list. The bottle also placed first on the Top 25 Rarest Kentucky Bottles list. These lists were recently posted in preparation of the FOHBC 2014 National Antique Bottle Show in Lexington, Kentucky. The dark green example, pictured at the top…

---
The Bust of Lafayette – Coventry Glass Works Mold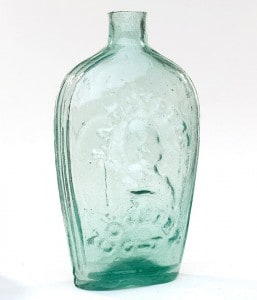 John Pastors, American Glass Gallery Auction #12 ends this evening and I sit here watching a few items of special interest. One is the extremely rare, aqua, GI-85a Bust of Lafayette historical flask. John's pictures and auction lot description are reposted within. What caught my attention was his comment, "one half of the original 2-piece mold for this flask is on display at the Corning Museum of Glass, Corning, NY. The mold section was found in the river in Mansfield, CT."

---
The only Martin's Bermuda Bitters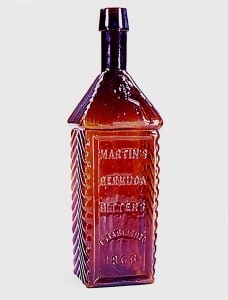 Oh, if I could only just see this bottle, let alone have it sit proudly in my collection. To my knowledge, the Martin's Bermuda Bitters, is a one-of-a-kind, only example, residing in the legendary collection of Dick Watson (FOHBC Historian) in Medford, New Jersey. I was reminded of this bitters during the Martin's Female Bitters post yesterday.

---
Man's $4 Flea Market Find of Old Coca-Cola Bottle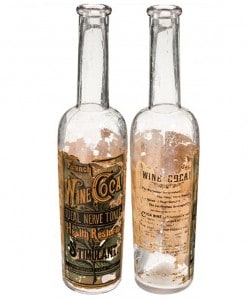 I trust many of you heard about this rare find but in case you didn't. A New Mexico man's purchase of a $4 bottle at a flea market could turn into a $5,000 or more pay day thanks to the bottle's ties with Coca-Cola's past. Jim Vergo, of Albuquerque, said the aged bottle's label featuring coca leaves and the words "wine coca" caught his attention while he was shopping at a local market last fall. What did it sell for at Heritage? See Story
---
Dorothy L. Martin's, Bitters for Female Weakness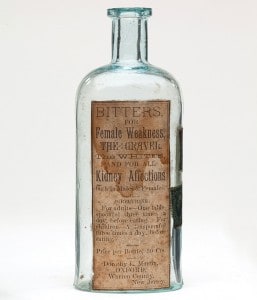 Be it known that I, DOROTHY L. MARTIN, citizen of the United States, residing at Oxford township, in the county of Warren and State of New Jersey, have invented a new and useful composition of matter to be used for the treatment of the chills and fever, the gravel, the kidney disease, the whites, and weakness of the womb, of which the following is a specification.

---
The great William Allen's Congress Bitters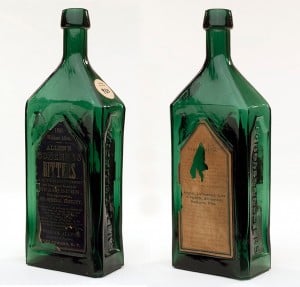 Wells, Richardson & Company were Wholesale Druggists and Manufacturing Pharmacists who patented, manufactured and distributed analyne dyes under the name of Diamond Dyes, as well as butter dye, baby food and proprietary medicines such as Williams Allen's Congress Bitters and the famous Paine's Celery Compound.

---
Look at this labeled 481 Brand Stomach Bitters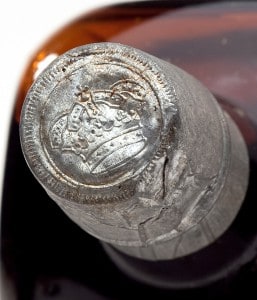 That is exactly what the gentleman is doing with one keen eye, looking at his 481 Brand Stomach Bitters, "At Last"…."The Best". Hidden away in John Pastor's current American Glass Gallery Auction #12 is this labeled beauty. What a cool, yet late, bitters bottle with a killer label and neck foil stamp. I also believe it to be unlisted in both Bitters Bottles books.

---
Top 25 Kentucky's Rarest Bitters Bottles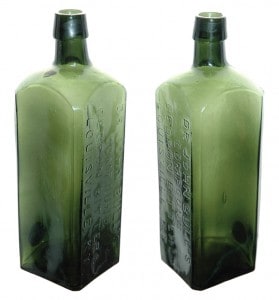 Kentucky's Top 25 Rarest Bitters Bottles. Compiled by Paul Van Vactor, Sheldon Baugh and Steve Keith. Compiling top 25 lists is a favorite with sports fans, but there's no rule against doing the same for a state's antique bottles. So we got together and the following lists are what we came up with. Not all of them are bottles. Enjoy.

---
Kentucky's Top 25 Rarest Bottles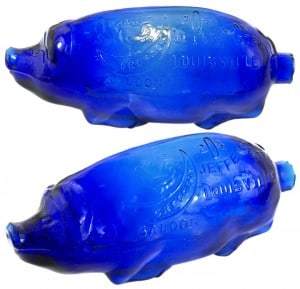 In honor of and in preparation for the upcoming FOHBC 2014 National Antique Bottle Show in Lexington, Kentucky, I thought it would be nice to look at the Top 25 Kentucky's Rarest Bottles. I will try to add pictures if I have actual examples, file pictures or if I can obtain pictures. 

---
FOHBC 2015 Chattanooga National Logo Design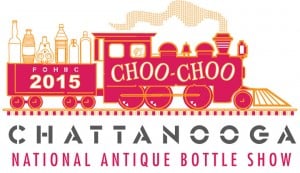 "Choo-Choo to Chattanooga" will be our catch phrase for the FOHBC 2015 National Antique Bottle Show in Chattanooga, Tennessee hosted locally by veteran show chairs, Jack Hewitt and John Joiner. Yes, it is the Southern Regions turn to host a National so I thought I would give y'all a sneak preview of the 'Choo-Choo" logo and what is behind it.

---
The California Herb Bitters from Pittsburgh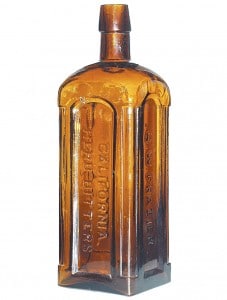 Here is an extremely rare, bitters square with a phenomenal form and name. When I say rare, I mean like "only known example". The California Herb Bitters is from Pittsburgh and has G. W. Frazier embossed on one panel. In a way, it reminds me of the California Bitters that was manufactured by J. G. Frisch in San Francisco. Also an only known example though there is a partial, reconstructed example that also exists. Such great bottles.

---
Ezekial Porter Eastman and his Yellow Dock Bitters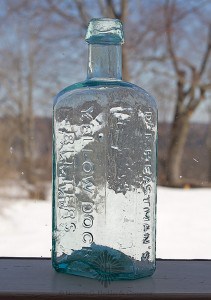 It came as no surprise – to his sisters - that Ezekiel also decided to bottle a medicine made of yellow dock root. He arranged to have the bitters manufactured by Joseph P. Hill, a barber in Lynn.

---
The Robinson & Lord Figural Barrel – Baltimore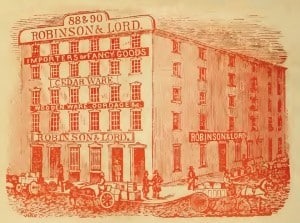 What is really curious about this figural barrel bottle is that it was made by George W. Robinson and Charles W. Lord who partnered in business as Robinson & Lord (or Robinson, Lord & Co.) from about 1851 to 1863 at 88 and 90 Lombard Street in Baltimore City. And guess what? They specialized in selling brooms, chairs, brushes, wood ware, cordage, house keeping articles and fancy goods. I guess this barrel was considered one of their "Fancy Goods".

---
Indian Vegetable and Sarsaparilla Bitters by George C. Goodwin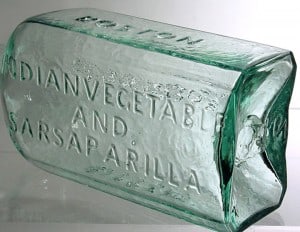 Hmmmm. Where have we heard the name George Clinton Goodwin before? Could it be the same fellow related to the immensely popular Old Sachems Bitters and Wigwam Tonic figural barrel from Beantown? Or was it related to the Dr. Langley's Root & Herb Bitters from Boston? Yes of course, it is both, as the Indian Vegetable and Sarsaparilla Bitters is a Goodwin product from Boston too.

---
The sexy, aqua and tall Hierapicra Bitters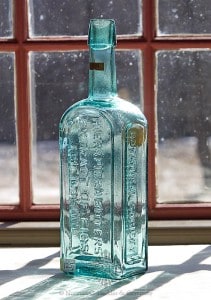 The country around Sonora is largely whitewashed with a strange medley of medicinal recipes – all no doubt very good in their sway, but it cannot be said that the landscape is beautified by their repeated appearance. Our old friend "Bitters", which had been with us ever since we first set foot in the New World, figured here in great prominence and in much variety.

---
New Sponsorship Opportunity at Lexington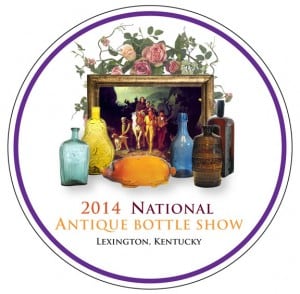 A New Sponsorship Opportunity! The FOHBC 2014 National Antique Bottle Show in Lexington, Kentucky is introducing Aisle Floor Stickers. For only $75, lead visitors to your table, promote your service or tout what you collect with a 4′ x 4′ floor sticker featuring your own custom logo and art. The large, attractive floor stickers jump out at visitors and will be placed strategically on the bottle showroom floor.

---
Uncovering a unique Paul's Patent Columbian Oil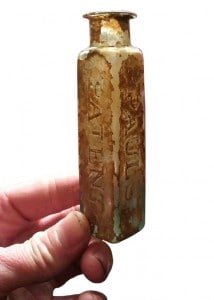 So a few months ago a previously unknown early Baltimore medicine comes up on ebay with some lip damage. So I buy it just to have an example thinking what are the odds I'd ever see another one. Well then we dig one Saturday… Go figure… But interestingly it is a completely different mold variation then the one I bought so I will have to keep them both. For consideration Paul's Patent Columbian Oil circa 1812-1817

---
The Wiggs Brothers and their Fabulous Figural Cabin Bottle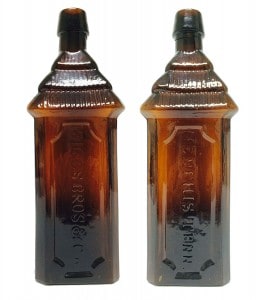 As you might imagine, I have quite a few bitters in my collection, many being quite rare. It has gotten to the point that when I see a picture of a bitters possible bitters that I don't have or may never have, I get quite excited. Of course there is the desire to possess it, but there is also satisfaction in having the picture and being able to find out about the bottle.

---
Here are those four Texas Bitters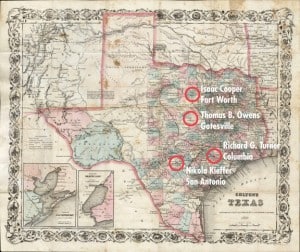 Reprinted below is an interesting communication from super-sleauth, James Viguerie regarding a few possible leads on unlisted Texas bitters. I spent a few moments trying to find out more information for each possible lead. The map shows Texas in 1870 and the four people and locations we will be discussing.

---