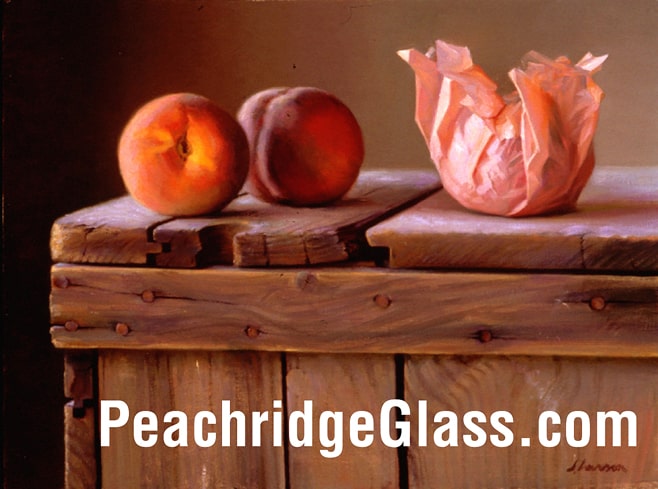 This site is presented and hosted by Ferdinand and Elizabeth Meyer. We hope to share our passion for collecting and dealing in Early American Antique Bottles and Glass. Please contact us for any information and or bottle and glass news for post consideration. I am also looking for guest authors as I shift to the Virtual Museum project. Thanks!
---
Was there really a Dr. Robertson?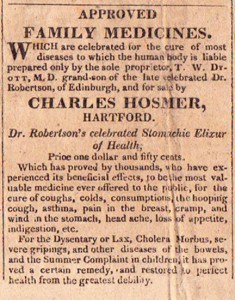 As Thomas Dyott, early in his career, had expanded from blacking to nostrums, so later he enlarged his enterprises again and again. Living in the day of a barter economy, the shrewd merchandiser accepted produce for patent medicines. Soon he was dealing in such things as tobacco and turpentine, peach brandy and rum, candles and castor oil. The scope of his nostrum sales required thousands of bottles, an article he had first required while vending blacking…

---
See a Bryant's Stomach Bitters "Spinner"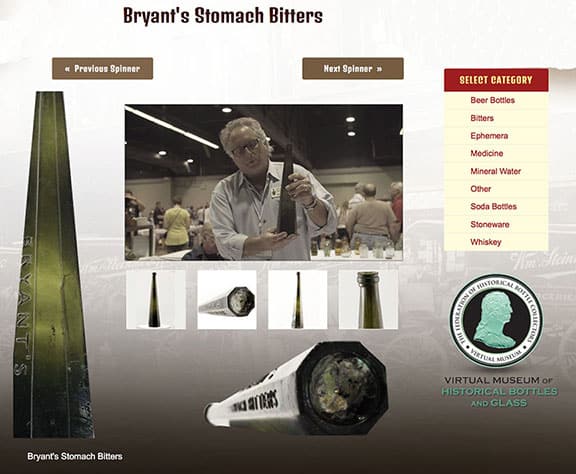 'In work' progress from Steven Libbey and his teams 'test' work on developing models and spinners for the virtual museum. The cone was filmed at the recent Lexington National. Edit work was done in the studio. This model would be how a typical bottle might be displayed in the FOHBC Virtual Museum. This includes a write-up, pictures, video and spinner. Pretty exciting. SEE CONE
---
September issue of Antique Bottle & Glass Collector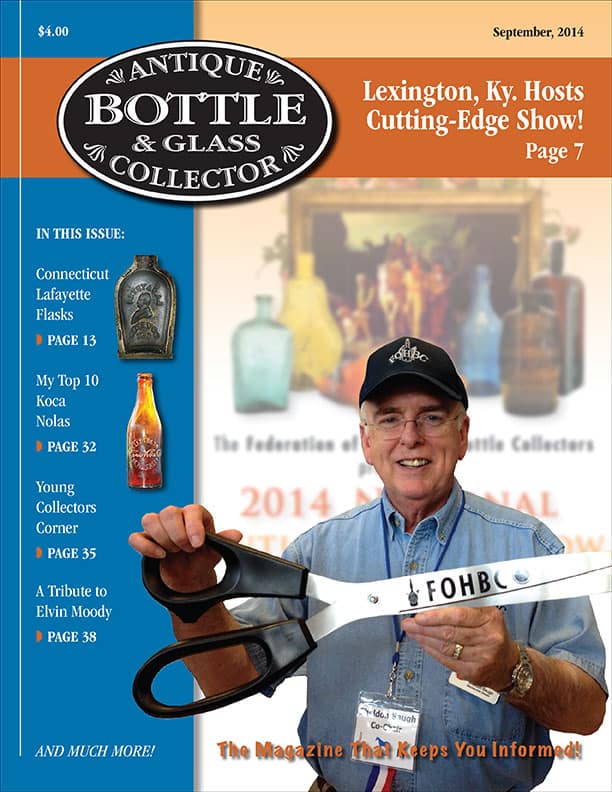 John Pastor and his magazine team have put together another fine issue of Antique Bottle & Glass Collector. Great to see that Sheldon Baugh, FOHBC 2014 Lexington National Co-Chair and Federation Vice-President made the cover. What a super design. SUBSCRIBE.
---
Amazing 8-Sided Utility Bottle…Is It Baltimore?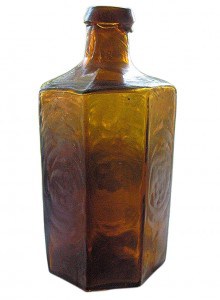 Hi Ferdinand, Here is an amazing eight sided medicine (ink?) found in an early 1960s dig in San Francisco. While it has no embossing, it is crude with a tubular pontil and trails of black slag throughout. The whittle effect is amazing. It is 6 1/2″ tall. I have been told that it may be Baltimore blown? Any thoughts? Thanks, Dale Mlasko

---
September October issue of Bottles and Extras in Transit!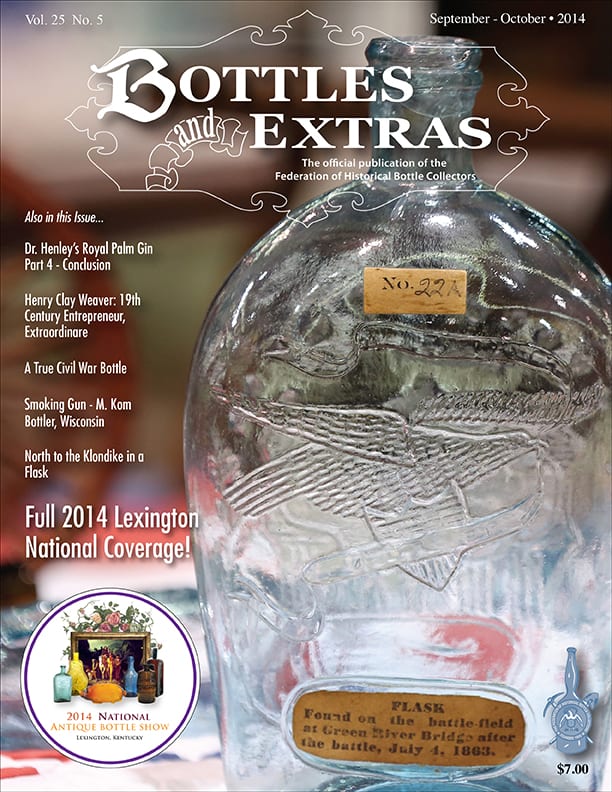 The September October issue of the FOHBC 76-page (nncludes covers) Bottles and Extras was mailed yesterday to Federation members. Look for a comprehensive 2014 Lexington National Report, Dr. Henley's Royal Palm Gin – Part 4 of a series – Conclusion, Henry Clay Weaver: 19th Century Entrepreneur, Extraordinaire (Mexican Bitters) A True Civil War Bottle, Smoking Gun – M. Kom Bottler – Wisconsin and North to Klondike in a Flask. Become a member of the FOHBC.
---
The Lash's Gentleman in a Hat –

Mystery Solved!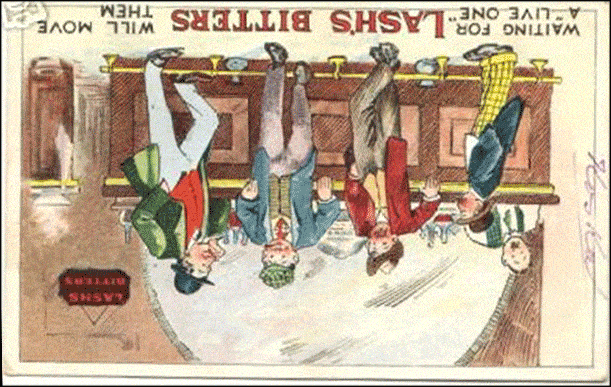 Why am I interested in the Lash Bitters? A collector found 12 of these T206 cards that appeared to be from an original test sheet used at the ALC factory. The cards are all hand cut and are missing a few layers of ink and oddly have several unfinished Lash Bitter's post card fronts and backs printed on them. We are thinking this unfinished T206 sheet was used to test the printing of the Lash Bitters post cards.

---
Bertinguiot… French or American Inks?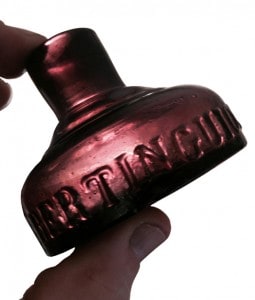 Hi Ferdinand, I recently came across this light purple puce Bertinguout ink. It has an open pontil and was dug in San Francisco in the 1960s. I have seen these in many shades of olive and green and one in cobalt blue. Never in this color. I believe these were originally thought to be French in origin but now I believe they are known to be American? I would appreciate knowing if this color variant is unique or if there are more out there. Regards Dale

---
Catawba Bitters labeled lady's leg from New Haven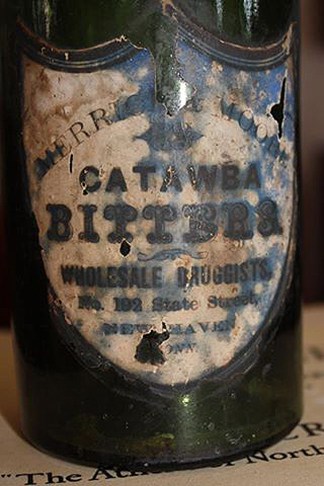 David Jackson posted these three pretty nice pictures of a Catawba Bitters green lady's leg figural bottle with a label from Merrick & Moore Wholesale Druggists at 192 State Street, New Haven Connecticut. Not familiar with this one. What is interesting here is that noted bottle authority, Dr. Richard Cannon once said in an article called…

---
2013 Manchester National Educational Display Videos
Alan DeMaison (past FOHBC Business Manager) has been working hard of late adding videos of the educational displays from the great 2013 National Antique Bottle Show in Manchester, New Hampshire. These selections will join the group of 2012 FOHBC Reno Expo and 2009 National in Pomona, California. We hope you enjoy his work. We have all learned so much from each of them! Where else will you get the displayer talking about their prized collection. We hope you enjoy! SEE VIDEOS
---
Salmon's Perfect Stomach Bitters – Manhattan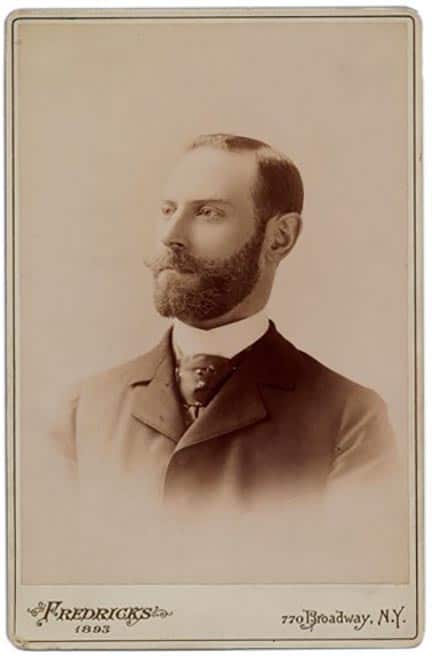 Not much to go on here but I look at New York as the example was dug there. Bingo! I quickly figure out that we are talking about Maximillian or Max Salmon. Max was Canadian born and spent time in his early 20′s as a liquor store clerk in Baltimore. Finding a wife in New York City leads him to move to Manhattan and become a wine and liquor merchant in the early 1890s.

---
The E. Julin – ABO football sized torpedo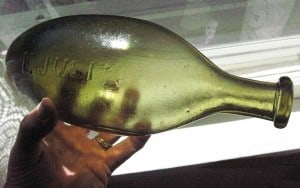 Hi Ferd, I recently picked up this huge torpedo and have been unable to find anything about it. It is Jurassic looking in age, and is a gigantic 10″ tall and as large as a football. It looks 1840-ish to me but I honestly have no clue. None of the collectors I have asked had ever seen one before. The embossing reads " E. Julin" Reverse reads "ABO." Any thoughts?

---
Pawnee Bitters and the Pawnee Indian Medicine Co. – San Francisco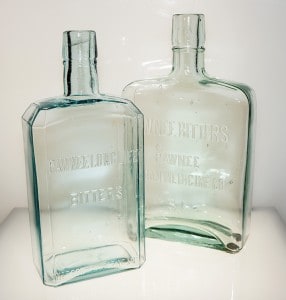 I was able to add a second Pawnee Indian Medicine Company bottle to my collection at the Lexington National. I already had a very rare Pawnee Bitters from the Feldmann collection. This new bottle is also aqua and is a different rectangular shape. It is embossed Pawnee Long Life Bitters and is rated extremely rare. Both are from San Francisco and are pictured above. Was this just another example of using an Indian reference in a bitters product name or is there a real Indian story here? You bet there is!

---
West India Stomach Bitters from St. Louis, Missouri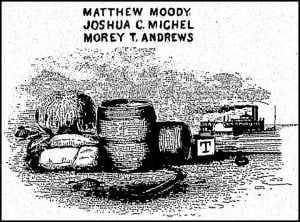 OK, so we already looked at two "East India" embossed bitters and one embossed "India" bitters. Now we will look at a scarce and extremely rare "West India" embossed brand from St. Louis. This being the West India Stomach Bitters from St. Louis, Missouri. The top pictured…

---
Dr. J. W. James India Bitters – East Brady, Pennsylvania

Brady's Bend, also known as Bradys Bend, is named for Captain Samuel Brady (1756-1795), famed frontier scout and the subject of many legends. Near this location on the Allegheny River in Western Pennsylvania June 1779 – in what was then Seneca territory – Brady led a force seeking to redress the killing of a settler and her four children…

---
Heckler Live Auction Sale This Friday!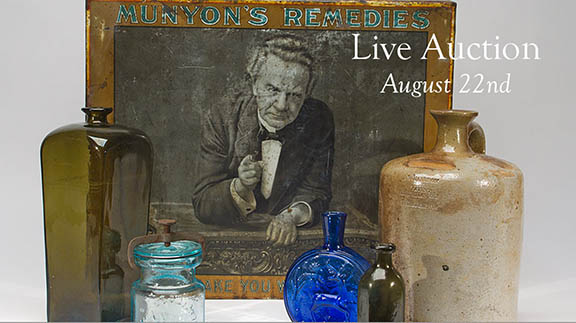 Live Auction Sale, Auction Begins: Friday, August 22, 2014 at Noon, Preview: Wed. August 20th, Thurs. August 21st (9 AM-5 PM), and Fri. August 22nd (11:00 AM). If you are unable to attend the auction, absentee bids are being accepted. Please review the conditions of sale before bidding. Hecklers must have your bids by 10 AM on Friday, August 22, 2014. To place a bid, please call us at (860) 974-1634. MORE INFO
---
Kennedy's East India Bitters – Omaha, Nebraska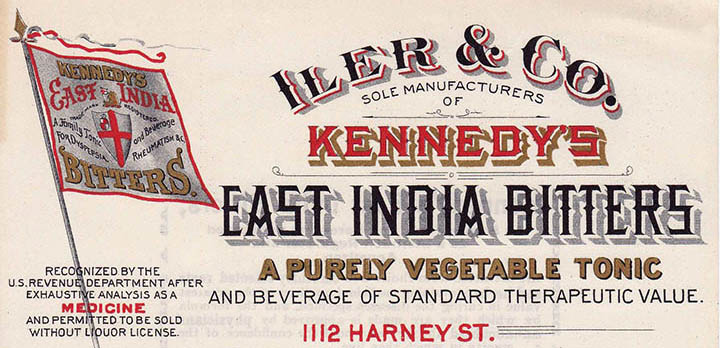 Earlier today I put up a post on a Boston product called East India Root Bitters by George P. Clapp. It reminded me of my clear Kennedy's East India Bitters from Omaha, Nebraska, if only by name. It even has an ever-so-slight, olive striation in the neck. How cool is that?

---
East India Root Bitters – George P. Clapp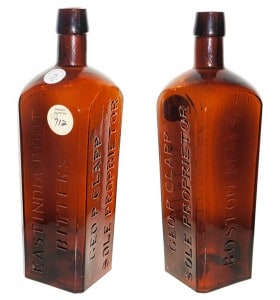 I picked up a good-looking and pretty rare East India Root Bitters, in a tapered, case gin form from Boston, Massachusetts at the recent Lexington National Glass Works "Thoroughbred Auction". A few people saw me eyeing the bottle and seemed surprised that I did not possess an example. I commented that this bottle was a different brand than…

---
Abel, Humiston & Co.'s Mountain Root Bitters!

I received an e-mail (see below) while I was at the Lexington National Antique Bottle Show from a fellow in Illinois regarding the Mountain Root Bitters put out by Abel Humiston in Sandwich, Illinois. At first I was thinking there was a person named Abel Humiston, but we are really talking about Jonathan Abel and Lanson S. Humiston who produced this bitters for a short period in 1867.

---
FOHBC 2014 Lexington National | Those Lucky Raffle Winners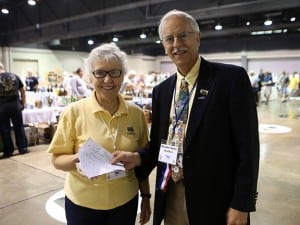 With a record of $6,125 in donation money, the FOHBC was pleased to hold scheduled raffles throughout the 2014 Lexington National Show. An anchor $5 thousand dollar donation was given to the FOHBC by Jeff Wichmann (American Bottle Auctions) to greatly supplement a series of raffles during the show. The FOHBC thanks this well known west coast auctioneer and bottle giant for this generous gift.

---
FOHBC 2014 Lexington National | Educational Displays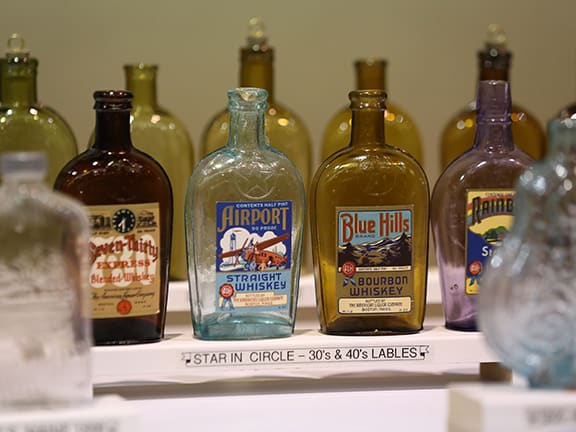 We ended up with thirteen education displays at the Lexington National that were as different from the recent Reno and Manchester National displays as possible. Interesting and interactive to some extent, they seemed to get quite a bit of attention.

---
The Price's Patent Texas Tonic makes and appearance at the Lexington National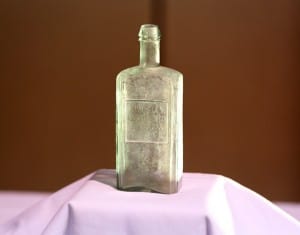 The first example of this bottle was discovered in 1987 by some local diggers in Lexington, Kentucky. They dug the bottle out of a local privy. The hole had other bottles dating from the 1840s. With the exception of a small corner hole, the bottle was found in excellent condition. Tom purchased this example in the late 1980s and kept it until recently; He sold it to a native Texan.

---
FOHBC 2014 Lexington National | Spotted on Tables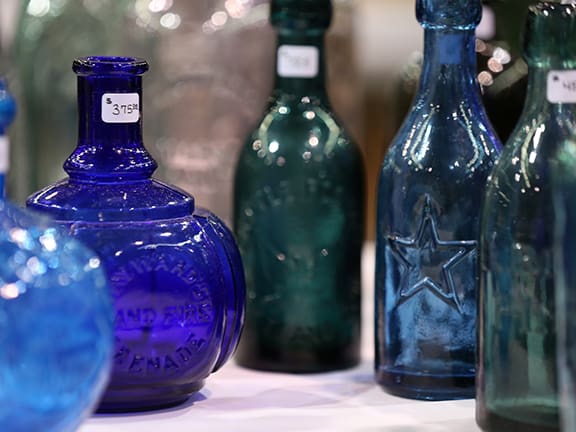 As you can probably imagine, I get quite a bit of bottle show pictures from various folks who are trying their best to capture their show. Some hope for a place in Bottles and Extras or a special post on Peachridge Glass or the FOHBC site. Many times, I have to politely sidestep the photography as quite honestly, the work is mediocre, the lighting bad or the subject matter poor.

---
Loveridge's Wahoo Bitters Jug – Buffalo N.Y.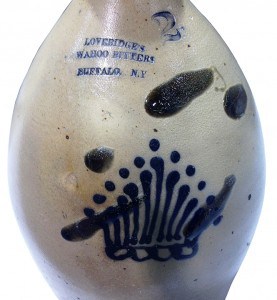 Mike Malanowsi from Albion, New York pulled me over to his dealer table at the Lexington National and uncovered this fantastic stoneware jug inscribed LOVERIDGE'S WAHOO BITTERS BUFFALO N.Y. What makes this even more exciting is the blue glaze Indian headdress decoration on the front. An exquisite piece that I have not seen before. I snapped a few shots and cropped for viewing.

---
FOHBC 2014 Lexington National | Glass Works Thoroughbred Auction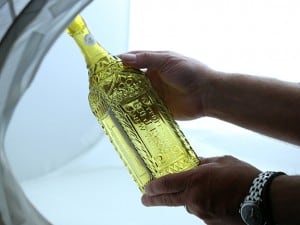 This next group of pictures come from the "Thoroughbred Auction" conducted by Jim Hagenbuch and Glass Works Auctions. The event occurred on Saturday evening from 7:00 pm until 10:00 pm. Helping Jim out were Bill Ham, Jesse Sailor, Janice Hagenbuch and the licensed auctioneer, Randy Rooth.

---
FOHBC 2014 Lexington National | Saturday Morning Seminars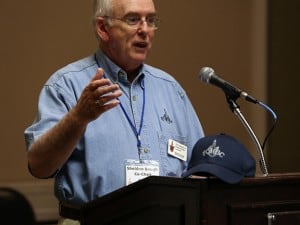 This group of pictures come from the Seminars that occurred on Saturday morning from 9:00 am until noon. There were three sets of paired seminars to give attendees a choice. All seemed to be well attended and comments were extremely favorable. My favorite was listening to Jeff Mihalik at his privy and digging seminar.

---
2014 Lexington National | FOHBC "Run for the Roses" Bottle Competition Event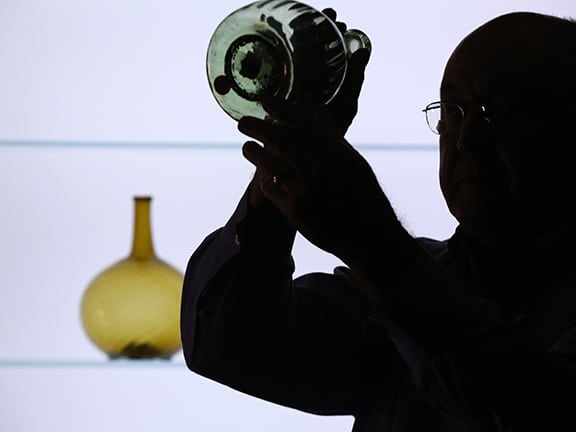 The next group of pictures come from the "Run for the Roses" bottle competition event at the Lexington National. Participants were prompted to bring and enter their favorite Wax Sealer Fruit Jar (to include mold blown as well as free blown jars in any size), Scroll Flask (to include all sizes of flasks), and Midwestern Swirl Decanter (to include swirled, broken-swirled, Patterson Rooms..

---
2014 Lexington National | FOHBC Cocktail Party & Awards Banquet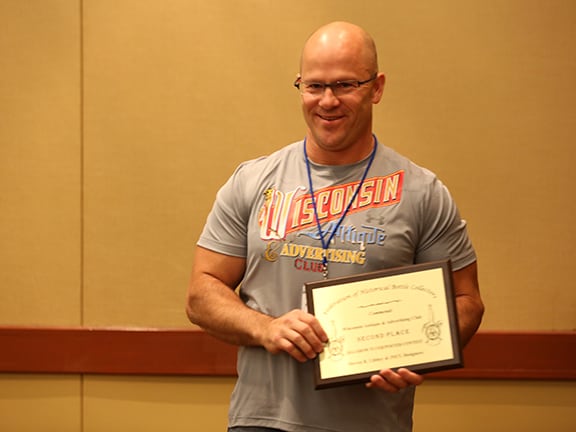 The next group of pictures represent the Cocktail Party and Awards Banquet that occurred on Friday evening at the Lexington National. A good time to chill, catch up with bottle friends and to break bread. The featured speaker was Michael Veach aka "Mr. Bourbon". This is also when we had the judged Hat Contest and Awards Ceremony. Pretty amazing to see bottle collectors from all over the country. The show had dealers from 31 states and many were represented in this room.

---
Sacramento announced for the FOHBC 2016 National Antique Bottle Convention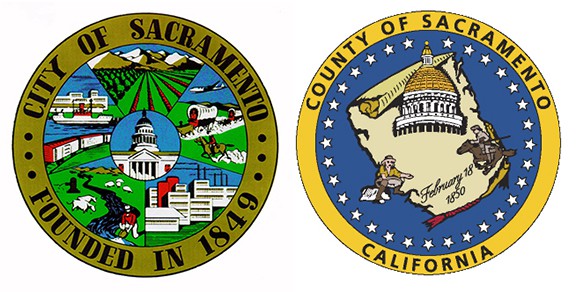 I am extremely excited to announce the 2016 FOHBC National Antique Bottle Convention will be held in Sacramento, California. Sacramento is the birthplace of the Federation of Historical Bottle Clubs (later renamed Collectors).

---
2014 Lexington National | FOHBC Hat Contest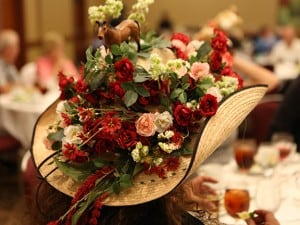 We tried to add a little extra excitement to the Cocktail Party and Banquet on Friday evening at the Lexington National. Our idea was to have a hat contest based on some of the grand hats that are worn at the Kentucky Derby and to celebrate our Run for the Roses bottle competition event that followed the Banquet.

---
2014 Lexington National | FOHBC General Membership Meeting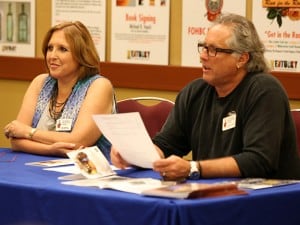 The General Membership Meeting was conducted with a thrust of energy and more informative than any I have previously attended. I came away with more of an understanding of the future direction of the organization. I inhaled the idea of making the national event even more enjoyable and informative to further entice attendance during future shows.

---
2014 Lexington National | FOHBC Board Meeting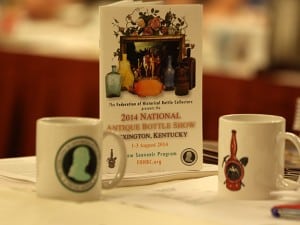 I am getting quite a few requests to start reporting on the Lexington National that occurred last weekend. Just arrived home Monday night and am sorting through hundreds of really nice photographs from Scott Selenak, our official FOHBC show photographer. I am also trying to get an article in the September | October issue of Bottles and Extras. The bulk of the reports will be in the November | December issue.

---
July 2014 – Antique Bottle & Glass Photo Gallery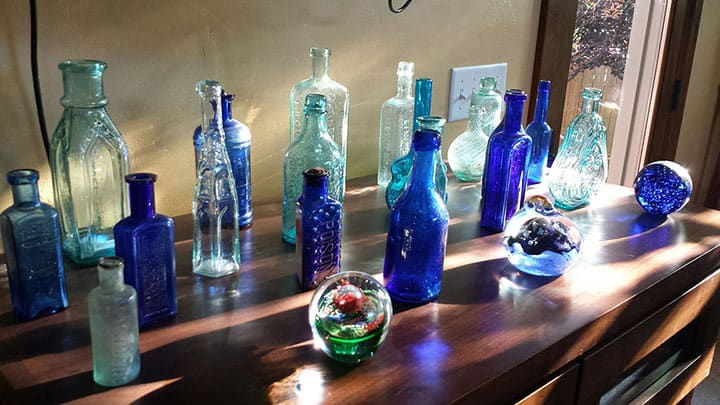 Here we go with the July 2014 group of pictures (my favorites) culled from a few of the web and Facebook sites. Top honor goes to Jerry Forbes from the Big Sur area of California. Pictured above is an extremely rare 5-Log, Drakes Plantation Bitters. Seen usually in 6-Log and 4-Log molds, this baby is rare as hens teeth and being green, sends it into the stratosphere of desirability. This moved from a Florida collection to Jerry. What a nice photograph!

---
POW!! 

Gun Bottles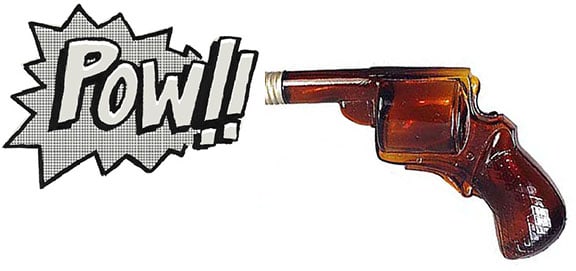 There have been some pretty cool figural antique glass pistol and gun revolvers on the internet lately. I remember my father having a few of these bottles in a glass bowfront along with vintage glass clam shell bottles, little flasks and other drinking collectibles and treasures he had picked up over the years. I though I would nest a few of these gun images. A word of wisdom. If you see any antique glass gun examples at…

---
Aya Pana Bitters – Manufactured by J. Chauvet – New Orleans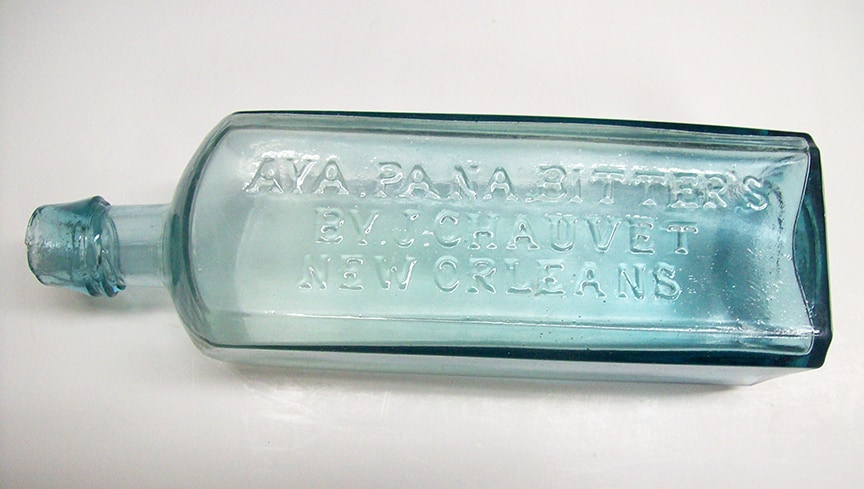 Here is an extremely rare bitters that came to my attention after talking with Courtney Frioux of New Orleans at the Houston Bottle Show a week ago Saturday. The Aya Pana Bitters, manufactured by J. Chauvet in New Orleans, dates to 1859 based on the newspaper advertisement below from The Courier in New Orleans on 04 September 1860.

---
2015 Chattanooga National Antique Bottle Show Contracts Available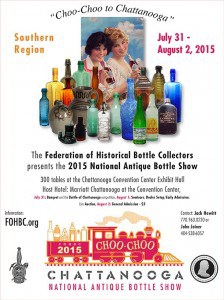 Get the Board Walk and Park Place table positions, or at least that side of the Monopoly Board at the FOHBC 2015 National Antique Bottle Show in Chattanooga, Tennessee. Elizabeth bought our table at the Manchester National last year and guess what? We are Table A2 at the Lexington National. Come see us and bring bitters! Contracts available online and in Lexington this weekend.

---
Lash's Bitters | PART THREE – Humorous and Clever Advertising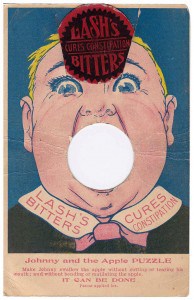 After Part ONE and Part TWO of this series dealing with the various Lash's bitters bottles and Lash's history, I thought we could focus today on some of the humorous, clever, and yet sometimes very odd advertising for Lash's Bitters products. The "Johnny and the Apple" puzzle is simply frightening for a number of reasons. All examples are from the Joe Gourd collection.

---
Another S (star) C Brown's Herb Bitters found in Maine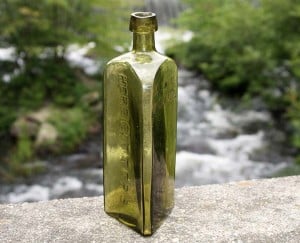 Now, here is one of my favorite bitters bottles that I have cherished since the day I obtained my example. I have written about the triangular S (star) C Brown's Herb Bitters before as it is such an extremely rare and beautiful bottle. I have no clue as to who or what S C Brown is, and I searched more today. Just a great bottle with that embossed star. Last week I heard…

---
Lash's Bitters – PART TWO | History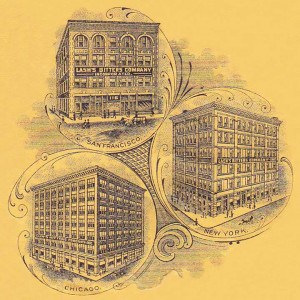 I suppose this title above could say "Lash's Bitters – Cincinnati, Sacramento, San Francisco, Chicago, New York and Anaheim" because this brand really had legs and endurance as you will see. We say San Francisco, Chicago and New York as those were the three cities that Lash's ran major operations out of. The illustration at the top of the post pictures the large and prominent buildings that anchored the Lash's brand from coast to coast.

---
Lash's Bitters | San Francisco – Chicago – New York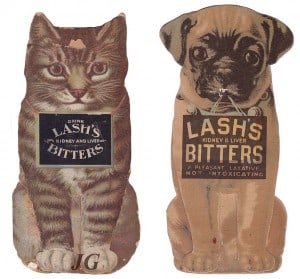 I thought it would be nice to finally tackle the great, Lash's Bitters brand that was incorporated in 1894 in San Francisco and expanded to Chicago in 1901 and New York in 1904. Lash's started a bit earlier in 1884 and actually lasted until 1966 if you can believe that! FOHBC member Don Yates wrote a nice article for Bottles and Extras in 1993 called Lash's – Not Just Bitters.

---
J. Grosman & Sons not J. Grossman & Sons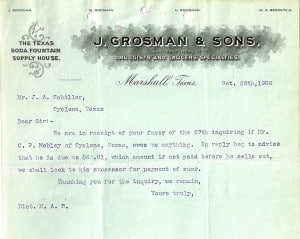 Ferdinand, enjoyed seeing you again at the Houston show, especially enjoyed the fish bitters in your display. I have attached two pictures pertaining to J. Grosman who was located in Marshall, Texas. Can this be the same J. Grossman & Son that you talked about in your last post? Hope you can come by here some day to see my collection. Thanks, David Cole

---
James's W. Price's Aromatic Stomach Bitters – New Orleans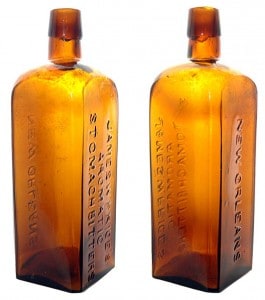 From the best that I can tell, James W. Price was in to patent medicines in New Orleans from 1874 to 1877. He probably made the bitters in 1875 and 1876. I am not sure how he got there or where he went except possibly Belize for some reason, but I am still looking. Why there are two variants and how one example ended up in Dallas is a mystery. I wonder who has this bottle? Notice how one of the advertisements below…

---
An unlisted Old Hickory Celebrated Stomach Bitters – New Orleans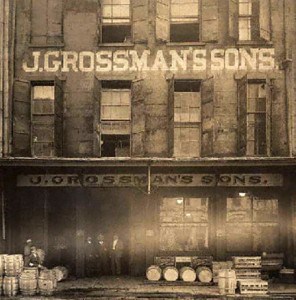 It was real nice running into and jawing with Courtney Frioux from New Orleans this past weekend at the Houston Antique Bottle Show. These days, this is one of the main reasons I like going to shows as I tend to find fewer and fewer new bitters to fit in my collection while wandering the aisles. What I do find is dialog and stories that might lead to pictures of rare birds and who knows what else?

---
Workin' the 2014 Houston Antique Bottle Show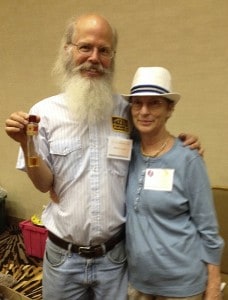 This years Houston Antique Bottles, Advertising & Collectibles Show and Sale served as a warm-up for me as the FOHBC Lexington National is in less than two weeks. This past Saturday, I had my two tables in the corner of the Crown Plaza Hotel ballroom and was hooked up to power my lap top and light table.

---
Lash's Pineapple-Ade Delicious & Refreshing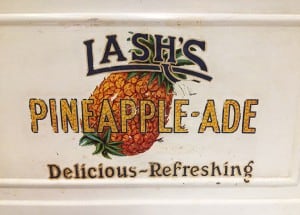 I suppose it would be nice to report that I picked up a super nice bitters at the Houston Antique Bottle Show yesterday but I did not. I ended up playing with my bottles and taking pictures to pass the time between talking bottles, selling FOHBC memberships and working on my lap top.

---
Corn n' Fish at the 2014 Houston Antique Bottle Show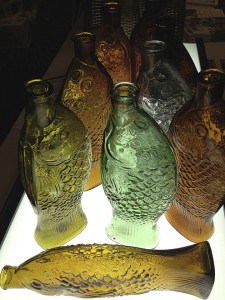 Some of you may remember that the past few years I have set up at the smallish Houston Antique Bottle Show and used the opportunity to bring some bottles and show off. I admit it. Not many figural collectors here so I use the opportunity to create a few bottle settings on a light box and play with my iPhone. This year was I was roaring with Rohrer's, fishing for FOHBC memberships and knee-deep in corn.

---
Electric Bitters and Electrified Ginger Ale: Were they really "zapped" or was it just more quackery?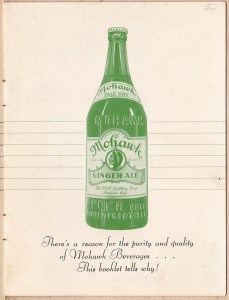 Reading the most recent Electric Bitters post on PRG got me thinking about this "zapping" thing. With the hundreds of 19th-century patent medicine concoctions that were ineffective and perhaps injurious, why might H.E. Bucklen's Electric Bitters be any different? And what's this about an "Electrified Ginger Ale"? Let's look at Bucklen's label first…

---
Genuine Black Walnut Bitters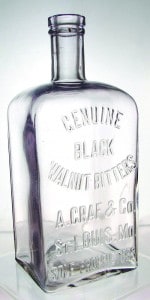 A business existence of more than thirty-four years is in itself a proof of the reliability and excellent standing of a firm and Mr. August Graf can look back over such a long period, spent in active business life at the head of its own establishment, founded by him in 1867 and ever since conducted under his personal management and at the same place.

---
Jackson's Aromatic Life Bitters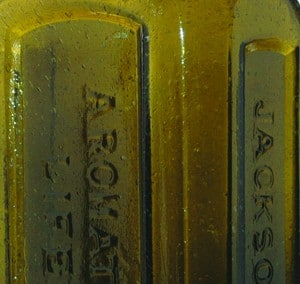 Earlier today, I put up a post on the (Thuringer) Aromatic Stomach Bitters. It got me thinking of the great, Jackson's Aromatic Life Bitters. Somewhat similar, I though I would sequence them up and look at some Jackson examples today. My dark yellow olive example (pictured above) has a smooth base, applied sloping collar mouth and is crude glass that is full of seed bubbles. It is somewhat lighter than other examples…

---
The pontiled Thuringer Aromatic Stomach Bitters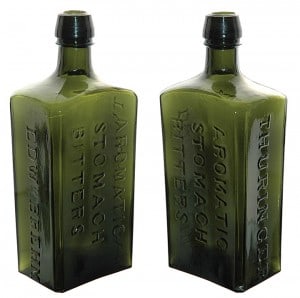 "Sometime in the late 1970s, Jim Hagenbuch visited the home of John Watson, a lawyer living in Oxford, Pennsylvania. He remembered the bottle in the collection and noted that he had never seen another example. Today it is still the only known example."

---