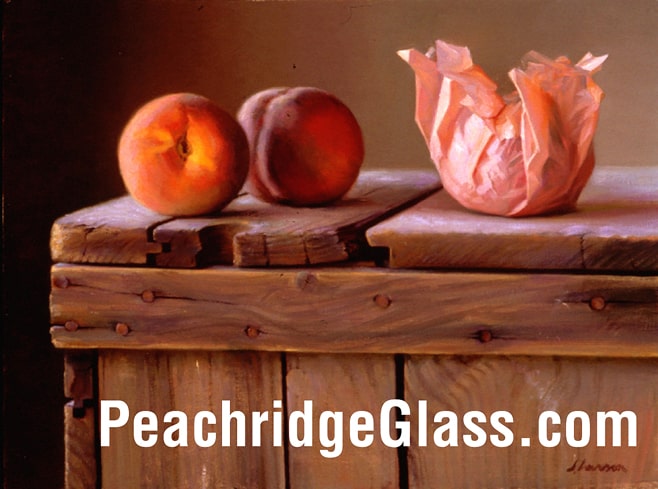 This site is presented and hosted by Ferdinand and Elizabeth Meyer. We hope to share our passion for collecting and dealing in Early American Antique Bottles and Glass. Please contact us for any information and or bottle and glass news for post consideration. I am also looking for guest authors as I shift to the Virtual Museum project. Thanks!
---

---
Glass Works Auctions proudly presents WATSON ONE
Now Online for Prebidding. Online bidding ends August 1st @ 10PM. Live auction bidding will begin at 9:00 am  Saturday, August 5th, 2017 at the MassMutual Center I conjunction with the FOHBC 2017 Springfield National Antique Bottle Convention & Expo, 1277 Main St., Springfield, MA 01103. Rooms 1, 2 & 3. VISIT AUCTION
---
Dr. Maton's Celebrated Stomach Bitters
I decided to pull the trigger on the damaged Dr. Maton's Celebrated Stomach Bitters on eBay as it is just so darn rare and I have only seen one other example. It is pictured above. Not in pristine shape and described as "Here's a rare 1870s bitters bottle from Lancaster, Pa….unfortunately, it was broken at some point in the past and glued back together. However, the bottle actually displays pretty decent from a couple sides so I thought someone might want it."

---
The back story to Saving the Fizz
How an interest that started almost 50 years ago manifested into a book on patent bottle closures. My name is David Jones, a name that has always brought some comment as it is also the name of a famous 180-year-old department store in Sydney, Australia, where I also live. No, I am not related and I cannot give you a discount. In Australia as elsewhere in the world 180 years ago, men, and a few women too, were wrestling with a better way to retain the effervescence of bottled mineral waters and carbonated and fermented beverages – something that would represent an improvement on the old wedged cork then used.

---
The National Bottle Museum would like your help..
All Bottle Clubs please read: Dear Mr. Meyer, In its slightly more than 30-year existence, the National Bottle Museum, located in Ballston Spa, NY, has accumulated nearly 3000 bottles and containers, ranging in age from Black Glass Dutch Squats from the early 1700's to a commemorative Pyroglazed milk bottle done in 2005 for the National Association of Milk Bottle Collectors….READ MORE National Bottle Museum
---
Two incredibly tall G. N. Morison Wholesale Druggist Ads
I've written about George Noble Morison of New Orleans before, specifically his extremely rare G. N. Morison's Invigorating Bitters. Here are two really interesting vertical advertisements from Morison who was a wholesale druggist in the 1850s and 1860s. If you click and enlarge the ads, there are some fascinating items that he advertises as being in stock. His warehouse must have really been something. Here is what specifically caught my eye…

---
Dr. Herrick's Standard Family Medicine
Within this post is reference to two early bitters from 1846 and 1847 that seem to be unlisted. The Strengthening Bitters and Vegetable Tonic Bitters (probably the same bitters with flexible names) are from a Dr. Herrick who is probably Dr. Lewis R. Herrick of Albany, New York. Dr. Herrick was born in Malden, New York on March 10, 1816 and was a noted physician of his day. Dr. Herrick, a patent medicine man, acquired considerable fame, and a large fortune in that business. His Sugar Coated Vegetable Pills and Dr. Herrick's Kid Strengthening Plasters had a world-wide reputation, at least according to advertising and write-ups on the man. He called himself "The great Healer of Mankind!"

---
2017 Springfield National Souvenir Program
Still some advertising space in the 2017 Springfield National Souvenir Program. From $35 to $300. We thank the following for their support! See attached price sheet. 2018 Cleveland National, 2019 Augusta National, American Bottle Auctions, American Digger Magazine, American Glass Gallery, Andrew Koutsoukos, Antique Bottle Club of San Diego, Barry Hayes, Bill Taylor, Binninger Bottles by Jim Bender, Bininger Man (Jack Pelletier), Bitters Bottles and Supplements, Bob Ferraro, In Memory Of, Bob & Mariane Strickhart, BottlePickers.com, Bottles and Extras, Bottles Identification & Price Guide, Bottle Tree Antiques Farm (John & Mary Bray), Bradley's Back Bar Bottles, British Bottle Review (BBR), Capital Region Antique Bottle & Insulator Club, Chris & Tim Hill, In Memory Of, Circle City Bottle Club (Indianapolis), Collectibles Insurance, Cures Wanted (John Wolf), Dale Santos – Wanted Demijohns, Dan Luciano, Dana Charlton Zarro (Pitkin Glass), Dario Dimare Insulators, Eric McGuire, Findlay Bottle Show, Finger Lakes Bottle Collectors Association, FMG Design, Inc., FOHBC Virtual Museum, Fruit Jar Annual 2018, Gary Beatty, Genesee Valley Bottle Club, Glass Works Auctions, Greater Buffalo Bottle Collectors Show, Grotzbotz (Larry Grotz), Heckler & Company Auctions, Holabird Western Americana Collections, Houston Bottle Show, Jeff Ullman, Jerry & Helen Forbes, Jim & Val Berry, John Joiner, John Spellman, Kansas Antique Bottle Show, Leo Goudreau Professional Glass Cleaning, Mark & Andrew Vuono Historical Flasks, Mark & Lynda Suozzi, MassMutual Center, McMurray Antiques & Auctions, Michael George, Mike Dickman, Michael Mackintosh, Mobile Bottle Collectors Club, Mohawk Valley Bottle Club, Mr. Bottles (Steven Libbey), National Association of Milk Bottle Collectors, National Bottle Museum, North American Glass, Past Tyme Pleasures, Peachridge Glass, Phillip Smith, Poison Bottles (Joan Cabaniss), Ralph Finch (Target Balls), Randolph Haumann, Red Book #11, Rich & Kathy Tucker, Richard Carney, Richard Siri, Rick & Berny Baldwin, Rod Vining, Sandor P. Fuss, Sheldon Baugh, Sheraton Springfield Monarch Place Hotel, Steve Ketcham, Theo Adams, Tod von Mechow, Tod Cagle, Tom Lines, Warner Products (Seeliger & Craig), Williams Distribution Co., Zane Wood. INFO
---
So-Long to Downieville – One last Hurrah
The Downieville Bottle Show was started in the early 1990's as the Mother Lode Bottle Show by Bill Ham and Warren Friedrich with help from Richard Siri and the late Jess Jones. If you were one of the early attendees or show dealers you remember the 1997 Western Whiskey Extravaganza that featured the top western whiskies and seminar by the late guru of western whiskies John Thomas. The 1998 show featured a display of the most desirable Slug Plate and Picture Whiskies displayed by collectors from all over the west.
Read:
September 9, 2017 The Last Downieville Bottle Show
---
Now Two Tally-Ho Bitters
The phrase tally-ho is a largely a British phrase, which originated from the activity of foxhunting, and other forms of hunting with hounds, shouted when a rider or follower sees the fox. Today the term has evolved to have other meanings, most of which relate to 'pointing out' or 'spotting' a 'target'. For example, it is sometimes used as slang in air traffic control to verify a radar contact has been visually confirmed.

---
We lose a Great Leader in our Hobby – Gene Bradberry
Just hearing from Tom Phillips that long-time FOHBC member, past president and Hall of Famer Gene Bradberry passed away this morning. Tom will get us more information on the funeral and services. Gene joined the FOHBC in 1969 and quickly became active behind the scenes. He served as 2nd vice chairman (1971-72), chairman (1972-74), President (as chairmen became) (1988-94), Membership Director (1994-2000), Expo 2004 show chairman, 1st vice president (2004-06), Membership Director (2006-10), President (2010-2012) and Director at Large (2012-Present). He also found time to serve his Memphis Bottle Collectors Club and…

---
Digging Historical Flasks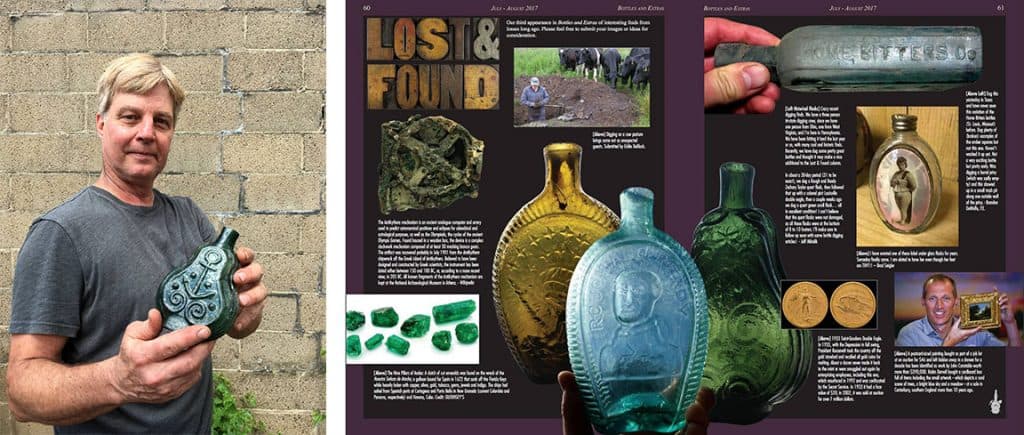 Crazy recent digging finds. We have a three person tri-state digging crew, since we have one person from Ohio, one from West Virginia, and I'm here in Pennsylvania. We have been hitting it hard the last year or so, with many cool and historic finds. Recently, we have dug some pretty great bottles and thought it may make a nice additional to the Lost & Found column. In about a 30-day period (31 to be exact), we dug a Rough and Ready Zachary Taylor quart flask, then followed that up with a colored pint Louisville double eagle, then a couple weeks ago we dug a quart green scroll flask… all in excellent condition! I can't believe that the quart flasks were not damaged, as all these flasks were at the bottom of 8 to 10 footers. I'll make sure to follow up soon with some bottle digging articles! – Jeff Mihalik  SUBSCRIBE
---
Mississippi Valley Bitters or Yazoo Valley Bitters?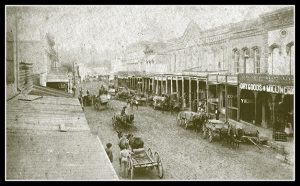 I found this bright yellow, 1867 St. Louis City Directory advertisement above listing a Mississippi Valley Bitters, Fish Bitters, Hostetter's Bitters and Drake's Bitters. I certainly know about the last three listings. The Mississippi Valley Bitters is new to me. Could it be related to the Yazoo Valley Bitters that was made in Vicksburg, Mississippi by Fulton M. McRae?

---
Dr. Brunon's Bitters – To Hotel Keepers, Restaurants, Druggists, Grocers and the Public
A simple post here for an 1859 bitters advertisement I found the other day in The Ottawa Free Trader. Dr. Brunon's Bitters would cure just about anything out there. The bitters sold for 50 cents per bottle, $5 per dozen, $2.50 per gallon and you could get extra Bitters for bar-rooms, by the gallon or barrel at the low price of $1.25 per gallon. I wonder how they shipped the barrels?

---
July August 2017 issue of BOTTLES and EXTRAS mailed on Monday
You will find inside, Hidden Church Treasures, or So Near Yet So Far, For This Collector, History's Messages are in the Bottles, Is there elegance and mystique in a milk glass soda bottle from Massachusetts?, Los Angeles Historical Bottle Club's 50th Anniversary Commemoratives, A Serendipitous Dig, Pale Orange Bitters and P. J. Murray's Ghost, Paine's Celery Compound – Makes People Well and departments such as Shards of Wisdom, History's Corner, Lost & Found, Member Photo Gallery, FOHBC News, From and For Our Members, Show Calendar Listings and so much more. CLICK For membership & subscription info.
---
Barnett & Lion's Southern Grey Jacket Stomach Bitters
Dale Mlasko recently posted pictures of a whittled and mint, red amber, Barnett & Lion's (sometimes spelled incorrectly as Lyon) "Grey Jacket Bitters" bottle from a collection that was boxed up and unknown for decades. This labeled (not embossed) Southern stomach bitters, from New Orleans, was first produced in 1865. The bottle has a really cool embossed confederate soldier, hence you would assume, the name. The label probably had a color illustration of Johnny Reb. The bottle is extremely rare with probably only a handful secreted away in Southern collections. This bottle is very desirable and has so much going for it.

---
Northwestern Bottle Collectors Association Show & Sale
The Santa Rosa Veteran's Memorial Auditorium was the site of the Northwestern Bottle Collector's Association annual show and sale on May 6 & 7, in Santa Rosa, California. After a number of years of a slump in club membership and show attendance a noticeable resurgence in both has been lately experienced, and this year's show was no exception to this renewed interest. It was one of the best shows in recent memory.

---
Mansfield holds its 39th Annual Show
This past Saturday, Linda and I made our yearly trip to the Ohio Bottle Clubs 39th annual Mansfield show. The Ohio Bottle Club is a great group of people headed by Alan DeMasion, acting president. Alan is also heading up the FOHBC Virtual Museum imaging and fundraising efforts. You should see his 3-D spinners that he is working on. I am told some examples will be available at the FOHBC 2017 Springfield National Antique Bottle Convention & Expo. Stop by and check them out. Alan will have a Virtual Museum filming set-up in the display area.

---
Mohawk Valley Antique Bottle Club has a Great Two Days
I am running a bit behind with my show reports because the past three weeks has been filled with bottle activities. I have been to the Rochester bottle show, the Mohawk Valley Bottle Clubs show and just returned from the Mansfield show. I set up at all three shows and also went to Norm Hecklers barn sale in between. So, I am playing catch up at this point!

---
2017 Springfield National Seminars – Seminar Schedule, Topics & Presenters
The FOHBC is proud to present a variety of fascinating educational seminars at the 2017 Springfield National Bottle Convention and Expo. This distinguished group of presenters was organized by seminar coordinator, Michael George. In the past, because two seminars were presented simultaneously, you were forced to choose one and miss another. We have partially remedied this situation by arranging the videotaping of our seminars which will be made available to all on the FOHBC web site. Details concerning obtaining those videos will be announced at the time of the seminar presentations.

---
Watson One Auction News
For immediate release: I explained once that some good things are worth the wait. And now the wait is over. Springfield 2017 is going to long be remembered for many reasons. Great show, great seminars, great banquet, superb auction. We are extremely grateful to the Watson family who in their parent's footsteps have made this contribution to the FOHBC and the hobby possible. Team Springfield is excited to announce that Glass Works Auctions, under the leadership of Jim Hagenbuch, will conduct an auction of approximately 115 carefully selected lots from the Elma & Dick Watson collection of extraordinary bottles and glass on Saturday, August 5th, 2017. Watson One, the first ever offering from the Watson collection, will take place in the MassMutual Center, adjacent to the Springfield showroom floor, on Saturday morning, August 5th 2017. Previews (subject to change) will take place on Friday August 4th from 3:30 to 5:30 P.M. and from 7 to 9 A.M. on the morning of the auction. Auction action will commence promptly at 9 A.M. and conclude in time for showroom floor activities to beginning at noon. Bidding procedures, catalogues and specific items in the auction will be made public shortly. Stay tuned!!!!! There will be something for everyone and this, my friends, will be an event not to be missed. A splendid time is guaranteed for all! Bob Strickhart (Springfield C0-Chair)
---
Greeley's Bourbon Bitters being Raffled at the Springfield National
Through a generous donation from a friend on the west coast, the National Bottle Museum now has a wonderful Greeley's Bourbon Whiskey Bitters in aqua to raffle at the FOHBC 2017 Springfield National Antique Bottle Convention & Expo. Info —>>> More Info
---
Left Coast Lines Presents: The 2017 Rohde Ranch BBQ & Tailgater
Hello fellow hobbyists and welcome collectors of all ages and interests. Here is the latest chapter in the insulator collecting hobby phenomenon called The Rohde Ranch BBQ and Tailgater. This year's event, hosted by Bill and Kat, was held on Saturday, April 22nd, 2017 at the Rohde Ranch, just east of the San Joaquin River near Fresno, California.

---
Another Jim Healy Creation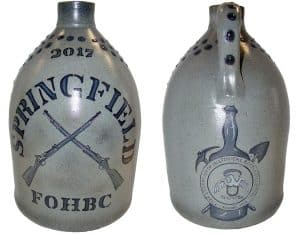 Here is an image of the first of two stoneware jugs being made to raffle at the Springfield National. Jim Healy is making them. The one shown in the photo is similar to the style we had at the 2015 Chattanooga National. The second will be an older looking jug. My plan is to sell tickets for $2 each or 3 for $5. – Jim Bender (Springfield National Chair)
---
48th Rochester Show and Sale was Great
This past weekend, April 30th, I was able to make my yearly trip to Rochester for their 48th annual show and sale. Aaron and Pam Weber once again served as the show chairs. They do a great job with this show and always have a packed show room. They will be the first to tell you they don't do it alone. The club is run by a great board which includes John DeVolder (president), Chris Davis (vice president),..

---
Bob Ferraro 
It is with great sadness that we hear of the passing of Bob Ferraro in Boulder City, Nevada. Bob was many things including a great bottle collector, politician, business man, human being and most important, a friend to many and an inspiration. Read: Former Mayor Bob Ferraro dies at 81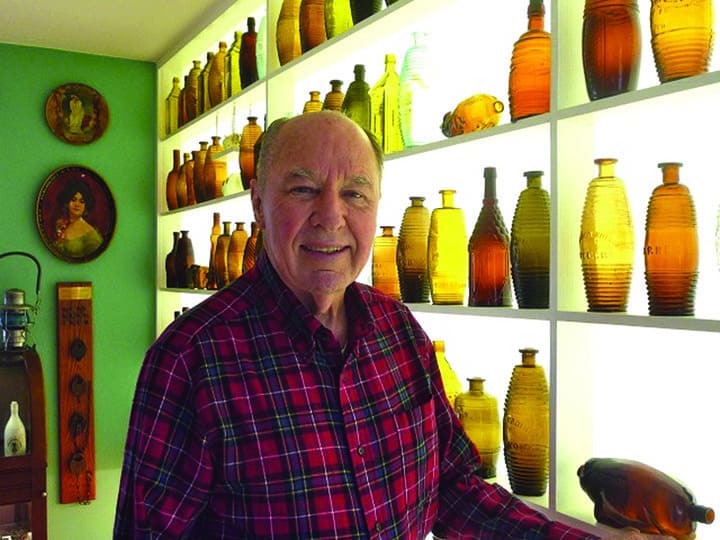 ---
Mobile Bottle Collector's Club 43rd Annual Show Report
The Mobile Bottle Collector's Club 43rd Annual Show was on the 25th of March, 2017 in Daphne, Alabama, and my friends and I were in attendance. This year was a fun year because we came armed with Barq's Hutch sodas from Biloxi and Gulfport and had a few rarities to sell from New Orleans as well. Jason Case and Rick Soldini joined my expedition into one of the best shows in the South. Jason had his Gulfport Barq's Hutch sodas to sell, I had my double Biloxi Barq's and some New Orleans relics to sell, and Rick had a 1915 Bay St. Louis hobble-skirt Coke to sell.

---
The New England Antique Bottle Collectors Club 51st Show
This past Sunday I attended the New England Antique Bottle Collectors Clubs 51st annual show and sale. This was my first time to this show as it normally runs the same day as the Empire State Show and I attend that show every year. This just goes to show you with a little work between clubs, collectors can attend more shows and not have to make a choice.

---
Ferd Meyer Memorial Received Well at Baltimore Bottle Show – Ferdinand Meyer V Interview
Was interviewed any Scott Collier at Dundalk TV. Gave me an opportunity to talk about my dad and how he was one of the first in the Balto Bottle Club. Got me started in this great hobby too. Enjoy. WATCH
---
Battle of Springfield Bottle Competition News
The "Battle of Springfield" Bottle Competition will be held Thursday, August 3rd, 2017 from 7:00 to 10:00 pm at the FOHBC 2017 Springfield National Antique Bottle Convention & Expo. The event will occur in the Mahogany Room on the 2nd Floor of the Sheraton Springfield Monarch Place hotel. Bottle registration will be at 6:00 pm in the same room.

---
Springfield National Room Hopping Announced!
For those who would like an old fashioned treat, this coming year at the 2017 Springfield National, we are bringing back a rendition of an old favorite. We're going to have some old fashioned "Room Hopping" at the Sheraton Springfield Monarch Place hotel just like we did before cell phones and late night auctions.

---
Springfield Armory Reception – New Event added to the 2017 Springfield National
The FOHBC is working with the Events Coordinator at the Springfield Armory Museum and the Campus Events Coordinator at the adjacent Springfield Technical Community College. Both are in historic buildings on the National Historic Site (National Park Service) grounds and hold events. The FOHBC and Springfield Co-Chairs will be holding an afternoon reception on the 7th floor, "Top of the City" conference room at the Education Center which has large windows that overlook the historic grounds.

---
Stage Actress Beauties – Looking at some Damiana Bitters Advertising Trade Cards
Ferd, Here are the images you requested. Glad to help out. I thought that we had used a number of them previously but I could not find them in any of your posts. All of these ladies were stage stars in the late 19th century. They lent their celebrity to the promotion of these bitters much as celebrities are doing today. Each are worthy of separate posts in their own right. I have done some research and have limited biographies on each of them. I look forward to reading your Damiana Bitters post. Regards, Joe"

---