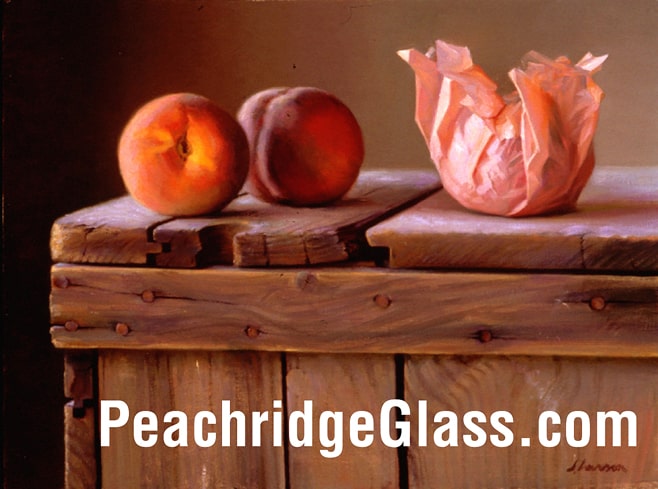 This site is presented and hosted by Ferdinand and Elizabeth Meyer. We hope to share our passion for collecting and dealing in Early American Antique Bottles and Glass. Please contact us for any information and or bottle and glass news for post consideration. I am also looking for guest authors as I shift to the Virtual Museum project. Thanks!
---

---
What about this Tilton's Dandelion Bitters?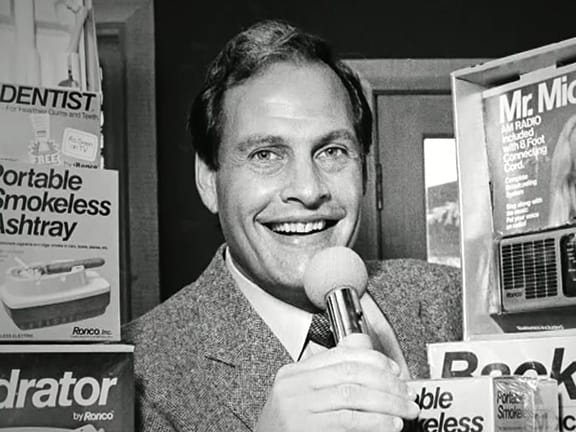 Some of you may be aware of a series of Dandelion Bitters posts that have occurred on Peachridge Glass in the past. A complete listing is at the bottom of this post. This wonderful "label under glass" Tilton's Dandelion Bitters is one that has stumped me as I initially could not find any information. I am going to try again today.

---
Henry Ferris Porter Bottle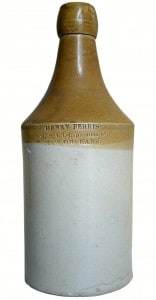 The following e-mail was in my in-box from last month and I haven't had a chance to pursue until now. It is represented below from a fellow in Florida. Pretty neat old beer bottle of some sort. So who is Henry Ferris? Was this a beer, porter, ginger beer?

---
Looking at Boerhave's Holland Bitters – Pittsburgh
Jeff Wichmann currently has a Boerhave's Holland Bitters up on his American Bottle Auctions "For Sale" page that prompted me to pull my example out of a digital folder. The top two pictures represent my bottle. Another rather exciting aqua bitters that can rock your socks or at least mine. I am surprised it still available on Jeff's site. This bitters collector suggests "Buy". The price is right too.

---
Dr. C. G. Garrison's Bitters for Dyspepsia – Philadelphia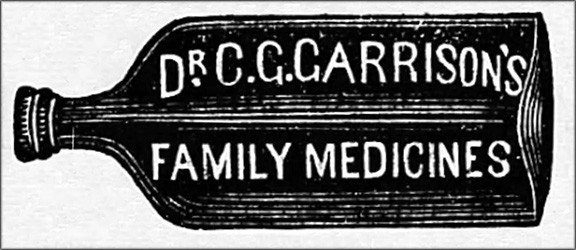 Here is another great aqua bitters that sold last week on Jeff Wichmann's American Bottle Auctions Sale Page. I have not seen an example of a Dr. C. G. Garrison's Bitters for Dyspepsia from Philadelphia, so this was pretty darn exciting to this bitters collector. Jeff's write-up on the bottle is as follows…

---
"Battle of Chattanooga"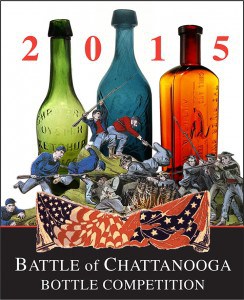 The "Battle of Chattanooga" bottle competition will be held at the Marriott on Friday, July 31st after the banquet in Plaza Room C. There will be three categories. Each category will have three judges. The categories are: Colored Sodas, Sauces (peppersauce, ketchup, durkees, oyster, etc.) Best Bottle South of the Mason Dixon Line. Security will be provided. For additional information contact: Mike Newman, phone: 706.829.8060, e-mail: theNewm@aol.com. VISIT SHOW PAGE
---
Dr. Sperry's Rheumatic Bitters – Hartford, Connecticut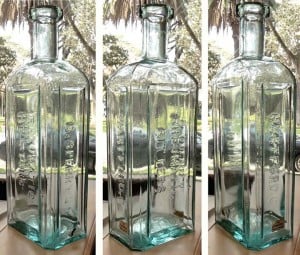 Selling for a song last week at Jeff Wichmann's American Bottle Auctions Sale Page was this rare, actually I think extremely rare, Dr. Sperry's Rheumatic Bitters from Hartford, Connecticut. At this point, just about any bitters I don't have now is either because it is extremely rare, an oddball variant or would require global financial backing to purchase.

---
March | April Issue of Bottles and Extras Mails Today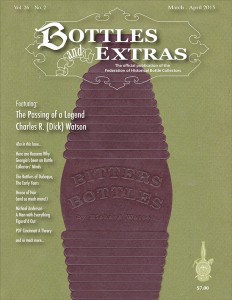 Look for an in-depth tribute to legendary bottle collector Dick Watson and other stories like Part 2 of Georgia Antique Bottle Collecting History: Here are Reasons Why Georgia's Been on Bottle Collectors Minds, PDF Cincinnati – A Theory, House of Hair (and so much more), The Passing of a Legend – Charles R. (Dick) Watson by some of his many friends, The Bottlers of Dubuque, The Early Years 1854-1863 and Michael Anderson – A Man with Everything Figural'd Out and so much more! Become a member of the FOHBC and get Bottles and Extras
---
The Importance of Labels – Part 2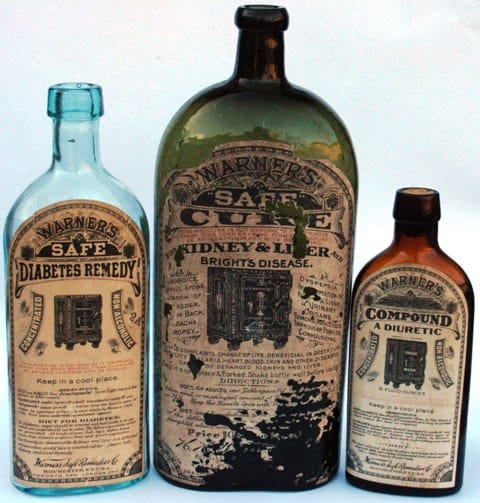 In most cases, labels add to the aesthetic value of bottles as well as to their monetary value. Labels give you a sense of seeing the product as it might have appeared to a potential buyer in the 19th Century. This is particularly true of Warner's Safe Remedies, because they provide such great detail about the ailments the product was designed to alleviate. Read at Warner's Safe Cure Blog
---
Dr. Trowbridge's Dandelion Bitters – Stamford, Connecticut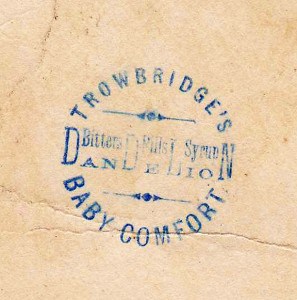 Sitting lonely on page 540 of the Carlyn Ring and W.C. Ham Bitters Bottles book is a listing for Trowbridge's Dandelion Bitters. It might have been forgotten until bitters ephemera collector Joe Gourd submitted the advertising trade card used in this post for consideration in the "Dandelion Bitters" series. This is a stock trade card…

---
Winter Fast Track Auction 28 Now Open!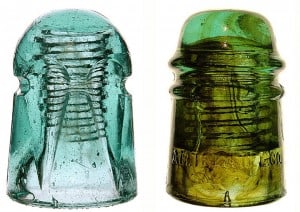 Our Winter Fast Track Auction 28 is now open for bidding! We invite you to place your bids now. The auction closes Sunday, February 22. For all the additional details and to view the auction, please visit us. VISIT AUCTION Thank you and happy collecting! Dwayne Anthony, Open-Wire Insulator Services
---
McKelvy's Stomach Bitters – Pittsburgh, Pennsylvania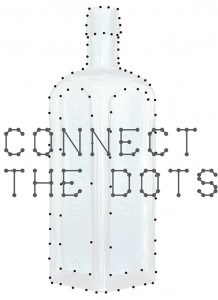 Sometimes there is just so little information available to help identify a bottle that you just have to connect the dots and make assumptions. In today's case it is the McKelvy's Stomach Bitters from Pittsburgh, Pennsylvania. We also have WM. MCC&CO. embossed on the base as clue.

---
Beautiful Minerals with a Selection of Exquisite Barber Bottles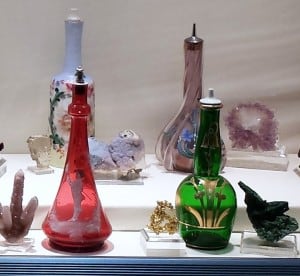 Now here is a display that you don't come across too often at antique bottle shows. Check out this email from Sandor P. Fuss reporting from the Tucson Gem & Mineral Show. Make sure you check out the pairing of the specific minerals with the barber bottle.

---
I recently picked up a Summer/Winter GX-15 Pontil Pint Aquamarine Flask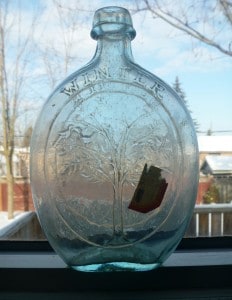 It seemed like a nice day to do a post on a Summer Winter flask and put the Winter side on the top of the page. I've received some e-mails from folks up North where the temperature is approaching zero degrees. Yes it is winter. This e-mail is from Abel Araujo Gouveia Da Silva, up Canada way.

---
Peters & Smith – Drugs & Medicines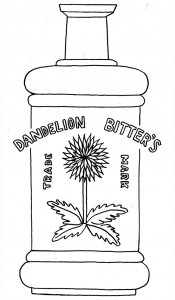 Collecting bitters bottles is just too much fun. I realize to some, or probably many, that there is monotony in looking at all of the various dandelion bitters. My apologies, I am just consumed with all of this. I think this is the tenth dandelion bitters brand we have looked at lately. This one is exciting because there is …

---
Lucius W. Bissell and his Dandelion Bitters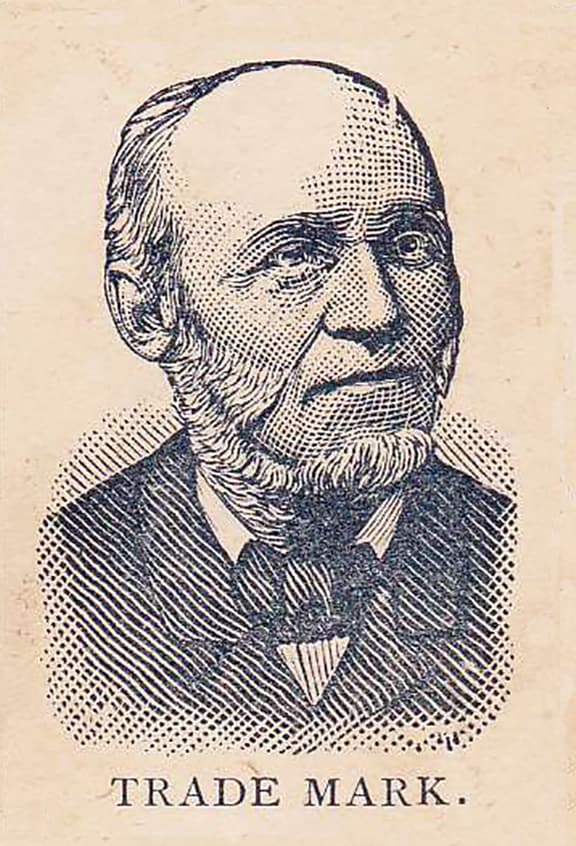 Wow, another in the Dandelion Bitters series inspired by bitters ephemera authority, Joe Gourd. The two advertising trade cards used in this post are Joe's. Sometimes these cards are the only clue we have of a bitters brand. This time it is Bissell's Dandelion Bitters put out by Bissell's Manufacturing Company in Keene, New Hampshire.

---
Abbott's Bitters Web Site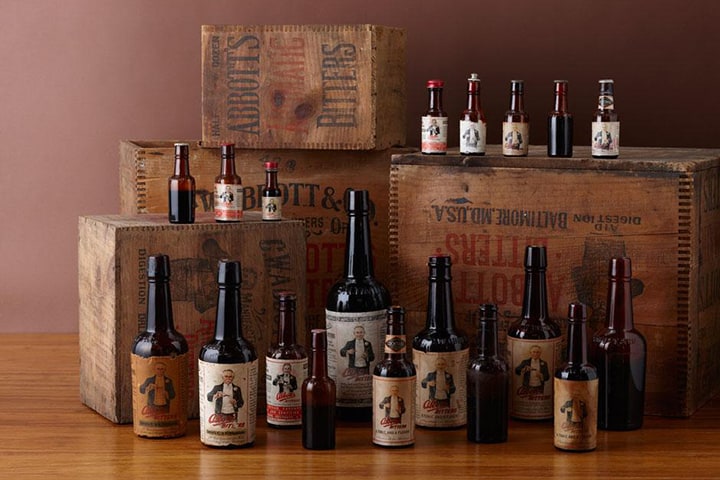 Received the following very interesting e-mail from Peter Schaf who allowed me to share. This guy really has it covered for Abbott's Bitters. "My passion for bottles finally brought me to the spirits industry, where I partnered with an old friend (who is also a bottle collector), to create a company dedicated to finding or recreating lost liqueurs, bitters and vermouths for craft bartenders and enthusiasts, originally specializing in absinthe." Read at DAILY DOSE
---
Smith's Gentian, Dandelion and Yellow Dock Bitters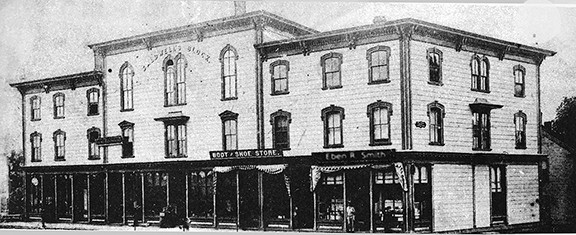 The Smith's Gentian, Dandelion and Yellow Dock Bitters appears to be unlisted in Bitters Bottles. You have to look carefully as there are about 15 brands of Smith's bitters of one sort or local or another. This brand was put out by Ebin R. Smith practicing as a druggist out of Ipswich, Massachusetts.

---
The Importance of Labels – Part 1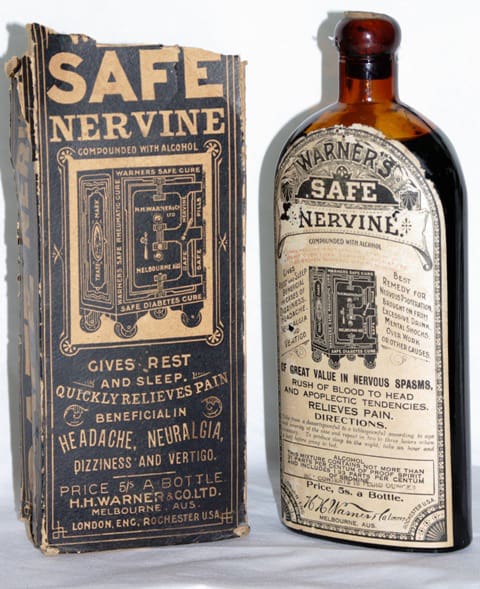 One of the perennial questions that comes up among bottle collectors, especially those of us who collect cures and remedies is "does a label on a bottle increase its value?" The answer to that is most often "yes," but there are some qualifications to that answer. It is not an absolute truth. It's important to understand why labels are valuable. In my mind… Read At Warner's Safe Cure Blog
---
Outlandish Fellow Dressed in a Suit with Top Hat and Umbrella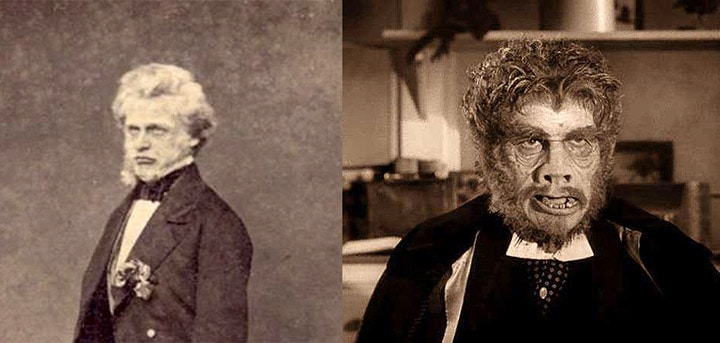 Joe Gourd e-mailed the following, "Good morning Ferd, came across this photo of an early snake oil salesman in an eBay auction today. Not quite a "Bitters" item for my collection but a really cool card. Wonder who he was? Have a great day………Joe". I too, thought it was a neat picture and posted it on Facebook and Daily Dose hoping to circle back later, which is now.

---
Lyman's Dandelion Bitters – Bangor, Maine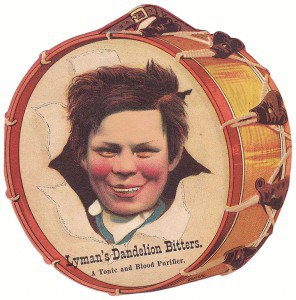 Caldwell Sweet seemed destined to be druggist. He initially clerked in a drug store in Bangor at B.F. Bradbury in 1869 and then moved to J.F. Patten in the same capacity. Sweet was prosperous in business from the beginning…

---
Dandelion & Wild Cherry Bitters – Iowa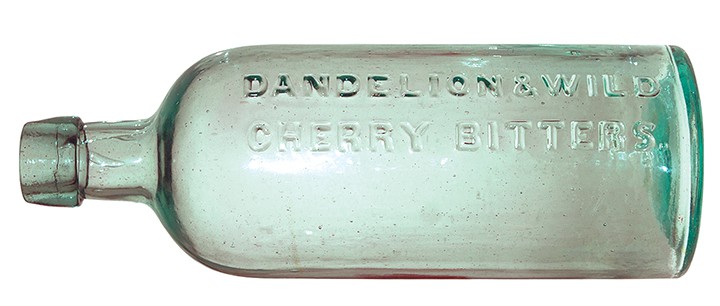 The Dandelion & Wild Cherry Bitters has been sitting on a shelf in my aqua bitters room since 2004 when I secured it in a Glass Works Auction. A plain but really neat bottle that is rather old. This is another installment in our Dandelion Bitters series.

---
Bottles, Jars & Stoneware Auction – North American Glass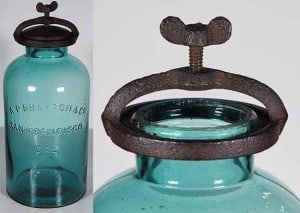 Dear Collector: Our mid-winter auction will open for on-line bidding Monday Feb 9th at 6 pm EST. This sale includes a great variety of quality lots with something for everyone. There are 13 different categories including fruit jars, bottles, flasks, stoneware, tins, and more. A full preview of the 525 lots may now be viewed HERE.
---
Bond's Dandelion Bitters – Fort Wayne, Indiana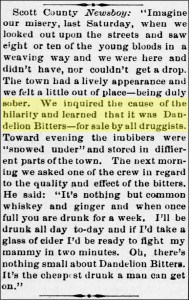 A short post this morning looking at yet another unlisted bitters. This time it is the Bond's Dandelion Bitters from Fort Wayne, Indiana. The bitters is dated 1868 along with the support advertising. There is scant material and information available and certainly no surviving bottle examples, at least that I am aware of.

---
Dandelion Bitters – The Great Herb Blood Remedy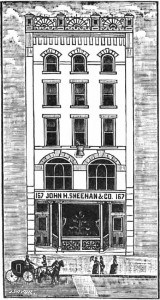 The other day I noticed a Dandelion Bitters advertising trade card on eBay that I was not familiar with. The bitters was put out by John H. Sheehan & Company in Utica, New York. There are quite a few Dandelion Bitters, a number of them we have posted about before including…

---
Willard's Golden Seal Bitters – Taunton, Massachusetts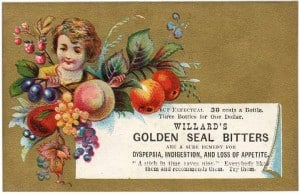 I thought it might be a good idea to circle back and find out who A. L. Willard was from Taunton, Massachusetts. He was known best for his Willard's Golden Seal Bitters. He used advertising cards to market his concoction and many of the them said that his bitters were a sure remedy for Dyspepsia, Indigestion, and Loss of Appetite.

---
Is the Hunyadi Janos Saxlehner's Bitterquelle a bitters bottle?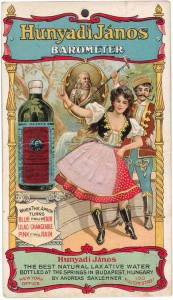 No, the Hunyadi Janos Saxlehner's Bitterquelle is not a bitters bottle so let's get that out-of-the-way, right quick. Most new bitters collectors, including myself, remember seeing a Bitterquelle either at a bottle show or on eBay and wondering if this was a bitters bottle..Many of us were intrigued by the embossing on the bottom of the bottle but wondered why there were so many and why they rarely sold, and if so, for only a dollar to two.

---
Golden Bitters on a Rainy Day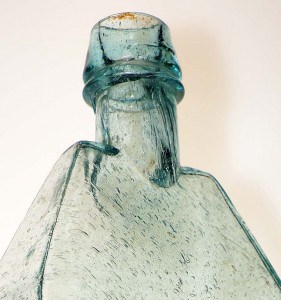 Just a simple post today as I look outside and prepare for the next front. It will rain for a day or so. I thought I would share some pictures of an aqua Golden Bitters by George C. Hubbel & Co. that looks at wet and rainy as could be. No, I just did not wash it, the storm is within the glass. Notice the extreme character of the glass which includes amber striations.

---
The Sugar-Coated Pill of Secession (and Other Civil War Patriotic Covers)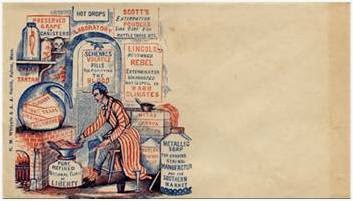 In previous posts I have written about my interest in Civil War patriotic covers (envelopes), especially those that have a medicine-related theme. In this post, a share some additions to my collection since I last wrote about them as well as an article about medicine- and bottle-related covers that I had the privilege of writing for Bottles & Extras, the official magazine of the Federation of Historical Bottle Collectors (FOHBC). Read at Civil War Medicine (and Writing)
---
Rooms Selling Fast for 2015 Chattanooga National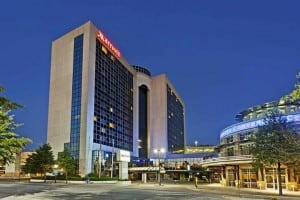 Hi Ferd, Good trip to Chattanooga on Thursday but we need a few things. The Marriott said that if we used up our block of rooms quickly we could get more at the same price. I thought maybe you could send out an email asking people who plan to attend to please go ahead and reserve their rooms even if they have not sent in a contract. John (Joiner) Show Co-Chair | Show & Hotel Info
---
Red Book No. 11 – The Collector's Guide to Old Fruit Jars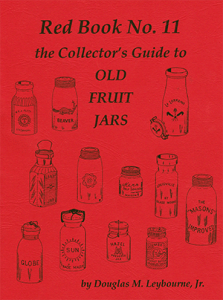 Had a nice conversation with Douglas M. Leybourne, Jr., author of RED BOOK NO. 11 – The Collector's Guide to Old Fruit Jars yesterday. Get this important addition to your reference library. Whether if you are a new, or a long-time collector of fruit jars, you'll want this latest book. VISIT WEB SITE
---
Dr. Tutt's Golden Eagle Bitters – Augusta & New York

Back in August 2011, I had the opportunity to visit with Mike Newman and his extraordinary bottle collection outside of Augusta, Georgia. You can read three historical posts below where I tried to capture the depth and quality of his rooms of wonderful bottles.

---
Tilley's Summum Bonum Bitters – West Haverstraw, N.Y.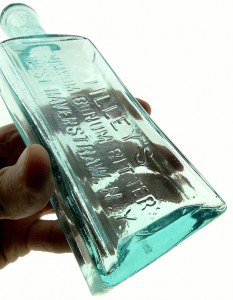 The first thing I wondered here was why "Summum bonum" would be embossed on the Tilley's Sunnum Bonum Bitters bottle from West Haverstraw, New York. Actually this was not my first thought. My first thought was being amazed that this bottle even showed up on Jeff Wichmann's…

---
Dr. B. L. Bull's Vegetable Bitters – Racine, Wisconsin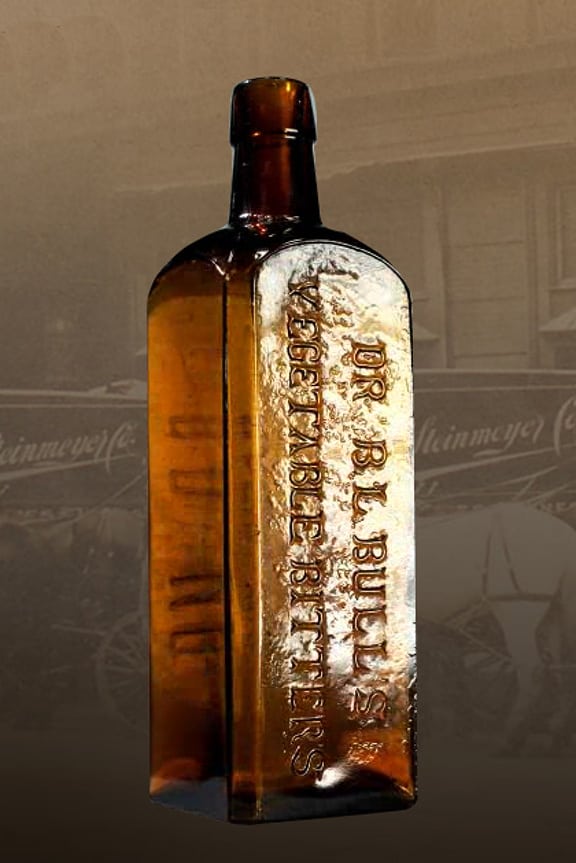 Here is another tough-to-find bitters that showed up and was snapped-up in moments on Jeff Wichmann's American Bottle Auctions Sale Page. The Dr. B. L. Bull's Vegetable Bitters is from Racine, Wisconsin and is embossed, "D.B.V.M.C." which means, "Dr. Bull's Vegetable Medicine Company". Take a look at the typography as the gothic typestyle is very odd for a bitters.

---
Museum of Connecticut Glass seeks collaboration with historical societies, schools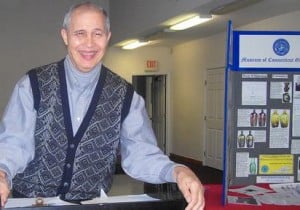 America's first industry was neither textiles, nor iron, nor arms, but rather glassmaking. Early manufacturing attempts met with hardships and often failure, but in time the business of glassmaking… READ ARTICLE
---
This Chestnut Grove applied seal whiskey is a personal favorite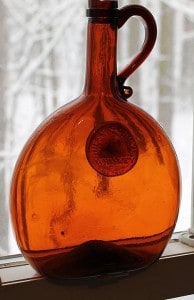 Folks, I have been known to take some good pics of bottles and glass. Vicki got me a new Canon EOS Rebel T3 and I love it. Earlier today after the snow stopped, I started taking some pics in my office, no sun, no flash, natural light. This Chestnut Grove applied seal whiskey is a personal favorite. I took a shot of the seal…

---
Frederick's Great Remedy – The American Star Bitters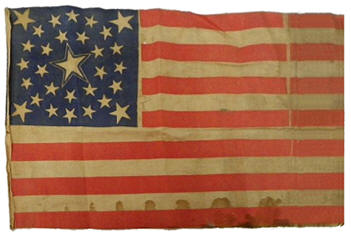 On February 23, 1866, George P. Frederick may have opened his morning newspaper with coffee and a biscuit only to read with interest the following lines titled "The American Star". So moved, he may have decided to name his new great remedy, the American Star Bitters.

---
Belmont Tonic Herb Bitters – Philadelphia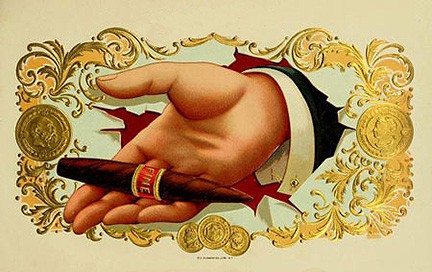 If you are wondering why I have used cigar label art above when I am writing about the Belmont Tonic Herb Bitters, it is because Benjamin Labe was primarily a tobacco dealer in Philadelphia who took up a very brief moment in time to put out a bitters product. The Carlyn Ring and W.C. Ham listing…

---
Safe Pills Abroad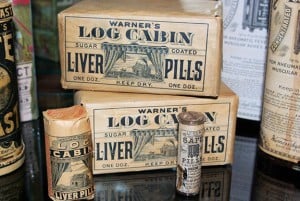 When I first wrote about Warner's Safe Pills over six years ago, I had assumed that the marketing of Safe Pills was limited to the United States from the Rochester Office. Indeed, Safe Pills were one of Warner's original line of products along with his Safe Kidney & Liver Cure, Safe Bitters, Safe Nervine and Safe Diabetes Cure. Turns out, I was wrong. READ at Steve Jackson's Warner's Safe Cure Blog
---
Cannon's Indian Vegetable and Blood Purifying Bitters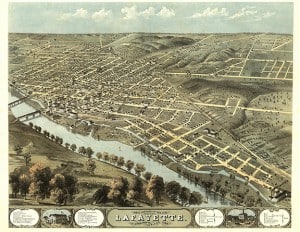 I found this advertisement below for Cannon's Indian Vegetable and Blood Purifying Bitters from an 1878 Fort Wayne, Indiana newspaper. Avery & Tyler in Lafayette, Indiana were the wholesale agents. The map above is from Lafayette in 1868. Lafayette is a city in Tippecanoe…

---
Knoefel's Orolo Bitters – New Albany, Indiana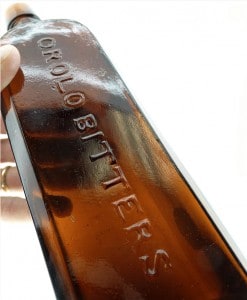 I did not win some bottles yesterday but it was not for "Hard drinking and fast women" which affected one of our characters in todays story. Jeff Wichmann over at the new Sales Page at American Bottle Auctions posted another grouping of fine bottles at noon Pacific time yesterday. The posting was so anticipated that his web site crashed. Oh well. It is refreshing to see these exciting bottles in this format…

---
Official FOHBC Show Photographer Announced! – Mallory Boyle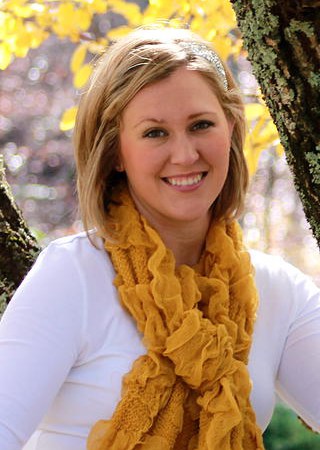 Mallory Boyle, daughter of Jack Hewitt, 2015 Chattanooga National Antique Bottle Show Co-Chair has graciously agreed to be our official show photographer. As you might imagine, she has been around bottles most of her life. You can see her work and read about her at this link: MLB Photography
---
A question about French 'Canteen Like' Bottles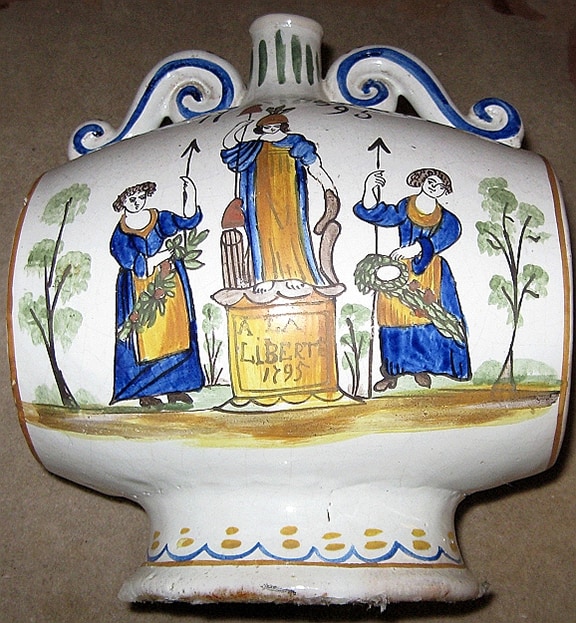 Dear Mr. Meyer: My name is Jean T. I am writing to you today with the hope that you could possibly help me to identify two bottles (jugs) that I have in my possession. I accidentally stumbled upon your website trying to research the bottles myself, I clicked on an image of a military water or wine canteen and saw that you had all kinds of images of different ones on your site.

---
Dr. Mackenzie's or Dr. McKenzie Wild Cherry Bitters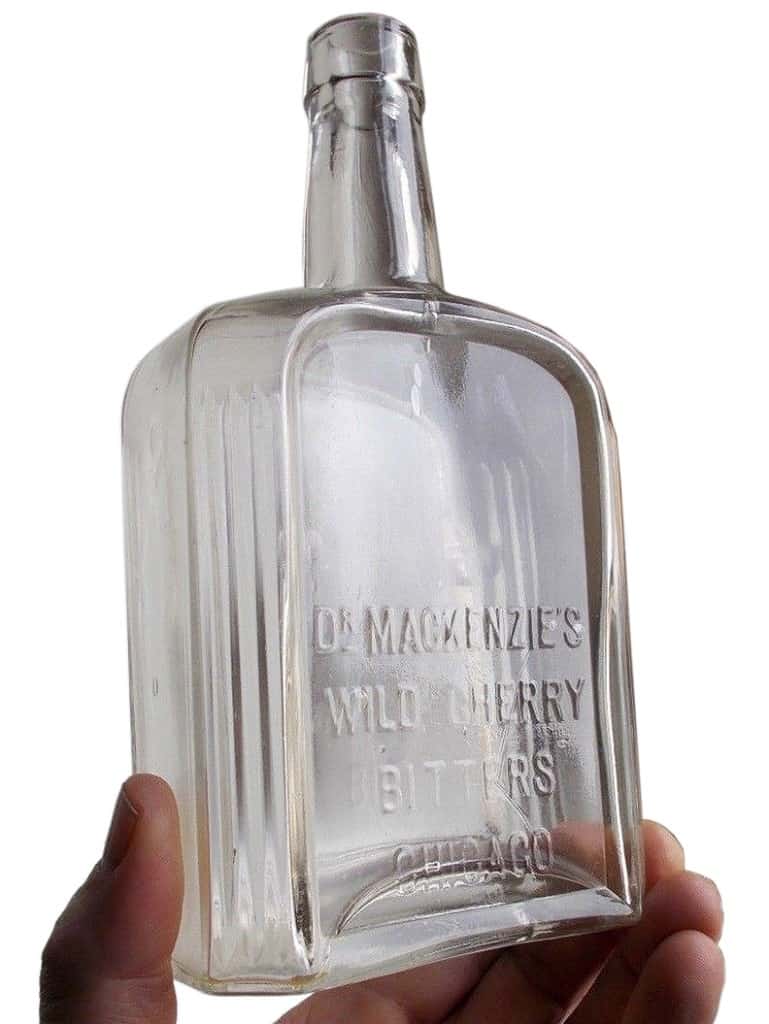 Hi Ferd: I find this bottle very interesting that I just picked up. In the Ring and Ham Bitters Bottles book, it is listed twice as M-5 (Dr. Mackenzie) and also M-60 (Dr. McKinzie) which is the one I have spelled Mackenzie's. The M-60 is spelled McKinzie. Not many bitters have two separate listings of almost the same bottle and same company. Looked for it on your site but found nothing. Lots of Wild Cherry Bitters bottles there but not this one. Thanks and Happy New Year – Lou Holis

---
Dr. Carey's Original Mandrake Bitters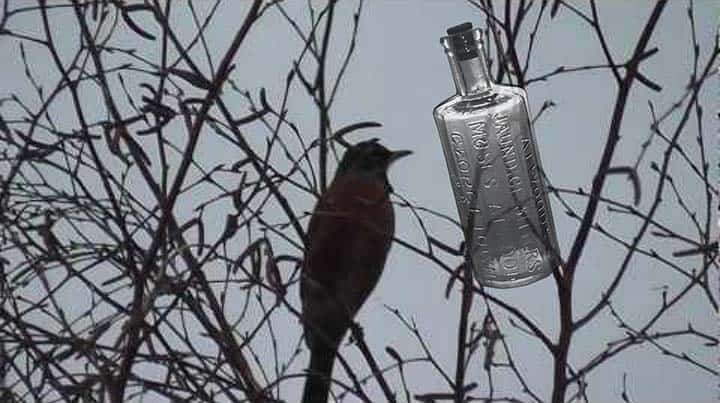 Though I am not a birdwatcher, I guess I kind of feel like one sometimes because I am always on the search for rare bitters that I don't have. Maybe I catch one, or maybe it is just a sighting. That is exciting too. OK, this specimen is certainly not a Bald Eagle, it is probably a scarce Sparrow, that may cost just about as much. None-the-less, I do not have an example in my collection.

---
Fleckenstein & Mayer, Damiana Bitters & Persian Sherbet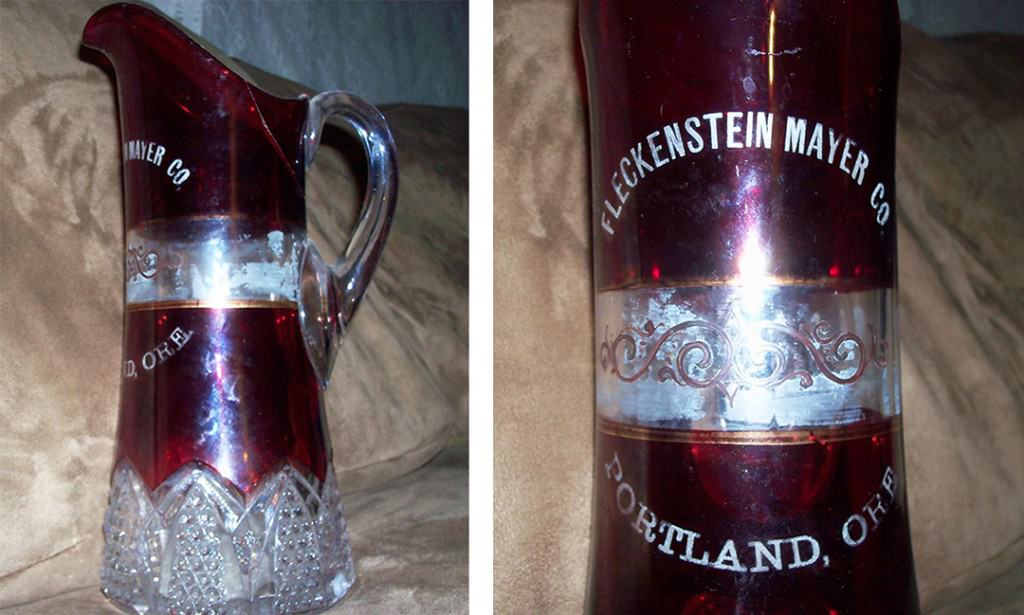 Ben Cameron sent me the two pictures at the top of the post showing some type of a decorative pitcher with FLECKENSTEIN MAYER CO. and PORTLAND, ORE. writing. We have talked and written about Henry Fleckenstein and S. Julius Mayer before. Read: Incredible and Rare Western Flask – "Fleckenstein & Mayer, (monogram), Portland, O."

---
Mills' Bitters – A. M. Gilman – Sole Proprietor

Jeff Wichmann recently sold an excellent example of a Mill's Bitters lady's leg figural over at his newly formed American Bottle Auctions For Sale page. You don't see or read about these too often. I wonder why? The top picture is from a past Glass Works Auctions event. Jeff Wichmann his bottle up as follows…

---
Labeled Towle's Crown of Canada Brand Syrup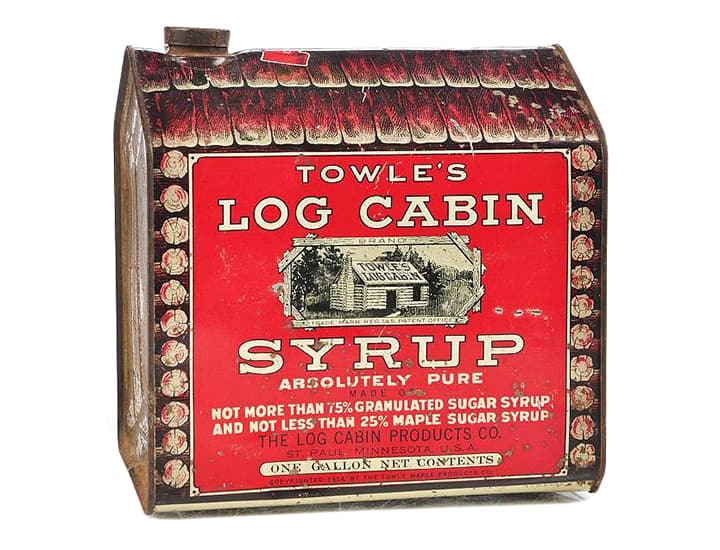 It never fails, I always seem to learn something when I see a piece of unfamiliar glass. In today's case, it was this fully labeled Towle's Crown of Canada Brand Syrup jar, circa 1906 or so. Pretty cool. Who would have thought that this brand was made by the same person who invented Log Cabin Syrup? The top picture and following e-mail is from John Antonez.

---
Demas S. Barnes – Medicine Man to Politician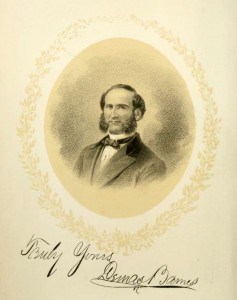 Periodically I come across the Demas Barnes name and have wondered about the man. There is quite a bit of information online, much of it repetitive. I was able to pull some of this information together in one post. Finding a few obituaries helps as you figure family members are providing the information.

---
H. H. Warner – A Retrospective – The Rochester Democrat & Chronicle (3 Nov. 1929)

It was barely a week after "Black Tuesday" and the initial crash of the Stock Market that signaled America's descent into the Great Depression. The Rochester Democrat & Chronicle published a full page spread entitled "Odd Business Adventurer Recalled" by John P. Guttenberg. The article was a retrospective of the success and downfall of one of Rochester's most prominent business figures – Hulbert Harrington Warner. READ MORE
---