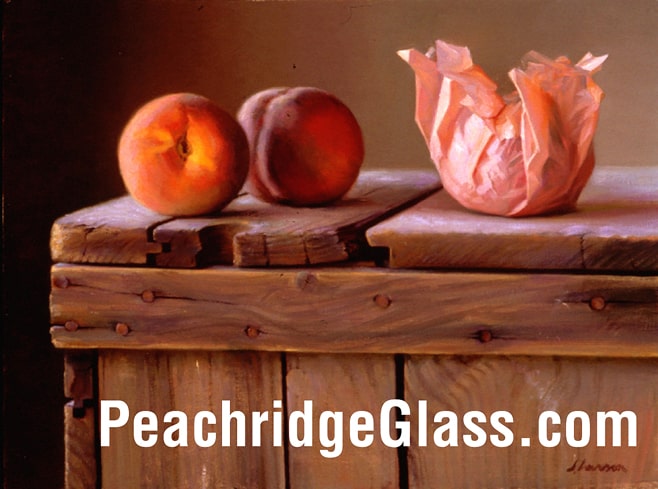 This site is presented and hosted by Ferdinand and Elizabeth Meyer. We hope to share our passion for collecting and dealing in Early American Antique Bottles and Glass. Please contact us for any information and or bottle and glass news for post consideration. I am also looking for guest authors as I shift to the Virtual Museum project. Thanks!
---

---
Holloway's

Orange Bitters by Canada Dry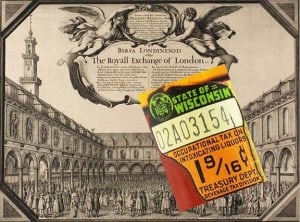 Well, certainly not the most exciting and early bitters product, but a bitters none-the-less. So it must be added to the Orange Bitters series. Plus, who knows, maybe there is a story here with the Holloway's Orange Bitters? I would like to thank Ken Previtali, the Ginger Ale authority, for tipping me off to this eBay listing. Ken said the listing came up in his daily…

---
An 1836 Russell's Stomach Bitters Advertisement
I found this Russell's Stomach Bitters advertisement rather interesting for a number of reasons. First, it is rather old, coming from the Burlington Free Press (Vermont) in 1836. Second, the bitters comes in a form that "May be Used in Wine or Water", "One box will tincture one gallon", "Price 25 cents a box". Third, look how they spelled, 'celebrated'.

---
Peachridge and FOHBC Sites Down…but now up…duh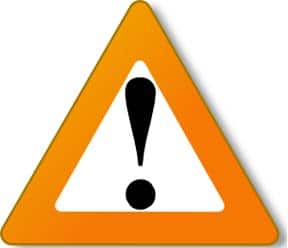 Sorry about that everyone. Sites go down at times. Things happen but this one yesterday was big and hit the whole network including the dedicated server I upgraded to some time back. These sites are huge and we need room and speed. The PRG site has 1,481 posts so far and tens of thousands of images. Also we will hit one million visits next month.
---
Reserve your Table Now for the Lexington National!

Our next milestone is 200 tables. We have the capability for 325 tables. Don't wait, sign up now for a table for the biggest national bottle show this year! See List
---
Early Cod Liver Oil Bottle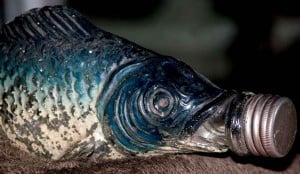 Ron Krupa sent in these great pictures of a rare oddity found at a flea market on 13 April 2014. This example is probably the nicest I have ever seen! What character and color. Looks like a real fish.

---
ABCR Auction 16 Online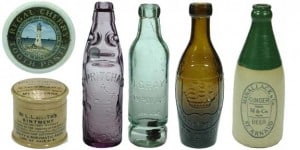 985 Lots covering all bottle collecting fields. Hi, Ferdinand, after a bit of a break here is our first auction for 2014. Featuring 985 lots covering all bottle collecting fields plus some interesting other collectables, ceramics and ephemera. The most important detail! Online bidding begins: TODAY, Wednesday 16th April 2014, 8 pm (Melbourne Time). Visit Auction
---
Unlisted Dr. Bourbon's Aromatic Forest Bitters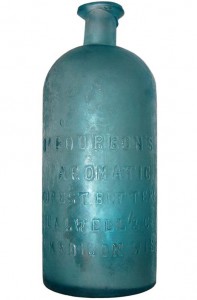 Interesting news from Steven Libbey, chief of the Wisconsin bottle club. Steve is reporting about an unlisted Dr. Bourbon's Aromatic Forest Bitters from Madison, Wisconsin. What a great name! He states that there are actually two different sizes and adds that the two that he possesses are the only two whole examples in either size discovered so far.

---
Soldier's True Friend, Holloway's Ointment & Pills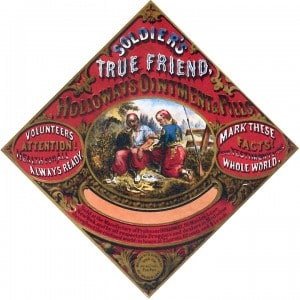 I could not help but to get side tracked with George W. Holloway, the Syracuse Druggist, yesterday with another Holloway, that being Thomas Holloway who was born in September 1800 and was a patent medicine vendor and philanthropist from England. His pills and ointments were sold around the world. His claims were outlandish and his products were most likely, not much help.

---
Victorian Ointment Pots – Thomas Holloway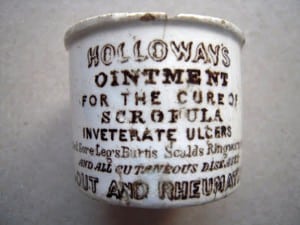 I could not help but to get side tracked with the George W. Holloway post yesterday with another Holloway, that being Thomas Holloway. Thomas Holloway was born in 1800 in Plymouth, Devon and moved to London in 1828. Several years later…Read at Victorian Ointment Pots – Thomas Holloway
---
Holloway's Bitters from Syracuse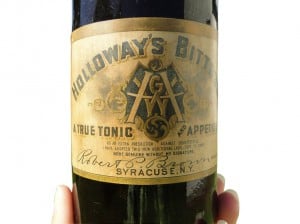 Well, finally we are seeing some great bottle pictures without snow in the background! What a winter! Spring has sprung. Yesterday, I was pleasantly surprised to see a labeled Holloway's Bitters lady's leg figural on ebay. The bottle was mostly full of original contents…

---
Pipifax – The Celebrated German Bitters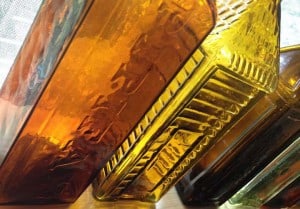 The Rosicrucians were a sect of Philosophers who flourished in Germany during the seventeenth century and prosecuted profound researches into Natural science and Occult Philosophy, and sought to discover the ELIXIR OF LIFE.

---
Forbes Visit, off the Pacific Coast of Big Sur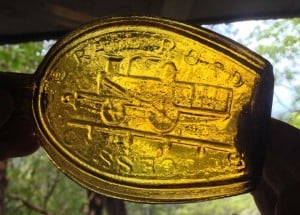 My last hurrah and setting sun from my magnificent and recent west coast bottle trip was saved for last when I visited my good friends, Jerry and Helen Forbes in Big Sur, California. As far as endurance and accessibility, we had to travel miles up winding dirt roads in a 4-wheel drive vehicle…

---
Drug Stores from Bygone Days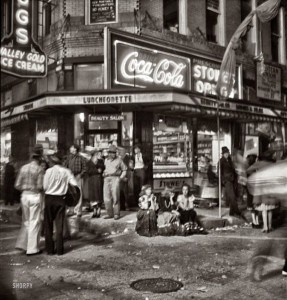 I know of some traffic routes now where I pass a Walgreens, Rite Aid, and CVS Pharmacy in succession. Usually when nearing a hospital. These homogenous drug stores and the drugs stores within grocery stores all look, feel and smell the same to me. Bright lights, rows and rows of merchandise, candy galore, and oddly promoted holiday decorations that seem way to early for their purpose, dominate my field of vision. An experience that quite frankly, I try to avoid.

---
Dr. Johnson's Indian Dyspeptic Bitters – Maine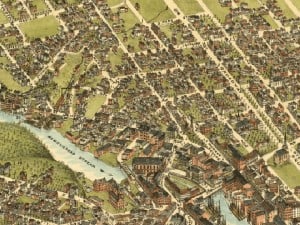 Robert Cohen posted the following on Bottle Collectors on Facebook, "Tough, Johnson's Indian Dyspeptic Bitters bottle, open-pontil, circa 1840, picked-up at Dover N.H. bottle show on Sunday 4/6/14. Dealer (from Maine) educated us, said that the bottle was sold by a Maine proprietor. Papers to prove it!"

---
Dr. Wood's Sarsaparilla & Wild Cherry Bitters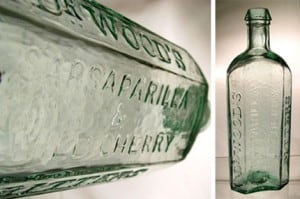 Here is a nice and early, aqua, Dr. Woods Sarsaparilla & Wild Cherry Bitters from New York City. For the most part, the brand was sold throughout New York State from around 1844 to 1851 or so. Some of the advertisements said, "Put up and sold in large bottles, a $1, by Wyatt & Ketcham, Wholesale and Retail Agents, at retail, 192 Broadway…

---
H & K Stomach Tonic Bitters – Ashtabula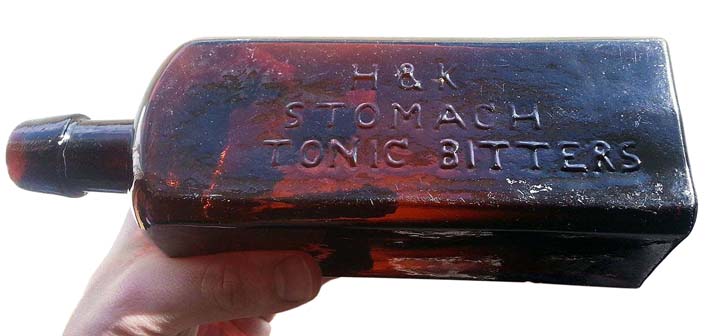 The H & K Stomach Tonic Bitters images and post content are from Matt Lacy from Austinburg, Ohio. He surprised me with these images that are outstanding. I am unfamiliar with the bottle so this is pretty darn exciting.

---
Bottles Stories in a Wine Cellar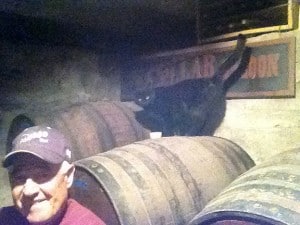 A week ago Saturday night, Pam and Randy Selenak, Jerry Forbes and myself were invited to a cozy wine tasting in Webb Tartaglia's wine cellar with his pretty lady friend, Jane. Web is pictured at the top of this post with a black cat that appeared even though the cellar door was closed. Hmmmmm.

---
2014 Morro Bay Bottle Show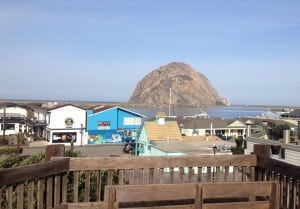 I have always heard that the Morro Bay, California bottle show, put on by the San Luis Obispo Bottle Society, was an experience. This quaint show, in the shadow of Morro Rock is orchestrated by Webb Tartaglia, who has forty years of show experience as show chairman…

---
Dave Kyle and his Figural Bitters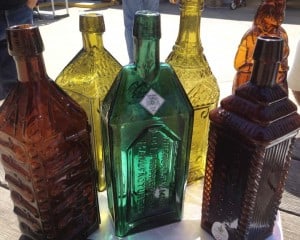 First of all, a little background about myself. I was born in Los Angeles on July 6, 1930 and attended Fairfax and Menlo Park High Schools. Two years of college at Menlo Park and Santa Monica City College included football and track and field. Next, I was in the Unites States Army from 1952-1954 during the Korean War. Upon discharge…

---
Warner's Safe Cure: "No City" Safe Cure?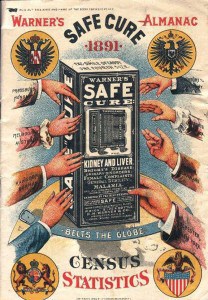 While we are all familiar with the so-called "3-Cities" (Toronto) and "4-Cities" (Dundein, New Zealand) Safe Cures, no one had ever showed me an example with no city on the base. Not, at least, until recently, when one appeared on eBay. The bottle was auctioned by a seller in Switzerland and fetched just under $1000 by auction's end. My first reaction to the bottle… Read more at Warner's Safe Cure Blog
---
March 2014 – Antique Bottle & Glass Photo Gallery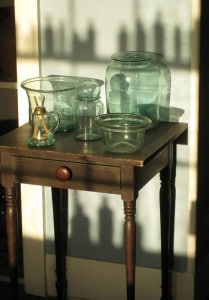 Here we go with the March 2014 group of pictures culled from a few of the web and Facebook sites that we all like. It looks like snow backgrounds are dominating the group of pictures this month which makes sense. What a great way to show off bottle colors! Truly some spectacular pictures.

---
Paradise Bitters – Fresno, California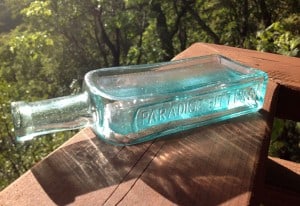 I picked up a pretty rare Paradise Bitters at the Morro Bay bottle show this past weekend when I was walking out the doors nearing the end of the two-day show. Lou Lambert had it and said the bottle was from Fresno and dug in Fresno. Possibly only three or so known examples..

---
April Issue of Antique Bottle & Glass Collector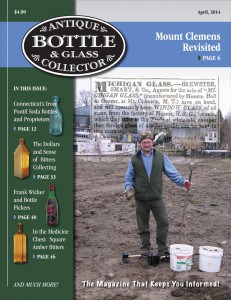 The next issue is hitting subscription homes this week. Great information on sodas, bitters, pickers, historical flasks and so much more. Subscribe.
---
Webb's Improved Stomach Bitters – Jackson, Michigan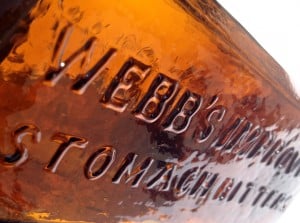 It is not often that I purchase a bottle for my collection when I already have an example, unless of course it is a different color or mold variation. In this case, yesterday afternoon, at the opening of the San Luis Obispo Bottle Society's, Morro Bay Bottle Show, I purchased a Webb's Improved Stomach Bitters from Jackson, Michigan from…

---
John Thomson and his

"Thomsonian System of Practice"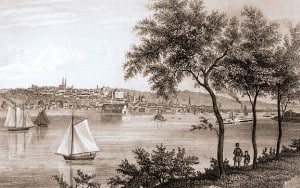 Just a short post tonight about John Thomson who was a Botanic Physician located at No. 67 Beaver-street in Albany, New York. The illustration above is Albany in 1854. He coined the marketing term, "Thomsonian System of Practice" and sold, using testimonials, the Vegetable Anti-Dyspeptic Wine Bitters.

---
Dr. G. C. Blake's Anti-Dyspeptic Bitters from Buffalo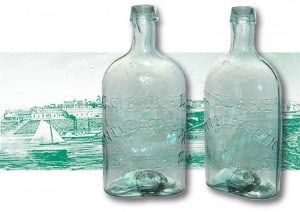 With the completion of the Dr. Blake's Aromatic Bitters post from New York City, it seems logical that we might now want to look at the Dr. G. C. Blake's Anti-Dyspeptic Bitters from Buffalo, New York. Cory Stock also suggested this in a follow-up e-mail. This bottle is quite difficult to find and I am pleased to possess a nice example in my collection that is featured in this post.

---
Stock up with Dr. Blake's Aromatic Bitters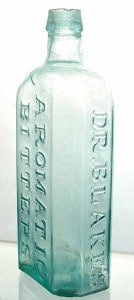 I have to tell you, I really like my aqua bitters bottles. I keep many of the smaller examples in one room and they shine and dance without the color that you see in other rooms. I pulled a Blake's bottle off the shelf today because I found a neat 1852 advertisement for a Dr. Blake's Aromatic Bitters from New York that prompted this post.

---
The Rushton & Aspinwall Compound Chlorine Toothwash – New York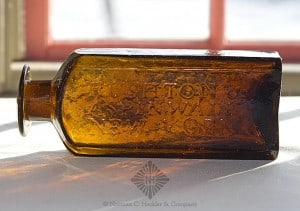 Sandor Fuss tipped me off to watch an incredible bottle that is making hay in the latest Norman C. Heckler Auction 108 that is currently on line and accepting bids. Wow, was he right. Look at the form, crudity and mouth treatment of this killer medicine! Let's take a closer look.

---
A Placard that definitely features Dr. Lighthill and a bitters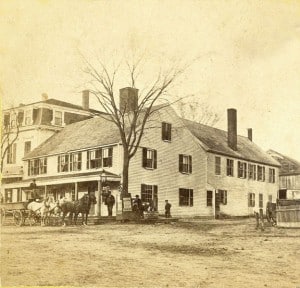 In early March, Civil War author and patent medicine ephemera collector, James Schmidt contacted me about a potential bitters he had spotted on a stereoview card that he was purchasing. I looked at the images and patiently waited until Jim was in receipt of the card and green-lighted a post. Jim has written about Dr. Lighthill before.

---
Glass Works Auctions "The Thoroughbred Auction"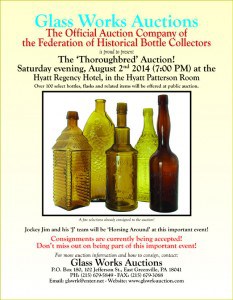 Glass Works Auctions has updated their advertisement for their "Thoroughbred Auction" at the FOHBC 2014 National Antique Bottle Show in Lexington, Kentucky. Make your plans now! Get your tables, admission passes, banquet tickets, "Run for the Roses" and more information at FOHBC.org.
---
Where is the Columbia Cascara Bitters from?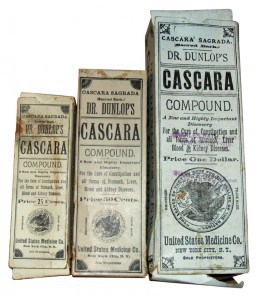 Commercially it is called "Cascara Sagrada" ('sacred bark' in Spanish), while traditionally it is known as "chittem bark" or "chitticum bark". The dried, aged bark of R. purshiana has been used continually for many years by both Pacific northwest native peoples and immigrant Euro-Americans as a laxative natural medicine…

---
Swiss Stomach Bitters from Zwinger to Koch to Zoeller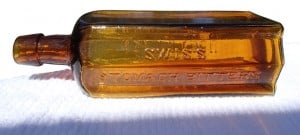 It is always nice to hear from fellow bitters collector Gary Beatty from sunny Florida. Gary is also a Pastor by profession and the Treasurer for the Federation of Historical Bottle Collectors. Besides sending monthly financial reports, he typically sends me information on a spectacular new bitters bottle he has added to his collection. In this case it is the Swiss Stomach Bitters…

---
Black Hills Bitters made by F.C. Parmelee in Honeoye, New York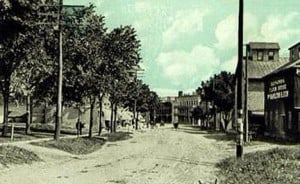 I did a post yesterday on Black Hills Bitters and got a little tangled up in the hills and missed the mountain. What I mean is, I found some more advertising, suggested by Mark Yates, on Fulton History (FultonHistory.com) that now leads me to believe that the bitters was put out by F. C. Parmelee in Honeoye Falls, New York instead of Edward H. Davis in Rochester.

---
Two Extraordinary Wide Mouth Sunburst Snuff Jars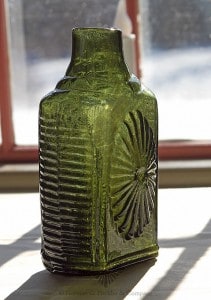 Many of you may remember the extraordinary wide mouth Keene Glass Works, wide mouth Sunburst flask that was sold by Glass Works Auctions at the FOHBC 2013 National Antique Bottle Show "Madness in Manchester Auction" in Manchester, New Hampshire last August. From Bottles and Extras: Sandor Fuss purchased the bottle…

---
Black Hills Bitters To The Front!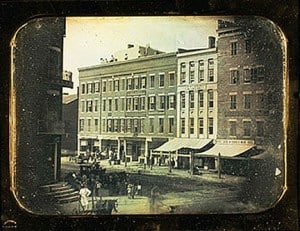 Some of the brands they represented included Hoyt's Cologne, Buckingham Dye, Hall's Hair Renewer, Hamburger Drops, Blauw's Worm Lozenges, Blauw's Diarrhea Mixture, Boshe's German Cough Syrups along with other patent medicines, Havana cigars, perfumes, colognes, surgical instruments, toilet soaps…

---
The labeled Constitutional Beverage (Bitters?) from New York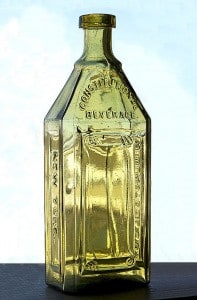 I suppose many of you may have noticed that gorgeous, rectangular, yellow-olive, Constitutional Beverage bottle in the Glass Works Auctions "Winter be Gone" Catalogue Auction 101 that ended last night. I bet many of you are not aware that this bottle is catalogued as a labeled bitters bottle in Bitters Bottles by…

---
The Swan Bitters from Meadville, Pennsylvania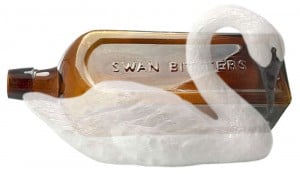 Glass Works Auctions, in their "Winter be Gone" Auction 101, has an interesting bitters square that I have not seen before. The Swan Bitters seems to have been a very short-lived bitters product from Meadville, Pennsylvania. Let's try to find out who the McFarland Brothers were? Their name is embossed on the bottle.

---
Dr. Allen's Stomach Bitters – Pittsburgh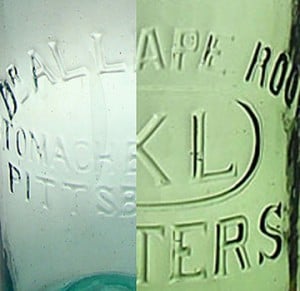 Glass Works Auctions, in their "Winter Be Gone" Catalog Auction 101, presently online, has a nice example of a Dr. Allen's Stomach Bitters from Pittsburgh, Pennsylvania. The bottle reminds me of a Dr. Henley's IXL Bitters. Yesterday I was laying out Part 2 of the Dr. Henley's Royal Palm Gin article for Bottles and Extras and was again wondering…

---
Jarred Fragments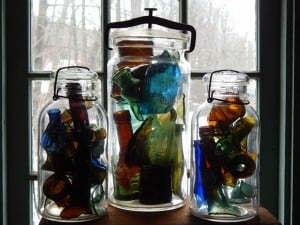 "I shot some better pictures of my jarred fragments, these are much better and clearer than the other ones. I wasn't sure which ones you would prefer, so I'll let you decide. These came mainly from two old city dumps and a couple little farm dumps here in southern New England. Thanks!"

---
The Lacy Salt Period 1825 to 1851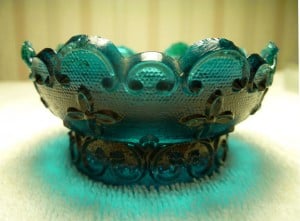 I have put together a web page with salts from my Lacy salt collection. They are a very underrated category and are some of the prettiest and quite historical glass objects from the 1820s to the 1840s. They are small usually about 3 and a half inches by 1 and three quarters. I figured you would like these as they come in a large array of colors and as with glass bottles color is king here also. Visit Historical American Glass – Stephen Atkinson
---
Hentz & Wilkinson: Feuding in the City of Brotherly Love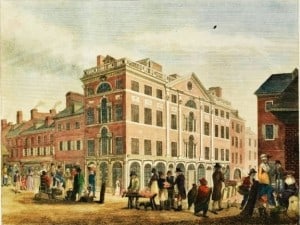 For many years William A. Hentz and William C. Wilkinson were successful partners as importers and wholesale dealers in wines and liquors in Philadelphia, long known as the "City of Brotherly Love." Then Hentz died and his family engaged Wilkinson in a long term feud…. Read More at Those Pre-Pro Whiskey Men!
---
Beneath Lincoln's ass they used to load a lot of glass.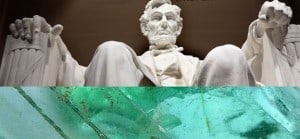 Unknown to most Washingtonians and other Americans, and particularity we few in the glass collecting community, located literally right underneath the Lincoln Memorial, was a thriving glass works started in 1807. It rivaled the Boston Crown glass works in size and output at the time and supplied a lot of the glass windows in the city of Washington.

---
Dr. Green's

Poleish

Bitters; yes it is spelled wrong.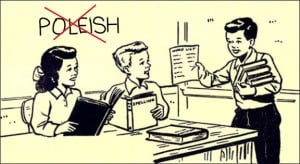 Did you know that in 1983, Anne Pawelek filed a class action lawsuit against Paramount Pictures over Polish jokes told by characters in the movie "Flashdance", including the classic: "What does a Polack call a pimple on his ass?"

---
Where is the Jones' Tonic Bitters from?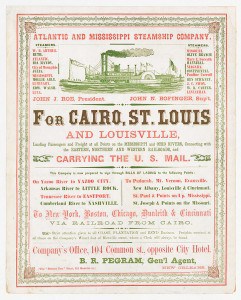 I have not thought about my extremely rare, Jones' Tonic Bitters for some time until I saw that Glass Works Auctions has an outstanding example in its parade of fine bitters in their current auction.

---
My Purdy's Bitters Mystery Solved!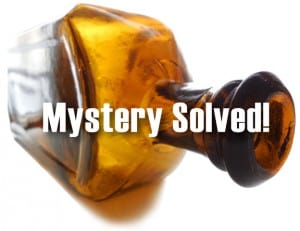 A month ago, I did a fun little post on My "Purdy" new bitters – Purdy's Cottage Bitters where I ended up saying that not much is known about the bottle. Well, let me tell you, I set myself up with that statement because I opened my electronic mail this morning and was delighted to find the following from …

---
The Isabella Glass Works of Thomas Stanger – 1841 to 1856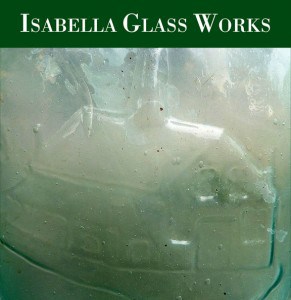 Thomas Stanger began building a new glass works containing 7 pots about a mile from the Brooklyn Glass Works in 1841 along present day Williamstown-New Brooklyn Road approximately one mile west of the Old Brooklyn Glass Works. Thomas and Elizabeth Marshall Stanger had three daughters; Isabella, Frances and Elizabeth, who died as a infant. Thomas Stanger named the glass works "The Isabella Glass Works".

---
The unusual Mede's Mexican Fluid – New York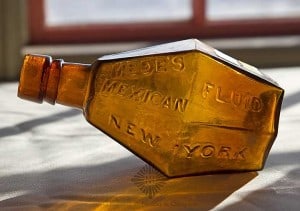 In case you haven't noticed, Norman Heckler has this incredible, oddly shaped medicine in their upcoming Auction 108. The Mede's Mexican Fluid is six sided, flaring from the base to the mid-section, then tapering from the mid-section to the shoulder. So what is the deal here with Mede and this bottle shape?

---
The unlisted Yaupon Bitters – Norfolk, Virginia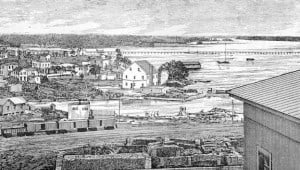 Bitters trade card authority Joe Gourd (Chicago, Illinois) sent me an advertising  trade card for Yaupon Bitters put out by John R. Ludlow in Norfolk, Virginia. We have spent the last week or so looking at extremely rare bitters from Chester and Petersburg, Virginia. Let's move a little more southeast, to the mouth of the Chesapeake, and look at Norfolk and this unlisted bitters.

---
Is the Magic Bitters related to the Penn's Pony Bitters?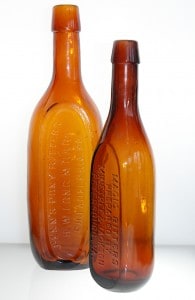 At the Baltimore Antique Bottle Show the weekend before last, I was able to add a Magic Bitters, put out by Minetree & Jackson, Petersburg, Virginia, to my collection. This bottle has a very unusual shape and is similar to the larger, Penn's Pony Bitters put out by H. W. Long, M.D. in Philadelphia, Pennsylvania.

---
Two bitters that W. E. French was selling in Petersburg, Virginia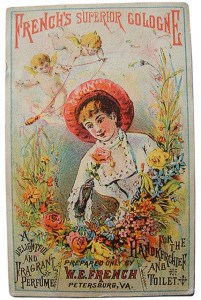 I completed a post the other day on some extremely rare bitters put out by H. N. Winfree in Chester, Virginia and James D'Alton in Petersburg, Virginia. I am also preparing a post on the extremely rare, Magic Bitters put out by Minetree & Jackson in Petersburg…

---
The Winfree's Bitters Family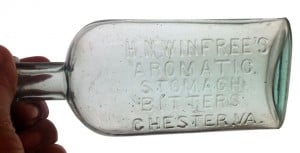 I picked up an extremely rare, Winfree's Aromatic Stomach Bitters at the Baltimore Antique Bottle Show this past weekend. There are three different Winfree's listings in Bitters Bottles by Carlyn Ring and W.C. Ham. Two are from Chester, Virginia and one is from Petersburg, Virginia.

---
01 June 2014 Deadline for Advertising in Lexington National Show Program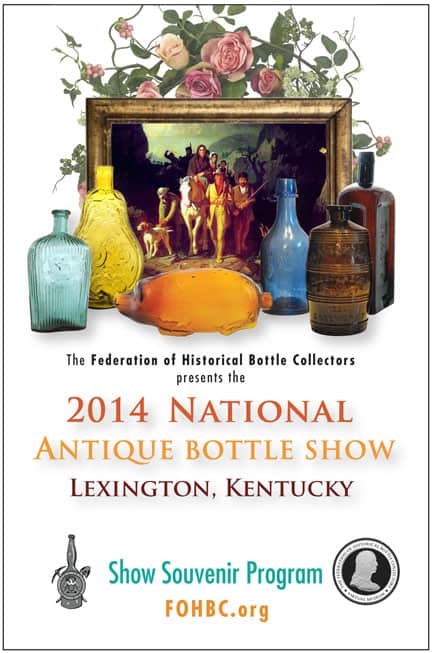 Deadline for advertising in the 2014 Lexington National Show Souvenir Program in June 1st, 2014! RESERVE YOUR AD NOW! See contract Page 3 for information. SEE CONTRACT
---
Those Doll Heads that you Diggers & Pickers Keep Finding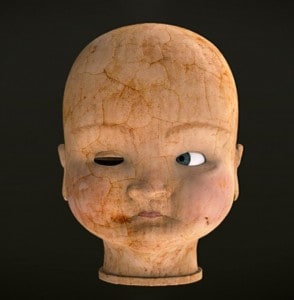 Walking around the Baltimore Antique Bottle Show this past weekend and looking at the kazillion antique bottles and old go-withs that we typically see at a show of this fine calibre, you can't help but to see an occasional dolls head, positioned quietly and eerily on some of the dealer tables.

---
Burwell's Virginia Bitters – Richmond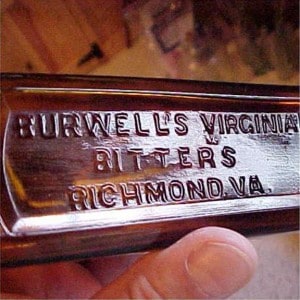 I have been tracking the elusive and unlisted Burwell's Virginia Bitters from Richmond for a year or two and was finally able to see an example in person this past weekend at the Baltimore Antique Bottle Show. So who is Burwell? Is it William R. Burwell, Blair Burwell, George W. Burwell, William Meade Burwell or some other Burwell all together?

---
E. G. Booz Log Cabin Whiskey with Whitney Threaded Cap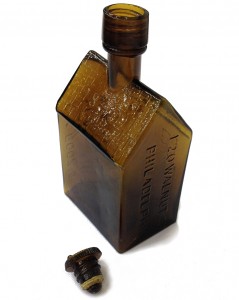 At the auction house, I noticed two cabins, which I thought were Clevenger Brothers. One was purple and I realized immediately that it was a reproduction. For some reason I kept gazing at the amber one because I thought something was peculiar about it. When I picked it up…

---
Looks like J. W. Poland made a Bitters!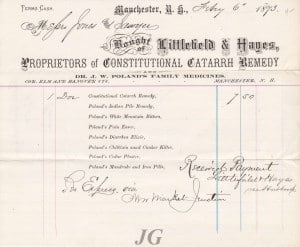 Wow, what a neat surprise. Bottle trade card authority, Joe Gourd sent me this invoice for Littlefield & Hayes of Manchester, New Hampshire showing a receipt for Poland's White Mountain Bitters and other Poland products. The White Mountain area…

---