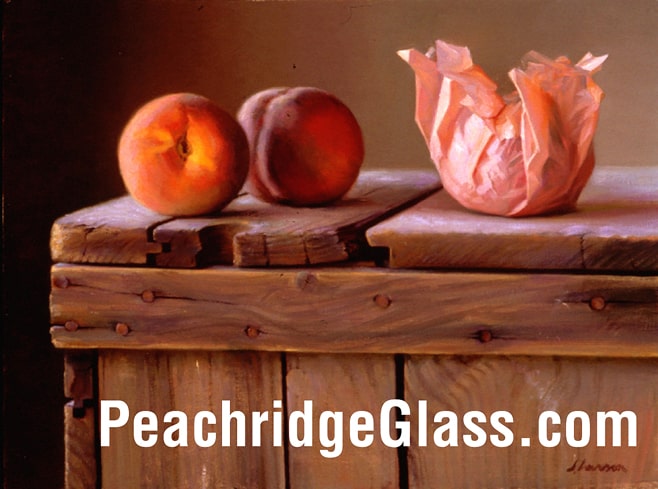 This site is presented and hosted by Ferdinand and Elizabeth Meyer. We hope to share our passion for collecting and dealing in Early American Antique Bottles and Glass. Please contact us for any information and or bottle and glass news for post consideration. I am also looking for guest authors as I shift to the Virtual Museum project. Thanks!
---

---
Rose Hill Stomach Bitters – New York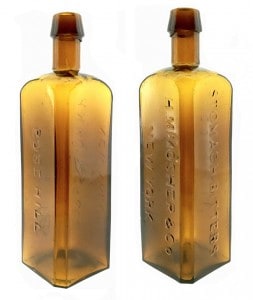 Rose Hill Stomach Bitters from New York made by H. M. Mosher & Company. That is pretty much all we really have on this one. The actual bottle, the name, some bottle pictures by Jeff Wichmann and a listing in Carlyn Ring and W.C. Ham's Bitters Bottles book that does not match. I suspect the listing has a typographical error. Bill Ham may want to track down the original notes for the listing.

---
Hathaway's Celebrated Stomachic Bitters – Wilkes-Barre, PA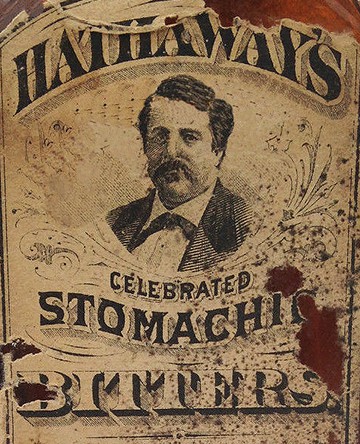 An unlisted Hathaway's Celebrated Stomachic Bitters from Wilkes-Barre, Pennsylvania sold on eBay yesterday. Coincidently, I was in Reading, Pennsylvania yesterday, home of the H.P. Herb Wild Cherry Bitters. Mark Warne reminded me of this. The extremely rare Bloch's German Bitters also just sold on eBay. In Dallas now for business. Headed home to Houston midday. Lots of rain.

---
Antique Sealed Bottles 1640-1900: And the Families that Owned Them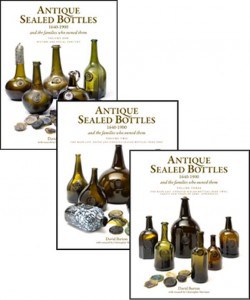 Dear Ferdinand, My name is Sean, and I'm writing from art book publisher, Antique Collector's Club. I don't know how familiar you are with us, but we have been publishing extensively for fifty years on the decorative, antique, and fine arts. Our latest book is: Antique Sealed Bottles 1640-1900: And the Families that Owned Them. Given your background, I wanted to suggest this title to you and FOHBC. The book comes in a slipcase and is separated into three volumes. Needless to say, we're very proud of this one. Let me know of any questions. I look forward to hearing from you! Sincerely, Sean
---
Koopmann's Bitters, for use in Marshy and Swampy Districts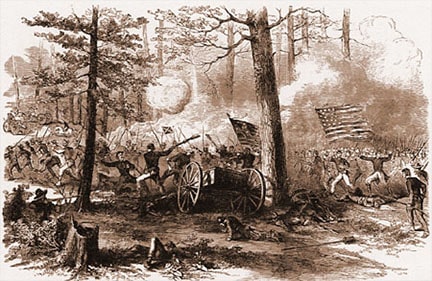 After the The Battle of Bentonville, the southern Civil War wounded were moved to Koopmann & Phelps along with many other locations in Charlotte. Bentonville produced 2,500 or so Confederate casualties. Koopmann's Bitters are reduced in price to a $1 dollar a bottle in 1968 indicating either an abundance…

---
Is there really a Burton's Bitters?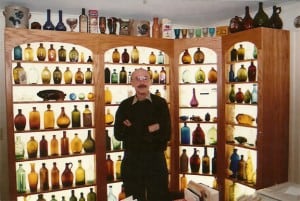 I quite innocently posted the above picture on PRG and Facebook earlier in the week and said, "Anybody ever heard of a Burton's Compound Vegetable Bitters?" New to me. Can anyone guess who this legendary bitters collector is? This picture is from a 1966 Mardi Gras masquerade party. I am adding 1960s issues of the ABCA newsletters to the FOHBC web site.

---
Dr. White's Compound Golden Seal Bitters

The bottle pictures at the top of the post are darn right poor like pictures of the Loch Ness Monster, the Abominable Snowman and merfolk but none-the-less, we've got some pictures of the extremely rare Dr. White's Compound Golden Seal Bitters from Bill Ham…

---
January February issue of Bottles and Extras mailed to members!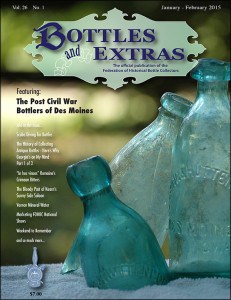 Packed full of articles, historical information, show news, bottle information and so much more. Articles this issue: Marketing FOHBC National Shows, The Post Civil War Bottlers of Des Moines, Scuba Diving for Bottles, The History of Collecting Antique Bottles: Here's Why Georgia's on My Mind, The Bloody Past of Kearn's Sunny Side Saloon, "In hoc vinces" Romaine's Crimean Bitters, A Weekend to Remember, Shards of Wisdom, Histories Corner… Become a Member
---
Old Dr. Bone's Bitters and Pills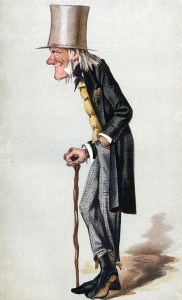 Dr. Lewis H. Bone was the son of Dr. Christian Bone. He was one of the pioneering physicians of New York. Lewis was born in New Jersey about 1831. His father was from Germany and his mother was born in New York. The Bone family were one of the original members of the Eclectic Medicine Movement. Dr. Lewis Bone said that his bitters…

---
That'sa $10k Bottle there Bubba!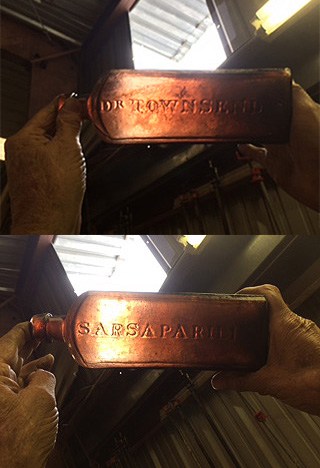 I think the word "awesome" has been overused lately, but after you view these pictures and video, see how you feel. This bottle was dug last Saturday in New Orleans, LA. I just received the ok from the lucky fellow who pulled it out of the New Orleans muck to send it out. Let me know what ya'll think? Enjoy! Richard Kramerichm Pensacola, Florida ** SEE VIDEO
---
Dr. Beach's Restorative Wine Bitters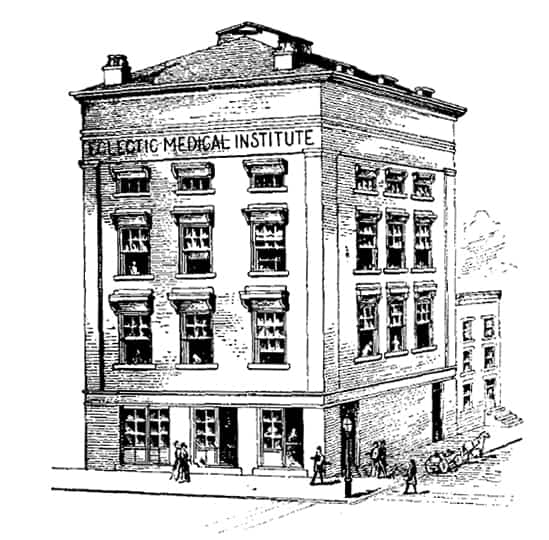 Ahhh….another reference to an unlisted bitters, or is it? Sorry for the poor quality of the advertisement below, as it is all I can find at the moment. Many bitters collectors are familiar with the semi-cabin form, Dr. Beach's Bitters. The bottle pictures used in this post are from my collection and date 30 years or so later than the advertisement. Not much is known about the bottle. Could the Dr. Beach's Restorative Wine Bitters mentioned…

---
Cotton's Southern Star Stomach Bitters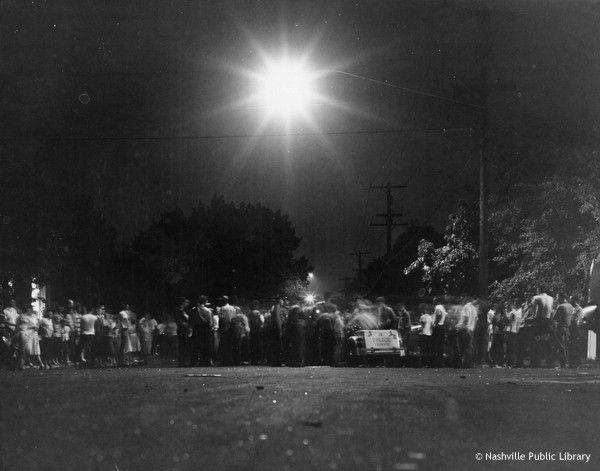 This passive resistance lasted about a month. On September 9, 1957, Hattie Cotton was dynamited because one African-American girl had been enrolled in first grade. The entire front right corner was damaged in this explosion. Through the tireless efforts of Miss Cate and the staff the damage was cleared and school …

---
2014 Roseville 49er Historic Bottle Show a Success!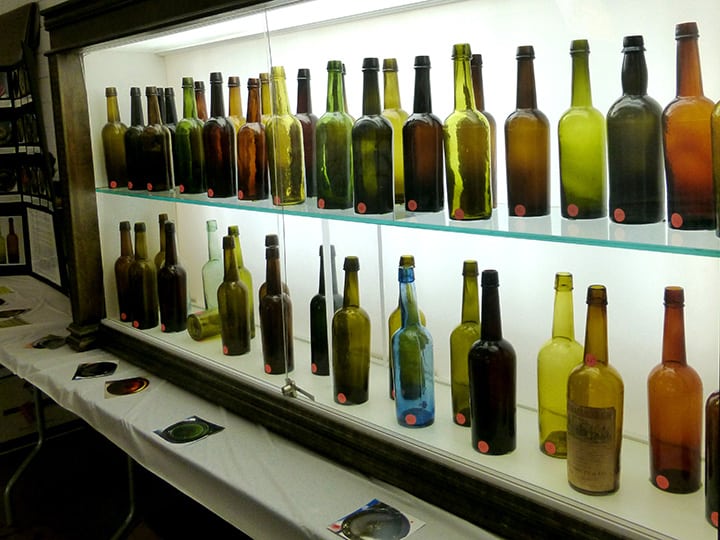 I had no fewer that five e-mails and texts yesterday telling me how great the 49er Historic Bottle & Antique Show was. Man, I wish I could have been there. Heavy duty travel in the East coast last week, a dog event and trimming our Christmas tree dominated my decision not to attend. Congratulations to show chair Mike McKillop, club president Max Bell and the 49er club.

---
Dr. Von Cort's Restorative Bitters (and his Segars for Asthma)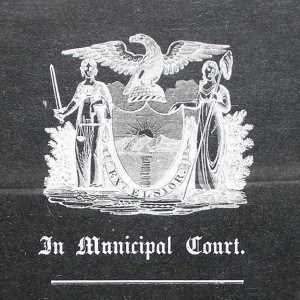 With this series of Restorative Bitters posts of late, I can not but feel that they are all connected. The brands all contain the word "Restorative", "Health" or "Bitters" and they were all sold in New York City around 1840 to 1855. At that time, herb remedies were in vogue and prescriptions were unknown. This was not the era of bitters loaded with alcohol. These guys were also German.

---
Knapp's Health Restorative Bitters – New York City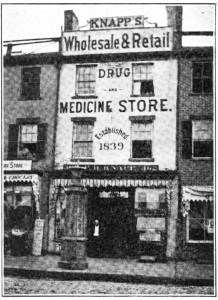 It was widely reported that Peter B. Knapp ran the oldest drug store in New York City at 362 Hudson Street. His Knapp's Wholesale and Retail Drug Store and Knapp's Medical Laboratory was established in 1839 when herb remedies were in vogue and prescriptions unknown. He operated the business without interruption until the time of his death, at the age…

---
Confederate Stomach Bitters – Angelo Velati – Columbus Georgia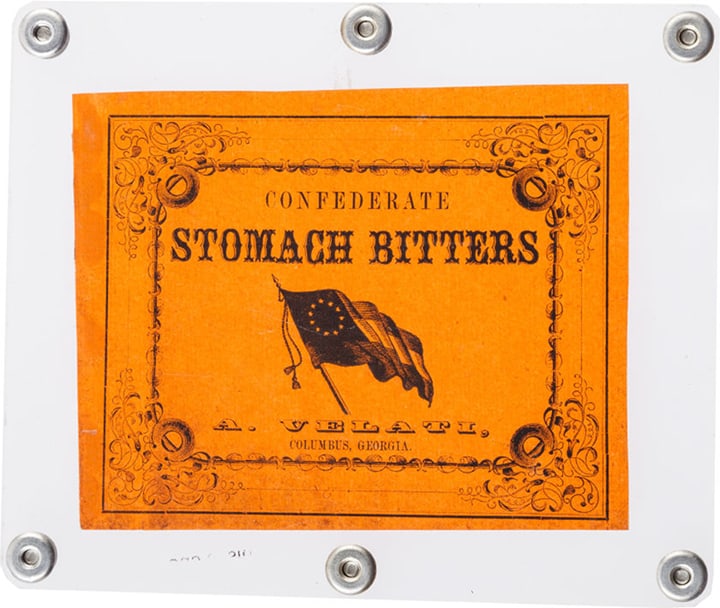 There is an interesting bitters label that is presently making an appearance at Heritage Auctions. Thanks to Lou Holis for the tip. The label reads, "Conferate Stomach Bitters" with a Confederate flag. Beneath the flag is "A. Velati, Columbus, Georgia." If you google Confederate Stomach Bitters, you pull up the following quote from Treasure Depot. I believe this is in reference to another later labeled bitters from New Orleans.

---
Restorative Bitters – Charles H. Ring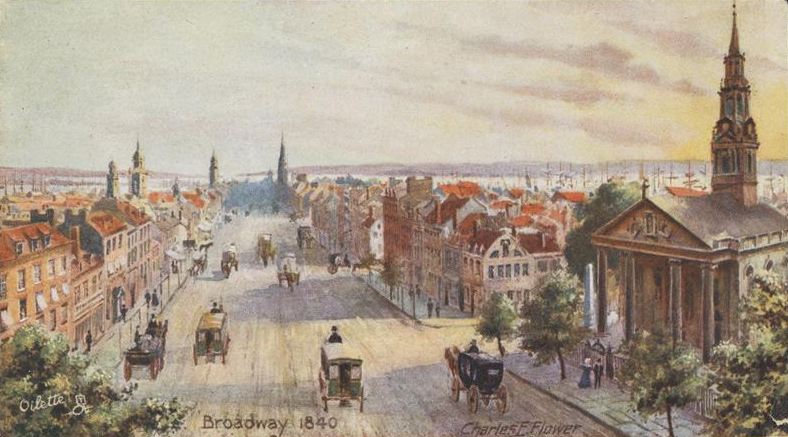 Cruising mid 1800 newspapers in New York City for Bryant's Stomach Bitters, I came across an 1850 advertisement for what appears to an unlisted Restorative Bitters by Charles H. Ring. Mr. Ring or Dr. Ring as he was referred to, was a druggist who was born in New York around 1818. He had an apothecary and drug store, first at 644 Broadway in 1840, selling things like…

---
John Dente Recollections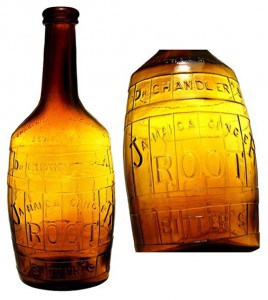 The following e-mail communications are posted in the hopes of recording memories and recollections of great bitters bottles that have changed hands. We are only temporary custodians of these great beauties. Thank you to John Dente for sharing.

---
Comus Stomach Bitters – Crescent City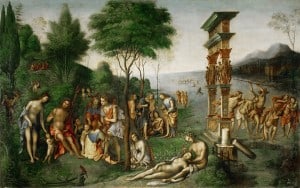 The four "C's". I guess I could have said NOLA or New Orleans but"Comus", "Clerc" and "Crescent City" roll off the tongue a little easier. I suppose many of you bitters collectors have seen or heard of the Comus Stomach Bitters presently on eBay. The Sole Proprietor is Clerc Brothers & Company, Limited, New Orleans, Louisiana. The eBay seller, cockerell4141, calls out the…

---
Bottle News from the Big Sky Country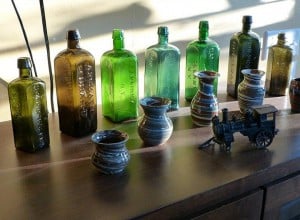 Going digging tomorrow in an 1869 camp. Still can't find a thing, but only spent about three days there. The trash pit just had cans and some bones. I am researching a lot, have some maps and now own a drone. We will fly around and image from the sky now and can run over on other property too if needed. Long as the hunters don't shoot…

---
Bottles, Jars & Stoneware Auction – North American Glass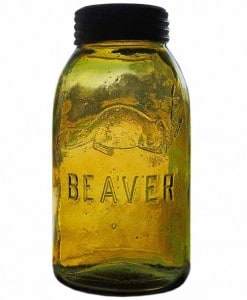 Beaver Chewing Log Fruit Jar. Extremely rare in half gallon size. Only two examples are presently known to exist. Coupled with the rare and highly appealing color, this iconic Canadian Beaver jar is also a great-looking, sharply-struck example, displaying crude character to the glass. In the next North American Glass Auction.  A full preview of the 512 lots
---
Digging News from St. Joe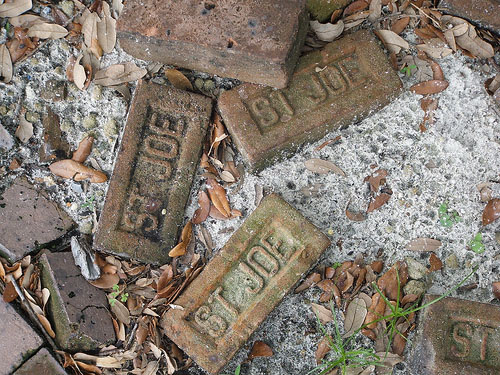 I live In St Joseph, Missouri and have been digging here heavily for the past fifteen years. I have been following your website for the past few always enjoying images of bottles we don't dig in our area. This spring I was complaining to myself how we never find any good whiskeys or bitters here even though there are a few dozen great whiskeys and bitters from St Joseph…

---
Wacky Victorian Imagery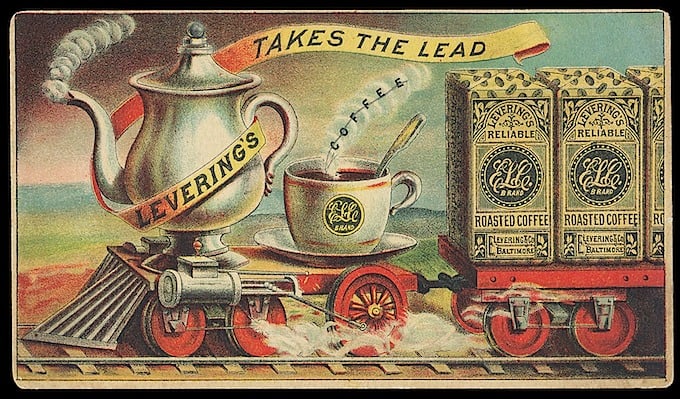 Joe Gourd sent me this link to a wonderful, highly graphic post by Dick Sheaff at the Emphemera Society. "By and large, many folks think of the Victorian Era as a period of straight-laced, repressed conformity. But it was not, in any of a dozen different ways. One of the most wonderful things… Emphemera Journal
---
Dr. Virgin's Wine Bitters – Concord, New Hampshire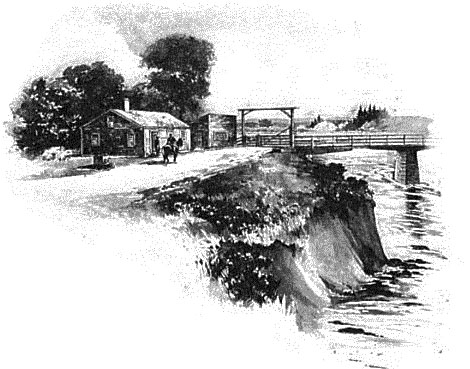 I can picture Fred on that horse on the illustration of the first bridge in Concord (1795) heading off to the big city in 1869 with nothing but ambition, his family name and the family recipe for wine bitters. He would then pitch this product as a salesman at Martin L. Hall & Company and they made a run of bottles…

---
T. J. Lummus' A.V. Bitters – Lynn Mass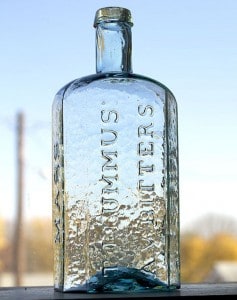 An important bitters was sold this past Monday night in the Glass Works Auctions, The 'Christmas Comes Early' Catalog Auction #105 . The T. J. LUMMUS' A.V. BITTERS from Lynn, Massachusetts (Ring/Ham, L-133) is bluish aqua, 7 1/2" tall with an open pontil and has an applied tapered collar mouth. This particular bottle was from the Paul Hadley Collection…

---
Dr. William S. Love's Vegetable Elixir – Baltimore

I don't know if you noticed, but there was this incredible Dr. W. S. Love's Vegetable Elixir – Baltimore in Glass Works Auctions The 'Christmas Comes Early' Catalog Auction #105 that closed last night. What a beauty. Great color, embossing, character and a rough open pontil. This bottle dates to around 1842.

---
Loss of my friend and Houston bottle collector Tom Booth

It is with great sadness that I announce the passing of my friend and Houston bottle collector Tom Booth. Tom and Alicia Booth were our FIRST true bottle friends. They gave my granddaughter Adriana a poison bottle and opened her interest in bottles. We traveled to a number of national bottle shows together and had good times that will be hard to forget. Too sad for me to continue. See Obituary.
---
S.O. Dunbar & his Tomato (ya ya ya) Bitters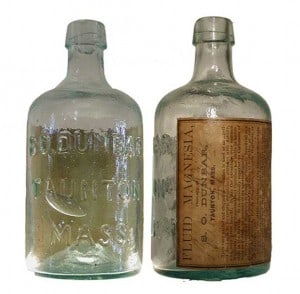 Bitters ephemera authority Joe Gourd, sent me the above handbill from the druggist, S. O. Dunbar from Taunton, Massachusetts. The Tomato, Sarsaparilla, Blackberry, Dandelion and Wild Cherry, Vegetable Compound Life Invigorating Bitters has to be the longest name for a bitters product ever. Samuel Oliver Dunbar pretty much spent his whole life in Taunton. We have heard from Mr. Dunbar before.

---
Dr. Truman Stillman's Temperance Bitters – NOLA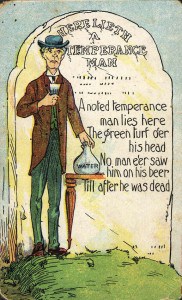 In 1846 Dr. Stillman is listed as a doctor, surgeon and proprietor of the Louisiana Lock Hospital Institution at 37 Bourbon st. He must have moved on from his Southern Chemical Laboratory business. You went to the Lock Hospital for the "most speedy and permanent cure for Gonorrhoea, Gleets, Strictures, Affections of the Kidneys, Diseases of the Bladder, Gravel, Seminal Weakness, Involuntary Seminal Emissions…

---
Sarsaparilla & Tomato Bitters – Boston

Here is a bitters bottle that could be the most underrated and undervalued bottle in our hobby. The Sarsaparilla & Tomato Bitters from Boston rarely sell for more than a few hundred dollars which is surprising. First of all, look at the form and beauty of the bottle. It sums up what bottle collecting is all about. Crude, aqua, applied top, rough pontil, ample embossing and in this case the words Bitters and Sarsaparilla on the same bottle. It also dates from 1844 to 1847. Shut the door!

---
I wish someone would find me a Newfoundland Bitters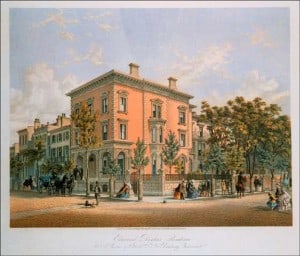 Newfoundland Bitters was made from 1869 to 1874, at least that is when the product was advertised in newspapers and places like The Times-Picayune (New Orleans, Louisiana), The Ouachita Telegraph (Monroe, Louisiana), The Galveston Daily News (Galveston, Texas) and Mississippi. The 1872 advertisements say, "It is now but two years since The Newfoundland Bitters has been offered to the public".

---
The Beggs' and their Dandelion Bitters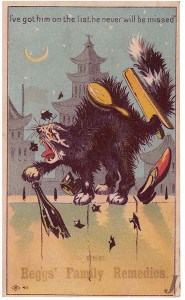 "One name stands out as worthy of more than mere mention in early Elk Point business enterprise. Charles W. Beggs established a general mercantile business in 1868. He was a man of unexcelled energy, probity and executive ability. Promoters of any plan that seemed to be in the interest of Elk Point, Union County or Dakota Territory always found a sympathetic ally in Mr. Beggs."

---
An Unknown Millionaire Found In New York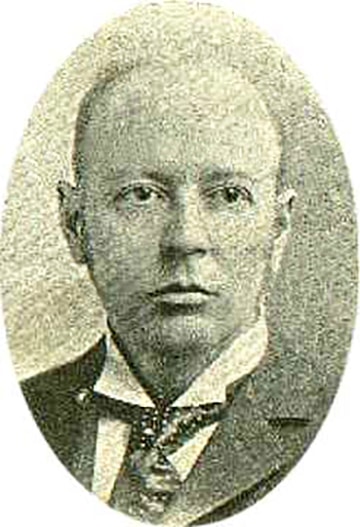 That in the United States, where the newspapers chronicle every action of persons of wealth, a man would acquire a fortune of $17,000,000 without the public being aware of the extent of his riches is disclosed by the death of Mr. Elden C. Dewitt.

---
HISTORY REVEALED IN DEMOLITION: The Elixer and Granny Metcalfe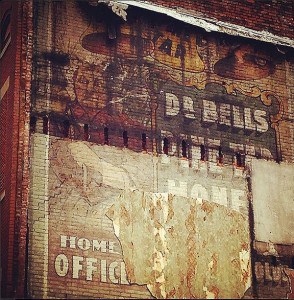 The demolition of the Ethan Allen Carriage House building on North Third Street has shed unexpected light on some forgotten Paducah history. As the layers of brick and mortar have been removed, a painting has revealed itself, an advertisement which spans the outside wall of the building and features a string of bells and an old woman in a white cap. READ MORE
---
K.S.S.B = Kagy's Superior Stomach Bitters – Ottawa, Illinois

Aaron Kagy was born April 2, 1826. He married Eliza Mauk, of Walnut township; they now reside at McCool Junction, Nebraska. For five years, beginning in 1850, Aaron Kagy was the largest and busiest stock buyer in Ohio; he drove his cattle in lots of 100 to Baltimore, Maryland. He failed in 1854 and involved many of his friends.

---
Brown's Aromatic Bitters – Hannibal, Missouri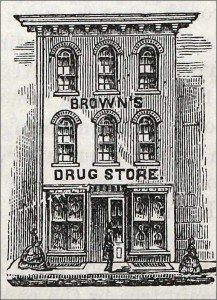 Jim Hagenbuch with Glass Works Auctions sure knows how to tug at the heart-strings (and pull at the purse strings) as when he auctioned off the extremely rare, Brown's Aromatic Bitters from Hannibal, Missouri in Auction #87 back in October 2009. He wrote under the bottle description, "From the Mississippi River town of Hannibal, Missouri, birthplace of Samuel…

---
"In Hoc Vinces" – Romaine's Crimean Bitters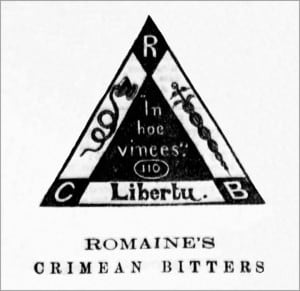 A few days since Newbern was dreadfully alarmed at poster's placed in conspicuous places over the city, in these mysterious characters: R C B. The Mayor called upon his officials to tear the incendiary document down, which could mean no less, he supposed, than "Rise, Colored Brethren".

---
McManman's Celebrated Stomach Bitters – Milwaukee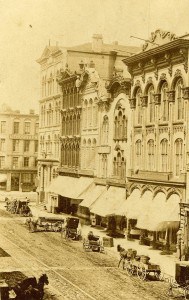 He was described as "a generous, good fellow as ever lived, but as full of wind as a bushel of beans, and very conceited about his own ability as a military man. He once made the remark that the world had never produced but three really great military men. The first was Hannibal the Carthagenian, the second was Napoleon Bonaparte, but the name of the third…

---
Isham's Stomach Bitters – Chicago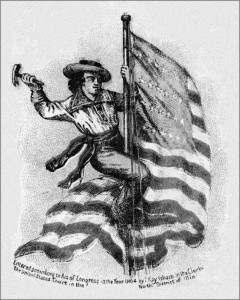 The Isham's Stomach Bitters is an extremely rare bitters that some say may be a western bitters. Even in Ring & Ham is says, "Thought by some to be from San Diego, California. No proof." I have found some information that puts this brand in Chicago with P. Ray Isham. My example is pictured in this post. It came from….

---
Reference to an unlisted Mormon Tonic Bitters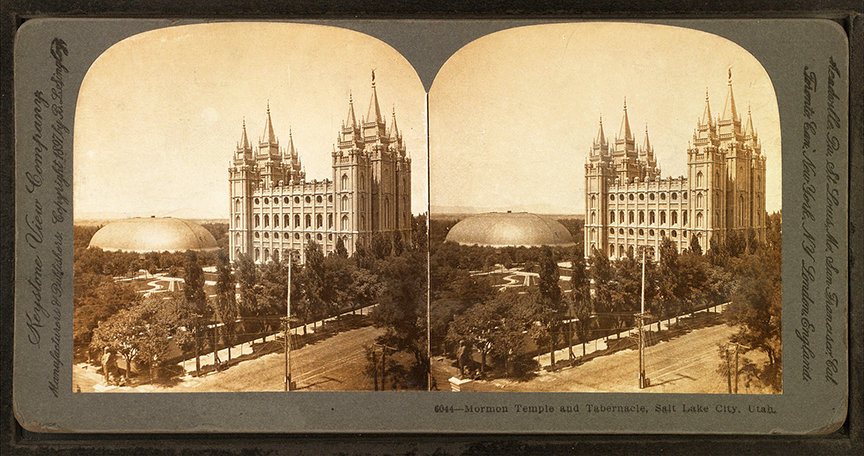 The other day, while patrolling the internet, I came across this listing for Mormon Tonic Bitters from the St. Paul Daily Globe on April 9, 1893. To my knowledge, this is the first bitters with the word "Mormon" that I am aware of. This brand was sold up in St. Paul, Minnesota as confirmed by the second advertisement.

---
So who is Dr. Buzzell?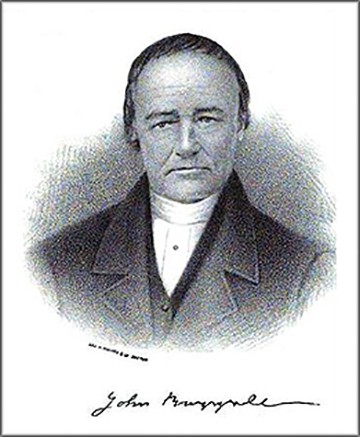 So who is Dr. Buzzell? At first when I found a Dr. Buzzell's bitters advertisement while working on the Globe Tonic Bitters (Portland, Maine) post, I thought we might have an unlisted bitters. That is not so. Dr. John D. Buzzell's Vegetable Bilious Bitters was advertised in 1844 and 1845 in Maine and later we have a patent in 1895. What is going on here? Why the big time gap? Why does the Ring & Ham B 279 reference in Bitters Bottles…

---
Globe Tonic Bitters – Portland, Maine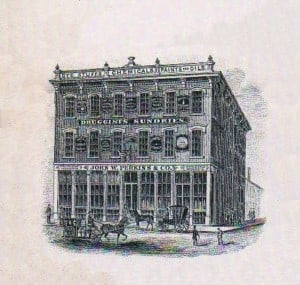 John W. Perkins moved to Portland, Maine in 1853 and opened a wholesale drug, paint, and oil establishment in partnership with L.H. Titcomb. The following year, Titcomb retired, and John Perkins's brother, Benjamin A. Perkins, who had been a member of the firm of Curtis & Perkins of New York, joined the firm which was now called J. W. Perkins & Co. There is quite a bit of material for this druggist but I could find no direct…

---
Fully labeled Dr. A. S. Hopkins Union Stomach Bitters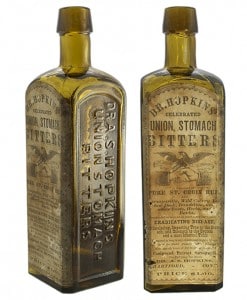 What I find interesting here is comparing the label for an H 179 example to a H 180 example. Read: A labeled Dr. Hopkins Union Stomach Bitters. The H 180 variant has HARTFORD CONN. embossed on the bottle (bottom sketch below) along with the DR. A. S. HOPKIN'S UNION STOMACH BITTERS. The H 178 and H 179 variants (top sketch below) do not have HARTFORD CONN. embossed on the bottle.

---
Herzberg's Bitters

&

Botanic Bitters

by Herzberg Brothers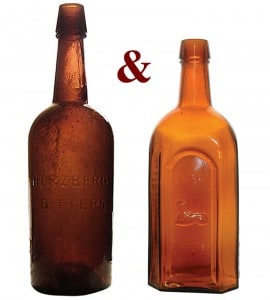 My name is Harry and I am a novice antique bottle collector. If you could be so kind, I would like to know some information on this 11.5 in tall, amber fifth whiskey style bottle embossed Herzberg's Bitters. I have been trying to find information on this bottle for some time but have not had any luck. The only thing that I can come up with this that a there is another bottle embossed Botanic Bitters…

---
Deutenhoff's Swiss Bitters – Savannah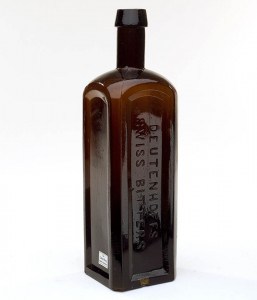 George owned a drug store called G.M. Heidt Company located at 145 Congress at the corner of Whitaker Street in Savannah, Georgia. He resided in Marietta, Georgia, just north of Atlanta. Heidt apparently designed an early model of a soda jerk machine for his drug store, and one report said that he invented the original formula for Coca-Cola, which was stolen at an expo some time later. I can not validate this information and doubt it.

---
A pair of

S. Rosenthal & Co.

NYC bottles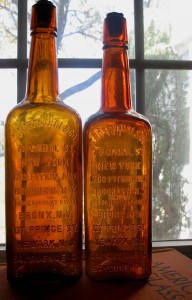 "Perhaps you can see what you can come up with on the two S. ROSENTHAL & CO. square whiskies in that last picture. The larger one is a 30 oz. and the other, a 24 oz. The Corning Museum of Glass has one in their collection which was donated, but other than that, I've never come across any others. Your resources are MUCH better than mine and I have faith that you'll be able to come up with a little information on these bottles. Thanks Ferdinand. Take care and have a good night."

---
Did you see that Schrader's Highland Bitters?

[Updated]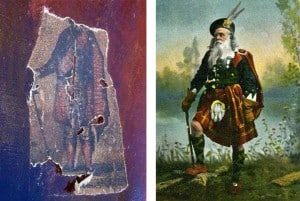 Gawd…I missed this one on eBay… hook, line and sinker, closing on Saturday, 22 October at 10:35 am. Well maybe that is part of the reason. This unlisted Schrader's Highland Bitters closed on eBay last week with 20 bids and a closing price of $1,125. SunshineAntiques from Browning, Missouri was the seller.

---
Looking at a

Burdock's Blood Bitters

Rebus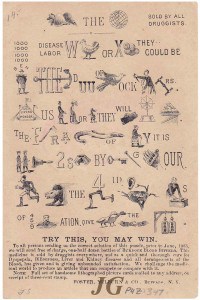 Ferd, Sorry, nothing for the Chicago Hunki Dori. I do have something for your Bath, Maine, Hunk (hairy eye) Dori post. Using the eye in place of the letter "i" is a form of a Rebus puzzle. I have seen them on a number of trade cards. Attached is one on the back of a Burdocks Blood Bitters card…

---
Hyde & Gay – Hunk Dori Bitters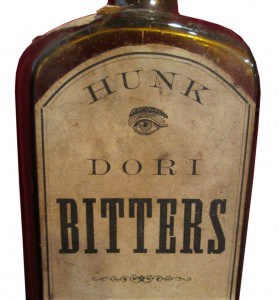 Here is another surprise that is up on eBay now. Another unlisted bitters! The pictures have been cleaned up a bit and have been taken from the eBay listing. Alerted by Frank Wicker and Bill Ham, the Hunk Dori Bitters by Hyde & Gay in Bath, Maine is labeled and oddly enough, is missing the "I" in "HUNKI" compared to another HUNKI DORI BITTERS from Chicago (see below). Hunki Dori means "everything is fine" or "satisfied" or something like that…

---
FOHBC 2016 Sacramento Town Hall Meeting

[NOTICE] The FOHBC is planning to conduct a WebEx Town Hall Meeting for all interested parties with the next two weeks for the 2016 Sacramento National Antique Bottle Convention. It will most likely occur at 8:00 or 9:00 pm CST to accommodate west coast participants. Please RSVP when the date is given. Comments now can be…

---
Announcing Daniel Auction Company as the auctioneer for the 2015 Chattanooga National Antique Bottle Show

The Federation of Historical Bottle Collectors (FOHBC) is proud to announce that the Federation Auction for the 2015 National Antique Bottle Show in Chattanooga, Tennessee has been awarded to the Daniel Auction Company of Sylvester, Georgia. Owner's Jim and Pattey Daniel have been antique bottle, glass and pottery collectors for 30 plus years. They have also…

---
Plan Your FOHBC 2015 Chattanooga National Antique Bottle Show Vacation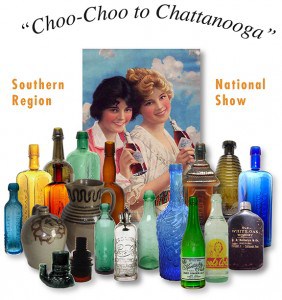 Start planning your vacation now and make the most of your trip to the 2015 FOHBC National Antique Bottle Show in Chattanooga, Tennessee. If you are flying into the Atlanta Hartsfield Airport, here are some suggestions. If you're interested in aviation, visit the newly renovated Delta Heritage Transportation Museum. It houses one of Delta's first DC-3'S, the Boeing 767 purchased by Delta employees and given to Delta, and a Boeing 737…

---