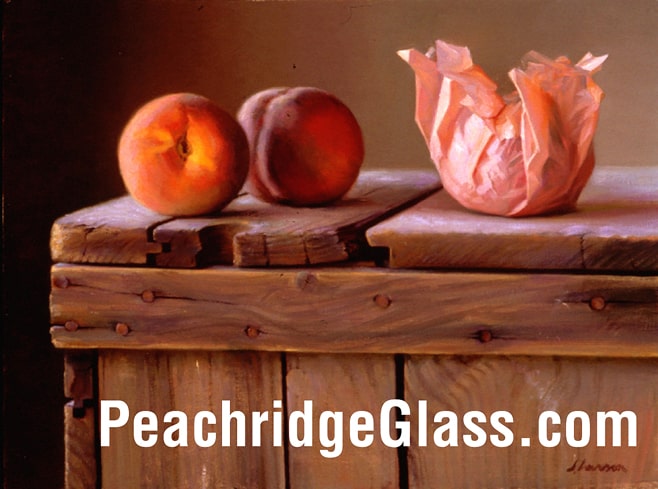 This site is presented and hosted by Ferdinand and Elizabeth Meyer. We hope to share our passion for collecting and dealing in Early American Antique Bottles and Glass. Please contact us for any information and or bottle and glass news for post consideration. I am also looking for guest authors as I shift to the Virtual Museum project. Thanks!
---
Chief Two Moon Meridas and his Bitter Oil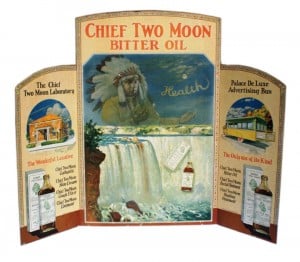 In 1921 Meridas moved to a larger house and established an extensive and prosperous herb business in a storefront at 1898 East Main Street. He built his own laboratory at 1864 East Main Street in 1925. His business increased to such an extent that he had a fleet of buses for his salesmen and an airplane. He took money only for his products, not his advice. He spent lavishly but also surreptitiously donated to charities and to the poor.

---
October issue of Antique Bottle & Glass Collector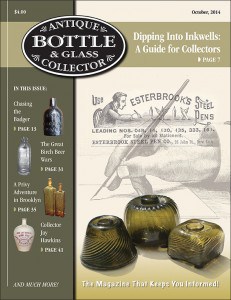 John Pastor forwarded me the cover art for the October issue of Antique Bottle & Glass Collector. Killer. If you do not get this stellar magazine, please subscribe HERE.
---
Anti-Malarial Bitters, D. T. Everts & Company – Petersburg, Virginia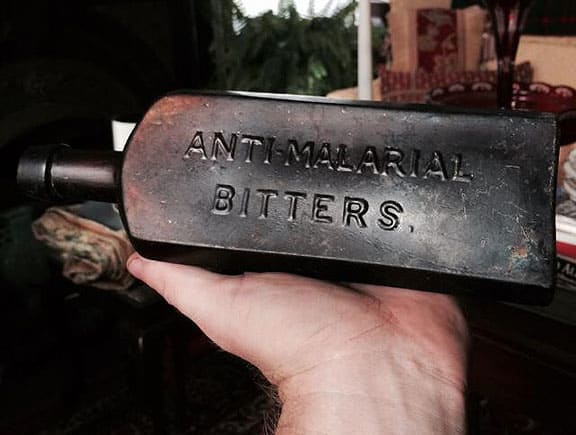 Tom Leveille sent me pictures of the only known example of the open pontil and triangular Anti-Malarial Bitters in a private Facebook message yesterday. The bottle is in the Hunter Cox collection. Boy this is an exciting bottle. Put out by D. T. Everts & Company in Petersburg, Virginia, this bottle is not even pictured

---
Herman Rosswinkle's Crown Bitters – Cincinnati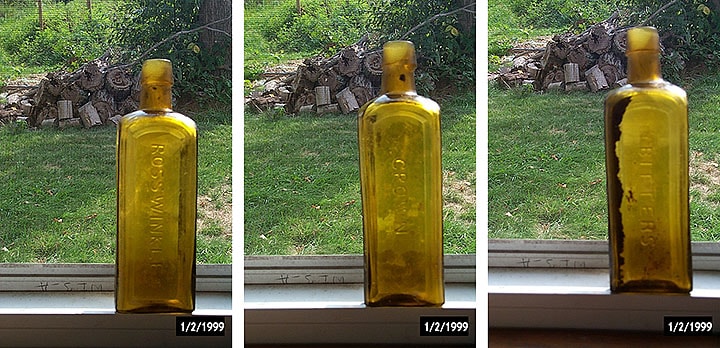 Here is another great bitters that I picked up as a floor sale at the 2014 Lexington National Antique Bottle Show. The Rosswinkle's Crown Bitters. I had been tracking this example and was glad to bring it home. Highly whittled and a great color, it will proudly join my collection.

---
So who made Burkhart's Homestead Bitters?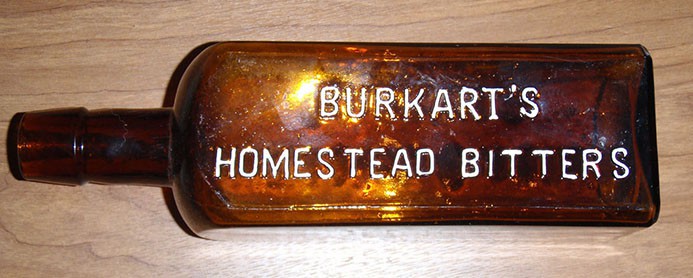 Sometimes you just have to throw something at the wall and see if it sticks. I picked up the extremely rare Burkhart's Homestead Bitters back in June on eBay. Both pictures are from the seller. The bottle is from Fond du Lac, Wisconsin. Just today I opened the box to look at the bottle. I am not kidding, I am so backed up with work, travel and Federation business, that I have not opened or inspected some incoming bottles. I feel a bit foolish but it is what it is.

---
The Federation Show – An Adventure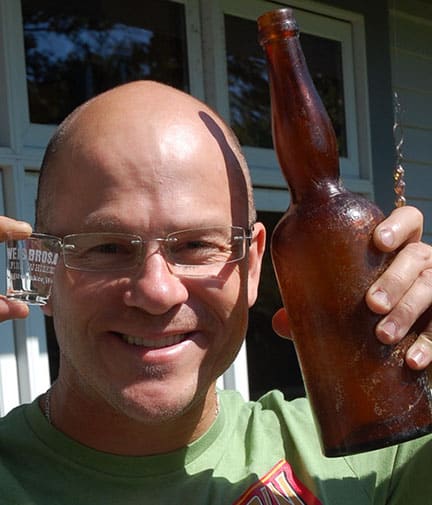 I love going treasure hunting adventures with my children. We go up the river looking for arrowheads and whatever else we can turn up. Driving to Lexington with two cameramen from iNET made me appreciate how truly gracious, responsible and mature my four, six and eight year old are. The trip reminded me how much I really love and appreciate my new and old bottle friends as well.

---
My "Fall" grouping of 1/2 pint Union Clasped Hands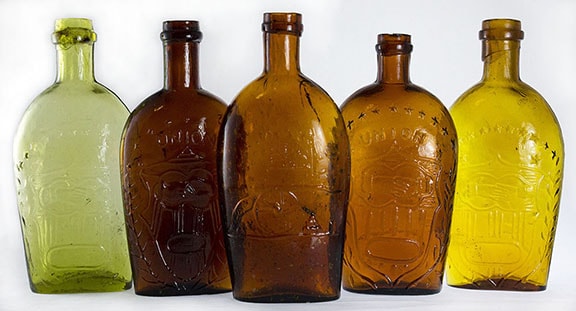 As I returned to Houston yesterday, I noticed the temperature was a good 15 degrees cooler than when I left earlier in the week. Here at Peach Ridge there are even some early leaves on the ground from our Pecan trees. Yes Autumn is finally here, my favorite time of the year. What a nice way to usher it in with some spectacular Union Clasped Hands historical flasks from Troy Scafuro.

---
Dr. Swayne's Bitter Catholicon – A Very Valuable Bitters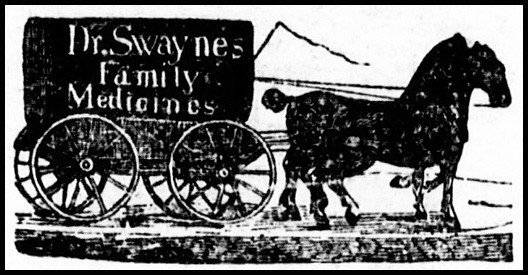 Dr. Swayne started is business around 1838. Listings in the mid to late 1840s show a Dr. Swayne's Family Medicines on the northwest corner of Eighth and Race streets in Philadelphia, Pennsylvania. Over the years they represented and sold many patent medicines including their best seller, Dr. Swayne's Compound Syrup of Wild Cherry, London Hair Color Restorer…

---
Dr. Gerrish and his Brazilian Concentrated Stomach Bitter(s)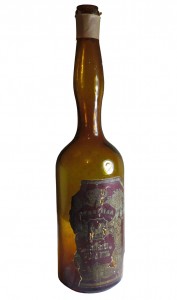 I recently picked up a Brazilian Stomach Bitters bottle with label and base embossed "THOS G. GERRISH rooster TRADEMARK. The label is not in great shape but does say Brazilian Concentrated Stomach Bitters. While researching, I found an early advertisement (see below) that connected Thomas Gerrish, of Lowell, Mass. with Lancaster Tonic Bitters…

---
Woodgate & Company – Club House Gin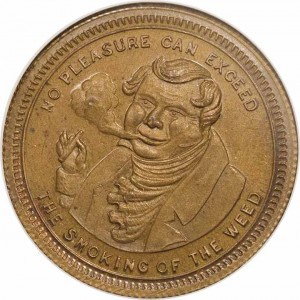 NO PLEASURE CAN EXCEED THE SMOKING OF THE WEED. Ken Edward had this cool Woodgate & Co., Club House Gin bottle at the Downieville Bottle Show this past weekend. Ken let me photograph it (see above) while I said I would try to track down some information. Apparently some shards and a few complete examples have been found on the west coast while another example, and maybe more, were found in the New York area.

---
The Great Comet of 1811 & Comet Wine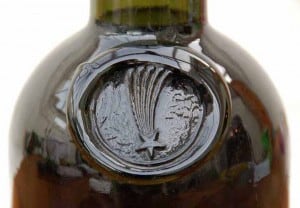 Ken Edward pulled me aside at the Downieville Bottle Show this past weekend and showed me what he called a "Halley's Comet bottle" with an embossed comet seal and the date 1811 on a portion of the label. Ken was close but this is not Halley's comet but rather the "Great Comet of 1811″.

---
California Wine Bitters – From the vineyard of Kohler & Frohling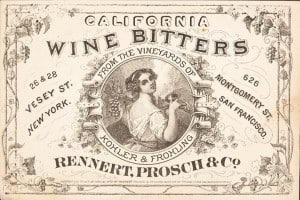 Here, everything is not as it should be. The first example of the California Wine Bitters lady's leg pictured below was spotted on a table at the Downieville Bottle Show and was recognized as a potential label applied to a bottle, meaning not an original application. The label was just too fresh and clean. The dealer noted this. The bottle stayed on the table though I was intrigued by the graphics.

---
An unlisted Dr. Abbott's Bitters by C. A. Richards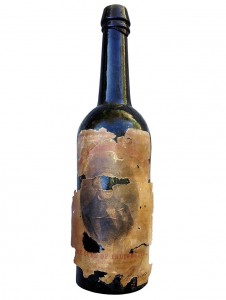 Here is another labeled bitters that was presented to me by Jerry Forbes at the Downieville Bottle Show. With a label in rather poor shape, it is still exciting none-the-less because we have an unlisted Dr. Abbott's Bitters. The bottle was found in Sacramento in an attic in 1999, off of J Street, by a contractor who sold the bottle to Jerry.

---
Hufeland Swiss Stomach Bitters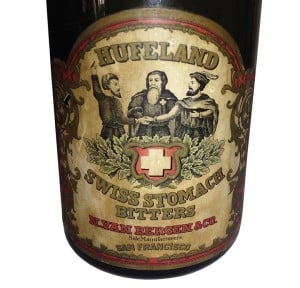 Christoph Wilhelm Friedrich Hufeland was a German physician. He is famous as the most eminent practical physician of his time in Germany and as the author of numerous works displaying extensive reading and a cultivated critical faculty. Hufeland was born at Langensalza, Saxony and educated at Weimar, where his father held the office of court physician to the grand duchess.

---
Can the coloring effects of irradiated glass be reversed?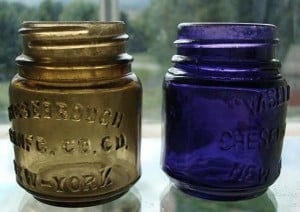 We know that the color of glass can be changed by exposing it to high energy radiation. Clear glass containing manganese will turn purple and clear glass containing selenium will turn a grey/amber. A number of sources have reported that this coloring effect can be reversed by exposing the glass to high temperature. Is this truth or myth? READ
---
Daniel Boone and a Drakes Plantation Bitters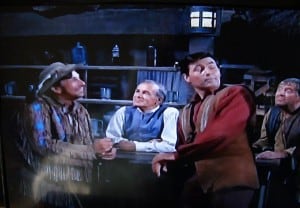 Hey Ferd, I finally got a chance to down load some of my photos off my camera. I found this one which I thought you may like. I took it off the TV in Lexington early one morning while I was waiting for Linda to get ready. I was scanning the scanning the channels when I came across Daniel Boone, a show I watched as a kid. Then I noticed something on the shelf behind him. I grabbed my camera and took a few quick shots. See the Drakes Plantation Bitters sitting there. I watch the back ground on these older shows sometimes for things like this. Lucky enough this time my camera was close. Jim Bender
---
Cool Embossings 3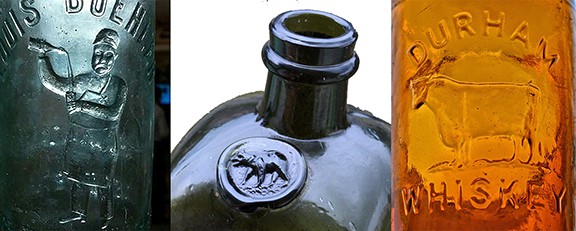 Lions, Bears and Bulls oh my. This is the third post in the series titled "Cool Embossings". See Cool Bottle Embossings and Cool Bottle Embossings 2. I carry these images around in my digital purse, and periodically want to post. Please send me any pictures you have of cool embossings.

---
The extremely rare

Maynard's Star Bitters

from Pittsburgh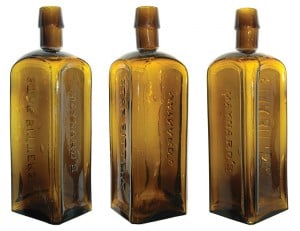 What is exciting is that five of these bottles were found in a dig in Beaver Falls, Pennsylvania. At that time, the bottle was a new find and unlisted. Two were broken and two had some damage. Four were in amber. My example came out in great condition and in unique coloration with olive amber tones. You can read about the dig and discovery in the July/August 2008 issue of the FOHBC Bottles and Extras.

---
Heckler Premier Auction 115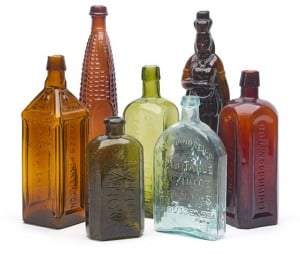 Heckler Premier Auction 115. View the Auction Online. A Wonderful Selection of Bottles, Flasks, Early Glass and More. Bidding Begins September 15, 2014 at 9 A.M. Eastern. Closing September 24, 2014 at 10 P.M. Eastern. Preview by appointment.
---
Two California collections at Holabird's Western Americana Collections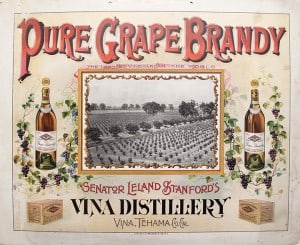 Fred was very excited to hear from you. He says 'hi.' I attached a list of items for sale in the major wine, whiskey, and brewery related ephemera, paper label bottles, California wine menus, etc in the next e-mail. I have also included a couple of photographs that might be useful. The descriptions for those photographs are below…

---
Glass Works Auctions The 'Colors of Fall' Auction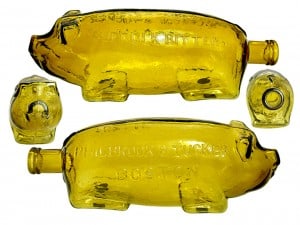 Catalog for Auction # 104 Closing September 22nd, 2014 is now online for viewing. Lots 1 through 27 are from the collection of the late Paul Hadley of Westfield, Massachusetts. Paul was an avid collector of antique bottles and flasks for over 40-years, regularly attending and participating in many of the shows and auctions held in the Northeast. He was very particular in what he added to his collection with most of the pieces being exceptional examples. Visit Auction.
---
Was there really a Dr. Robertson?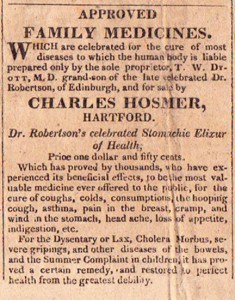 As Thomas Dyott, early in his career, had expanded from blacking to nostrums, so later he enlarged his enterprises again and again. Living in the day of a barter economy, the shrewd merchandiser accepted produce for patent medicines. Soon he was dealing in such things as tobacco and turpentine, peach brandy and rum, candles and castor oil. The scope of his nostrum sales required thousands of bottles, an article he had first required while vending blacking…

---
See a Bryant's Stomach Bitters "Spinner"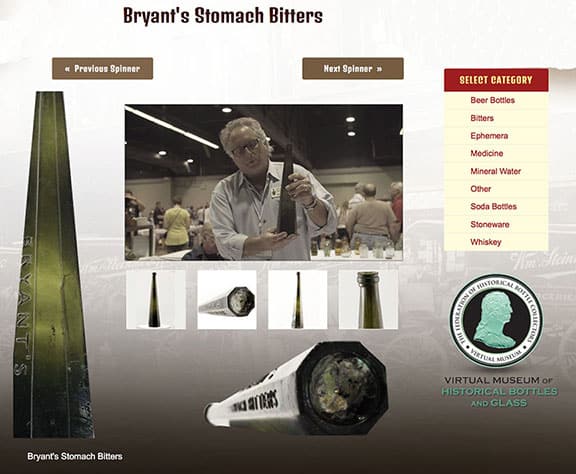 'In work' progress from Steven Libbey and his teams 'test' work on developing models and spinners for the virtual museum. The cone was filmed at the recent Lexington National. Edit work was done in the studio. This model would be how a typical bottle might be displayed in the FOHBC Virtual Museum. This includes a write-up, pictures, video and spinner. Pretty exciting. SEE CONE
---
September issue of Antique Bottle & Glass Collector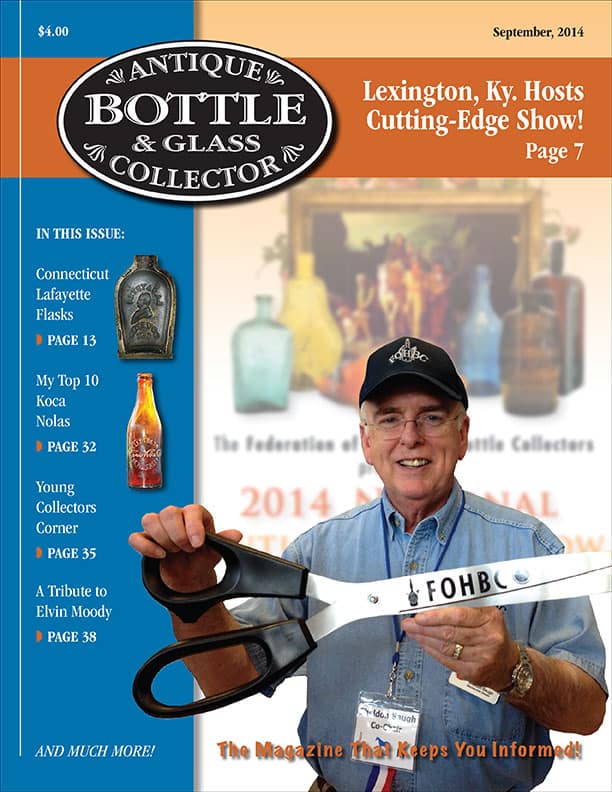 John Pastor and his magazine team have put together another fine issue of Antique Bottle & Glass Collector. Great to see that Sheldon Baugh, FOHBC 2014 Lexington National Co-Chair and Federation Vice-President made the cover. What a super design. SUBSCRIBE.
---
Amazing 8-Sided Utility Bottle…Is It Baltimore?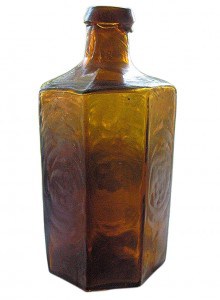 Hi Ferdinand, Here is an amazing eight sided medicine (ink?) found in an early 1960s dig in San Francisco. While it has no embossing, it is crude with a tubular pontil and trails of black slag throughout. The whittle effect is amazing. It is 6 1/2″ tall. I have been told that it may be Baltimore blown? Any thoughts? Thanks, Dale Mlasko

---
September October issue of Bottles and Extras in Transit!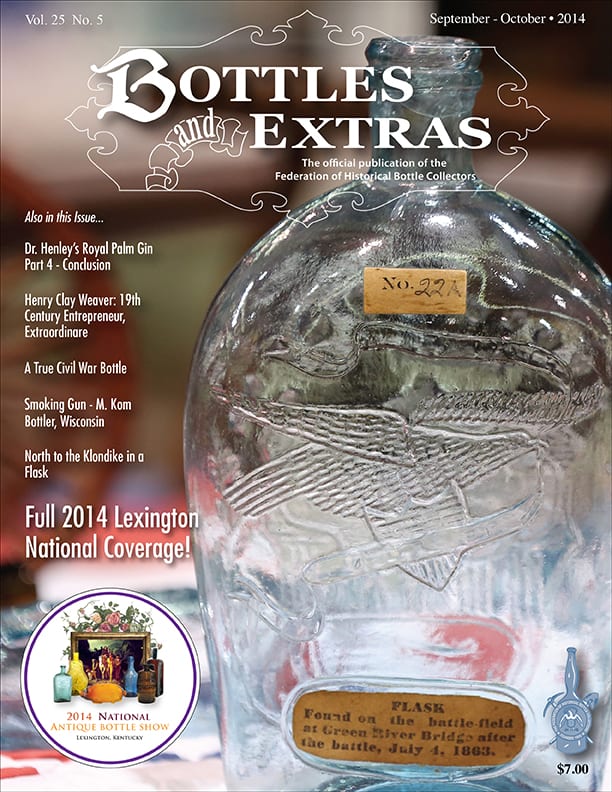 The September October issue of the FOHBC 76-page (nncludes covers) Bottles and Extras was mailed yesterday to Federation members. Look for a comprehensive 2014 Lexington National Report, Dr. Henley's Royal Palm Gin – Part 4 of a series – Conclusion, Henry Clay Weaver: 19th Century Entrepreneur, Extraordinaire (Mexican Bitters) A True Civil War Bottle, Smoking Gun – M. Kom Bottler – Wisconsin and North to Klondike in a Flask. Become a member of the FOHBC.
---
The Lash's Gentleman in a Hat –

Mystery Solved!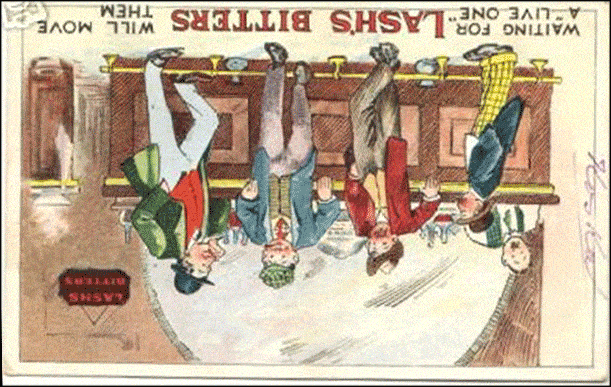 Why am I interested in the Lash Bitters? A collector found 12 of these T206 cards that appeared to be from an original test sheet used at the ALC factory. The cards are all hand cut and are missing a few layers of ink and oddly have several unfinished Lash Bitter's post card fronts and backs printed on them. We are thinking this unfinished T206 sheet was used to test the printing of the Lash Bitters post cards.

---
Bertinguiot… French or American Inks?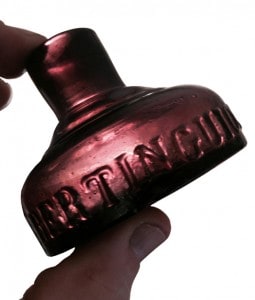 Hi Ferdinand, I recently came across this light purple puce Bertinguout ink. It has an open pontil and was dug in San Francisco in the 1960s. I have seen these in many shades of olive and green and one in cobalt blue. Never in this color. I believe these were originally thought to be French in origin but now I believe they are known to be American? I would appreciate knowing if this color variant is unique or if there are more out there. Regards Dale

---
Catawba Bitters labeled lady's leg from New Haven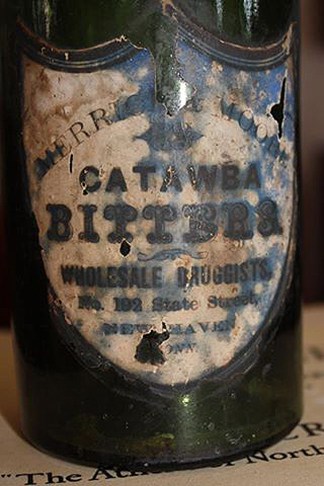 David Jackson posted these three pretty nice pictures of a Catawba Bitters green lady's leg figural bottle with a label from Merrick & Moore Wholesale Druggists at 192 State Street, New Haven Connecticut. Not familiar with this one. What is interesting here is that noted bottle authority, Dr. Richard Cannon once said in an article called…

---
2013 Manchester National Educational Display Videos
Alan DeMaison (past FOHBC Business Manager) has been working hard of late adding videos of the educational displays from the great 2013 National Antique Bottle Show in Manchester, New Hampshire. These selections will join the group of 2012 FOHBC Reno Expo and 2009 National in Pomona, California. We hope you enjoy his work. We have all learned so much from each of them! Where else will you get the displayer talking about their prized collection. We hope you enjoy! SEE VIDEOS
---
Salmon's Perfect Stomach Bitters – Manhattan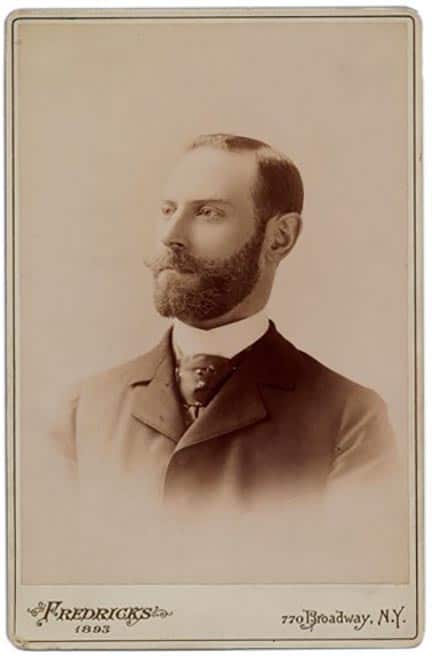 Not much to go on here but I look at New York as the example was dug there. Bingo! I quickly figure out that we are talking about Maximillian or Max Salmon. Max was Canadian born and spent time in his early 20′s as a liquor store clerk in Baltimore. Finding a wife in New York City leads him to move to Manhattan and become a wine and liquor merchant in the early 1890s.

---
The E. Julin – ABO football sized torpedo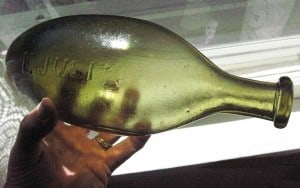 Hi Ferd, I recently picked up this huge torpedo and have been unable to find anything about it. It is Jurassic looking in age, and is a gigantic 10″ tall and as large as a football. It looks 1840-ish to me but I honestly have no clue. None of the collectors I have asked had ever seen one before. The embossing reads " E. Julin" Reverse reads "ABO." Any thoughts?

---
Pawnee Bitters and the Pawnee Indian Medicine Co. – San Francisco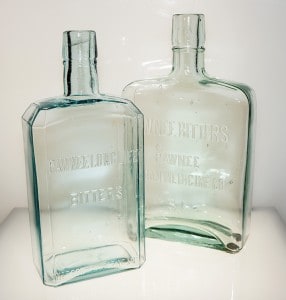 I was able to add a second Pawnee Indian Medicine Company bottle to my collection at the Lexington National. I already had a very rare Pawnee Bitters from the Feldmann collection. This new bottle is also aqua and is a different rectangular shape. It is embossed Pawnee Long Life Bitters and is rated extremely rare. Both are from San Francisco and are pictured above. Was this just another example of using an Indian reference in a bitters product name or is there a real Indian story here? You bet there is!

---
West India Stomach Bitters from St. Louis, Missouri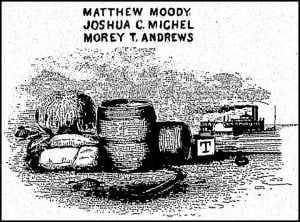 OK, so we already looked at two "East India" embossed bitters and one embossed "India" bitters. Now we will look at a scarce and extremely rare "West India" embossed brand from St. Louis. This being the West India Stomach Bitters from St. Louis, Missouri. The top pictured…

---
Dr. J. W. James India Bitters – East Brady, Pennsylvania

Brady's Bend, also known as Bradys Bend, is named for Captain Samuel Brady (1756-1795), famed frontier scout and the subject of many legends. Near this location on the Allegheny River in Western Pennsylvania June 1779 – in what was then Seneca territory – Brady led a force seeking to redress the killing of a settler and her four children…

---
Kennedy's East India Bitters – Omaha, Nebraska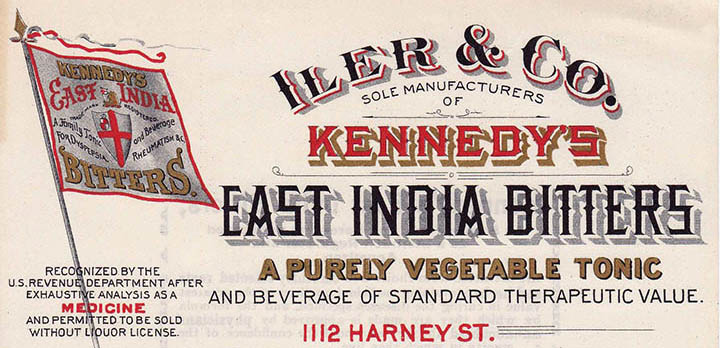 Earlier today I put up a post on a Boston product called East India Root Bitters by George P. Clapp. It reminded me of my clear Kennedy's East India Bitters from Omaha, Nebraska, if only by name. It even has an ever-so-slight, olive striation in the neck. How cool is that?

---
East India Root Bitters – George P. Clapp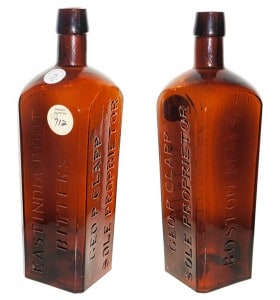 I picked up a good-looking and pretty rare East India Root Bitters, in a tapered, case gin form from Boston, Massachusetts at the recent Lexington National Glass Works "Thoroughbred Auction". A few people saw me eyeing the bottle and seemed surprised that I did not possess an example. I commented that this bottle was a different brand than…

---
Abel, Humiston & Co.'s Mountain Root Bitters!

I received an e-mail (see below) while I was at the Lexington National Antique Bottle Show from a fellow in Illinois regarding the Mountain Root Bitters put out by Abel Humiston in Sandwich, Illinois. At first I was thinking there was a person named Abel Humiston, but we are really talking about Jonathan Abel and Lanson S. Humiston who produced this bitters for a short period in 1867.

---
Loveridge's Wahoo Bitters Jug – Buffalo N.Y.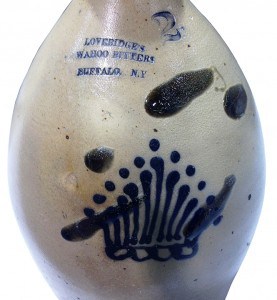 Mike Malanowsi from Albion, New York pulled me over to his dealer table at the Lexington National and uncovered this fantastic stoneware jug inscribed LOVERIDGE'S WAHOO BITTERS BUFFALO N.Y. What makes this even more exciting is the blue glaze Indian headdress decoration on the front. An exquisite piece that I have not seen before. I snapped a few shots and cropped for viewing.

---
FOHBC 2014 Lexington National | Glass Works Thoroughbred Auction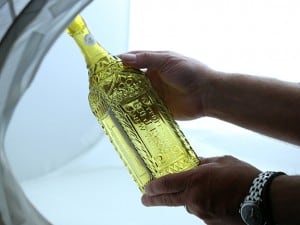 This next group of pictures come from the "Thoroughbred Auction" conducted by Jim Hagenbuch and Glass Works Auctions. The event occurred on Saturday evening from 7:00 pm until 10:00 pm. Helping Jim out were Bill Ham, Jesse Sailor, Janice Hagenbuch and the licensed auctioneer, Randy Rooth.

---
Sacramento announced for the FOHBC 2016 National Antique Bottle Convention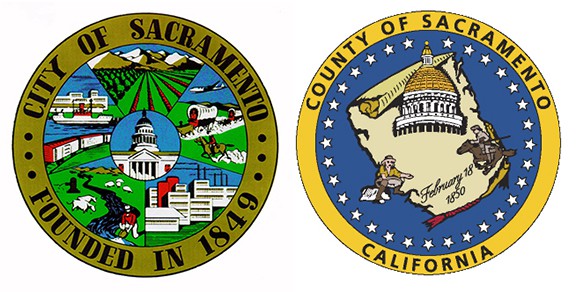 I am extremely excited to announce the 2016 FOHBC National Antique Bottle Convention will be held in Sacramento, California. Sacramento is the birthplace of the Federation of Historical Bottle Clubs (later renamed Collectors).

---
2015 Chattanooga National Antique Bottle Show Contracts Available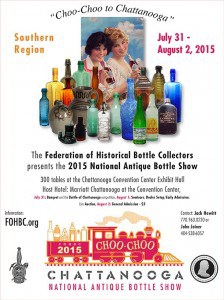 Get the Board Walk and Park Place table positions, or at least that side of the Monopoly Board at the FOHBC 2015 National Antique Bottle Show in Chattanooga, Tennessee. Elizabeth bought our table at the Manchester National last year and guess what? We are Table A2 at the Lexington National. Come see us and bring bitters! Contracts available online and in Lexington this weekend.

---
Lash's Bitters | PART THREE – Humorous and Clever Advertising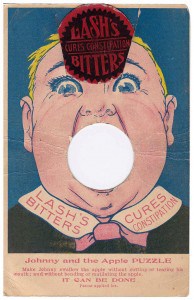 After Part ONE and Part TWO of this series dealing with the various Lash's bitters bottles and Lash's history, I thought we could focus today on some of the humorous, clever, and yet sometimes very odd advertising for Lash's Bitters products. The "Johnny and the Apple" puzzle is simply frightening for a number of reasons. All examples are from the Joe Gourd collection.

---
Lash's Bitters – PART TWO | History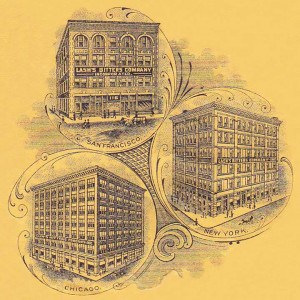 I suppose this title above could say "Lash's Bitters – Cincinnati, Sacramento, San Francisco, Chicago, New York and Anaheim" because this brand really had legs and endurance as you will see. We say San Francisco, Chicago and New York as those were the three cities that Lash's ran major operations out of. The illustration at the top of the post pictures the large and prominent buildings that anchored the Lash's brand from coast to coast.

---
Lash's Bitters | San Francisco – Chicago – New York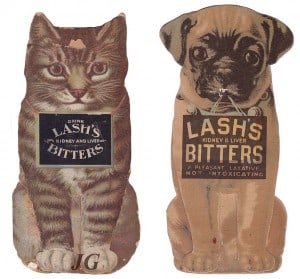 I thought it would be nice to finally tackle the great, Lash's Bitters brand that was incorporated in 1894 in San Francisco and expanded to Chicago in 1901 and New York in 1904. Lash's started a bit earlier in 1884 and actually lasted until 1966 if you can believe that! FOHBC member Don Yates wrote a nice article for Bottles and Extras in 1993 called Lash's – Not Just Bitters.

---