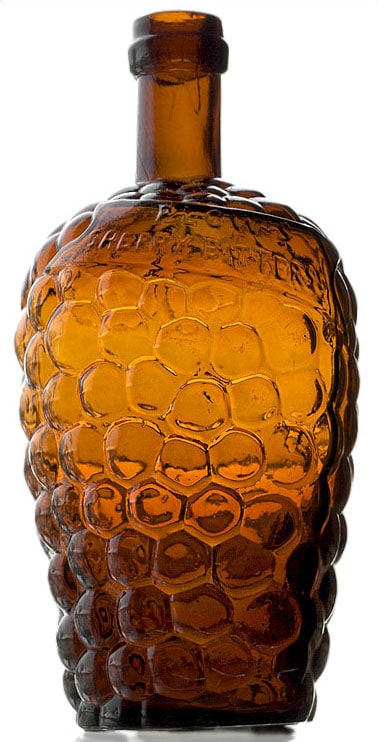 Plows Celebrated Sherry Bitters
William J. Plows – Chicago
21 April 2019 (R•042219)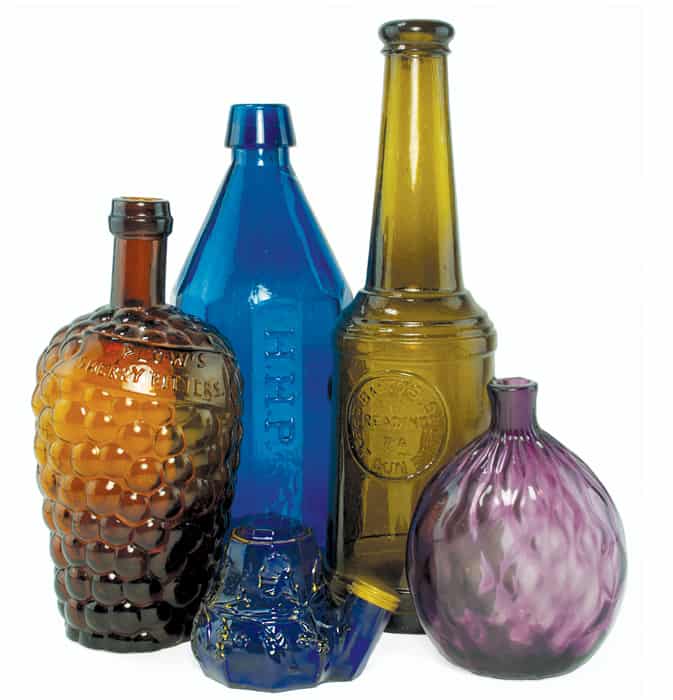 Glass Works Auctions has a wonderful example of a figural Plows Sherry Bitters in their upcoming 'Colors of Spring' Catalog Auction #130. The bottle is pictured at the top of the post, in the grouping above and below. The Plows, in the form of a cluster of grapes, is drop-dead gorgeous. Even the label panel on the reverse is shaped like a grape leaf. The auction opens for bid on April 22nd and closes on April 29th, 2019.
I have not seen this particular example before as it has been nested away for many years with Sidney Genius, a name I've heard of, but a person I have not met. Apparently he has or had some great bitters which are now being auctioned by Glass Works over a period of time
Here is the Glass Works Auctions listing:
2. "PLOW'S / SHERRY BITTERS", (Ring/Ham, P-111), American, ca. 1870 – 1880, amber cluster of grapes, 8"h, smooth base, applied ring mouth. A tiny 3/16" by 1/16" sliver type chip is off the inside edge of the lip. Extremely rare, one of the most difficult to find of the true figural bitters! Sidney Genius Collection. Minimum Bid: $4,000. Estimate: $7,000 – $10,000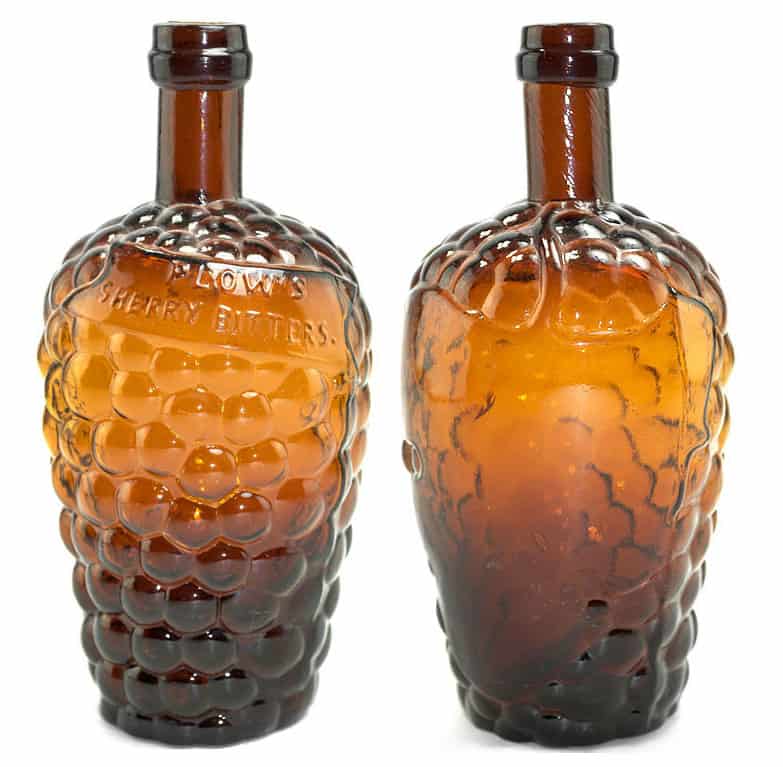 The Carlyn Ring and W.C. Ham listing in Bitters Bottles is as follows:
P111  PLOW'S SHERRY BITTERS
PLOW'S ( cd ) / SHERRY BITTERS (cd) // c //
8 x 2 5/8 (5)
Round-bunch of grapes, Amber, NSC, Applied mouth, Extremely rare
Label panel is shaped like a grape leaf.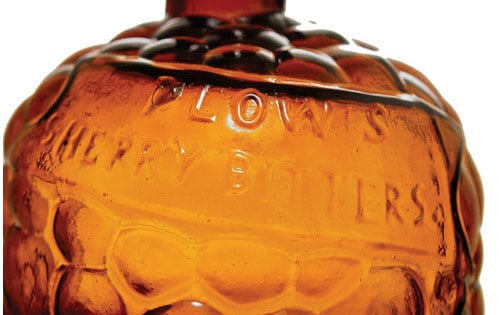 Notice that the listing above and the embossing on the bottle has no proprietor or manufacturer name, nor a city where it was produced. The copy simply says 'Plow's Sherry Bitters.' There is no Plows advertising, no surviving label, no trade cards, nothing.
Like other collectors, I wondered about this bottle for many years until I heard that the 1st Chicago Bottle Club posted an image of the following advertisement on their website. It turns out that bitters authority Ted Krist originally found the ad in January 2016 while researching the Plows. Ted shared the find with the club and recently included the Plows advertising find and information in his seminar at the FOHBC 2018 Cleveland National Convention where he likened his find to "even a blind squirrel finds an acorn every once in a while." This little ad has it all and solved the case after so many years of not knowing.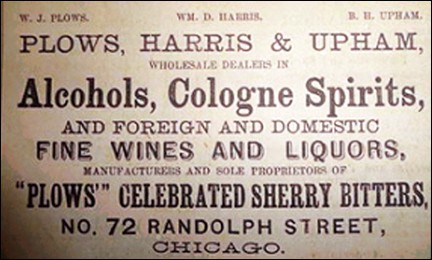 Oh, here is my example pictured below. I love the amber coloration which changes throughout the bottle. The Plows bottles only come in amber, so no color runs here. This example came from the American Bottle Auctions, Grapentine I Auction in April 2007. It was previously auctioned by Glass Works Auctions in Auction #48 and noted as ex: Frank Barranco. It has a drippy top, loads of whittle and is a top specimen.
William J. Plows
There is not a terrible amount of information out there about W. J. Plows. We know that he was born in New York around 1831. In 1855, he was living in New York with his wife Olivia and one child according to the New York State Census. Five years later, an 1860 United States Federal Census lists him working in a saloon in Milwaukee. William J. and his wife are listed with three children, Olivia age 6, Edward age 4 and Gertrude age 2.
W. J. Plows leaves Milwaukee and is next found in Chicago in 1866 where he is a partner at Smith & Plows. William J. and Charles R. Smith are selling wholesale wines and liquors at 103 S. Water Street. This partnership ended on March 27, 1867 according to the Chicago Tribune. Plows left while leaving the newly named C. R. Smith & Co. to continue with the liquor business. He might have been bought out leaving him some money to finance his Plows Sherry Bitters endeavors.
Plows must have, in quick order, gone into business with William D. Harris and B. H. Upham as Plows, Harris & Upham is listed in 1867 as liquor dealers located on 72 Randolph street according to the John C. W. Bailey's Business Directory of Chicago. This is pretty much the same information on the ad posted by the 1st Chicago Bottle Club except their ad also notes that Plows, Harris & Upham were Wholesale Dealers in Alcohols, Cologne Spirits and Foreign and Domestic Liquors and that they were the Manufacturers and Sole Proprietors of "Plows" Celebrated Sherry Bitters. The bottle was probably ordered only once in a group and sold wholesale and retail in 1867.
This partnership would end as Plows is next listed as a partner with Plows, Abel & Humiston (William J. Plows, John Abel and Len S. Humiston) who were liquor dealers located at 154 Dearborn. They were listed in 1867 and 1868. There is some overlap here as Plows must have had a few irons in the stove. A newspaper Dissolution notice for Plows, Abel & Humiston occurred as of April 20, 1869. The notice said that W. J. Plows would continue the wholesale liquor business at 154 Dearborn.
Bitters collectors might be familar with the names John Abel and Len S. Humiston as they put out Mountain Root Bitters.
Read: Abel, Humiston & Co.'s Mountain Root Bitters!
In 1869, W. J. Plows put out notices that he was wanting to sell his old wholesale liquor business cheap so he could go into distilling and rectifying. The 1870 Federal Census lists him as a distiller and all other available listings after this date note that Plows was in the distilling business. His son Edward would join him as a clerk and accountant. In 1875, Plows buys, at a government auction, the distillery of the Union Copper Distilling Company.
In 1878, William J. Plows is listed as the Proprietor of Vienna Coffee located at 65 Dearborn with a residence in Zurich. I guess that these were his golden pasture years. Plows would die in the early 1880s leaving his wife a widow and antique bottle collectors with a great bottle.
Select Listings:
1855

: Wm J Plows, Birth Year: abt 1831, Age: 24, Residence: New York City, Ward 19, New York, New York, District: E.D.3, Household number: 29, Line Number: 34, Household Members: Wm J Plows 24, Olivia Plows 19, Livydell Plows 1 – New York State Census, 1855
1860:

 Wm J Plows, Saloon, Age: 29, Birth Year: abt 1831, Birth Place: New York, Home in 1860: Milwaukee Ward 4, Milwaukee, Wisconsin, Post Office: Milwaukee, Dwelling Number: 370, Family Number: 381, Real Estate Value: 100, Personal Estate Value: 500, Household Members: Wm J Plows 29, Olivia Plows 23, Olivia D Plows 6, Edward Plows 4, Gertrude L Plows 2, George Pierce 15 – 1860 United States Federal Census
1866:

Smith & Plows (Charles R. Smith and William J. Plows, wholesale wines and liquors, 103 S. Water – Chicago, Illinois, City Directory, 1866
1867:

Dissolution of Smith & Plows partnership as of March 27, 1867 – Chicago Tribune, Saturday, March 30, 1867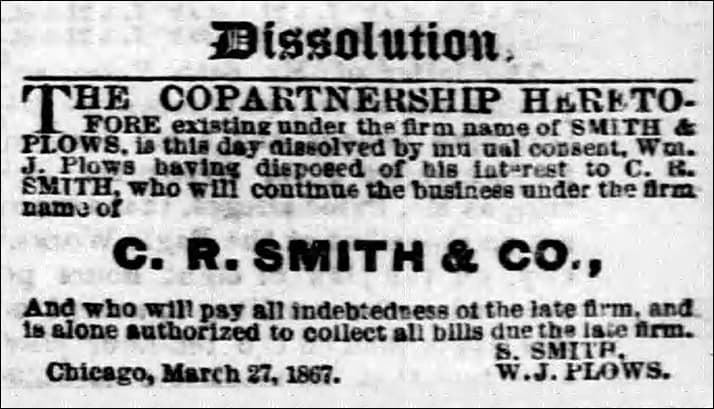 1867:

 Plows, Harris & Upham (W. J. Plows, Wm. D. Harris & B. H. Upham), liquor dealers, 72 Randolph – John C. W. Bailey's Business Directory of Chicago
1867 (presumed):

 Advertisement: Plows, Harris & Upham (W. J. Plows, Wm. D. Harris & B. H. Upham), Wholesale Dealers in Alcohols, Cologne Spirits and Foreign and Domestic Liquors, Manufacturers and Sole Proprietors of "Plows" Celebrated Sherry Bitters, No. 72 Randolph Street, Chicago – Ted Krist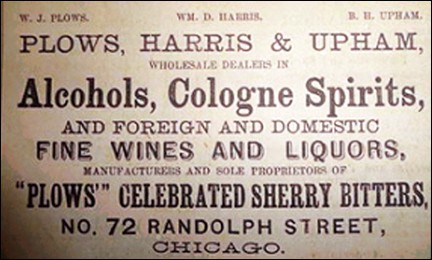 1867 & 1868:

Plows, Abel & Humiston (William J. Plows, John Abel and Len S. Humiston), liquor dealers, 154 Dearborn – Chicago, Illinois, City Directory, 1867 and 1868
1868:

A Novel Confidence Game, Water Instead of Whiskey – An Attempted Block Failed – W. J. Plows formerly senior partner of Plows, Harris & Upham – Chicago Tribune, Wednesday, January 22, 1868

1869: 

Dissolution of Plows, Abel & Humiston (below) as of April 20, 1869. W. J. Plows will continue the wholesale liquor business 154 Dearborn – Chicago Tribune, Wednesday, April 21, 1869

1869: 

W.J. Plows wanting to sell his old wholesale liquor business cheap so he can go into distilling (below). – Chicago Tribune, Sunday, December 5, 1869

1869

: W. J. Plows & Co. (William J. Plows), Wholesale Wines and Liquors, 154 Dearborn – Chicago, Illinois, City Directory, 1869
1870

: Wm J. Plows, Distiller, Age in 1870: 39, Birth Year: abt 1831, Birthplace: New York, Dwelling Number: 1897, Home in 1870: Chicago Ward 12, Cook, Illinois, Personal Estate Value: 20,000, Real Estate Value: 15,000, Inferred Spouse: Olivia Plows, Household Members: Wm J Plows 39, Olivia Plows 34, Levidell Plows 16, Edward Plows 14, Gertrude Plows 12, Florence Plows 10, Amy Plows 10, Josephine Plows 8, Maritha Plows 6, William Plows 4, James Plows 2 – 1870 United States Federal Census
1873:

William J Plows, Distiller, Edward Plows, clerk, 261 and 233 Kinzie, r. 474 N. LaSalle, Chicago, Illinois – Chicago, Illinois, City Directory, 1873
1874:

William J. Plows, Distiller, 263 Kinzie  – Chicago, Illinois, City Directory, 1874
1875:

W.M. Plows buys, at government auction, the distillery of the Union Copper Distilling Company – The Inter Ocean (Chicago), Thursday, August 19, 1875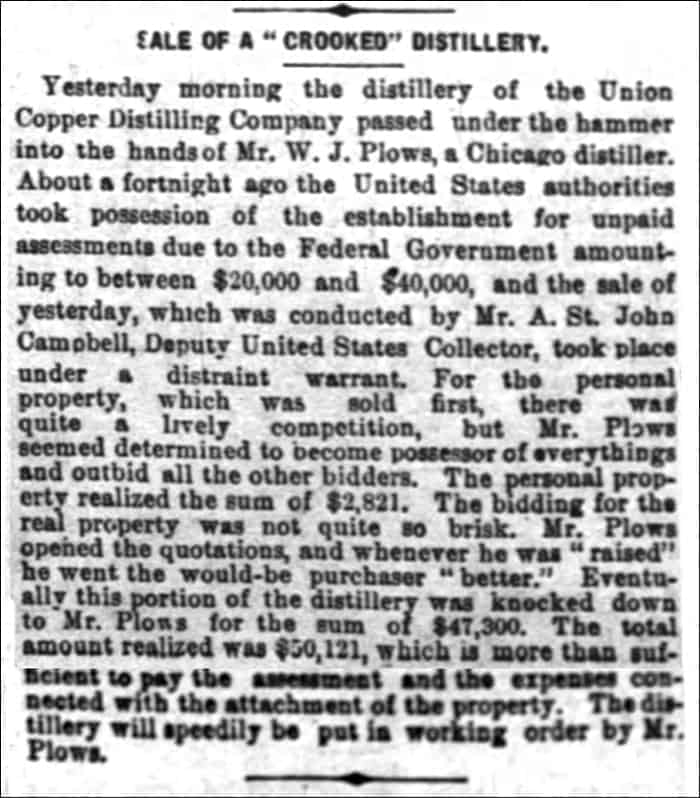 1875:

William J. Plows, Distiller and Rectifier, 263 Kinzie (Junker Roelle & Co. at same address) – Lakeside Directory of the State of Illinois, 1875
1877:

William J Plows, Agent, 261 Kinzie, r. 212 Schiller, Chicago, Illinois – Chicago, Illinois, City Directory, 1877
1878:

William J. Plows, Proprietor Vienna Coffee, 65 Dearborn, res Zurich – Chicago, Illinois, City Directory, 1878
1882:

William J Plows, 6 Dearborn, Chicago, Illinois – Chicago, Illinois, City Directory, 1882
1886:

Olivia Plows, widow William J. 1539 Wrightwood Avenue – Lakeview, Illinois, City Directory, 1886