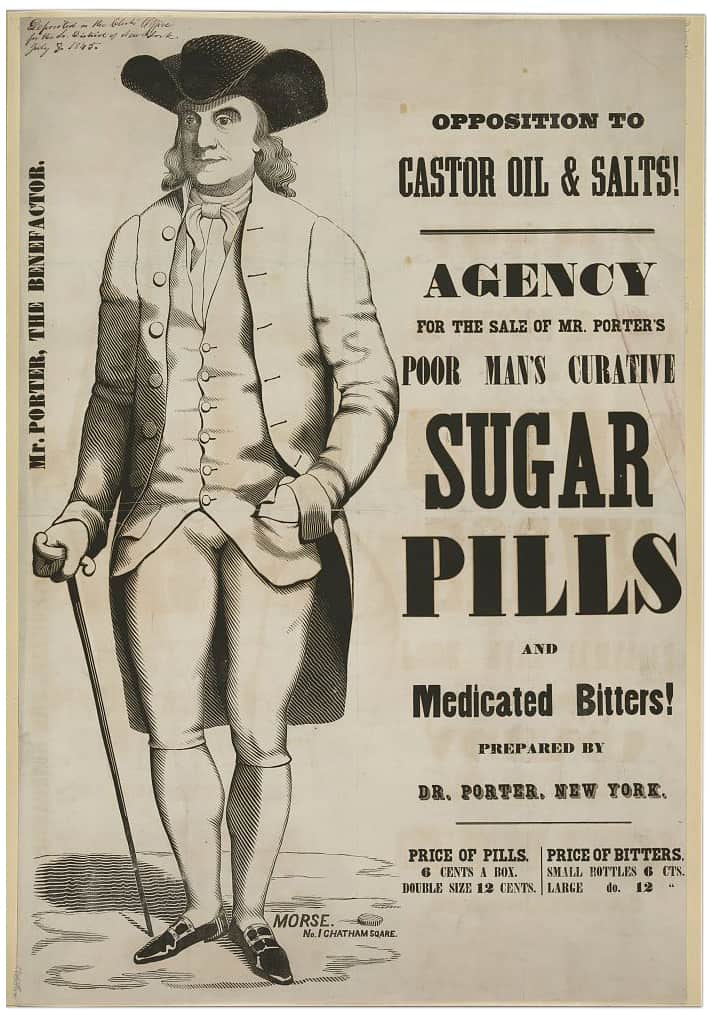 Dr. Zadoc and Madame Zadoc Porter – New York
Dr. Zadoc Porter's Medicated Stomach Bitters
17 October 2018

In separate bitters folders I had clippings for Porter's Bitters and another file for Zadoc's Bitters. I thought I would wait for a rainy day (it has rained on and off for days here now) to do a little research on both.
I have now combined the files into one file named "Dr. Zadoc Porter's Medicated Stomach Bitters." Zadoc Porter operated out of New York City and also sold Dr. Porter's Sugar Pills and called himself "Mr Porter, The Great Benefactor." His sugar-coated pills sold for 6 cents a box and were far easier to swallow than the crude and often horrid-tasting concoctions prepared by physicians. These pills were given their large-scale introduction into American dosage by patent medicine men such as Zadoc Porter. Likewise, his Medicated Bitters sold for 6 cents a bottle and 12 cents for a dozen.
Dr. Zodac Porter was a quack physician who pictured himself and his wife in distinguished Quacker garb on their advertising. I also added material for his wife who was Madame Zadoc Porter. Her specialty was "Madame Zadoc Porter's Great Cough Remedy" and "Madame Zadoc Porter's Balsam." This all came together visually and was inspired from the fine advertising print from the Library of Congress at the top of this post.
Dr. Zadoc Porter started his medicine business in New York City in 1838 or so. By 1841, Madame Zadoc was pitching her medicines. In many cases they both were using the same advertising to hawk their products. They were addressed at Morse Street, No. 1 Chatham Square (pictured below).
In 1856, Hall & Ruckel were the proprietors. They were located at 218 Greenwich, in New York City. By 1891, Ruckel & Hendel, located at 58 Barclay Street in New York were selling the Porter brand. In 1919, Hall & Ruckel was located at 215 Washington Street in New  York. Advertising stated that they were the proprietors of and sole agents for medicinal preparations, toilet articles, etc.; specialties: "Sozodont," "Sozodont Tooth Powder," "Sozodont Tooth Paste," "Spalding's Glue," "Madam Porter's Cough Balsam," "Dr. Zadoc Porter's Bitters," "Olive Tar," "Mitchell's Eye Salve," "Sargent's Sozoderma Soap," "X. Bazin's Shaving Cream," and other X. Bazin's toilet preparations. They had foreign agents Fassett & Johnson, in London, England; Lyman's, Ltd., Montreal, Canada; Daube & Co., Valparaiso, Chile; A. J. Colven, Buenos Aires, Argentina. The Porter products were sold as late as 1823.
The Carlyn Ring and W.C. Ham listing in Bitters Bottles is as follows:
P 126  Zadoc Porter's Medicated Stomach Bitters
L… The Zodac (sic) Porter Medicated Stomach Bitters
DR PORTER / NEW YORK // sp // // f // sp //
Hall & Rucker, London, New York, Paris
7 5/8 x 2 1/2 x 1 1/2 (5 1/4) 1/4
Rectangular, Aqua , NSC, Tooled Lip, 3 sp

"Zadoc" spelling correction in BBS2 required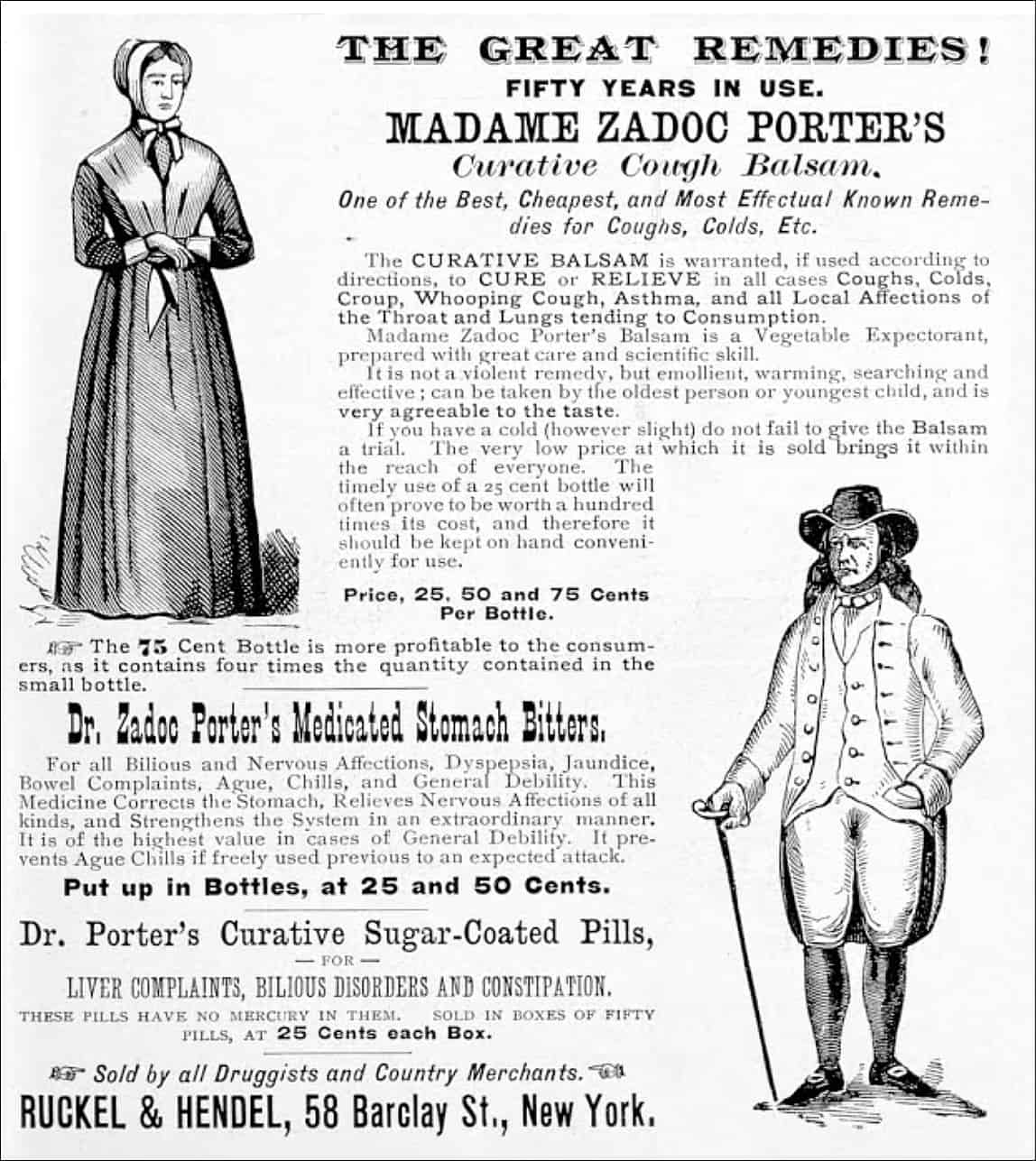 Select Listings:
1845:
Madame Zadoc
Porter's Great Cough Remedy and Balsam created.
1845:

 Below: Mr. Zadoc Porter, great great grand uncle of Dr. Porter, 1845, Part of wood engraved advertisement. Porter was a patent medicine man of the 1840s. – Library of Congress Prints and Photographs Division Washington, D.C.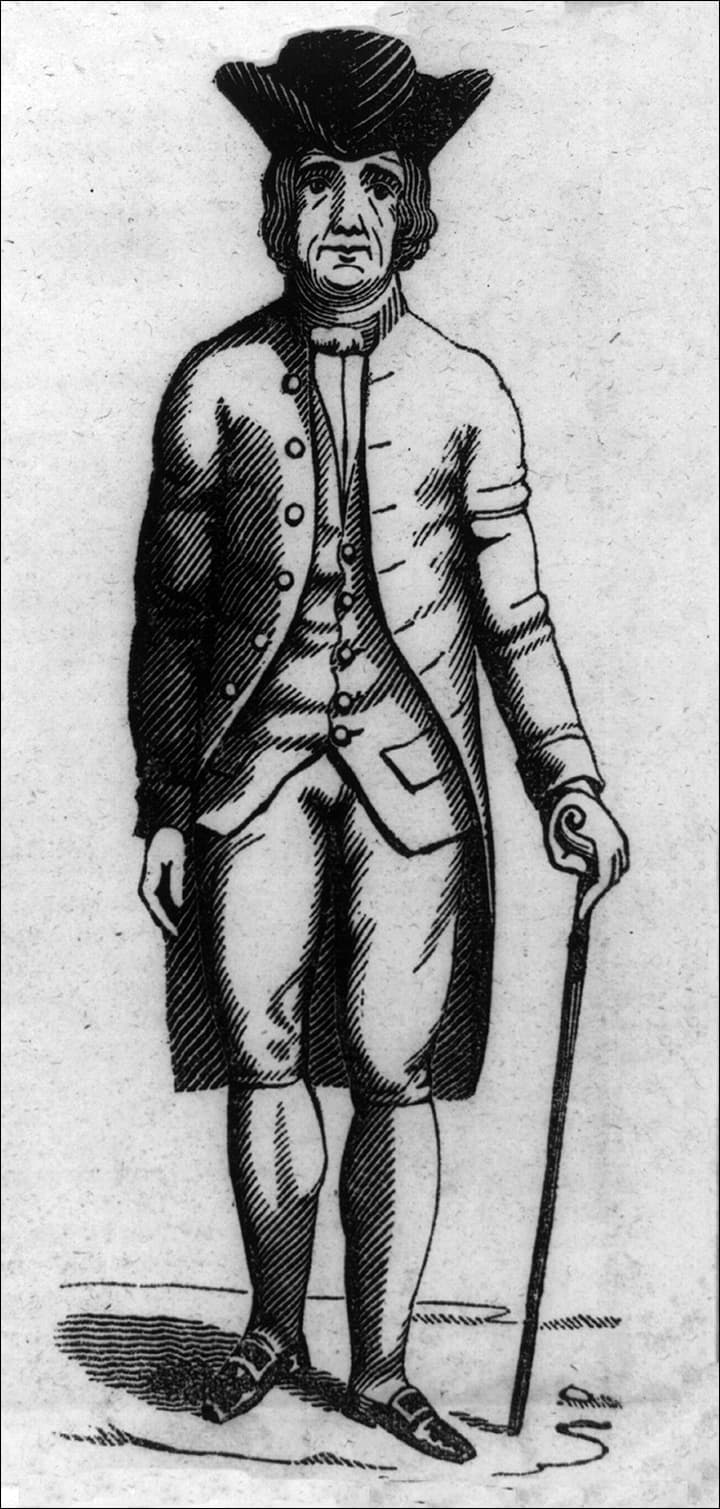 1854: 

Newspaper advertisement (below) for Dr. Zadoc Porter's Bitters  – Hartford Courant, Friday, June 16, 1854

1863:

 Newspaper advertisement (below) for Madame Zadoc Porter's Great Cough Remedy and Balsam. Only 13 Cents per Bottle. In use for over Eighteen Years, Hall & Ruckel, N.Y. Proprietors – The Berkshire County Eagle, Thursday, May 21, 1863

1865:

 Large advertisement (top of post) for Dr. Porter's Medicated Bitters, Prepared by Dr. Porter, New York – Library of Congress
1891:

Large advertisement (above) for both Madam Zadoc Porter's Curative Cough Balsam, Fifty Years in Use and Dr. Porter's Medicated Stomach Bitters, Ruckel & Hendel, 58 Barclay St., New York – Judge's Annual, Issues 2-6, 1891
1898:

 Zodac (sic) Porter's Bitters Formula (below) – Practical Druggist and Pharmaceutical Review of Reviews, Volumes 1-4_1898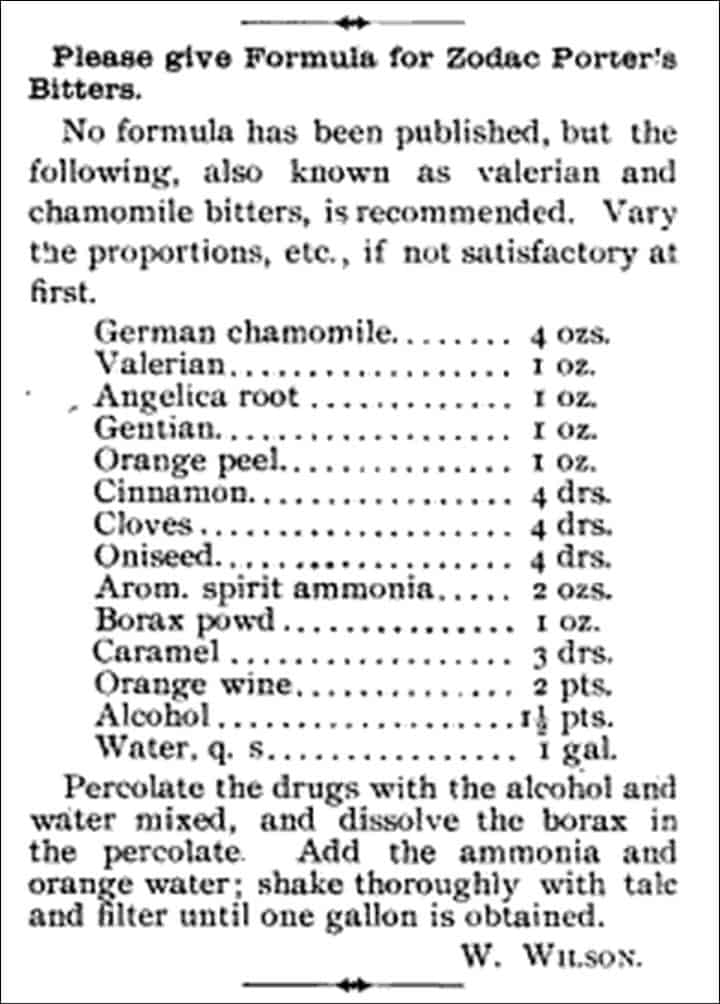 1919: 

Hall & Ruckel, 215 Washington street,

New York.

Proprietors of and sole agents for medicinal preparations, toilet articles, etc.; specialties: "Sozodont," "Sozodont Tooth Powder," "Sozodont Tooth Paste," "Spalding's Glue," "Madam Porter's Cough Balsam," "Dr. Zadoc Porter's Bitters," "Olive Tar," "Mitchell's Eye Salve," "Sargent's Sozoderma Soap," "X. Bazin's Shaving Cream," and other X. Bazin's toilet preparations. Foreign agents: Fassett & Johnson, London, England; Lyman's, Ltd., Montreal, Canada; Daube & Co., Valparaiso, Chile; A. J. Colven, Buenos Aires, Argentina. Cable address, "Sozodont,"

New York.

Codes, ABC, Lieber's and Western Union. – American Trade Index, 1919
1923:

Newspaper advertisement (below) for Madame Zodac (sic) Porter Cough Balsam. Hall & Ruckel, N.Y. Manufacturers – West Schuylkill Herald, Friday, November 16, 1923