Dr. Perley's Leptandrin Tonic Bitters – Lebanon, New Hampshire
22 October 2018

I found a tall advertisement (below) for Perley's Leptandrin Tonic Bitters and was able to match it up with an example that John Pastor sold in his American Glass Gallery | Auction #11. A tough aqua bottle find.
The Carlyn Ring and W.C. Ham listing in Bitters Bottles is as follows:
P.58  Dr Perley's Leptandrin Bitters
DR PERLEY'S / LEPTANDRIN BITTERS // c //
9 5/8 x 3 5/8 x 2 (8)
Oval, Aqua, DC, Rare
Isaac Newton Perley
Isaac N. Perley was  born on 17 January 1839 in Enfield, New Hampshire, son of father Uri Perley (Enfield, NH) and mother Fanny Sawyer (Saulsbury, NH). He had to be pretty smart with a name like Isaac Newton right? After graduating from Canaan Union Academy in 1855 he went on to Dartmouth College and then graduated from Harvard Medical School in Boston in 1865. He next set up a medical practice and by 1870 was listed as a druggist in Lebanon, New Hampshire.
Lebanon was incorporated in 1761 and is a city in Grafton County, New Hampshire located in western New Hampshire, south of Hanover, near the Connecticut River. The areas Mascoma River provided power to the many mills and manufactories that were established along it in the 1800s. There was a large furniture manufactory, flannel mills, a watch-key manufactory, scythe works, a manufactory producing scythe-snaths and sleds, machine shops, two shops manufacturing overalls, among others. Lebanon's population in 1880 was 3,364.
Dr. Perley's office was later located on Whipple Block. Built in 1882 in the Queen Anne style, the Whipple Block was designed by I. F. Davis and built by Muchmore and Whipple. It originally contained the Masonic Temple and a Public Hall on the top floor known as the Whipple Hall. It had stores on the ground floor and offices on the second floor. It was twice gutted by fire in 1894 and again in 1930.
Dr. Perley put out his Leptandrin Tonic Bitters in 1870 and would sell it for 75 cents a bottle. He said it would cure Liver Complaint, Jaundice, Dyspepsia, Dizziness, Piles, Loss of Appetite, Skin Eruptions, Costiveness, Indigestion, Kidney Diseases, Heartburn, Asthma, Salt Rheum., Catarrh, Scrofula, General Debility and it would Purify the Blood. Not bad for six bits. The brand only lasted until 1873, so the embossed aqua bottles are pretty rare. Dr. Perley would run his drug store up until at least 1910. His embossed druggist bottles exist.
Dr. Perley would die on 7 January 1924 at age of 84 of Nephritus with Arterior Sclerosis complications. He is burried in Glenwood Cemetery in Lebanon, New Hampshire.
Leptandrin
Leptandrin is a bitter glucoside, crystallizing in needles, obtained from Veronica (Leptandra) Virginica, and probably constituting the active principle of the drug leptandra.
Leptandra is one of the very old Eclectic drugs. Like most medicinal plants it is known by several popular names, as Black root, Culver's root, Culver's physic, Bowman root, Tall speedwell, Veronica, Tall veronica, Physic root, and Whorlywort. Its name Veronica is probably derived from St. Veronica. Black root is found more or less plentifully throughout the United States, from Vermont to Wisconsin, and southward, growing in wet, or moist, rich ground near streams, in woods, thickets, glades, and open plains. It is particularly plentiful in limestone districts. It is a perennial herb, growing from 1 to 5 feet high, with an upright stalk, having whorls of leaves, and surmounted by spikes of crowded white flowers. It blooms in July and August. The rhizome is perennial, and should be gathered in the fall of its second year. When fresh, it has a faint, almond-like odor, and a bitter, nauseous taste, which is somewhat lessened by drying, and yields its properties to water at 100° C. (212° F.), or still better to alcohol. Age does not impair its virtues.
This drug was well-known to the Indian Herb Doctor Peter Smith, and to Dr. Hough. To the former it was known as Culver's, or Brinton's root, and he states that his father "used to cure the pleurisy with amazing speed" with it. Hough said of it that it was "a most mild and efficacious purge in fevers, in disorders of the stomach, or the bowels, to destroy vicious humors in the blood, to remove costiveness, or to cool fevers." The Wyandots were acquainted with its virtues, and regarded it as "a very good healing purge." The early Eclectic physicians considered it one of their most valuable therapeutic agents.
Specific Leptandra, the most extensively used preparation, has a dark-brown color, the peculiar, and markedly so, odor of the drug, and a bitter taste that is accompanied by the aroma of the root from which it is prepared. When dropped into water it produces a turbidity or milkiness. If specific leptandra be allowed to evaporate by rubbing a few drops in the palm of the hand the skin is impregnated with the strong odor of leptandra in an intensified degree.
Select Listings:
1839:

 Isaac N. Perley, Birth, 17 January 1839, Enfield, New Hampshire, Father Uri Perley (Enfield,NH), Mother Fanny Sawyer (Saulsbury, NH)
1850:

Newton Perley, Age: 11, Birth Year: abt 1839, Birthplace: New Hampshire, Home in 1850: Enfield, Grafton, New Hampshire, Household Members:, Uri Perley 46, Fanny Perley 46, John Perley 18, Rebecca Perley 14, Newton Perley 11, Moses Perley 8 – 1850 United States Federal Census
1855:

Isaac N Perley, 1855, New Hampshire, Canaan Union Academy, Residence: Enfield – Catalogue of the officers, teachers and students of Canaan Union Academy, Canaan, N.H., for the academic year 1855
1860:

Isaac N Perley, 21, Birth Year: abt 1839, Birth Place: New Hampshire, Home in 1860: Hillsborough, New Hampshire, Post Office: Hillsborough Bridge – 1860 United States Federal Census
1863:

Isaac N Perley, Birth Year: abt 1839, Place of Birth: New Hampshire, Age on 1 July 1863: 24, Race: White, Marital Status: Unmarried (Single), Residence: Enfield, New Hampshire, Congressional District: 3rd, Class: 1 – U.S., Civil War Draft Registrations Records, 1863-1865
1864:

Isaac Newton Perley, 1864, Enfield, New Hampshire, Dartmouth College
1865:

 Isaac Newton Perley graduate Harvard Medical School, Boston, 1865 – Directory of Deceased American Physicians, 1804-1929
1867:

Isaac N Perley, Marriage Date: 1 Oct 1867, Clerk's Location: Lebanon, Grafton, New Hampshire, Birth Date: abt 1839, Birth Place: Enfield, Grafton, New Hampshire, Age: 28, Father's name: Cedric C, Mother's name: Fanny S, Spouse Name: Kate L Sturtevant, Spouse Birth Place: Lebanon, Grafton, New Hampshire, Spouse Age: 21, Spouse Father's Name: Jh C, Spouse Mother's Name: Caroline C – New Hampshire, Marriage Records Index, 1637-1947
1870:

Isaac N Perley, 31, Druggist, Birth Year: abt 1839, New Hampshire,  Dwelling Number: 133, Home in 1870: Lebanon, Grafton, New Hampshire, Personal Estate Value: $2,000, Inferred Spouse: Kate E. Perley, Household Members: Isaac N. Perley 31, Kate E Perley 24 – 1870 United States Federal Census
1870:

Newspaper advertisement(below): Perley's Leptandrin Tonic Bitters, Price 75 cts. – The Burlington (Vermont) Free Press, Friday, May, 6, 1870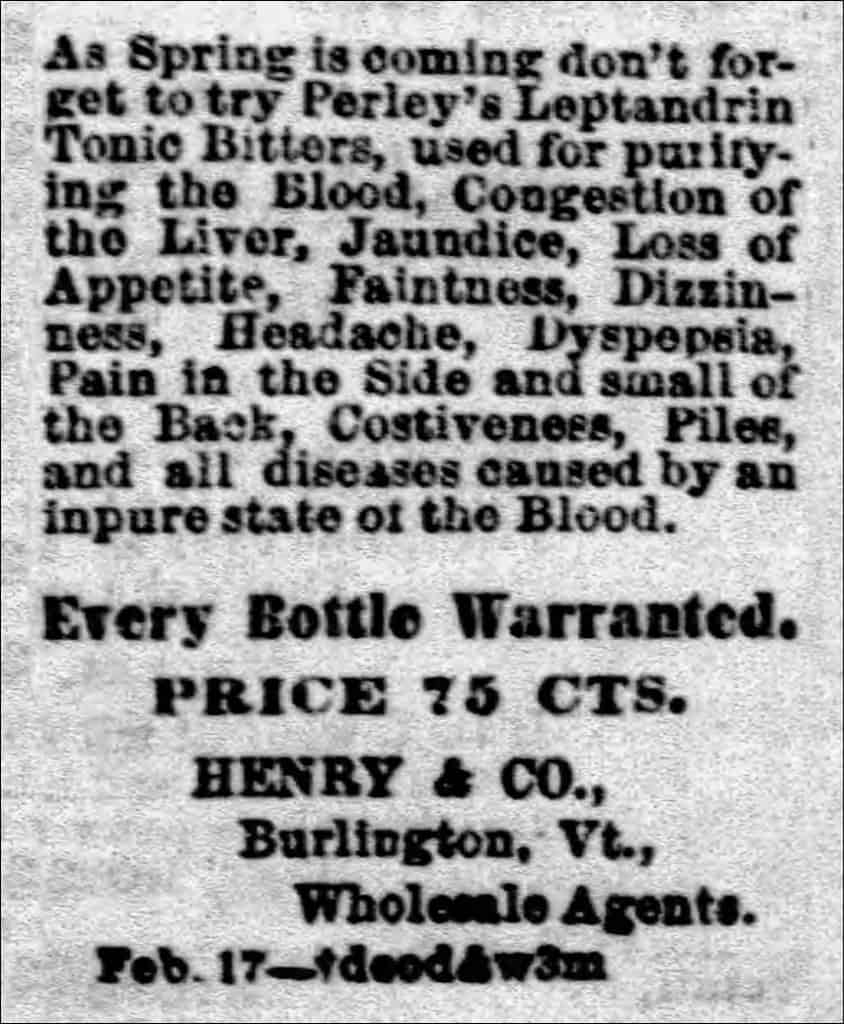 1872:

Newspaper advertisement (top of post) for Perley's Leptandrin Bitters, Put up by I.N. Perley, M.D., Lebanon, New Hampshire – Argus and Patriot, Thursday, April 25, 1872
1873:

I N Perley, Residence Year: 1873, Residence Place: Lebanon, New Hampshire, Occupation: Druggist And Apothecary, West Side – Directory of Lebanon, N H, 1873
1874:

Isaac N Perley, Physician, Lebanon, New Hampshire – New Hampshire Business Directory, 1874
1873:

Newspaper advertisement (above)) for Dr. Perley's Leptandrin Tonic Bitters, I.N. Perley, M.D., Lebanon, New Hampshire – Argus and Patriot (Montpelier, Vermont), Thursday, February 27, 1873
1880:

Isaac N, Perley, 41, Apothecary, Birth: Abt 1839, Birthplace: New Hampshire, Home in 1880: Lebanon, Grafton, New Hampshire, Dwelling Number: 198, Marital Status: Married, Kate E Perley, Father's Birthplace: New Hampshire, Mother's Birthplace: New Hampshire, Household Members: Isaac N Perley 41, Kate E Perley 34, Carrie C Perley 9 – 1880 United States Federal Census
1900:

Isaac N Perley, 61, Druggist, Birth Date: Jan 1839, Birthplace: N H, Home in 1900: Lebanon, Grafton, New Hampshire, Street: Green, House Number: 15, Sheet Number: 18, Number of Dwelling in Order of Visitation: 341, Family Number: 435, Relation to Head of House: Head, Marital Status: Married, Spouse's Name: Kate E Perley, Marriage Year: 1867, Father's Birthplace: New Hampshire, Mother's Birthplace: New Hampshire, Household Members: Isaac N Perley 61, Kate E Perley 54, Hattie A Pringle 26  – 1900 United States Federal Census
1910:

Isaac N Perley, 71, Druggist, Drug Store, Birth Year: abt 1839, Birthplace: New Hampshire, Home in 1910: Lebanon, Grafton, New Hampshire, Street: Bank Street, House Number: 96, Married, Kate E Perley, Father's Birthplace: New Hampshire, Mother's Birthplace: New Hampshire, Employer, Home Owned or Rented: Own, Home Free or Mortgaged: Free, Farm or House: House, Years Married: 41, Household Members: Isaac N Perley 71, Kate E Perley 64 – 1910 United States Federal Census
1916:

Isaac N. Perley & Katherine S, 8 Bank, Hanover, New Hampshire – Hanover, New Hampshire, City Directory, 1916
1920:

Isaac Perley, Age: 80, Birth Year: abt 1840, Birthplace: New Hampshire, Home in 1920: Lebanon, Grafton, New Hampshire, Street: Bank Street, House Number: 98, Residence Date: 1920, Relation to Head of House: Head, Marital Status: Married, Spouse's Name: Kate Evelyn Perley, Father's Birthplace: New Hampshire, Mother's Birthplace: New Hampshire, Household Members: Isaac Perley 80, Kate Evelyn Perley 73, Sarah Walker 60 – 1920 United States Federal Census
1924:

Dr. Isaac N. Perley, Death: 7 January 1924 (aged 84), Nephritus, Arterior Sclerosis, Burial, Glenwood Cemetery, Lebanon, Grafton County, New Hampshire – Find A Grave