An extremely rare Newman's Golden Fruit Bitters
04 March 2018

An extremely rare Newman's Golden Fruit Bitters sold on the recent Glass Works Auctions | Auction 119 that closed last Monday night. I've only seen the example above with the Carlyn Ring collection sticker. The example that sold looks to be a more 'golden' color (pictured below). Could be just the photography though.
The Carlyn Ring and W.C. Ham listing in Bitters Bottles is as follows:
N 22.5  NEWMAN'S (au) / motif – double ring GOLDEN FRUIT ( au ) / BITTERS ( ad ) // c //
10 3/4 x 3 3/8 x 2 1/8 (6)
Oval, Amber, LTC. Applied mouth, Extremely rare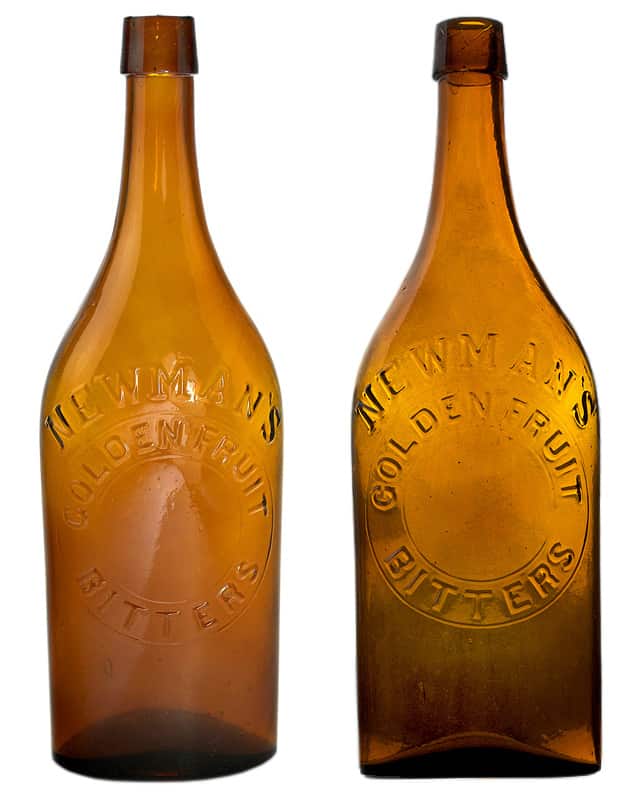 I could find absolutely no information on this bottle. I did however find two unlisted bitters with 'Fruit' in the name. The first is Schimmel's Celebrated Fruit Bitters from Charles Town, West Virginia dating to around 1879.
The second is Peerless Fruit Bitters from Indianapolis, Indiana also dating to around 1879. Put out by G. C. Van Camp.