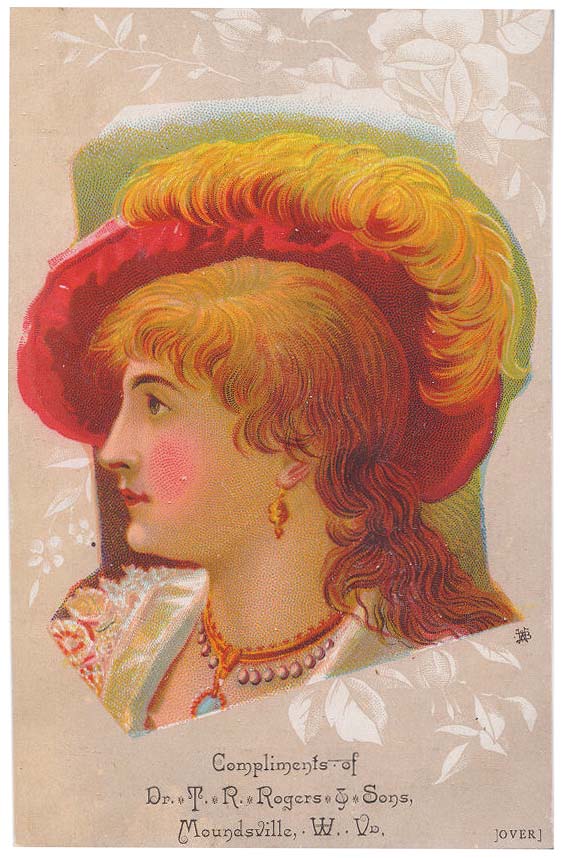 Roger's Specific Bitters – Moundsville, West Virginia
20 February 2018

It's alway nice to hear from bitters trade card, advertising and ephemera collector Joe Gourd up Chi-town way. Quite often he includes some rare paper items that I have not seen before. In this case a reference to Roger's Specific Bitters. This brand appears to be unlisted. I am not aware of any bottles. The bitters was invented by Dr. Timothy Ross Rogers.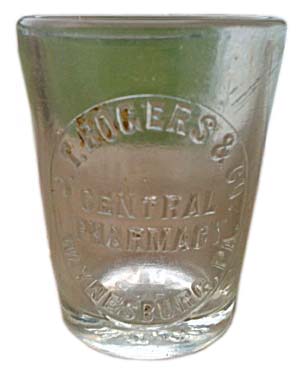 Good morning Ferd,
A couple of years ago you did a series of posts on Virginia bitters. I can't recall if that also included West Virginia? If, in fact it did, I have another bitters to add to the list. This beautiful Rogers' Specific Bitters trade card is from Moundsville, W. Virginia. It resides in Ben Swanson's splendid collection.
These bitters are perhaps unlisted. The listing in Ham/Ring for R 83 Roger's Bitters indicates that it came in POWDERED form. Yet the trade card illustration alongside the listing says that the product was available for 50 cents per BOTTLE. I'm wondering if we are talking about two different Bitters or possibly two forms of the same Bitters?
Hope all is well………..Joe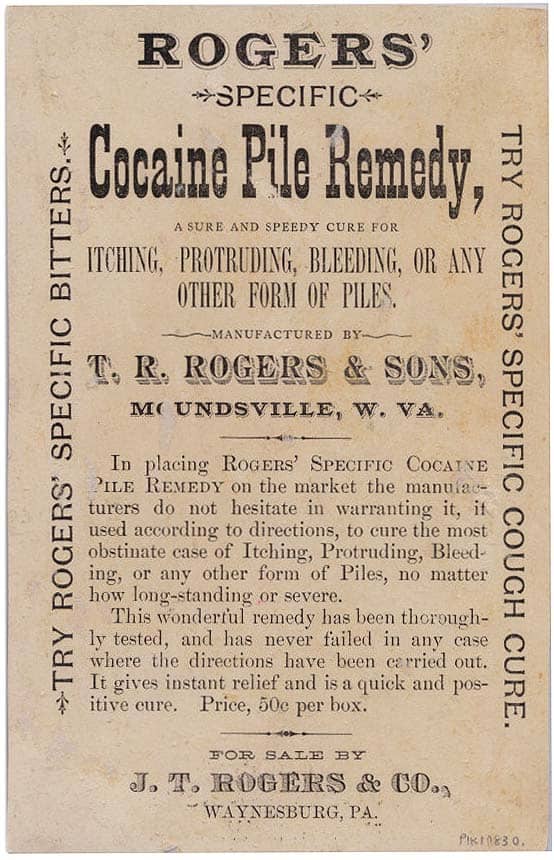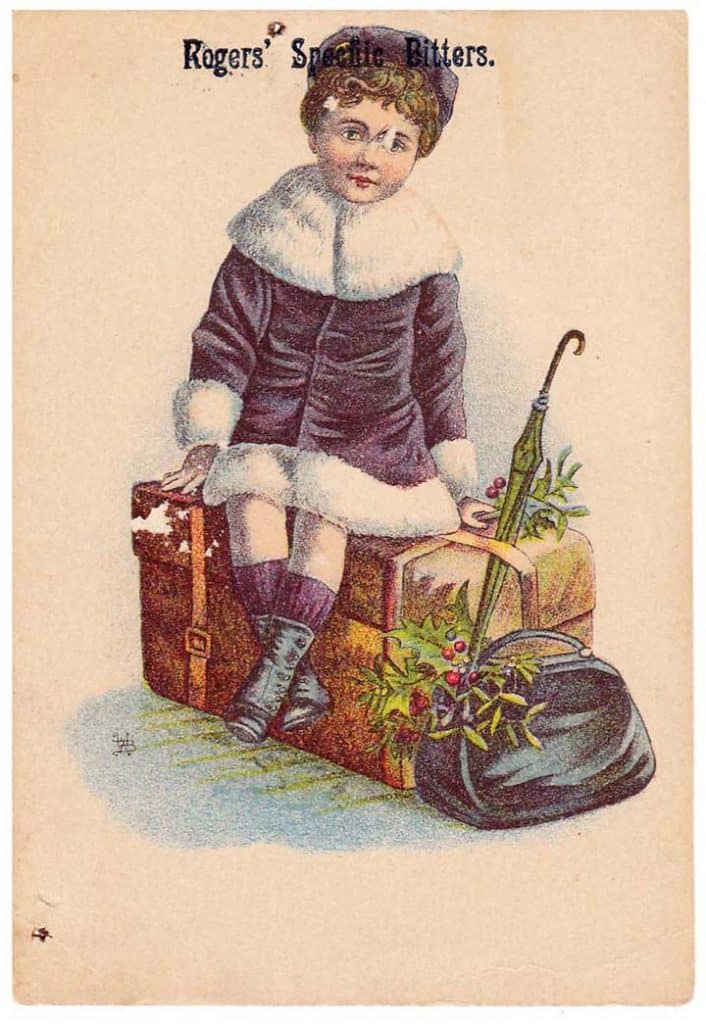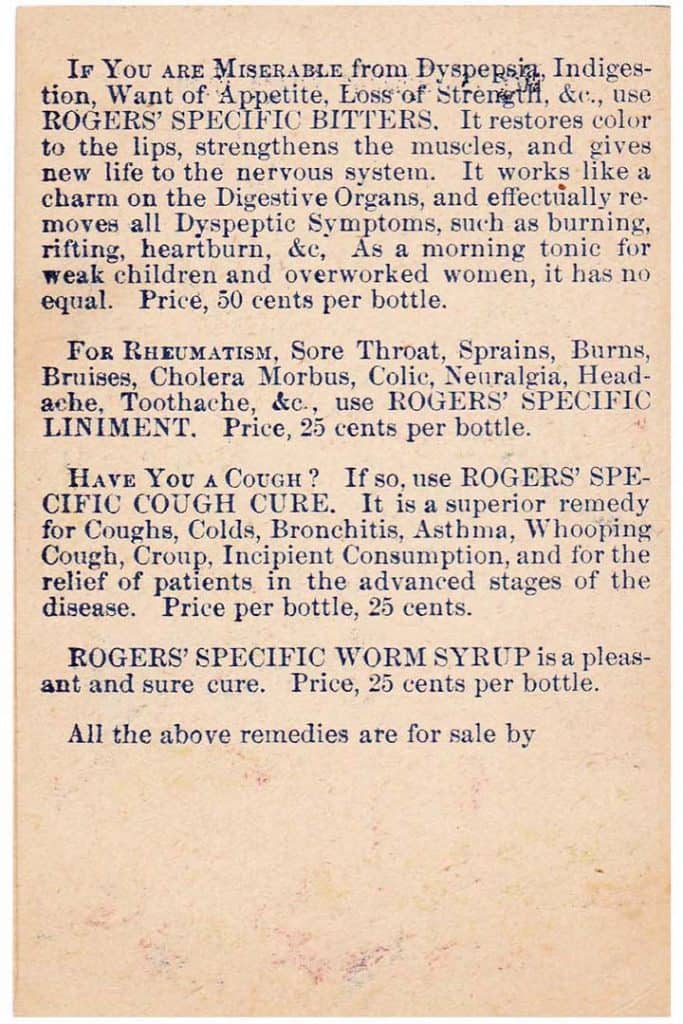 Roger's & Sons – Moundsville, West Virginia
From the History of the Upper Ohio Valley, 1890
T. R. Rogers M., a retired physician, now a member of the firm of T. R. Rogers & Sons, of Moundsville, was born in Greene county, Penn., July 27, 1833, the son of John and Susan (Penn) Rogers. The father was a millwright, inventor of Rogers' water wheel, and the first postmaster of the place called in his honor, Rogersville, Penn. He was born in 1800, and died in 1873, and his wife died in 1870 at the same age. Both were prominent members of the Methodist Protestant church, and they had nine children, of whom five survive.
Dr. Rogers attended the college at Waynesburgh, Penn., and then read medicine with Dr. Braden, of Rogersville, and attended the medical college of New York university, under Dr. Alexander Mott. He began practice when twenty-two years old at Davistown, Penn., then practiced two years at Des Moines, Iowa, afterward several years at Harnedsville, Somerset Co., Penn., and then at Selbysport, Md. At the outbreak of the war he moved to Rogersville, Penn., and nine years later to Waynesburgh, where he practiced fifteen years, removing thence to Moundsville, W. Va., in 1883. His practice has covered a period of thirty years. In Greene county he held the office of assistant assessor of internal revenue for several years, was examining surgeon for pensions three years, member of the school board and town council of Waynesburgh about seven years, served with marked efficiency in all positions. He has been a member of the town council of Moundsville four years, and he has served as postmaster at Rogersville and Harnedsville, Penn. In 1888 he was a delegate to the republican state convention which nominated Gen. Goff for governor of West Virginia, and in his party as well as in other channels, Dr. Rogers is quite influential. He is a member of the Masonic order, and he and family are members of the Methodist church. He was married in July, 1856, to Emma, daughter of John Frantz, of Selbysport, Md., and they have eight children: Nora, wife of  William Stidger; [John W. and Thomas, members of the firm of Rogers & Sons; El a, leading soprano of the Methodist choir, one of the finest in the state; Hallie; Nettie, wife of Dorsey Blake, and Eddie and Willie, deceased.