A nice labeled Hindu Tonic Stomach Bitters
22 February 2018

In the current Glass Works Auctions, Auction 119 there is an excellent example of a labeled Hindu Tonic Stomach Bitters prepared by liquor dealers Williams & Newman of Chicago, Illinois. The bottle appears to be unlisted. The example is clear with a fluted neck like a Dr. Loew's Stomach Bitters. The bottle has some nice tax stamps and a trade mark image of the Minots Ledge Light or Cohasset Massachusetts Lighthouse on the front label. More on that later.
The GWA write-up is as follows:
134. Label Only Bitters Bottle, 'Hindu / Trade (motif of a lighthouse) Mark / Tonic / Stomach Bitters / Prepared by / Williams & Newman / Chicago', (Unlisted), Illinois ca. 1890 – 1900, clear glass with twisted neck, 9 3/8"h, smooth base, tooled mouth, 98% original labels are on all four indented panels, the back label has three tax stamps. The bottle is perfect. Others might exist, but we haven't seen any! Larry Umbreit Collection.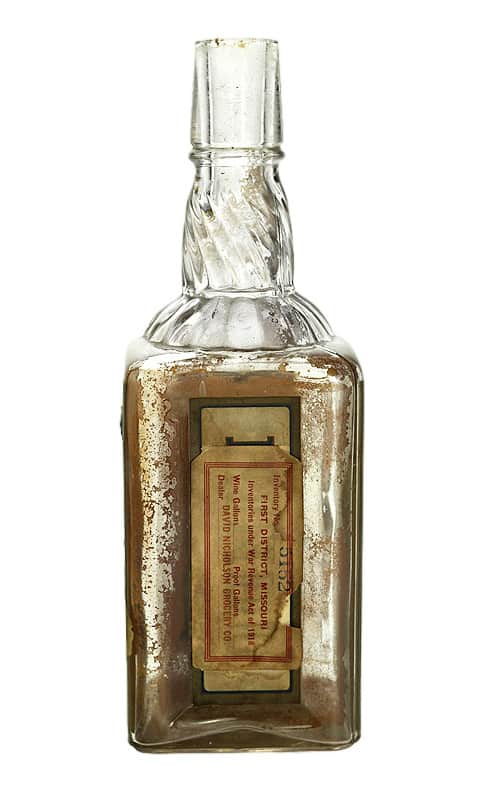 OK, why the Minot's Ledge Light pictured on a Chicago brand? This lighthouse is located on Minots Ledge, one mile offshore of the towns of Cohasset and Scituate, Massachusetts, to the southeast of Boston Harbor. One of the early brands of Williams & Newman in Chicago was the popular Cohasset Punch which featured the Minot Light on the label. Later the Ladner Bros. took it over. The quote and letterhead below ties it together.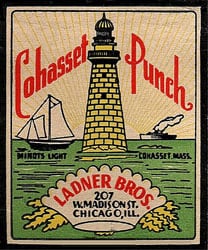 "How is it that a drink named after the town of Cohasset, Mass., came to be the definitive Chicago cocktail? Victorian-era actor William H. Crane was the Lon Chaney of his day — a master of transforming his features with greasepaint and putty. He was also one of the most successful actors of the time, making it possible for him to throw fashionable parties at his summer house in Cohasset. Having played long runs in Chicago's Hooley Theatre and the opera house, Crane had plenty of opportunity to acquaint himself with the town's better bartenders, one of whom he brought out to Cohasset to do the mixing at one of his parties. Gus Williams came up with an original drink of dark rum, sweet vermouth, lemon juice, orange bitters and the syrup from a can of peaches, that was the hit of the fête. And so, once back in Chicago, Williams put the punch he had created in Cohasset on the menu at his place, Williams & Newman, where it began its reign as the town's most distinctive drink."
– excerpt from Eric Felton's Wall Street Journal article, "Drinking the Chicago Way" (December 20, 2008)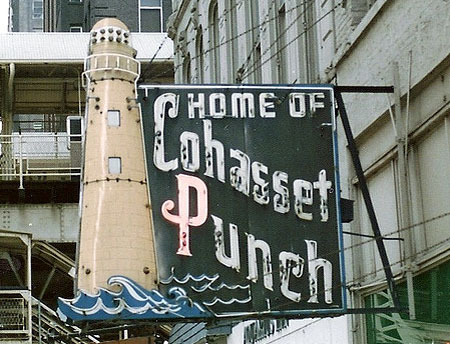 The Cohasset Punch