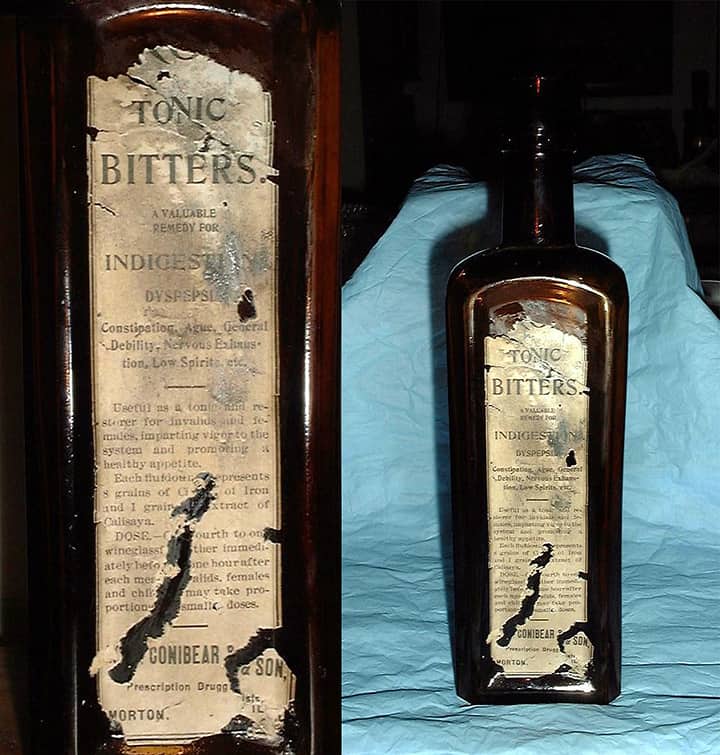 Dr. William H. Conibear and his Tonic Bitters – Morton, Illinois
29 November 2015 (R•113015)

Joe Gourd scouted this unlisted (we think) Tonic Bitters on eBay (see listing) and forwarded to Bill Ham. Bill asked for my assistance. We can not figure out the missing name before "Tonic Bitters" on the label. It was made by "somebody" Conibear & Son" in Morton, Illinois.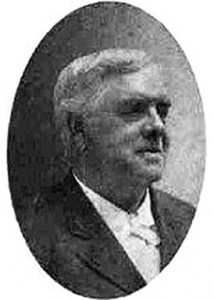 A quick search revels the following obituary below; "Death of Dr. Conibear". This sets the stage for the story of a Dr. William Henry Conibear who was a leading practitioner of medicine in Morton, Illinois for 44 years or so. He was also a surgeon and druggist. After searching for his utopia, he retired in Lakeland, Florida and died a few short years after his arrival on October 25, 1916 at the age of 72. He is buried in Morton, Illinois. Morton is a village in Tazewell County, Illinois, known for its pumpkins and annual Pumpkin Festival and is a part of the Peoria, Illinois Metropolitan Statistical Area.
Dr. William H. Conibear was born on December 12, 1843, in Devon, England and was the child of Thomas Conibear and Ann Kingdon. He first married Jane Ann Sterling and they had five children together. He then married Mary Amelia Bogardus on October 29, 1885, in Tazewell County, Illinois. Conibear enlisted in the Army during the Civil War in 1862, Company B, 112 Illinois Volunteer Infantry at the rank of private. He served until July 7, 1865 when the 112th Illinois was mustered out at Chicago.
Mr. Conibear entered Eureka College in Woodford County, Illinois where he studied for one year. He then attended Rush Medical School at Chicago in 1867. He and a partner started the Conibear Drug Store in Morton, Illinois around this time. He bought out the partner in 1869. The drugstore operated for over a hundred years. William Henry Conibear, M.D. was a member of the Peoria, State of Illinois and the National Medical Societies. He was a member of the Congregational Church and the Masonic Fraternity. He was in village and township government, and served as President of the Board for four terms.
Conibear's Drug Store 
101 West Jefferson is located at the intersection of Main and Jefferson streets, and was known as Conibear's Drug Store for over 100 years. Originally these two streets were Tremont and Bloomington streets. Founded in 1869, the Conibear Drug Store became a staple of Morton, Illinois from the very beginning. The drug store also housed his medical practice.
Located within the drug store in 1885 was Morton's first telephone exchange, which meant a customer would subscribe to this service in order to place and receive telephone calls. Dr. Conibear's 9-year old son was in charge of notifying the 9 customers of their telephone calls.
During the 1890s, there was a wide variety of over 275 items produced under the Conibear name, which included concoctions, pharmaceuticals, veterinary products, soda fountain syrups, cough syrups, and many more. The tonic bitters was one of them. These products were delivered by horse-drawn buggy in a 30-mile radius of Morton.
In 1909, the Conibears also obtained a contract with Standard Oil Company of Indiana in order to sell gas and oil. William H. Conibear was quite the entrepreneur as he did all of this successfully, and even gave downtown Morton an exciting perk of having a movie screen fixed to the roof of the Drug Store for everyone to enjoy.
Throughout the years, the Conibear Drug Store was owned by three generations of Conibears. First owned by William H. Conibear, followed by his two sons John and Grant S. Conibear, and then Robert Conibear whom was Grant's son. The business was sold in 1970 to the Bartonville Village Pharmacy, which closed in 1976 due to bankruptcy, and in 1977. 101 West Jefferson Street became Styles Limited, a women's apparel store. The property is now Churchill Wealth Management, Inc. and John Churchill is the financial advisor there. He purchased the property in 2006, remodeled it entirely, and opened business in 2007.
Conibear's Tonic Bitters
I suspect the labeled bitters at the top of this post is for Conibear's Tonic Bitters. Dr. Conibear seemed to name his products with his last name first such as Conibear's  Hosehold Remedies, Conibear's Compound Cough Syrup, Conibear's Anti Pain Liniment and Conibear's Pheno-Oil. Let's hear if anyone out there knows for sure. The bottom of the label most likely reads, "W. H. Conibear & Son"
The new listing by Bill Ham for the forthcoming Bitters Bottles Supplement 2:
C 219.5 L

. . . Dr. William H. Conibear Tonic Bitters, Conibear & Sons, Morton, Illinois.
Conibear and a partner started the Conibear Drug Store in Morton, Illinois around 1867 and then Conibear bought out the partner in 1869. Conibear Drug Store was owned by three generations of Conibears and was in business over 100 years.
Select Listings:
1843:

Dr. William H Conibear was born on December 12, 1843, in Barnstable, Devon, England to Ann Kingdon, age 22, and Thomas Conibear, age 27.
1851:

William H. Conibear lived in Shirwell, Devon, in 1851. Age: 6; Relation to Head of House: Son, 1851 • Shirwell, Devon, England. Arrived in United States. – England Census
1862:

William Conibear, Private, Company: B, Unit: 112th Illinois Infantry, Height: 5′ 8, Hair: Brown, Eyes: Grey, Complexion: Dark, Marital Status: Single, Occupation: Farmer, Birth Date: Abt 1844, Birth Place: England, War: Civil War, War Years:1861-1865, Service Entry Age: 18, Service Entry Date: 12 Aug 1862, Service Entry Place: Bradford, IL, Joined By Whom: J B DOYLE, Period: 3 YRS, Muster In Date: 20 Sep 1862, Muster In Place: Peoria, IL, Muster Out Date: 20 Jun 1865, Muster Out Place: Greensboro, NC, Muster Out By Whom: CPT SMITH, Residence Place: Macon, Bureau CO, IL – Illinois Civil War Muster and Descriptive Rolls
1867:

William Conibear graduated Rush Medical College, Chicago, 1867
1869:

Conibear's Drug Store established in Morton, Illinois.
1877:

Miller & Conibear making and selling cider vinegar – The Pantagraph, Saturday, November 17, 1877
1880:

William Conibear, Physician, Surgeon, Age: 36, Birth Year: abt 1844, Birthplace: England, Home in 1880: Morton, Tazewell, Illinois, Married Jane Conibear, Father's Birthplace: England, Mother's Birthplace: England, Household Members: William Conibear 36, Jane Conibear 36, Cornelia Conibear 9, Charles Conibear 8, John Conibear 7, Eri Conibear 4, Grant Conibear 9m – United States Federal Census
1916:

Death of Dr. Conibear (see above) – The Pantagraph, Wednesday, November 1, 1916