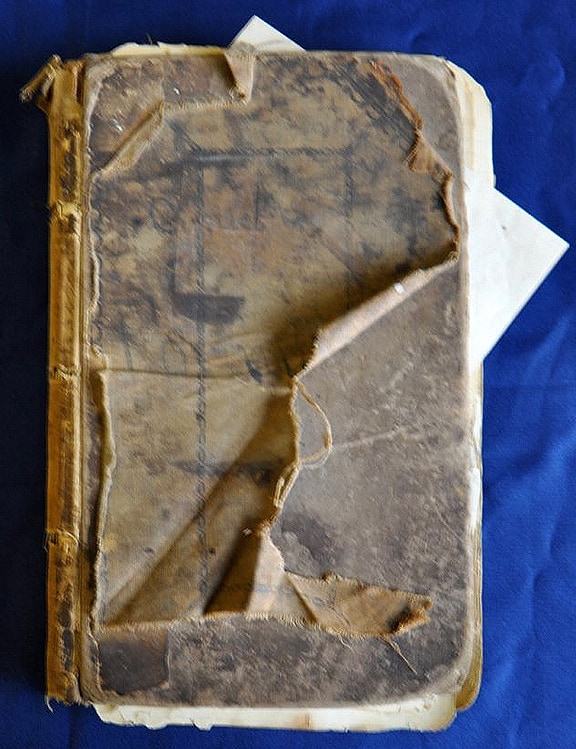 Original Dr. Pepper "Dr. Pepper's
Pepsin Bitters" Formula
28 October 2015

Here is an original piece that is quite fascinating. Incoming email from Lou Holis (Lake Alfred, Florida) that prompted some follow-up. Who would have thought there was a relationship between Dr. Pepper and bitters?
Hi Ferd: Seen this ledger up for auction again from a lesser known auction house in VA. http://www.auctionzip.com/Listings/2550910.html the last time it sold in Dallas in 2009 at Heritage Auctions. Wonder if there was a bottle, even if it was a label only, as I am sure you know Dr Pepper is a Texas product. Last time it sold had good media coverage, not sure what it went for though. Anyhow just passing it on. The item eventually sold for 9800 + 18% auction house premium.
Lou Holis
Original Dr. Pepper "Dr. Pepper's Pepsin Bitters" Formula:
Item is an Approximately 360 Page Hand Written Ledger Book Containing Hundreds of Drug & Product Formulas Written in the Late 1800s/Early 1900s. On Page 19 is a Formula Entitled "Dr. Peppers Pepsin Bitters". What We have Here is What We Believe to be the Original Formula that Inspired the Creation of the Widely Popular Dr. Pepper Soda. In 1830, Dr. Charles Pepper was Born, settling down in Rural Retreat, VA, and the Famous Dr. Pepper Soda Drink was officially named after him by Wade Morrison who Marketed Dr. Pepper to the World. Wade Morrison left Rural Retreat and left for Waco, Texas, where he Marketed and Mass Produced what would Become the Wildly Popular Dr. Pepper Soda. Mr. Weaver, the current owner of this formula, made a private purchase of the book to put with his collection of soda & drugstore memorabilia and brought the formula from Waco, Texas Back to Rural Retreat, Virginia – where the book currently resides. There is a lot of conjecture due to the historic nature of the matter as to the original creation of the formula that one can read about on-line.