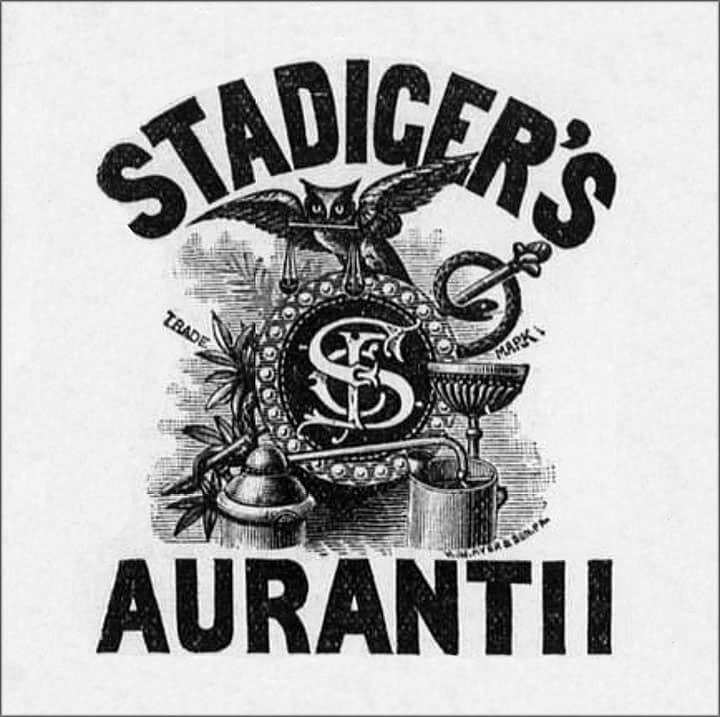 Stadiger's Aurantii Stomach Bitters – Philadelphia
24 December 2014

[Christmas Eve]

The Stadiger's Aurantii Stomach Bitters is another extremely rare bitters square that Jeff Wichmann pictured and sold on his new American Bottle Auctions | Bottle Store page. Previously I posted about the Acorn Bitters, Apple Brandy Bitters and Rose Hill Stomach Bitters from the page. Jeff's description for the Stadiger's:
Stadiger's Aurantii Stomach Bitters: 9 1/8". Applied top, smooth base. Here's another extremely rare bitters, it is a medium amber. There are loads of tiny bubbles and the bottle itself appears perfect. With just a hint of interior stain, we'd have to grade this a 9.8.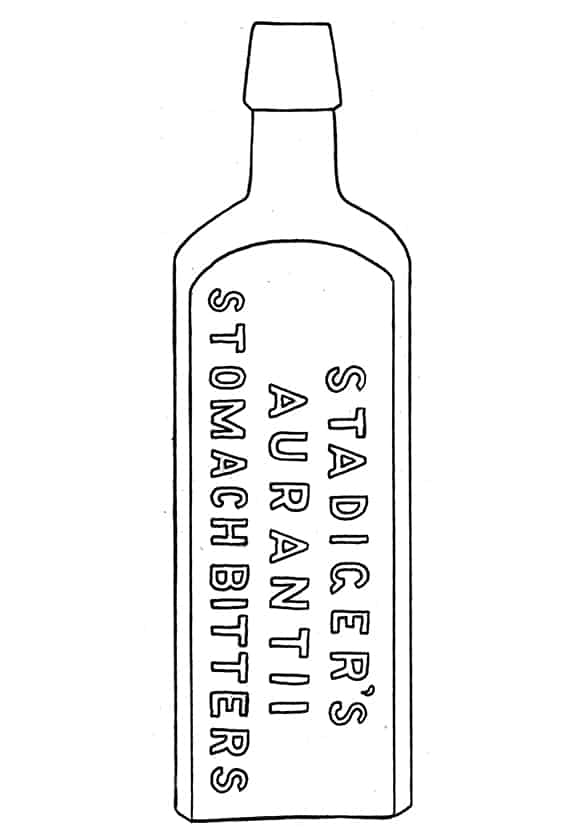 The Carlyn Ring and W.C. Ham listing in Bitters Bottles is as follows:
S 172

 STADIGER'S AURANTII STOMACH BITTERS
STADIGER'S / AURANTII / STOMACH BITTERS // f // f // f //
9 1/8 x 2 3/4 (6 1/2) 3/8
Square, Amber, LTC, Extremely rare
Charles F. Stadiger
Charles F. Stadiger was born in February 1833 in Pennsylvania and spent the first part of his business career (1862-1887) as a liquor merchant in Philadelphia, Pennsylvania. His shop was at 407 Arch Street and he boarded at the Union Hotel in the early years. In 1886 he announced and sold his Stadiger's Aurantii Stomach Bitters from 140 South Front Street in Philadelphia. He said his bitters and tonic would cure and prevent just about anything and he sold it for a $1 dollar a bottle. He must have had high hopes for the product as he changed his directory listings to "patent medicines" in 1888 and developed and trade marked the wonderful art with the owl and related advertisement shown in this post. I bet the bitters was loaded with alcohol.
He used this same art and advertised heavily in 1886 and 1887 in Texas (Austin, Brenham, Fort Worth, Galveston, Waco), Louisiana (Alexandria, Donaldsonville, New Orleans), Kansas (Fort Scott, Lawrence, Topeka), Georgia (Atlanta, Carrollton) and South Carolina (Bennettsville, Laurens, Manning) but like many extremely rare bitters, the product disappears as fast as it appears. It is surprising that more bottle examples have not shown up.
Stadiger moves into the insurance business in 1888 and remains in this arena for a number of years. He passed away in Philadelphia in October 1908.
Select Listings
1833: C. F. Stadiger born February 1833 in Pennsylvania, fathers birthplace Germany, mothers birthplace Pennsylvania.
1862-1865: C. F. Stadiger, wines and liquors (liquor merchant), 407 Arch, bds Union Hotel – Philadelphia, Pennsylvania City Directory
1863-1865: C. F. Stadiger, liquor dealer – Civil War Draft Registration Records
1870: C. F. Stadiger, age 35, liquors, Philadelphia Ward 15, District 44, Philadelphia, Pennsylvania – United States Federal Census
1876: Charles F. Stadiger, h 1919 Wallace – Philadelphia, Pennsylvania City Directory
1880: C. F. Stadiger, age 45, liquors, Philadelphia, Pennsylvania – United States Federal Census
1881-1887: Charles F. Stadiger, liquors, 140 S. Front, h 1919 Wallace – Philadelphia, Pennsylvania City Directory
1886: Stadiger's Aurantii advertisement (see above), C. F. Stadiger, Proprietor, 140 S. Front St., Philadelphia, Pa. – Austin Weekly Statesman
1888: Charles F. Stadiger, patent medicines, 140 S. Front, h 1919 Wallace – Philadelphia, Pennsylvania City Directory
1888: Charles F. Stadiger, insurance, 436 Walnut, h 1919 Wallace – Philadelphia, Pennsylvania City Directory
1892-1895: Charles F. Stadiger, insurance, 436 Walnut, h 2006 Mt Vernon – Philadelphia, Pennsylvania City Directory
1908: Charles F. Stadiger death in October 1908, Philadelphia, Pennsylvania