Dr. B. H. Kauffman Stomach Bitters – Lancaster, Pennsylvania
27 December 2014 (R•100915)

Robert Cohen posted a picture of a Dr. Kauffman Stomach Bitters from Lancaster, Pennsylvania over on the Bottle Colletors Facebook page (pictured at top of post) and I immediately recognized my baby. The picture must have come from the American Bottle Auctions site. Their picture is a bit greener than the actual bottle. The bubble across the letters "AUF" in "KAUFFMAN" is an obvious DNA signature. My example came from American Bottle Auctions – Grapentine I -Auction 41, in April 2007 and was lot #177. What a great bottle with a nice iron pontil.
As an aside, this bottle should not be confused with the much later Dr. Kaufmann's Sulfur Bitters. Note the spelling difference (Kauffman vs Kaufmann). We will talk about that in another post.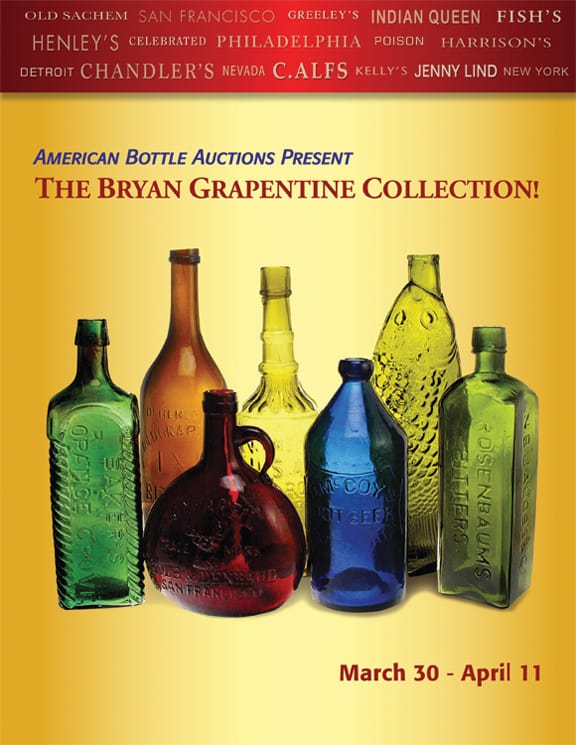 Here is Jeff Wichmann's description of the bottle in the auction catalog (pictured above). "Interesting to note is the letter "O" in STOMAOH. It's definitely an "O" and we're not sure if it's an apparition or inherent to the bottle. It maybe tough to know as there aren't many out there to compare it to. The provenance on this bottle is being determined. It was not sold in a Glass Works Auction in 1997. You can compare still photos and you'll see this example is much darker and has different attributes."
The Carlyn Ring and W.C. Ham listing in Bitters Bottles Supplement is as follows: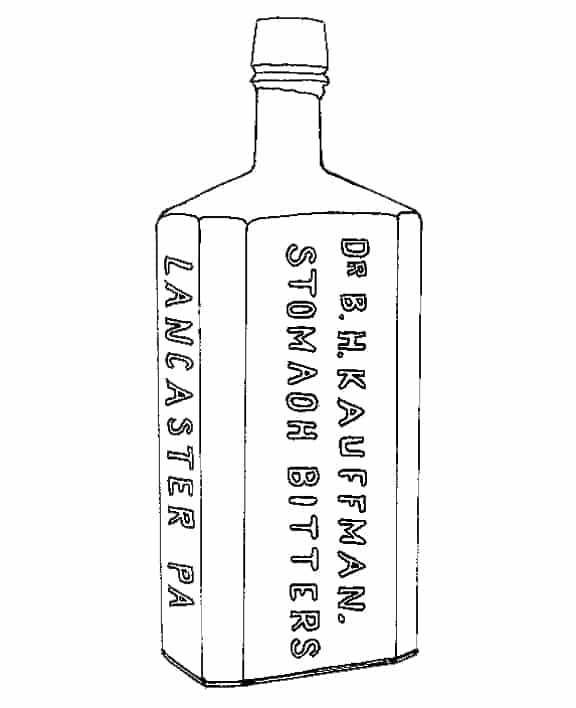 K 13.5

 DR KAUFFMAN STOMACH BITTERS
DR. B. H. KAUFFMAN. / STOMAOH BITTERS // f // f // LANCASTER PA //
9 1/4 x 3 5/8 x 2 3/8 (7 1/4) 5/8
Rectangular, Blue-green and Green,
(also Aqua)

LTC, Metallic pontil mark, Extremely rare
STOMACH is misspelled STOMAOH.
Benjamin H. Kauffman
At times it felt like I was dealing with three different Benjamin H. Kauffmans from Pennsylvania. The first B. H. Kauffman was a druggist and maker of patent medicines. He put out the Dr. B. H. Kauffman Stomach Bitters. The second B. H. Kauffman was a hotelier and ran hotels at one time or another in Lancaster, Dayton, Philadelphia and Baltimore. The third B. H. Kauffman was the Doctor of Dr. Kauffman's Horse and Cattle Powders. This is one person, just different points in life.
Benjamin H. Kauffman was born in East Petersburg, Lancaster County, Pennsylvania on April 25, 1810. His father was John Kauffman and his mother was Mary Hershey. Kauffman came to Lancaster, PA in 1850 and opened a drug store on North Queen Street. He remained in the drug store and patent medicine business throughout 1859 when he acquired a hotel in Lancaster. This is the start of Phase 2 of his career as on the 1860 United States Federal Census, Kauffman lists himself as a Hotel Keeper. After this, he moved to Dayton, Ohio and also ran a hotel for a year or two. He then returned to Lancaster and ran the Allegheny and Great Western hotels in Philadelphia for seven years and the General Wayne Inn in Baltimore for five years and the Bentz House Carlisle, PA for several years. These hotel's were not great in size like hotels around the turn of the century but more like Inns.
In Phase 3 of his life, Kauffman leaves the hotel business and returns to Lancaster and devotes most of his time being a veterinary surgeon and manufacturer and seller of horse and cattle medicines. He had three children, Aaron, Harry (Henry) and Mary, all who died before him in May 1886. Mary's husband was John J. Strine. A Charles B. Strine was running the business in 1887. There was a Jacob B. Kauffman who was selling products under the Dr. B. H. Kauffman name. I believe this was his brother. Was he a doctor? Jury still out.
Select Listings:
1810: Birth 25 April 1810, Benjamin H. Kauffman, East Petersburg, Lancaster County, Pennsylvania, Parents John Kauffman and Mary Hershey
1850: Benjamin H. Kauffman comes to Lancaster and opens a drug store on North Queen Street in Lancaster, PA.
1859: Benjamin H. Kauffman, drugs, 41 N. Queen, and hotel 45 N. Queen, h same – – Boyd's Lancaster County Business Directory
Thereafter he was manager of the drug store of Benjamin Kauffman for a year and a half, and after that again for another year and a half for John Markley, who had bought out Kauffman and was no druggist himself. [passage without date, probably 1859)
1860: B. H. Kauffman, hotel keeper, age 50, Susannah age 43, Henry H, age 24 and Mary E, age 14, Lancaster, North West Ward, Lancaster, Pennsylvania – United States Federal Census
1872: Benjamin H. Kauffman, hotel, 1313 Market – Philadelphia City Directory
1887: "Dr. B. H. Kauffman & Co. manufacture and sell largely of horse and cattle powders" (see below) – Resources and Industries of the City of Lancaster, Lancaster County, Pennsylvania, Board of trade, 1887
1887: B. H. Kauffman & Co., (Charles B. Strine), horse and cattle powders, 427 1/2 N. Queen – Lancasterm Pennsylvania City Directory
1886: Death, Benjamin H. Kauffman, May 13, 1886, Lancaster County, Pennsylvania (read below)