Lukach's Hungarian Bitters 
Truth is Stronger than Fiction
07 June 2015 (R•110814)

Truth is really stronger than fiction as I opened an e-mail yesterday from across the pond from 2013 FOHBC Hall-of-Famer, Alan Blakeman (visit BBR) regarding a Hungarian Bitters Alan has come across. Alan was asking for information. Holy Moses, a Hungarian Bitters! What a great bottle in a classic semi-cabin form. Actually I had not even seen a picture of this bottle prior to this.
If you notice, the bottle is embossed, "A. LUKACH" on the side panel and "1848" on the front. I believe it is also embossed on the opposite side with the same Lukach name. The Lukach name, which is Hungarian, can also be "Americanized" to Lucas which leads me to a listing in Bitters Bottles Supplement by Carlyn Ring and Bill Ham.
H 208.9

 HUNGARIAN BITTERS
HUNGARIAN (au) / BITTERS / 1848 //
P LUCAS & CO

// sp // P LUCAS & CO //
10 1/2 x 3 3/4 x 2 3/8
Rectangular semi-cabin, Amber, LTCR, Applied mouth, 4 sp, Extremely rare


Example was dug from a river bank about 10 miles north of New Orleans.

The new listing by Bill Ham for the forthcoming Bitters Bottles Supplement 2:
H 208.95

 HUNGARIAN (au) / BITTERS / 1848 // A. LUKACH // f // A. LUKACH
10 ¼ x 3 ¾ x 2 3/8
Rectangular – semi-cabin, Amber, LTC, Applied mouth, Extremely rare
So, first of all, we now have an unlised bitters similar to one found near New Orleans. Unlisted because of the "A. LUKACH" listing opposed to the "P LUCAS & Co" listing in Bitters Bottles Supplement. What is going on here? Could the Lukach example be European? No, this is an American form. I suspect the Lukach example was first and then modified. This needs some exploration. I'm thinking New York and New Orleans and probably both because the advertisement above says, "to be the best and cheapest articles North and South".
As an aside, earlier today, I also posted about another unlisted bitters from NOLA. Read: The missing link Universal Bitters by Nicholas Kieffer.
My first hit is for a Lukach's Hungarian Bitters advertisement in The Times Picayune (New Orleans, Louisiana), on Friday, September 8, 1865 (see top of post). Lukach is located at 62 Common Street. My second hit is an 1866 United States Internal Revenue document (see below) noting a Adolphe Lukach, Manufacturer, 60 Common Street in New Orleans which runs somewhat parallel to Canal street in the downtown district. So we probably have a Adolphe Lukach or Adolph Lucas making a Hungarian Bitters in New Orleans.
Next I find an advertisement for Genuine Hungarian Bitters (see below) in The Daily Phoenix (Columbia, South Carolina) on March 25, 1871. Could it be the same brand?
Here is where it gets weird. There is also an A. Lukach who is a manufacturer listed in New York City in 1866. Could this be the same guy? Believe me, there are very few A. Lukach's in United States during that time period. Next I think, manufacturer of what? I next find another tax document from New York in 1866 saying that Adolph Lukach is a Retail Liquor Dealer. How could this guy be in two places at once?
I can only guess at this point and suppose that someone in the Hungarian Lukach family developed a bitters in 1848. Maybe oversees or maybe New York City. They sell it for a while to their Hungarian bretheren in New York and meet with some success. They change the name to Lucas and ship by steamer to the Carolinas and New Orleans with a similar clientele. Truth is Stronger than Fiction. Too many doors still open here.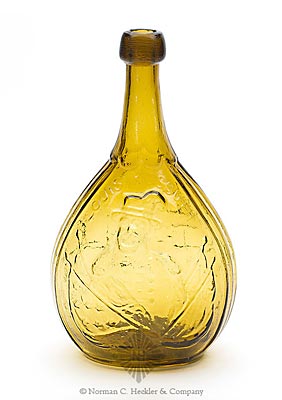 Another idea ties directly back too the 1848 embossing on the bottle. Apparently, the first large wave of Hungarian emigration to the United States occurred in 1849-1850 when the so-called "Forty-Eighters" fled from retribution by Austrian authorities after the defeat of the Hungarian Revolution of 1848. Lajos Kossuth (see "Louis Kossuth" Historical Calabash Flask above courtesy Norman Heckler) gave a seven-month speaking tour of the U.S. in 1851-52 to great acclaim as a champion of liberty, thereby unleashing a brief outburst of pro-Hungarian emotions. He left embittered because his refusal to oppose slavery alienated his natural constituency, and his long-term impact was minimal. By 1860 there 2,710 Hungarians lived in the U.S. of whom at least 99 fought in the Civil War. Their motivations were not so much antislavery as a belief in democracy, a taste for adventure, validation of their military credentials, and solidarity with their American neighbors. [Wikipedia]
Bottle Shows up at Glass Works Auction 105