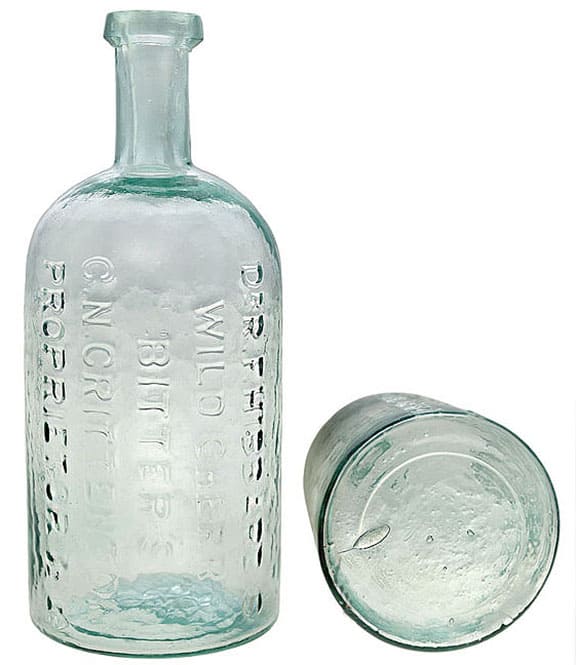 Dr. Rufus F. Hibbard's Celebrated Wild Cherry Bitters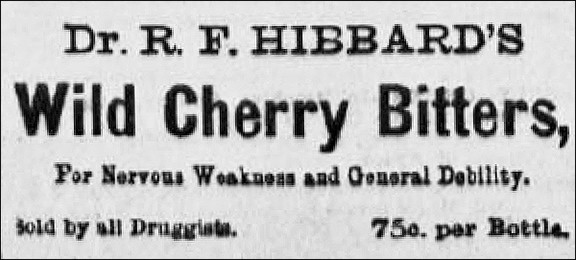 "An Open Bottle on our Counter for Free Trial"
10 June 2014

I had long forgotten about my example of the extremely rare, Dr. R. F. Hibbard's Wild Cherry Bitters until I came across and 1851 New York advertisement the other day. Time to give this bottle a little personality. I have to say, this little fellow really does have a story and again adds just a little more excitement to collecting antique bottles.
The Carlyn Ring and W.C. Ham listing in Bitters Bottles is as follows:
H 111

 DR HIBBARD'S WILD CHERRY BITTERS
DR R. F. HIBBARD'S / WILD CHERRY / BITTERS / C. N. CRITTENDON / PROPRIETOR N.Y. // c //
8 1/4 x 3 1/2 (5 1/2)
Round, Aqua, NSC, Applied mouth, Extremely rare
Drug Store Advertisement 1853: In use for 14 years. An open bottle on our counter for free trial.
Rufus Fuller Hibbard
Rufus Fuller Hibbard was born on June 11, 1804 in Rhinebeck, Duchess County, New York and lived in New York between 1830 and 1860 where he sold medicines with his son. Next, Hibbard lived in Brooklyn, New York in 1870 and then Kings County, New York in 1880. Dr. Hibbard was also a physician and druggist while being an agent for the Shakers of New Lebanon, New York. He was a Methodist and served in the Christian Commission, at the front, during part of the Civil War. His claim to fame was the Dr. R. F. Hibbard's Celebrated Wild Cherry Bitters which he assigned to Charles Nelson Crittendon to sell in his drug empire.
Dr. Hibbard's wife was Clemintina Mitchell (1805-1884). Their children were Kate I. Hibbard (1838-1909) and Rufus Jr. who would eventually partner with his father. His siblings were Wesley Hibbard (1798-1866)*, Asbury Hibbard (1800-1865)*, David R. Hibbard (1808-1865)*, Freeborn Garretson Hibbard (1811-1895)* and Harriet D. Hibbard Hatch (1818 – 1896)* Dr. Hibbard is burried at Drewsclift Cemetery in Brewster, Putnam County, New York (*assumed).
Reverend Billy Hibbard
Rufus Hibbards father was Reverend Billy Hibbard who was a minister in the Methodist-Episcopalian Church. Reverend Billy also served as a chaplin in the Berkshire Massachusetts Militia in 1814. His mother was Cybil Russ. Billy and his wife Sibyl had nine children. A few of them followed in his footsteps to become ministers also. He is credited with helping to start a number of churches throughout New York, Massachusetts, and Connecticut as a Circuit Rider Minister. He died on August 17, 1844 from exhaustion due to his travels for the church. I suppose, in honor of his father, Rufus would later create the Rev. B. Hibbard's Vegetable Anti-Bilious Family Pills (see below)
Charles Nelson Crittendon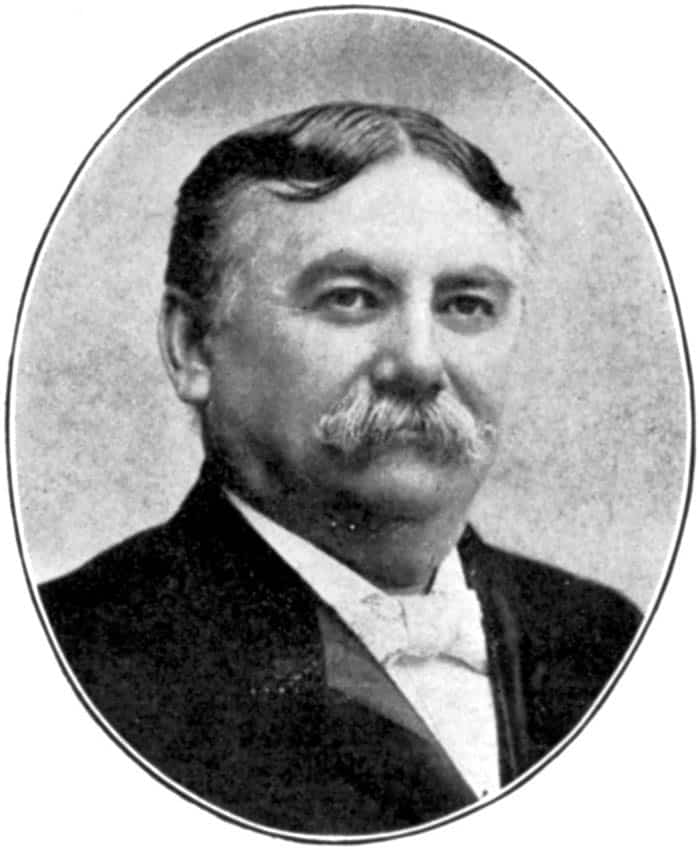 If you notice, the bottle is also embossed C. N. Crittendon, Proprietor, N.Y. Charles Nelson Crittenton (February 20, 1833 – November 16, 1909) was a big time manufacturer and distributor of drugs and patent medicines, a Protestant evangelist, and a philanthropist, best known for his founding with physician Katherine Waller Barrett, the National Florence Crittenton Mission.
Born in Henderson in Jefferson County, New York, Crittenton started what ultimately became a wholesale drug business in New York City, from which he accumulated a fortune. Notice the Hales Honey Horehound and Tar trade card below anchored with the C. N. Crittendon, New York name.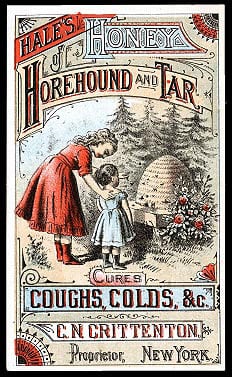 Crittendon suffered a grevious and devastating loss in 1882, when his four-year-old daughter Florence died of scarlet fever. He devoted his time and wealth to the establishment of the Florence Night Mission to "rescue" prostitutes, and later Crittenton homes for homeless and unfortunate girls and their infant children. In 1898 the National Florence Crittenton Mission received a federal charter to carry on this work. Of these mission homes more than 70 were organized in Crittenton's lifetime in all the larger cities of the United States and in Marseille, Tokyo, Shanghai, Mexico City, etc.
The drug-manufacturing company which bore his name was one of the first profit-sharing concerns in the United States. Crittendon was an active member of the Prohibition Party. Crittendon died in San Francisco while on a tour of his western facilities in November 1909.
Top picture courtesy Glass Works Auctions