Dr. Crittenden's Dyspepsia and Cocktail Bitters – Philadelphia
12 June 2014 (R•052918)

Just a short post today to see if there is any relationship with E. H. Crittenden in Philadelphia and Charles Nelson Crittendon of New York. The other day we looked at Charles Nelson and his Dr. R. F. Hibbard's Celebrated Wild Cherry Bitters. Charles Nelson Crittendon was a big time manufacturer and distributor of drugs and patent medicines, and was best known for his founding of the National Florence Crittenton Mission. Yes, I realize this Crittenden is spelled with and "e" instead of an "o".
To illustrate this bitters we will use trade cards for bitters ephemera authority, Joe Gourd.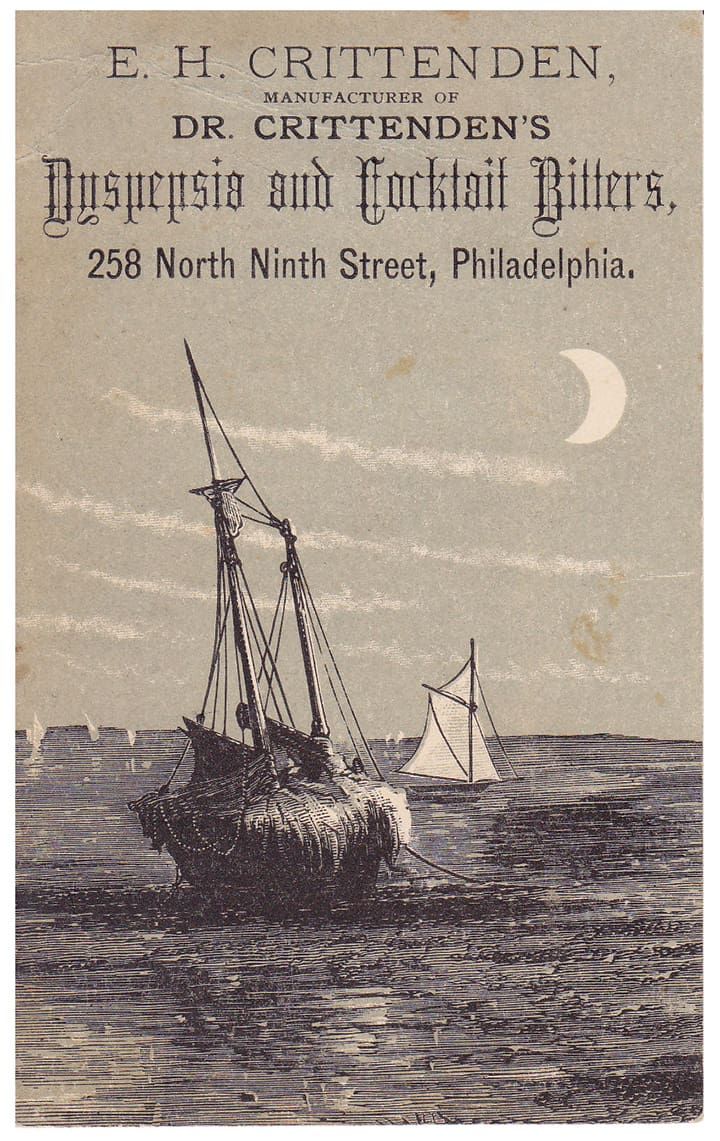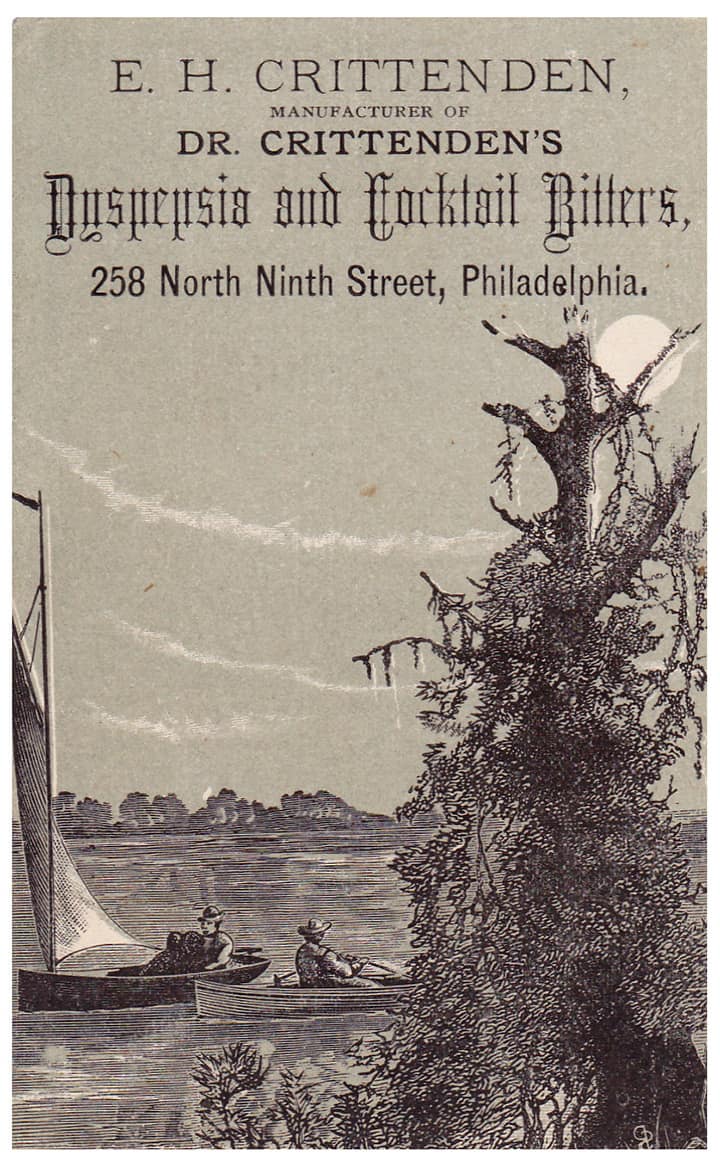 I do see that the Dr. Crittenden's Dyspepsia and Cocktail Bitters is listed in Bitters Bottles Supplement as C 251 only noting one of the trade cards pictured in this post. No bottle is referenced though I suspect we are talking about a labeled bitters. I am surprised an example has not been found in great-grandma's pantry.
All, the use of the C 251 number is incorrect and we will change it to C 251.5 in Bitters Bottles Supplement 2.
Trade Cards
C 251.5 DR. CRITTENDEN'S DYSPEPSIA AND COCKTAIL BITTERS, (duotone ship illustrations) E. H. Crittenden (Erastus Henry Crittenden), Manufacturer of…, 258 North Ninth Street, Philadelphia. Reverse: Dealer in Fine Old Whiskies, Brandy, Wines, Champagnes, English and Scotch Ales, &c.
Erastus Henry Crittenden
Erastus Henry Crittenden was born in New York around 1838 and grew up in Titusville, Pennsylvania. Little is known about his family. Titusville was the epicenter of the Pennsylvania oil rush and boom in petroleum production which occurred in northwestern Pennsylvania from 1859 to the early 1870s. It was the first oil boom in the United States.
As noted above, the oil rush began in Titusville in the Oil Creek Valley when Colonel Edwin L. Drake struck "rock oil" there. Titusville and other towns on the shores of Oil Creek expanded rapidly as oil wells and refineries shot up across the region. Oil quickly became one of the most valuable commodities in the United States and railroads expanded into Western Pennsylvania to ship petroleum to the rest of the country. By the mid-1870s, the oil industry was well established, and the "rush" to drill wells and control production was over. Pennsylvania oil production peaked in 1891, and was later surpassed by western states such as Texas and California, but some oil industry remains in Pennsylvania.
It was in this booming economy that E. H. Crittenden prospered. Setting up shop in Titusville, Erastus ran large, full column advertisements (see example below) in The Titusville Herald for many years selling liquor, glassware, cigars etc. He would also build the Crittenden Hall in 1862. He managed all this during the Civil War period though records show that he registered for the draft at 23 years old in 1863.
E. H. must have been doing very well business-wise, as I am sure Titusville was too with the oil rush. Flush with cash, Erastus would next build the grand Crittenden House Hotel (see below) in 1865 which consisted of three stories and a basement with $100,000, which was a lot of money at that time. There must have been financial problems, as Crittenden would lose the hotel, Crittenden Hall and a couple of other liquor properties at a sheriff's sale in 1866. By early 1867, the furnishings were advertised for sale to the public.
With this failure, Erastus next moved to Philadelphia and from 1877 to 1880 sold liquor and patent medicines. It was here that he issued his advertising trade cards in 1880 for the Dr. Crittenden's Dyspepsia and Cocktail Bitters. These trade cards are pretty cool as they presumably reference abstract scenes on Lake Erie which was just up the road from Titusville.
I see no record that he ever went to medical school nor do I see a relationship with Charles Nelson Crittendon. Maybe this post will scare up a bottle for inclusion. I also can not find any information on Crittenden after 1880 which is odd.
The other mystery here is the cockamamie "A Most Miraculous Escape From Being Buried Alive" banner that Erastus used in some of his advertising (see above). Maybe he was buried in debt.
Erastus Henry Crittenden
1838:

 E. H. Crittenden born about 1838 in New York.
1860:

E. H. Crittenden, home Randolph, Pennsylvania – 1860 US Federal Census
1862:

Crittenden Hall constructed in Titusville, Pennsylvania (see picture above)
1863:

E. Henry Crittenden, Titusville, Pennsylvania – Civil War Draft Registration Record, age 25, unmarried.
1865:

Crittenden House Hotel – build by E. H. Crittenden in Titusville, Pennsylvania (see above)
1865 – 1870:

Various E. H. Crittenden advertisements in The Titusville Herald, Titusville, Pennsylvania (From Decenber 1865 to 1870 or so)
1866:

E. H. Crittenten full column advertisement in Titusville, Pennsylvania "A Most Miraculous Escape From Being Buried Alive" (see below) – The Titusville Herald (Titusville, Pennsylvania), April 6, 1866
1877:

 E. H. Crittenden, liquors, 514 Vine – Philadelphia, Pennsylvania City Directory
1878:

Erastus H. Crittenden, patent medicines, 1012 Columbia av- Philadelphia, Pennsylvania City Directory
1880:

E. H. Crittenden, liquors, 258 N. 9th. – Philadelphia, Pennsylvania City Directory