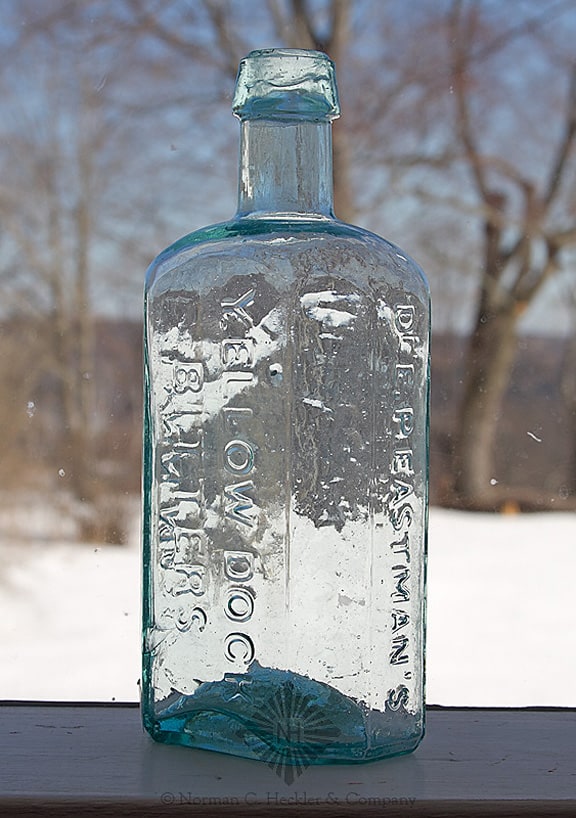 Ezekial Porter Eastman and his Yellow Dock Bitters
It came as no surprise – to his sisters – that Ezekiel also decided to bottle a medicine made of yellow dock root. He arranged to have the bitters manufactured by Joseph P. Hill, a barber in Lynn.
An Old and Bitter Story Teller
17 May 2014

Wow, here is another fantastic bitters in the current Heckler Auction 110 that is online now. I've heard about this baby and here she is. How exciting. The Yellow Dock Bitters is a very early, pontiled, aqua medicine put out by Dr. Ezekial Porter Eastman in Lynn, Massachusetts. He patented the concoction in 1852. The Heckler write-up is as follows. All pictures are from the auction.
Lot: 49 "Dr. E. P. Eastman's / Yellow Dock / Bitters / Lynn Mass." Bitters Bottle, America, 1845-1860. Rectangular with beveled corners, aquamarine, applied sloping collared mouth – iron pontil mark, ht. 7 3/4 inches; (professionally cleaned to original lustre). R/H #E-14 Extremely rare. Whittled and crude.
The Carlyn Ring and W.C. Ham listing in Bitters Bottles is as follows:
E 14  DR. E. P. EASTMAN'S YELLOW DOCK BITTERS
f // DR. E. P. EASTMAN'S // YELLOW DOCK / BITTERS // LYNN MASS. //
L… Dr. Eastman's Celebrated Yellow Dock Bitters
E. P. Eastman, M.D., Manufactured by J. B. Hill, Lynn, Mass.
7 3/4 x 3 3/8 x 2 1/8 (5 1/8) 7/8
Recangular, Aqua, LTC, Applied mouth, Metallic pontil mark, Extremely rare
Label: Prepared from Yellow Dock, thoroughwort & c. Made purely from vegetables. Patented in 1852.
Many times I must start from scratch to find out the story behind the bottles I enjoy so much. In this case, I was really pleased to find a wonderful article by Andrew V. Rapoza from Bottles and Extras in 2006. Well done Andrew. Click article to read.