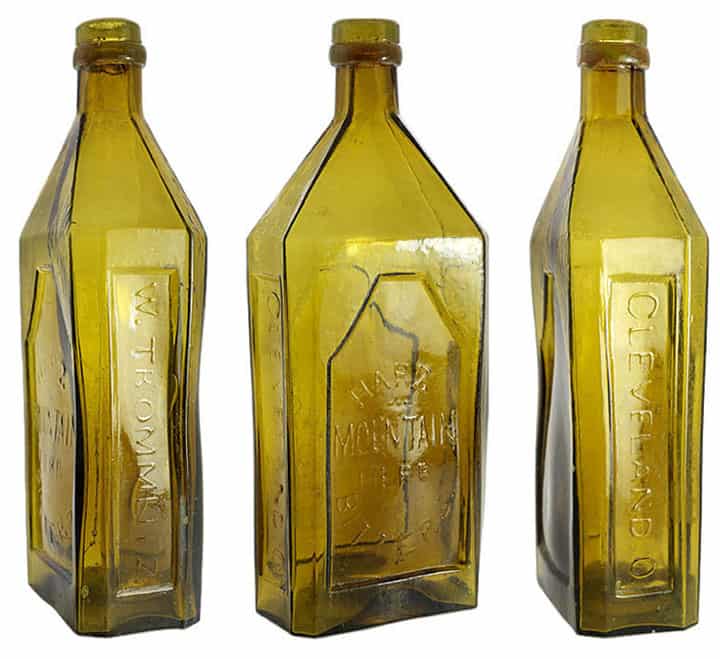 The only (as of now) Harz Mountain Herb Bitters
02 February 2014

Making an appearance at the Glass Works "Cabin Fever" Potpourri Auction is the 'one and only' (at least as far as bitters collectors are aware) Harz Mountain Herb Bitters. This bottle is from the great John Feldmann collection and though it has a replaced epoxy mouth, is highly desirable.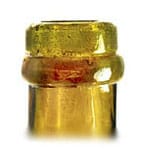 I remember the last time this dug, Cleveland, Ohio bottle came up for auction and questioned John when he purchased this years ago, as I was hesitant bidding on it with the replaced mouth (picture above). I remember John being 'tickled pink' with his extremely rare addition. Something to learn here. All of these rarities do not need to be perfect. It must be assumed that this bitters was produced for a extremely short period of time. I also want to point out the rather odd base marking (see below) on the bottle.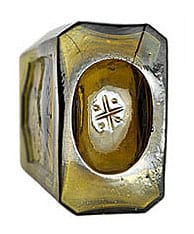 The Glass Works Auctions write-up is as follows:
19. "W. TROMMLITZ – HARZ / MOUNTAIN / HERB / BITTERS – CLEVELAND, O.", (Ring/Ham H-67.5), Ohio, ca. 1860 – 1875, yellow olive semi-cabin, 9 7/8"h, smooth base, replaced epoxy mouth. Dug in Cleveland, Ohio and found without the mouth. William Trommlitz was a wholesale liquor dealer in Cleveland, Ohio from 1861 to 1867. An attractive bottle, and currently the only known example!
The Carlyn Ring and Bill Ham listing in Bitters Bottles Supplement is as follows:
H 67.5  HARZ MOUNTAIN HERB BITTERS
// W/ TROMMLITZ. // HARZ (au) / MOUNTAIN / HERB / BITTERS. (ad) // CLEVELAND. O. // sp //
Approximately 10 1/4* x 4 x 2 1/4
Rectangular semi-cabin, Yellow-amber, Top missing, 4 sp, Extremely rare
*The only known specimen was dug in Cleveland, Ohio and measures 9 1/4 inches to top of the broken neck.
William Trommlitz was a wholesale liquor dealer in Cleveland from 1861 until at least 1867.
Wilhelm Godfrey Trommlitz, was born in Dessau, Saxony-Anhalt, Germany in 1821. He was a wholesale liquor dealer in Cleveland, Ohio from about 1861 to 1882. Wilhelm was married to Louisa Astzschner and had three children:
Paul Trommlitz (B: 1848): – Paul was born in Germany and moved to Cleveland, Ohio and worked at a saloon in 1869. Paul served in the Civil War with the Ohio Volunteers. The Trommlitz family, as noted above, had a liquor distribution business in Cleveland. Paul Trommlitz was for so many years connected with Koliler & Frohling and afterwards with the California Wine Association and then Italian Swiss Colony Wines after the war. He was also the proprietor of Potrero Soap Works in San Francisco in 1879. He married Henretta Lang in 1881 in Alameda, California. The marriage resulted in 3 children: Will, Florence and Louise. Paul died in 1901 in Alameda. He was cremated and the remains scattered in the San Francisco Bay.)
"Paul Trommlitz, of the Italian-Swiss Colony, has gone East again after a short stay in San Francisco. He came from Chicago with an excursion of Christian Endeavorers, in spite of the fact that he scarcely belongs to that clan himself. He will be away about five months in the interest of the Colony's business." – Pacific Spirit & Wine Review 1896
Helena Bertha Louisa Trommlitz (B: 1849) – Helene Bertha Lousie (Lena) Trommlitz was born in Desau Germany on November 29th 1849. She had two brothers Paul and George. Her Father remarried when their Mother passed away 9 days after getting birth of her brother George. Wilhelm had two sons from this union Oscar and Oliver. Lena married Karl Kritch in Cleveland Ohio on December 16, 1869.
George William Trommlitz (B: 1858) was born in Dessau, Saxony-Anhalt, Germany. George lived and worked in Denver, Colorado. He is listed as having a number of patents with Gripping connection for inflation-valves. He died on 18 May 1927 in San Antonio, Texas.
The Harz Mountain Herb Bitters brand was named after The Harz (also spelled Hartz) which is the highest mountain range in Northern Germany and its rugged terrain extends across parts of Lower Saxony, Saxony-Anhaltand Thuringia. The name Harz derives from the Middle High German word Hardt or Hart (mountain forest), Latinized as Hercynia. The legendary Brocken is the highest summit in the Harz with a height of 1,141.1 metres (3,744 ft) above sea level. The Wurmberg (971 metres (3,186 ft)) is the highest peak located entirely within Lower Saxony. – Wikipedia
You may also be aware of Hartz Mountain Industries. Max and Gustav Stern emigrated from Germany to the United States in 1926 with five thousand singing canaries (Harz Roller), and began manufacturing bird food under the Hartz Mountain brand in 1932. They later sold pets such as canaries, parakeets, hamsters, tropical fish, and associated supplies throughout the U.S. and Canada, and eventually introduced pet supply departments into more than 30,000 supermarkets in North America and the United Kingdom. – Wikipedia
Wilhelm Godfrey Trommlitz
1821: Wilhelm Godfrey Trommlitz, birth 27 September 1821 in Dessau, Saxony-Anhalt, Germany
1861: William Trommlitz, wholesale liquor dealer, 36 Pittsburg, r 214 Ontario – Cleveland City Directory
1863: William Trommlitz, liquors, Pittsburgs near Market – Cleveland City Directory
1866: William Trommlitz, liquor dealer, Pittsburgs near Market – Cleveland City Directory
1868: Wm Trommlitz, importer liquors, 197 Ontario, h. 125 Broadway – Cleveland City Directory (Paul Trommlitz listed as bookkeeper at 125 Broadway. Probably help brother with business.
1869: William Trommlitz, dealer in wines & liquors, Champlain n cor S. Water – Cleveland City Directory
1869: Paul Trommlitz, saloon, 115 Detroit – Cleveland City Directory
1870: William Trommlitz, wines & liquor dealer, 1870 United States Federal Census
1874: William Trommlitz, dealer in wines & liquors, 9 and 11 Champlain – Cleveland City Directory
1876: Mrs. W. Trommlitz, wines and liquors, 9 and 11 Champlain – Robison & Savage & Co., Cleveland Directory, 1876
1880: William Trommlitz, wines and liquors, 9 Champlain, Cleveland City Directory