Dr. Thos. H. Barnes Anti-Dyspeptic & Family Bitters
Keeping House & Selling Bitters
03 February 2014 (R•031815) (R•030519)

James Viguerie mentioned in a recent e-mail, "For example for B 25 (Dr. Thos. H. Barnes Anti-Dyspeptic & Family Bitters), I have the full patent record (132,233) and see that S. M. Barnes was actually Sarah M. Barnes. I thought it was interesting that a woman had put a bitters out in 1872 (maybe Ferd will do a story on her at Peachridge Glass).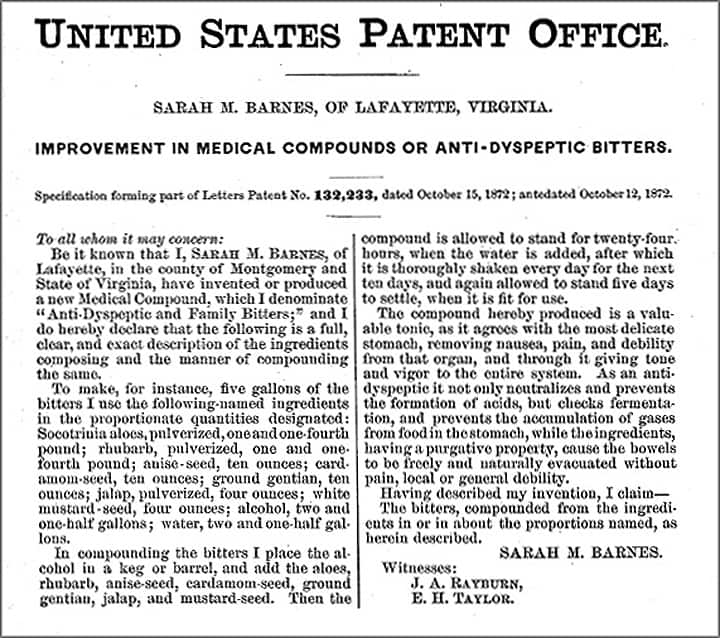 Now this real is interesting as James suggests. What is the story here? Was Sarah Barnes keeping house or selling bitters? Here is the subject patent again:
UNITED STATES PATENT OFFICE.
SARAH M. BARNES, OF LAFAYETTE, VIRGINIA.
IMPROVEMENT IN MEDICAL COMPOUNDS OR ANTI-DYSPEPTIC BITTERS.
Specification forming part of Letters Patent No. 132,233, dated October 15, 1872; antedated October 12, 1872.
To all whom it may concern:
Be it known that I, SARAH M. BARNES, of LaFayette, in the county of Montgomery and State of Virginia, have invented or produced a new Medical Compound, which I denominate "Anti-Dyspeptic and Family Bitters;" and I do hereby declare that the following is a full, clear, and exact description of the ingredients composing and the manner of compounding the same.
To make, for instance, five gallons of the bitters I use the following-named ingredients in the proportionate quantities designated: Socotrinia aloes, pulverized, one and one-fourth pound; rhubarb, pulverized, one and one-fourth pound anise-seed, ten ounces; cardamom-seed, ten ounces; ground gentian, ten ounces; jalap, pulverized, four ounces; white mustard-seed, four ounces; alcohol, two and one-half gallons water, two and one-half gallons.
In compounding the bitters I place the alcohol in a keg or barrel, and add the aloes, rhubarb, anise-seed, cardamom-seed, ground gentian, jalap, and mustard-seed. Then the compound is allowed to stand for twenty-four hours, when the water is added, after which it is thoroughly shaken every day for the next ten days, and again allowed to stand five days to settle, when it is fit for use.
The compound hereby produced is a valuable tonic, as it agrees with the most delicate stomach, removing nausea, pain, and debility from that organ, and through it giving tone and vigor to the entire system. As an anti-dyspeptic it not only neutralizes and prevents the formation of acids, but checks fermentation, and prevents the accumulation of gases from food in the stomach, while the ingredients, having a purgative property, cause the bowels to be freely and naturally evacuated without pain, local or general debility.
Having described my invention, I claim – The bitters, compounded from the ingredients in or in about the proportions named, as herein described.
SARAH M. BARNES.
Witnesses:
J. A. RAYBURN,
E. H. TAYLOR.
First of all, Sarah M. Barnes was Thomas H. Barnes' (b. 1816) wife. They lived in LaFayette, Virginia which is between the cities of Roanoke and Christiansburg in eastern Montgomery County, southwest Virginia. In an 1860 United States Federal Census, Thomas, age 44, was listed as a physician while his wife Sarah, age 36, had no occupation noted. Usually you see something like keeping house as the occupation which was fairly common. Their children were listed as Madora A. (14), Ella C. (12), William M. (8), and Franklin E. Barnes (2). There is a similar listing, as far as their occupations, in the 1850 Federal Census. In the 1880 Census, at 55 years old, Sarah is listed as keeping house.
On 20 June 1862, Thomas Barnes died in LaFayette County, Virginia. I think this might explain why his wife obtained the patent and continued in the bitters business. I used a picture of Good Housekeeping magazine above to illustrate the power and broad appeal of the word 'housekeeping' during this period, and even now. The magazine was founded on May 2, 1885 by Clark W. Bryan in Holyoke, Massachusetts. Been around a long time.
The Carlyn Ring and W.C. Ham listing in Bitters Bottles is as follows:
B 25  Barnes Anti-Dyspeptic Family Bitters
DR. THOS. H. BARNES / ANTI-DYSPEPTIC / & FAMILY BITTERS // sp // f // sp //
7 1/2 x 2 5/8 x 1 1/2 (5 1/2) 1/4
Rectangular, Aqua, LTC, 3 sp. Extremely rare
Patented 1872 by Dr. S. M. Barnes, LaFayette, Virginia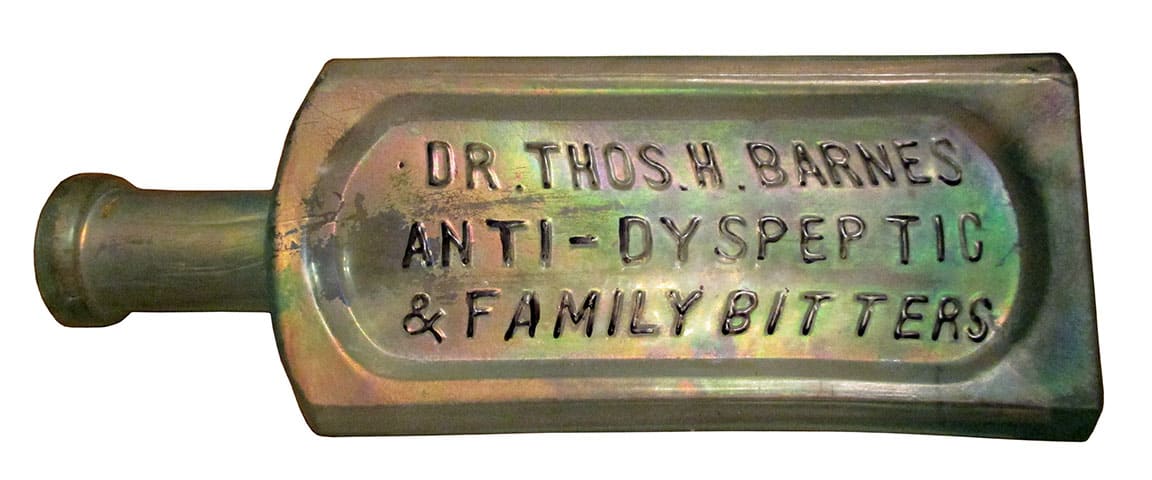 Above: This is as-found, other than highlighting letters for photographing. Note that the embossing seems somewhat crude and sloppy and not carefully aligned. A bit on the weak side, too. Found about four feet down in sand, a real accidental find. The spirit moved me to poke into the sand of the drainage trench. No dump, no sign of debris, just one really neat bottle waiting to be pulled from the sand. One of my favorite finds. – Tony Pagano