Brophy's Bitters – A Mailman and his Bitters
Nokomis, Montgomery County, Illinois
08 January 2014


This post was inspired by an image provided by Jim May depicting Brophy's Depot, which was a post office and establishment for selling Brophy's Bitters. The brand is easily recognized by the large reversed star and crescent moon trademark painted on the façade, which advertised Brophy's Bitters. Jim apparently lives in Nokomis, Montgomery County, Illinois.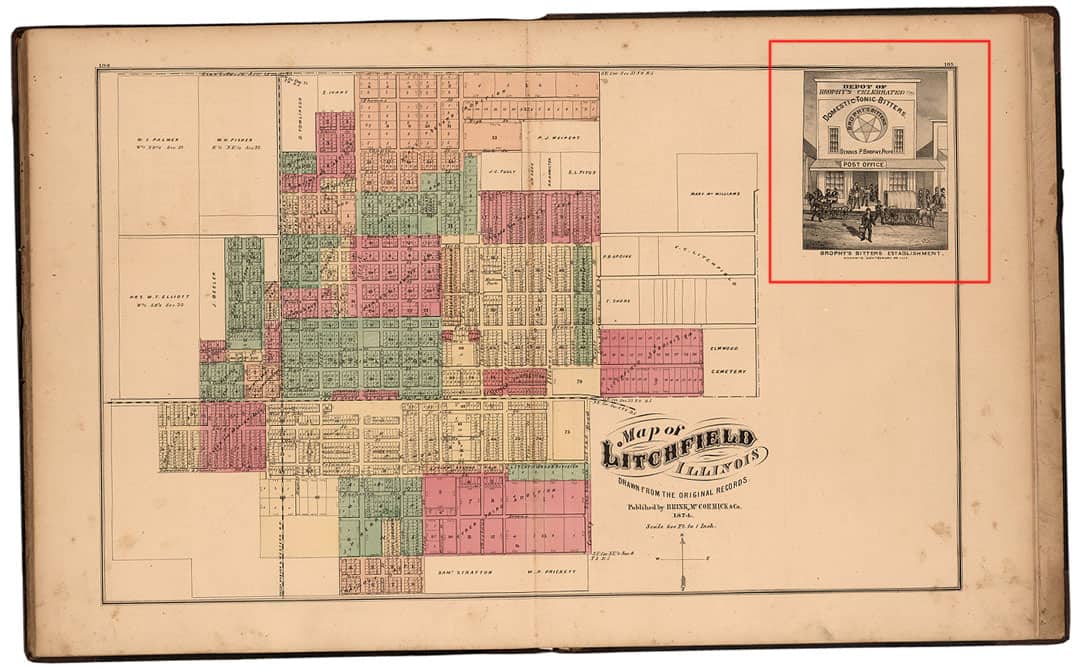 The Carlyn Ring and W.C. Ham listing in Bitters Bottles is as follows:
B 217  BROPHY'S BITTERS
BROPHY'S BITTERS ( au ) motif – motif – name encased in crescent / 5 pointed
star within crescent / Trade ( sd ) MARK ( su ) / NOKOMIS ILLINOIS // f // f // f //
7 1/2 x 2 1/2 (5 1/2)
Square, Aqua, STC, Tooled lip, Rare
Dennis P. Brophy
Dennis P. Brophy, son of Dennis and Julia (Galvan) Brophy, was born on March 3, 1832 in New York City. You can trace the Brophy ancestry back to Irish origin though both of his parents who were born in United States and came to New York City in 1762 and resided there until 1856.
Brophy lived in the city until about fourteen years old and received the basics of an early education. Upon the death of his mother in 1846, he moved to Philadelphia and engaged in the type foundry business as a mold maker. After about 18 months, he moved on to Baltimore and engaged in the same occupation, with Edwin Star, of the Sun Building (newspaper Baltimore Sun). Next he moved on to the Philadelphia Baltimore Rail Road (PBRR) as an assistant baggage master. He stayed at the railroad for about nine months and headed back to New York City and again worked in the type foundry business. Eventually Brophy had to quit his profession when his health declined from exposure to foundry acids. During this period he engaged in market gardening near Boston, working for James Young.
In the fall of 1856, Brophy, hoping for recovery, headed out west and stopped for a short time in Litchfield, Illinois (see map below) and worked for Calvin Howe and then worked in farming for Edwin C. Read, near Rosemond, Illinois. After six months he settled in the newly platted and surveyed central Illinois town of Nokomis.
With the war of the rebellion breaking out and responding to the call of troops, Brophy volunteered in the 126th Illinois Infantry Regiment, Company F on September 4, 1862 and become a Postmaster during the Civil War. He was promoted to Full Corporal. He mustered out on July 12 1865 at Pine Bluff, Arkansas. Finding himself in Washington D.C. he was given a presidential appointment by President Andrew Johnson as Postmaster of Nokomis on August 25, 1865. He held that office until November 1, 1886. Later he became secretary of the Farmers Insurance Company, and held that position for a few years.
On September 17, 1868 Brophy married Susan Battles and they had two children, Nathaniel B. and Jennie A. who died young. Brophy and his wife were both members of the Baptist Church.
By 1870, Brophy had become the proprietor of various medications, which he sold from his post office, also known as "Brophy's Depot". Even though he had the post office, the 1870 Federal Census lists his occupation as a druggist. Brophy's Depot was easily recognized by the large reversed star and crescent trademark painted on the façade, which advertised his bitters. So now we have a mailman and his bitters. It is 1880 when the Federal Census lists him as a Postmaster.
Brophy actually had a number of mail patents for a mail bag, mail bag lock and label holder (pictured below).
During his experience in compounding medicines, he succeeded in making new preparations of bitters, having a seductive character. The product was very highly spoken of and noted as an anti-febrile and an anti-dyspeptic. Marketing at the time said, "This preparation he puts up himself, from the best and purest drugs, and keeps a supply on hand for the benefit of the affected."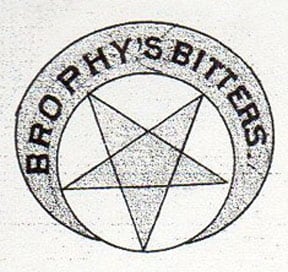 Brophy's signature trademark included a star known as a reverse or upside down pentacle or pentagram. The symbol is a bit mysterious as it is depicted in a way rarely observed during this time period in the Midwest. Typically the pentacle is depicted with the star having one point upwards, as a symbol of God and the triumph of good over evil. The pentacle having one point down, like the mark on Brophy's Bitters has traditionally been interpreted as symbolic of the devil or the infernal and used in black magic.
The Brophy's Bitters bottles date from about 1875 to 1876 when Brophy relinquished his appointment as Postmaster. During his retirement he even put out a book on patriotic and semi-religious poems. Brophy died on September 14, 1898.
References:
Biographical Sketches of Citizens of Montgomery County, Illinois
Historical Encyclopedia of Illinois
Medical Mysticism on the Frontier: An Example from the Midwest