B I S M A R C K   B I T T E R S
William H. Muller – New York City
15 October 2013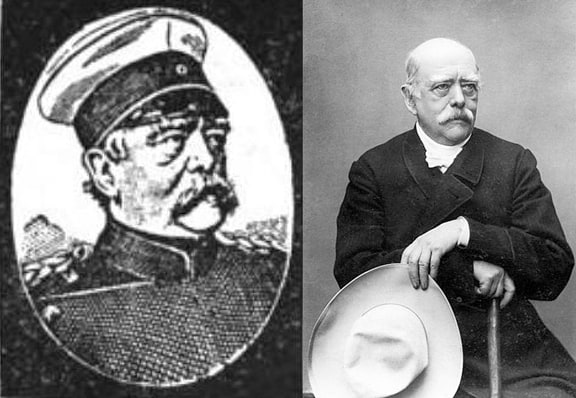 The mixture of ground roots and bark having, on the wrapper of the package containing the mixture, directions how to make the bitters by steeping the contents in Holland gin…

There was an interesting, 6″ tall, Bismarck Bitters put out by William M. Muller in New York City that closed on ebay last Sunday evening. Of course this bitters is named after the Prussian statesman, Otto von Bismarck. I have a Bismarck Bitters from Chicago (another brand – B 105) and was pleased to be adding this example to my collection. The ebay listing read:
B 107 BISMARCK BITTERS / great condition / SCARCE – Here is a very scarce bitters that packs a lot into a small size . When was the last time you saw one? Embossed with a strong strike "BISMARCK / BITTERS / W H MULLER, NEW YORK, U.S.A. " Base embossed "W. T & CO". Bottle is 6″ tall – smooth base. Condition is very good with no chips or cracks – minor interior water mark on back side and one side panel. VNM. A must have for any bitters collection! – newengland-glass-co (100% PositiveFeedback)
ENJOY LIFE. BISMARCK BITTERS ONCE A DAY
There are quite a few Wm H. Muller listings in New York City from the 1870s to 1910 or so that I had to weed through. The most likely and probable candidate is William H. Muller who was born in Germany, and was a druggist in the 1870s through the early 1900s.
Representative Timeline:
July 1857 – William H. Muller, from Germany, immigrated to United States, 1867, Wife Kate, married 1883, Son, William H. born 1883, New York City
1883, 1884, 1885 – Muller Wm. H. drugs, 61 Seventh av. h 159 W. 14th, New York City Directory
1890, 1895, 1899 – Muller Wm. H., drugs, 45 University pl. h 11 Perry, New York City (Brooklyn) Directory
1902 – 1907 – Muller Wm. H., drugs, 74 University pl., New York City Directory
The Schuster Co. v. Muller
Opinion of the Court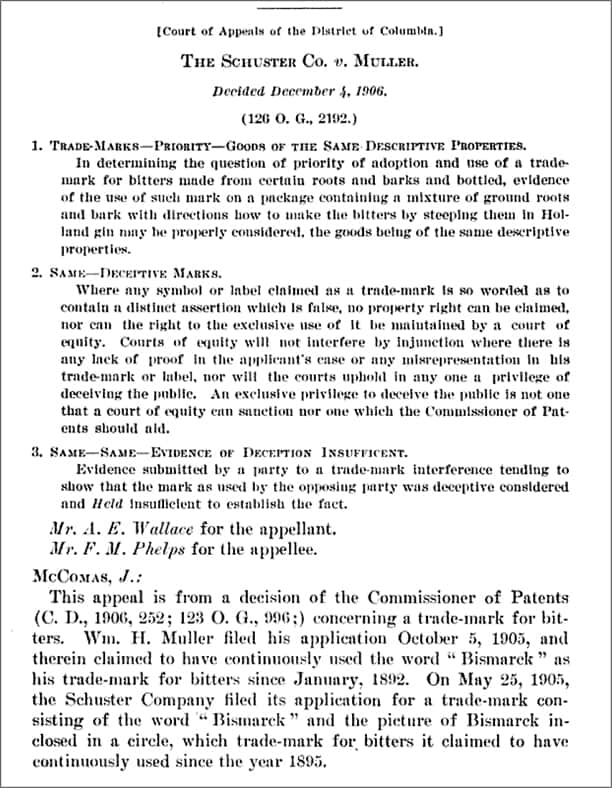 Otto von Bismarck
Otto Eduard Leopold, Prince of Bismarck, Duke of Lauenburg (1 April 1815 – 30 July 1898), known as Otto von Bismarck, was a Prussian statesman who dominated German and European affairs with his conservative policies from the 1860s to his dismissal in 1890 by Emperor Wilhelm II. In 1871, after a series of short victorious wars, he unified most of the German states (excluding Austria) into a powerful German Empire under Prussian leadership. He then created a balance of power that preserved peace in Europe from 1871 until 1914. [Wikipedia]