Axel Lindskog attended the Wright & Taylor Old Charter Distillery Event
DR. LINWOOD CABINET BITTERS
11 October 2013

I recently added this unlisted color, extremely rare Dr. Linwood's Cabinet Bitters to my collection from a listing on ebay. According to the seller, the bottle was dug in Chicago in the late 1970s – early 1980s, by Chicago father and son bottle diggers with two examples in two different colors being dug. At first, I was running into blank walls trying to search for information. I wanted to find out who was Dr. Linwood and who was A. Lindskog? Now that is a strong Swedish name.
First of all, the Carlyn Ring and W.C. Ham listing in Bitters Bottles is as follows:
L 94.5  DR. LINWOOD'S CABINET BITTERS
DR. LINWOOD'S / CABINET BITTERS / A. LINDSKOG / SOLE AGT. / FOR U. S. A. // f // f // f //
8 ¾ x 4 ¼ x 2 ½ (6) ¾
Rectangular, Amber and Aqua, LTC and LTCR, Applied mouth, Extremely rare
Examples dug in Chicago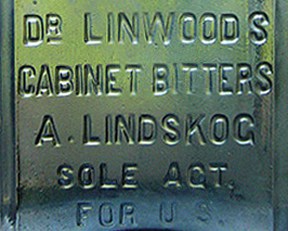 My first sound hit occurred after I searched for an 'A. Lindskog' in Chicago. I knew this was a later bottle so anything centered around 1900 might work. It looks like a 'Axle Lindskog attended this grand event for Wright & Taylor Distillery.
What is so cool about the event is the Pennsylvania Railroad "Old Charter Special" locomotive and passenger cars that were used to transport the liquor dealers from Chicago to Louisville, Kentucky and back. Man I wish I could of been on that train and at that event! You can see the train in the background of the group pose below.  The story was reported in The Wine and Spirit Bulletin on June 1, 1916.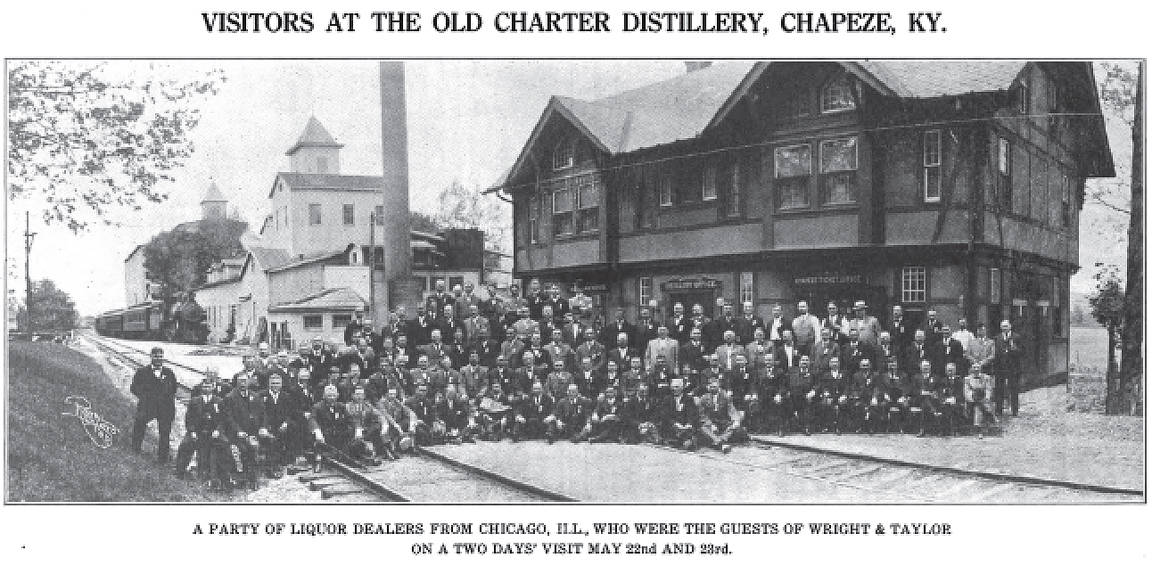 A BIG PARTY OF VISITORS TO OLD CHARTER DISTILLERY
June 1, 1916
Kentucky and Kentuckians are noted for their hospitality, and Kentucky distillers have always ranked in the forefront of hosts. A party of 100 liquor dealers from Chicago, Ill., and some nearby towns, who, on May 22nd and 23rd were the guests of Wright & Taylor, of Louisville, are now ready to proclaim the distilling company, its officers and representatives, as the pre-eminent hosts of Kentucky.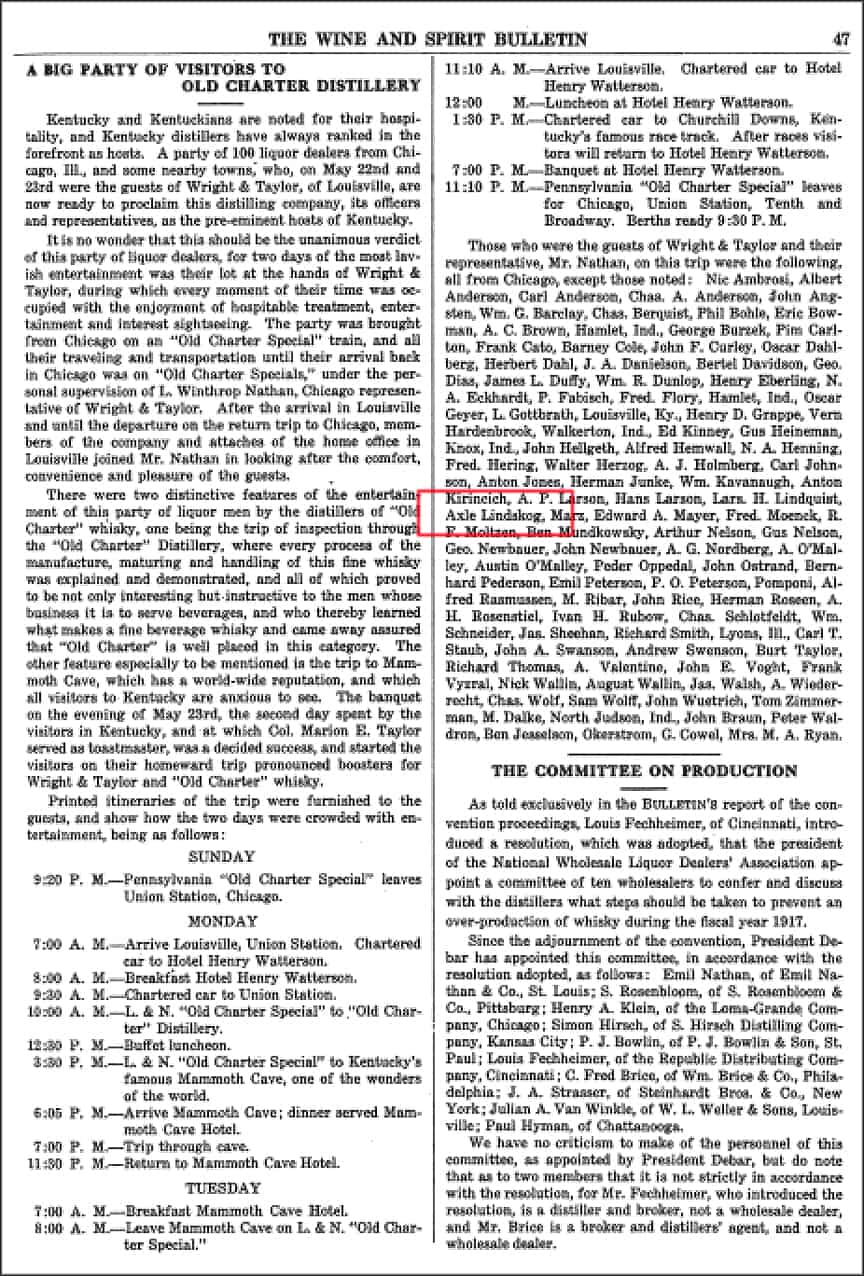 Dated Material
According to PrePro.com, WRIGHT & TAYLOR was in business in Louisville, Kentucky from 1886 – 1919.
1835 – Axel E. Lindskog, born, Sweden, (wife Alma C.) occupation Saloon (1900 Federal Census)
1890 – Lindskog & Benson (Emil Lindskog and Albert Benson) grocers 448, 31st, Chicago City Directory
1895 – 1906 – Axel E. Lindskog, Saloon, 456 31st Street, Chicago City Directory