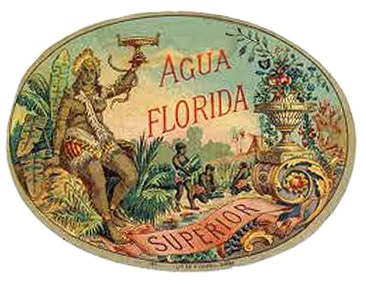 F L O R I D A   W A T E R
M U R R A Y   &   L A N M A N
N E W   Y O R K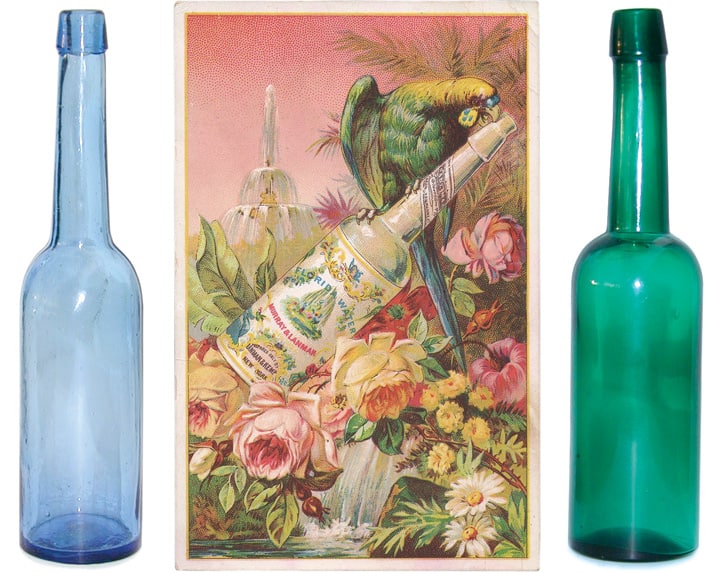 09 August 2013

One of my earliest bottle purchases occurred with Pacific Glass Auctions (now American Bottle Auctions) back in November 2002 for an unmarked, 9″ tall, blue bottle (left below) that I just liked. The teal green bottle (on right) followed shortly thereafter on ebay. These bottles stand together on some corner shelf watching my Bitters bottles.
Of course I am talking about Florida Water perfume or cologne bottles (center below). No you don't drink it, but I suppose you could since the labels say 75% alcohol. Wow.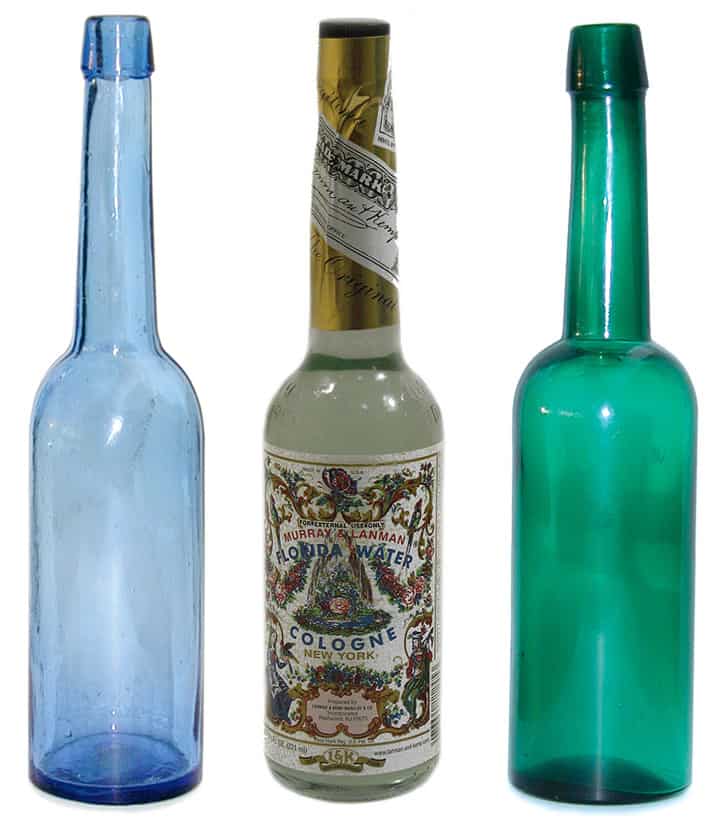 Last night I came across a spectacular trade card with a parrot, flowers and a fountain surrounding a Murray & Lanman's Florida Water bottle (see below). This got me thinking about my lonesome bottles and the story behind them. I was particularly interested in the art used on the labels and advertising which is the secondary focus of this post. When looking at the art, look at the common 'Fountain' in each piece usually surrounded by flowers, a maiden or female and the product.
According to Wikipedia, Florida Water is an American version of Eau de Cologne, or Cologne Water. It has the same citrus basis as Cologne Water, but shifts the emphasis to sweet orange (rather than the lemon and neroli of the original Cologne Water), and adds spicy notes including lavender and clove. The name "Florida Water" refers to the fabled Fountain of Youth, which was said to be located in Florida, as well as the "flowery" nature of the scent.
According to the current trademark holders, Lanman & Kemp Barclay & company, Florida Water was introduced by the New York City perfumer (and founder of the original company) Robert I. Murray, in 1808. In 1835 Murray was joined by David Trumbull Lanman and the firm became Murray & Lanman, then David T. Lanman and Co., and in 1861 became Lanman & Kemp.
The company states that their product, now sold under the Murray & Lanman brand, still uses the original 1808 formula, and that the current label is also a slightly modified version of the 1808 original.
Florida Water was regarded a unisex cologne, suitable for men and women alike. Victorian etiquette manuals warned young ladies against the "offensive" impression made by a strong perfume, but Florida Water and Eau de Cologne were recommended as appropriate for all, along with sachets for scenting the linen and fresh flowers in the corsage. Large quantities were also used by barbershops as cologne and aftershave. In the 1880s and 1890s Murray & Lanman Florida Water was advertised as "The Richest of all Perfumes" and "The most Popular Perfume in the World".
Like other colognes of the era, Florida Water was valued for its refreshing and tonic nature as well as its scent, and could be used as a skin toner or as what we would now call a "body splash". It was also used as a toilet water (eau de toilette), by adding it to the bath or wash-water.
Many baseball teams (particularly it seems in the South) use Florida Water as a refresher during the hot summer baseball months by filling a small lunch sized ice chest with water and ice and a few caps of Florida Water. They then soak rags in the tonic and wipe their pulse points and necks with the soaked rags, providing a very cooling effect to the skin and body.
Read: Murray and Lanman Florida Water
Read: Rose Water – Lime Juice – Olive Oil whats-it-hold bottles!
G A L LE R Y