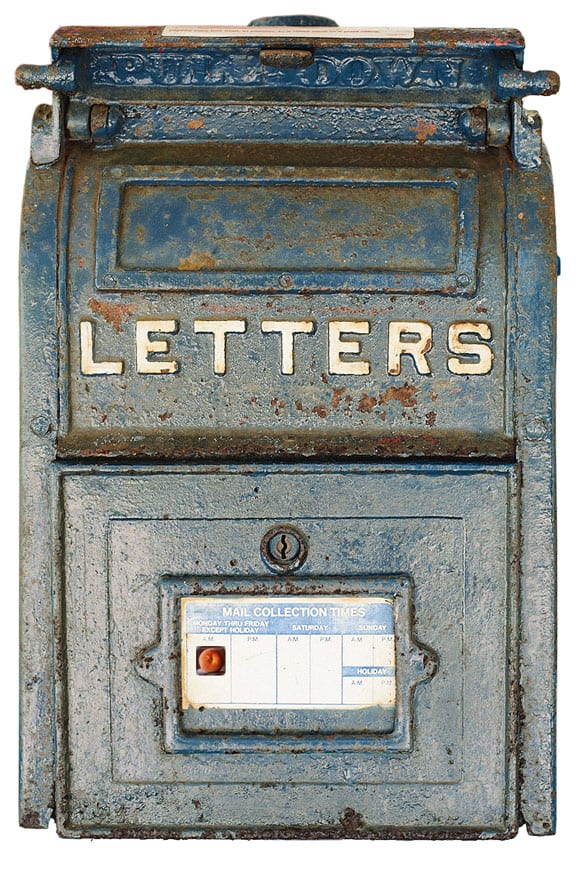 Please feel free to send any antique bottle or glass questions to ferdinand@peachridgeglass.com. The information will be posted if relevant or of interest to the readers. I will try to answer or wait for another reader to respond. Quality images are very important. Thanks! If you want to see previous questions,go to "Mailbox Letters" in "Categories" on the right column of each page.
---
American Life Bitters – Omaha Variant Found?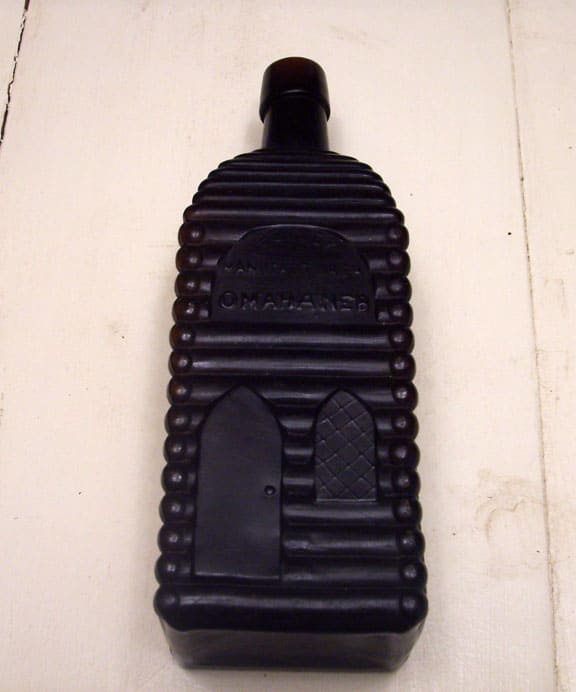 Hello, would you know of anybody that might be interested in the P. E. ILER BITTERS BOTTLE in the pictures? Thanks!!
There are no chips, cracks or breaks in it, it is 'in found condition' and has not been professionally cleaned.  I found it back in the sixty's on an old coal mine property that my Dad had bought.  Where are you located? What other than actual physical contact with it can I tell you or take pictures of to send you?  What would you be willing to offer for it?
PRG: I have asked for more pictures and a shot with the bottle and a current newspaper first page.
---
Bottle Cap Container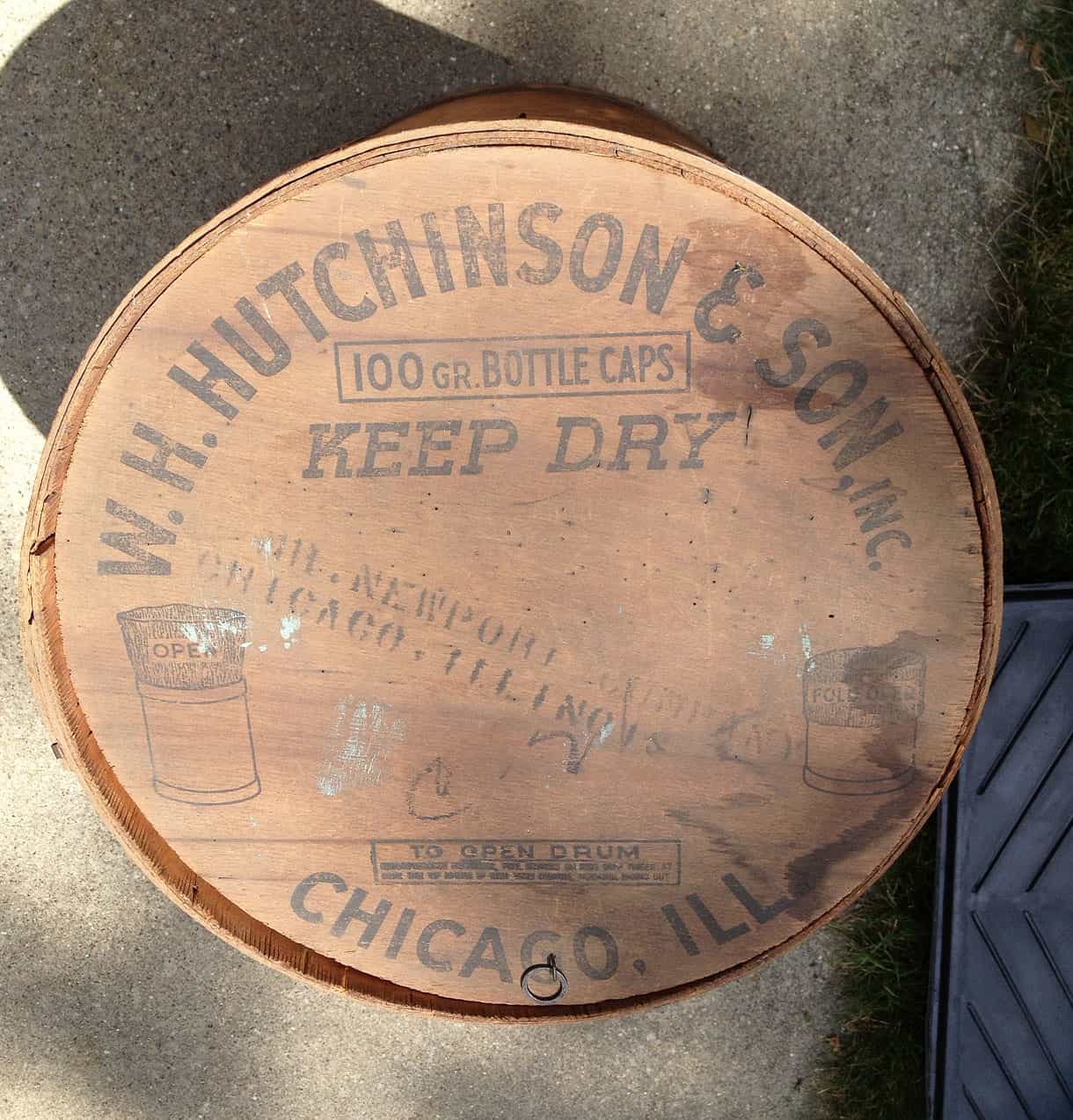 Hello, Recently, my husband brought home a load of stuff from his mothers attic in Chicago. I have been tripping over it in my garage and wondered if there is any value or someone who might appreciate it more than I do. I found your sight and the photo with a cap like ours. Any info would be appreciated. Thank you, Stacey Korycki
---
Antique Bottles For Sale in New Hampshire
Could anyone in your organization direct me to someone in my area from who I could get an estimate of value of a small collection of antique bottles collected by my now deceased father? I would also be interested in the names of anyone who might be interested in buying the bottles as I am now 75 myself and can no longer keep them. I live in Nashua, New Hampshire. Thanks for any help you can give me.
Nancy Gervais
Nancy: What kind of bottles? Do you have any pictures? That will help with my answer. Thanks. Ferdinand
Unfortunately, being 75, I have no skill at taking photos and then sending them via email. They are roughly all small bottles like the size of the old fashioned glass coke bottles, and in some different colors. Could you give me any names of someone in the Nashua or Manchester, NH, area (where your convention just was — I couldn't attend, unfortunately, to try and find someone)? Sorry about the picture problem.
Thanks….Nancy
---
Question from Australia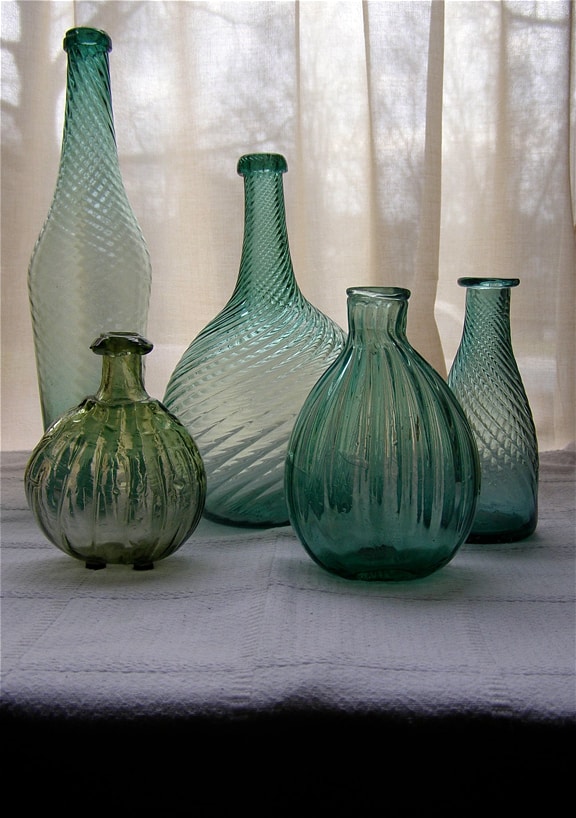 I'm an antique bottle collector in Australia. I recently came across your website by accident and was very impressed. It's already one of my favourites. Browsing your photo gallery I noticed one photo attributed to Woody Douglas and titled "Gorgeous Swirled Flasks and Bottles". One of the bottles pictured (the tall one on the left) is I think quite rare and of particular interest to me as a collector of 18th to early 19th century French bottles. Is there any way I could contact Mr Douglas for the dimensions, weight and volume of his bottle? Assuming he doesn't want to sell it of course. I have a very similar, slightly earlier example but I'm very interested in the evolution of this specific bottle type.
Kind regards Tim Eldridge Fern Tree, Tasmania Australia
---
Crate of Perrier Bottles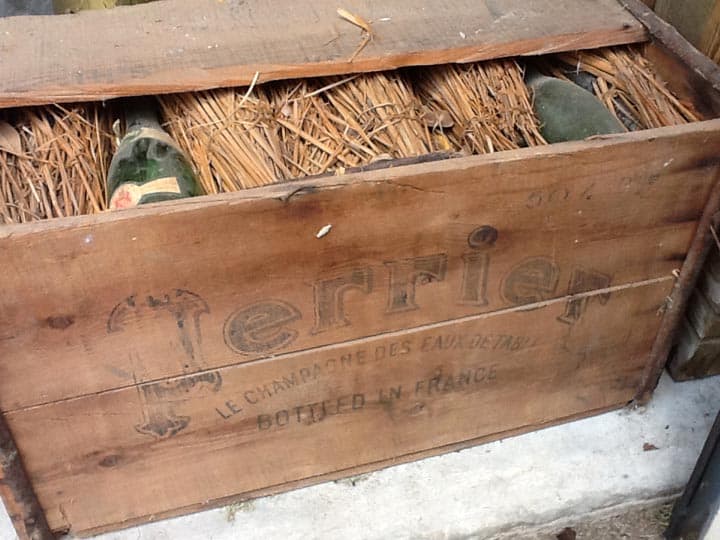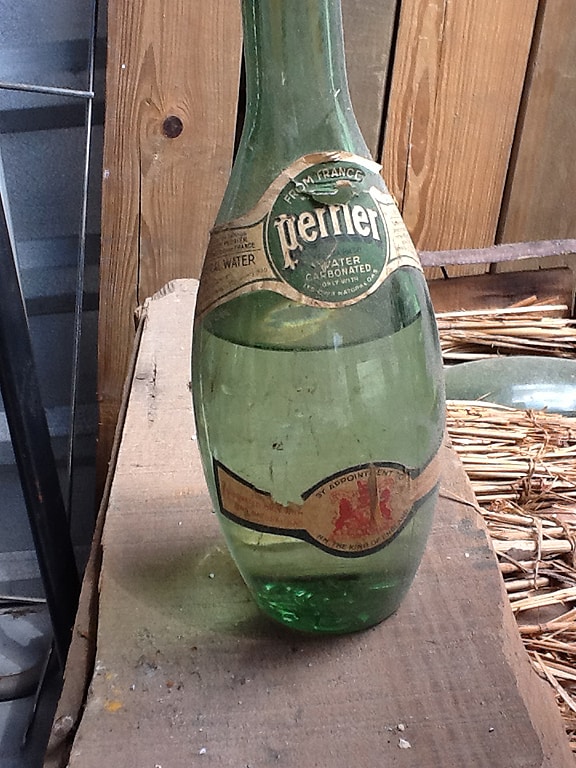 Ferdinand and Elizabeth
I would like to sell a case of Perrier water bottles packed in straw in their original wooden case. I bought this case 35 years ago at an attic sale at MoRanch in Hunt, Texas. This was the ranch of Moran the founder of Continental Oil. In the early fifties the ranch was sold to the Presbyterian church after Mr. Moran's death. These bottles date to the forties I believe. I have never disturbed the straw and the bottles are unopened and still about half full. I live in Houston, Texas. Can you help me find a buyer and give me some idea of value.
Thank you.
My contact info is:
Monroe Luther
101 Westcott #1403
Houston, Texas 77007
713-882-8762
EagleTexas@aol.com
---
Urbana Wine Company Bottle Question

Hi, I am seeking information about the bottle to the left. I took it to the Bottle Museum in Ballston Spa, and they recommended that I try to "hunt around on the web for information." I found your e-mail address connected to an ad for a bottle show near the Finger Lakes.
By coincidence, I was able to find a reference to the bottle, with photo, on the internet. Please go to the following website for that, http://www.sha.org/bottle/wine.htm where the following information, including photograph, is available. But note that this info is actually quite incomplete and rather speculative.
Spirits shapes used for wine: Occasionally, shapes closely identified with containing spirits were used for wine (and likely vice versa). One example is pictured to the left which is the shape of the "Tall, Square Long-necked Spirits bottle" covered in that section of the Liquor/Spirits bottle page.
This bottle is machine-made and body embossed with URBANA WINE CO. INC. and a city in New York which can not be read. (Apologies for the poor images which were off of eBay®.) The base (base view) is embossed with the makers mark of an "H" in a triangle indicating manufacture by J. T. & A. Hamilton (Pittsburgh, PA.) who were in business from 1884 to 1943 (Toulouse 1971). However, this bottle most likely dates from around 1915 to 1919 (Prohibition) though could also have been a "medicinal" wine product produced during Prohibition, i.e., the 1920s.
Regarding the winery itself, I found the following info elsewhere on the web:
Founded by John W. Davis, H.H. Cook, A.J. Startzer and others in 1865, the Urbana Wine Company was among the earliest and most successful wineries in the Finger Lakes region of New York. Organized in Hammondsport, N.Y., the center of the eastern wine industry, Urbana's claim to fame was its widely popular Gold Seal Champagne and other sparkling wines and along with Walter Taylor, they dominated regional wine production during the Gilded Age. The winery survived passage of Prohibition in 1919 , both World Wars operating under the Gold Seal label, but was closed by its parent company, Seagrams, in 1984. The Urbana Records are concentrated in the period 1881-1885, as the company was growing rapidly. Among other materials, the collection includes a range of correspondence, receipts, some financial records, and tallies of grapes. Additional material on the company is located in Cornell University's Eastern Wine and Grape Archive.
Please note that my bottle is in much better condition. On my bottle, the embossing is very clear and unworn, and reads: Urbana Wine Co. Inc. over Hammondsport NY, which is where the winery was. My bottle is in excellent condition, with the exception of a very, very small, tiny barely bigger than a flea bite chip on the top at the lip.
I would appreciate any information you could provide about the bottle regarding age, origin / manufacture, and value. Feel free to speculate. I believe I've got a rather rare bottle here, but am not sure as I am not a bottle expert. Please let me know aht you think.
THANK YOU.
Peter
---
Antique cobalt blue poison bottle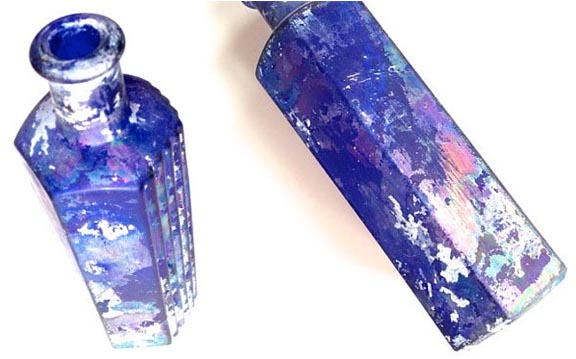 Dear Elizabeth & Ferdinand:
I came across your web page while investigating the iridescence of bottles. I have
listed a beautiful specimen (certainly in my eyes!) in my Etsy shop and thought I
would share it with you. If you would like a high quality photos I would be more
than happy to email you one.
Antique cobalt blue poison bottle, ribbed bottle, discoloured, oxidised, iridescence, opalescence, Benicia, patina
Cheers
Darren
Read More: Benicia Iridescence and Patina on Bottles – Not a Sick Bottle
---