"

Bartletts Excelsior Bitters

– the only known example was found in the attic of a Stagecoach stop in Texas"

Stagecoach Stops and Bartletts Excelsior Bitters
03 October 2012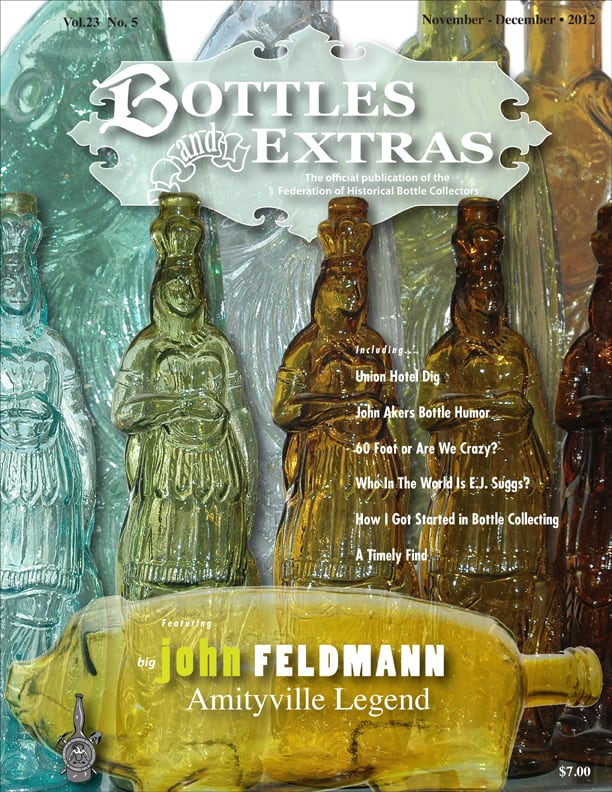 As some of my closest bottle amigos know, I was fortunate enough to be part of the acquisition team of the great Feldmann Bitters Collection. A full 14-page feature article on the collection and the 'deal' will appear in the next issue (November/December) of the FOHBC Bottles and Extras magazine. You can see my design for the cover to the left.
Our group of three has been fairly quiet as to the bottles we acquired as we wanted the 'dust to settle'. Now that the 'cat is outta of the bag', you will be seeing periodic posts on some of these great bottles that have found new homes. The research is starting also.
The bottle that inspired this post is the Bartletts Excelsior Bitters (pictured below on John Feldmann's slelves) that was part of a 4-bottle mega John Feldmann private purchase many year ago of the Carey's Grecian Bend, Chickahominy Bitters and Bartlett's Excelsior Bitters. The fourth bottle is immaterial as John already had the bottle.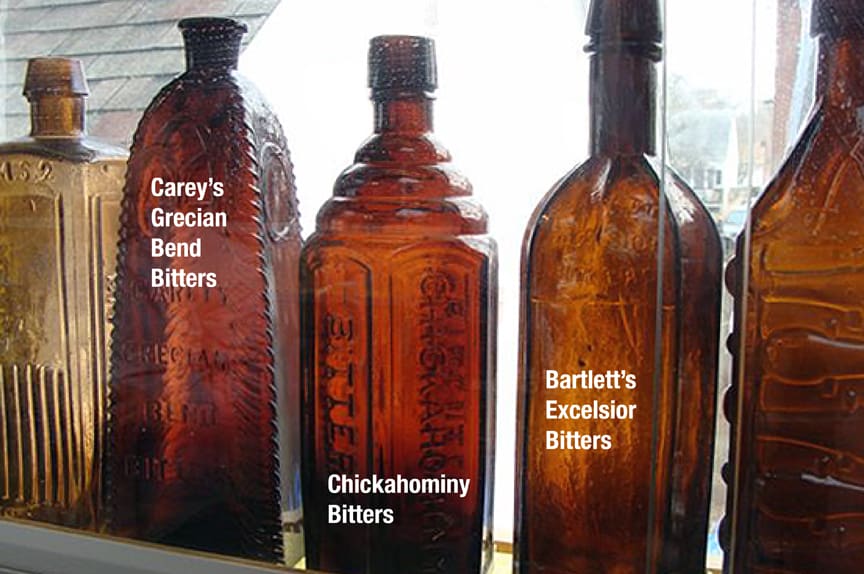 The Bartlett's Excelsior Bitters, embossed BARTLETTS EXCELSIOR BITTERS / BARTLETT BROTHERS NEW YORK, as far as I know, is the only known example and was found in the attic of a stagecoach stop in Texas. [support needed from Bill Ham as this was noted in Carlyn Ring and W.C. Ham Bitters Bottles].
This 8-sided, amber bottle has eight concave panels tapering from 1 1/2 inch at the base to 1/2 inch at the shoulder. The bottle is pictured above between the only known example of a Chickahominy Bitters (left, look for a future post) and the extremely rare, Cannon's Dyspeptic Bitters. This row of bottles was John's 'cream of the crop'.
I have not photographed this bottle yet as I do all my serious photography in the Winter months when the sun is to my liking (read >>: Glass Passion and Color Part II : Exploration and Color). Anyway this prompted a little research on stagecoach stops, especially in Texas resulting in this post.
The Butterfield Overland Mail Trail
The Butterfield Overland Mail Trail was a stagecoach route in the United States, operating from 1857 to 1861. It was a conduit for the passengers and U.S. mail from two eastern termini, Memphis, Tennessee and St. Louis, Missouri, the routes from each eastern terminal met at Fort Smith, Arkansas, and then continued through Indian Territory, Texas, New Mexico, and Arizona, ending in San Francisco, California. On March 3, 1857, Congress under James Buchanan authorized the U.S. postmaster general, Aaron Brown to contract for delivery of the U.S. mail from Saint Louis, Missouri to San Francisco, California. Prior to this advent any U.S. Mail bound for western localities was transported by ship across the Gulf of Mexico to Panama, where it was freighted across the narrow isthmus to the Pacific and put back on a ship which then departed for points in California.
"The routes from each eastern terminal met at Fort Smith, Arkansas, and then continued through Indian Territory, Texas, New Mexico, and Arizona, ending in San Francisco, California."
Through the 1840s and 1850s there was a desire for better communication between the east and west coasts of the United States of America. Though there were several proposals for railroads connecting the two coasts a more immediate realization was an overland mail route across the west. Congress authorized the Postmaster General to contract for mail service from Missouri to California as a means of facilitating more settlement in the west overall. The Post Office Department advertised for bids for an overland mail service on April 20, 1857. Bidders were to propose routes from the Mississippi River westward. (Read more on Wikipedia)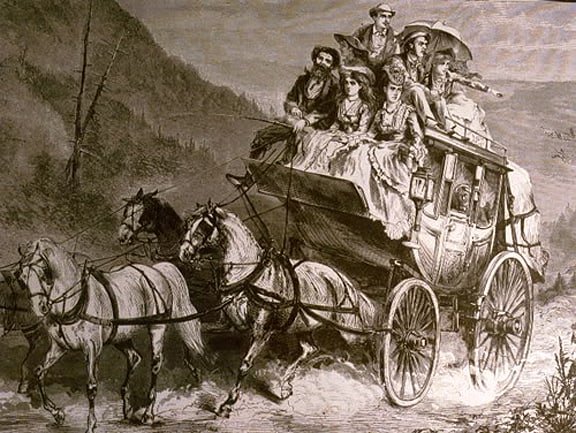 Stagecoach Gallery