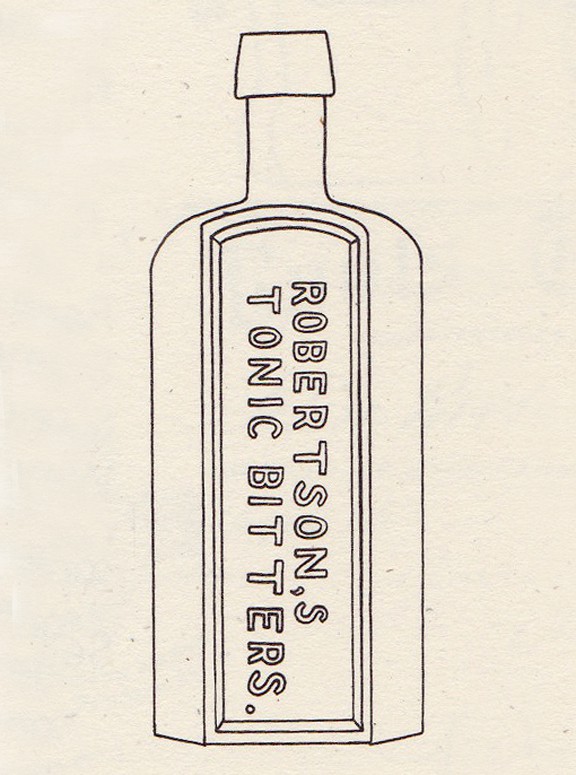 Robertson's Tonic Bitters
Austin, Texas

The pontiled Robertson's Tonic Bitters from Austin, Texas is another tough bitters with reportedly only two known examples in a private collection according to Texas bottle authority Brad Seigler. The rectangular aqua bottle is however listed in the Carlyn Ring and W.C. Ham Bitters Bottles as:
R 80  ROBERTSON'S TONIC BITTERS
ROBERTSON'S / TONIC BITTERS // f // f // f //
Dr. Joseph W. Robertson   Austin, Texas
8 1/2 x 3 1/4 x 1 5/8 (6 1/2)
Rectangular, Aqua (and/or Amber), LTC, Metallic pontil mark, 1 sp, Extremely rare
Texas State Gazette: July 26, 1851: An invaluable remedy for all diseases arising from debilities. These bitters are prepared by the subscribers from a recipe kindly granted them by Dr. Joseph W. Robertson, of Austin, Texas. Dr. R' has for many years used these bitters in his private practice; and their unparalleled success has so increased the demand for them that it is deemed necessary to extend their manufacture and distribute them all over the country. Certificates are necessary: Dr. R's high standing is a sufficient guarantee.
These bitters are manufactured only by the subscribers, by whom they will be constantly kept for sale in quantities to suit purchasers. June 21, '51. Gray & Duffau, Druggists, Austin.
"The old bitters list I was given had it listed as amber, and one of the examples I know of, was described to me as amber. Amber….aqua……I will take one of each please!"
Brad Siegler
As you can see above, there are a few advertising references that clearly state the brand, its merits and a Dr. Joseph R. Robertson who was quite well known in Austin. The house that he once lived in is the oldest extant frame structure in Austin. The building and its surroundings were added to the National Register of Historic Places in 1969. More information is listed below.
Dr. Joseph William Robertson
Joseph William Robertson was born on 22 February 1809 in South Carolina and came to Texas in 1836 and settled in Bastrop County. His wife was Lydia Lee Robertson (1819-1902). They had one child, Lydia M. Robertson (1855 – 1939).
Joseph was a medical doctor, educated at Transylvania University in Lexington, Kentucky. He was a legislator from Bastrop County in the House of Representatives of the 4th Congress of the Republic of Texas. In Austin, he and his family purchased the 21 acres that had belonged to Alphonse Dubois de Saligny, French representative to the Republic of Texas. Here Dr. Robertson raised his family. Robertson was also Mayor of Austin in 1843-44. Dr. Robertson died on 08 August 1870.
The Robertson Family Home – French Legation Museum
The French Legation Museum began in 1841 as a private home built for the French chargé d'affaires, Alphonse Dubois to represent represent the French government in the new Republic of Texas. The property has had two other significant owners including Dr. Joseph Robertson, and the State of Texas who appointed the Daughters of the Republic of Texas the custodians of the property.
Father Odin held ownership of the property until 1847, when the house and surrounding land was sold to Moseley Baker. Baker in turn sold the property to South Carolina native Dr. Joseph W. Robertson in 1848, who hoped to run a girls' school at the house. However, the plans for the academy did not succeed and the house became the Robertson family home. Dr. Robertson and his wife, Lydia Lee (or M) Robertson, their eleven children and nine enslaved workers lived at the site, which became known in Austin as Robertson Hill. The Robertson's daughter, Lydia (Lillie) Robertson, lived in the home her entire life, nearly 84 years. Miss Robertson opened the house to the public, offering tours of what she called the "Old French Embassy." Following the death of Miss Robertson, the house was sold to the state of Texas.
From History of Boggy Creek Farm – Mr. Smith met an untimely death at the hands of a "villainous overseer": "We learn that a fatal difficulty took place between Mr. James Smith, near Austin, and a young Mr. Baker, in which the former received the contents of a pistol of which he died on Saturday night last." (January 25, 1845). (Northern Standard, Clarksville). He was attended, in the 40 hours before death, by his doctor, Joseph Robertson, who bought the French Legation house and 21 acres formerly owned by the French Ambassador to the Republic of Texas, Alphonse Dubois de Saligny. Dr. Robertson also attended the birth of Elizabeth's last child, Susan, who was born in August, 8 months after her father's death (The charge for this delivery was $25.)
Francis  T. Duffau, Druggist – Austin, Texas
Scan of bottle illustration courtesy of Bill Ham