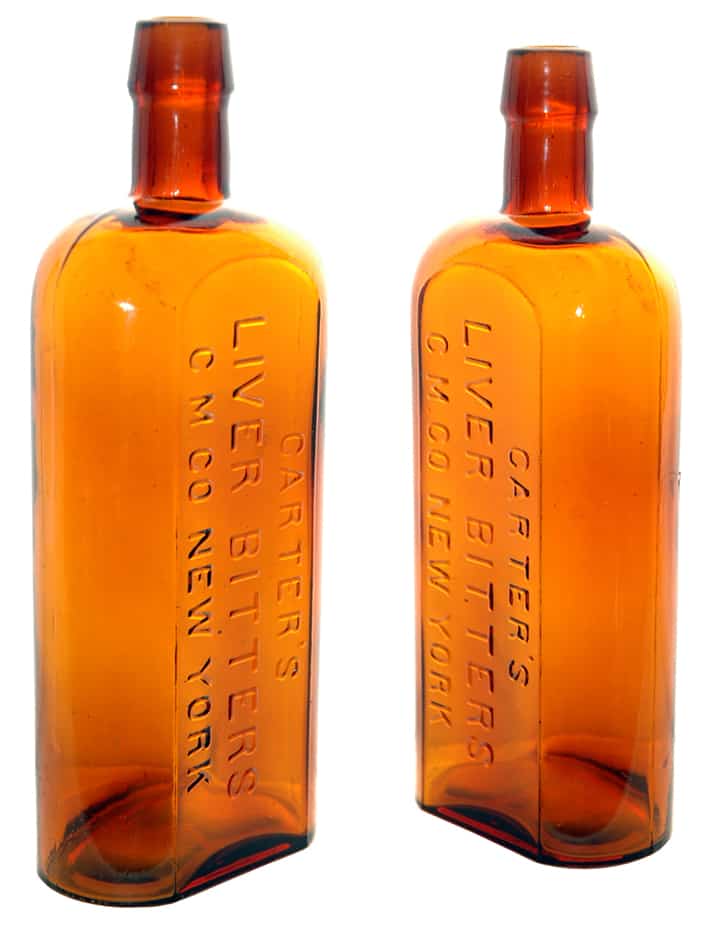 Carter's Liver Bitters and Carter's Little Liver Pills
02 June 2013
C 67  CARTER'S LIVER BITTERS, Circa 1873 – 1899
CARTER'S / LIVER BITTERS / C. M. CO. NEW YORK // c // // b // WT&CO / 1
8 1/2 x 3 1/4 x 2 (6 1/4)
Oval – Philadelphia, Amber, LTC, Tooled lip, Scarce
The Connecticut Courant (Hartford) December 28,1882
Notes: J. P. Carter & Co., 179 South Street, Wholesale Wines Liquors & Bitters in 1873
Drug Catalogs: 1883 M&R, 1885 & 1892 Goodwin, 1887 Meyer BROS & Co., 1894 M&R, 1896-97, JP&K Co., 1899 Jayne & Co., 1901-02 JP&K Co.,
Trade Cards available.

Carter Medicine Company which was incorporated in 1880 by John Samuel Carter of Erie, Pennsylvania. Their most famous products were Carter's Liver Bitters and Carter's Little Liver Pills. Other products included Carter's Back Ache Plasters and Carter's Little Nerve Pill's. John Carter died in 1884 and his son, Samuel Carter took over the business.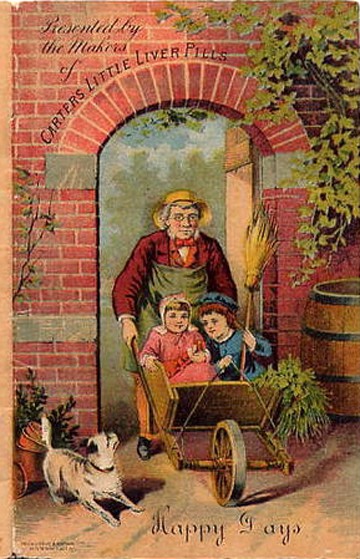 Sarah Bernhardt was one of the first celebrities to endorse popular products of her time and used this as a way to promote herself. In the song, 'Tour de Force,' Dunitz playfully rattles off many commercial products from Pears Soap to Urbana Wine, Carter Liver Bitters to Marmon cars that 'the most famous actress the world has ever known' endorsed in an effort to continue to fill her coffers and satisfy her unbridled spending.
Your grandparents – maybe your parents – couldn't take a trip 50 miles from their home without seeing livid red advertisements of Carter's Little Liver Pills painted on numerous barns and outhouses. This caused a foreigner on a visit here to opine that the American people must be the most constipated in the world.
Carter's advertising material claims to cure all the ills of your liver by waking up "your liver bile." But it isn't that simple. Again their advertisements will say "Laxatives are only makeshifts." This is the most truthful part of the ad.
Carter's Little Liver Pills will not solve the problem of liver conditions, which are usually caused by eating foods that are too rich for the sedentary habits of the eater. They wouldn't cure them even if Carter's pills were Big.
For they, too, are only makeshifts.
Although legal action was slow, hampered by the continued efforts of the Association, most of the patent medicine companies were either forced out of business or required to modify their extravagant claims. In many cases, the process was protracted over long periods of time and cases had to be prosecuted on an individual basis. It reportedly took the government twenty years to get the word "Liver" out of Carter's Little Liver Pills, but in the long run, the patent medicine industry died from an overdose of government regulation.