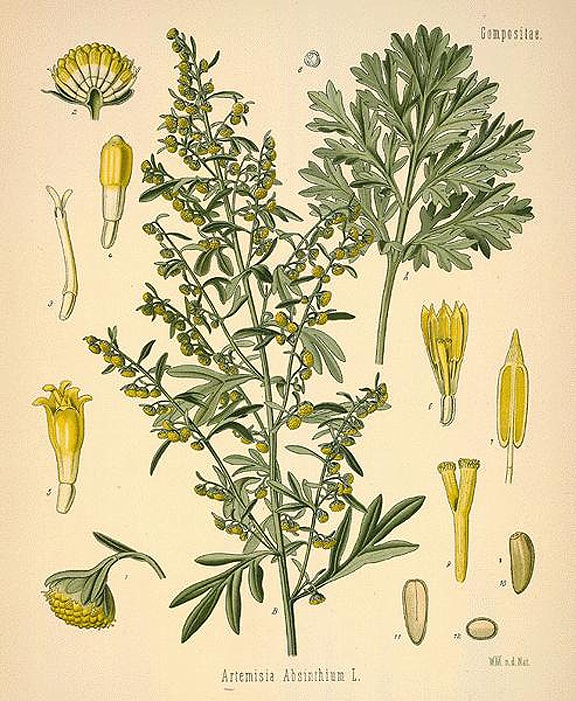 WORMWOOD

– 

Artemisia absinthium
28 May 2013

I was tracking down some Turner Brothers information when I was directed to a full page Turner Brothers advertisement in the 1856 San Francisco City Directory and the half-page, blue, McMillan & Kester advertisement in a later 1871 San Francisco City Directory. If you look closely below where the ads are posted, you will read "Successors to Turner Bros." beneath McMillan & Kester. Interesting.

What are all these Wormwood Bitters?
What really surprised this bitters collector was the three separate listings for Pure Wormwood Bitters, Wormwood Bitters and Spice and Wormwood Bitters in the same McMillan & Kester advertisement. I have never seen any of these products and certainly do not have examples in my collection. To me, this looks like three different wormwood products. Note that Turner Brothers is only selling Wormwood Bitters and Wormwood Cordial, aka Vermouth.
Pure Wormwood Bitters
Wormwood Bitters
Spice and Wormwood Bitters
First of all, Wormwood (known to botanists as Artemisia absinthium) is the key ingredient of the controversial aperitif known as absinthe. A combination of herbs and herbal extracts is required for the delicate balance of the absinthe recipe, and of these herbs, wormwood is the most essential and also the most controversial. Wormwood gives absinthe many of its distinct qualities, and it is used in many other wines and spirits, including bitters and vermouth. Read: Absinthe101.com
Looking in the Carlyn Ring and Bill Ham's Bitters Bottles and Bitters Bottle Supplement, I see a listing for Spice and Wormwood Bitters and no listings for Wormwood Bitters or Pure Wormwood Bitters. Was there only one product with spin-offs or were there three different makers of Wormwood Bitters in San Francisco?
S 165  SPICE AND WORMWOOD BITTERS
Manufactured by Samuel P. Phillips, San Francisco, California
Marysville Daily Herald (Marysville, Calif) July 15, 1856
The Druggist Circular & Chemical Gazette 1884, 1885, 1886, 1887, 1888
OK, so now we have a Samuel P. Phillips, or should it be a Samuel S. as noted as the manufacturer in Ring & Ham (see ad below). Also, who was I. D. Richards & Sons, Boston? This is also at the bottom of the ad.
I do see a listing for a Isaiah D. Richards & Sons in the 1862 Boston City Directory. Read: Two examples of a C.A. Richards 99 Washington St. Boston. I see that Isaiah is the father of Calvin A. Richards. Hmmmm. Boston and San Francisco link?
Just some questions about Wormwood Bitters. I wonder if any of the western collectors can clear this up?