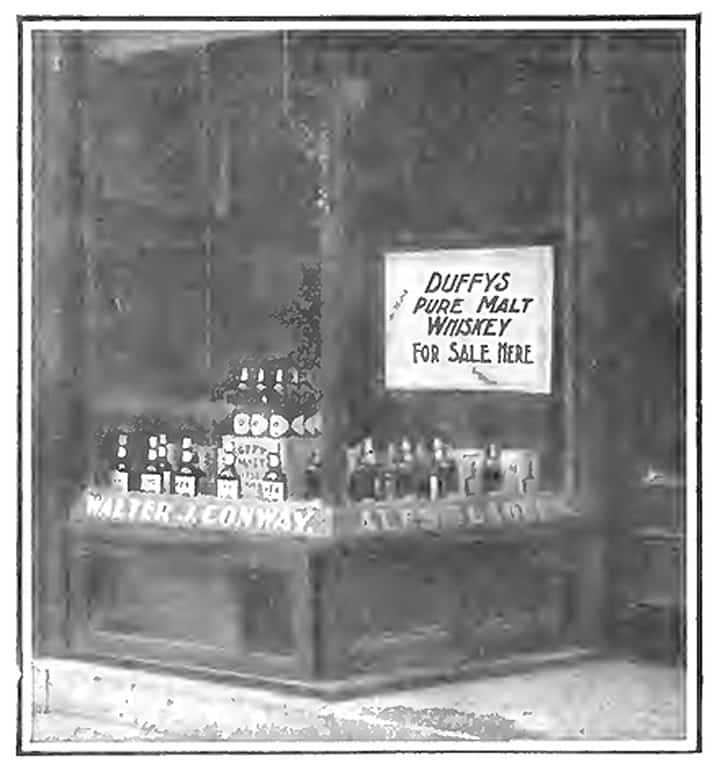 Is it Just a

Duffy's Pure Malt Whiskey

Bottle?
02 May 2013 (R•111914)


I realize that Duffy's Pure Malt Whiskey is probably one of the most common bottles out there. I once received a requested 'care box' of bottles from my father sometime in the middle 1990s that contained a Duffy's. You see, I had asked him for some of his 'extra bottles' to put in my windows. Obviously my pop was not going to give me a yellow Indian Queen or a cobalt blue embossed medicine just for filling a window. He did however include an amber Drakes Plantation Bitters and an amber Fish Bitters. Heck, I didn't even know what a Bitters was at that time! That is another story though. Anyway, I still have the Duffy's. It is pictured to the left and it even has the word 'Baltimore' (also comes with "Rochester") embossed on it, my home town. Yes, common bottles like this can be cherished and important.
I put one of the advertisements below, the one titled "Four Million Cures" on the Peachridge facebook page yesterday prompting a number of responses such as:
"Years ago we dug 60 whole ones and uncounted broken ones in one hole. Someone sure liked it"

– Randy Taylor
"Smashed hundreds of these as a kid"

– Chris Nichols
"Have a pint …a half.. and a mini. thought they weren't worth a sh**. My daddys stuff. … priceless to me"

– Steven Harris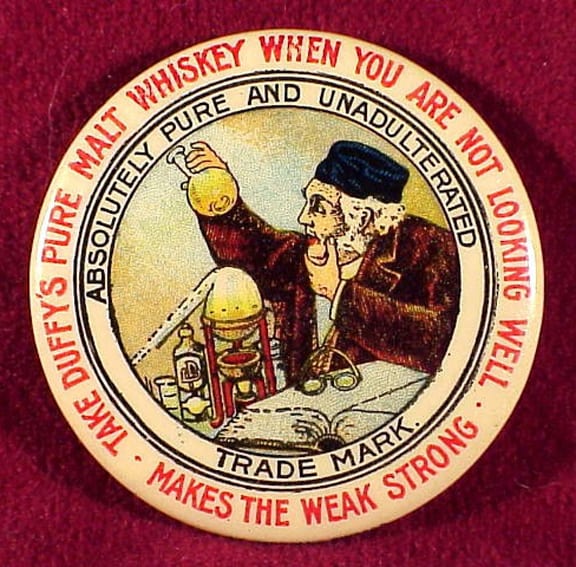 The Most
Preposterous
Medicine Ads Ever?
I just love the Duffy's advertisement below and some of the claims. How in the world were they getting away with this, using a Malt Whiskey as a medicine? I also think they were stretching it a little when they say they have cured four million people of disease. I mean the ad says 3,986, 721. Ha, they are exaggerating! Also, who was counting and how was it recorded? This is precisely why I love this hobby so much!
"Four Million Cures"
"Grip Death Rate Lowered by 40%"
"Vigorous at 119 Years of Age"
"Smart at 102 Years of Age"
The Most
Powerful
Man in World
The advertisement below is great. This guy looks like some deformed mutant though "he owes his Strength and Health to Duffy's Pure Malt Whiskey"
"It is a Form of Food Already Digested"
whattttt?
"Keeps the Old Young – The Young Strong"
"Did a

Medicine

Bottle Change History"
There is an abundance of material already written about this brand and I really do not want to go there. I do however, want to point out that Jack E. Fincham has a brief and really nice Duffy's article in the May | June 2013 issue of the FOHBC Bottles and Extras. Ordinarily I would not provide an article 'free for perusal, certainly from a current issue, but I will make an exception in this case. I am so pleased with the great writers and articles that are in the new and improved Bottles and Extras. Please consider subscribing if you haven't already. Read Article
Some

Great

Bottles
Other

Interesting

Material