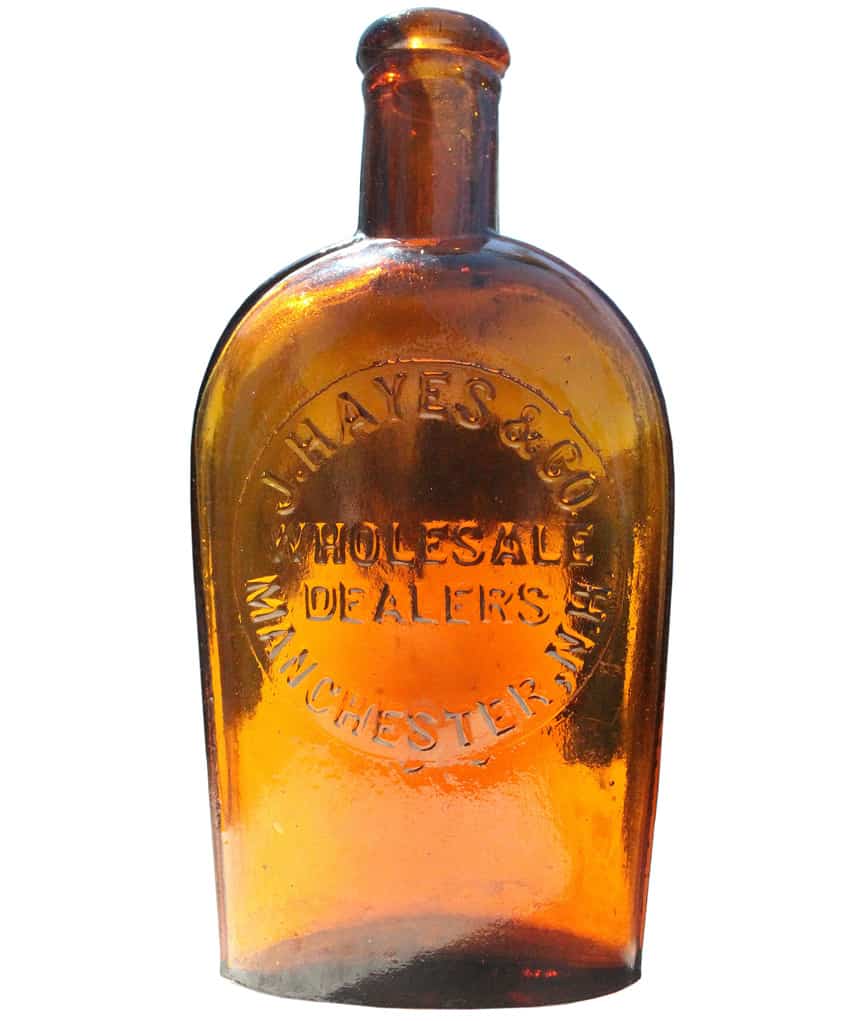 *The Flasks*
J. Hayes & Co. – Manchester, New Hampshire
23 April 2013

Pam Selenak sent me an email link from ebay for a neat little J. HAYES & CO. | WHOLESALE DEALERS | MANCHESTER, NH flask. Pam is the FOHBC Public Relations Director, and of course she is referencing our 2013 FOHBC National Antique Bottle Show this coming July in Manchester.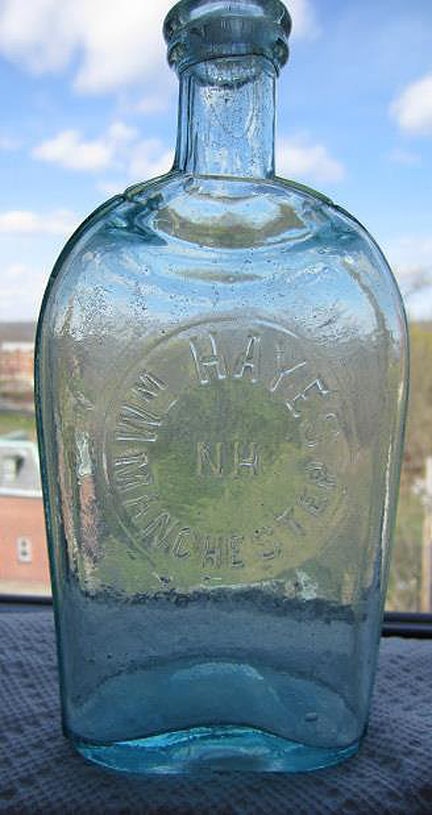 Dana Charlton-Zarro followed up pretty quickly, after I posted the above picture on facebook, with another aqua example of a WM HAYES | MANCHESTER NH. Slightly different embossing. Now we have a William and not a "J" Hayes? I also see that Jeff and Holly Noordsy have sold an excellent example sometime in the past (see below). Jeff even adds "probably blown at the Lyndeboro Glass Works, Lyndeboro, NH". Now we see the "J" stands for "John".
I have always been intrigued by these little pocket flasks. I also really like the embossed circle and concentric graphics that you often see within the circle. Let's see if we can find out about Mr. Hayes. At least I might be able to say I know something about a Manchester flask if anyone asks this coming July.
*Stoneware*
A quick Google search pulls up quite a few stoneware pieces with the HAYES name inscribed in the piece.
The Hayes name is a bit challenging meaning I can not confirm the family lineage with much support material. I do suspect there is a parent Jeremiah Joseph Hayes and the sons are John J. (born in London and died in Manchester) and William. This would correspond with the bottle embossing and the advertisement dates posted.
Posted below you will see some Hayes & Company, Manchester, New Hampshire advertising that I was able to locate.
*Advertising*
We invariably hold the largest stock of Pure Liquors in the state.
*Historical*
Just some cool imagery to help frame my vision and give me some background on Manchester. Manchester is the largest city in the U.S. state of New Hampshire, the tenth largest city in New England, and the largest city in northern New England, an area comprising the states of Maine, New Hampshire, and Vermont. It is in Hillsborough County along the banks of the Merrimack River, which divides the city into eastern and western sections. Manchester is near the northern end of the Northeast megalopolis. As of the 2010 census, the city had a population of 109,565, the most of any city in northern New England. [Wikipedia]