Who is Old Dr. C. W. Hufeland?
"He is famous as the most eminent practical physician of his time in Germany."

I've been getting kind of squirrelly recently with some of these XR bitters that have been popping up on eBay, on digs and at auction houses. Many are one-of-a-kind and of course extremely rare. Here is another that is in heated call-backs now with Glass Works Auctions. The Old Dr. C. W. Hufeland's German Bitters from Philadelphia. I think it was at $7k earlier this evening. Wow. I feel compelled to do some quick research and store this information on the site. This bottle deserves some attention and respect.
The Carlyn Ring and W.C. Ham listing in Bitters Bottles is as follows:
H 207.5   OLD DR. C. W. HUFELAND'S GERMAN BITTERS
OLD DOCTOR / C. W. HUFELAND'S / GERMAN BITTERS // FOR DYSPEPSIA // (motif of man -probably Dr. Hufeland) // PHILAD. A. //
7 1/2 x 1 3/4 (5 1/4) 1/2
Rectangular, Aqua, LTC, Applied mouth, 4 sp, Rough pontil mark, Extremely rare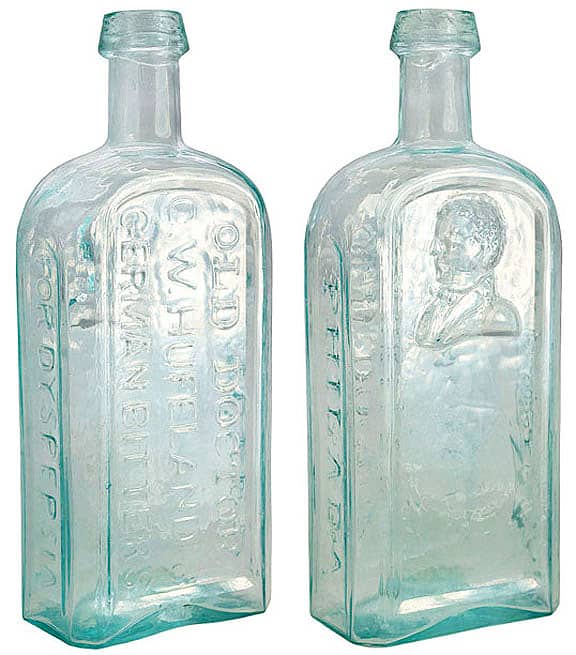 "OLD DOCTOR / C.W. HUFELAND'S / GERMAN BITTERS – FOR DYSPEPSIA" – (bust of man) – "PHILADA", (H-207.5), Pennsylvania, ca. 1840 – 1860, bluish aqua, 7 5/8″h, open pontil, applied tapered collar mouth. Several areas of light milky interior stain exist that would disappear after a couple of days in a tumbler, otherwise pristine perfect. We auctioned this exact bottle in January of 1998. At that time is was considered unique. To our knowledge it remains so today. If you missed out on getting it in 1998, here's a second chance! A 'WINDOW VIEW' HAS BEEN ADDED TO THIS LOT. [Glass Works Auctions write-up for lot]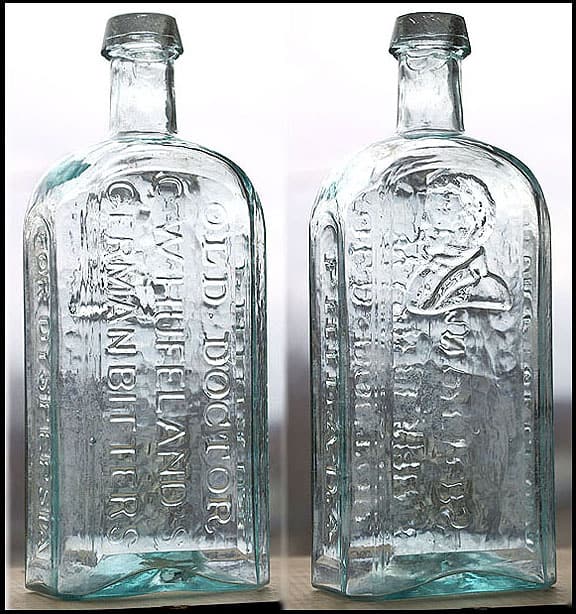 "Art of Prolonging Life"
A online search pulls up almost immediately, the "Art of Prolonging Life" by Christopher William Hufeland. He certainly looks like our man…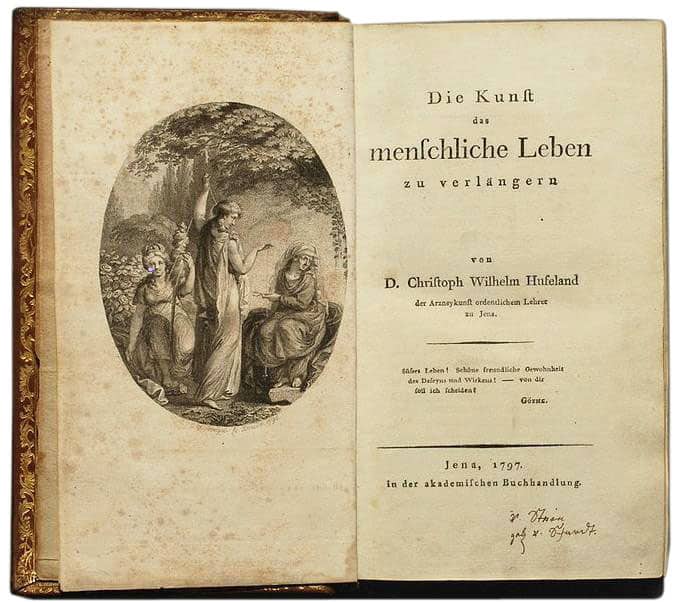 The "Art of Prolonging Life" by Christopher William Hufeland, a philosophic physician and professor of medicine in the University of Jena, is a work enjoying a deserved popularity in Germany, 'where it has gone through several editions. Though translated into English, in 1797, it is but little known in this country, less indeed, as it appeared to the Editor, than its merits deserve; and it is under the hope of being able to fill a vacant niche in popular literature, and restoring to his proper sphere of usefulness an able and accomplished instructor, that the Editor has now undertaken the present edition of his book. In its English costume, and bearing a dedication to George Christopher Lichtenberg, Counsellor of State to his Britannic Majesty, and one of the Professors in the University of Gbttingen, the work was published in two octavo volumes, with respectable and roomy type, short lines, shorter pages, and broad margins, an effectual prohibition to its wide diffusion. The translation bears the impress of a master's hand; it is elegant and exact, and in the Editor's judgment, is the production of the learned author's own pen. Under this belief, the Editor has selected the translation of 1794, with its pure and classic language, for the present volume, in preference to a new translation from a later German edition.

Christopher William Hufeland
Christoph Wilhelm Friedrich Hufeland (12 August 1762, Langensalza – 25 August 1836, Berlin) was a German physician. He is famous as the most eminent practical physician of his time in Germany and as the author of numerous works displaying extensive reading and a cultivated critical faculty.
Hufeland was born at Langensalza, Saxony (now Thuringia) and educated at Weimar, where his father held the office of court physician to the grand duchess. In 1780 he entered the University of Jena, and in the following year went on to Göttingen, where in 1783 he graduated in medicine.
After assisting his father for some years at Weimar, he was called in 1793 to the chair of medicine at Jena, receiving at the same time the positions of court physician and professor of Pathology at Weimar. In 1798 Frederick William III of Prussia granted him the position director of the medical college and generally of state medical affairs at the Charité, in Berlin. He filled the chair of pathology and therapeutics in the University of Berlin, founded in 1809, and in 1810 became councillor of state. In 1823, he was elected a member of the Royal Swedish Academy of Sciences.
In time he became as famous as Goethe, Herder, Schiller, and Wieland in his homeland.
Hufeland was the inventor of the term macrobiotic, was Physician Royal to the King of Prussia, as well as giving medical attention to the following illustrious patients: "Johann Wolfgang Goethe (1749-1832), Johann Gottfried von Herder (1744-1803), Schiller (1739-1805), and Christoph Martin Wieland (1732-1813)."He was also a close friend of Samuel Hahnemann and published many of his original writings in his Journal. He also "joined the Illuminati order at this time, having been introduced to freemasonry in Göttingen in 1783."He also seems to have professed an interest in Chinese Alchemy and methods of extending longevity.
The most widely known of his many writings is the treatise entitled Makrobiotik oder Die Kunst, das menschliche Leben zu verlängern (1796), which was translated into many languages, including in Serbian by Dr. Jovan Stejić in Vienna in 1828. Of his practical works, the System of Practical Medicine (System der praktischen Heilkunde, 1818-1828) is the most elaborate. From 1795 to 1835 he published a Journal der praktischen Arznei und Wundarzneikunde. His autobiography was published in 1863. [Wikipedia]
Stuyvesant Polyclinic formerly the German Dispensary – New York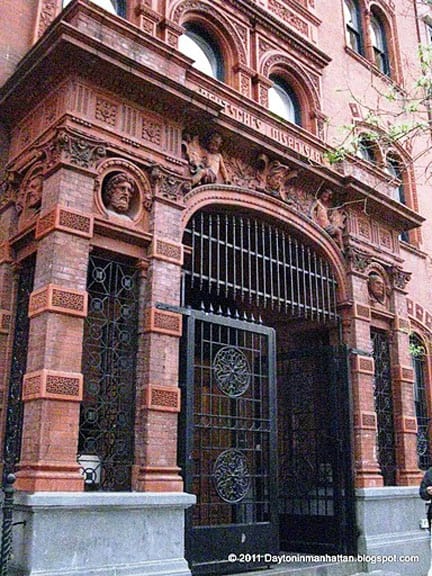 In 1854 the German Society attempted to establish a facility to care for sick German immigrants who could not afford to pay for health care. A small dispensary was formed, although the cost of its maintenance kept it teetering on the edge of extinction.
Finally in 1861, with the help of wealthy philanthropists like August Belmont and dozens of successful German-born businessmen, it was incorporated and five years later became the German Hospital and Dispensary of the City of New York (later to become Lenox Hill Hospital).
The wife of one of the hospital's most active donors, Oswald Ottendorfer, took on medical care for the indigent German population as a passionate cause. In 1880 Anna Ottendorfer gave $68,000 for the construction of a wing devoted to women.
She then turned her sights to establishing a dispensary downtown in Kleindeutchland – or Little Germany. In 1883 Mrs. Ottendorfer searched out an architect and selected German-born William Schickel who produced a robust Italian Renaissance structure in red Philadelphia pressed brick and terra-cotta at No. 137 2nd Avenue – one which, over a century later, the AIA Guide to New York City would call "simultaneously somber and exuberant in its rich molded red-brick and terra-cotta dress."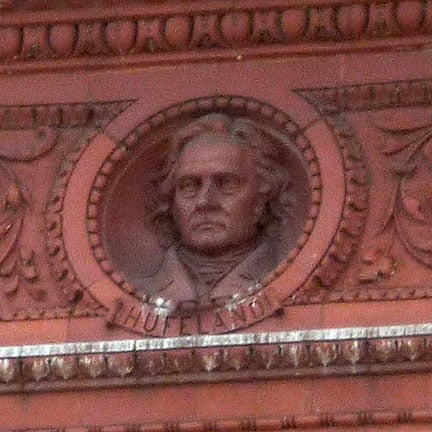 Schickel placed a dramatic portico at the entrance, heavy with terra cotta ornamentation including busts of the Greek physician Galen; Celsius, the Roman medical writer; Asklepius, the Greek god of medicine, and the Greek physician, Hippocrates. Beneath the cornice an elaborate terra cotta frieze incorporated busts of more modern medical figures: British physiologist William Harvey; Swedish biologist Carl von Linne; German scientist and explorer Alexander von Humboldt; and Christoph Wilhelm Hufeland, German physician. [Wikipedia & Daytonian in Manhattan]