"If it looks like a duck, swims like a duck, and quacks like a duck, then it probably is a duck."
Two XR Tombstone Flasks containing Bitters (uh Whiskey)
09 February 2013 (R•122117)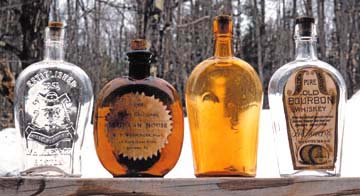 It was nice to see two very similar 'coffin shape' aqua bitters flasks in Heckler Auction 102. Both are extremely rare and have great provenance as both are ex. Elvin Moody collection, ex. Judge E.S. MacKenzie collection and ex. Kris Kernozicky collection. At some point I suppose, they might be ex. Ferdinand Meyer V collection.
What is really great about these 'whiskey looking' flasks is that they contained bitters. Now really, you have got to be kidding me. Corn Juice Bitters….(corn whiskey) and Fitzpatrick's Stomach Bitters. You ever see an Irish medicine in a coffin flask and I will find a duck that barks. The Fitzpatrick's contained 58% proof spirits!
The F 5o, Fitzpatrick's is also not pictured or listed as a bottle in Carlyn Ring and W.C Ham's Bitters Bottles or Bitters Bottle Supplement, The only reference is a trade card with the name of the product and the wholesale agent listing from Louisville, Kentucky. Hmmmnnn…what else is Kentucky known for.
There really are not too many coffin shape bitters bottle flasks. The one that comes to mind first is the well know and popular, western Yerba Buena Bitters.
Read More: Yerba Buena Bitters – A San Francisco Strap Flask
CORN JUICE BITTERS
C 235.2  CORN JUICE BITTERS
CORN JUICE ( au ) / BITTERS ( ad )
8 x 1/4 x 3
Flask – coffin, Aqua, LTC, Applied mouth, Extremely rare
FITZPATRICK'S STOMACH BITTERS
F 50  FITZPATRICK'S STOMACH BITTERS
FITZPATRICK'S ( au ) / 50 CENT / STOMACH / BITTERS
8 x 1/4 x 3
Flask – coffin, Aqua, LTC, Tooled mouth, Extremely rare
Trade Card

: Fitzpatrick's 50 Cent Stomach Bitters, R.A. Robinson & Co., Wholesale Agents, Louisville, KY.

(see below)
L. A. Fitzpatrick
Brig. Gen. Louis Alexander Fitzpatrick, commanding the First Brigade, Arkansas Division, U. C. V., died at his home in Helena, Ark., August 7, 1922, after a long illness. He was born in Houlka, Miss., November 23, 1847; enlisted as private in the Confederate army at the age of sixteen from the Tuscaloosa, Ala., College, in Company C, 31st Mississippi Regiment, surrendering at Greenville, S.C.
Comrade Fitzpatrick moved to Helena, Ark., in 1869, and was prominent in the business circles of that town, being at the head of the Fitzpatrick Drug Company; was city treasurer in 1875-78, director of the St. Francis Levee Board of 1892, and at one time one of the largest land owners in Arkansas. In all the relations of life-as husband and father, as a citizen, a neighbor, and a friend-he measured up to the highest. Through life he clung steadfastly to his patriotic ideals, and his loyalty to the Confederate cause was marked by the unswerving interest he took in all its organizations, attending and taking an active part in reunions. He married Miss Alzena Jacks in 1872, and on August 26, 1922, they would have celebrated their golden anniversary. He is survived by his wife, two daughters. and three sons.
Clothed in his Confederate uniform, which he loved so well, he was laid to rest in the cemetery at Helena.
Obituary of Louis Alexander Fitzpatrick, Helena, Arkansas. Confederate Veteran Magazine, December, 1922.
************************************
L. A. Fitzpatrick, of the firm of Jacks, Fitzpatrick & Co., wholesale druggists at Helena, was born in Chickasaw County, Miss., in November, 1848, and is the son of B. F. and E. J. (Moore) Fitzpatrick, natives of Georgia and Alabama, respectively. The parents moved to Mississippi at quite an early date, but from there went to Mobile, Ala., where they are now living, the father being a cotton factor. L. A. Fitzpatrick's time in youth was divided between assisting on the farm and in attending the common schools. In 1864 he enlisted in the Confederate army, and served one year. In 1868 he came to Helena, Ark., and be. gan clerking in a drug store, but in 1872 he pur. chased an interest in the business of Jacks & Moore. In 1879 the firm title was changed to Jacks & Co., and in 1884 the present company was formed. They carry a stock of goods valued at $25,000, and do an annual business of $200,000. They are the largest dealers in drugs in Helena, and are enjoying a liberal patronage, being careful and reliable men. Mr. Fitzpatrick was married in 1872 to Miss Alzena F. Jacks, a daughter of Dr. T. M. Jacks, and to this union were born seven children living: Katie, Lotta M., Ben. F., L. A., Jr., Hopkins R., Curtis H. and Ione. Mr. Fitzpatrick is a member of the I. O. O. F., and Knights of Pythias, American Legion of Honor, Royal Arcanum and Ladies and Knights of Honor. He held the office of city treasurer for several years, and was also alderman for some time. He is a large stockholder in the Jacks Real Estate Company, the Arkansas Building Association and the Electric Light Company.
‪Biographical and Historical Memoirs of Eastern Arkansas: Comprising a Condensed History of the State, a Number of Biographies of Distinguished Citizens of the Same, a Brief Descriptive History of Each of the Counties Named Herein, and Numerous Biographical Sketches of the Prominent Citizens of Such Counties‬‬ – Goodspeed Publishing Company‬‪, Southern Historical Press, 1890 – Reference – 708 pages
************************************
Richard Alexander Robinson, Sr.
Born Oct. 23, 1817, Winchester City, Virginia, USA, Death: Dec. 9, 1897, Louisville, Jefferson County, Kentucky, USA
Established the wholesale drug company of R. A. Robinson & Co., company evolved into Robinson & Pettet Co. to become one of the largest drug companies in the South.
************************************
Large Fire in LOUISVILLE, Ky., Tuesday, June 13, 1865 – New York Times
A serious fire is progressing here on the promises of R.A. ROBINSON & CO., involving one of the largest stocks of wholesale drugs west of the Alleghanies. Probably the total loss will be from one to two hundred thousand dollars.
Louisville Fifty Years Ago
Eighty one Years Old This Year, THE old drug firm of Robinson-Pettet Co. originated prior to 1840 with William T. Pettet, father of Mrs. R. A. Robinson and Charles H. Pettet. The record shows that he sold his business which had been going on for some years to two of his young clerks, James George, and Arthur Peter, under the firm name of James George Co. Wholesale House in 1846. In 1842 Mr. Robinson took over the interest in the drug house and the name was changed to Peter Robinson. The wholesale drug house as it now continues on Main Street was not opened until 1846, at which time George H. Cary entered the firm which became Robinson, Peter Cary. Four years later Mr. Peter retired and moved to the country and the firm was again changed to Robinson Cary. Later on in 1855 Mr. Cary retired and the firm became R. A. Robinson Co., composed of R. A. Robinson, Henry Chambers and W. Wallace Powers.
Charles H. Pettet, son of the original founder of the house, William H. Pettet, began work with the house at the same time and later was admitted to R.A. ROBINSON the firm. William A. Robinson and Worthington Robinson, sons of R. A. Robinson were admitted to the firm later on, also Henry Tyler Robinson and Richard A. Robinson III, became partners. Charles P. Barton, J. Thomas Schorch, Charles P. Frick, now deceased, were active stockholders for a great many years and with the exception of Mr. Frick are still directors. In 1890 R. A. Robinson retired in his seventy-fourth year, and a corporation was formed entitled the Robinson-Pettet Co. The original directors of the corporation were Charles H. Pettet, William A. Robinson, Worthington Robinson, A. Lee Robinson, Charles P. Barton, Henry Tyler Robinson, and Charles P. Frick. Of the original directors, two are still alive, A. Lee Robinson, and Charles P. Barton; Mr. Barton having been connected with the house for forty-five years and Mr. A. Lee Robinson for nearly forty years. The Present Officers and Directors. The present directors are A. Lee Robinson, president; Charles P. Barton, vice president and treasurer; J. Thomas Schorch, secretary; H. Guy Lyon, cashier; William C. Robertson, assistant secretary. The career of this firm has been remarkable, indicating very able and efficient management and unusual success. It has gone on for many years at the same location. Old residents will perhaps remember the disastrous fire which occurred in this building in 1865. The entire fire department was called out, and successfully confined the fire to the one building occupied by the drug house. It is said that before noon the next day business was again actively resumed.