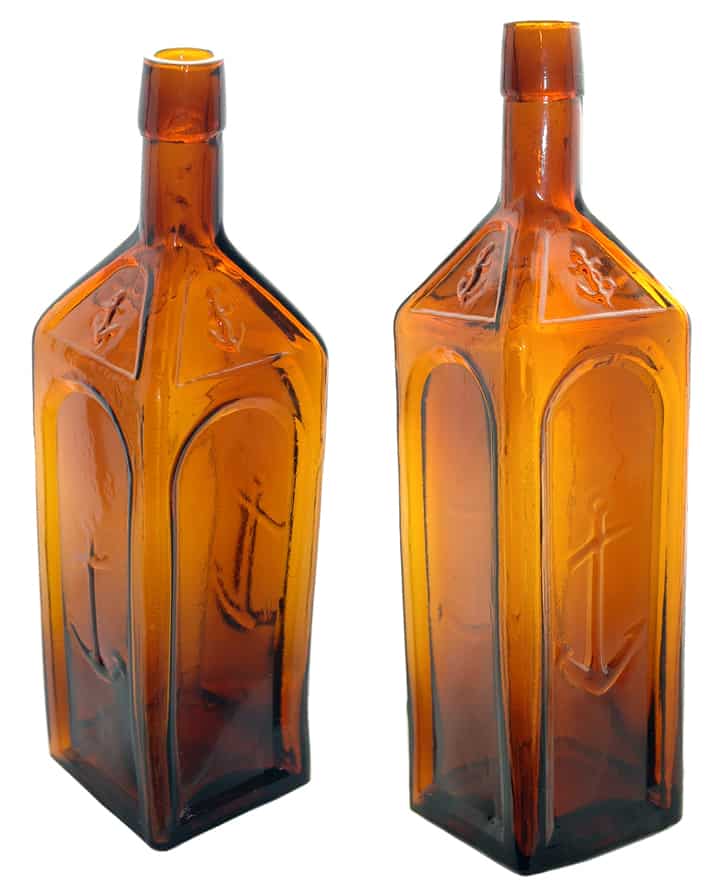 DR. DUNLAP'S ANCHOR BITTERS
10 February 2013 (R•082314)

I saw this really nice example of a trade card (see below) on ebay for Dr. Dunlap's Anchor Bitters which reminded me of my bottle (see above) with the many cool and pronounced anchor embossings that cover the bottle. Now you will not find the word 'BITTERS' or any other copy embossed on the bottle but, boy-oh-boy is this a bitters product.
One of the greatest Dr. Dunlap's examples I have ever seen was sold by Ed and Kathy Gray on their GreatAntiqueBottles.com web site some years back. Fully labeled plus a tax label to boot. With the Gray's usually killer photography, this was a real catch for someone. Their pictures are represented below.
It looks like these Dr. Dunlap's were manufactured and sold by Arctic Manufacturing Company in Minneapolis around 1880. They most likely changed their name to Arctic Cracker and Spice Company by 1885 as noted in the directory listings at the bottom of this post. I am trying to find out if earlier examples were from Grand Rapids as Carlyn Ring and W.C. Ham note in Bitters Bottles (see below).
D 122

 DUNLAP'S ANCHOR BITTERS
Circa 1880 – 1885
L…Dr. Dunlap's motif Anchor Bitters / motif anchor // sp //motif anchor // motif anchor // motif anchor // motif anchor // motif anchor //
10 1/8 x 2 7/8 x 2 13/16 (7 1/4) 3/8
Slightly rectangular, Amber, LTC, Applied mouth, 4 sp
Note: Labels under anchor and on side panels: Dr. Dunlop's Bitters, Grand Rapids, Mich. A smaller horizontal peened out anchor can be seen above the large anchor on some examples.
Minneapolis Directory 1884:
Moved from Grand Rapids, Michigan to Minneapolis, Minnesota (?)

. Mason, Mendel & Co., jobbers of teas, coffees and cigars, No. 17 Fourth St., S. Minneapolis, Minn., manufactured Barbour's Flavoring Extracts, Foaming Syrups, Dr. Dunlap's Anchor Bitters, Baking Powder's, Blueings, Inks, and Stove Polish, Druggists and Grocers supplies, Northwest agents for Muzzy's Sun Gloss and Corn Starch.