Dr. Walker's
California
Vinegar Bitters
"This 'Bitters' is one of the nastiest nostrums, introduced and largely sold by the most extensive and brazen advertising under the false pretense of being free from alcohol."
Walker's Vinegar Bitters

bottled in

Pastel Shades

to "

conceal the mess"
03 January 2013 (R•081714- labeled Walkers) (R•110814 – Triangular Sign) (R•041919 better ad above)

There are a number of accounts of how Walker's Vinegar Bitters got its start in California, one being that the so-called "Dr." J. (Joseph) Walker started out as a charcoal peddler in the streets of New York and followed miners west as a cook around 1849. With no luck mining, he probably concocted the basics for his original formula during his 'cooking' days. He next appears as a penniless inhabitant of Stockton, California in the 1850's.
It looks like 'three times' is the charm here with his development and marketing of the Walker's bitters product which he patented in 1861. He also, somehow magically, becomes a "Dr." during the 1850's.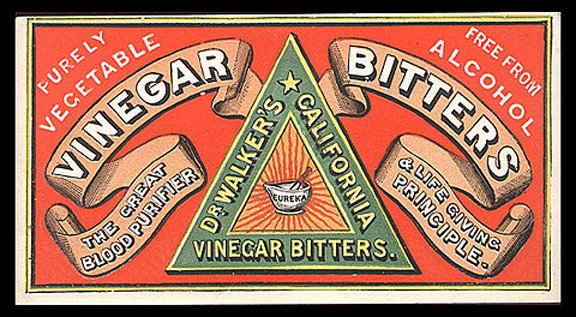 The second interesting note is from a Dr. Gibbon's account of the origin of Walker's Vinegar Bitters, a specimen of which we analyzed several years ago, and found to contain 5 per cent of alcohol!: –
"This 'Bitters' is one of the nastiest nostrums, introduced and largely sold by the most extensive and brazen advertising under the false pretense of being free from alcohol. It originated with a cook of a party which traveled overland as a mining company to California in 1849; he settled in Calaveras county, and having no success as a miner, he turned his attention to the bitter qualities of the herbs growing about him, and came to San Francisco with the idea of making and vending a nostrum to be called 'Indian Vegetable Bitters.' He fell in with a an enterprising druggist, who saw money in the project, and joined him. At the suggestion of the latter, the 'Indian' was struck out, and the concoction got sour by fermentation, it was concluded to call it 'Vinegar Bitters' and to identify it with the temperance movement. The native herbs which became rather troublesome to collect, were discarded, and aloes, being cheap to bitter, were substituted. "nine sick people out of ten' said the druggist, 'will be cured by purging.' Wherefore the aloes and Glauber's salt. So the cook turned doctor, the decoction became sour and of California instead of Indian paternity, and 'Doctor Walker's Vinegar Bitters; began its career in the newspapers and on the shelves of the drug-stores.'" The statement has recently been made that "Vinegar Bitters" is now manufactured of sour beer and aloes. (The Household Monitor of Health by John Harvey Kellogg – 1891)
"initially peddled the bottles out of a basket on various streets. Only a dozen years later, Walker is worth between one and three million dollars."
"Dr." Walker started his bitters business located at the corner of American and Channel Streets in Stockton, California. It was here that he concocted the mess which he called Vinegar Bitters. Apparently a Mrs. Brenton who had an interesting relationship with Walker, initially peddled the bottles out of a basket on various streets. Only a dozen years later, Walker is worth between one and three million dollars. "Dr." Walker was not ungrateful and Mrs. Brenton became the face of Vinegar Bitters, although whether she contributed to the vinegar or the bitters to the composition does not appear.
While "Dr." Walker devised his fermented Vinegar Bitters in San Francisco in 1849. Richard H. McDonald, a San Francisco druggist, promoted the medicine nationally, and went into partnership with John Campbell Spence to form R.H. McDonald & Company to produce and market it. This company had London, New York and San Francisco offices. Later Walker apparently moved to New York. Earlier he actually had Indians gather herbs in Knights Ferry and shipped to him in Stockton. He advertised his bitters 'free from alcohol' but used brandy as a preservative. He was struck by a locomotive and killed around 1877. His estate was valued at several million dollars.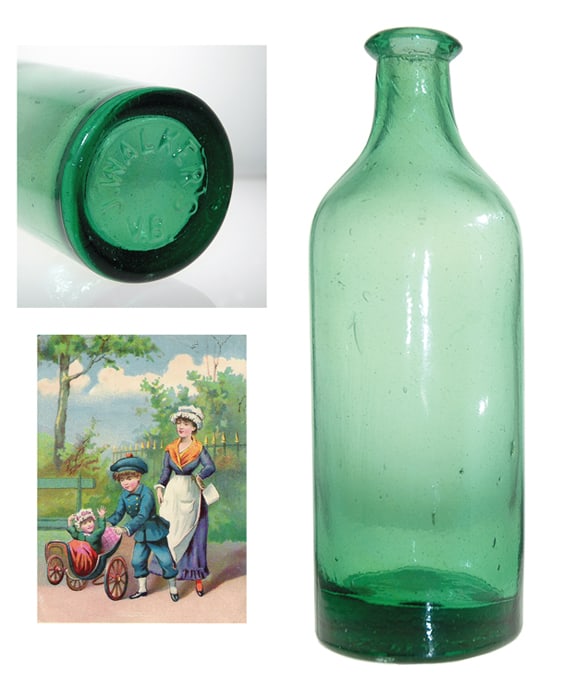 The Carlyn Ring and W.C. Ham listing in Bitters Bottles is as follows:
W 11

 DR. WALKER'S VINEGAR BITTERS, Circa 1869 –
L…Dr. Walker's California Vinegar Bitters
// b // J. WALKER'S / V.B.
8 3/8 x 3 (5 3/4)
Round, LTC, Applied mouth and Tooled lip, Aqua Common: LTCR Green Scarce
An American bitters exported for sale to the Canadian Province of Quebec in 1897.
As far as collectibility and desirability, the Walker's bottles are simple, sexy and come in stunning pastel shades. I suppose "Dr" Walker needed something 'pretty', for the women, to conceal the foul tasting mess, as some called it. within the bottle.
Devoted to Temperance, Health and Economy