This is hopefully the first of many new antique bottle and glass postings by guest writers who have a talent with words, story-telling, photography and digital technology. I asked Eric first because I simply think he is near the best of the best of persons that I have recently met online who have mastered these components.
The Pickin's of Lancaster County
By Eric Richter
I once had an antique store in Florida for 11 years. The first rule I learned right off and never forgot was that you make your money buying.
By 'Pickin.'
Just like the Darwinian theory, "Adapt or Die,' for the next 11 years I would learn to adapt by 'Picking,' not only to survive, but to earn a good living as well.
Which I did.
Now I live in Lancaster County, Pennsylvania, founded in 1731. The pickin's here are amazing; everything you could imagine, from antiques, historical glass, bottles, and everything else. I love it all, but especially the old glass and tend to focus on that. I encounter and pick all kinds of old glass, but bottles are my favorites. Just like a lot of bottle collectors, I really love the gloppy, most primitive bottles I can find. I'll pick anything that's a deal, but I've found that demijohns are some of the easiest and most beautiful examples of crude old bottles that can be had for the least money.
The Three Stooges Apple Green Demijohn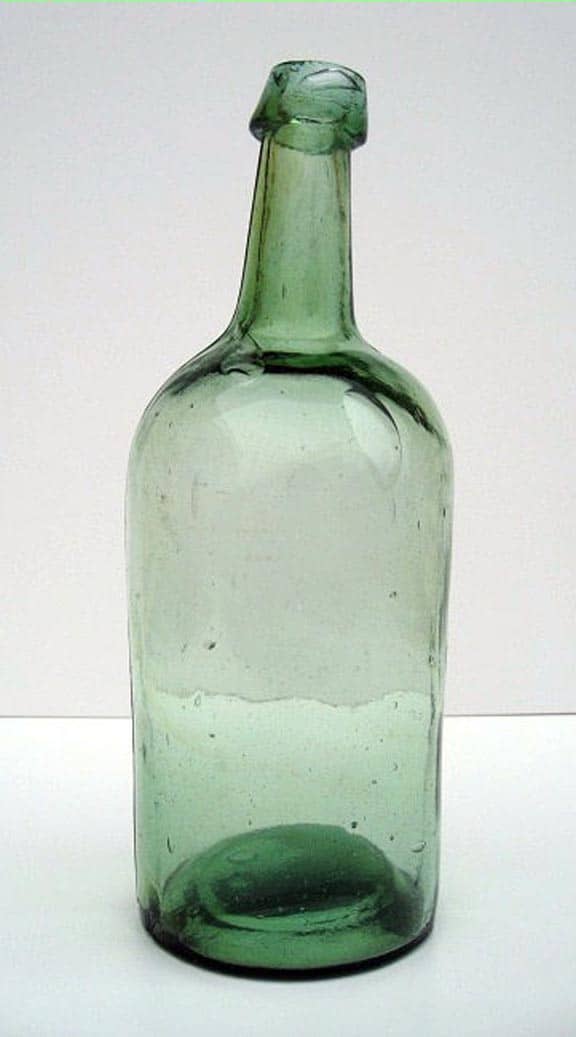 I have just over 100 bottles, not really a large collection by any means, but one thing I've never felt the need to do was name a bottle. Shown above is one I have named, now known as 'The Three Stooges Demi.'
One day, after making my rounds through an antique store and coming to the counter to check out, I turned and looked at the first booth I started in to see an apple green demi sitting on a top shelf. No, it definitely wasn't there when I began my rounds. The dealer standing there and pulling more items out of boxes proved that. Talk about being in the right place at the right time. I walked over and picked up the half gallon demijohn to behold the most sloppy and crooked excuse for a bottle I could imagine. The color alone was what drew my attention, but the bubbles and glop were fantastic. When I held it and noticed what a mess the whole bottle was, I could only think of three men with brooms, cleaning up the glass works well after quittin' time and the manager needing some demi bottles to fill a quick order, asking them to get busy. I imagined the glasshouse owner being concerned:
"Are we going to get that demijohn order out on time?"
"Don't worry boss, I got three new men working on it now."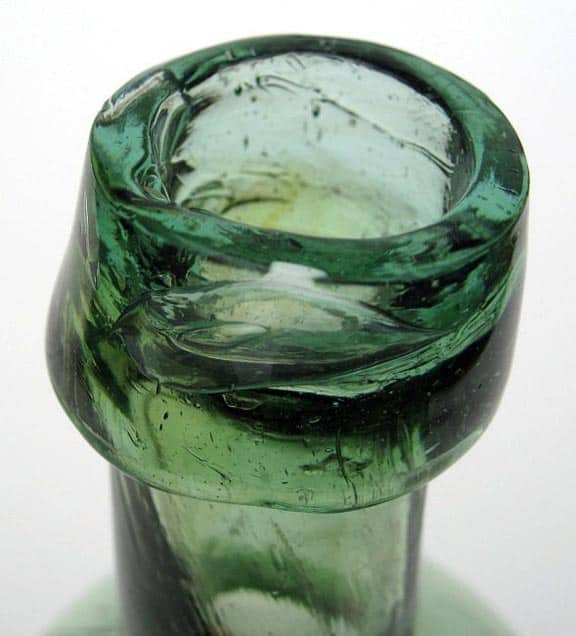 The top (shown above) is so crooked, and such a mess, that the bottle appears 'drunk.' Definitely a Moe, Larry, and Curly job.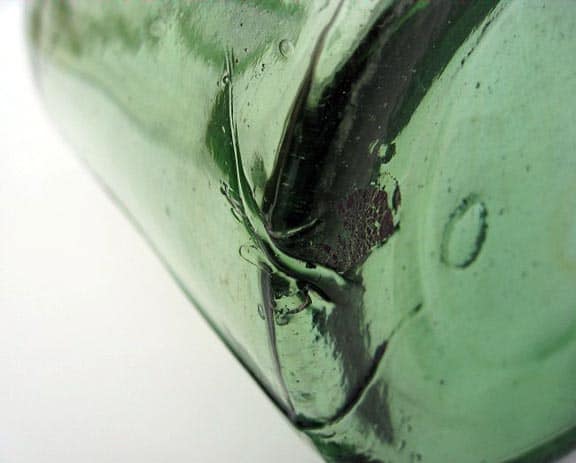 The side of the base (shown above) has creases and iron residue marks from the sloppy removal from the snap case. This is not often seen, and proves that the snap case tool could and did leave noticeable marks on the post pontil bottles. The demijohn was priced at fifty clams, and hadn't been set out for more than 2 minutes, but I managed to haggle it down to just thirty and bought it with a smile.
The Ten Pounder Demijohn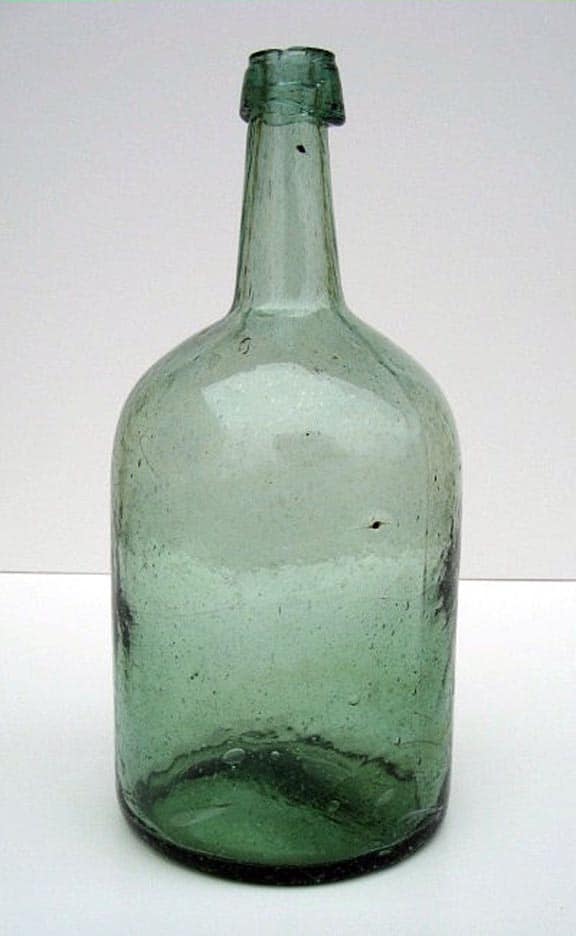 This is another one I had to give a name to. There are rare, heavy, Masonic flasks collectors refer to as 'Two pounders.' But what about the gloppiest one gallon, almost 1/3 inch thick dirty light green demijohn that weighs over 7 pounds? When picked up it feels like ten, hence the name. The glass is so crude and so full of bubbles and whittle and rocks, I've never seen the like of it. It's one of my favorite demijohns.
The top (shown above) is almost just as much of a mess as the 3 Stooges applied top, but at least this one's on straight. This picture could be in any bottle dictionary illustrating the meaning to the word 'Glop.'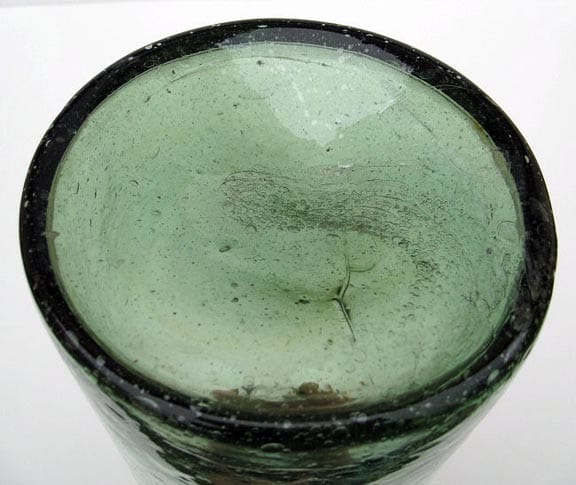 The base (shown above) is almost pontilled, it has been pushed up quite a bit, but there's no real mark I can find. It's a 'close to pontil,' or maybe it actually is, but the rod came off clean. The upkick is not part of the 2 part mold and is way off center. This was a very quiet steal of a deal pickin' and was had for only twenty beans in a local shop. Not only was it heavy, I was exhausted with glee lugging it out to my car.
The Biggest and Best Pick of All Three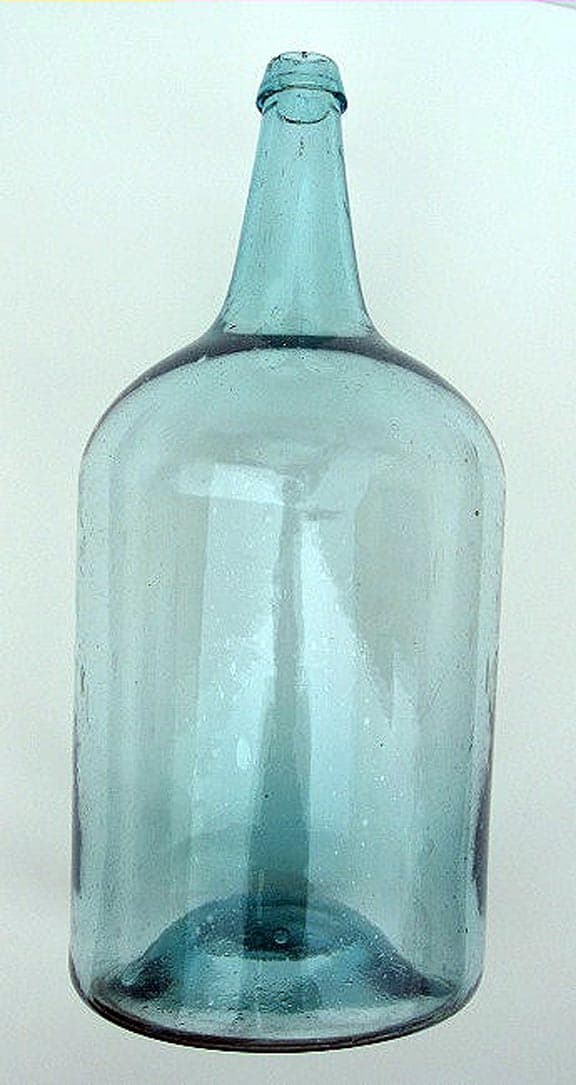 This is the biggest free blown demijohn I have encountered in my pickin's. The bottle is perfect and clean and though pictured on it's side, it stands very crooked. It's approximately 20.5″ high and 9″ across. I was in an antique store that had taken in a consignment of a bunch of large bottles. They scattered them throughout the store, it was like an Easter egg hunt for me. I found most were mid 20th Century water bottles, very over-priced, most were marked $200.00. I knew some of them were nice and collectible, but somebody was definitely shooting in the dark when it came to pricing them. None of the ones I looked at were worth 200 clams. Then, in an upstairs room, there was this monster, the only real different one in the whole crowd of them. I couldn't believe my eyes, a four gallon free blown pontilled demi in immaculate condition almost 2 feet tall. I picked it up and was very curious to see the price tag. What? $35.00? I couldn't believe it. Here was the best of the bunch being literally given away. Not only that, while waiting at the counter to pay for it, a woman behind me commented what a beautiful bottle it was. I was given 10% off and had this big beauty for $31.50. Wow.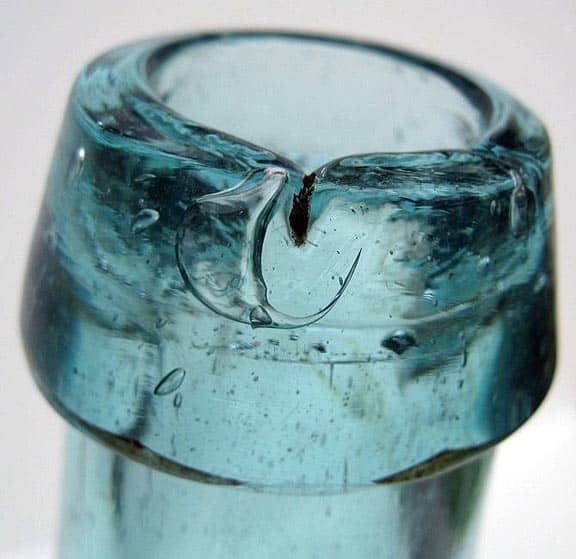 The top of this huge demi is as perfect and primitive as you could want, not a chip, all glop.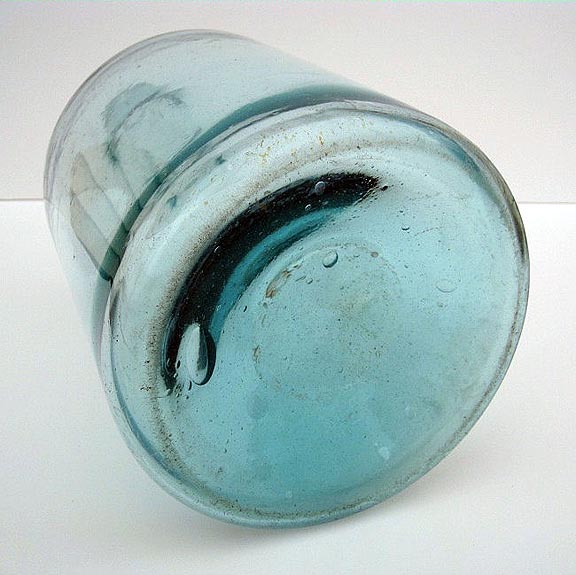 The base is amazing, the 'sticky ball' pontil is bigger than my fist. I would date this one from anywhere from 1840's to 1860. One of my biggest bottle 'Picks' ever.
The coolest thing about Pickin' is I never know what I'll run into, and I love that thrill of a real score.
It's like a treasure hunt everytime.
---
Eric Richter
I've always had a passion for exploring and a love of history and have always collected something. It all started in 1975, when I was 10 years old and saw the movie Jaws. Not long after, I saw my first 'Monster' Megalodon fossil shark tooth. The result of that was 15 plus years spent diving the Gulf of Mexico and Florida rivers for fossils, shark teeth, large woolly mammoth teeth and bones, Indian artifacts and becoming both a fossil and antique dealer.
Visit Eric's web site: 1780Farmhouse.com