I received some interesting communications and pictures recently from Danny Catherino up in Philadelphia. I am going to leave the e-mails and pictures alone for the most part. I find these images and Danny really interesting. Obviously not the best shots, Danny knows this, but Wow-oh Wow-does he have some nice bottles and passion to collect. Enjoy! Thanks Danny.
DANNY CATHERINO

and his
GREAT BOTTLE HOARD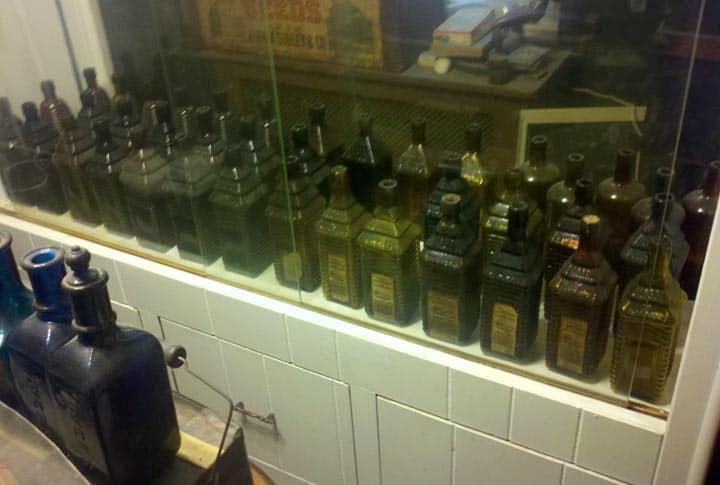 Was in a hurry. Hope all went thru. Not selling but I'd like to know about the Leighton's and Osbourns. Ham (Bill) said mebbe unique but that was a couple yrs back. I would entertain offers or better yet trades for colors of barrels or Drakes etc I don't have. Have 32 different Drakes and 28 different barrels. Or mebbe an op soda or better Philly soda..Bitters are my first love tho…not close to u but hey….im just a working man. Lemme kno if all went thru. Info on swaps for those two etc danny ps i admire u and your collection.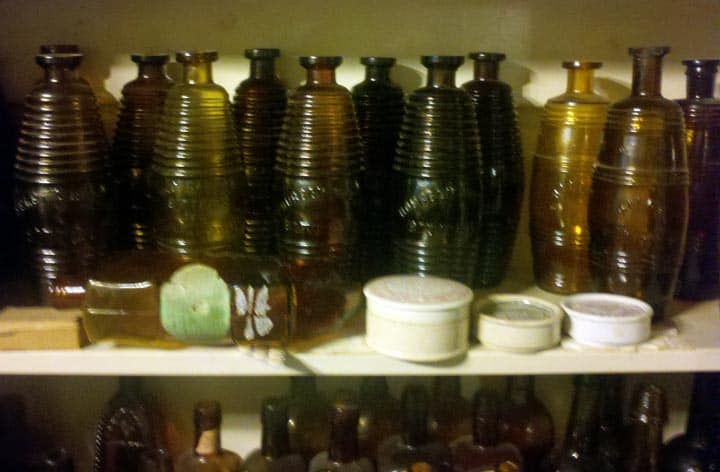 ABOUT DANNY
Ok…live in philadelphia…collecting for 41 years…since I was 11…was a charter member of the old Philadelphia Bottle Club As, mascot (lol) and librarian from 1972/ 1977. Took time off for college…got away from things as coming from an all boys school i noticed girls!!! Lol. Started collecting again in 1988..mainly runs of bitters..back when youd get a labeled barrel and the seller would tell u u could scrape if off to see the color better. U remember…before puces and salmons and gasolines,etc… did all the eastern shows and saved up money for Heckler, Chuck Moore, Harmer Rooke, Glass Works…it was passion…love of the feel….still is. Condition doesn't bother me if its a color I need. Bought bitters and labels, then ebay and then, when i seemed to be outgrowing bitters a bell telephone lineman could afford, I switched to sodas. But I've always bought color no matter the catagory. Never dug..heck, i dug pole holes for a living!! Didn't wanna do it on my time off. Raised a family, bought what i could afford…when all the under the table stuff got rampant I kinda stopped setting up at shows, tho i do hit York every year….met Mr Watson (Richard) fixing his phone!! Told him when all the other lil guys were holding playboy, i was reading his book!! Haha. But true. Well, thats post laundry, pre food shopping cliff notes version. Always held my stewardship w/glass highly…pieces of a rainbow, I always said. If it looked like jolly rancher candy, I wanted it…whether $5. Or $5,000!!! What I can afford I keep pix of…dream of a universal color chart. My fav color is, depending on yer view..that prussian/steel/peacock blue..like the albany glassworks. If u bought yer flint fish from Jim (Hagenbuch), it was mine…one I had to sell for money in mid nineties…anything else,a sk away!! ..
There r folks who love me and some not so much but its cuz i dont lie. Nor shill. Like a couple, um, respected members of the soda/flair lip community.of all, and Norman (Heckler) doesn't count cause I love Norman, Wichmann (Jeff) is by far my favorite. Course, I've been friends with Fran Mikalonis, Chuck Moore and Brad Francis so…my sense is not always on target!!! And i wont mention the old proprietor from penna of the galleria and that magazine…makes me feel dirty thinking of him. Great glass, tho…..lol. Danny. Cat