DAVID JACKSON and his APPLIED SEAL BOTTLES
09 December 2012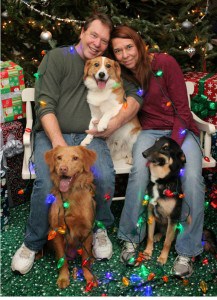 I really like it when I see David Jackson posting pictures from his collection. Recently David has been primarily posting pictures of his applied seal bottles over at Bottle Collectors on facebook.
David and Jo Jackson are fixtures at most of the mid-Atlantic bottle shows and represent a power couple in bottle collecting. I thought the Jackson's were primarily collecting Casper Co. Carolina whiskey cylinders and go withs. It seems that somewhere down the road recently they expanded into applied seals. I thought it would be nice to group and look at a few of their pictures.
I also like their facebook profile Christmas picture above. What a great picture! Elizabeth and I should do one with our six dogs. That would be something as our dogs range in size from a miniature Dachshund to a Great Pyrenees.
David also recently posted on facebook:
"Please help me with my applied seal collection. Paying super prices for super bottles!"
There is an additional method of embossed labeling which was used in the 17th century and continued into the 19th century. That method involves the use of a slug or glob of molten glass added to the outside of the bottle. After the bottle is formed, but still hot, a hot glass slug is placed on the side of the bottle, usually on the shoulder or high on the side, and then formed flat against the bottle with a tool, that is inscribed with letters or a symbol. This produces a round or oval glass form, attached to the bottle, with the desired words or symbol permanently visible. These embossed slugs are referred to as seals or applied seals. The application of the seal is permanent to the bottle and cannot be removed without damaging the bottle.