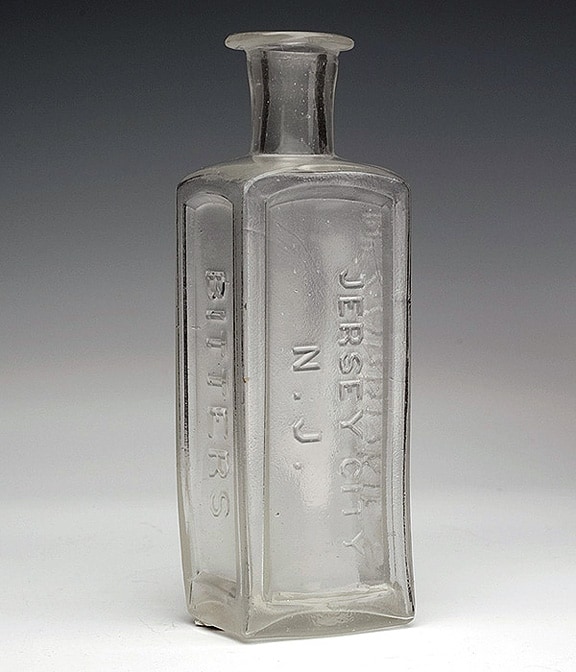 Dr Zabriskie's Bitters – Jersey City, New Jersey
17 November 2012 (R•022518)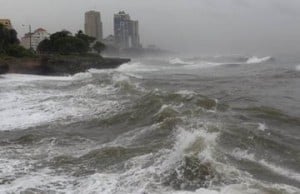 New Jersey has certainly been in the news of late with the terrible destruction from Hurricane Sandy which has been just tragic. I now see that the inane show Jersey Shore has run its course too. What a shame. New Jersey, you are on our minds.
With that said, I was pleasantly surprised to see a bitters brand and bottle that I was not familiar with in John Pastor's American Glass Gallery Auction #9. This was the Dr. Zabriskie's Bitters from Jersey City. Johns write-up:
"Dr Zabriskie's – Bitters – Jersey City / N. J.", America, 1840 – 1855. Moonstone, rectangular with indented panels, a very crude, likely applied, thin flanged mouth – solid glass tipped pontil scar, ht. 6", virtually attic mint condition. R/H #Z1. An extremely rare bitters, and probably quite early, in a color that is seldom seen except on rare occasions in a handful of early flasks. Believed to be only a handful of examples (less than half dozen), in any condition known to exist.
The Carlyn Ring and W.C. Ham listing in Bitters Bottles Supplement is as follows:
Z1

 DR. ZABRISKIE'S BITTERS
DR ZABRISKIES // f // BITTERS // JERSEY CITY / N.J. //
6 3/4 x 2 1/4 (6 1/8) 3/8
Square, FM, 3 sp, Clear with moonstone tone, Extremely rare
T. H. Zabriskie & Sons, 122 Deuce Street, Brooklyn, N.Y., 176 Washington Street   Courtland, N.Y.
Also manufacturers of Zabriskie's Polish Liniment
Only 3 or 4 known examples, all of which were dug from a privy in Northern New Jersey in the mid 1990's.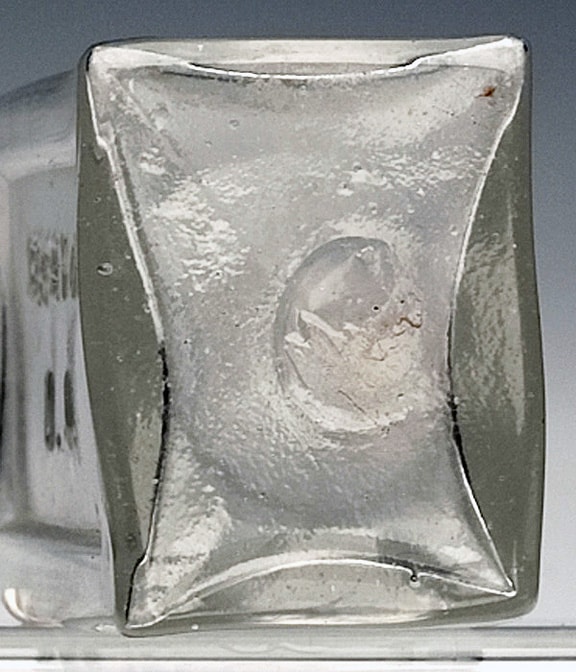 Zabriskie is certainly a unique Polish name, at least to me. Searching online, I see that New Jersey and New York is the epicenter for the Zabriskie name. I was quite amazed to see the name in posts dating from the 1600s to present day. Obviously a strong family name with generations of history. A few snippets of potential information are posted below.
Added new communication below on 26 November 2012
Hi, My buddy Connor sent me a link showing me that one of the Zabriskie Bitters from Jersey City was at auction. One of my digging partners and myself had the pleasure of digging all three of those that exist in one outhouse pit in Jersey City. They are made of flint glass which give them that not so clear appearance. They were a lot worse before I cleaned them. According to the map we were using, there was a flint glass works at the end of the street the pit was on. I'm almost sure the bottles would have been made right there. Also, Dr. Zabriskie lived right on the same street. Thought you might like to know some of the back story from those great bottles.-Tom.
What Zabriskie are we talking about?


Polish Roots – 
The Polish People of Passaic
There is no authentic record of, first Polish settlement in Passaic, which was settled by wealthy Dutch farmers as early as 1679. However, one of the earliest Polish land owners in the area was the Zabriskie family, which claims descent from Olbracht Zaborowski who emigrated from Prussia to New Amsterdam in 1662. There is no record of the exact time when the family took up residence in Passaic, but deeds recorded in the land office for Passaic County at Paterson, New Jersey, reveal purchases of land in Passaic by Henry J. Zabriskie in 1816, by Christian B. Zabriskie in 1824, and by Abraham Zabriskie in 1832. At the time Passaic was still a predominantly agricultural and commercial village.
Abraham Zabriskie built a dock in Passaic and operated a fleet of boats sailing to New York. He tried to improve the navigation facilities of the Passaic River and spent fifty thousand dollars for this purpose. The project was unsuccessful and brought about his financial ruin.
Another member of the family, Dr. John B. Zabriskie, was licensed to practice medicine and surgery in New Jersey on November 4, 1826. Unable to make a success of his practice, he moved to New York and later settled in Jersey City.
Still another descendant, Christian B. Zabriskie, took part in the planning of a bridge to be erected at some point between Zabriskie's Landing and the Dundee Dam before the Civil War, but the undertaking proved a failure.
Christian A. Zabriskie, who was born March 14, 1829, was considered one of the oldest residents of Passaic.
John C. Zabriskie, also from Passaic, took part in the Civil War.
The Zabriskie Tenant House
The Zabriskie Tenant House was an historic house on Dunkerhook Road in Paramus, New Jersey. The Zabriskie family built the home to house their slaves, who remained tenants even after they were liberated. It was one of the few structures left in New Jersey directly related to slavery in the state. The house was added to the National Register of Historic Places on July 24, 1984.
A proposal to demolish the house and subdivide the land for housing development was approved by the Paramus Planning Board in late April, 2011, and the house was scheduled to be demolished in June, 2011. Local historians and preservationists had worked out a plan to move the house to Bergen Community College for an educational adaptive reuse, a plan supported by the County's Board of Chosen Freeholders. The county was in the process petitioning the state for funds to move and rehabilitate the structure when on 13 July 2012, the developer Sal Petruzella demolished the Zabriskie Tenant House with no warning or indication to the preservation community.
Westwood in 1894
January 5, 1894: Dr. Zabriskie has begun excavating for his new building.
February 9, 1894: Dr. Zabriskie's new building has been raised and will be pushed to completion. Westwood will then have what it has needed for a long time: a drug store.
April 27, 1894: J.W. Wardell, a druggist from Closter, has leased Dr. Zabriskie's new building and will open a drug store.
Cornelius Zabriskie
Cornelius Zabriskie, banker, born in that part of Bergen county, N. J., known as Cherry Hill, Feb. 24, 1839, is a son of the late David A. Zabriskie, a prominent and influential citizen and great grandson of a paymaster in the Continental army; noted both for his bravery and careful supervision of the finances. The family is an old one and its members have always borne a high reputation and shown marked public spirit in their respective generations.
Leaving home at the age of fifteen, Mr. Zabriskie moved to Jersey City, where,
after completing his studies at the public schools, he gained a thorough knowledge of
chemistry and was for nine years connected with the oldest drug house in Jersey City.
I understand that this bottle will be joining a collection of Bitters bottles in Texas. It will certainly go in the "Aqua Room' on a special lower shelf of rare clear bitters.
A Q U A    R O O M