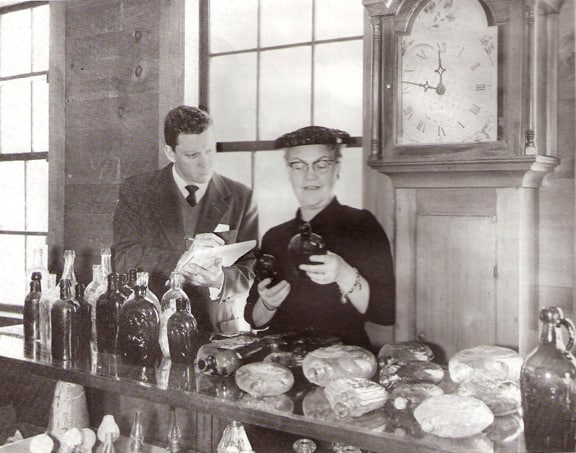 This is a continuation (Part 2) of Early pictures of some of the characters and legends or both which I will now call Part 1. With a web site, you do not want to overload a single page with too many images.
There would be no better way to start Part 2 than to receive an email from the great, Mark Vuono with some images of his father and some of the players a generation back.
HI Ferd,
I found some ancient photos for your archive of the old bottle collectors. Hope you enjoy them.
Picture #1 is circa 1985 with me on the left, Carl Pratt in the center and my father on the right. Don't ask me what bottle show we were attending.
Picture #2 was taken at Garth's Auctions in Ohio about 1985 also. I am on the left, the late Bill Pollard is in the center and my Dad is on the right.
Picture #3 was taken at the Las Vegas Expo in 1988. Dick Sheaff, the designer of The American Glass stamp, is on left. the late Dr. Gary Johnson is in the center and yours truly on the right.
Picture #4 was also taken at The Las Vegas Expo in '88 with Dr. Gary Johnson on left, me in center and my Dad on the right.
Picture # 5 was taken at Skinner's in Bolton, MA on May 14th, 1988. Pictured on the  left is Beverly Burbage. He was the owner of the GI-118 half pint blue Columbia flask that was bought by Frank Brockman and recently displayed at Reno. I am in the center holding the blue GII-24 blown three mold flask I just purchased and my Dad is on the right.
I think it is a great idea that you are making this archive as many of the current collectors have just "heard the name" but have no picture of the actual collector to visualize.
Feel free to post them on Peachridge should you desire or just keep them archived. I will keep hunting down some more for you.
All The best, Mark
The Vuono Series
Read more: Early pictures of some of the characters and legends or both (Part 1)