A month or so ago Charles Aprill (New Orleans) posted a really nice picture of two "Dancing Indian" colognes (below) in aqua and cobalt blue. I have always admired this bottle because of the strong embossing and name. I placed this image within The Charles & Jane Aprill Blue Gallery on this site and on another page called Cool Bottle Embossings hoping to circle back later and develop a specific post on the Dancing Indian.
Last weekend I made contact with Gary Katzen and he was able to provide a picture (see below) and information regarding his "Dancing Indian" cologne in milk glass. Gary describes it as the whitest of white opaque glass, attributed to Stanger glass works; circa 1848-1853.
---
Searching online, I was able to find these other examples:
---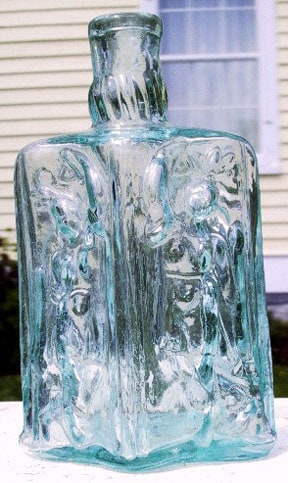 DANCING INDIAN COLOGNE BOTTLE, aquamarine, fancy four-sided cologne, pontil scar, 4 15/16″H, inwardly rolled mouth, about mint (minor exterior wear and a patch of light exterior haze). American, C. 1840, scarce.
It is this bottle's extremely well-detailed mold impression that makes it a standout example of its type.
---
---
---
---