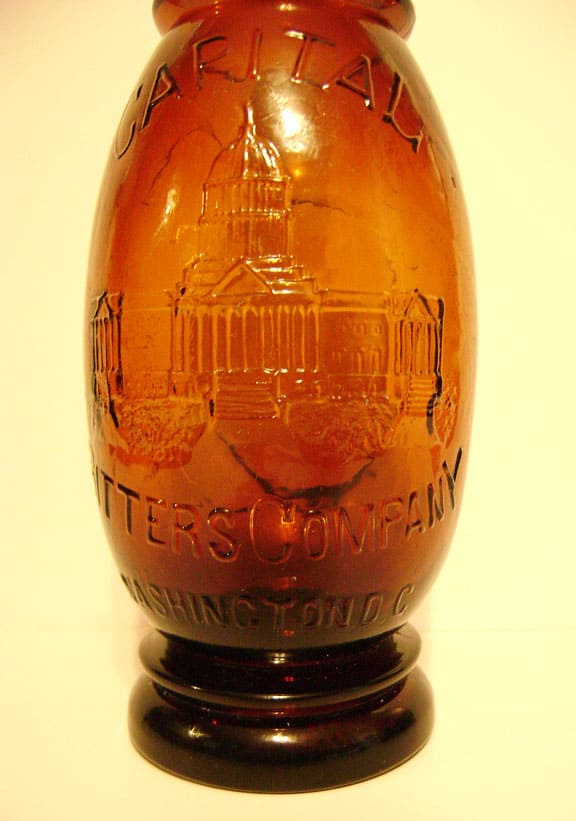 First of all, congratulations to my friend, Dave Kyle from Thousand Oaks, California.
I first heard about this specific Capital Bitters in an email from a contact in Baltimore close to a year ago. I was rather excited because I knew this was an extremely rare bottle from Washington D.C.  I was approached a second time about the bottle from a leading dealer in a bar in Memphis this past July at the FOHBC National Bottle Show in Memphis, Tennessee with another 'potential' opportunity to obtain this bottle. As things go, everything went quiet…until about two weeks ago when this puppy showed up on eBay. I had 3 or 4 emails quickly notifying me of the posting so it was nice to finally see it again…Well a few things changed. Here is where we are now:
Hi Ferd, I am enclosing 4 pics of this "Capital Bitter's Company Washington DC" bottle that "Ring/Ham's Bitter's Bottles" book has listed as "Extremely Rare", reference # C-39. I'm wondering whether you or any of our "Hard Hitter's" of the Bitter's World either have seen or even heard of this bottle. I just won this from a gentlemen In Maryland on eBay at a reasonable "Reserve Price". He bought It some years ago from a guy that was either dredging or digging In the Chesapeake Bay. He kept it for a few years and then decided to sell it and had an offer of $25k.
Through a very unfortunate accident, the bottle ended up with multiple cracks!! The cracks do not show at the front of the bottle and the embossing shows quite nicely. The glass is brilliant and very clean. I have checked Jim Mitchell's "Antique Bottle Auction Price Results" book and ironically, there Is not ONE single listing of this bottle that has auctioned". I also have checked other great Bitter collectors that have had their collections auctioned off, as per Gardner, Chris Batdorf, Burt Spiller, Judge MacKenzie and Bryan Grapentine, they evidently did not have this bottle.
Anyway Ferd, I'd like to throw this out and see if I can get any info at all about the bottle. It would be greatly appreciated. Thanks and keep up the good work guy. 
---
I have an update Ferd. After checking your archives about April 2011 and see you viewing this bottle that Sandor Fuss has. I'm sure absolutely mint and reading "Froggys" comment about Frank Kurcheski, did Sandor get the "Capital" from Frank and if so, how much?? Anyway, I'm delighted to have an example, even with the cracks. What's the alternative? Wait for another perfect one? YEAH that'll work!!
Dave Kyle
[PRG] I have seen the only other perfect example on three occasions during visits to see the magnificent Sandor Fuss collection in Denver, Colorado. Read More: Capital Bitters – Washington, D.C. I had also place a modest bid, as did Froggy (Jeff Burkhardt) to start things off. It is also 'rumored' that a third example resides in a reclusive collection in Virginia. Dave's four pictures are represented in this post.