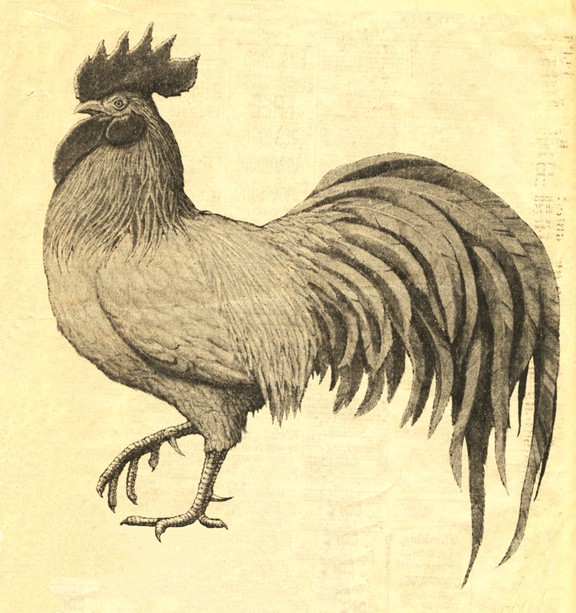 Fighting Cocks and Roosters on Bottles
24 January 2012

Connor Rush posted a neat blob on the FOHBC facebook page…"Hello! Anybody have any bottles from Essex County, NJ? Here's my best and rarest one, a pictorial blob from Montclair.
Thomas P. Meyer was in business from 1895 to 1896… He was in business at 345 Bloomfield Ave., which was later occupied by the prolific beer bottler George Greason. I have a lot of blobs and crowns from him. I have only seen a couple other examples of this rooster blob though, naturally they are rare, having been used for such a short time."
Follow-up from Conner posted in comments at bottom of page:
Very nice bitters! I love the embossing. I can see why you love it! As for the rooster stuff, there's also one from Camden with a rooster embossed on it, this one holding a bottle. Here's a link to it on the NJ bottle forum…
http://njbottles.com/index.php/topic,751.msg1504.html#msg1504
I really liked the embossed rooster and the MEYER name on the bottle. The rooster reminded me of my XR Dr. Michael Cox's Bitters with three (3) embossed fighting cocks which I have posted below.
C 242  DR. MICHAEL COX'S BITTERS, Circa 1880 – 1895
motif of three standing fighting cocks: two facing right and one facing left
/ DR. MICHAEL COX'S BITTERS // f // f // f // // b // H. OBERNAUER & CO. / PITTSBURGH
L…Dr. Michael Cox's Brand Stomach Bitters, H. Obernauer, Pittsburgh
10 1/4 x 2 3/4 (8 1/4) 1/4
Square, Amber, LTC, Tooled lip, Extremely rare
Label: Graphic label pictures three fighting cocks.