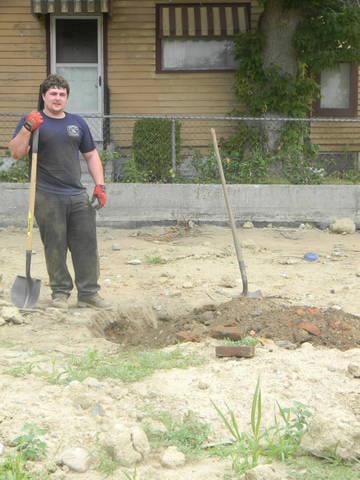 A Great Sunday Dig in Saginaw unearths a Steele's Niagara Star Bitters
25 January 2012

In from Michigan diggers Nic Meyer and Bill Heatley. I saw the dig pictures on Nic's facebook page and asked to do a post..Nic adds…
I'd love to do a post. We've got more info and pictures and it just so happens the owner of that company is a distant relative of Bill Heatley who is the president of the Flint, Michigan Bottle Club and my digging partner.
Bill and I were in a hurry to get out and dig Sunday, January 8th. We were on the way to an 1870's saloon, which is still standing but abandoned in Saginaw, Michigan. It's a rough end of town and I showed up with my fiancé Sarah before Bill showed up so I got to it. Almost immediately I probed the huge pit which was located no more than 20 ft from the back corner on the building. I began digging, watching over my shoulder every 5 seconds for the folks who are up to no good and like to cruise that end of town. I walked back to the car to get some more supplies and suddenly the folks that were staring me down walked over to my hole and began drinking and partying. Luckily I took my probes and shovels when I walked away.
Obviously unable to continue at that location I stayed in the vehicle, contacted Bill who is on his way. He tells me to hang tight he will be there soon with a small armory in his truck just in case. We scout another area near an abandoned train station from the 1870's and decide to dig across the road on some abandoned property. Bill probes a few times and feels glass near the center of the yard and begins to dig while I probe a shallow pit near the fence row in the back yard. I start digging and find 1890's mason jars and broken glass at about 6-8″ under ground. I yell to Bill and say this is the one. The weather is about 30-35 degrees and clear skies but its 2:30 and sundown here at this time is about 5:15.
We dig fast but careful and at about the 2 foot mark we get into good bottles. First bill pulls out an early KELLOGG druggist he needed from Saginaw. Good start. At the 3 foot line we are into hinge molds scattered here and there. 3 1/2 foot we are into good stuff. Hinge mold Pisos in a large size, pontiled slicks, a Detroit pony and a pontiled GENUINE ESSENCE bottle. Then I find it. I had the bitters half wiped off and bill says "That's a John Steele's Bitters" how he got that when it was full of mud I will never know because that could have been any of a hundred different bitters bottles with a semi cabin shape. From there we found little more but cleaned that 4 1/2 foot wood liner right to the walls and floor. By days end we had an L. QUINN pony from Detroit, a 7 1/2″ aqua Pisos hinge mold, a pontiled GENUINE ESSENCE, KELLOGGS druggist from Saginaw about 15 slick pontiled utility bottles, a few other hinge mold commons, a nice pipe with dandelions embossed on the side and the find of the day. A JOHN STEELE'S NIAGARA STAR BITTERS with vivid embossing, a super crude lip and 13 stars with an eagle. The color is beautiful and in person is almost a light olive/honey amber color. A ton of fun and we both went home with smiles and hopes of coming back to the area soon. A 4 1/2 foot pontil pit finished in about 3 hours. I could do that all day!
---
S 183  STEELE'S NIAGARA STAR BITTERS, Circa 1864 – 1870,
JOHN. W. STEELE'S / NIAGARA motif 5 pointed star BITTERS // sp //
JOHN. W. STEELE'S / NIAGARA. STAR. BITTERS // motif eagle in flight to the left //
// s // motif 5 pointed star // 1864 // motif 5 pointed star // motif
5 pointed star // // b // backwards 1
Steele, Turrance & Co. Lockport, New York
10 x 2 7/8 (6 7/8)
Square, ARM and LTCR, Applied mouth, 4 sp, Amber – Scarce
Green and Yellow olive – Rare
Star on shoulder over third panel is upside down