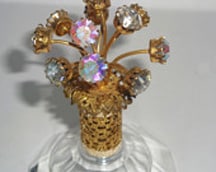 A bunch of us are descending on Auburn, California for the 49er Bottle Show and were having dinner last night after a exhaustive afternoon talking major bottles. Dinner was attended by Jeff Burkhardt, Jeanine Burkhardt, Bill Taylor, Jerry Forbes, Ken Edward, Steve Bird, Elizabeth Meyer & myself, Ferdinand Meyer.
Jeanine and I were talking about the ornate Crown Perfumery bottles which she possesses a great example, and she mentioned the rather ornate German I-Rice perfume bottles. I have posted two (2) pictures from her collection from her web site.
I. W. Rice & Co. was founded in 1905 as an importer of perfume bottles and other vanity items, as well as vases, salt and pepper shakers, crystal accessories, and table crystal gifts. With Irving W. Rice as president and Lou D. Bloom as sales manager, the company quickly prospered, importing items from all over the world and selling them under the name of "Irice imports." During the 1930's they specialized in Czechoslovakian crystal, switched to American manufacturers such as Imperial Glass during WWII, and went back to importing after the war, first from West Germany and later from Japan. Still in business today, most contemporary Irice imports come from Taiwan.