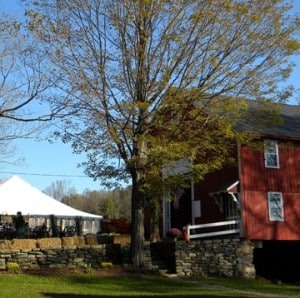 I suspected that this years Heckler Columbus Day Weekend Event (featuring The Thomas McCandless Collection) would be a bit grander than normal but I had no idea that it would be this spectacular. I mean all the advertising and hype really set up a higher expectation, but wow, this was unreal.
I watched the weather forecasts all week and when Saturday came around it was just perfect. Our group of four (Jerry & Helen Forbes from Big Sur, my wife Elizabeth and I, from Houston) started from Stamford, Connecticut as we had been to the Mark Vuono get-together the day before. This was about a 2-hour drive northeast to Woodstock, Connecticut. The sky was as blue as possible and the temperature was in the 50's and warmed up throughout the day. The trees were not as colorful, like most years, due to the abundance of moisture and heat throughout this odd summer and the lack of any real frosts as of yet.
I suppose the first difference I noticed this year was the two (2) burly security guys that greeted us at the barn driveway. Not intimidating, but different from past years. There were even parking marshallers organizing the large volumes of cars needing to be parked. Then I heard the live folk music, noticed the McCandless Banner on the barn and the large amount of setup that was present in the acres of freshly cut hay fields around the main Heckler barn and house area. Usually there are two or three long rows of cars, tents, tables, bottles and glass. This year there was a least four (4) major areas that you needed to travel by foot to visit all of the dealers. And boy was there glass. I saw everything from bitters, flasks, snuffs, inks, sodas, whiskeys, milk-bottles, insulators, fire grenades, drug stores, medicines, cures, poisons, beers, depression glass and lots and lots of great go-withs and small New England antiques.
Around noon or so, I heard the Fife & Drum Corp (Colchester Continentals) coming from a trail in the woods. The sound was moving towards the auction barn and this really cool ceremony announced the McCandless Preview, which started at 12:30 pm. This was so neat and a great way to separate the morning from the afternoon which had the barbecue and auction preview and event. This took the cake in my book. Way to go to all of the Hecklers and the multitude of folks like John Pastor who put together this memorable event, which will be talked about for years to come.
Enjoy the pictures.