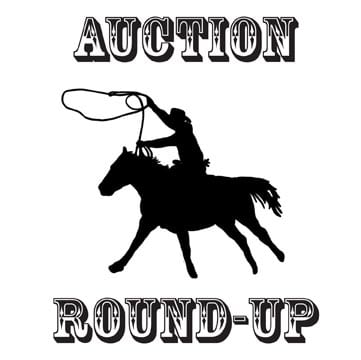 As most of you probably have figured out, Bottle Auctions happen in groups. Well the long hot summer is nearing an end and the heat and bottle drought is over except in Texas. I thought I would round-up the auctions happening in September.
American Bottle Auctions (online now)
Catalog for Auction #53
. Closing Thursday September 8th, 2011 at 7:00 PM PDT / 10:00 PM EST
Read… Oh I miss Baltimore – Wichmann ABA 53
Read… Nice Romaine's Crimean Bitters in ABA Auction #53
Norman C. Heckler & Company (online now)
Message from Norman C. Heckler & Company
You are Registered to bid in our auction which closes on Wed. September 14th , 2011 at 10 PM Eastern Time. The catalog can be viewed at:
https://bid.hecklerauction.com//93/cgi-bin/CATALL.CGI
You may bid online using your Bidder ID and Password.
Read… Professor Byrne and Landsberg – Some Highly Decorative Bottles
Read… My Vote for the Best Bottle Color Description of the Year!
Read… A Couple of Big Standouts in Heckler 93 Auction
North American Glass (online now)
Dear Collector-
Our current auction at the North American Glass website has opened for bidding. This sale includes the Bill Dudley collection of Hemingray Glass Co items, plus many other rare and colored jars. To view all lots and place your bids, please visit our website here: http://www.gregspurgeon.com/auction/
If you encounter any log-in or registration issues, or have forgotten your password, just let us know and we will be glad to help.
Thank you,
Greg Spurgeon
NORTH AMERICAN GLASS, xx78@msn.com, 812.466.6521
Read… North American Glass Commissioned to Disperse the Late Bill Dudley Collection
Pole Top Discoveries and Glass Discoveries

Greetings to all Registered Bidders
Pole Top Discoveries and Glass Discoveries are pleased to announce our Auction #65, with 235 items, will be conducted in September.
Insulators include 135 scarce, rare & colorful items from most categories.  Numerous colored threadless, along with rare and colorful threaded examples will be offered for your enjoyment.  THREE exciting novel discoveries, all being granted new North American CD numbers by Mr. Woodward, will be included!
Bottles, flasks and jars are represented with 100 examples in various categories.  Click on the Bottles tab on our website for more information.
Visit our WEBSITE at:  www.glassdiscoveries.com
ONLINE BIDDING, with full descriptions and large color images of all items will commence on Sunday, September 18, 2011.
All items will CLOSE on Monday, September 26, 2011 at 10 P.M.
Anyone who has not yet reserved a 144 page, all color Catalogue may still do so!  Price is $32 ppd, in the U.S, $38 to Canada.  International, please inquire.  Preferred form of payment is a check payable to Ray Klingensmith.  Those who desire to use PayPal, please add the $1 fee to your total.  Use the email account shown below.
CATALOGUES will be mailed in mid September.
A PREVIEW of approximately 100 items is currently viewable:
Bottles    http://www.rtam.com/poletop-prev/cgi-bin/PREVIEW2.CGI
Insulators   http://www.rtam.com/poletop-prev/cgi-bin/PREVIEW.CGI
THANKS to everyone for your continued support of our Auctions!  For now, enjoy the Previews!!!  Remember, these previews are only a tip of the iceberg, with 135 more surprises coming in mid September!
Ray Klingensmith. P.O. Box 628, Parkman. OH  44080, 440.548.5408, poletop@clover.net
www.glassdiscoveries.com
Glass Works