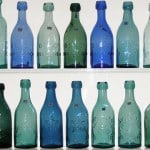 email from Dennis Bray to Jerry Forbes and myself. I thought I could do a few plugs here….
Hi Jerry & Ferdinand:
Hope you guys are doing well. I was just wondering if either of you were going to the Downieville (see Downieville Antique Bottles & Collectibles Show) show this weekend?
Also, I sold my western soda collection (see picture below) yesterday. Sort of going through buyers remorse. Oh well, guess I'm really committed to EC&M insulators now! (see Dennis Bray's EC&M Insulators)
 Hope to see you both soon, take care,
 Denny
YES! Leaving for Reno tomorrow and off to Downieville, California Friday. Can't Wait!