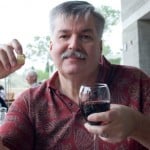 Just in from Dave Maryo (FOHBC Western Region Director and President Los Angeles Historical Bottle Club) who with his wife Cindy, just visited the Getty Villa in Malibu this past weekend to see the Greek and Roman glass on display. It is amazing according to Dave. "Collectors of antique glass highly prize bottles that just started being embossed with designs in the early 1800's. Embossed mold blown glass was a common art form two thousand years prior".
Dave, who has a passion for early glass, went specifically to see the Erwin Oppenländer collection. There are over 180 ancient glass objects in the collection. The Oppenländer collection, which the Getty acquired in 2003, is remarkable for its cultural and chronological breadth. It includes works made in Mesopotamia, Egypt, the Greek world, and the Roman Empire, and spans the entire period of ancient glass production, from its origins in Mesopotamia in about 2500 B.C. to Byzantine and Islamic glass of the eleventh century A.D. Also notable in the Oppenländer collection is the variety of ancient glassmaking techniques, such as casting, core forming, mosaic, inflation, mold blowing, cameo carving, incising, and cutting. All these techniques are still used by glass artists today.
Just a few of Dave's visit photographs are posted below.Thanks Dave!! Bet this is on my agenda next time I'm out west.